Placeit Logo Maker Test 2023: A Good Choice for Your Own Logo?

On the prowl for the perfect logo for your business? There's nothing better than an experienced specialist capable of crafting unique and visually-appealing designs. However, these kinds of pros usually cost a pretty penny, and with logo design being near the bottom of the to-do list for a start-up, at least in terms of investment priorities, something more cost-effective is needed. Enter the online logo maker.
Logo makers use AI and ready-made templates and icons to simplify the process of creating a logo. Using them, even those without any design know-how can create a decent-looking logo in just a few steps. Of course, these sorts of logos are never as unique as those dreamed up by graphic artists, however, they do cost significantly less and look the part. Below, we'll assess Placeit's logo maker.
What Is Placeit?
Placeit ⇱ is a mockup and design template platform, similar in many regards to Canva. Whether for creating videos, Instagram stories, or t-shirt designs, the cloud-based platform is capable of generating visual content without the need for complicated software or advanced design capabilities.
Among the many tools offered by Placeit is a logo maker, which we've examined in greater detail below.
Placeit Logo Maker Review
Logo Customization
6.0 / 10
Subscription includes a wide selection of design and mockup features

Fast and easy logo creation thanks to an editor with drag and drop functionality
Unimpressive editing options

Lacks 'smart', AI-aided customization
Getting started with Placeit is fairly straightforward. Simply go to their website and click on "Make a Logo".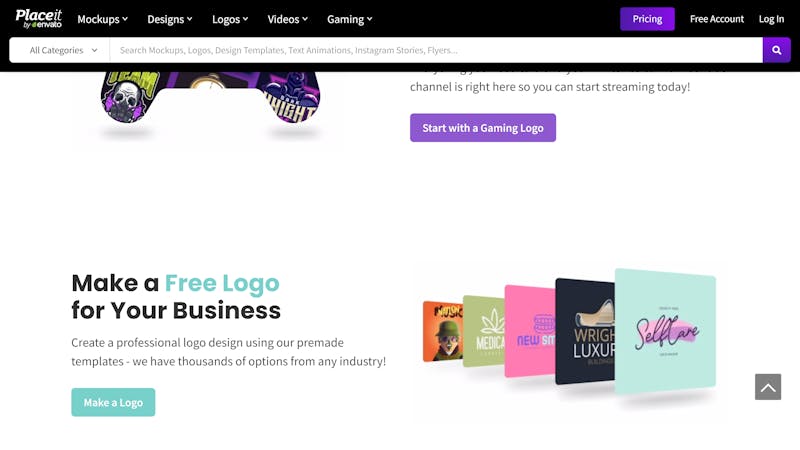 Interesting for streamers: In addition to business logos, you can also create gaming logos.
Right to the point
Next, input your business's name. You won't be asked for a slogan or tagline (yet), but only your branch. After that, click on "Let's Go".
Other logo makers ask a few more questions when starting out, such as your color or font preferences, which help the AI to refine its suggestions. Placeit doesn't bother with this, taking you directly to the designs. As such, the platform's logo search process is less 'smart' than those of its competitors.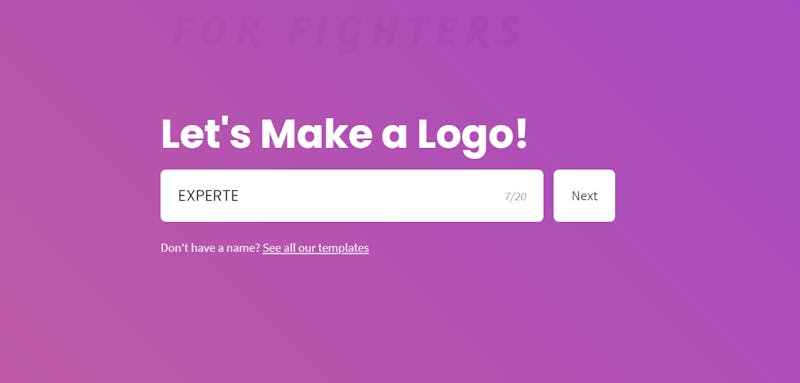 You'll only need to input your company's name and branch before you can see the selection of designs Placeit has to offer.
Inaccurate results without AI
Owing to Placeit's emphasis on templates, and lack of AI-assisted selection parameters, the platform's results are less personalized than some of the other logo makers from our sample, while at the same time being slightly more varied. As an example of this working to our disadvantage, the entire second page of results we received (Technology) was full of logos featuring hearts, undoubtedly for dating apps.

The first results we received on Placeit were rather imprecise owing to the lack of AI-assisted template filtering.
Icon search for better results
It is possible to narrow down the selection by clicking "Choose Graphic" in the drop-down menu. This allows you to find and select an icon by keyword for Placeit to work with. We tried "software" (26 results), "computer" (more than 150), and a few others. Once you've found something you like, Placeit will incorporate it into all of the logo suggestions it came up with. As an example, the heart symbol from the dating app logo was instantly replaced with a computer. Unfortunately, this means that the final result isn't always visually appealing, symmetrical, or logical.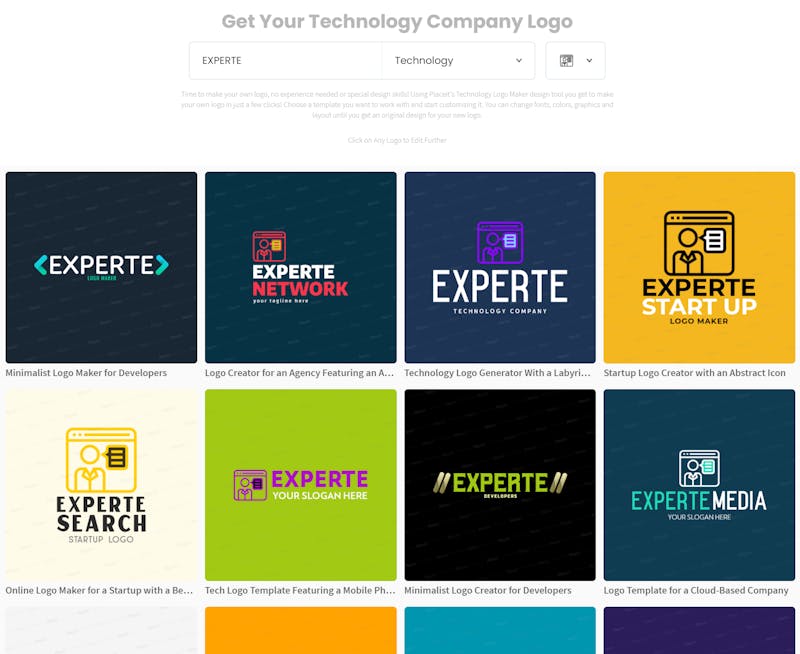 It's also possible to search for and select specific symbols to feature on your logo.
When you're satisfied with how the logo looks, click on it to open the editor and continue the customization process.
Tedious and underwhelming
Our first impression of Placeit's logo maker was not exactly a good one: Owing to its rather unstructured template suggestion scheme, the results aren't personalized or, in many cases, relevant. To get closer to what we wanted, it was necessary to filter and refine our search, but even then, the new icon was simply plastered over the old one. Further worsening our experience was that the quality and selection of icons was poor.
Using Placeit's logo maker also isn't a walk in the park: Should you change the icon or your branch, all logos are individually loaded again, which for us at least, took quite a while.
Placeit is a powerful and versatile platform, however, its logo maker is too unwieldy and disappointing when stacked alongside those of its competitors.
Now you can customize the logo you selected using Placeit's drag and drop editor. In the center of the screen, you'll see a preview of your logo, elements of which you can move around freely, making them larger or smaller at will.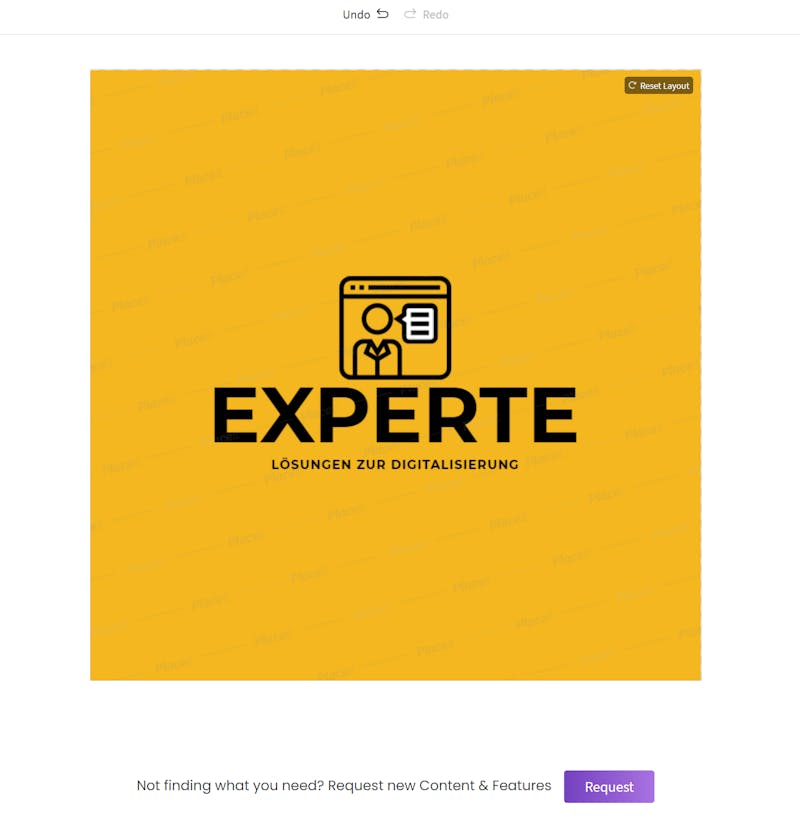 Thanks to its drag and drop functionality, it's possible to freely arrange individual elements of your logo.
Limited personalization
To the left of the preview screen, you can edit your logo's text. This primarily pertains to its type and color, with a palette and hex codes for the former, and hundreds of fonts for the latter. Text can also be rotated directly in the preview window. By clicking on "Upload Logo", you can load your own image file, in order to add it to your logo.
Text opacity and other characteristics can't be adjusted. Similarly, it isn't possible to edit individual letters (such as the first initials). The same is true for shadow or other text effects, and frames. Generally speaking, for a drag and drop editor, the customization options are rather limited.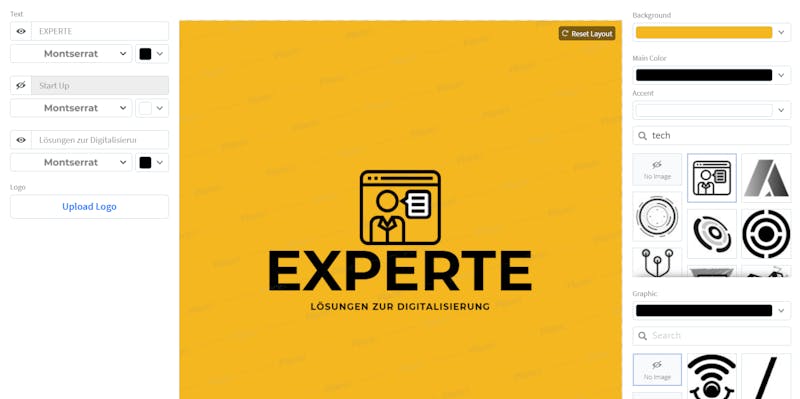 You can rotate text, and adjust its color, font, or size.
Off to the right, you'll find the icon menu, where you can modify the colors of your symbols. Here, it's also possible to add another symbol, however, the editor doesn't allow more than two symbols on a single logo. Finally, you can also adjust the background color.

It's possible to add two symbols to your logo and adjust their colors.
In the menu at the upper right, you can save a draft of your logo or add it to your favorites. To do either, you'll need to either register an account on Placeit or log in. When you're satisfied with the results, click on "Download".
More form than substance
Placeit's logo editor has too many shortcomings for our taste: Its drag and drop capability is certainly commendable, however, users have to make do with far less than is the case with some of Placeit's competitors. As such, it's only possible to perform the most basic customization or image-editing activities. While it's nice that users can upload logos or images, we expect more from a modern logo maker, so we're far from satisfied with the results.
Logo Customization
6.0 / 10
Once you've created your logo, you'll have two options to purchase rights to it: a one-time charge or a subscription, with the latter permitting you to take advantage of the platform's other features. Whichever you choose, you'll get a high-resolution PNG file (4000x4000px) as well as all commercial and non-commercial rights to your logo.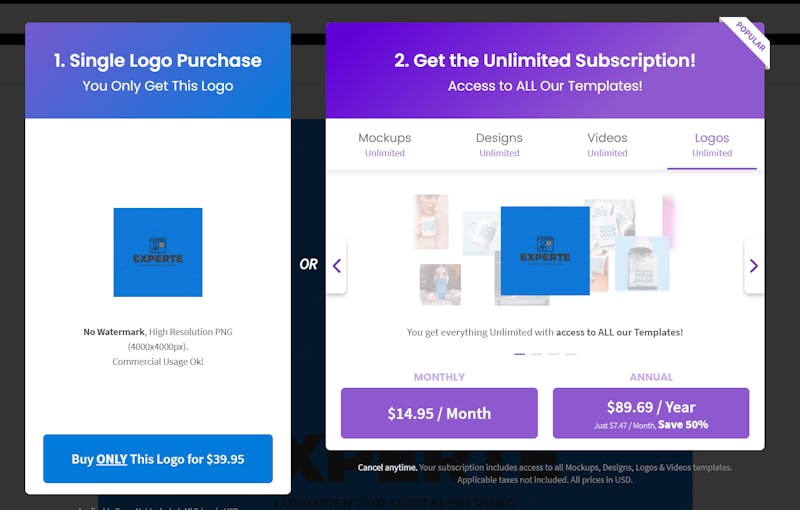 One-time charge or subscription? Either is possible with Placeit.
Placeit was conceived as a cloud-based alternative to more complex programs like Photoshop or InDesign, as can be seen in the download options on hand for logos. Here too, though, the pickings are rather slim: You can download a PNG of your logo with 72 DPI (if needed, with a transparent background), as well as a PDF version for printing that is either vectored or rastered, depending on how many levels the file has. These PDFs can be scaled to your heart's content, making them ideal for printing your logo on t-shirts or posters, without suffering any loss in quality.
The logo maker is plainly designed to draw users to Placeit's other tools for creating mockups and templates, so you won't be offered as sizable an array of logo files as most of its competitors do. This means that you'll have to create your own PSD or SVG files, as well as brand guidelines.
Should you sign up for a subscription in order to use the rest of what Placeit has to offer, this limitation might not be too much of an inconvenience, however, we think it's easier to have the option to download all necessary files in a single package, especially for the less creatively-minded.
Placeit's inviting help center includes FAQs and video tutorials which explain the logo maker's features and capabilities. Written guides and articles are nowhere to be found, but the platform isn't so complicated as to require these.
The company could be somewhat more transparent concerning its conditions since no mention is made anywhere of what files are included with the flat fee or subscription packages. We had to consult with the platform's support staff directly to get further details, which isn't ideal.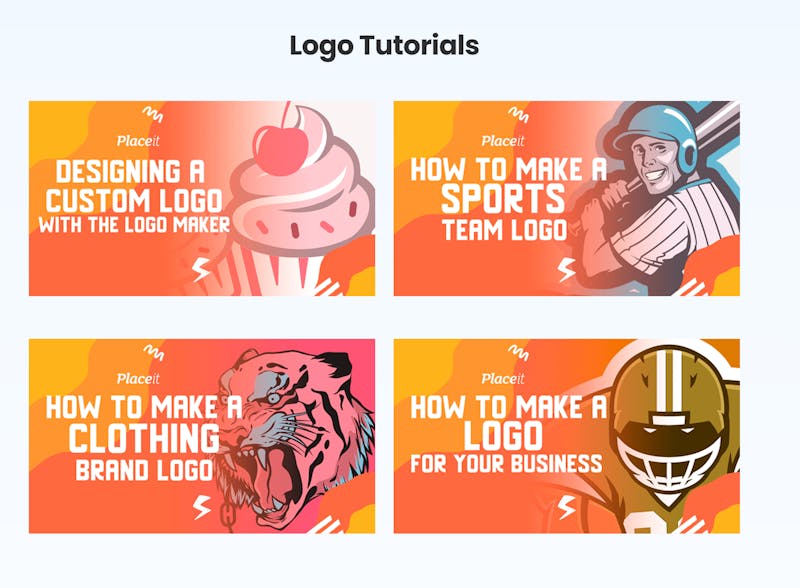 Placeit offers a nice variety of video tutorials explaining how its logo maker works.
Email or a live chat are offered for getting in contact with Placeit's support team. We wrote during US business hours on the latter and didn't receive an answer until six hours later (via email).
Overall, Placeit provides decent support; it was odd that we didn't receive an answer during US business hours in the live chat, and the lack of transparency in the way of pricing is a bit disturbing, however, the quality of the FAQs and video guides balances this out.
As mentioned above, you'll receive your logo either for a flat fee or as part of a Placeit subscription, the latter of which includes quite a few additional features. We liked that the subscription can be canceled at any time (even after one month) without having to forfeit the rights to your logo. As such, you're better off booking a subscription (and then canceling it after one month) than paying the flat fee.
Below, we've provided a current overview of Placeit's pricing:
Single
Subscription
Purchase Price
$9.95
$0.00
Price per Month
$0.00
$7.47
Contract Period (Months)
0
12
Logo Design
No Subscription
Commercial Use
Export Logo
PNG
PNG (transparent)
SVG
Favicon
Social Media
The fees for the logo makers we've assessed in our review series vary considerably. Below, we've compared the offering from each provider which includes a high-resolution logo file with a transparent background:
1.
2.
3.
4.
5.
6.
7.
Conclusion
Logo Customization
6.0 / 10
Plenty of people swear by Placeit as their go-to mockup platform, since it makes it easy to create visual content without far-reaching knowledge of design. Should you only be looking for a logo maker, we're convinced that you'll find more joy with those of Placeit's competitors who have specialized in that area.
Don't get us wrong: Creating a logo is very easy with Placeit, however, less personalized than with AI-assisted platforms like Wix or Tailor Brands. For that reason, we weren't as satisfied with its results as we were with those its competitors yielded, and recommend Placeit only as part of a comprehensive branding platform.
Placeit shines as a creative platform for mock-ups and design templates – its logo maker is more of a 'handy little extra'. You can quickly create a nice looking logo, but the customization options are quite limited.
fast and easy logo creation
lots of design and mockup features
unimpressive editing options
lacks 'smart' AI-aided customization
6.4

satisfactory
Plan
One-off Price
Transparent (.png)
Vector (.svg)
Placeit Single
$9.95
Visit Website »
User Reviews
Users on the review portals we consulted hold Placeit in high regard, with its support and user-friendliness frequently coming in for praise. All the same, these relate to the platform as a whole and not just its logo maker.
Customer Ratings
1,176 Bewertungen
Visit Website
We analyzed the reviews and ratings from various portals and found 1,176 ratings with an overall rating of 3.4 out of 5 .
Alternatives
From the platforms in our sample, Placeit is most comparable to Canva, but fares rather poorly in the head-to-head. Whether the selection of logos on offer, the capabilities of its editor, or a number of other key areas, Canva is simply better. At the same time, it is also considerably more expensive than Placeit.
Should Canva and Placeit's mockup capabilities exceed your needs, a more typical logo maker like that offered by Wix could prove more to your liking. The Israeli platform serves up good designs and offers a high degree of customization.
For more of the best alternatives to Placeit, be sure to check out our list below:
The Wix logo maker builds on the strengths of its website builder, and makes logo creation easy with its intuitive drag-and-drop editor. Even beginners should be able to create professional looking logos in no time.
well-performing, intuitive editor
preselected logos disappointing
8.9

good
Plan
One-off Price
Transparent (.png)
Vector (.svg)
Wix Basic
$49.00
Visit Website »
Canva is so much more than 'just' a logo maker, but logo creation is definitely one of the platform's many strengths. Because it's a lot more versatile than its rivals, however, it also requires a bit more creative talent.
comprehensive graphic design platform
offers more than 11,000 templates
powerful editor with extensive options
8.7

good
Plan
One-off Price
Transparent (.png)
Vector (.svg)
Canva Free
$0.00
Visit Website »
Looka makes creating logos simple as pie, but it restricts your creativity more than some of its rivals. We like that fact that you don't need to create an account to design your logo – only to buy it once you're done.
simple and fast logo creation
solid choice of design variations
either one-off price or subscription
editor lacks drag and drop
7.7

good
Plan
One-off Price
Transparent (.png)
Vector (.svg)
Looka Basic
$20.00
Visit Website »
Fiverr's logo maker offers a nice selection of symbols and layouts, but it's not as versatile as some of its competitors. Despite the drag-and-drop approach, personalization is quite limited
quality logos from Fiverr designers
designs could be more versatile
limited customization options
7.3

good
Plan
One-off Price
Transparent (.png)
Vector (.svg)
Fiverr Essential
$30.00
Visit Website »
Tailor Brands takes users by the hand, so even beginners without design expertise can create professional-looking logos in minutes. But because your creative freedom is quite limited, the results can be pretty generic.
few customization options
only available as a subscription
7.1

good
Plan
One-off Price
Transparent (.png)
Vector (.svg)
Tailor Brands Basic
$47.88
yearly price
Visit Website »

Martin Gschwentner majored in American Studies and Media Studies in Germany, the USA and France and works as a freelance editor in Paris. He is a doctoral student at the Institute for English and American Studies at the University of Paris Diderot, where he is researching the influence of money on US politics. On EXPERTE.com he writes about IT security, data protection and software for the self-employed and small businesses.

Translator & Editor: D Bare
Continue Reading
Other languages
Deutsch