Canva Review 2023: How Good Is It Really?

Ad disclaimer:
For links on this page, EXPERTE.com may earn a commission from the provider. This supports our work and has no influence on our editorial rating.
Catchy ads, Facebook posts, flyers, or posters: These days, you don't have to be a graphic designer or Photoshop expert to churn out visually appealing marketing materials. Online design programs like Canva make it possible for practically anyone.
Canva* is one of the most-used graphic tools on the planet. We took a closer look at Adobe's competitor by testing out its Pro version.
What Is Canva?
Created in Sydney in January 2012 by Melanie Perkins, Cliff Obrecht, and Cameron Adams, the idea behind the platform originated with Perkins, a graphic design teacher. Based on how difficult it was for her students to learn the ins and outs of programs like Adobe Photoshop, she dreamt of something easier.
Even though this might seem logical, at the time, it was revolutionary, with more than 750,000 users flocking to the program in its first year. And ever since, the company has grown steadily. These days, Canva is even going head-to-head with the market leader, Adobe.
Broadly speaking, the platform is free to use, however, to gain access to all of its features, you'll need a Pro account.
Canva Review
Documentation & Support
9.4 / 10
Templates & Elements
9.4 / 10
Serves up professional templates

Has an impressive stock media database

Good price-performance ratio

Free premium trial available
Template selection can be overwhelming
In order to start designing with Canva, you'll need to create an account. This is fast and easy to do and all you'll need is an email address or social media login (Google, Facebook). Once confirmed, you'll find yourself in Canva's dashboard.
Unlimited Design Possibilities
Canva offers an unbelievable array of design options, a huge selection of photos, illustrations, videos, and music, as well as easy photo editing and a comprehensive database of ready-made templates.
The unenviable task of its dashboard is to structure all of this information so that it's readily accessible to users, and we think Canva is fairly successful in this. Still, as a new user, be prepared to set aside some time for learning the ins and outs of the platform, especially if you want to tap into its full potential.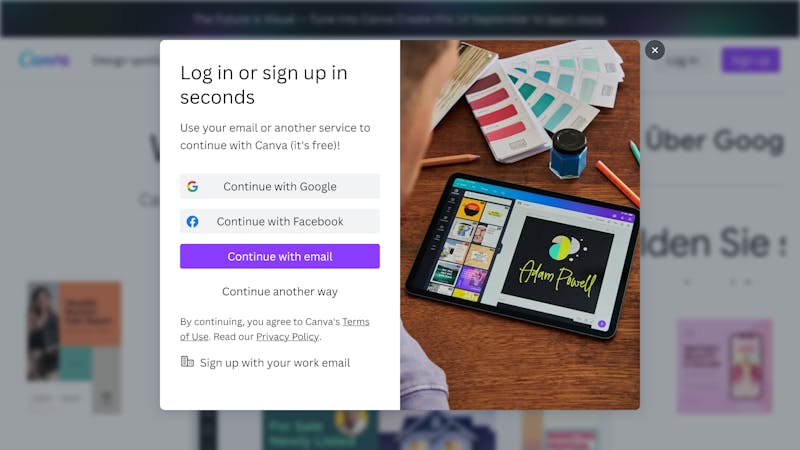 In order to use Canva, you'll need an account. Thankfully, setting one up is quick and easy.
Easy and intuitive to use
Thanks to how intuitive Canva is, it won't take long to get started designing. The choice is up to you whether to begin with a sleek layout from among the ready-made templates in Canva's library, or a blank canvas. While in the editor, the menu off to the left displays everything that you can add to your layout, ranging from images to text, to audio files.
But that's not all: The editor also allows elements to be freely moved via drag and drop, motifs and custom uploads to be integrated, colors and fonts to be adjusted, and effects and animations to be integrated.
By right-clicking on a specific element, a range of options for editing it further appears. Once finished, you can save and download your project in a number of different formats, making it possible to share it with clients or work on it further in a different program.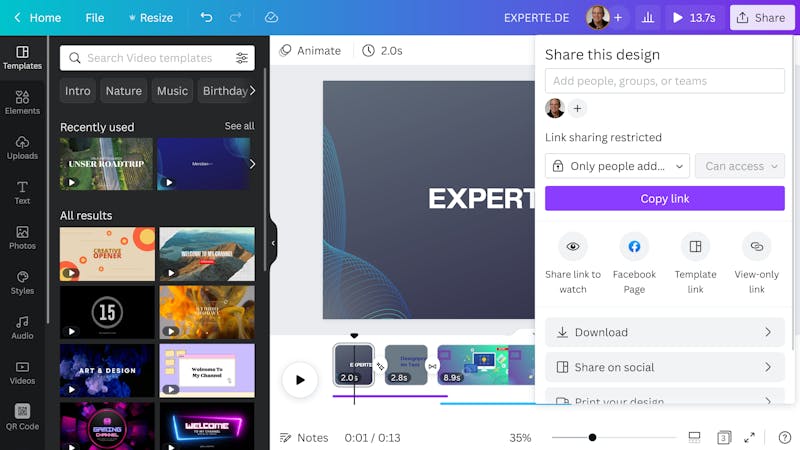 Canva's intuitive interface makes it easy to design and share professional layouts.
If desired, you can also share your design directly through the platform's multiple social media channels, save it as a QR code, or generate an HTML code for embedding it on a website. It's also possible to have Canva print your layout for you, however, this is relatively expensive. By default, Canva automatically saves whatever you're working on.
Work like a pro
Should you want to use Canva for professional marketing, we recommend investing in its Pro version. Alongside additional templates, you'll also gain access to more than 100 million stock photos, clips, and audio files, all of which can be used commercially. With these, you'll be able to create your own logos, colors, and fonts, schedule posts, and change the dimensions of already completed layouts. Rounding things out, you'll get 1 TB of storage space, so you can keep all of your projects in one place.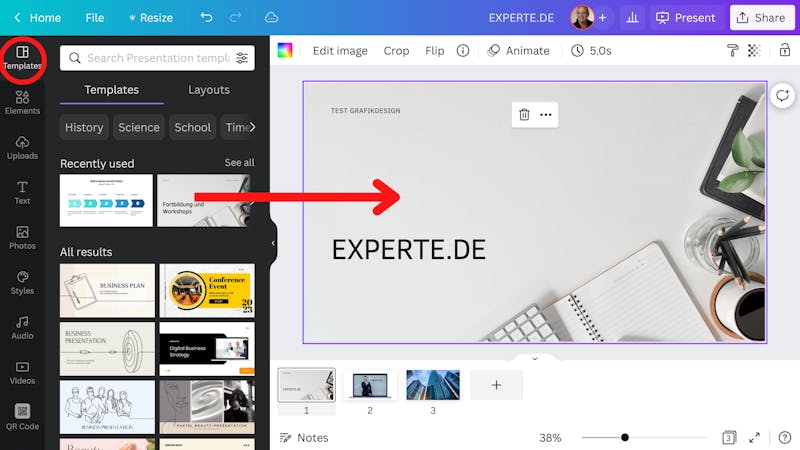 All of Canva's templates can be customized to your needs and shared via link or download.
Do a lot with a few clicks
Canva is straightforward and easy to use. The small amount of time new users will have to invest in finding their feet with the platform is definitely worth the quality of the end products they'll be able to create. Those already possessing some experience with design will appreciate the service's drag and drop feature, which allows even complicated projects to be realized relatively quickly. In order to get a feel for Canva's full functionality, we recommend flipping through its tutorials, accessible via the Discover option on the menu.
We've said it before and we'll say it again: At first glance, Canva's wide array of capabilities can seem overwhelming. All the same, if you stick with it, you'll quickly appreciate how well-structured it is and realize that it offers far more than just nice design templates and layouts.
One such feature is its built-in photo-editing tool, which makes it possible to grab an image directly from a layout. You can also remove a picture's background, adjust its brightness, contrast, and saturation, as well as rotate or apply different filters to it.
Smart mockups help to gain a clearer idea of how your content looks on a website, postcard, or smartphone. For this, a range of different frames and effects are on offer. Canva's development team regularly updates their software's photo-editing capabilities, and you can follow their progress by clicking on the Beta menu option.
Just as in Microsoft Word or Photoshop, you can revert all actions with a simple mouse click, which comes in handy for testing out all of the platform's features, without having to worry about any unwanted consequences.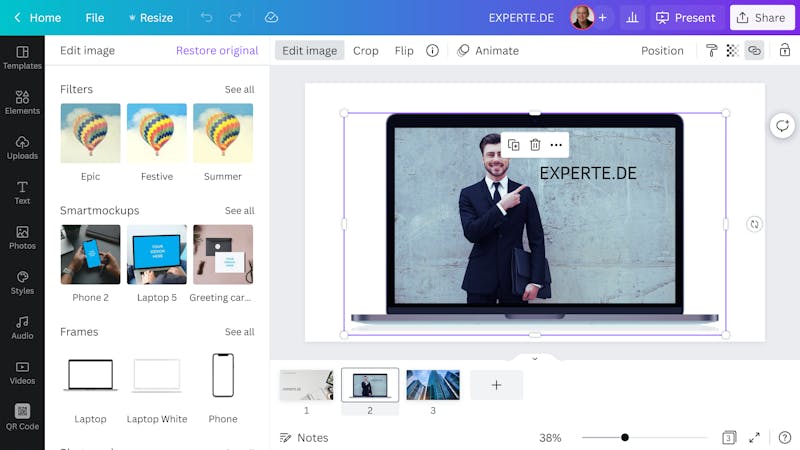 Canva integrated photo-editing on the design level, meaning that users can immediately see changes to their project.
Large selection of stock photos
Do you need visual material? If so, click on Images in the menu on the left. Alongside stock content, you'll also find photos taken by Canva Creators. The platform has set itself the goal of becoming one of the most versatile content libraries in the world and sees its community as playing a key role in this. Creators, whose photos or templates are approved, receive commissions if their images are used.
However, Canva also boasts an impressive selection of high-quality photos and graphics, which you can browse through via text search. The onboard filters only cover aspects such as type (photos, illustrations, or templates), size, color, and license. In this regard, Canva has a lot of room for improvement since it could do much more to help users to find exactly what sort of content they're after.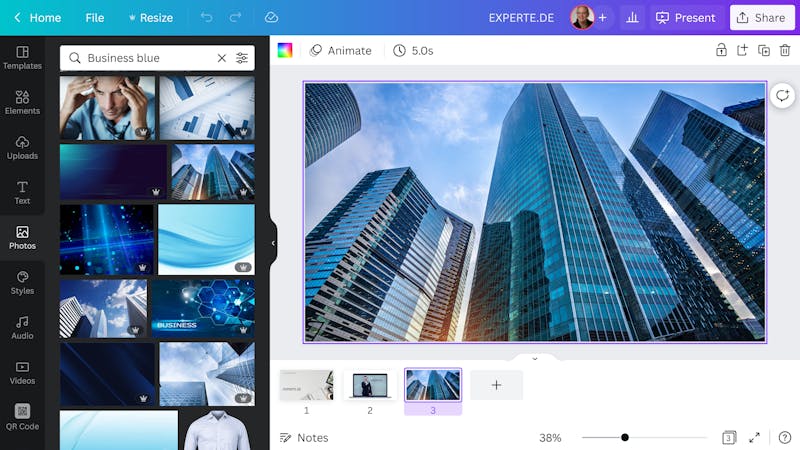 Canva serves up an impressive array of photos, illustrations, and graphics. The only issue is that the search filters are somewhat underdeveloped.
Visualize numbers, data, and facts
Canva isn't just for marketers and designers though, as project managers and statisticians can also benefit from it. Whether for pie charts, organizational graphs, or inventory lists, there are thousands of templates that help to transform raw facts and figures into memorable visualizations.
Thanks to the numerous animations which can be added to graphs or slides, even the dryest topic will get a boost. One of Canva's advantages in this regard is that you'll be able to see a preview of the animation directly in the platform's preview.
Existing PowerPoint presentations as well as Illustrator, PDF, Word, and Excel files can be imported into Canva and edited, even graphically. The same goes for JPEG, PNG, HEIC, and WEBP images, as well as MOV, GIF, MP4, MPEG, and MKV videos.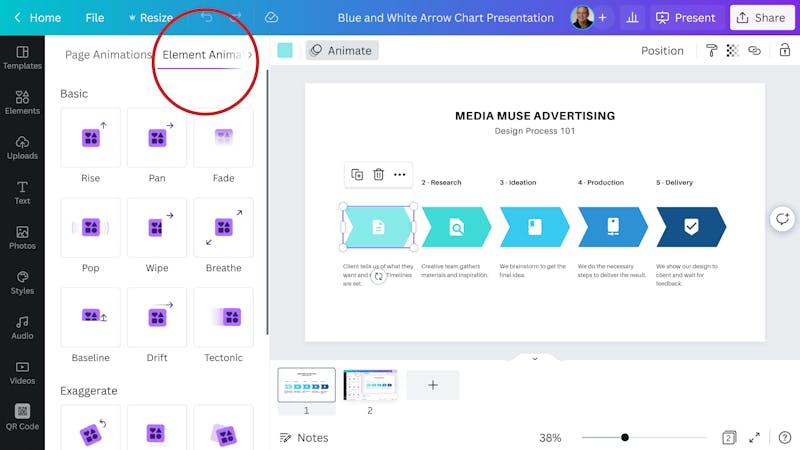 Canva will bring even the most boring data to life. With little more than a few clicks, you'll be able to transform your plain numbers into modern animations.
Work with videos and clips
On Canva, you can also create top-of-the-line videos and animations, cutting your own material in with the high-quality stock videos that come with its Pro version.
Those looking for a bit of creative support need to look no further than the template videos for Facebook, TikTok, Instagram, LinkedIn, and YouTube. Transitions and music from Canva's library add the finishing touches.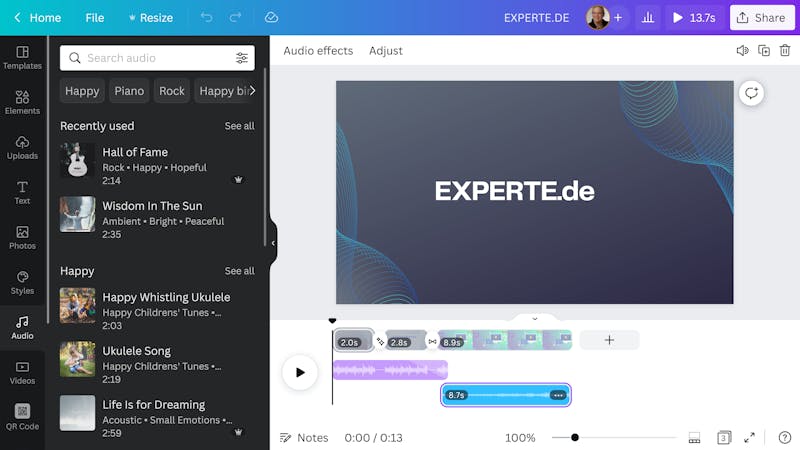 With Canva you can easily compile professional-looking videos, complete with smooth transitions, intros, end credits, and background music.
Craft and hone your brand identity
The platform can also be used to create or redefine your brand's identity by developing a professional logo. To take this to the next step, you can also use Canva to create a style guide. Colors, logos, and fonts can be specified through the Brand Kit menu option.
Should you be working as part of a team, there's even the ability to set your brand's colors and fonts to be used by default for new designs and templates. With this feature enabled, using a different font requires your approval.
Web design?
Although it's still undergoing beta testing, Canva may soon offer users the ability to design their own websites. Once finished, you'll be able to link these to your existing domain, use a free one provided by Canva, or order a new Web address.
Canva cooperates with Tucows, a Canadian provider that is one of the world's largest domain registrars, alongside GoDaddy and eNom.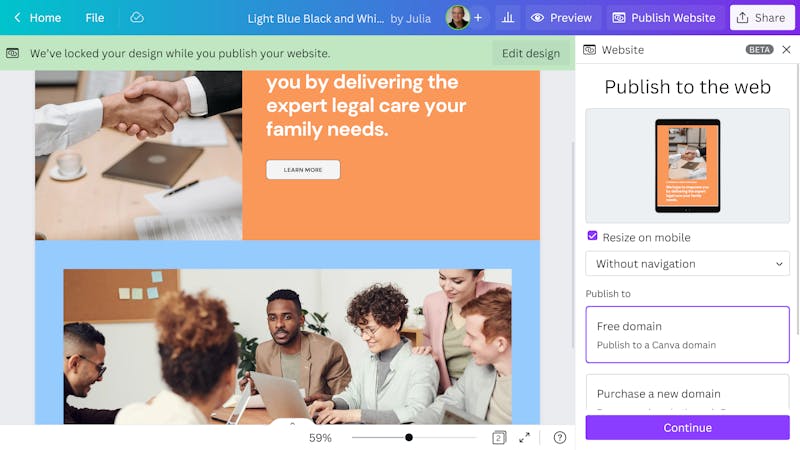 Still in the beta phase: The ability to use Canva to design websites might tap into a whole new market segment for the Australian service.
Professionally plan content
Any business that's active on social media should be well-organized and adhere to a strict schedule. To help in this, Canva offers Calendar Planner, a tool for noting important dates that you can link to your social media accounts and pages. In this way, you'll be able to conveniently create designs on Canva and then share them across all of your marketing channels.
Another interesting feature is that you can view post statistics directly in the Canva dashboard.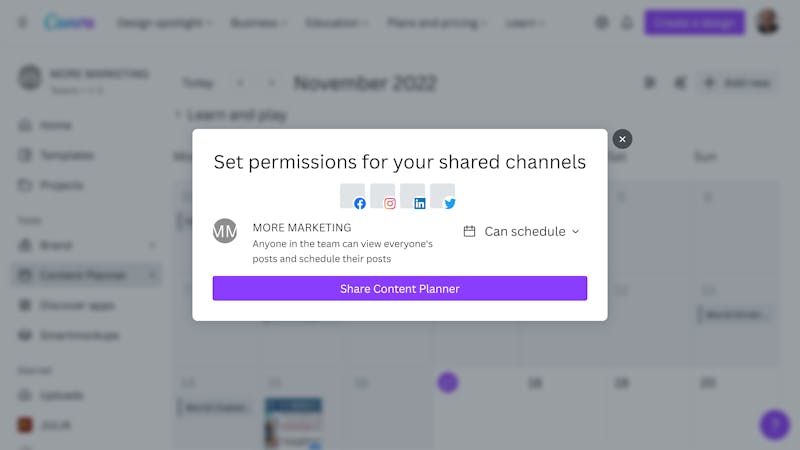 Canva Content Planner: Never forget a meeting or appoint again and make sure that your posts and designs go live exactly when you want them to.
Try out product designs
The mockups we mentioned above get their own section on Canva. Think of these as virtual prototypes for your product designs: They'll allow you to see how effective your designs are, whether for ingredient labels or posters.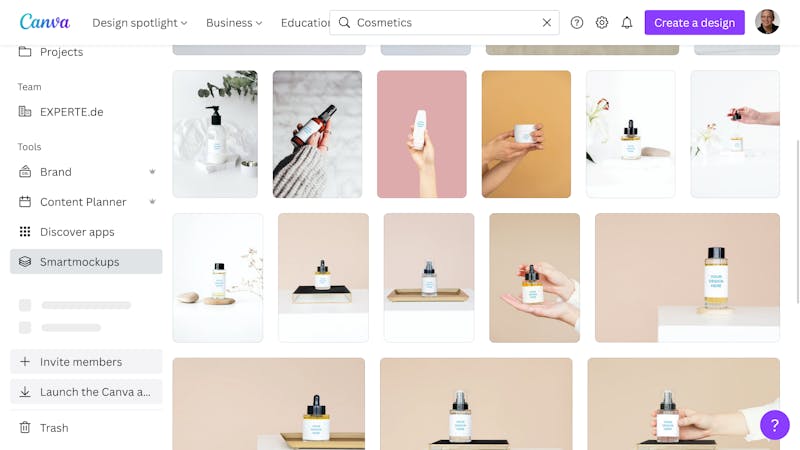 With Canva's mockups you can see what your design will look like in reality.
Even more possibilities: App world
Clicking on Discover Apps reveals even more features, ranging from the ability to create QR codes to various photo filters, to icon collections. In order to experience all that Canva has to offer, you'll need to set aside a bit of time.
And since we're on the topic of apps: Canva also offers its own. Easy to use, this comes in particularly handy for making quick changes on the go.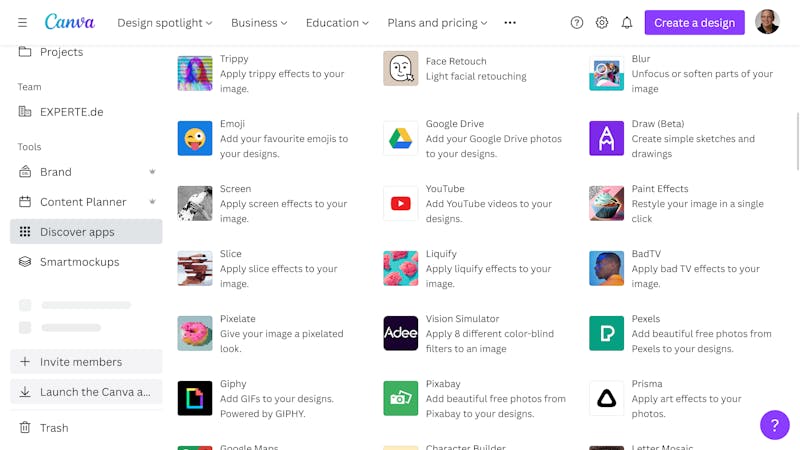 Canva can be linked to numerous apps and programs.
The variety of features on offer is impressive, and perhaps, at first, even a bit intimidating. For that reason, we strongly advise setting aside some time in order to explore the platform's possibilities. Once you've learned your way around Canva, creating templates for daily marketing needs will become second nature. Our only complaint is the lack of search filters.
Broadly speaking, you can design anything you want on Canva. On the other hand, should you need some creative impulse and/or want to save time, you can start with one of the platform's thousands of design templates and adjust this to your specifications. Over time, you'll build up a database of go-to layouts tailored to your exact needs and style.
Alongside professional and educational templates, Canva also serves up plenty of different ideas for private purposes: From greeting cards to gift certificates, the sky is the limit when it comes to what you can elegantly bring to life on the platform.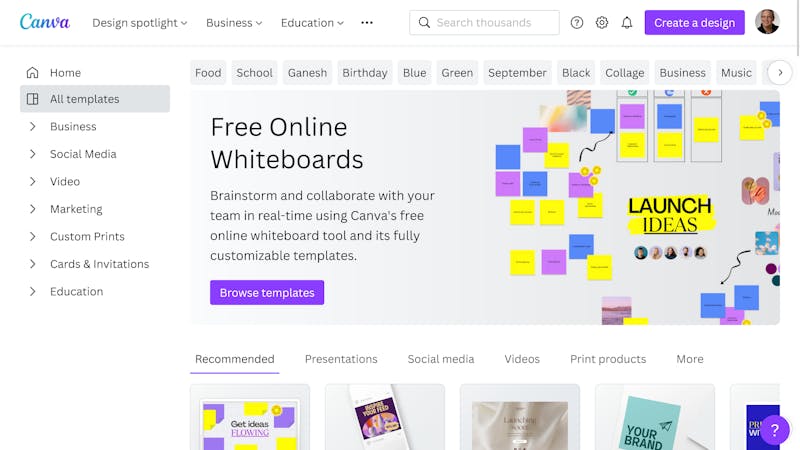 On Canva, thousands of templates are waiting to be used as starting points for breathing life into your design ideas.
Templates can be sorted according to several different categories (i.e. Business, Wedding, School), all of which have their own sub-categories. Here too, the sheer amount of options might be a bit shocking.
Unfortunately, apart from color and genre, you can't really filter these results any further. The platform's text search will help narrow things down, especially when you use it in conjunction with the above-mentioned categories. For example, if you want to have a presentation on a healthcare-related topic, and would like it to be blue, you can type "medical" and then specify blue from the color choices.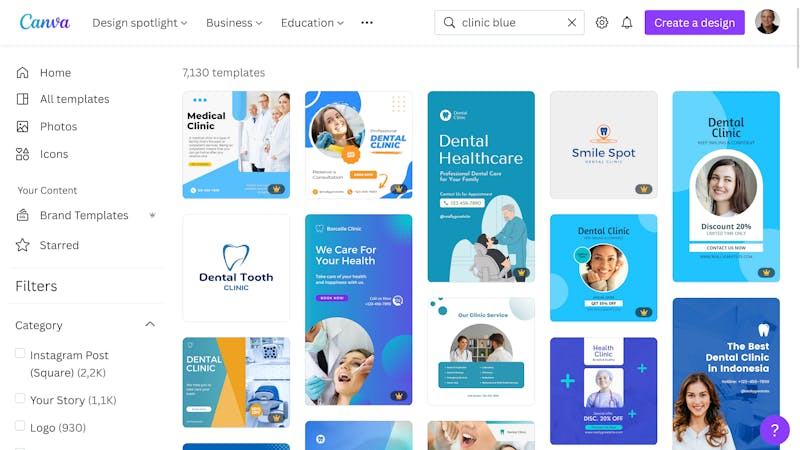 Filters are again few and far between, however, with the text search, you can somewhat refine results to topics and colors.
Under Elements, Canva lists a large selection of design elements that can help to pep up your layouts. By clicking on the text search bar, all categories will be listed, allowing you to choose which is closest to your query.
Diagram templates
The Diagrams option in the menu conceals a powerful tool that transforms raw numbers into catchy presentations. Just upload a CSV file or Google Sheet with your data, or input these directly into the platform.
Spacing, color, and shape can be edited, and you'll be able to create legends, labels, and a whole host of other visual aids. In addition, you can craft and customize pictograms with nothing more than a few clicks.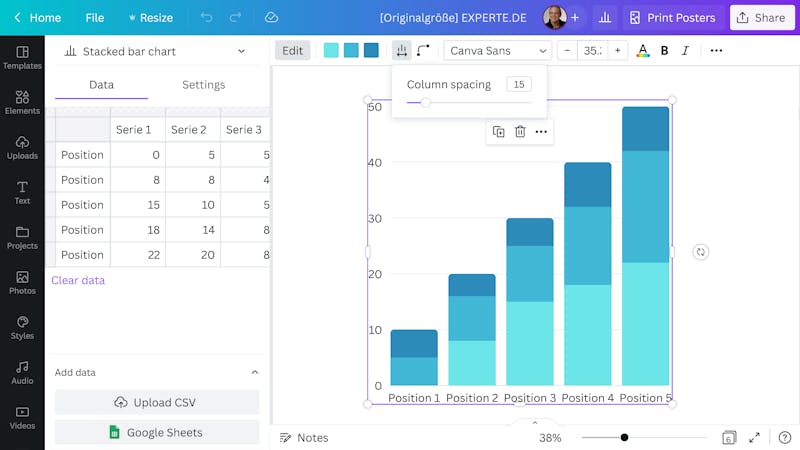 Canva won't just help you make sleek layouts, but also to convert boring numbers and data into lively presentations.
The platform's collection of elements is augmented by frames, patterns, and tables, as well as photos, videos, graphics, stickers, and animations. Canva's search filters are rather rudimentary, so, once again, we advise the service to work on improving these, so that designers and individuals can have an easier time finding what they need.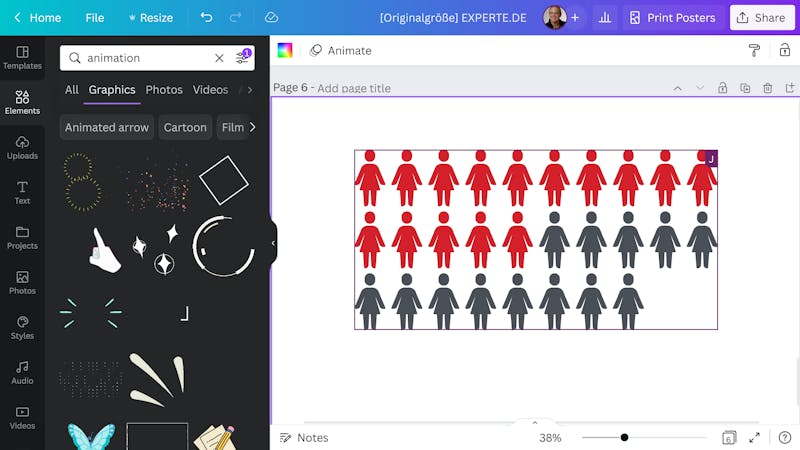 Canva offers an unbelievable amount of elements. Unfortunately, the platform lacks search filters for efficiently sort through them.
The quality and quantity of templates offered by Canva are awe-inspiring. Whether for creative purposes, social media, or work presentations, you're bound to find whatever you need. Since the platform's search filters are few and far between, the only question is, how long it will take you to do so?
Templates & Elements
9.4 / 10
Should you want to take full advantage of what Canva has to offer, we recommend clicking on Learn on Canva's homepage. The platform's blog and design school offer a wide range of tutorials and guides. For difficulties or issues, you can check the Help Center, which is also accessible via the question mark at the bottom right of the dashboard. There, you'll find answers to most questions you might have.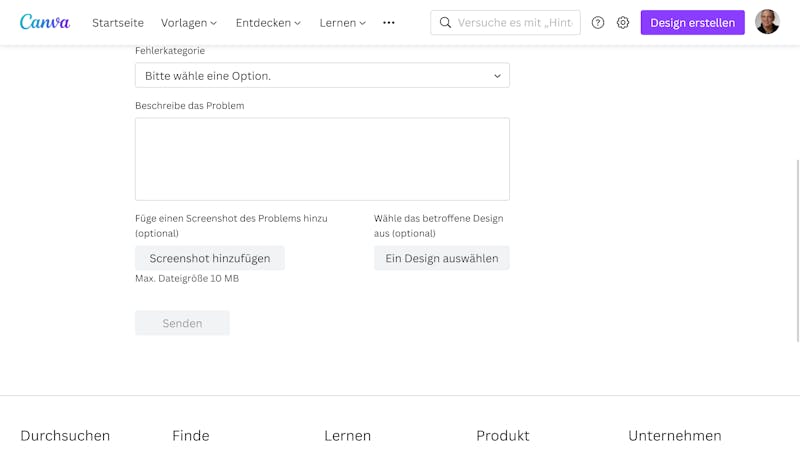 Canva's tutorials and guides are very comprehensive. However, if you can't find what you're looking for, reach out to the platform's direct support, which is fast.
Should you be unable to find a solution to the problem you're having, you can get in touch with the platform's support team by clicking on Contact. This will open a link to a support form. We would have liked a direct support button. All the same, our query was competently answered within a matter of hours.
Documentation & Support
9.4 / 10
Basically, Canva is available at no charge. Its free version offers access to more than 250,000 templates along with a selection of free stock photos, and 5 GB of storage. Those interested in taking full advantage of the platform and working as part of a team should consider the Pro Teams subscription.
Pro subscribers get access to additional features, more than 100 million premium stock photos, graphics, illustrations, videos, and audio files, and 600,000 premium templates, to which new designs are added daily. On top of all that, these subscriptions include 1,000 different font types, 1 TB of cloud storage, and 24/7 customer support.
Pro Teams includes all of the above, but comes with multiple licenses, allowing groups of any size to use the software collaboratively.
To help determine whether the software is for you, you can try out all of its premium features for 30 days at no charge.
Media licenses
Generally, all stock media offered with the Pro version can be used for commercial purposes, so long as the licensing conditions are adhered to. In the event that you're ever on the receiving end of a legal complaint or fine, Canva reported to us that they will intervene and clarify any potential copyright or intellectual property issues.
Free
Pro
Teams
Teams > 5
Monthly Price
$0.00
from $10.00
from $12.49
from $24.58
Contract Period (Months)
0
1 - 12
1 - 12
1 - 12
Plan
Number of Users
1
unlimited
5
5
Storage
5 GB
1,000 GB
1,000 GB
1,000 GB
Features
No Watermark
Unlimited Downloads
Premium Templates
Premium Stock Photos
Background Remover
Brand Assets
Teams
Social-Media Integration
Video Editing
Conclusion
Documentation & Support
9.4 / 10
Templates & Elements
9.4 / 10
Creating stylish graphics is much easier with Canva than with regular design programs. All you'll need is some creativity and an eye for design since you won't need to be a pro in order to get high-quality results on the Australian platform.
And it isný only for marketing departments, content creators, and graphic designers, but also project managers, teachers, professors, and anyone who wants to visually share knowledge and information. We were impressed with how easy it is to use, its wide range of features, and its fast support, to say nothing of its unique approach, and consistent improvement/innovation.
Our winner from Australia impresses thanks to its intuitiveness, editing options, and a huge selection of layouts, elements, and stock content. With Canva, you get lots of power at a fair price.
impressive stock media database
good price-performance ratio
free premium trial available
9.6

excellent
Plan
Users
Speicher
Downloads/Month
Canva Free
$0.00
monthly price
Visit Website*
Customer Reviews
Our enthusiasm for Canva is also shared by its user base, as can be seen in most of the ratings we found for the platform online. One common thread to almost all of these reviews is how versatile the service is. Surprisingly for us, most of the criticism seems to be directed toward its support.
On top of that, we noticed quite a few complaints about Canva's cancellation process for Pro accounts.
Customer Ratings
13,748,040 Bewertungen
Visit Website*
We analyzed the reviews and ratings from various portals and found 13,748,040 ratings with an overall rating of 4.8 out of 5 .
Alternatives
With its sleek templates, intuitive usage concept, and good price-performance ratio, VistaCreate appealed to us. Unfortunately, it did demonstrate a few weaknesses when it came to details, however, it's still a solid choice.
Or maybe Canva is too comprehensive? In that case, a streamlined program such as Adobe Express could be worth a look.
Attention to detail, lots of tools, and specialized templates secured Visme second place in our test. Unfortunately, it is somewhat tricky to use and its value for money could be better.
comprehensive editing tools
specific templates (e.g. magazine layouts)
convenient app integrations
8.6

good
Plan
Users
Speicher
Downloads/Month
Visme Basic
$0.00
monthly price
Visit Website*
Third place in our test went to VistaCreate, which wants to revolutionize the marketing world. It isn't quite there yet but still impresses with its intuitiveness and high-quality templates. Just the printing capabilities could be improved.
Plan
Users
Speicher
Downloads/Month
Vista Starter
$0.00
monthly price
Visit Website*
Piktochart excels in visualizing numbers and data. The intuitive platform also offers professional templates. Its lack of tools and pricing structure count against it though.
Plan
Users
Speicher
Downloads/Month
Piktochart Free
$0.00
monthly price
Visit Website*
The market leader was surprisingly unimpressive in our test. Although Adobe Express is well-suited for beginners, its lack of features and template quality hold it back from being a contender.
features professional stock photos
7.8

good
Plan
Users
Speicher
Downloads/Month
Adobe Free
$0.00
monthly price
Visit Website*
* Ad disclaimer:
For links marked with an asterisk, EXPERTE.com may earn a commission from the provider. The commission has no influence on our editorial rating.

Julia P. Manzau has more than 30 years of professional experience in leading editorial and marketing positions in the premium automotive, mechanical engineering, and healthcare industries. She studied Political Science and History in Bonn, Marketing at the St. Galler Business School and earned a BA in Media Engineering (CCI). Since 2015, she has worked as a freelance writer. For EXPERTE.com, she focuses on software, the Internet, and marketing.
Continue Reading
Other languages
Deutsch