Fiverr Logo Maker Review 2023: Create a Professional Logo?


Ad disclaimer:
For links on this page, EXPERTE.com may earn a commission from the provider. This supports our work and has no influence on our editorial rating.
What do Nike, Apple, Mercedes, and Starbucks have in common besides being global businesses? They all share iconic logos that are eye-catching and unmistakable. Good logos serve as the basis for a successful brand identity and shape a potential consumer's first impression. This makes them critical, especially for small and medium-sized businesses.
Even though it might not be at the top of a company's list of priorities, any business wanting to make an impact in its market segment should seriously consider stepping up its logo game. Luckily, it isn't necessary to hire a high-ticket designer or invest heavily in market research: With logo makers like Fiverr, practically anyone can create a logo with just a few clicks. Below, we'll let you know how well this works.
What Is Fiverr?
Fiverr* is a digital services marketplace. In the past users paid $5 USD for whatever was offered (hence the name), however, since then, the name has remained, but the prices have vanished. This has made the platform a serious competitor for other freelance portals like Upwork.
If interested, you can hire a professional designer to draft a logo for your business on Fiver. Alternatively, the platform also offers a logo maker that you can use to create a logo in just a few steps. For this review, we assessed the latter.
Fiverr Logo Maker Review
Logo Customization
6.0 / 10
Create a logo in a matter of minutes

High-quality logos from Fiverr designers
Designs could be more versatile

Limited customization options
You can find Fiverr's logo maker on the lower right of the homepage, under the "More From Fiverr" heading. Alternatively, you can also click on "Logo Design", however, this will forward you to hirable designers and service providers (for a flat rate fee).
Easy to Use, Fast Results
The logo maker is largely self-explanatory. Input your company's name and click on "Make Your Logo". A Fiverr account isn't required yet, but you will need one later to view your logo.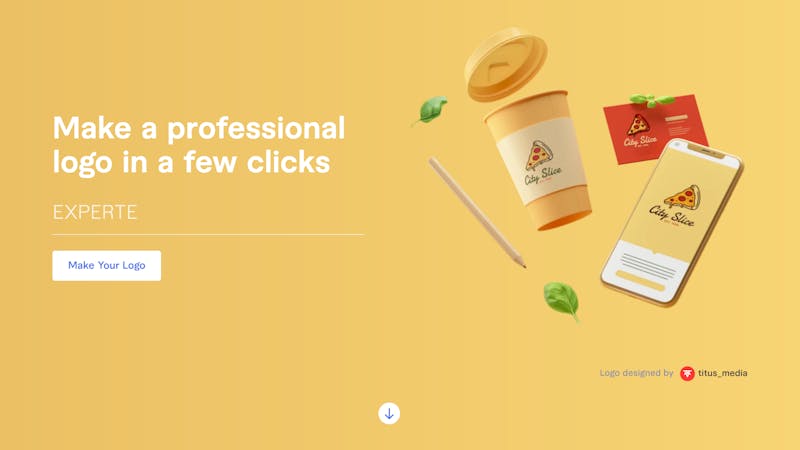 Simply input your brand's name to start creating a logo.
Slogan First, Then Branch
If you have one, you can enter your brand's slogan in the next step. It isn't necessary to do this now, as you can input, edit, or remove it later on as well. Click "Next" to continue with the design process.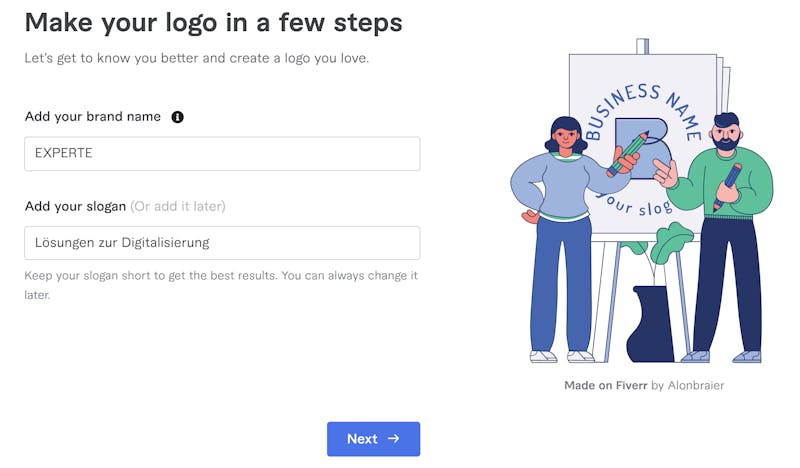 Do you want to include a slogan in your logo? Enter it here.
Now, it's time to select (up to three) branches that your business is active in, as well as a few optional keywords to help refine which graphic elements will feature in your logo (for example, "book" or "sun"). To continue to the last step prior to logo generation, click on "Next".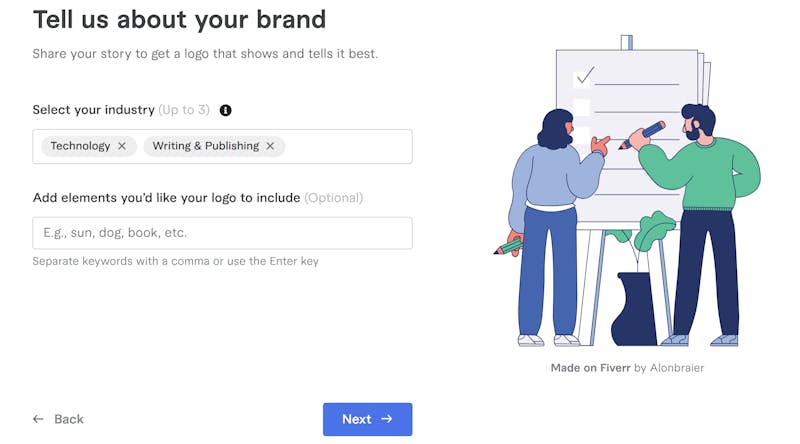 The logo designs that the Fiverr engine suggests depend on your branch.
Personality Test for Your Business
You'll need to define your brand's personality for Fiverr to provide you with recommendations. This is done with the help of five sliding scales (with five notches). These are: "Classic vs. Modern", "Accessible vs. Premium", "Fun vs. Serious", "Simple vs. Sophisticated", and "Traditional vs. Innovative".
Click "Make My Logo" after you've plotted your business and Fiverr will get to work.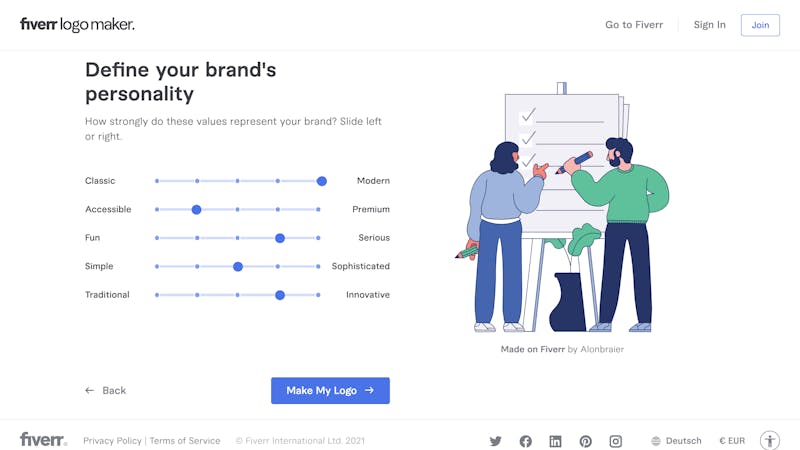 Is your business classic or modern? Simple or sophisticated? The platform's AI generates suggestions based on how you respond.
Results Only With a Fiverr Account
To see the automatically-generated logos for your business, you'll need a Fiverr account. You can register with your email address, via social login (Facebook), or through Google.
We received 60 logo suggestions, each of which included multiple variations. Logos were created by Fiverr service providers and customized to our specifications by the logo maker's engine. All of the suggestions follow the same general pattern, combining our brand's name and slogan with a symbol, with some choices matching our expectations and others, not so much. All told, we selected 10 of the 60 recommendations for further customization.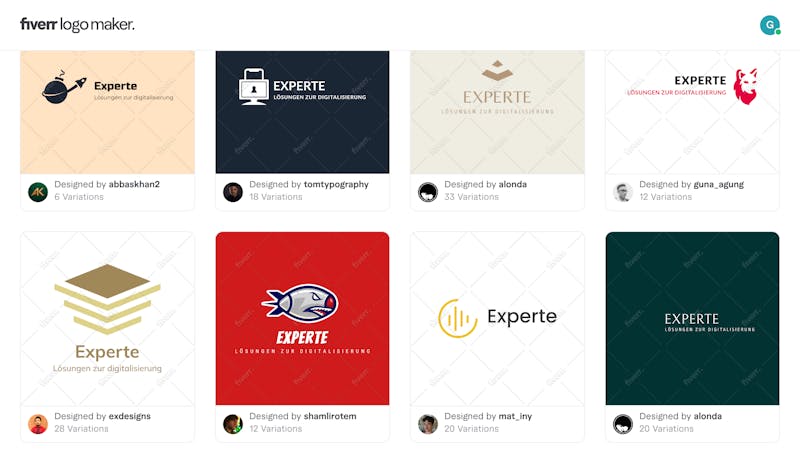 Time to choose! Do any of the suggestions look appealing? Select those that do and edit them further in the next step.
Fiverr's logo maker is relatively easy to use, even though an account is necessary to see and customize its suggestions. The sliding scales are a really nifty idea, but our choices didn't have a noticeable impact on the results we were shown.
We got a decent selection, however, some of the icons were vague or irrelevant. Similarly, with so many icons and symbols floating around, the likelihood that your business and others, perhaps even your competitors, use the same graphics, increases exponentially. At the same time, this is a problem typical to logo makers and one of the advantages of custom logo design with a professional.
In the next section, we take a closer look at how you can customize the logos you've selected and what sort of options Fiverr provides.
Once you've settled on a logo, it's time to start customizing it. Select one of the ready-made designs from the list on the left and click on "Customize this Design" in the upper right.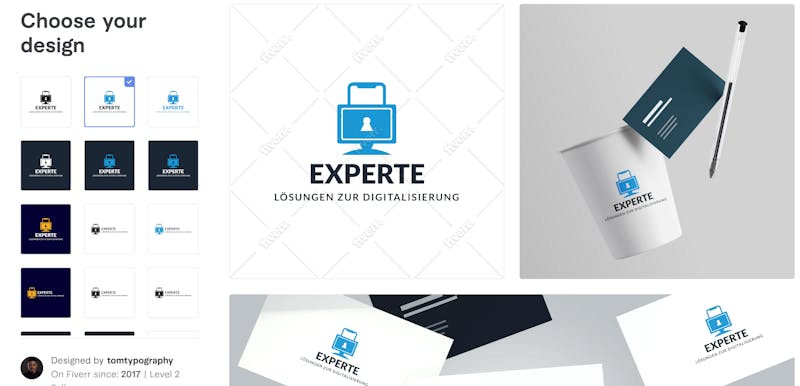 Choose the layout that speaks most to you, or, further customize its individual elements.
Simple Drag and Drop
You can further personalize individual aspects of your logo with the platform's drag-and-drop editor. Under "Suggested", you'll find a variety of different recommendations from the logo's designer. Additional options are offered in the "Layouts" area.
Beyond that, you can specify the icon's color, font, position, and size. All told, there are hundreds of different fonts available, while colors can be selected using hex values (color templates are also provided). If you click on "Shape", you can add a rectangle, square, or circle to your logo. Background colors can also be freely adjusted.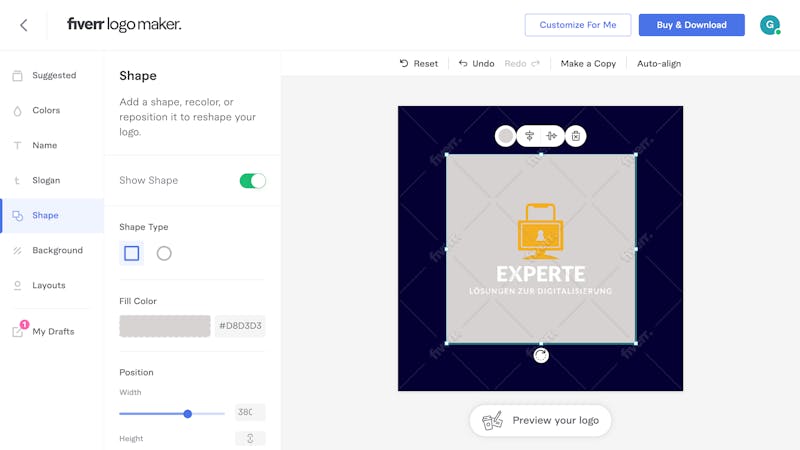 In Fiverr's editor you can adjust your logo's colors, fonts, and text sizes, as well as add geometric shapes.
Create a Profile?
If you want, you can also hire the logo's creator to tailor it to your preferences by clicking on "Customize for me". Before doing this, you might want to consider contracting the entire job out to a designer on Fiverr. Doing so can actually be more affordable than working with an existing logo, and yield unique results.
Before finishing and purchasing the rights to your logo, see it in action by clicking on "Preview your logo".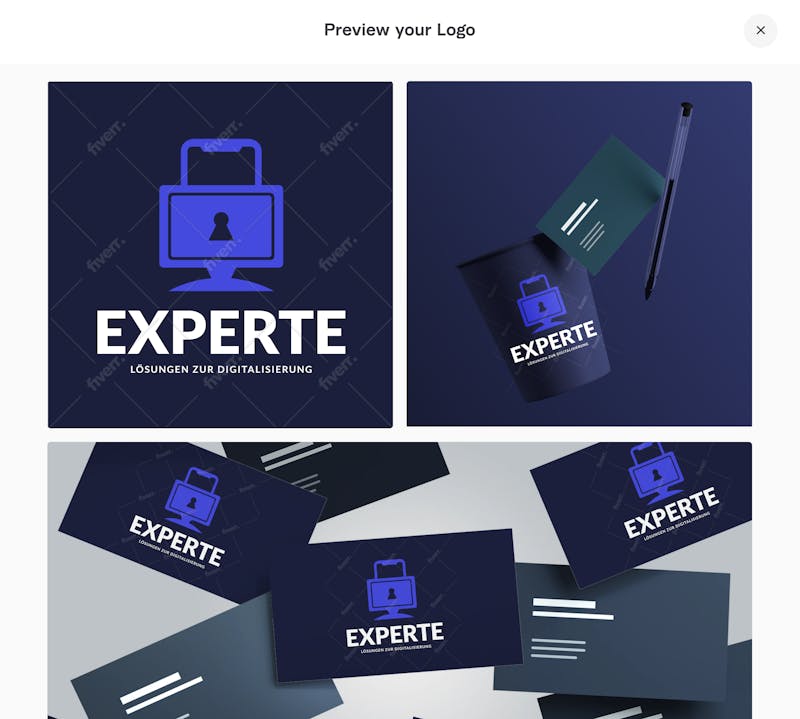 Does your logo look good on business cards? Find out with the platform's preview feature.
Fiverr's editor covers all of the essentials, however, those familiar with photo-editing software will be a bit disappointed since it lacks a few features. For example, it isn't possible to select and move multiple elements at the same time or add new text fields and symbols. Similarly, unlike Wix, it isn't possible to upload custom files or content.
Even with a Fiverr account, you won't be able to save drafts of your logo: While working in the editor, drafts are saved to the "My Drafts" folder, however, as soon as you exit the editor, or start creating a new logo, your progress disappears. On the plus side, since all you can customize are text, color, position, font, size, and shapes, there isn't all that much effort needed to recreate any logo you might have earlier worked on.
Logo Customization
6.0 / 10
When you're satisfied with your logo, you can purchase its rights by clicking on "Buy & Download". Here, you'll find two packages, Essential and Professional.
Both include all commercial and non-commercial rights to your logo. This means that you can use it wherever you want, however, these aren't exclusive rights, since other Fiverr users have access to the same fonts, shapes, and templates.
Fiverr's Logo Files
The Essential package includes a high-resolution PNG file of your logo with a transparent background.
More options are included with the Professional package, such as high-resolution SVG and PNG files in different colors (these are particularly nifty for printing). If you're creating t-shirts or bags that feature your logo, the difference in price could work to your advantage. SVG files can be scaled without losing any quality. You'll also receive extra files like a website favicon and a social media kit with files optimized for banners or profile pictures.
Rounding things out, you'll also get a copy of your logo optimized for Zoom backgrounds, ideal for showing off your company during video conferences, and a PDF of your brand guidelines, which future designers or webmasters will thank you for.
If unsure about which package to choose, you can download sample versions of both: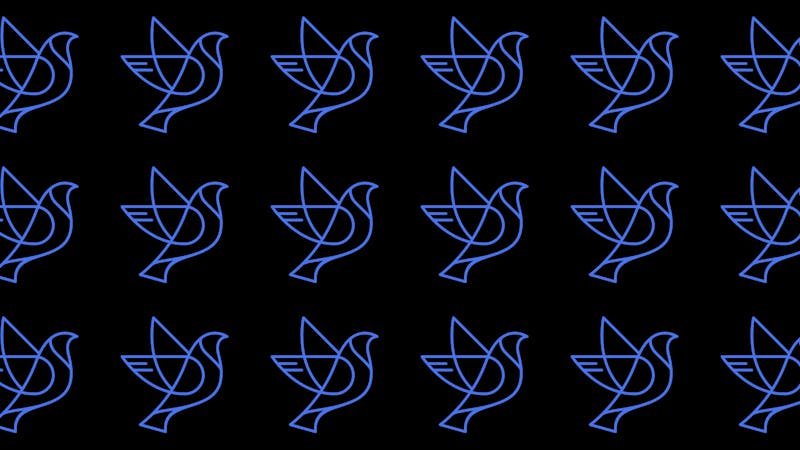 The Professional package's Zoom background makes it possible to promote your brand during video conferences.
Unfortunately, it isn't possible to edit logos in the Fiverr editor after you've purchased the rights to them.
You can access Fiverr's support resources by clicking on the "Help & Support" button in the upper right of your profile. There, in the "Help and Education Center", you'll find comprehensive articles on all of Fiverr's features, as well as a search bar.
Support content is grouped into the following categories: "Buyers", "Sellers", and "Fiverr Business Clients". Those most relevant entries to the logo maker are located in the "Sellers" area, since on Fiverr logos are intertwined with its contractors. There's a smattering of guides and FAQs for the logo maker, however, since it only offers a few features and is largely self-explanatory, there's no need for more detailed articles.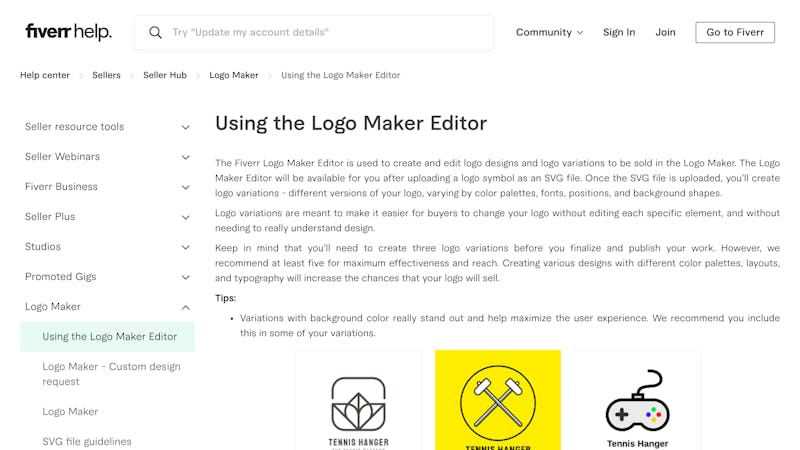 In Fiverr's Help & Education Center, you'll find an introduction to the logo maker and some FAQs.
For a more human touch, all that's offered is a support ticket. To file one, click on "Contact Support". Before that, you'll need to choose from a dropdown menu what your query concerns.
We received a friendly and competent answer to our question within six hours. Of course, a live chat or support hotline would be welcome additions, however, these aren't too common among logo makers. All in all, we were very pleased with Fiverr's support resources.
As noted above, Fiverr offers two packages if you want to purchase the rights to the logo you created. Your selection determines what sort of resources and files you'll receive, however, both include full commercial and non-commercial rights to your logo.
Below, we've provided a current table of Fiverr logo maker's pricing:
Essential
Professional
Unlimited
Purchase Price
$30.00
$60.00
$90.00
Price per Month
$0.00
$0.00
$0.00
Contract Period (Months)
0
0
0
Logo Design
No Subscription
Commercial Use
Export Logo
PNG
PNG (transparent)
SVG
Favicon
Social Media
You can incur additional costs if you request the designer's assistance in customizing your logo. Before taking this step, we recommend checking the going rate on Fiverr for a unique logo, since it might prove cheaper (this varies depending on the designer).
In the table below, we've compared rates for all of the providers from our sample, with the only condition being that the package includes a logo file with a transparent background:
1.
2.
3.
4.
5.
6.
7.
Conclusion
Logo Customization
6.0 / 10
Fiverr's logo maker is probably the least impressive option on the platform for creating a logo. You'll probably be able to find a designer on Fiverr capable of making a unique logo for you for the same price, or less. This helps to save money and avoid one of the biggest dangers associated with using logo makers: Identical logos with no legal recourse. Since a Fiverr account is needed for either, it pays to check what sort of ideas designers have.
Still, Fiverr's logo maker does offer a nice selection of high-quality icons and layouts, even if more versatility would be better. Despite the editor's drag-and-drop functionality, the platform doesn't support much customization. If you run into trouble, you can always reach contact the logo designer and have them customize it for you. Just know that this might cost more than having another designer craft something unique.
Taken together, Fiverr's logo maker is far from the best out there, but, it's still fairly young.
Fiverr's logo maker offers a nice selection of symbols and layouts, but it's not as versatile as some of its competitors. Despite the drag-and-drop approach, personalization is quite limited
quality logos from Fiverr designers
designs could be more versatile
limited customization options
7.3

good
Plan
One-off Price
Transparent (.png)
Vector (.svg)
Fiverr Essential
$30.00
Visit Website*
User Reviews
A quick look at Fiverr's reviews shows what its users have to say about the platform. Unfortunately, most of the reviews we consulted are of the platform itself, rather than its logo maker.
Customer Ratings
809,800 Bewertungen
Visit Website*
We analyzed the reviews and ratings from various portals and found 809,800 ratings with an overall rating of 4.8 out of 5 .
Alternatives
If you're looking for a logo maker that's as easy to use as Fiverr's, but with a more robust editor and greater creative freedom, we recommend Wix.
Or perhaps you're in the market for a more versatile graphic design platform, capable of creating logos and more? In that case, Canva could be exactly what you're after.
Below, you can find more of the best alternatives to Fiverr's logo maker:
The Wix logo maker builds on the strengths of its website builder, and makes logo creation easy with its intuitive drag-and-drop editor. Even beginners should be able to create professional looking logos in no time.
well-performing, intuitive editor
preselected logos disappointing
8.9

good
Plan
One-off Price
Transparent (.png)
Vector (.svg)
Wix Basic
$49.00
Visit Website*
Canva is so much more than 'just' a logo maker, but logo creation is definitely one of the platform's many strengths. Because it's a lot more versatile than its rivals, however, it also requires a bit more creative talent.
comprehensive graphic design platform
offers more than 11,000 templates
powerful editor with extensive options
8.7

good
Plan
One-off Price
Transparent (.png)
Vector (.svg)
Canva Free
$0.00
Visit Website*
Looka makes creating logos simple as pie, but it restricts your creativity more than some of its rivals. We like that fact that you don't need to create an account to design your logo – only to buy it once you're done.
simple and fast logo creation
solid choice of design variations
either one-off price or subscription
editor lacks drag and drop
7.7

good
Plan
One-off Price
Transparent (.png)
Vector (.svg)
Looka Basic
$20.00
Visit Website*
Tailor Brands takes users by the hand, so even beginners without design expertise can create professional-looking logos in minutes. But because your creative freedom is quite limited, the results can be pretty generic.
few customization options
only available as a subscription
7.1

good
Plan
One-off Price
Transparent (.png)
Vector (.svg)
Tailor Brands Basic
$47.88
yearly price
Visit Website*
Placeit shines as a creative platform for mock-ups and design templates – its logo maker is more of a 'handy little extra'. You can quickly create a nice looking logo, but the customization options are quite limited.
fast and easy logo creation
lots of design and mockup features
unimpressive editing options
lacks 'smart' AI-aided customization
6.4

satisfactory
Plan
One-off Price
Transparent (.png)
Vector (.svg)
Placeit Single
$9.95
Visit Website*
* Ad disclaimer:
For links marked with an asterisk, EXPERTE.com may earn a commission from the provider. The commission has no influence on our editorial rating.

Martin Gschwentner majored in American Studies and Media Studies in Germany, the USA and France and works as a freelance editor in Paris. He is a doctoral student at the Institute for English and American Studies at the University of Paris Diderot, where he is researching the influence of money on US politics. On EXPERTE.com he writes about IT security, data protection and software for the self-employed and small businesses.

Translation: D Bare
Continue Reading
Other languages
Deutsch