Shopify Hatchful Review 2023: Free Logo Maker, but Is It Any Good?


Ad disclaimer:
For links on this page, EXPERTE.com may earn a commission from the provider. This supports our work and has no influence on our editorial rating.
Whenever you see the 'smiling arrow', chances are that you think of Amazon and whatever you forgot to order. Logos are key to any brand's market identity and should create instant recognition among potential customers.
Of course, going head-to-head with Amazon would be quite a challenge, however, small and medium-sized business owners can set themselves apart from their competitors with a good logo. Recognizing this, Shopify launched its own logo maker, Hatchful, which we'll explore below.
What Is Hatchful by Shopify?
It all started in 2004 with three friends wanting to sell snowboards and accessories online. Unimpressed with what was available, the trio created their own webshop (Snowdevil), hosting it on a service that would later enter the market as Shopify. Today, it's one of the most well-known ecommerce platforms, catering to online businesses of all shapes and sizes.
Shopify offers a range of different tools for web store owners, one of which is a logo maker. Known as Hatchful*, anyone can use it to create a professional-looking logo in a matter of minutes, at absolutely no cost. Too good to be true? Let's find out.
Shopify Hatchful Review
Logo Customization
4.0 / 10
Can create a logo in just a few minutes
Underwhelming number of designs

Few customization options

Unclear legal situation in regards to usage rights
You don't need a Shopify account to start creating a logo with Hatchful. As might be expected from a Shopify product though, Hatchful is very easy to use. Click on "Get Started" to begin making your logo.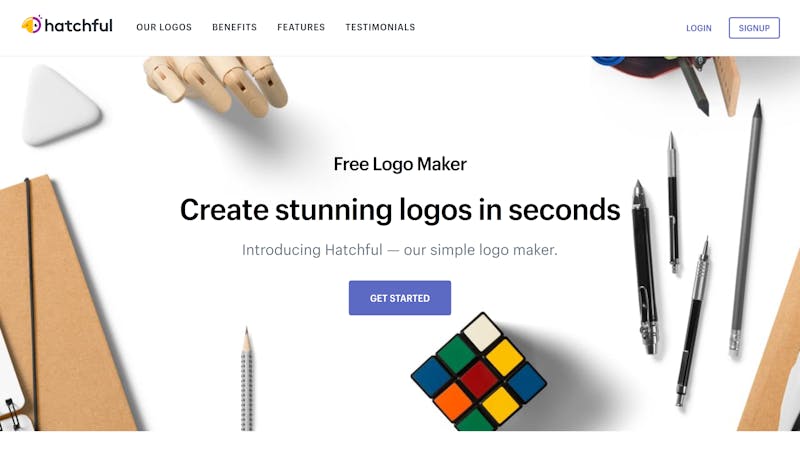 Hatchful claims to be able to create stunning logos in seconds, but does it keep its word?
Define Your Business's Character
Next, you'll be asked a few questions relating to your business and style preferences. The first of these relates to your "business space" or branch, with choices ranging from "Home and garden" to "Fashion" to "Services".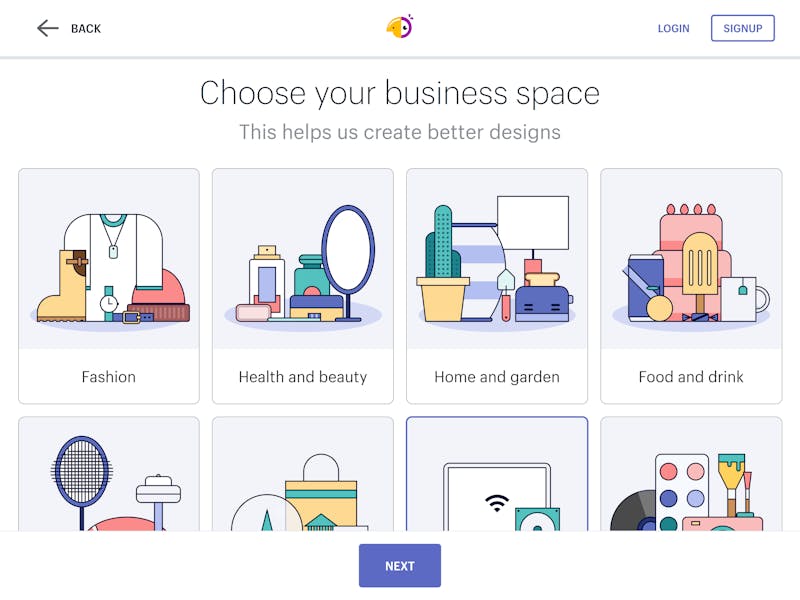 Hatchful's logo generator offers different template suggestions depending on which business space (branch) you select.
After that, you'll be asked to select up to three keywords that best express your visual style preferences. Options include "Classic", "Conservative", "Modern", or "Futuristic".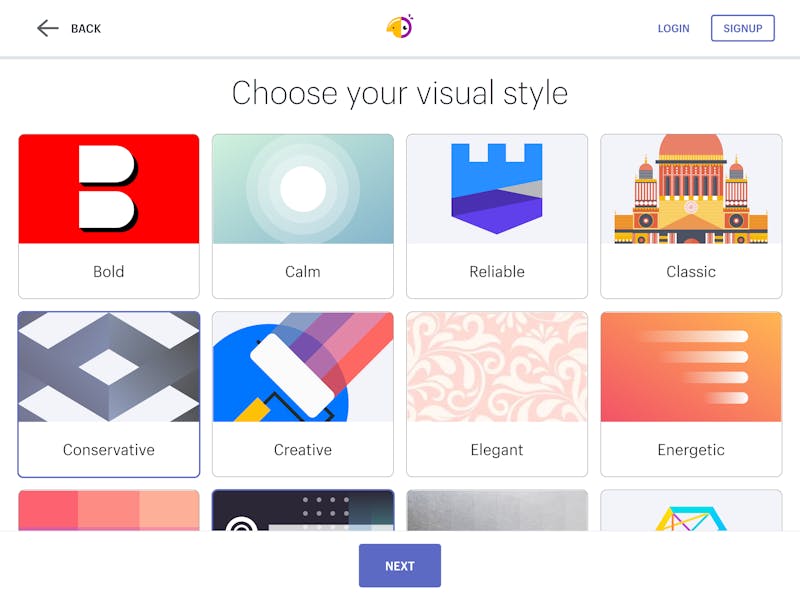 Bold or calm? Choose up to three keywords that best describe your business's visual style.
Logos for Everything Under the Sun
After that, you'll provide your business's name and (optionally) a slogan. Neither is set in stone as you can change these later on. Hatchful will also ask what you intend to use the logo for, requiring you to select from one of the following:
Online store or website

Social media

Print and swag

Business cards

Large surfaces

Physical stores

None of the above
Now, Hatchful has everything it needs and in the next step, will provide you with a selection of logo suggestions to choose from.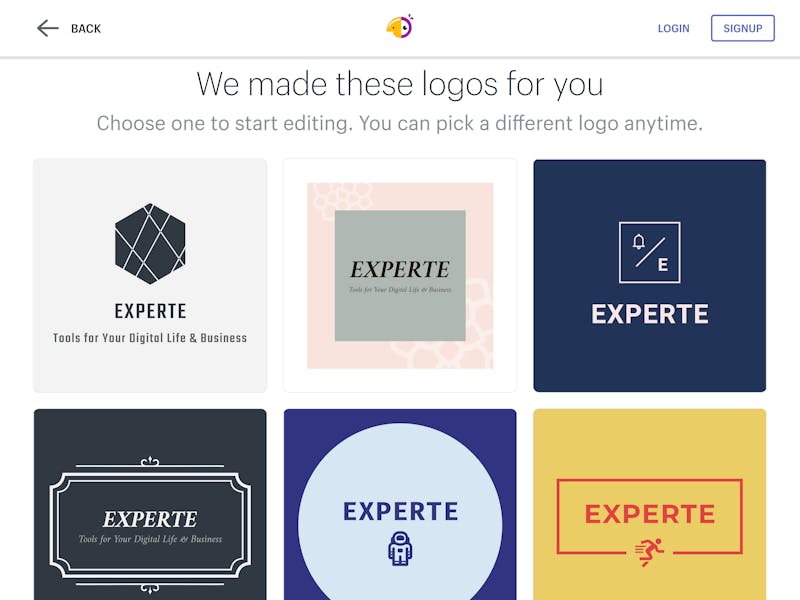 Creating a logo with Hatchful is fast with results in a few minutes.
Too Generic
Unfortunately, Hatchful's results are very generic. This is an issue with any AI-assisted logo maker, as they just can't produce designs as unique as those of pros. Still, with Hatchful, it's a major problem. In addition, another company or business can design a logo using the same icons or font that feature in yours. Other logo makers offer more personalized results by asking extra questions or requesting additional input.
On the plus side, Hatchful's logos are high quality. It's possible to swap out irrelevant symbols over the next few steps. Taken together, Hatchful could make its logo generation a bit more precise, providing more accurate results.
Once you've selected a logo you'd like to work with, click on "Edit logo" to open Hatchful's editor. This won't take long to get used to: To the left is a navigation menu with five items: "Name", "Fonts", "Colors", "Icons", and "Layouts". On the right of this, there's a preview of your logo, however, you can't directly edit this as it lacks drag-and-drop functionality.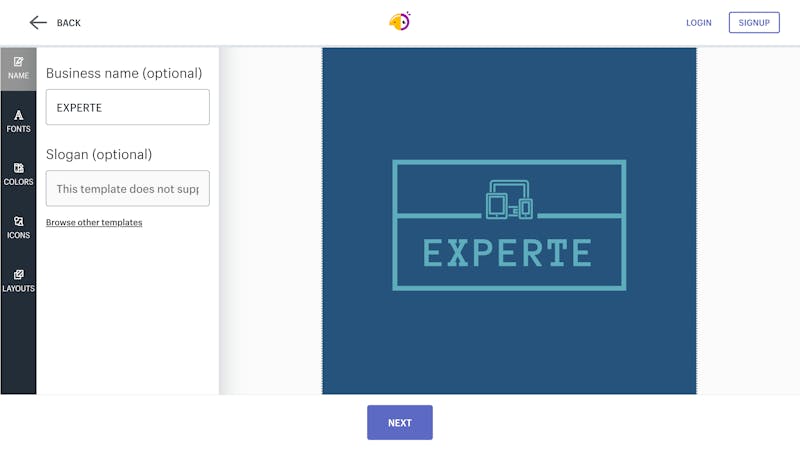 Hatchful's editor is easy enough to use, but lacks drag-and-drop functionality.
Easy to Use, Limited Customization Options
Like the rest of Hatchful, logo editing is simple. In the "Name" area, you can adjust your business's name or add a slogan, however, not all of the platform's templates support the latter. If you click on "Fonts", you'll be able to select from options grouped into five categories: "Block", "Decorative", "Handwriting", "Modern", and "Traditional". Unfortunately, individual fonts aren't listed or named, and the editor lacks an integrated search feature.
You can select a color scheme for your logo in the "Colors" area, however, here too, the options are rather limited: Hatchful recommends various color schemes (grouped into categories), but you can only use these in their entirety. It isn't possible to set different colors for individual logo elements. For that reason, it isn't surprising that there's no color wheel or hex.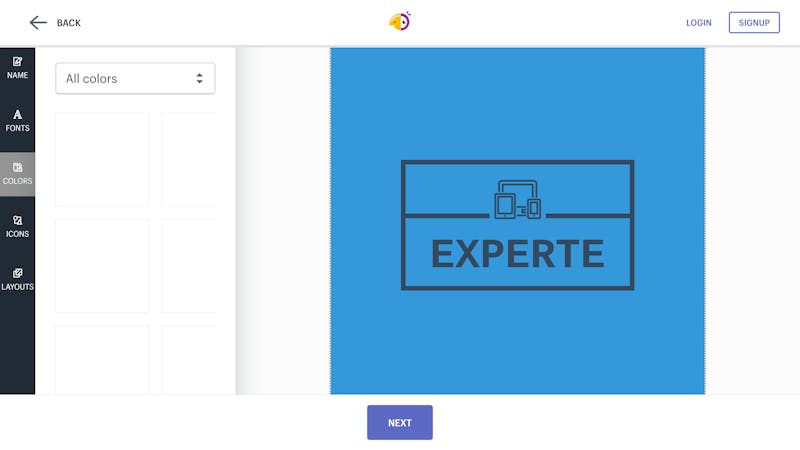 You'll have to make do with Hatchful's color presets as users can't create custom color schemes.
Bland Symbols
Hatchful's symbols are grouped into 11 categories. These correspond to the business space you were asked to specify earlier. Unfortunately, the choices are limited and not particularly exciting. Under the "Technology" heading, we found 33 symbols, several of which weren't relevant to our specialization. As a result, chances are high that even if you find a symbol that's applicable to your business, your peers and potential competitors will use it too!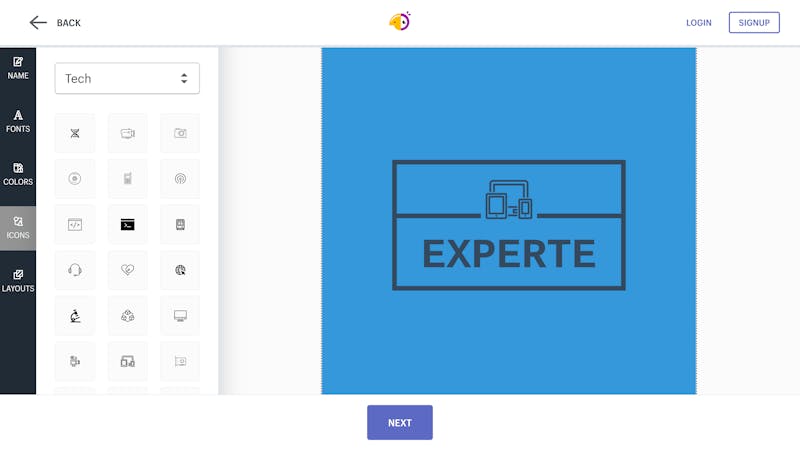 Logos can only feature a single symbol from Hatchful's rather limited selection.
Unimpressive Layout Variations
You can further tinker with your logo's appearance In the "Layouts" area. For us, this was limited to eight choices, most of which were little more than a slight adjustment of the frame. This doesn't really count as customization or personalization in our view.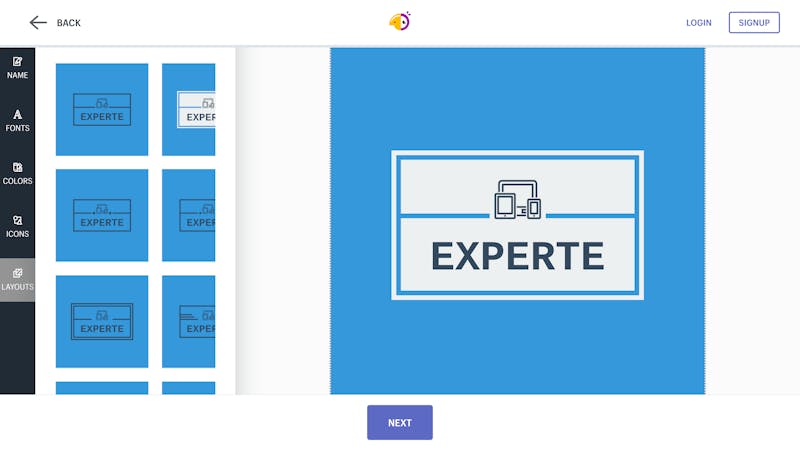 Hatchful offers a handful of layout variations, but this is extremely limited.
Hatchful's logo editor is extremely easy to use. Unfortunately, this is because users don't get much creative or design freedom, let alone the ability to truly customize or personalize their logo. Basic changes can be made here and there, but it isn't even possible to freely select colors, or adjust more 'advanced' aspects like opacity. The editor also lacks drag-and-drop functionality.
Of course, some people like to color within the lines, and that wouldn't be a problem, so long as more templates and symbols were offered. As such, users run a far greater risk than with other logo makers of creating a logo that not only looks like that of another business but, which could easily be copied by competitors down the road.
Logo Customization
4.0 / 10
Once you're satisfied with your logo, click on "Next" in the editor to download it. Up to this point, it was possible to do everything without a Hatchful account, however, now, you'll need to log in or register. This can only be done via email as social logins aren't supported. As odd as it may seem, you can't log in with your Shopify account either as Hatchful is a separate service.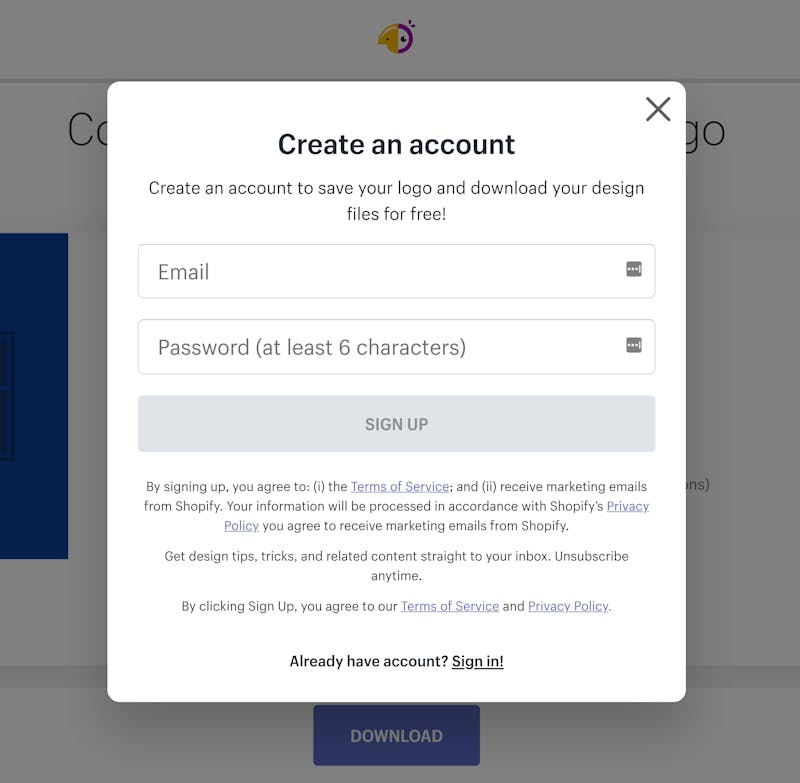 You'll need to create a Hatchful account or log in to download your logo.
Logo files are then sent to the email that you registered with. The Hatchful logo kit contains the following (all files are high-resolution and in PNG format):
Logo file

Logo file with a transparent background

Favicon

Facebook logos (2 cover photos + profile picture)

Instagram profile picture

LinkedIn logos (2 banners + profile picture)

Pinterest logos (board picture + profile picture)

Twitter logos (2 header pictures)

YouTube profile picture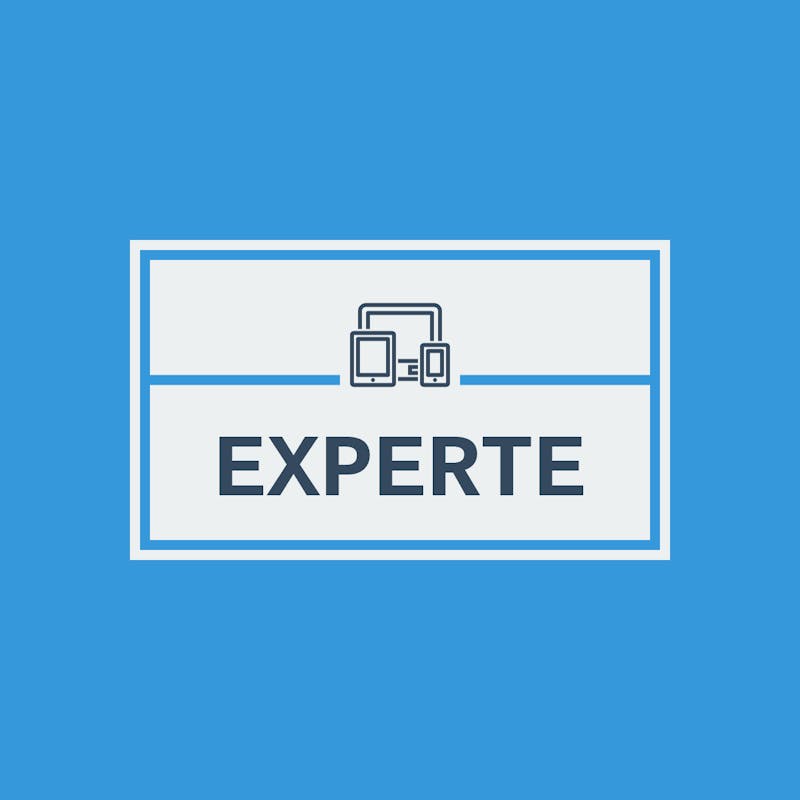 The logo we created for free with Hatchful by Shopify.
Hatchful doesn't offer other formats, like business cards or email signatures at the moment. We were also disappointed that it isn't possible to export logos as scalable vector graphics, in order to enlarge or reduce the logo's size without suffering any loss of quality. This is important for printing logos on t-shirts or posters.
Rights to Your Logo? Yes, But...
Unfortunately, Hatchful isn't very clear about the legal status of logos. Paid logo makers generally transfer all commercial and non-commercial logo rights to users when they purchase a subscription or the logo. Of course, it seems that you're able to use your Hatchful logo as much as you like (after all, the platform is targeted at ecommerce operators), however, we found the following in Hatchful's terms of service:

We found a few issues in Hatchful's terms of service.
Hatchful is allowed to use third-party elements in its designs, however, it doesn't accept any responsibility for your usage of them. Making things more confusing is that the specific designs or symbols containing these third-party elements aren't listed or identified. Thus, logos created using Hatchful are on less solid legal footing than those designed with paid logo makers.
For a free tool, Hatchful by Shopify makes quite a few logo files available in its logo kit, however, the lack of both vector graphics and clarity regarding usage rights dampened our overall opinion.
At the bottom of Hatchful's minimalistic website, you'll find five FAQs. Beyond that, Hatchful doesn't offer any support. Since it's a Shopify product, there is a small area in the provider's help center for its logo maker which includes a few guides. All the same, we can't imagine users requiring a great deal of assistance in navigating Hatchful.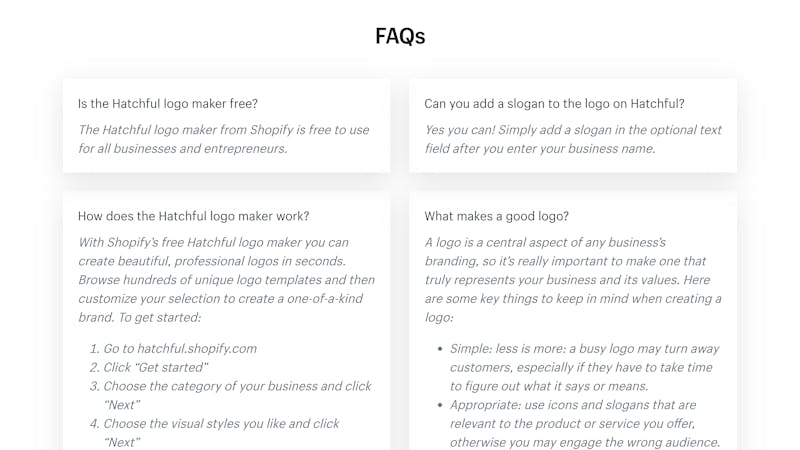 Five FAQs can be found on Hatchful's website. There are also a few articles in the Shopify help center.
Shopify offers a live chat (to its users), and we received help within a minute. Unfortunately, the friendly staffer was unable to answer our questions about Hatchful. Queries can also be emailed, although, in the past, we had a mixed experience with this.
Hatchful's support resources and channels are mediocre, but that should come as no surprise considering that the logo maker is free to use.
Hatchful by Shopify is the only logo maker from our sample that is completely free to use. No paid subscription options are offered.
Below, we've provided an overview of Hatchful's usage conditions:
Free
Purchase Price
$0.00
Price per Month
$0.00
Contract Period (Months)
0
Logo Design
No Subscription
Commercial Use
Export Logo
PNG
PNG (transparent)
SVG
Favicon
Social Media
Hatchful is the exception in our sample.
All other logo makers we assessed require users to pay up, at the very latest, when they are ready to download the logo they've created. Several offer subscription packages with extra features, all of which are compared in the table below. To make this fair, we selected the most affordable package from each provider that includes a high-resolution logo file with a transparent background:
1.
2.
3.
4.
5.
6.
7.
Conclusion
Logo Customization
4.0 / 10
It's unfair to compare Hatchful by Shopify with the other logo makers from our sample since it's the only one that's completely free. But, you get what you pay for, and unfortunately, this is readily apparent with Hatchful: The selection of templates is fairly small, you can't really customize your logo's design, and the legal situation regarding logo usage rights is anything but straightforward.
As a result, it's difficult to create logos with Hatchful that don't look like those already in circulation. Even then, there's almost no guarantee that someone won't copy your logo, or worse, take you to court for using elements of it that they own. We recommend using a paid logo maker since it gives you lifetime commercial and non-commercial rights to your logo, to say nothing of more customization options.
Hatchful by Shopify is free – and that's probably the logo maker's best quality. With few templates, limited personalization, and a lack of clarity regarding the usage rights to your logo, it's definitely not our first choice.
create a logo in just a few minutes
underwhelming number of designs
few options to personalize your logo
5.5

satisfactory
Plan
One-off Price
Transparent (.png)
Vector (.svg)
Shopify Free
$0.00
Visit Website*
User Reviews
What are people saying about Hatchful by Shopify? To find out, we collated ratings from some of the most popular review portals.
Customer Ratings
53,009 Bewertungen
Visit Website*
We analyzed the reviews and ratings from various portals and found 53,009 ratings with an overall rating of 4.1 out of 5 .
Alternatives
If you want more templates and a freer hand when it comes to customizing your logo, you're going to have to open your wallet. Our favorite among the classic logo makers was Wix, owing to its high degree of user-friendliness and powerful drag-and-drop editor. Beyond that, you can also get help from professional designers, on platforms like Fiverr.
If looking for something with a bit more of a punch, Canva might meet your needs. With its intuitive and extensive graphic design platform, you're able to create logos and all sorts of other things too, from presentations to postcards.
Below, we've compiled a list of more of the best alternatives to Hatchful by Shopify:
The Wix logo maker builds on the strengths of its website builder, and makes logo creation easy with its intuitive drag-and-drop editor. Even beginners should be able to create professional looking logos in no time.
well-performing, intuitive editor
preselected logos disappointing
8.9

good
Plan
One-off Price
Transparent (.png)
Vector (.svg)
Wix Basic
$49.00
Visit Website*
Canva is so much more than 'just' a logo maker, but logo creation is definitely one of the platform's many strengths. Because it's a lot more versatile than its rivals, however, it also requires a bit more creative talent.
comprehensive graphic design platform
offers more than 11,000 templates
powerful editor with extensive options
8.7

good
Plan
One-off Price
Transparent (.png)
Vector (.svg)
Canva Free
$0.00
Visit Website*
Looka makes creating logos simple as pie, but it restricts your creativity more than some of its rivals. We like that fact that you don't need to create an account to design your logo – only to buy it once you're done.
simple and fast logo creation
solid choice of design variations
either one-off price or subscription
editor lacks drag and drop
7.7

good
Plan
One-off Price
Transparent (.png)
Vector (.svg)
Looka Basic
$20.00
Visit Website*
Fiverr's logo maker offers a nice selection of symbols and layouts, but it's not as versatile as some of its competitors. Despite the drag-and-drop approach, personalization is quite limited
quality logos from Fiverr designers
designs could be more versatile
limited customization options
7.3

good
Plan
One-off Price
Transparent (.png)
Vector (.svg)
Fiverr Essential
$30.00
Visit Website*
Tailor Brands takes users by the hand, so even beginners without design expertise can create professional-looking logos in minutes. But because your creative freedom is quite limited, the results can be pretty generic.
few customization options
only available as a subscription
7.1

good
Plan
One-off Price
Transparent (.png)
Vector (.svg)
Tailor Brands Basic
$47.88
yearly price
Visit Website*
* Ad disclaimer:
For links marked with an asterisk, EXPERTE.com may earn a commission from the provider. The commission has no influence on our editorial rating.

Martin Gschwentner majored in American Studies and Media Studies in Germany, the USA and France and works as a freelance editor in Paris. He is a doctoral student at the Institute for English and American Studies at the University of Paris Diderot, where he is researching the influence of money on US politics. On EXPERTE.com he writes about IT security, data protection and software for the self-employed and small businesses.

Translation: D Bare
Continue Reading
Other languages
Deutsch