Canva Logo Maker Test 2023: Logo Creation Made Easy?

A good logo is hard to forget. It should generate trust in a brand as well as its products and services, all the while keeping in step with the company's identity and vision. Accordingly, quite a bit of work and effort goes into crafting the perfect logo for a business, and often, is anything but cheap.
Until now that is: With logo makers, anyone, even without a background in design, can create a professional-looking logo in a matter of minutes. One of the most well-known of these platforms is Canva, which we'll be reviewing here.
What Is Canva?
Canva ⇱ is so much more than just a logo maker, being a comprehensive and beginner-friendly graphic design platform that allows practically anyone to create all sorts of graphics, presentations, and even videos. Originally founded in 2013 in Perth (Australia), the platform made quite the splash, registering 750,000 users in its freshman year. As of the time of writing, that number has ballooned to around 55 million, signifying just how strongly the intuitive service has latched onto the importance of visual content in a world where it reigns supreme.
As such, it shouldn't come as much of a surprise that Canva has entered into the world of logo design. Below, we'll take a closer look at how Canva performs and how it stacks up against other logo creation tools.
Canva Logo Maker Review
Logo Customization
9.4 / 10
Comprehensive graphic design platform

Offers more than 11,000 templates

Powerful editor providing extensive design options
Lacks automatic AI-assisted logo creation

More complex editor than other logo makers
Canva's homepage is teeming with thousands of templates for all sorts of graphics, so head over to the "Logo" area. There, you'll find a brief tutorial, a few tips, and some FAQs. To get started, click on the "Create a Logo" button.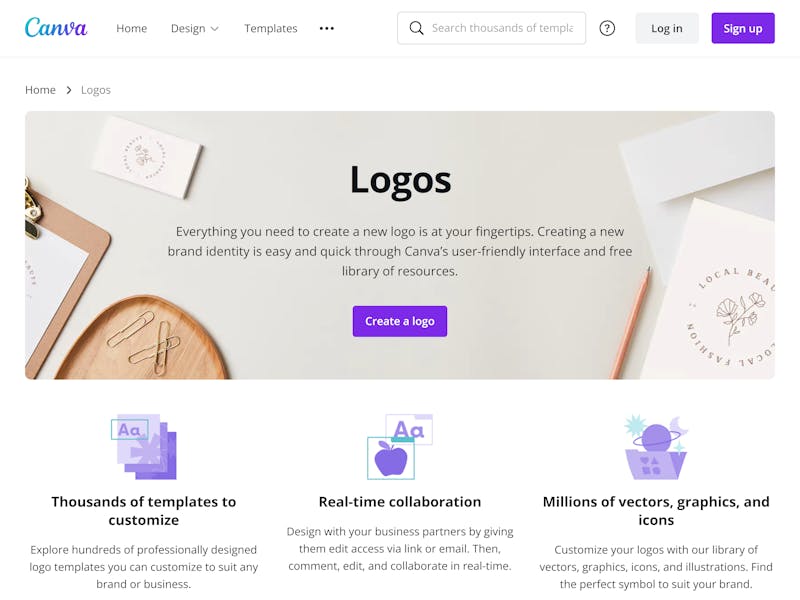 You don't need any design know-how to use Canva's logo maker.
To the point
When starting out with most logo makers, you'll need to answer a series of questions to refine the selection of logos that are subsequently presented to you, prior to being able to edit them. Canva takes a different approach, taking you directly to the editor, in which you can create and edit aspects of your logo.
But don't worry, you'll be given plenty of templates to start from. In the menu off to the left, in which you can switch between the editor's different features and tools, click on "Templates". The platform offers a wide variety of these, sorting them by branch, including "Hospital logos", "Food/drink logos", or less common categories like "Church logos", "DJ logos", and so on. Templates for animated logos, something we haven't seen in any of the other logo makers from our sample, are also provided.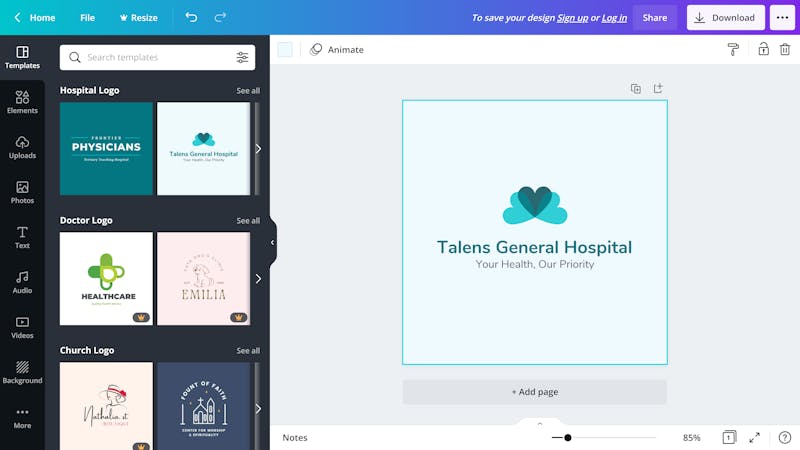 Canva offers numerous logo templates for all sorts of categories.
Icon or text-based?
Canva offers 11,766 templates, some of which are free, with others requiring a premium subscription to use. The designs are of high quality and serve up a nice mix of icons (which run the risk of being copied by other businesses) and more simple designs on which you can adjust the font, layout, and shape to your heart's content.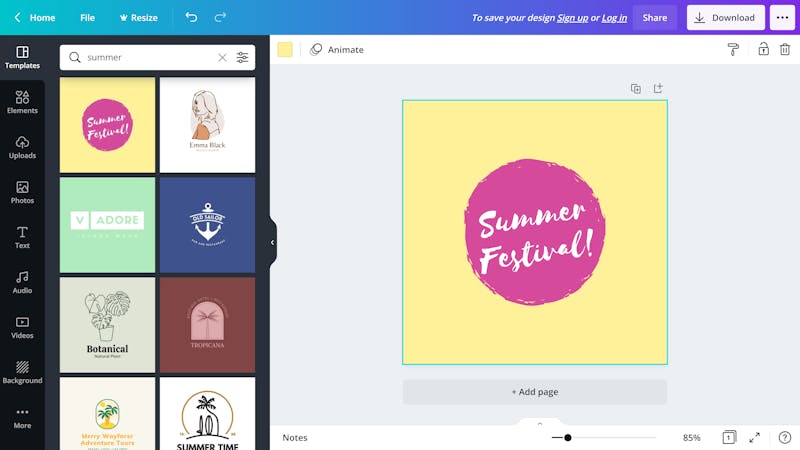 Canva's logo designs are versatile and of high quality.
Unleashing the Canva engine's full power
So far as setting the parameters for your logo, that's about it, as you'll do everything else directly in the editor. As such, Canva again takes a different approach than most of its peers. This is not without reason as Canva's logo maker isn't a piece of specially designed software, relying instead on the platform's standard design engine accentuated with logo templates. This also explains why, for example, you can add new slides or pages to your logo, which is a feature more central to designing a presentation.
All Canva users start with the same selection of logos, as no option to refine these with the help of AI is offered. Since these rarely matched our preferences, or at the very least, weren't as precise as they claimed to be, we didn't really lament the lack of such a feature. Canva could expand its categories though, with the pickings in our area (Technology) rather slim, especially among free options. It's also important to note that should you want to save a logo, you'll need to register with the platform.
If you're able to make do without the 'refined selection' offered by other logo makers with the help of AI, you'll be able to select from a nice variety of high-quality logo templates with Canva, all of which are easily adjusted to your preferences in the editor. But more on that in the next section.
When it comes to customizing your logo, Canva really flexes its muscles. Even though it 'only' works with templates, Canva's editor is a full-fledged graphic design program, meaning that apart from having a pen or brush, you can do everything else in it that you would in an image processor. The platform's editor does less hand-holding than its competitors, giving users a considerable amount of freedom, which can have adverse consequences. To be on the safe side, select a ready-made template and adjust its text and colors..
Generally speaking, Canva's editor made a favorable impression upon us owing to its intuitive drag and drop functionality. It's possible to directly select elements, moving, copying, deleting, enlarging, minimizing, or turning them at will. You can also change their color scheme.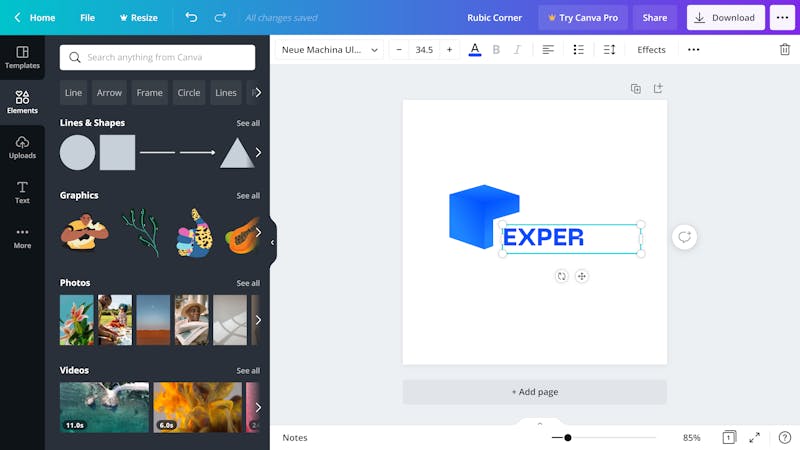 Canva's editor is a comprehensive graphic design program.
Ready-made elements and custom uploads
As we've mentioned above, to the left of the editor's menu, you can select between different templates and tools. By clicking on "Elements", you'll find graphic elements such as lines and shapes, as well as frames, diagrams, and video or audio files. You can upload your own media by clicking on "Uploads". It's even possible to integrate other services, such as Instagram, in order to access photos. Once again though, this sort of connectivity is definitely more appropriate for presentations than logo design.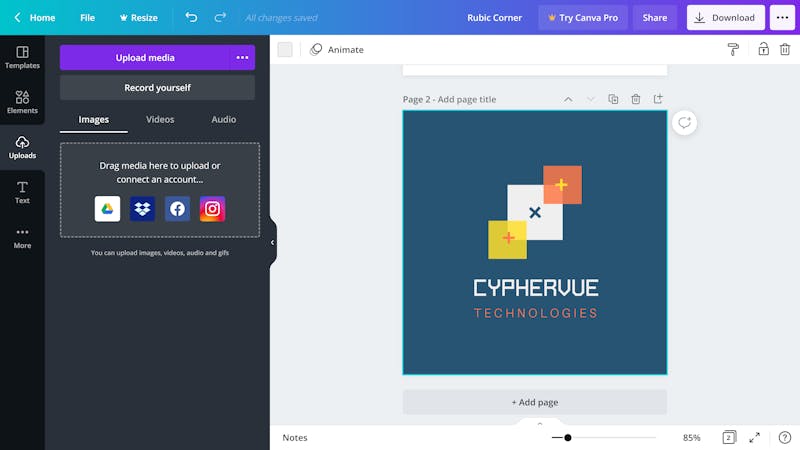 You can also upload files and use them in Canva's editor.
In the "Text" area, you won't only find different fonts, but also stylized text, suitable for a logo without any extra elements. Here, you can add effects to the text, such as shadows, outlines, or curve it.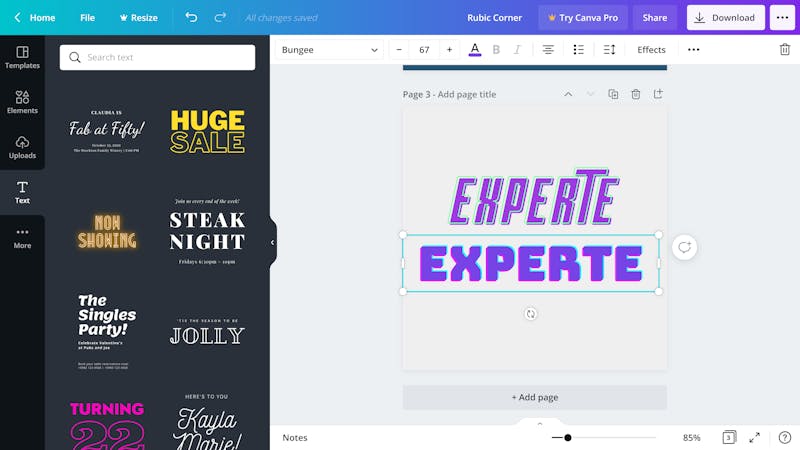 Canva doesn't only offer classic fonts, but also stylized text for your logo.
Harmonized color combinations
The "Styles" tool is also worth checking out. Owing to the relative complexity of Canva's editor, when set alongside those of its competitors, you won't have the ability to automatically apply a layout to each template, however, you can load pre-made color combinations. Simply save your brand's colors, and they'll be usable for any graphics you decide to make with the platform.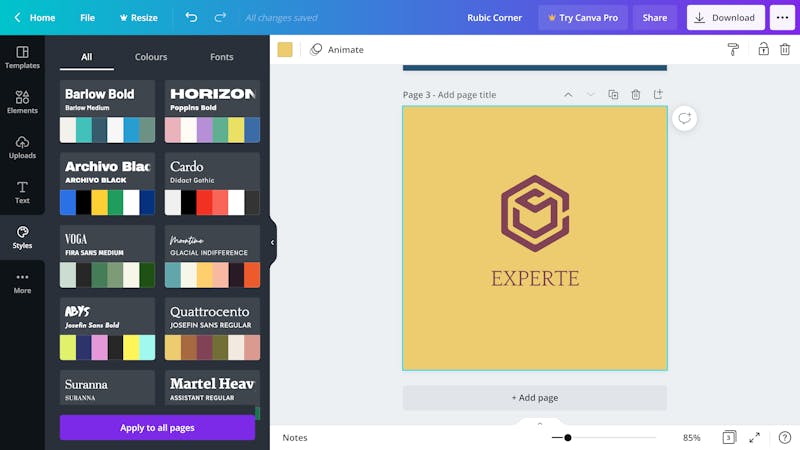 You can select different style in order to create a visually harmonious logo.
Third-party integrations
Another nifty aspect of Canva is that you can upload any logos you might already have onto the platform and modify them in the editor. PNG, SVG, and JPG files are supported. Beyond that, third-party integrations are also offered, such as with Stock photo databases like Pexels or Pixabay. Make sure that you own the legal rights to use those graphics and photos in your logo.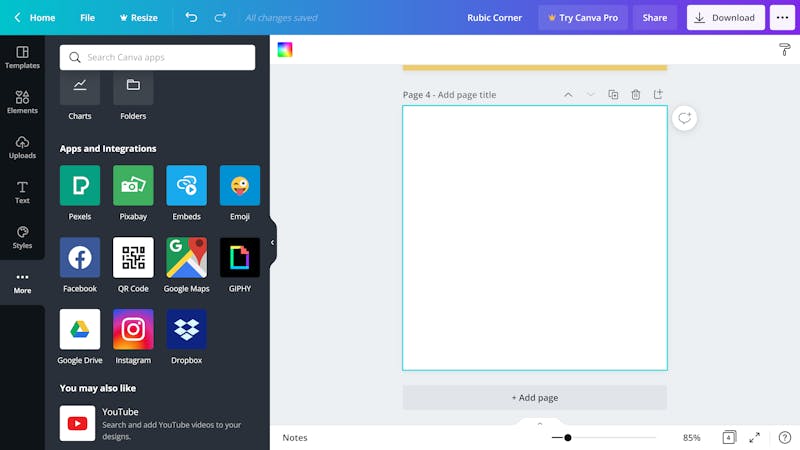 Canva offers a number of integrations to third-party services.
Intuitive, but complex when compared to other logo makers
For anyone who wants to be taken by the hand and walked through using a logo maker, Canva probably shouldn't be your first port of call. You'll have to come to terms with a full-fledged editor, which, while relatively intuitive, offers so much freedom that it's recommended for users to have some design know-how. Of course, even if this doesn't apply to you, you can still use the platform's numerous templates and edit text and other superficial elements. At the same time, if this is all you intend to do, these are more appropriate logo makers that cater precisely to such needs.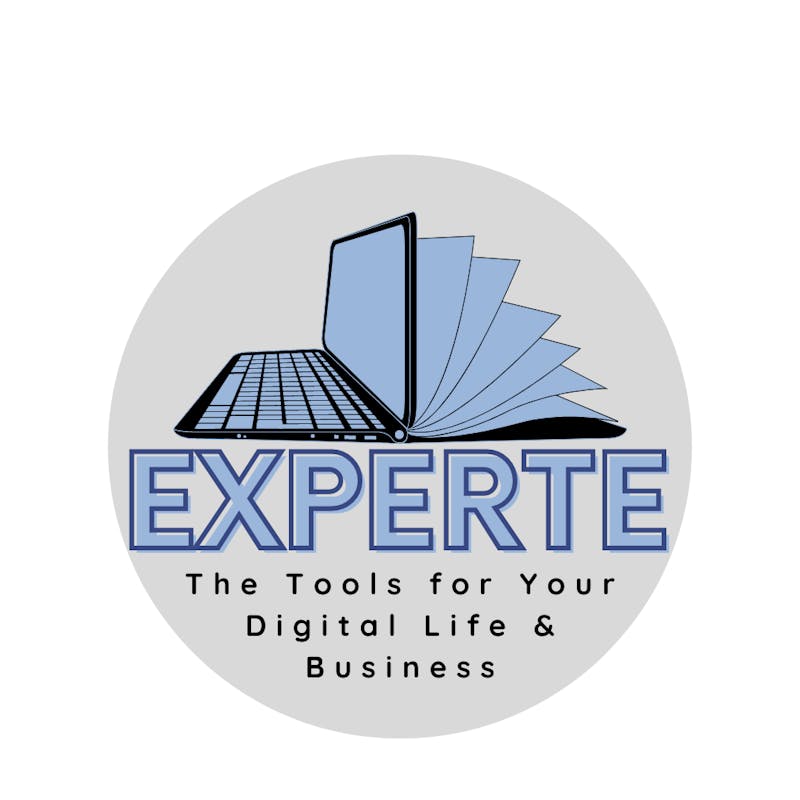 Our logo made with Canva.
All the same, Canva's drag and drop editor is of a different caliber than most of the other logo makers we assessed, making it possible to create truly unique logos.
Logo Customization
9.4 / 10
Logos that you've made with Canva can be used for both commercial and non-commercial purposes. Available stock content like images, graphics, fonts, and illustrations are licensed according to Canva's One Design Use License ⇱, which comes with a few limitations.
Generally speaking, you can use your logo without issue in marketing materials, social networks, or to sell your goods and services. You can only trademark your logo and secure its exclusive rights if you've created it entirely from scratch in Canva's editor, and not, for example, if you've used one of the templates. Even then, you'll be able to freely use your logo, but not exclusively.
Logo files made to order
In order to download your logo, click on "Download" in the menu to the upper right. You'll be able to select from a range of different file types such as PNG, PDF (standard and print), JPG, GIF, and MP4-Video. Pro subscribers can also download a scalable SVG vector graphic, which you can adjust the size of without losing quality. This is important, for example, if you want to print your logo.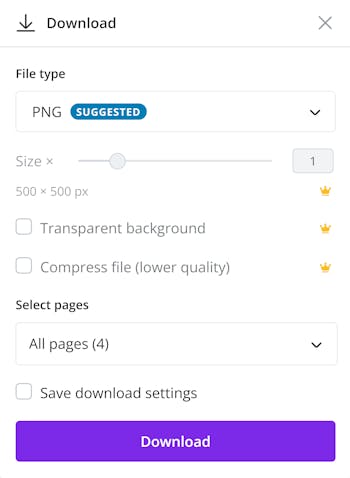 Pro subscribers can take advantage of additional download settings.
Pro subscribers can set the logo's size (from 250x250 px up to 1,500x1,500 px), downloading a version with a transparent background, or compressing the file, the last of which will result in reduced quality.
Unlike its competitors, Canva does not offer an all-in-one package of logo files, containing a range of different formats, such as logos optimized for profile pictures or banners on social media. The platform does provide templates for all of these, which makes it easy to adjust your logo for utilization on social media, business cards, or flyers.
Taken together, Canva makes quite a few options available for any logos you might create, and if a Pro subscriber, you can take advantage of these to full effect.
You'll find comprehensive articles and step-by-step guides with links and screenshots in Canva's help center. All content is organized logically into categories. Since Canva is more than just a logo maker, its help center covers a wide range of topics and features, and there isn't a dedicated section for the logo maker. Because this is based around the same engine as the rest of Canva's editors, you probably won't notice. Lengthy entries are included detailing the legal situation surrounding logos you create on the platform.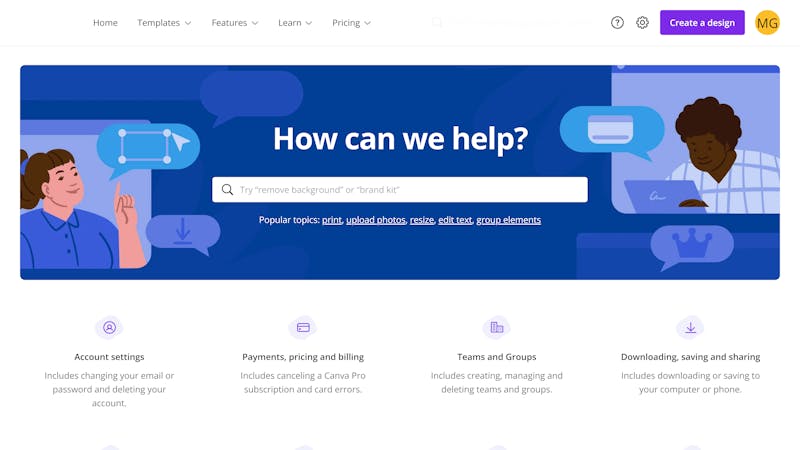 Canva's help center provides step-by-step guides, complete with screenshots and useful links.
Direct support is also offered, although access to it is somewhat hidden in an individual article. There you'll find links for leaving a message with the Canva team, but don't expect to find a hotline number or live chat interface as neither is provided. The platform promises answers to its Pro subscribers within 24 hours, whereby non-paying users have to wait up to a week. We waited around seven hours for an answer to our query.
Canva is available for free, however, if you elect not to book a premium subscription, you will have to make do with a few limitations in terms of features and templates. Vector graphics and transparent logo file downloads are restricted to paying customers only. Full access to all of the platform's features and downloads can be unlocked with a Pro subscription, which can be shared by up to five people and paid either monthly or annually (cheaper).
Below, we've supplied a current overview of Canva's pricing:
Free
Pro
Purchase Price
$0.00
$0.00
Price per Month
$0.00
$10.00
Contract Period (Months)
0
12
Logo Design
No Subscription
Commercial Use
Export Logo
PNG
PNG (transparent)
SVG
Favicon
Social Media
So, how does Canva fare when set alongside its competitors in terms of price? In the table below, we've included a rate for each provider in our sample that includes logo downloads with a transparent background:
1.
2.
3.
4.
5.
6.
7.
According to this criteria, Canva is more pricey than other logo makers, however, you should take into account that the platform is more than just a logo maker, and that its free version is highly usable. All the same, it would be nice if a cut-rate price was offered to anyone only interested in making a logo.
Conclusion
Logo Customization
9.4 / 10
We're going to repeat what we said above: Canva is so much more than a logo maker, as is easily explained by the Australian design platform's global popularity. For anyone looking to create a logo and be walked through the process step-by-step though, we might recommend a few alternatives. While Canva offers all sorts of logo templates, editing them is a bit more complicated than with other services we assessed since users are given so much creative freedom, necessitating some design skills. The platform doesn't offer AI-assisted logo selection, but, this wasn't a big loss for us as this is typically inaccurate anyways.
With all of that in mind, as well as its relatively high Pro subscription price (needed to download transparent logo files), we can only really recommend Canva if you intend to use the platform for more than just making logos.
Canva is so much more than 'just' a logo maker, but logo creation is definitely one of the platform's many strengths. Because it's a lot more versatile than its rivals, however, it also requires a bit more creative talent.
comprehensive graphic design platform
offers more than 11,000 templates
powerful editor with extensive options
8.7

good
Plan
One-off Price
Transparent (.png)
Vector (.svg)
Canva Free
$0.00
Visit Website »
User Reviews
People love Canva: On the review portals that we examined, the design platform averages very good scores. There are some critics though, particularly on Trustpilot, where the platform's service was bashed.
Customer Ratings
11,517,549 Bewertungen
Visit Website
We analyzed the reviews and ratings from various portals and found 11,517,549 ratings with an overall rating of 4.8 out of 5 .
Alternatives
The logical alternative to Canva is Placeit, as like Canva, it's also a full-fledged design solution (and not just a logo maker). On the downside, you will be afforded less creative freedom on Placeit than Canva.
Canva's editor is overkill for your logo needs, but you still want to have a free hand when crafting you logo? Look no further than Wix, which offers a drag and drop editor with plenty of room for customization; key ingredients for making a strong logo for your business.
Below, we've provided more of the best alternatives to Canva:
The Wix logo maker builds on the strengths of its website builder, and makes logo creation easy with its intuitive drag-and-drop editor. Even beginners should be able to create professional looking logos in no time.
well-performing, intuitive editor
preselected logos disappointing
8.9

good
Plan
One-off Price
Transparent (.png)
Vector (.svg)
Wix Basic
$49.00
Visit Website »
Looka makes creating logos simple as pie, but it restricts your creativity more than some of its rivals. We like that fact that you don't need to create an account to design your logo – only to buy it once you're done.
simple and fast logo creation
solid choice of design variations
either one-off price or subscription
editor lacks drag and drop
7.7

good
Plan
One-off Price
Transparent (.png)
Vector (.svg)
Looka Basic
$20.00
Visit Website »
Fiverr's logo maker offers a nice selection of symbols and layouts, but it's not as versatile as some of its competitors. Despite the drag-and-drop approach, personalization is quite limited
quality logos from Fiverr designers
designs could be more versatile
limited customization options
7.3

good
Plan
One-off Price
Transparent (.png)
Vector (.svg)
Fiverr Essential
$30.00
Visit Website »
Tailor Brands takes users by the hand, so even beginners without design expertise can create professional-looking logos in minutes. But because your creative freedom is quite limited, the results can be pretty generic.
few customization options
only available as a subscription
7.1

good
Plan
One-off Price
Transparent (.png)
Vector (.svg)
Tailor Brands Basic
$47.88
yearly price
Visit Website »
Placeit shines as a creative platform for mock-ups and design templates – its logo maker is more of a 'handy little extra'. You can quickly create a nice looking logo, but the customization options are quite limited.
fast and easy logo creation
lots of design and mockup features
unimpressive editing options
lacks 'smart' AI-aided customization
6.4

satisfactory
Plan
One-off Price
Transparent (.png)
Vector (.svg)
Placeit Single
$9.95
Visit Website »

Martin Gschwentner majored in American Studies and Media Studies in Germany, the USA and France and works as a freelance editor in Paris. He is a doctoral student at the Institute for English and American Studies at the University of Paris Diderot, where he is researching the influence of money on US politics. On EXPERTE.com he writes about IT security, data protection and software for the self-employed and small businesses.

Translator & Editor: D Bare
Continue Reading
Other languages
Deutsch