Piktochart Review 2023: How Good Is the Online Design Program?

Ad disclaimer:
For links on this page, EXPERTE.com may earn a commission from the provider. This supports our work and has no influence on our editorial rating.
Creating visually appealing presentations no longer requires sorcery or an encyclopedic knowledge of Photoshop. Thanks to Web-based design solutions like Piktochart, you'll be able to transform dry numbers and figures from routine reports into captivating infographics. But that's not all: The program is equally capable of helping anyone put together memorable brochures and social media posts.
For this review, we took a closer look at Piktochart, testing out as many of its capabilities as possible. Below, we'll let you know what kind of user it's best for.
What Is Piktochart?
Piktochart* is a cloud-based presentation design tool hailing from Malaysia. Founded in 2012 by Goh Ai Ching and Andrea Zaggia, it helped more than 170,000 users in its first year on the market. The Malaysian government was so impressed with the platform, that it encouraged investors to provide the start-up with the means to rapidly expand.
The platform's development team created more and more graphic templates, all the while maintaining their original focus on data visualization. Nowadays, Piktochart serves upwards of 11 million users. A free version of the software is offered, however, you'll have to make do with some limitations. Anyone interested in tapping into the program's full potential will need to purchase one of its premium subscriptions, which is exactly what we did for our evaluation.
Piktochart Review
Documentation & Support
10 / 10
Templates & Elements
6.6 / 10
Offers professional templates
Lacking a free premium trial
To start using Piktochart, you'll need to create an account. This is easy enough to do either by supplying your email address or logging in via social media (Facebook or Google). Once registered, you can use the platform's free version or purchase a premium subscription.
Clear dashboard
After you've completed registration and chosen a plan, you'll be taken to Piktochart's dashboard, which is very well-organized and slightly muted. The menu bar (off to the left) consists of four components: If you click on Piktochart Visual, you'll be given access to a range of templates in different formats for all sorts of purposes, ranging from reports to brochures, to infographics, presentations, and social media posts.
Piktochart Video is fairly self-explanatory, as it takes you to the platform's video editing workshop. Saved templates will allow you to access any projects that you've saved and continue working on them. Finally, Inspire me serves up a colorful assortment of templates for different topics which are meant to get your creative juices flowing.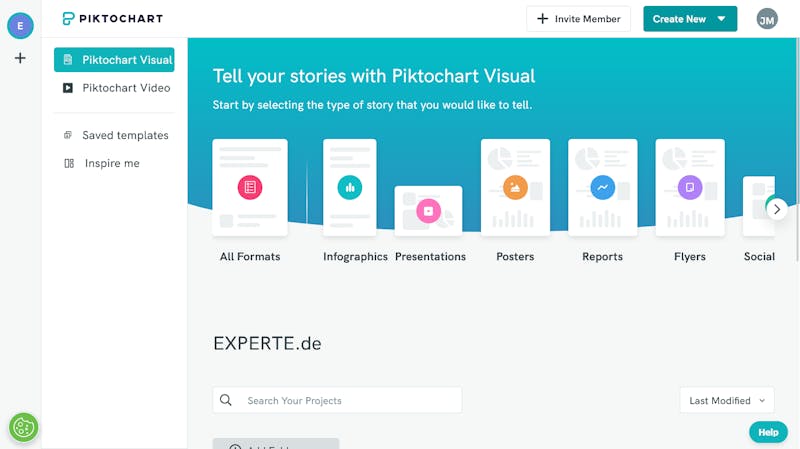 Creating a Piktochart account is quick and easy.
Focussed on user guidance
Owing to its rather spartan dashboard, Piktochart puts users in charge of visualizing their data and seeks to remove as many distractions as possible. Should you prefer to have a helping hand, you can head over to the help center, where you'll find FAQs, a full-text search tool, and options for getting in touch with the platform's support team.
Precisely which options Piktochart offers depends entirely on which template you select. Once you've made up your mind, a library will open with numerous design ideas. The menu off to the left transforms, clearly showing your potential choices, such as the type of template, industry/role, and subject matter.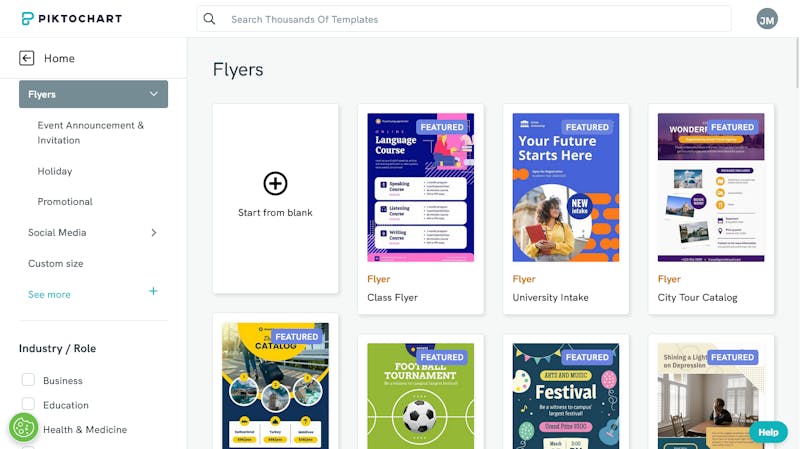 Piktochart's well-organized dashboard keeps distractions to a minimum, allowing users to focus entirely on their projects.
You can view any template in Preview Mode. Should you like what you see, you'll be able to start customizing it to your specifications.
Although Piktochart's development is still ongoing, at the time of writing, users are only able to select between two editors: The classic version, and a newer Beta one. The latter's features are still somewhat limited. In addition, you should keep in mind that any layout which you start in the Beta editor, can't be worked on in its classic counterpart down the road.
For our assessment, we decided to use the Beta version, even though this doesn't yet allow tables to be integrated. In addition, some tools, such as the color selector only work in certain browsers (Chrome, Edge, and Opera).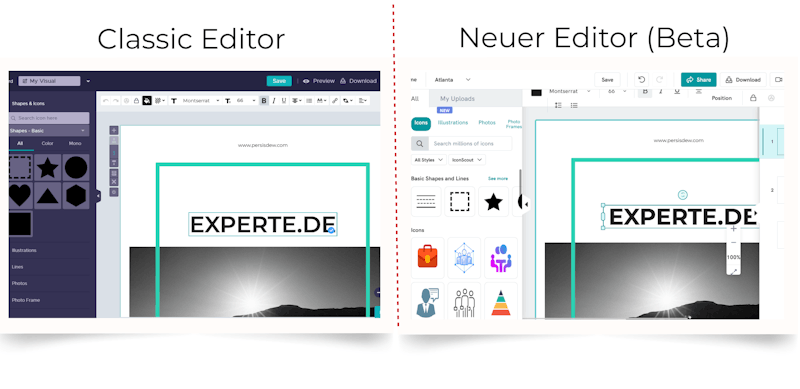 At the moment, users can work on templates either in Piktochart's classic editor, or its newer Beta version.
Fresher, clearer, and more modern
The Beta editor features a fresher and more contemporary layout than its predecessor. One neat aspect is the ability to create a minimized version of the editor by clicking on the bar off to the right, which makes it easier to stay on top of your project. To the left, you'll find all of the usual options for editing graphics, uploading your own pictures, adjusting text, and adding design components, maps, and diagrams. In case you make a mistake, don't worry: Just click on Undo in the upper menu bar.
Overall, Piktochart is highly intuitive to use. By hovering your cursor over an icon in the menu, a text box will appear telling you what it is. Piktochart automatically saves any changes you make to layouts. Once you're satisfied with your project, click on the download button and choose whether you'd like a PNG, PDF, or, for a PowerPoint Presentation, what quality you'd like it to have.
Even though you can design flyers, presentations, or posters in Piktochart, the platform is clearly focused on visualizing numbers and data. This might explain why you won't find image editing or API integrations. Those who spend most of their time working on charts and statistics, and might only need another kind of design on occasion, will definitely be satisfied with Piktochart's capabilities.
Tables, spreadsheets, and timelines can be given an elegant touch thanks to the service's clear and multifaceted layouts. You can change the type of diagram with a single click, and adjust colors, fonts, sizes, and positions with ease. Most of the data which we imported into the program directly as an Excel file, was fully recognized.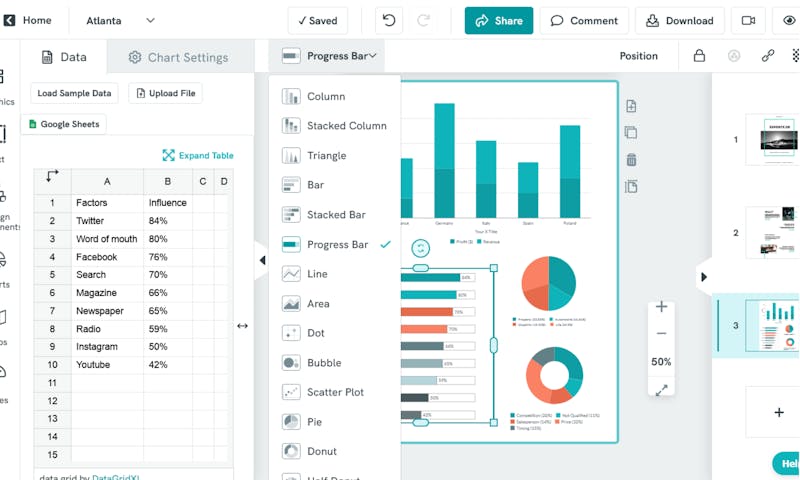 Piktochart is all about helping its users visualize data and statistics.
Stock photo database from Pexels
In case you need images or graphics for your design, Piktochart users get access to Pexels' comprehensive stock media database. The Mask tool is particularly nifty. As soon as you've found an image you like, select it, after which you'll be able to choose from hundreds of different shapes for it.
The selection of stock photos is enhanced with thousands of icons, illustrations, and frames. Our only complaint is that the variety of media on offer reflects Piktochart's focus on designers working with numbers and data.
Note: When we asked what position Piktochart would take in the event that a user ran into any legal difficulties owing to content sourced from Pexels, the staffer told us to consult Pexels' licensing agreement. As a result, it appears as though Piktochart does not accept any responsibility should you run into a copyright or licensing dispute arising from the usage of content from Pexels.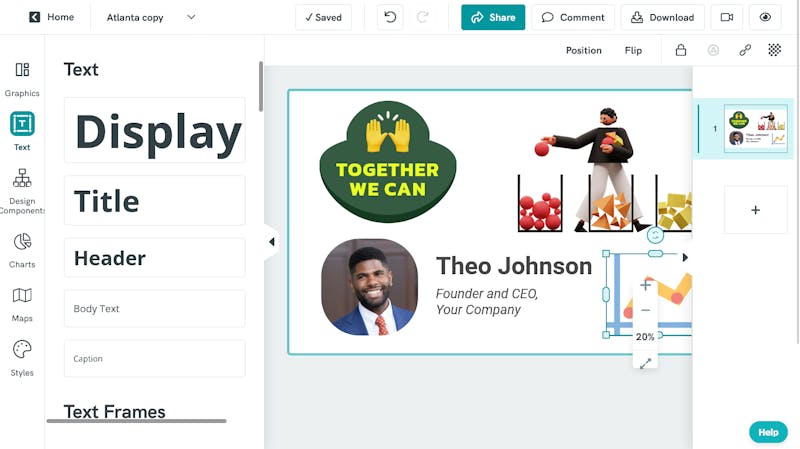 Piktochart offers a nice selection of illustrations, icons and graphics: For pictures, you'll be using Pexels' database.
Maps, timelines, and brand assets
Since Piktochart is all about numbers, it shouldn't come as much of a surprise that the platform comes with a number of helpful features for making sense of more complicated datasets (such as editable maps, timelines, comparison templates, and lists). In case you'd like to know which colors your corporate identity uses, you can find out through the user menu by clicking on Brand Assets, and uploading a photo. After that, the colors will be saved for your next layout.
We deducted points as it's only possible to save a single color palette at a time for usage with your own logos. By clicking on the Fonts tab, you can specify your default font.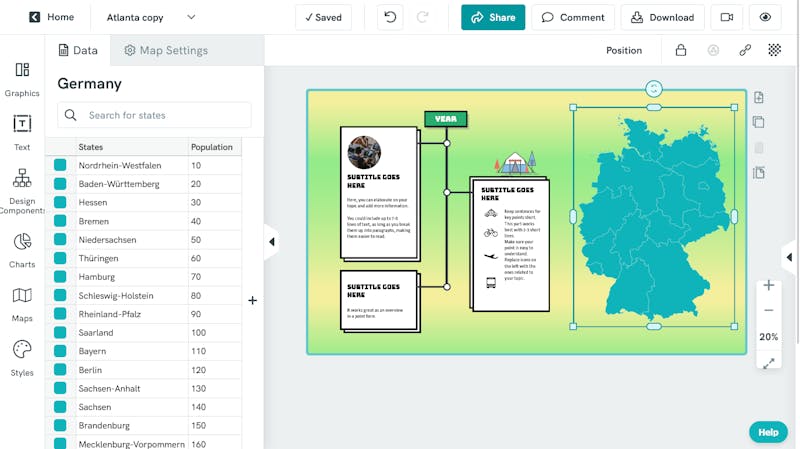 We found the ability to add a map with customizable data interesting.
Videos on Piktochart
Piktochart's video features are rather limited: The focus seems to be on adding subtitles to already existing videos, which is fine for tutorials or introductory presentations. Unfortunately, true video editing, a clip library, or even audio files to add to sequences, are nowhere to be found.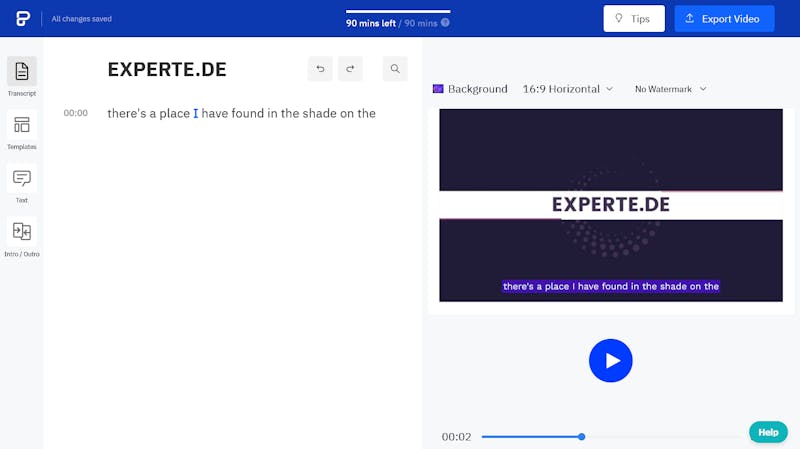 If you'd like to add subtitles to your educational videos, you'll be able to download up 90 minutes worth of content per month on Piktochart.
Clear package of features
Piktochart doesn't offer its users too many add-ons. Those centered on visualizing numbers and data with few creative projects in mind will be pleased with what the Malaysian provider has to offer. At the same time, designers and marketing specialists will probably be clamoring for more.
Pitkochart offers numerous templates, each of which can be re-designed from the ground up and saved as a custom layout. However, the ready-made options do considerably minimize the amount of work you'll have to put in. Broadly speaking, the quality of layouts offered by the platform is high, with colorful and creative options offset by an equal number of more serious and professional ones.
It is worth pointing out though that the platform doesn't excel in terms of filters and sorting features. If you'd like to limit the number of options, you'll have to rethink the search term you input. Piktochart does suggest categories that might be close to what you're after, however, there are almost always too many results to browse through manually. Worst of all, in our experience, the more search terms you input, the less relevant the results will be.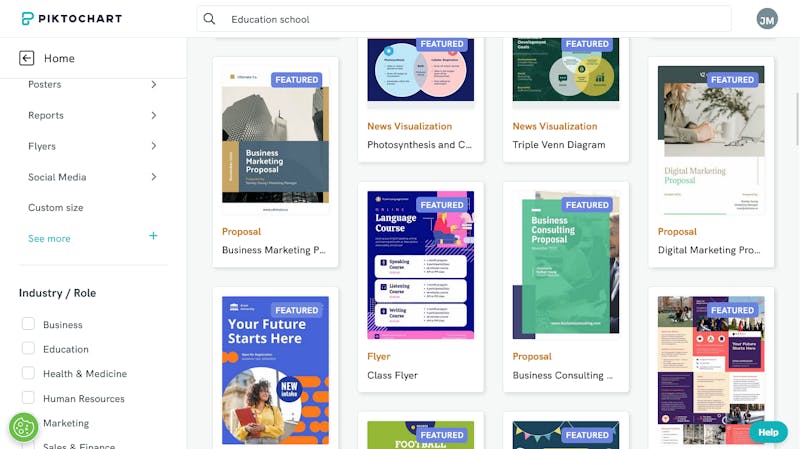 Piktochart offers a nice selection of templates for plenty of different topics and areas. Unfortunately, the platform lacks search filters, with keyword queries often returning irrelevant results.
Alongside presentations and infographics, you'll also find a comprehensive assortment of posts and headers for social media. Regardless of whether you're working on Facebook, LinkedIn, Instagram, or Twitter, social media specialists will quickly come across everything they need for whichever platform they're working on. As with the other types of templates, these can also be customized to your exact needs, downloaded, and posted or shared. Our sole complaint in this area is that Piktochart lacks API integrations for directly publishing content.
Stock photos galore
You probably won't have difficulty sourcing what you need from Piktochart's stock photo database. In contrast to our experience with templates, the free text search feature here performs well. When we searched for people blue, the algorithm returned hits that were relevant. The lack of filters is unfortunate, but not as big of an issue as it is with the templates.
The same holds for picture frames. There are plenty of creative options but also innovative ones that make it possible to add testimonials or business data to images. Anyone who wants to add their corporate font to these can upload and use them. Should that not be necessary for you or your business, Piktochart offers a nice selection of fonts to choose from.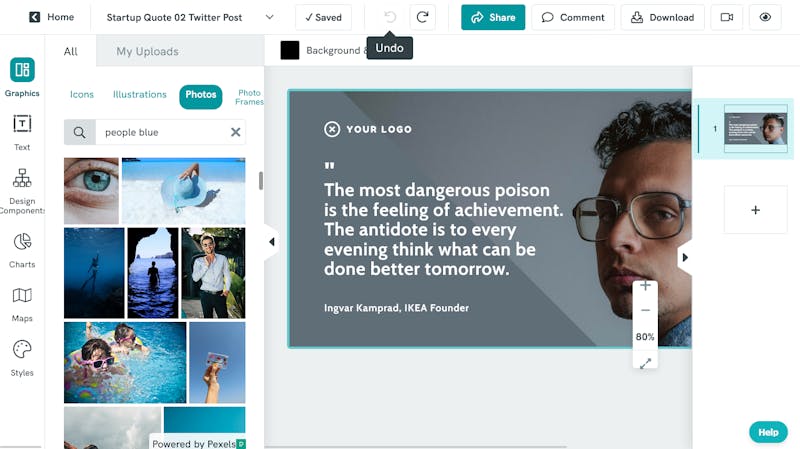 Piktochart relies on Pexels for its stock photos. The quality and quantity of pictures is first-class, with our only issue being the lack of filter options.
Neither filters nor free text searching is possible for illustrations. Of course, Piktochart does make a huge variety of illustrations of all types available, however, the enormity of what's presented makes it very difficult to find what you need.
Things are a bit better with icons. It's possible to search for these by keyword, after which you'll be able to filter results according to their style and database. As with illustrations, the quality is excellent.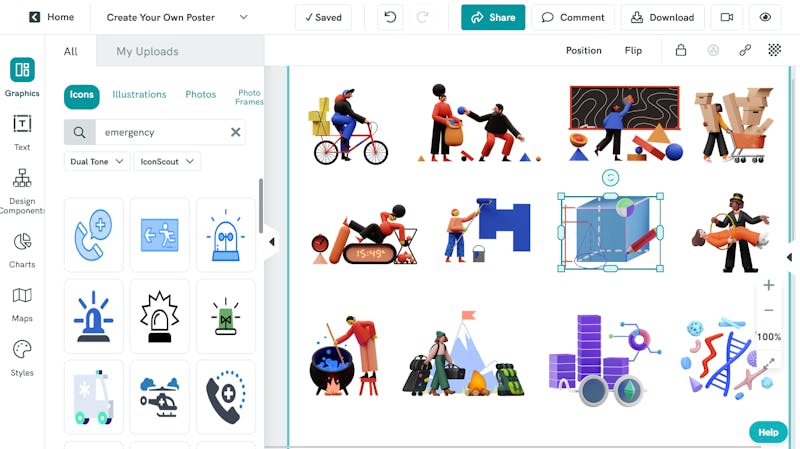 Piktochart serves up plenty of illustrations, however, there's no way to sort through them. For icons, on the other hand, you'll be able to use search filters.
Users are able to work on backgrounds, colors, styles, and positions in a general sense. Both the photo and template databases are impressive. All the same, we were disappointed with how illustrations and frames are handled. We couldn't help but think that the developers had lost the plot.
Templates & Elements
6.6 / 10
Piktochart is fairly easy to come to terms with, however, should you run into any issues, the News blog can help. In case you require more of a hand's on approach, the platform doesn't hide contact details for its support staff, with the Help button at the bottom right of every page connecting you with them.
By clicking on this button, an FAQ area will open along with a chat window. Should you have found what you're looking for, you can exit the support area by clicking on Close.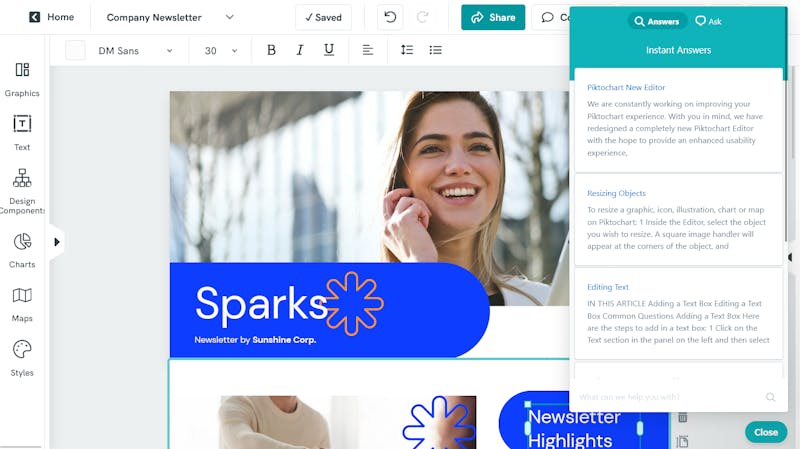 At the bottom right of each page you'll have a link to Piktochart's support team. During our evaluation, queries were answered within a matter of hours.
During our assessment, we reached out on two separate occasions to Piktochart's support staff to inform them about issues we were having. We're happy to report that both times our questions were answered to our satisfaction within just a few hours.
Documentation & Support
10 / 10
There are two versions of Piktochart: Free and Pro.
In terms of storage space, the platform is a bit stingy: Pro subscribers only get 100 GB, whereas free users will have to make do with 100 MB. Compounding this, the number of projects is limited to 5 for non-paying users. No limitations are placed on how many projects Pro subscribers can work on at the same time.
The differences between the two versions are made abundantly clear in terms of downloads, with Free users only being allotted two. For branding, those who aren't ready to book a subscription won't be able to upload either fonts or corporate colors. Unfortunately, as we noted above, there's no possibility to try out the service's premium version. At the end of the day, the price-performance ratio isn't particularly good.
Below, we've provided a summary of Piktochart's plans:
Free
Pro
Monthly Price
$0.00
from $14.00
Contract Period (Months)
0
1 - 12
Plan
Number of Users
4
25
Storage
0.1 GB
100 GB
Features
No Watermark
Unlimited Downloads
Premium Templates
Premium Stock Photos
Background Remover
Brand Assets
Teams
Social-Media Integration
Video Editing
Conclusion
Documentation & Support
10 / 10
Templates & Elements
6.6 / 10
Piktochart is a design tool that specializes in visualizing numbers and creating infographics. After just a few minutes, you should be able to put together some fairly impressive and professional-looking media. One of the platform's biggest advantages is that users can upload their own spreadsheets and extract the data from them. Even though video editing is very basic, we also have to point out how useful we found the subtitling feature to be. And rounding out the positives, its support team is on point, both in terms of speed and competence.
All the same, we were disappointed in the poor selection of add-ons and the lack of API integrations. Matters certainly aren't helped by the service's relatively high price.
Piktochart excels in visualizing numbers and data. The intuitive platform also offers professional templates. Its lack of tools and pricing structure count against it though.
Plan
Users
Speicher
Downloads/Month
Piktochart Free
$0.00
monthly price
Visit Website*
Customer Reviews
Users are also impressed with Piktochart's usage, support, and template variety. Free users, on the other hand, report diminishing returns as every year sees the introduction of new restrictions or limitations.
Customer Ratings
499 Bewertungen
Visit Website*
We analyzed the reviews and ratings from various portals and found 499 ratings with an overall rating of 4.4 out of 5 .
Alternatives
With Canva numbers and data can also be visualized and brought to life. On the other hand, those looking to quickly create a social media post or birthday invitation will find plenty to work with on Adobe Express.
Below, we've listed more of the best alternatives to Piktochart:
Our winner from Australia impresses thanks to its intuitiveness, editing options, and a huge selection of layouts, elements, and stock content. With Canva, you get lots of power at a fair price.
impressive stock media database
good price-performance ratio
free premium trial available
9.6

excellent
Plan
Users
Speicher
Downloads/Month
Canva Free
$0.00
monthly price
Visit Website*
Attention to detail, lots of tools, and specialized templates secured Visme second place in our test. Unfortunately, it is somewhat tricky to use and its value for money could be better.
comprehensive editing tools
specific templates (e.g. magazine layouts)
convenient app integrations
8.6

good
Plan
Users
Speicher
Downloads/Month
Visme Basic
$0.00
monthly price
Visit Website*
Third place in our test went to VistaCreate, which wants to revolutionize the marketing world. It isn't quite there yet but still impresses with its intuitiveness and high-quality templates. Just the printing capabilities could be improved.
Plan
Users
Speicher
Downloads/Month
Vista Starter
$0.00
monthly price
Visit Website*
The market leader was surprisingly unimpressive in our test. Although Adobe Express is well-suited for beginners, its lack of features and template quality hold it back from being a contender.
features professional stock photos
7.8

good
Plan
Users
Speicher
Downloads/Month
Adobe Free
$0.00
monthly price
Visit Website*
* Ad disclaimer:
For links marked with an asterisk, EXPERTE.com may earn a commission from the provider. The commission has no influence on our editorial rating.

Julia P. Manzau has more than 30 years of professional experience in leading editorial and marketing positions in the premium automotive, mechanical engineering, and healthcare industries. She studied Political Science and History in Bonn, Marketing at the St. Galler Business School and earned a BA in Media Engineering (CCI). Since 2015, she has worked as a freelance writer. For EXPERTE.com, she focuses on software, the Internet, and marketing.
Continue Reading
Other languages
Deutsch