Best Canva Alternatives 2023: Our Top 4

Ad disclaimer:
For links on this page, EXPERTE.com may earn a commission from the provider. This supports our work and has no influence on our editorial rating.
Canva took first place in our comparison of online design platforms thanks to its ease of use, professional templates, helpful tools, and great value for money. However, just because it was the top dog doesn't mean that its competitors should be overlooked - especially since a few of them excel in areas that Canva didn't.
Do you want to know which high-quality alternatives there are to Canva? You're in the right place, as below, we've prepared an extensive list showcasing each provider's advantages and disadvantages.
What Are Canva's Disadvantages?
Even though Canva finished in first place in our test, there are a few things we didn't like:
Lack of filters
Although Canva does offer filters for template and media searches, they aren't very helpful. The champion from Australia can and should do much better here.

Template confusion
Canva's templates are sleek and professional, however, there are way too many of them. Finding the right one can be a hassle owing to the platform's disappointing search filters.
We admit that these disadvantages aren't very serious, however, they do cost time and could lead to adverse consequences down the road. Of course, none of the online design tools that we examined were perfect, but for some kinds of projects, there are better options than Canva.
Top 4 Canva Alternatives
Here are our four best alternatives to Canva:
1.
Visme: The Design Program for Enthusiasts
Attention to detail, lots of tools, and specialized templates secured Visme second place in our test. Unfortunately, it is somewhat tricky to use and its value for money could be better.
comprehensive editing tools
specific templates (e.g. magazine layouts)
convenient app integrations
8.6

good
Plan
Users
Speicher
Downloads/Month
Visme Basic
$0.00
monthly price
Visit Website*
According to Visme, the platform has more than 4.5 million users spread across 120 countries. These benefit from its wide selection of templates, editing options, and 3-D animations. These efficient tools won't just help graphic artists and marketing maestros, but also project managers who want to bring drab numbers and statistics to life.
What We Like
Visme's attention to detail and its niche templates (like those for magazines) and 3-D animations impressed us. Don't be fooled by its unsuspecting nature: A huge selection of editing tools and integration options for cloud storage and email marketing software awaits.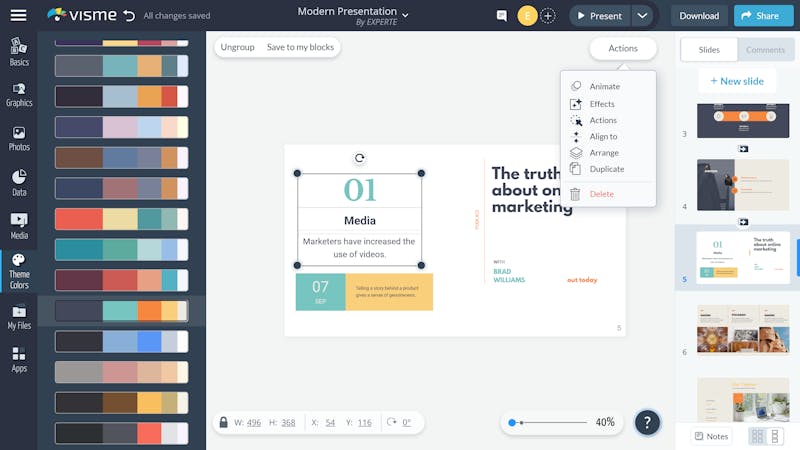 Visme features a powerful editor and numerous integrations for other programs and platforms.
What Makes Visme a Good Alternative to Canva?
Thanks to its powerful editor and unique layouts, Visme followed hot on Canva's heels in our ranking, securing second place. Especially in terms of design options for text elements, the US service offers up a great deal of creativity and variety. Its selection of 3-D animations for educational presentations is also very nice.
Beyond that, there are also social media templates, easily sortable by the platform they're intended for use on.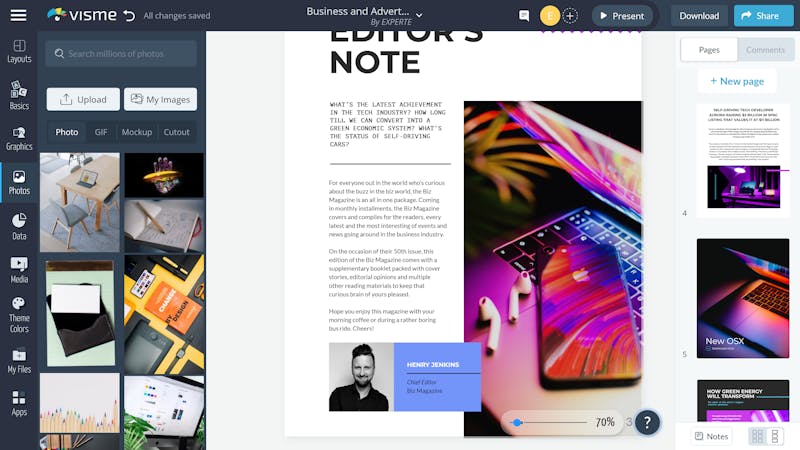 Niche template themes and attention to detail make Visme an interesting alternative to Canva.
What We Don't Like
Even though Visme shows a nice amount of attention to detail, it appears to have been distracted in terms of user-friendliness and ease of use. Unfortunately, Visme is less intuitive than our overall winner, Canva.
There are also some shortcomings in terms of media selection and video clips. We strongly advise Visme to work on its offerings in these two areas. Rounding things out: The service is fairly expensive and there's no way to try the platform before purchasing a subscription. For these reasons, Visme will have to settle for second place in our overall ranking.
Interesting niche templates, such as magazine layouts

Powerful editor and good app integrations
Documentation & Support
9.4 / 10
Templates & Elements
8.0 / 10
2.
VistaCreate: Intuitive to Use, Exciting Tools
Third place in our test went to VistaCreate, which wants to revolutionize the marketing world. It isn't quite there yet but still impresses with its intuitiveness and high-quality templates. Just the printing capabilities could be improved.
Plan
Users
Speicher
Downloads/Month
Vista Starter
$0.00
monthly price
Visit Website*
VistaCreate, earlier known as Crello, came in 3rd place in our overall ranking of online design solutions. The platform sees itself as a direct competitor to Canva and has set itself the goal of revolutionizing the world of marketing and printing.
What We Like
The provider's strengths rest primarily in its intuitive usage concept and powerful editing tools. Paying subscribers also gain access to all of the stock photos offered by Depositphotos. The platform's layout is sleek and tidy, and users can try it out (for 14 days) for free.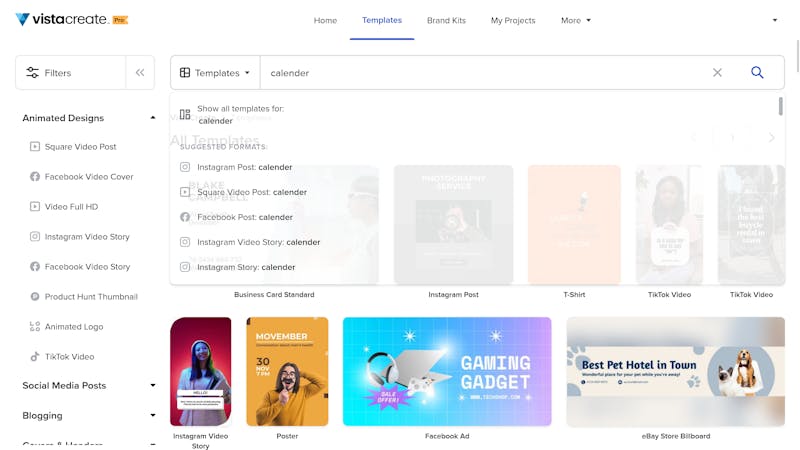 VistaCreate's user dashboard is well-designed and clear, however, the platform has a number of other strengths.
What Makes VistaCreate a Good Alternative to Canva?
It doesn't take long to get familiar with VistaCreate's user dashboard, since using the platform is intuitive and straightforward. Its templates are high-quality and offer inexperienced users fast (and good) results. Stock photos, videos, music, animations, and backgrounds are all available, and everything can be customized in a drag-and-drop editor.
Beyond that, the design program scores with its versatile tools which make creative work easier. These include crop tools, filters, and color settings.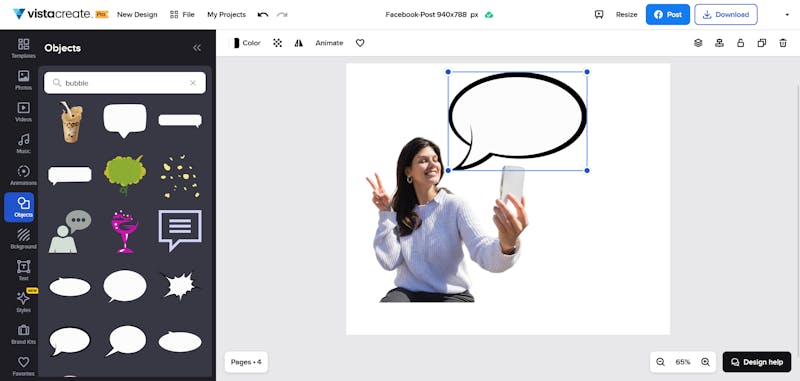 VistaCreate wowed us with its numerous features, making it easy for inexperienced users to quickly create sleek layouts.
What We Don't Like
VistaCreate doesn't need to hide from its competitors, however, that doesn't mean that it's achieved its goals. Neither its variety of features nor the quality of its templates and app integrations are revolutionary. To achieve its goals, our third-placed service still has quite a bit of work to do.
Lack of attention to detail

Direct printing isn't possible
Documentation & Support
8.6 / 10
Templates & Elements
8.0 / 10
3.
Piktochart: For Numbers People
Piktochart excels in visualizing numbers and data. The intuitive platform also offers professional templates. Its lack of tools and pricing structure count against it though.
Plan
Users
Speicher
Downloads/Month
Piktochart Free
$0.00
monthly price
Visit Website*
As you might be able to tell from its name, Piktochart is all about presenting numbers, data, and facts in as appealing a visual package as possible. The Malaysian company is entirely focused on data visualization, offering analysts and controllers easy access to creative solutions. The platform with more than 11 million users is intuitive too.
What We Like
Well-arranged and to-the-point: Piktochart is ideal for analytical types who want or need to present facts in a creative fashion. Its user interface is kept to the basics and shouldn't cause any distractions.
We particularly liked the seemingly endless number of variations for diagrams. Should you already have an Excel file containing your data, all you have to do is upload it to the platform.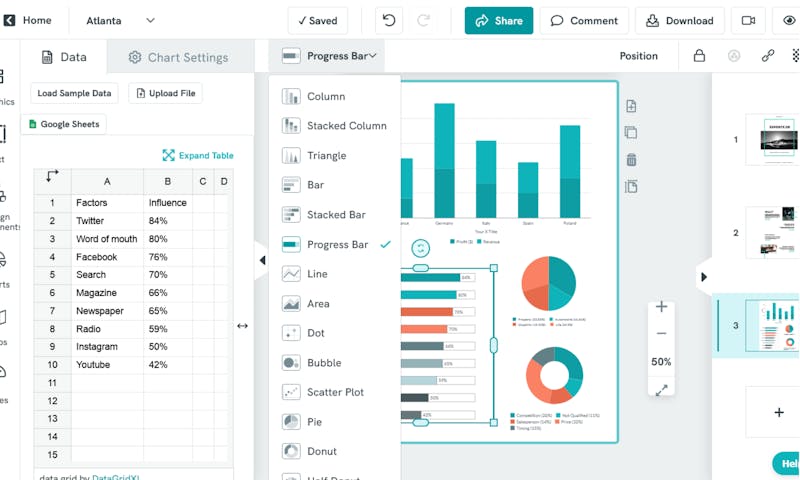 The world of numbers and data can be beautifully visualized with Piktochart.
What Makes Piktochart a Good Alternative to Canva?
When you need to work with data, Piktochart is a good alternative to Canva. In addition to its comfortable editing of diagrams and infographics, the program also offers a host of other features, such as timelines, maps, comparison templates, and lists.
For creative graphic designers, there aren't many arguments in favor of Piktochart. However, when you want to visualize complicated data, the platform is your best bet.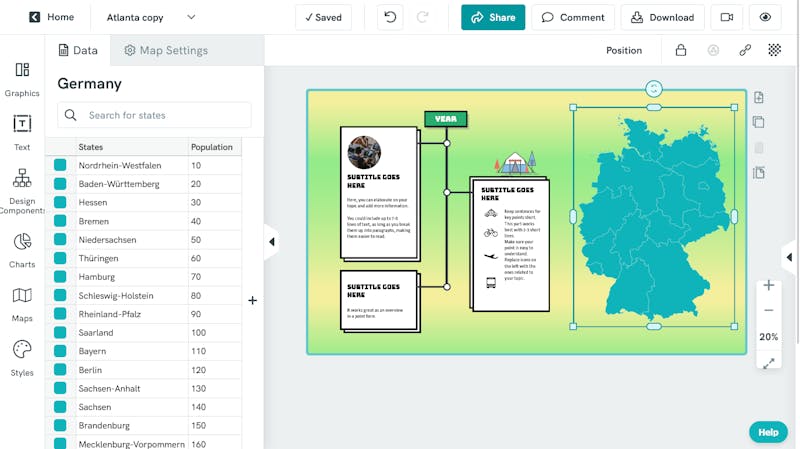 Piktochart knows what numbers people and analysts want.
What We Don't Like
The variety of features Piktochart offers isn't very impressive. For graphic designers, creatives, and marketing pros, what's available likely won't be enough. Making matters worse, the service is fairly pricey. The motto seems to be: Less for more.
Documentation & Support
10 / 10
Templates & Elements
6.6 / 10
4.
Adobe Express: Graphic Design Veteran
The market leader was surprisingly unimpressive in our test. Although Adobe Express is well-suited for beginners, its lack of features and template quality hold it back from being a contender.
features professional stock photos
7.8

good
Plan
Users
Speicher
Downloads/Month
Adobe Free
$0.00
monthly price
Visit Website*
When you ask most people about graphic design software, Adobe will likely be the first name that comes to mind. However, to make something presentable with Photoshop or InDesign, you'll need a fair amount of know-how and experience.
Even though online design platforms like Canva were created owing to the relative difficulty of Adobe's solutions, that hasn't stopped the US concern from entering the market with Adobe Express.
What We Like
Should you already have some experience with Adobe programs, it won't take long to see results with Adobe Express. Plenty of image editing options and effects are included, and Pro users get access to the powerful Adobe Stock photo database.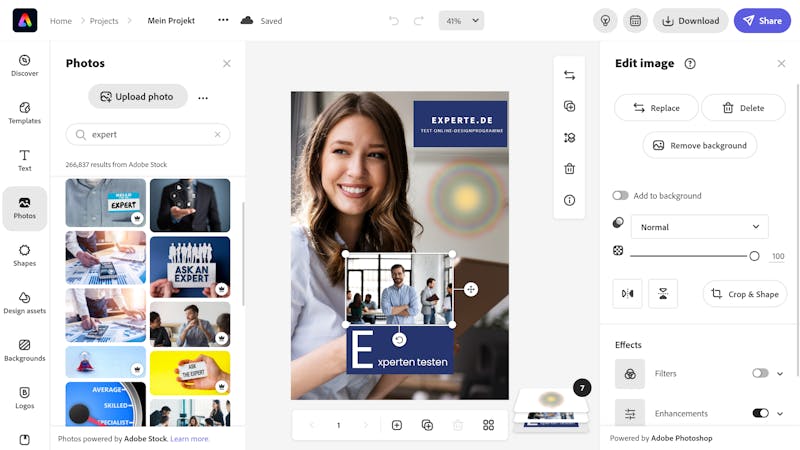 Adobe Express makes a wide selection of tools available for editing images along with access to the powerful Adobe Stock database.
What Makes Adobe Express a Good Alternative to Canva?
Those who want to quickly put together a social media post or material for a presentation won't be disappointed with Adobe Express. Even for personal use, the design platform is well-equipped. To work without watermarks and have access to all of the service's features, however, you'll need a Premium subscription.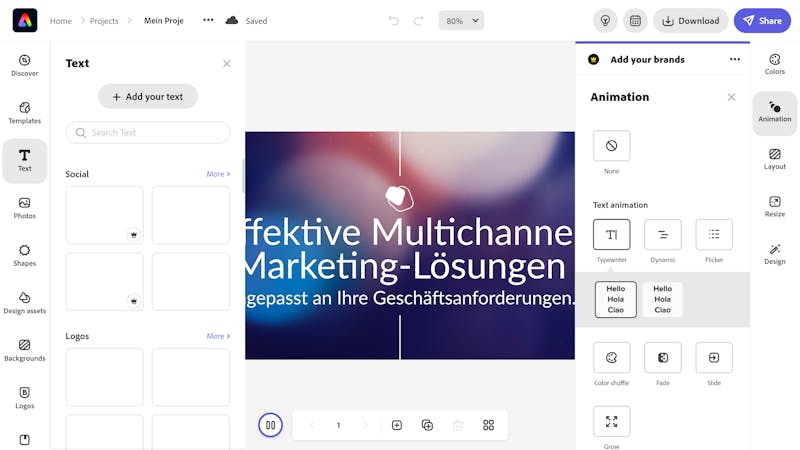 Adobe Express is well-suited for quickly creating a social media post or preparing materials for a presentation.
What We Don't Like
Adobe Express seems to rely too much on its name, and less so on its capabilities. Templates could be more professional, and its competitors offer more user-friendly interfaces. We also deducted points for its editor, which takes quite a bit of time to get used to and isn't very intuitive.
Professional stock photos

Free 30-day Premium trial
Template quality could be better
Documentation & Support
10 / 10
Templates & Elements
6.6 / 10
Overall Results
Below, you can see the full ranking of providers from our design platform test:
Other Alternatives to Canva
Apart from our Top 4 programs above, there are plenty of other online design tools which can be used as alternatives to Canva. Depending on your level of experience and what it is that you want to accomplish, Adobe Illustrator, Affinity, Desygner, or Lunacy might be worth considering.
Conclusion
Is Canva not exactly what you're looking for? Do you want an intuitive design solution for polished social media posts or effectively and creatively visualizing boring data? Even though Canva was our overall pick among online design platforms, there are plenty of decent alternatives.
Visme scores with its powerful editor, VistaCreate is intuitive and tidy, Piktochart offers unparalleled options for visualizing numbers and data, and Adobe Express makes it simple to create basic graphics and social media posts. Still, even with all of this selection, Canva remains our favorite, thanks to its huge selection of templates, stock material, and app integrations.
* Ad disclaimer:
For links marked with an asterisk, EXPERTE.com may earn a commission from the provider. The commission has no influence on our editorial rating.

Julia P. Manzau has more than 30 years of professional experience in leading editorial and marketing positions in the premium automotive, mechanical engineering, and healthcare industries. She studied Political Science and History in Bonn, Marketing at the St. Galler Business School and earned a BA in Media Engineering (CCI). Since 2015, she has worked as a freelance writer. For EXPERTE.com, she focuses on software, the Internet, and marketing.
Continue Reading
Other languages
Deutsch