Visme Review 2023: Easily Create Your Own Designs Online?

Ad disclaimer:
For links on this page, EXPERTE.com may earn a commission from the provider. This supports our work and has no influence on our editorial rating.
Whether presentations, social media posts, data visualizations, or flyers - you no longer have to be a graphic designer to make professional-looking content. Web-based design programs like Visme, have made the entire process of creating digital graphics incredibly easy, even for beginners.
However, Visme is just one of many such platforms. In this review, we'll let you know where the service excels, where there's room for improvement, and how it compares to some of its competitors.
What Is Visme?
Visme* is based in the US and was created in 2013 by Easy WebContent, a digital agency. Unfortunately, their corporate page isn't a great advertisement for their platform as it lacks encryption and has an old-fashioned design which, when taken together, makes it seem slightly dubious. It looks like the Easy WebContent team invested all of their energy in developing Visme, and had nothing left for their own website.
According to the developer, a network spanning 120 countries and 4.5 million engineers, designers, programmers, and content creators use the online graphics program.
Visme Review
Documentation & Support
9.4 / 10
Templates & Elements
8.0 / 10
Offers specific templates, such as magazine layouts

Comes with comprehensive editing tools
Takes time to get used to

Lacks a free premium trial
To start creating presentations and layouts with Visme, you'll need to set up an account either via email, Google, or Facebook. Even after asking, Visme does not offer a free trial of its Pro version. Upon registering, you'll land in a well-organized dashboard, from where you can manage all of your projects through the interface's different menus.
Focused on what's important
One unique aspect of Visme's dashboard is that it prioritizes what users want to do. Off to the left, the main menu is broken down into Projects, My Files, Content Calendar, My Brand, and Data (statistics). In addition, there are also folders for projects, shared content, and your own files.
In order to get to work on your first layout, click on the Create New button, after which a menu should open with different options. You can also upload a PowerPoint presentation and work on it.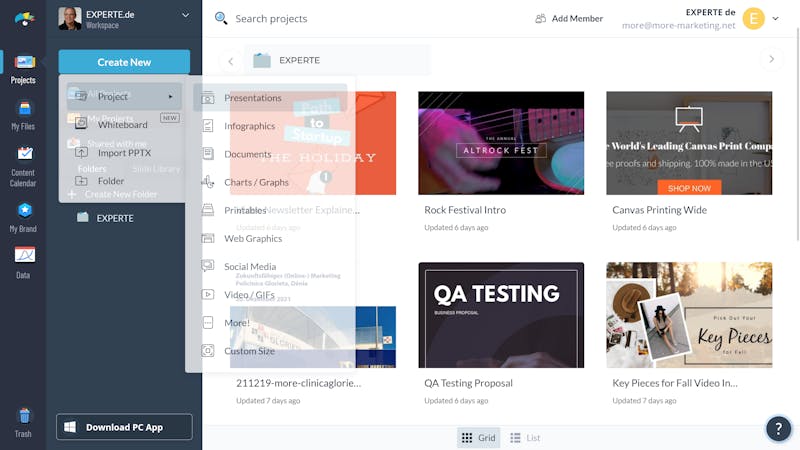 In Visme, there are several ways to access the layout screen.
A click away from a world of templates
After you've decided on a particular template, the program will (politely) show off its variety. By inputting a search term, you can check out what other types of templates are on offer. Near the bottom, you'll find helpful tags and keywords that make navigating the whole collection much easier. Overall, the templates are well-organized and clearly presented.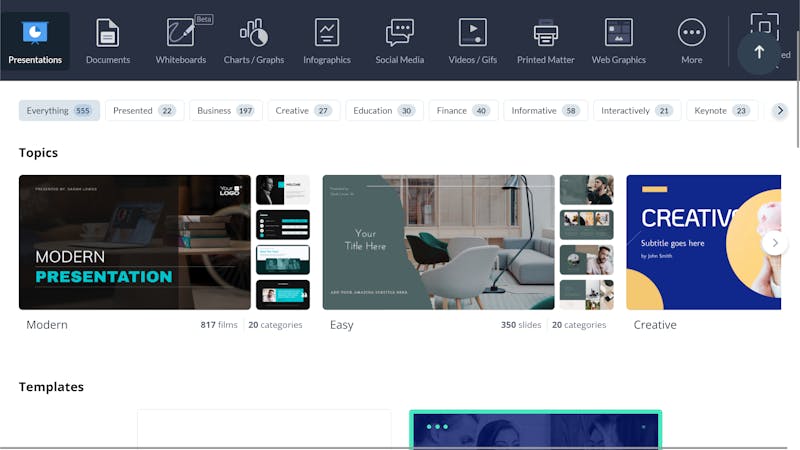 Visme does a good job of showing off all of the different templates that it has to offer.
Visme distinguishes between two main types of templates, namely, thematic layouts in which the design, color, and presentation are the focus, and more general, content-based options. It's possible to preview almost every layout and customize it to your exact specifications.
After becoming familiar with the editor, you'll be able to do all sorts of things in it. Off to the left of the screen are a variety of design tools, while to the side you'll find the slide overview, and in the upper part, the information menu and editing toolbar.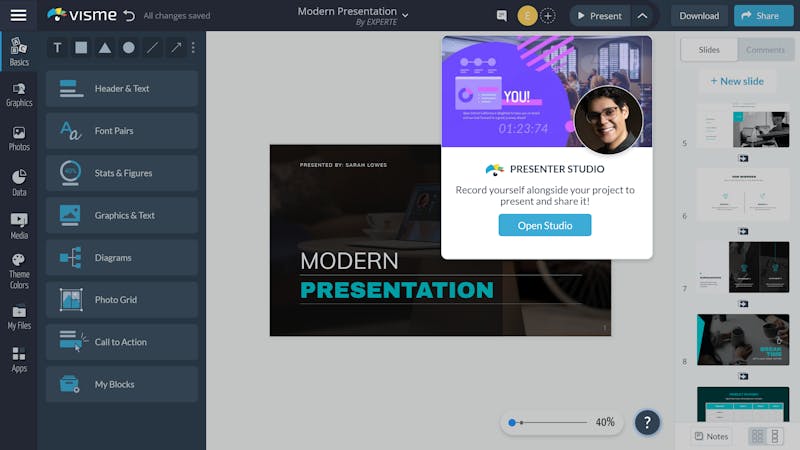 Visme's editor is neatly organized. Some of the editing options only appear after clicking twice, however.
Structured work
Visme's look and feel emphasize clarity and logic. You can upload your own files, such as photos, videos, or audio, and embed them directly in any template. And there's no need to worry about saving any changes you make since this happens automatically in the background.
Once you've settled on a particular layout, you'll be afforded plenty of opportunities to customize it further. Depending on what your particular needs are, you can present slides directly from the program, share them via a link, or publish them online on a Visme domain and embed them on your own website via code.
The variety of different settings on offer is also surprising, making it possible to adjust how the program handles, fine-tune your data privacy settings, as well modify the background music. If you're on the go, you can continue to work on layouts in Visme's app.
In numerical terms, what Visme brings to the table is decent, however, what's behind the curtain is truly comprehensive. There aren't all too many types of templates, however, those that are included, are versatile and flexible. Once again though, it does take a bit of time to come to terms with the platform's full capabilities.
By clicking on Elements, you'll be offered a large selection of header-text combinations, statistics, text-image layouts, diagrams, and call-to-action templates, all of which you can use to design professional layouts or spruce up existing ones. User-defined blocks (that you've designed) can also be opened there.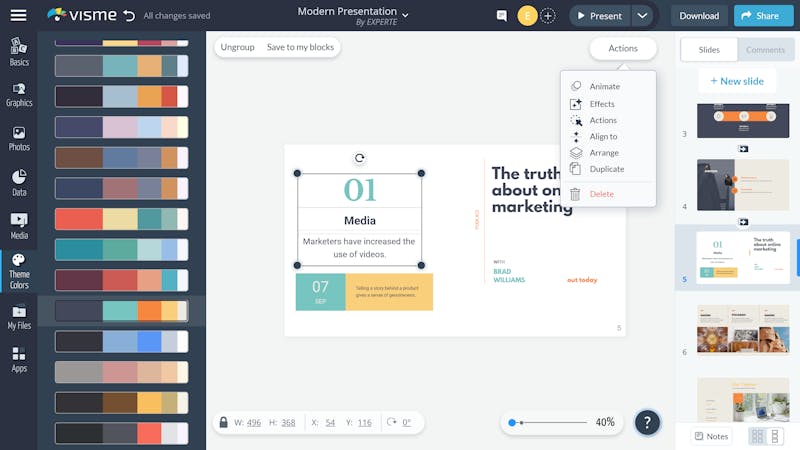 Visme's library is teeming with professional elements for creating all sorts of layouts.
Stock photo library and graphic portfolio
Visme also provides access to a full portfolio of graphics, including 3-D animations and special effects. Those who don't have their own image library can rely on Visme's comprehensive database of high-quality stock photos.
However, finding the right picture is, unfortunately, everything other than easy owing to the shortage of filters. The accuracy and relevance of search results also didn't impress us during our evaluation. For illustrative purposes: When searching with the term 'business', a sparrow showed up, whereas radishes appears when we typed in 'marketing'.
When it comes to photo editing, Visme provides a number of helpful tools, however, their usefulness isn't immediately apparent. When selecting a photo, several basic features such as filters and cropping are available. If you click on the Actions button in the upper right, you can remove the background, animate the object, or adjust its opacity and shadows.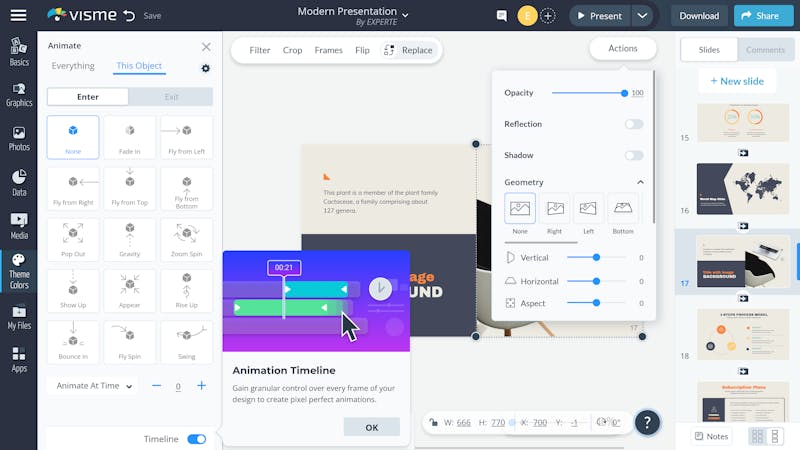 Visme puts a number of tools at your fingertips which come in handy for editing and animating objects.
Numbers, Data, Figures
You can do a lot more with Visme than just make creative flyers, brochures, and social media posts though since you'll also be able to visualize numbers, data, and figures. After clicking on Data, you're given a wide selection of diagrams, tables, charts, and even widgets that you can use to bring even the drabbest data and figures to life.
So long as the template you've chosen supports it, you'll also be able to integrate videos and audio files through the Media menu. From there, you can use files from your own library or the platform's stock content.
YouTube, Vimeo, or Daily Motion videos can also be embedded. Should you want to add audio files, you'll have a few options: The platform's own database is worth checking out. Alternatively, you can upload your own files, or, start recording right then and there. During testing, the last option worked very smoothly.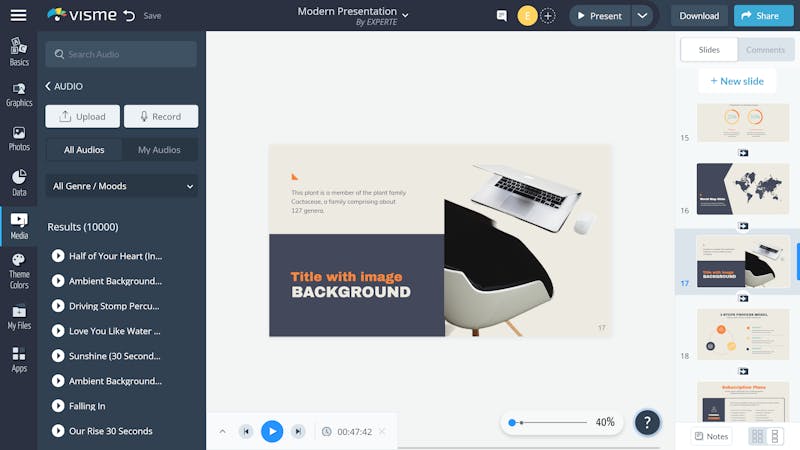 By clicking on Media, audio and video files can be embedded into your projects. As a unique feature, you can even make a direct recording for inclusion.
Define color themes
Visme dedicates an entire menu heading to colors. This features all colors you've already created, as well as combinations that the program suggests. With just a single click, you can supply your template with a new color scheme that will apply across all pages of whatever project you're working on.
App integration and social media marketing
The platform also sets its sights high in terms of integrations, with numerous cloud storage providers like Dropbox, project management services such as Monday, and newsletter tools like MailChimp supported. This means that you're not just able to create catchy posts for different channels, but also directly link them to Visme and plan their publication using its calendar.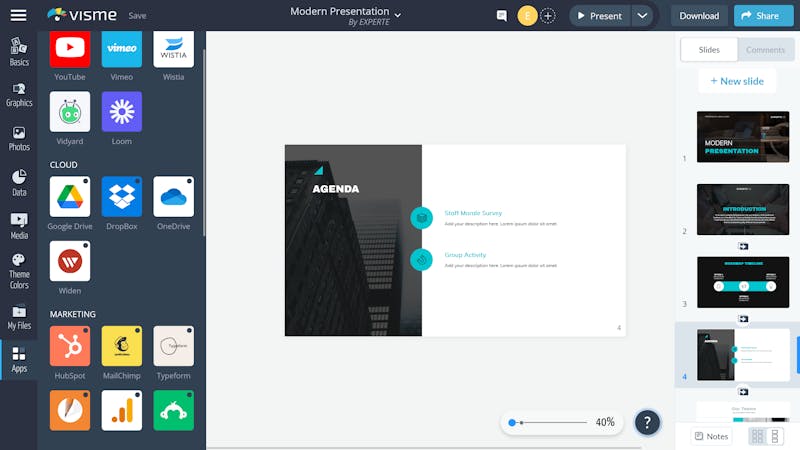 Visme offers integrations for a host of different apps, all of which are intended to simplify the user's workflow.
Minimalistic videoclips
Videos can also be edited in Visme. You'll find most of the tools for this in the scene bar to the right, which takes some getting used to. Video and audio editing isn't particularly intuitive, and we were confused as to what capabilities the platform truly offers. Whatever the case, there's a lot of room for improvement.
Supercharged hamburger menu
In the upper left of the editor, you'll notice an unassuming hamburger menu, which is loaded with useful options that make layoutting and editing easier. Among other things, you can adjust an image's size, add and configure guidelines and a grid, or find particular words and replace them. This is also where the version history tool is located.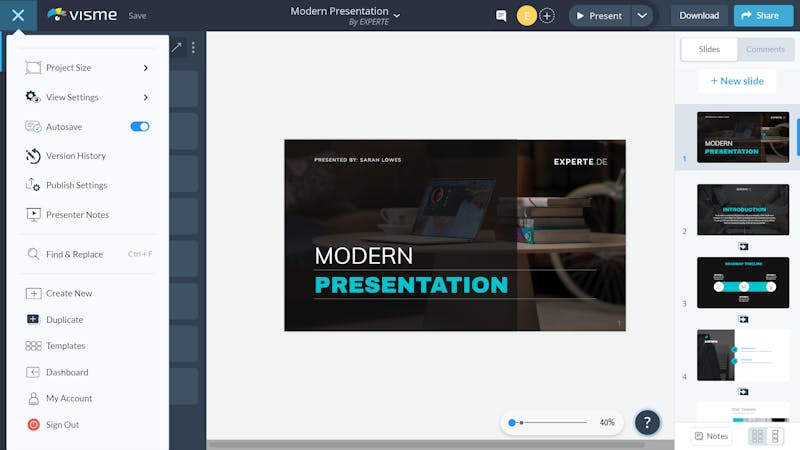 Small, but powerful: The unassuming hamburger menu is home to a number of useful tools and settings.
Well-thought-out tools, professional concepts
At first glance, Visme is a bit underwhelming, and for a design platform, bland. However, the more familiar you become with it, the more you come to appreciate how helpful and professional its tools and features are, regardless of whether you're a project manager, graphic designer, or marketer.
There's definitely room for improvement in some areas, such as video editing. We also deducted points since several of the platform's most useful features are (unnecessarily) hidden away as opposed to being intuitively presented.
In terms of templates, Visme is definitely well-stocked. We were curious about the difference between All Templates and Brand Templates. When clicking on the tab for the first, you'll find all sorts of options for individual, educational, or semi-professional usage. Brand Templates, on the other hand, are specifically geared toward marketing, design, and media businesses. Of course, all designs on Visme can be customized to your preferences.
Visme sorts templates by their type, followed by their purpose - other options aren't offered. Making matters worse, the selection is fairly limited: For flyers, you'll be able to select from small or large options, and folded designs are nowhere to be found. Broadly speaking, the templates could do with a healthy dose of imagination.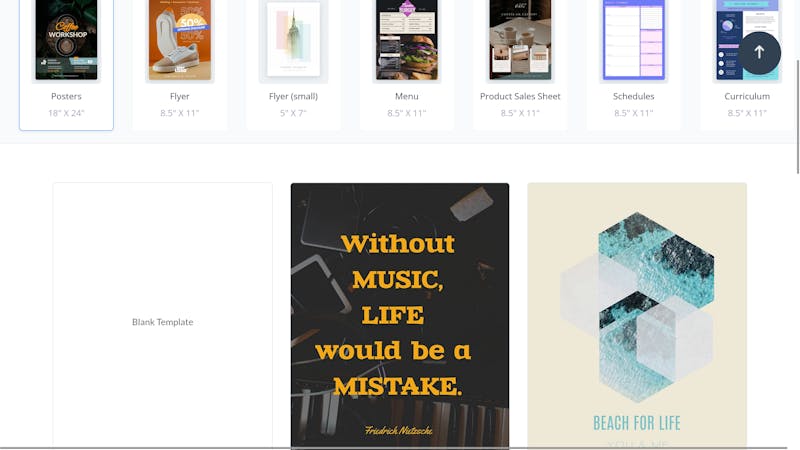 Visme serves up a nice selection of layouts, however, specific layouts for different print formats are missing as is some creative charm.
On the other hand, there are plenty of social media templates. These can be filtered by platform, making it possible to always have a layout with the right dimensions without the need to look up what exactly these are. Another plus is the wide selection of multi-page magazine templates, which puts Visme well ahead of its competitors.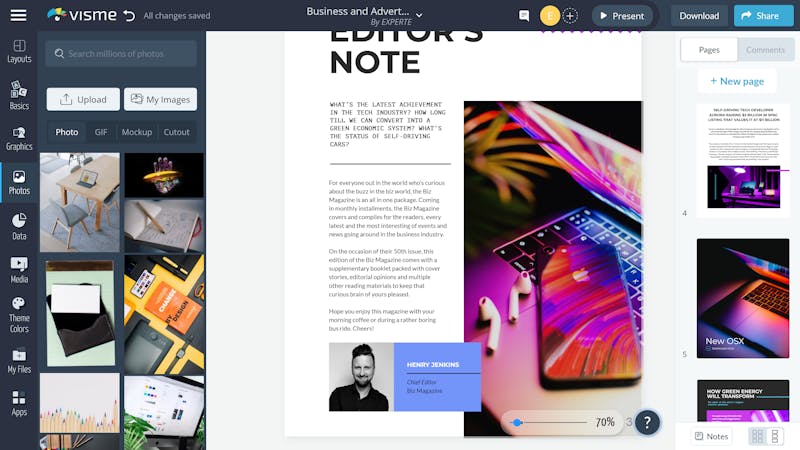 As strange as it might seem, magazine and periodical layouts aren't very widespread among online design programs. In this area, Visme is best in class.
A variety of media for professional use
The selection of stock photos, videos, and graphic elements is large, however, the filter options and relevance of search hits could be improved. We tried a number of different search terms, all of which yielded unsatisfactory results. It was particularly frustrating that after inputting a search term and changing to a different tab of results (for example, from images to GIFs), the search wasn't carried over and we needed to start from the beginning.
On the other hand, the selection of fonts and animations is excellent. Words seem to be one of Visme's strengths: You can emphasize them within frames or circles, add highlights to them, or change their direction, among other things.
The Graphics menu is home to numerous icons and animated illustrations, including gestures and 3-D options, which are great for a wide variety of different projects. If creating an introductory or explanatory presentation, these could turn out to be a real game-changer.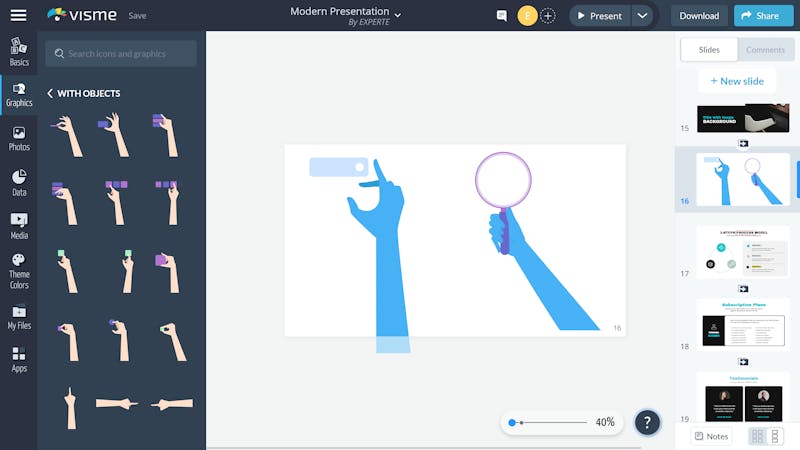 There's no shortage of icons and animated graphics in Visme.
There's definitely room for improvement when it comes to the quality of Visme's templates: In order to meet the needs of its user base, Visme should offer more formats and variations. Similarly, there are a few minor issues with its stock photos. All the same, we found its 3-D animations and magazine layouts to be exemplary.
Templates & Elements
8.0 / 10
Unfortunately, Visme is not nearly as intuitive to use as many of its competitors. The small question mark in the bottom right of each page of the interface can help to rectify this, as clicking on it will open a support area.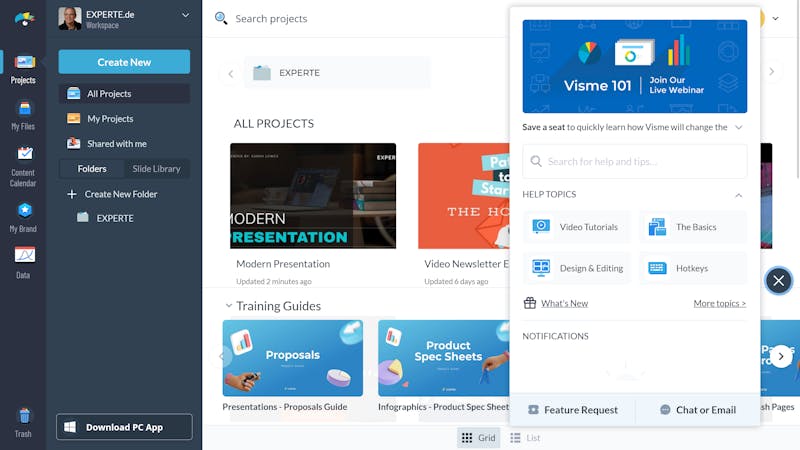 Support, guides, and helpful tips can all be accessed at any time by clicking on the question mark button at the bottom of each page.
Alongside video tutorials, basic information, a list of hot buttons, and design and editing guides, you'll also find links to the platform's News, and email and chat contact options. Our query was competently answered within a day with a suitable recommendation.
Documentation & Support
9.4 / 10
Monthly and yearly prices for Visme's Pro version are considerably more expensive than those of its competitors. In addition, as we noted in the introduction, there's no free trial of Pro.
The free package (Basic) includes 100 MB of storage, as well as limited template and design assets. Starter more than doubles the amount of storage to 250 MB, while enabling access to all templates and assets. In addition, you can download all of your designs in JPG, PNG, or PDF format and take advantage of round-the-clock email and chat support.
The Pro subscription includes more than 3 GB of storage, makes it possible to download your files in a range of different formats, and enables access to all of the platform's features.
Below, we've prepared an overview of all of Visme's plans and their prices:
Basic
Starter
Pro
Monthly Price
$0.00
from $12.25
from $24.75
Contract Period (Months)
0
1 - 12
1 - 12
Plan
Number of Users
1
1
1
Storage
0.1 GB
0.25 GB
3 GB
Features
No Watermark
Unlimited Downloads
Premium Templates
Premium Stock Photos
Background Remover
Brand Assets
Teams
Social-Media Integration
Video Editing
Conclusion
Documentation & Support
9.4 / 10
Templates & Elements
8.0 / 10
Visme is a design platform that offers more than meets the eye. Its editing features are intricate, it has seldom-seen magazine templates in its portfolio, and its 3-D graphics are fantastic. Rounding out the positives, its integrations are nifty and should make working with a whole variety of different platforms easy.
When it comes to the assortment of templates on offer and video editing, Visme has a lot of work to do, especially considering how much more expensive its Pro plan is compared to similar packages offered by its competitors. We also found Visme to be less intuitive than we would have liked. If you intend to use it, we recommend setting aside some time to become familiar with its ins and outs.
Attention to detail, lots of tools, and specialized templates secured Visme second place in our test. Unfortunately, it is somewhat tricky to use and its value for money could be better.
comprehensive editing tools
specific templates (e.g. magazine layouts)
convenient app integrations
8.6

good
Plan
Users
Speicher
Downloads/Month
Visme Basic
$0.00
monthly price
Visit Website*
Customer Reviews
Based on the platforms we checked, Visme's cumulative user score is "good". Matching our own experience, a number of people also found the program to be less intuitive than they had hoped. Below, you can read more of what users have to say about Visme:
Customer Ratings
1,354 Bewertungen
Visit Website*
We analyzed the reviews and ratings from various portals and found 1,354 ratings with an overall rating of 4.5 out of 5 .
Alternatives
It's indisputable that Visme has quite a few things going for it. However, for those who don't have the time to set aside for unlocking its full potential, or who would like access to more templates, Canva could be an interesting option. Another service worth taking into consideration is VistaCreate, which is highly intuitive, while also offering numerous features and editing tools.
Below, we've compiled a list of more alternatives to Visme:
Our winner from Australia impresses thanks to its intuitiveness, editing options, and a huge selection of layouts, elements, and stock content. With Canva, you get lots of power at a fair price.
impressive stock media database
good price-performance ratio
free premium trial available
9.6

excellent
Plan
Users
Speicher
Downloads/Month
Canva Free
$0.00
monthly price
Visit Website*
Third place in our test went to VistaCreate, which wants to revolutionize the marketing world. It isn't quite there yet but still impresses with its intuitiveness and high-quality templates. Just the printing capabilities could be improved.
Plan
Users
Speicher
Downloads/Month
Vista Starter
$0.00
monthly price
Visit Website*
Piktochart excels in visualizing numbers and data. The intuitive platform also offers professional templates. Its lack of tools and pricing structure count against it though.
Plan
Users
Speicher
Downloads/Month
Piktochart Free
$0.00
monthly price
Visit Website*
The market leader was surprisingly unimpressive in our test. Although Adobe Express is well-suited for beginners, its lack of features and template quality hold it back from being a contender.
features professional stock photos
7.8

good
Plan
Users
Speicher
Downloads/Month
Adobe Free
$0.00
monthly price
Visit Website*
* Ad disclaimer:
For links marked with an asterisk, EXPERTE.com may earn a commission from the provider. The commission has no influence on our editorial rating.

Julia P. Manzau has more than 30 years of professional experience in leading editorial and marketing positions in the premium automotive, mechanical engineering, and healthcare industries. She studied Political Science and History in Bonn, Marketing at the St. Galler Business School and earned a BA in Media Engineering (CCI). Since 2015, she has worked as a freelance writer. For EXPERTE.com, she focuses on software, the Internet, and marketing.
Continue Reading
Other languages
Deutsch