VistaCreate Review 2023: What Can It Do?

Ad disclaimer:
For links on this page, EXPERTE.com may earn a commission from the provider. This supports our work and has no influence on our editorial rating.
Online design tools make life a lot simpler. Whereas in the past, you'd either need to master a complex piece of software or pay a graphic designer, today, all that stands between you and flyers, social media posts, or a bespoke birthday card, are a few clicks and an Internet connection. One of the most well-known design solutions is VistaCreate (formerly Crello).
We evaluated VistaCreate and below, will let you know what the platform is capable of, as well as where there's room for improvement.
What Is VistaCreate?
VistaCreate* was actually born under the name Crello in 2016 in Ukraine. From the get-go, its founder, Dmitry Sergeev, pursued the lofty goal of going head-to-head with Canva (founded in Australia in 2012). Several years later, in 2021, Cimpress (formerly Vistaprint) bought Crello, rebranding and developing the platform further with the ultimate aim of revolutionizing the print and media world.
With the purchase of Depositphotos (likewise founded by Sergeev), the VistaCreate empire has only continued to grow. Today, the platform even offers users a comprehensive media universe, which includes stock photos.
VistaCreate Review
Documentation & Support
8.6 / 10
Templates & Elements
8.0 / 10
Offers high-quality templates

Good price-performance ratio
Doesn't have any app integrations
If you'd like to try out VistaCreate for free, you're in luck! By inputting your email address or logging in via your social media account (Facebook, Google, or Apple) you can start a 14-day trial of VistaCreate Pro at no charge. Since you'll have to supply payment information, make sure to cancel the trial before it converts into a paid subscription.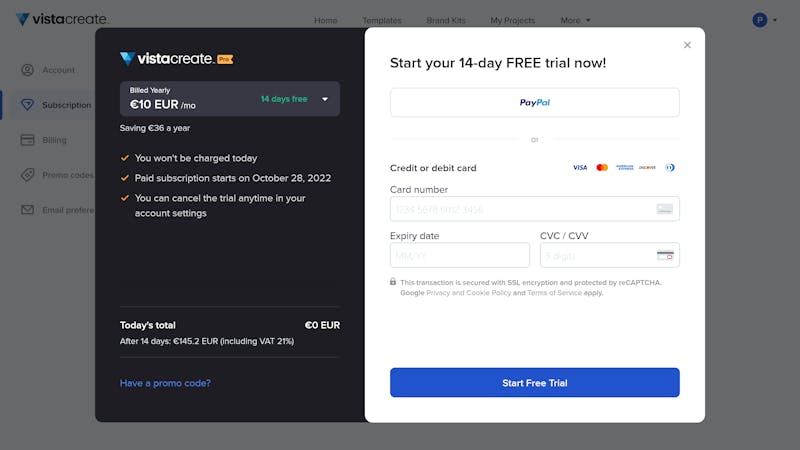 After registering, you can start a free, 14-day trial of VistaCreate Pro.
Well-Organized
The platform's landing page adheres to a logical structure, making finding what you need easy. The template option in the upper menu bar takes you directly to the layout overview page.
There, you can filter results based on their type and intended usage, or use the free text search to find a suitable template. The selection is extensive, but not comprehensive - email signatures and annual calendars were two notable absences.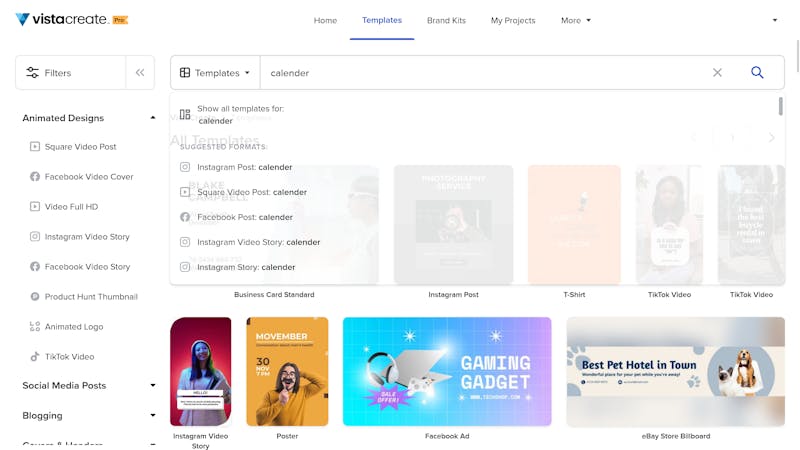 VistaCreate's nicely stocked template archive can be searched using the free-text feature. Don't be surprised if you can't find the exact layout you're looking for though.
Template Paradise for Designers
The way VistaCreate is designed is very reminiscent of how the market leader, Canva's platform is organized. You'll be offered a wide selection of ready-made layouts. By clicking on one, you can open it in a new window, and then adjust it to your needs through drag and drop.
Images can be directly adjusted in the editor. Along with stock photos, you'll also find options for integrating audio and video clips, animations, backgrounds, text, styles, and user-defined files into your layouts.
Downloads in multiple file formats are supported. Alternatively, you can also share your efforts with others via a link. You can even share layouts directly on social media, as soon as you've linked VistaCreate with your accounts.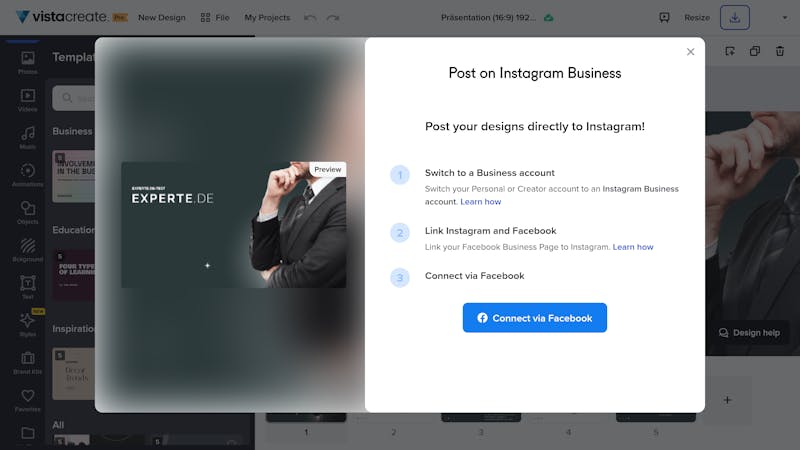 Finished projects can be downloaded, shared via link with others, or published on social media networks.
Overall, the platform handles intuitively and smoothly, making it possible to create impressive projects after just a short time of familiarization. For those interested in going deeper, there are plenty of tutorials with helpful tips.
VistaCreate offers numerous features which make all sorts of graphic work much easier. The background removal tool, for example, performed very well during our evaluation, being capable of clearing multiple background elements.
Other corrective steps can be taken using the eraser tool. After editing an image and then hovering your mouse over it, two emojis will appear with which you can rate the quality of the work. In addition, you'll have access to a wide range of filters, along with color and lighting settings.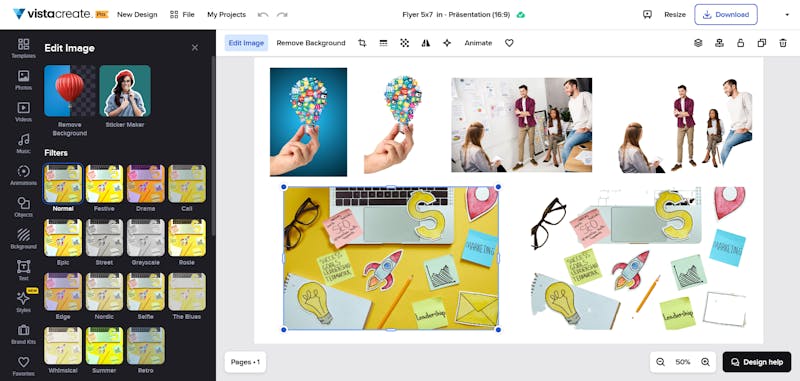 VistaCreate offers a background remover which performed well during our assessment.
Nice Assortment of Tools for Photo Editing
VistaCreate doesn't skimp on tools and filters for bringing images to life. You can add sleek frames, speech bubbles, or music. Or mirror a photo, rotate it, flip it, adjust its transparency, and animate it. Shortcuts to the tools can be found in the upper menu bar.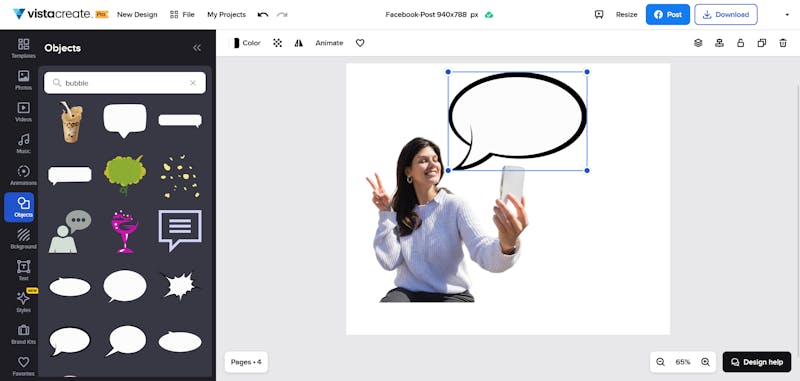 VistaCreate's photo editing tools make it possible to add a wide range of interesting effects to your images.
Depositphotos Stock Photo Archive
Since Depositphotos was taken over by VistaCreate, the latter has had something of an ace up its sleeve. The Pro version provides access to more than 70 million high-quality images, videos, illustrations, and vector graphics. Starter, the platform's free version, 'only' offers a million free files. And working with stock content from Depositphotos is convenient too since you won't need to leave VistaCreate's Editor.
We deducted points from VistaCreate, since, unlike Canva, it lacks photo filters. Should you want images with a specific motif or subject matter, you'll need to input all of your criteria in the free-text search. This worked fine, for example, when we searched for an image with blue tones, showing a woman in a professional setting. As soon as we added format (landscape/horizontal) though, the search algorithm couldn't come to terms with our query.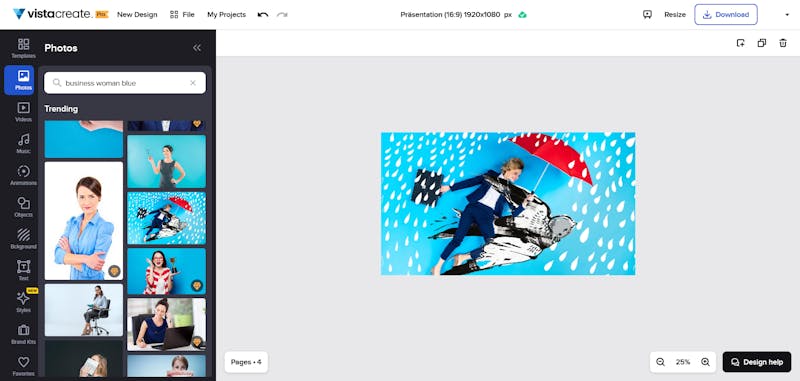 Unfortunately, VistaCreate doesn't (currently) offer users the ability to refine search results via filters.
Moving Images and Music
VistaCreate's media archive is accentuated by its wide selection of video clips, which can be accessed via the menu bar off to the left. Once you've found a video that you like, it will open in a new video, from where you can edit it, or add it to your project. Using the time bar, you can jump to any moment in the clip. Unfortunately, you won't be able to add transitions between video sequences.
Music can and often does play a key role in rounding out a video presentation. Thankfully, VistaCreate offers access to a large audio archive, organized by genre. The only downside is that most music files rarely exceed 30 seconds, which, during a longer presentation, would mean that the same track would repeat over and over.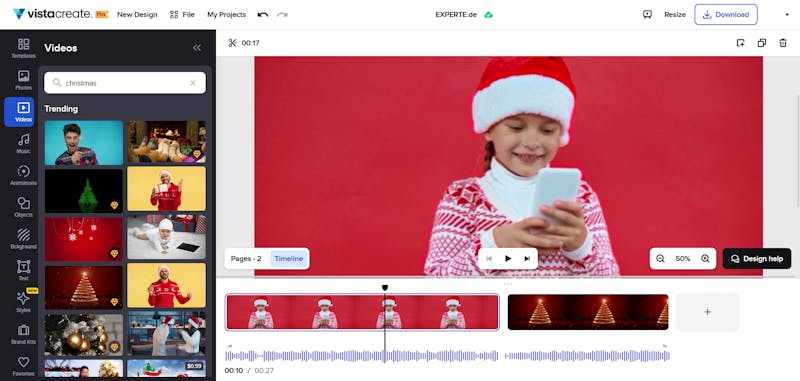 No transitions and short music: There's definitely room for improvement when it comes to video editing on VistaCreate.
Correct Branding
Another of the platform's advantages is that you can integrate all elements of your business' style guide into it. By clicking on Brand Kits, you can save or upload logos, fonts, and colors, making sure that your brand's identity can be easily and accurately represented in all of your projects.
Beyond that, images, videos, and audio files can be uploaded and used in your designs. So long as VistaCreate is linked to your social media account, you can also post directly, or schedule posts using the tool's built-in planner (available in the My Projects menu section).
VistaCreate also offers an app with which you can work on your designs while on the go. Unfortunately, as of the time of writing, no integrations with other apps are available.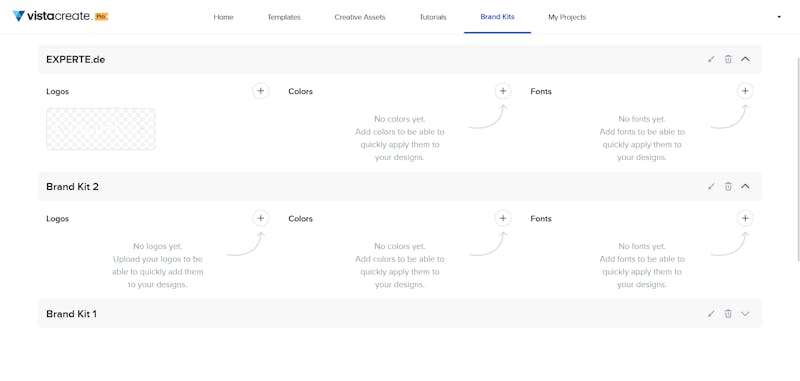 You can save your corporate logo, fonts, and colors in the Brand Kits area of the platform.
Powerful Tools, Poor Execution
VistaCreate sets the bar fairly high, but, unfortunately, doesn't always measure up in practice. For example, if you're editing videos, you'll quickly notice that transitions, splicing options, and audio settings are all limited. Broadly speaking, for graphic design and photo editing, you shouldn't run into any issues, with beginners given all the tools to create sleek layouts.
You can expect more than 70,000 templates waiting for you on VistaCreate, each of which can be customized with just a few clicks. While that number might sound impressive, it can seem equally overwhelming to others. To make sense of the sheer quantity of templates available, you can either use the free text search or the platform's filter options. The latter allows you to sort images based on their purpose and usage.
Some of the name choices are odd. For example, hp_format_expand_bg_image gives almost no insight into what a particular template is, or how it's intended to be used. All the same, the quality of VistaCreate's templates is exceptional.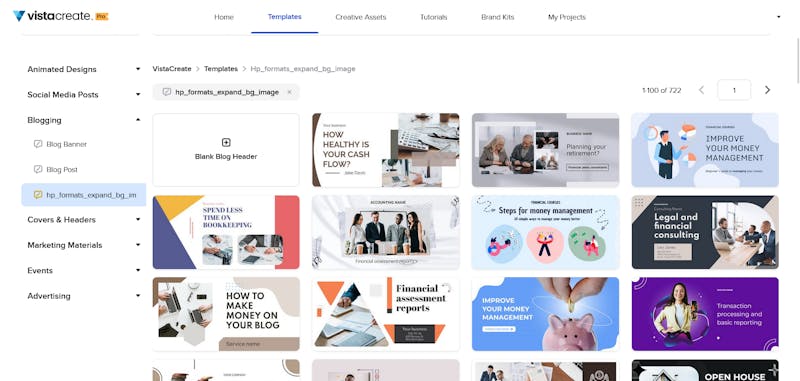 Whether for social media, invitations, headers, or e-books: VistaCreate offers a huge selection of high-quality templates. Our only complaint: Some of the name choices are unusual.
Image Worlds, Icons, Backgrounds
Thanks to the integration of Depositphotos, VistaCreate offers a huge selection of photos to choose from. Pro users can access the entire Depositphotos database and even commercially use images sourced from there. The same applies to its animation, video, and audio file archives, even though the latter is missing sound effects.
Once again though, the devil is in the details though, since sorting through the mass of content is difficult. Specifically, you cannot filter results by content type, meaning that you'll need to search through everything from thematic icons to mockups. Broadly speaking, these are all good quality, however, we did notice some issues with the diagrams owing to the inability to adjust numerical values.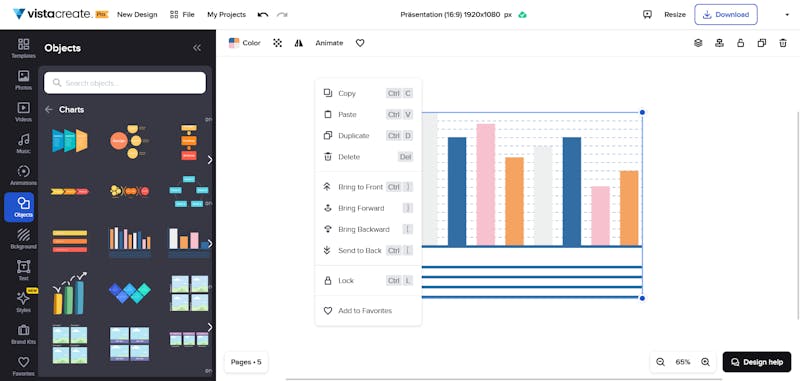 VistaCreate has diagrams, but you won't be able to input any data.
Backgrounds are featured in their own library and can be sorted by photos, videos, and color. Once you've selected a file, VistaCreate will automatically set it as the background for your current slide.
Text can be inputted either with or without formatting (and then customized with the font, size, and spacing you want to use). User-defined fonts that you've uploaded to the program can be found under My Fonts.
The style menu includes all colors for your current project, providing a helpful tool for ensuring that all of the text in your project is uniform. In addition, you can also utilize your brand's style guide, supposing that you've uploaded its elements in the Brand Kits area.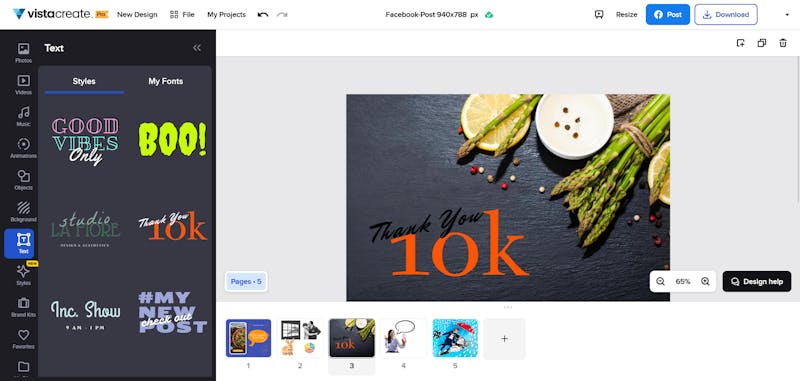 VistaCreate offers a wide range of customization options for text and backgrounds.
Details, Details, Details
VistaCreate has no reason to fear its competitors when it comes to either the number or quality of its templates. However, those pesky details, which can make a major difference in the finished product, once again detract from the program's overall score.
Particularly for diagrams and charts, it would make a world of difference if user-defined numbers could be input. Similarly, offering so many high-quality templates is only advantageous if finding what you want is not a chore. Finally, even though a project overview page is offered, as soon as a layout has more than one page, the preview for it vanishes.
Templates & Elements
8.0 / 10
VistaCreate's help center is host to a number of FAQs and guides which introduce some of the platform's features. Should you need additional support, you can use the embedded Customer Care tool (blue button in the bottom right), clicking on which opens a new window. From there, you can also get in touch with support directly. During our assessment, this worked in Chrome, but not in Firefox.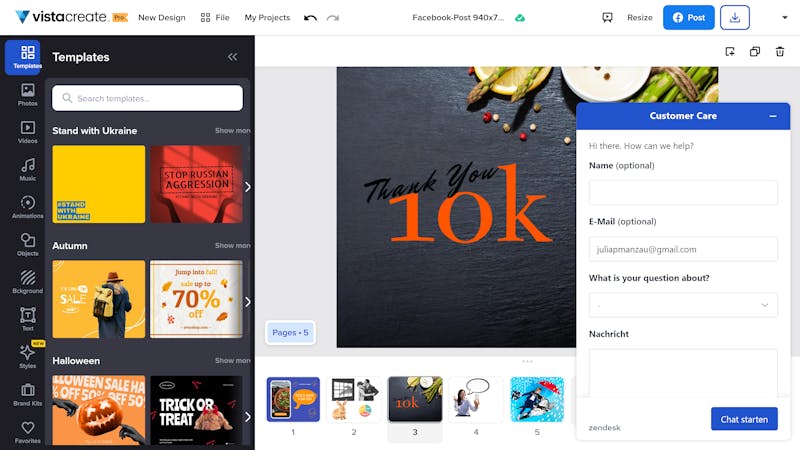 The small customer care button can be found on every page. By clicking on this, you can reach out directly to VistaCreate's support, at least in Chrome.
The answers we received from VistaCreate's support team were prompt and competent. We asked two questions: One was more technical and another was about the application. Both issues were resolved to our satisfaction.
Documentation & Support
8.6 / 10
Two versions of VistaCreate are available: Starter (free) or Pro (paid). Comparing the two, with Pro, you'll get unlimited storage, a team account, the ability to alter layout dimensions, and a version history tool. As we've already mentioned, VistaCreate Pro also comes with unlimited access to Depositphotos stock photos. Starter users will have to pay extra for these, which can quickly become expensive and justify shelling out for Pro.
Paying subscribers also get unlimited brand kits, a sticker generator, as well as a background remover. Overall, VistaCreate's price-performance ratio impressed us. Below, we've compiled an overview of its subscription plans:
Starter
Pro
Monthly Price
$0.00
from $10.00
Contract Period (Months)
0
1 - 12
Plan
Number of Users
1
unlimited
Storage
10 GB
unlimited
Features
No Watermark
Unlimited Downloads
Premium Templates
Premium Stock Photos
Background Remover
Brand Assets
Teams
Social-Media Integration
Video Editing
You can try out all of VistaCreate Pro's features for 14 days at no cost.
Conclusion
Documentation & Support
8.6 / 10
Templates & Elements
8.0 / 10
While evaluating VistaCreate, we couldn't help but be reminded of its competitor, Canva. We're fairly confident that this wasn't an accident either. In terms of features and app integrations, Canva still has a leg up, whereas VistaCreate's powerful tools and ease of use should help just about anyone creates a whole range of media and content. We particularly liked the provision of access to the huge stock photo archive Pro users can enjoy.
Third place in our test went to VistaCreate, which wants to revolutionize the marketing world. It isn't quite there yet but still impresses with its intuitiveness and high-quality templates. Just the printing capabilities could be improved.
Plan
Users
Speicher
Downloads/Month
Vista Starter
$0.00
monthly price
Visit Website*
Customer Reviews
VistaCreate's users seem to enjoy its handling, pricing, and support more than anything else. Over and over again in the reviews we consulted, its ease of use comes up as one of the platform's key strengths, and we share this sentiment. Below you can see what else people are saying about VistaCreate:
Customer Ratings
0 Bewertungen
Visit Website*
We analyzed the reviews and ratings from various portals and found 0 ratings with an overall rating of 0.0 out of 5 .
Alternatives
Should you need an easy-to-use online design program that comes with lots of templates, Canva is worth taking a look at. Or maybe you'd like a tool that specializes in visualizing numbers, data, and figures? If so, Piktochart is a good choice.
Below, we've listed further alternatives to VistaCreate:
Our winner from Australia impresses thanks to its intuitiveness, editing options, and a huge selection of layouts, elements, and stock content. With Canva, you get lots of power at a fair price.
impressive stock media database
good price-performance ratio
free premium trial available
9.6

excellent
Plan
Users
Speicher
Downloads/Month
Canva Free
$0.00
monthly price
Visit Website*
Attention to detail, lots of tools, and specialized templates secured Visme second place in our test. Unfortunately, it is somewhat tricky to use and its value for money could be better.
comprehensive editing tools
specific templates (e.g. magazine layouts)
convenient app integrations
8.6

good
Plan
Users
Speicher
Downloads/Month
Visme Basic
$0.00
monthly price
Visit Website*
Piktochart excels in visualizing numbers and data. The intuitive platform also offers professional templates. Its lack of tools and pricing structure count against it though.
Plan
Users
Speicher
Downloads/Month
Piktochart Free
$0.00
monthly price
Visit Website*
The market leader was surprisingly unimpressive in our test. Although Adobe Express is well-suited for beginners, its lack of features and template quality hold it back from being a contender.
features professional stock photos
7.8

good
Plan
Users
Speicher
Downloads/Month
Adobe Free
$0.00
monthly price
Visit Website*
* Ad disclaimer:
For links marked with an asterisk, EXPERTE.com may earn a commission from the provider. The commission has no influence on our editorial rating.

Julia P. Manzau has more than 30 years of professional experience in leading editorial and marketing positions in the premium automotive, mechanical engineering, and healthcare industries. She studied Political Science and History in Bonn, Marketing at the St. Galler Business School and earned a BA in Media Engineering (CCI). Since 2015, she has worked as a freelance writer. For EXPERTE.com, she focuses on software, the Internet, and marketing.
Continue Reading
Other languages
Deutsch