Adobe Express Review 2023: How Good Is It?

Ad disclaimer:
For links on this page, EXPERTE.com may earn a commission from the provider. This supports our work and has no influence on our editorial rating.
Whether flyers, presentations, or social media posts: Content remains king. Nowadays though, you don't have to be a graphic artist or designer to come up with breathtaking layouts and ideas, thanks in large part to intuitive and Web-based platforms like Adobe Express.
Most famous for its professional solutions (Photoshop, InDesign, etc.), we wanted to see if Adobe can compete with its more streamlined, beginner-friendly competitors.
What Is Adobe Express?
Adobe Express* is a Web-based graphic design program. Even though the developer's solutions have come to be synonymous with photo and video editing, the sheer range of capabilities they offer makes them difficult to quickly and efficiently master.
It should come as little surprise that Adobe needed to react to the emergence of Web-based solutions like Canva, which it did in 2016 with a platform called Spark.
Several years later, at the beginning of 2022, Spark provided the basis for Adobe Express, which is intended to support creatives of any experience level in putting together social media posts, marketing materials, and videos.
Adobe Express Review
Documentation & Support
10 / 10
Templates & Elements
6.6 / 10
Features professional stock photos
Offers few features and tools

Template quality leaves much to be desired
In order to start using Adobe Express, you'll need to create an account, which is quickly done either via email or social media login. Should you already have an Adobe ID, you can skip this step and log in directly. Those who want to can try out the program's Premium version for 30 days at no charge.
Schools and educational institutions are offered special (free) access to the program ("Adobe Express for Education"). To take advantage of this, you have to register and specify whether you're creating a student, educator, or administrator (school district) account.
Dashboard
During the registration process, Adobe (optionally) asks what you intend to use the program for and how much graphic design experience you have. Based on your answers, the platform will suggest tutorials and guides to help get started.
Once you've registered you'll come to the software's dashboard, which greets you with template suggestions and a few quick actions. Off to the left, you'll find the main menu. The purple button at the top shows tools and an overview of the different types of templates on offer. All in all, the dashboard doesn't provide much in terms of structure, and we found its bland design to be rather boring.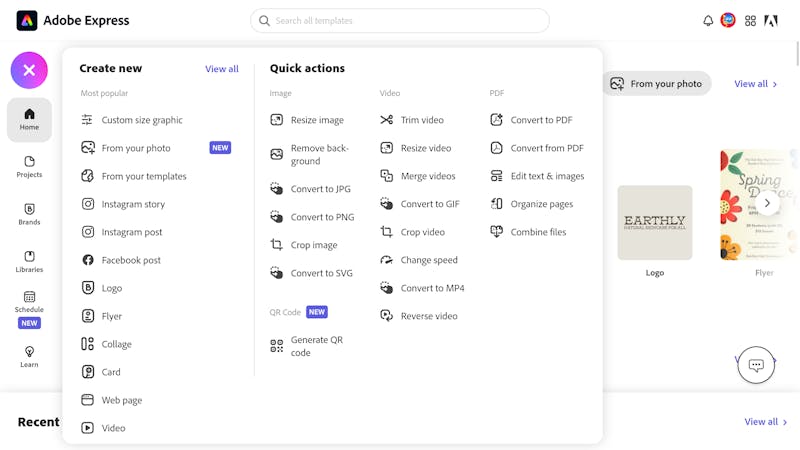 Adobe Express's dashboard is where you'll select templates and tools, while managing your projects.
Unusual Sorting
If you want to unleash your creative energy, just select a template and start customizing it. Alternatively, you could create a new layout from scratch. Options are sorted first according to where they're to be used, followed by their usage purpose. This takes some getting used to and means that you'll probably not immediately find exactly what you're looking for.
The platform's free text search can help out though: Results are further filtered through the menu on the left, sifting out less relevant hits.
The lack of template previews within the editor was unfortunate. Instead, you'll need to load the layout in the editor to see if it matches your needs. Supposing that it doesn't, and you want to go back to your search results, you'll have to start over from the beginning and input all of the parameters again. We noticed that there weren't any multi-page templates, such as for presentations. Upon inquiring, Adobe did tell us that they want to add these to their portfolio as soon as possible.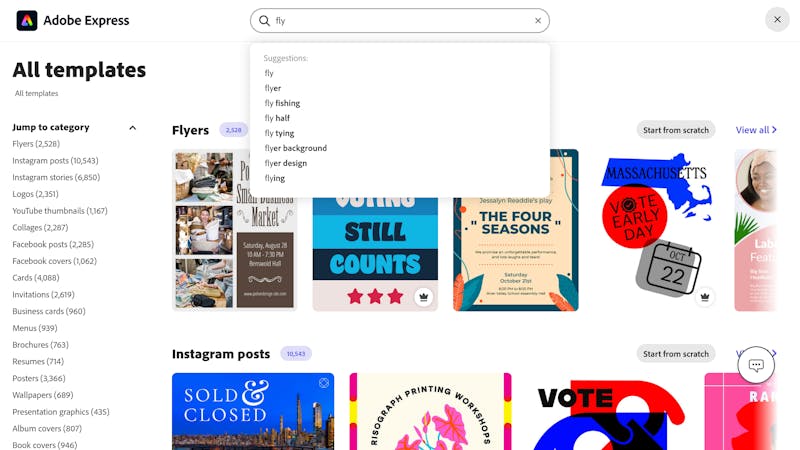 Not particularly well-organized: The process of selecting a template in Adobe Express take some getting used to.
After you've found the template you want, and edited it to your specifications, you can download the finished product in a variety of different formats, or share it with others. So long as your Adobe account is linked to your social media, you can even share it there directly, or, schedule it for posting at a later date.
Posts can be efficiently planned in advance, and you'll be able to invite others to work on your projects. Designs can be saved as custom templates, to Google Drive, or for use in the app.
During our assessment, the platform's social media integrations worked flawlessly. We were also easily able to adjust formatting, however, we needed to pay attention when creating posts. During the automatic adjustment step, the cropping tool might crop out parts of your content, depending on the social network it's to be shared on. In our opinion, it would be more logical to show the templates for each individual channel and make it possible for the user to edit them as needed.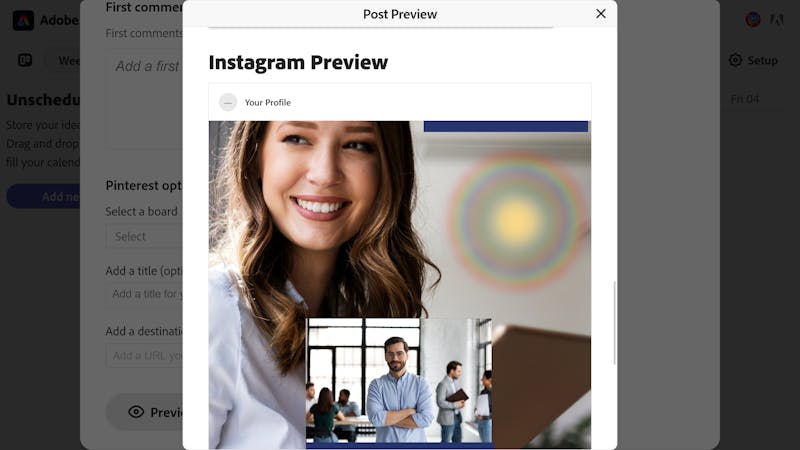 Adobe Express's crop tool adjusts a post for each channel you intend to share it on. Unfortunately, it doesn't pay attention to the content when doing this.
Colorless and confusing
After a short learning period, Adobe Express is relatively easy to use. However, it still lacks a number of useful features, such as template previews. Even the platform's design and structure are boring and bland, with the variety of templates on offer unimpressive. Perhaps we're being harsh, but we expected more from the market leader.
Should you be used to Adobe's graphic design software, you'd likely expect its Web-based solution to come loaded with creative features. However, you'd be wrong as in this area, Adobe Express reveals a number of surprising shortcomings.
You will find helpful quick actions, which come in handy for removing backgrounds, shortening videos, or creating a QR code, however, this isn't uncommon among design programs. Only the platform's data conversion features and the ability to comprehensively edit PDF documents offer true added value. During our assessment, the latter didn't work in Firefox but performed fine in Chrome.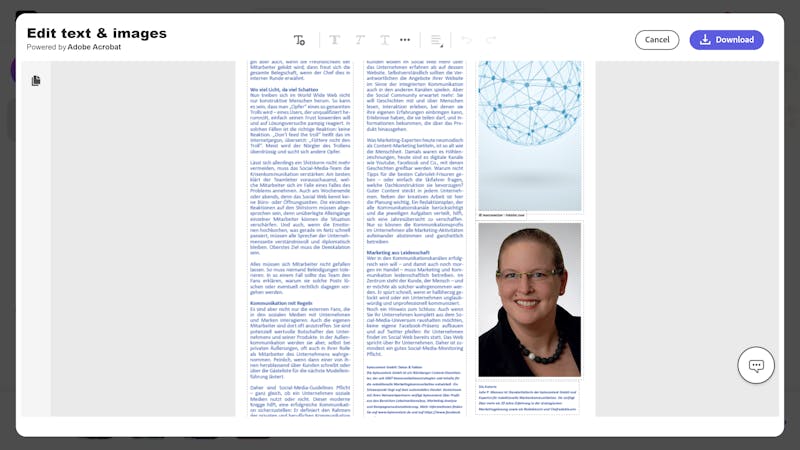 Adobe Express's PDF editing tools are nifty and unexpected (in a good way!).
Hidden toolbox
Most of the program's editing capabilities are only revealed when you open your layout in Edit mode. You won't be able to see all of what's possible immediately, but only for a specific element after clicking on it and consulting the menu off to the right. For text, you can add shadows or outlines, or adjust its direction and shape.
Should multiple elements be used in a layout, Adobe Express will show the options for editing these as different layers, which should be familiar to Photoshop aficionados. A range of customization options is also offered for images, making it possible to add filters, blur, or enhance them.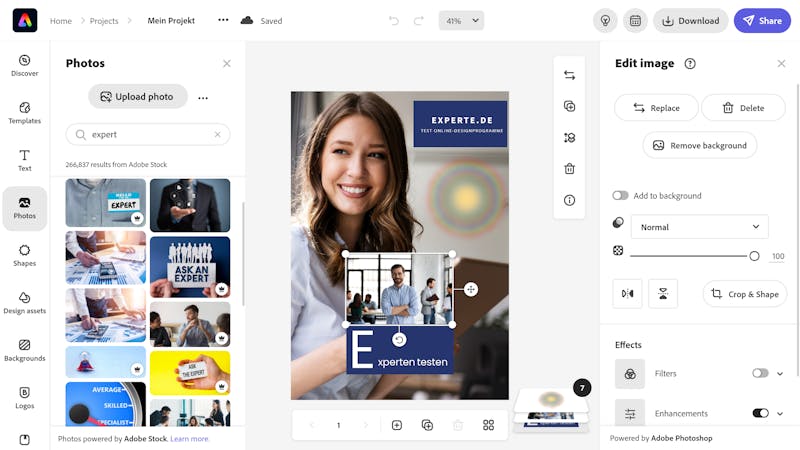 Adobe Express comes equipped with a number of text, shape, and image enhancement tools.
Plenty of Stock Photos - No Stock Footage
In addition to the ability to upload your own visual material, you'll also gain access to Adobe Stock, a photo library teeming with millions of files. Illustrations, graphics, frames, and overlays are also available, so be sure to have a good look around. Unfortunately, for video clips, animations, or data visualizations, you're on your own.
During our assessment, we found out how to create videos from stock photos and our own footage by accident. The menu item for this can only be accessed by clicking on the purple "+" on the landing page and scrolling down to the bottom of the list of options that opens.
After clicking on this, a title page will open, followed by a small assortment of story templates. The project will appear in a basic editor. Off to the right, you'll see a few layout masks, as well as a comprehensive music library. If you're looking for transitions, effects, or stock footage, you won't find it in Adobe Express.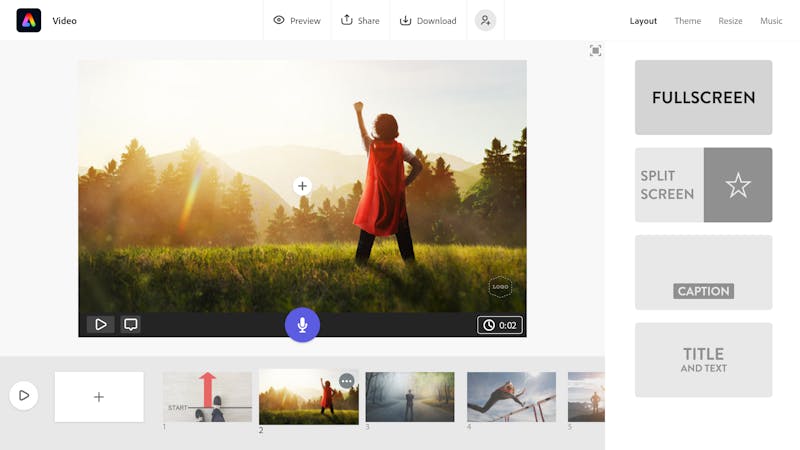 The rudimentary video editor offers few options for putting together creative projects.
Overall, the platform's editing features take some time to get used to. You'll only find animation effects in the right menu bar when no other elements are marked in your layout. Similarly, when in editing mode, far too many windows open. We feel that this would likely be a rather overwhelming experience for the average user.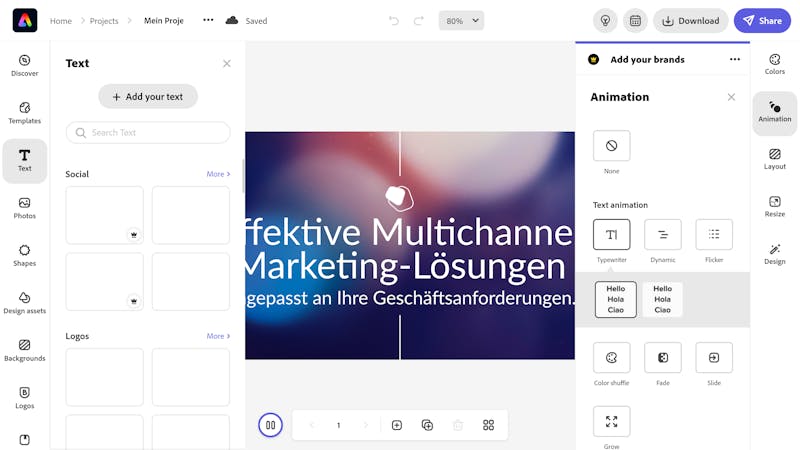 Lots of open windows - lots of confusion. Adobe Express is difficult to handle and has a steep learning curve.
At the same time, it is possible to take care of your business's branding, since you can upload a logo or corporate colors and font, and preview them in your finished product to see how they look. The post scheduler also comes in handy, since it makes it possible to plan social network posts in advance, so long as you've linked your social media account with Adobe Express.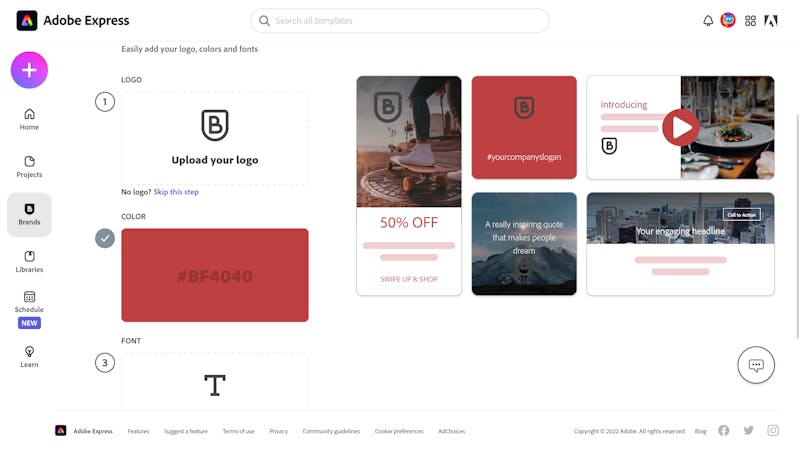 Corporate logos, fonts, and colors can be uploaded in the Brands area of the platform.
Tips & Tricks and News
By clicking on Learn, you'll be afforded access to a range of tutorials covering all sorts of issues and questions. From there, it's easy to get to the platform's blog, which deals with graphics, design, and content marketing. This is more geared towards complete beginners, and we're fairly certain that the content would likely bore most pros.
An Adobe Express app is also available, making it possible to continue working on your projects, even while on the go.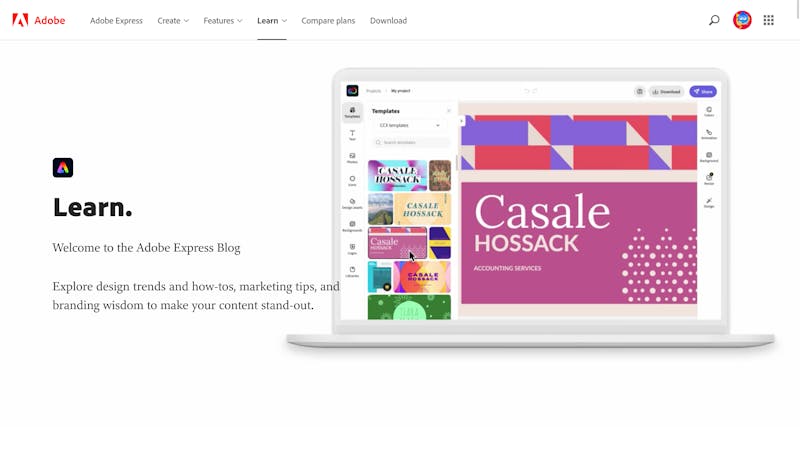 Adobe's in-house blog offers a range of tips and tutorials. These might be interesting for beginners, but would probably be too basic for pros.
Underwhelming
Adobe is a huge name in the world of digital design, and Express does nothing to live up to it. Regardless of whether you're in the market for features, tools, and/or customization options, we expected far more from the developer.
The only real highlight for us was the ability to edit PDFs. But here too the devil is in the details: Basic (free) users can only convert and download a single template per week.
As we noted above, with Adobe Express, you can either customize an existing layout to your needs or create a new one from scratch. Its template archive is sorted by category and includes thousands of options. Results can be sifted according to their usage purpose, subject, price (Premium or Basic), as well as animation. Unfortunately, the selection is weaker both in terms of quality and quantity than what Adobe's competitors bring to the table.
On the one hand, this is owing to our (subjective) preference for more professional templates, as well as the fact that there's little difference between the options within a given topical area. We noticed, for example, that the same stock photos are used over and over again. In other words, there's astonishingly little creativity on display. For a school presentation or quick social media post, what's available will suffice, however, don't expect much beyond that.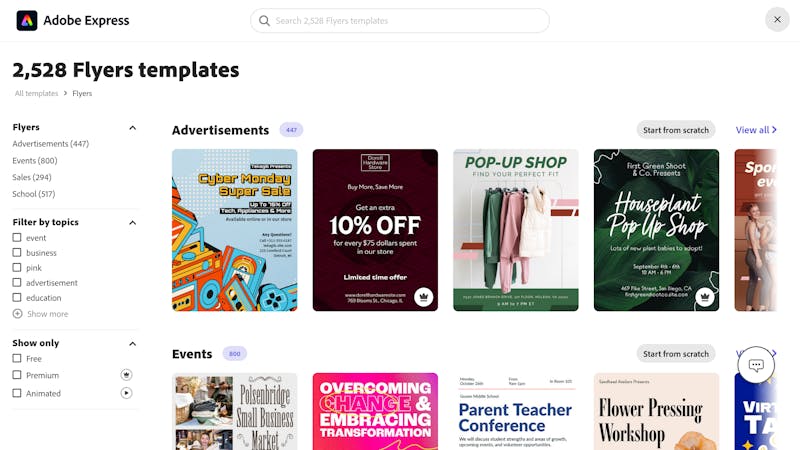 Adobe Express makes a number of templates available, however, they didn't really impress us.
Templates for brochures, invitations, book covers, restaurant menus, logos, YouTube avatars, and business cards are offered. Notable absentees included those that might experience frequent use in the business world, such as those for infographics, presentations, or newsletters. It is possible to suggest new templates (click on "Suggest a feature" at the bottom of the page), which will open a form in which you can detail your desires.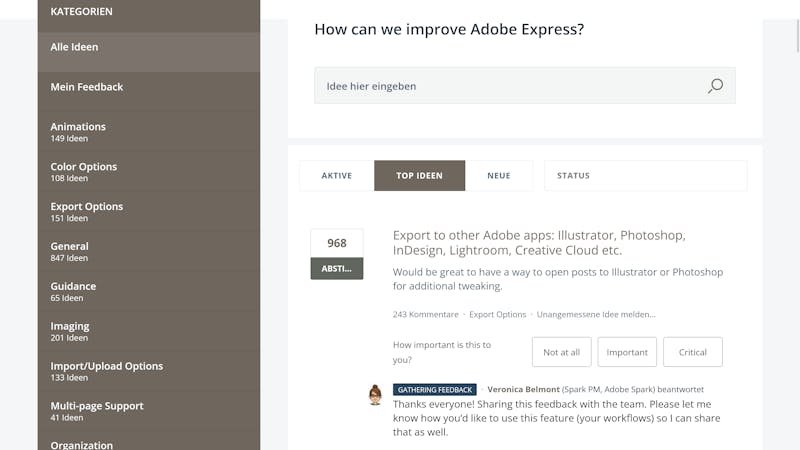 Adobe Express features an integrated form where you can make suggestions for new templates that you'd like to see.
Stock Photos from the Market Leader
When it comes to templates and layouts, Adobe Express has some work to do. However, so far as photos are concerned, the platform flexes its muscles, since users can access one of the leading stock photo repositories in the world, Adobe Stock.
Filters aren't offered in the online design program, meaning that you'll need to carefully formulate your search terms. We tested this when looking for visual material for a test post about vegetables. When inputting "purple vegetables", we got relevant hits. By adding a format to our search "purple vegetables landscape", the results were poor.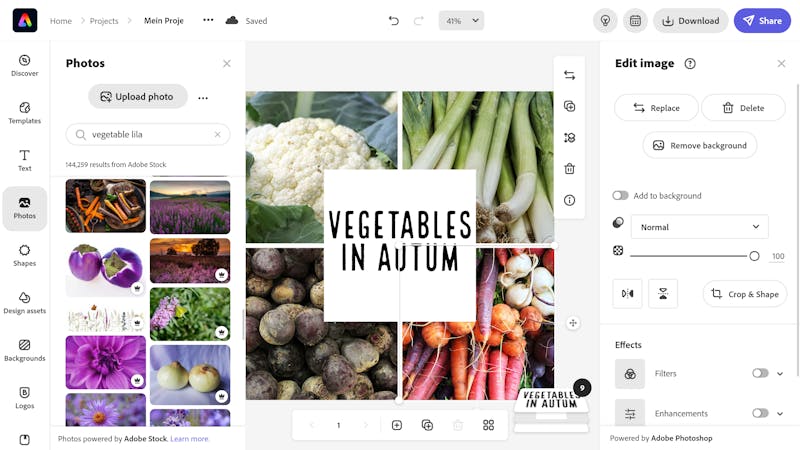 Adobe Express offers lots of stock photos, but unfortunately, no search filters.
Adobe Express serves up lots of templates for private and educational purposes. At the same time, if you're looking for professional layouts, videos, or infographics, you might feel short-changed. For us, Adobe Express is simply missing too much to truly compete with any of the other solutions in this market segment.
Templates & Elements
6.6 / 10
Since the full range of Adobe Express's features isn't presented intuitively, the program requires some time to get a feel for. Thankfully, the developer has created quite a collection of tutorials that outline the platform's most important capabilities. This is accentuated further by its online manual.
At the bottom right of the interface, you'll see a chat button, which will start a conversation with a virtual assistant. In case you need additional help, you can chat with a live staffer either on the computer or phone, Monday to Friday, from 9-5. The staffers we spoke with reacted quickly and competently to our queries during our evaluation.
Alternatively, you can post your questions in Adobe's forum and have them answered by community members.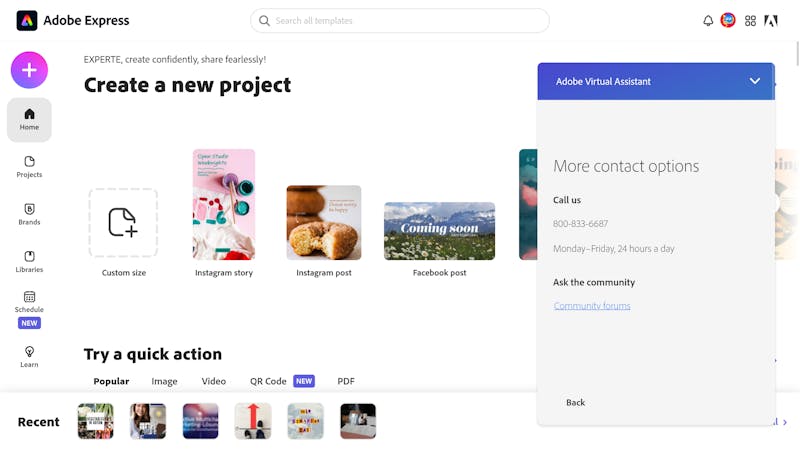 Support is offered via a chat button within the platform's interface. During working hours, queries are answered within a few hours.
Overall, we were thoroughly satisfied with Adobe's support, both in terms of the response times and the quality of the answers we received.
Documentation & Support
10 / 10
Adobe Express is offered in both a Basic (free) and a Premium (paid) version, the latter of which can be tested out for 30 days at no charge. This includes access to all features, including the platform's premium stock photo archive, as well as 100 GB of cloud storage. As noted above, schools or private individuals will be able to create appealing graphics with the tool.
Below, we've provided an overview of the platform's current rates:
Free
Premium
Monthly Price
$0.00
from $8.33
Contract Period (Months)
0
1 - 12
Plan
Number of Users
1
unlimited
Storage
2 GB
100 GB
Features
No Watermark
Unlimited Downloads
Premium Templates
Premium Stock Photos
Background Remover
Brand Assets
Teams
Social-Media Integration
Video Editing
Conclusion
Documentation & Support
10 / 10
Templates & Elements
6.6 / 10
Unfortunately, Adobe Express finished well short of our (admittedly high) expectations. What the platform offers in terms of templates, graphics, animations, and user-friendliness won't satisfy the needs of professional marketers and designers. Adding insult to injury, when set alongside its peers, Adobe's Web-based solution is nowhere near as intuitive to handle or use.
Those who want to quickly design something, make a post, or complete a school assignment might be satisfied with what the program has to offer. Among the (few) highlights, its support is excellent. Still, there's quite a lot of room for improvement for Adobe Express, not least since other, similar platforms provide their users with much more.
The market leader was surprisingly unimpressive in our test. Although Adobe Express is well-suited for beginners, its lack of features and template quality hold it back from being a contender.
features professional stock photos
7.8

good
Plan
Users
Speicher
Downloads/Month
Adobe Free
$0.00
monthly price
Visit Website*
Customer Reviews
The lack of templates and creative options are two common points of criticism among users of Adobe Express. At the same time, many commend it for its ease of use when putting together content for social media. Most seem satisfied with its price-performance ratio. Below, we've provided a snapshot of user opinions:
Customer Ratings
6,011,833 Bewertungen
Visit Website*
We analyzed the reviews and ratings from various portals and found 6,011,833 ratings with an overall rating of 4.6 out of 5 .
Alternatives
Are you looking for more professional graphics and layouts? If so, we recommend checking out Canva, which is both more intuitive to use and offers considerably more features than Adobe Express.
If you're ready to pay a bit more, Visme is an interesting option. While falling a bit short in terms of attention to detail, its portfolio includes magazine layouts.
Below, we've listed several more alternatives to Adobe Express:
Our winner from Australia impresses thanks to its intuitiveness, editing options, and a huge selection of layouts, elements, and stock content. With Canva, you get lots of power at a fair price.
impressive stock media database
good price-performance ratio
free premium trial available
9.6

excellent
Plan
Users
Speicher
Downloads/Month
Canva Free
$0.00
monthly price
Visit Website*
Attention to detail, lots of tools, and specialized templates secured Visme second place in our test. Unfortunately, it is somewhat tricky to use and its value for money could be better.
comprehensive editing tools
specific templates (e.g. magazine layouts)
convenient app integrations
8.6

good
Plan
Users
Speicher
Downloads/Month
Visme Basic
$0.00
monthly price
Visit Website*
Third place in our test went to VistaCreate, which wants to revolutionize the marketing world. It isn't quite there yet but still impresses with its intuitiveness and high-quality templates. Just the printing capabilities could be improved.
Plan
Users
Speicher
Downloads/Month
Vista Starter
$0.00
monthly price
Visit Website*
Piktochart excels in visualizing numbers and data. The intuitive platform also offers professional templates. Its lack of tools and pricing structure count against it though.
Plan
Users
Speicher
Downloads/Month
Piktochart Free
$0.00
monthly price
Visit Website*
* Ad disclaimer:
For links marked with an asterisk, EXPERTE.com may earn a commission from the provider. The commission has no influence on our editorial rating.

Julia P. Manzau has more than 30 years of professional experience in leading editorial and marketing positions in the premium automotive, mechanical engineering, and healthcare industries. She studied Political Science and History in Bonn, Marketing at the St. Galler Business School and earned a BA in Media Engineering (CCI). Since 2015, she has worked as a freelance writer. For EXPERTE.com, she focuses on software, the Internet, and marketing.
Continue Reading
Other languages
Deutsch