Cloud Backup Review: SpiderOak One Backup

SpiderOak ⇱, a US-based file-hosting service has been on the market since 2007, providing a mix of cloud storage and online backup service. It offers large storage packages, software that is compatible with nearly every type of platform, and robust security. In this review, we'll take a close look at whether SpiderOak's web is one worth getting caught up in, or a pitfall better avoided.

In our evaluations of cloud backup providers, we focused on pre-determined criteria in order to guarantee the best and fairest comparison of all the services involved. By applying these to each, we're able to quickly highlight the strengths and weaknesses for you, making it easier to choose what's best for your needs.
Once we've provided our conclusions in regards to SpiderOak One Backup, we listed a few alternatives, which might be more appealing, should the service not offer what you're looking for.
Review
Installation & Usage
9.4 / 10
Provides strong security thanks to zero-knowledge principle as well as encrypted data transfers and storage

All-in-one file-sharing, online-backup, and cloud storage

Can be used on an unlimited number of computers

Apps and software for Windows, Linux, macOS, iOS, and Android

21-day free trial with 250 GB of storage

Unlimited versioning of files

Can be scaled to use for up to 500 users

Private blockchain for end-to-end encryption
No local backups possible

No Office 365 or Google Office functionality

No mobile device or browser uploads

No telephone or live chat support

No system or server backup features

Average price-performance ratio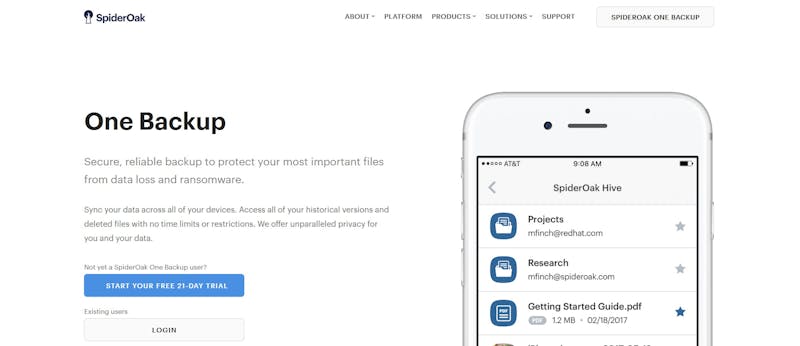 All it takes is a quick look at SpiderOak's website to see that the service prioritizes security, simplicity, and multi-platforming, with the most essential aspects of its software promoted clearly.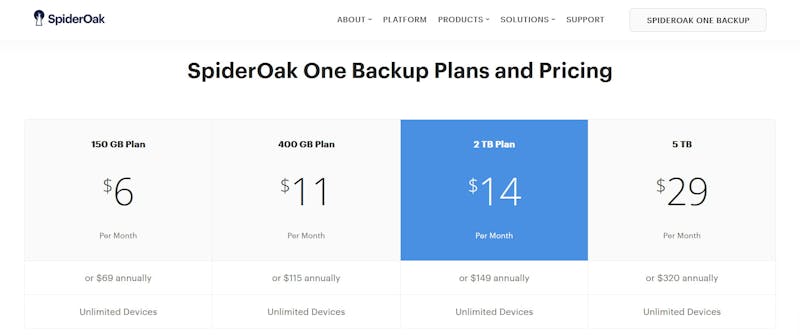 Near the bottom of the homepage is an overview of SpiderOak One Backup's four packages, which, in large measure, differ only in terms of their cloud storage capacity. All other characteristics and features are the same.
Should you opt for the 21-day trial version, you'll receive access to 250 GB, which is between the 150 and 400 GB packages.

Setting up the service is not difficult since it's only available for Windows, macOS, or Linux. Through the browser dashboard or apps, you can download files, but not upload them. SpiderOak's One Backup software must be installed on every system from which you want to upload data. After registering or clicking on the 21-day free trial, you'll be taken to a page where you can download the software.

Alternatively, you can also create an account in the software's dashboard, should you not have done this during installation on the website. Once finished, you'll receive a confirmation e-mail, with which you can log in. After that, you're good to go! During testing, the entire process took about five minutes, and we were able to configure installation settings.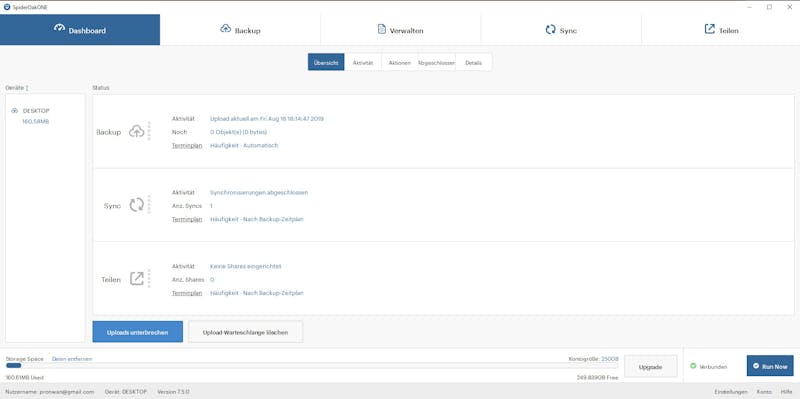 The first installation of the software is very straight-forward. By default, a folder called "SpiderOak Hive" is created and synchronized with all computers in your cloud on which One Backup is installed. For those who want to, it's possible to add additional folders to be automatically synchronized. Deleted files are stored in an online recycle bin until they're manually deleted from there.
Since the software is also needed to upload files or folders, configuration a bit more complicated than with browser solutions, however, it isn't too much of a hassle. We'd also like to take this chance to point out that you only need to enter an e-mail address to 'unlock' the 21-day free trial, as opposed to a credit card or other payment information. This means that you won't run into any difficulties with payments being processed automatically should you forget to cancel the trial before it expires.
Score: 4.3 / 5
3.
Interface & Ease of Use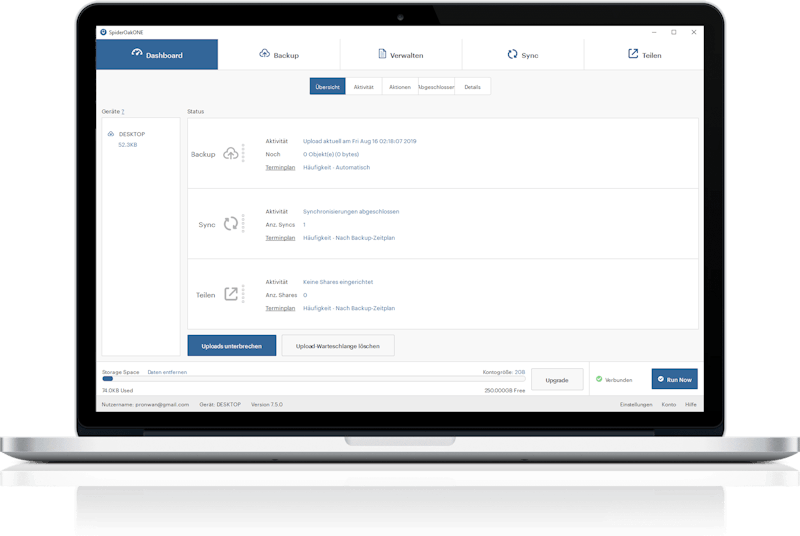 SpiderOak's One Backup software user interface,
The web user interface is sensibly arranged and, in large part, self-explanatory. Through the upper navigation bar, it's possible to access the service's four main functions (except backup), while in the software's interface, a similar design is present, albeit with backup functionality included. Basic features like creating a new folder, uploading, or restoring files are possible through the dashboard with a single click. Configuring new synchronization folders is also easy, once you've gotten the hang of the service. This is, in large part, owing to the necessity of including directories in the backup selection.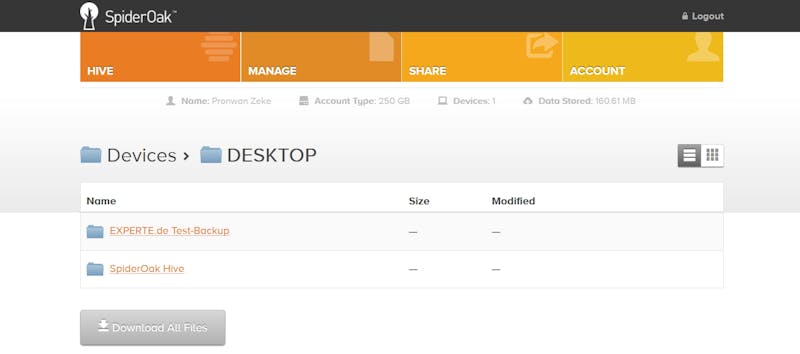 SpiderOak's One Backup web dashboard.
In sum, One Backup is very easy to use, with clear menus and settings. Everything is well-organized and reachable with, at most, two clicks. Of course, this can be traced, in large part, to the service's lack of features: One Backup doesn't offer functions like the creation of system images, with server, office, or social media backups nowhere to be found, and usage limited to the bare essentials.
Of course, this benefits the user, particularly new or technically unsure ones, but might be a bit too simplistic for those with some IT background. However, the service is clear and easy to use. Our only issues of note were the somewhat confusing creation of a synchronization folder when starting out with the program, and the software's lack of optimization for touchscreens. The web interface is well-designed for touchscreens, allowing for the easy and convenient download of backed up files and data.
Score: 4.7 / 5
4.
Functionality and Performance
One Backup's list of features is not all that impressive. Among the most important of these are the aforementioned backup and synchronization capabilities, which can be quickly and easily accessed through the upper navigation menu. Apart from that, it's also possible to send download links to others, even if they aren't One Backup users.
You can also create "ShareRooms", in which multiple files are shared through a single link and allowed to be downloaded. By clicking on the "Link" button, you can generate and copy an externally-accessible link, which worked perfectly during testing.
A significant advantage of SpiderOak's software is that it can be installed on as many computers as you'd like. All linked computers can then be viewed and managed from a single computer, with each having its own backup and synchronization folder, as well as ShareRoom(s). In this way, individual folders from all computers are made accessible, automatically synchronized, or, if desired, only made visible locally.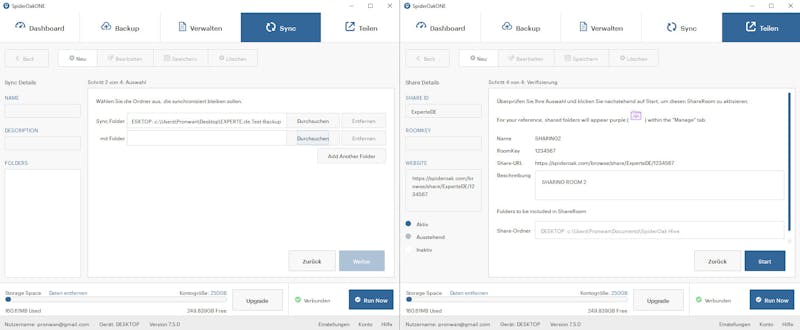 Unfortunately, when set against other providers, some features which would be interesting for both private and corporate users, are missing. These include social media, office, smartphone, and full system backups, as well as the ability to integrate One Backup into your existing IT infrastructure since everything needs to go through the software.
This is all the more frustrating as One Backup's price is comparably higher than those of its competitors while offering access to fewer features. However, the service's provision of lots of storage space as well as excellent security shouldn't be overlooked. Another drawback is that files can only be download, but not uploaded in the service's browser interface.
Despite the somewhat limited functionality, One Backup does provide a few important features, which we've summarized for you below.
Special Features Offered by SpiderOak One Backup
Strong Security
SpiderOak doesn't only provide AES-256 data transfers, but also adheres to a no-knowledge policy. This means that your password(s) and key(s) are known only to you, meaning that no one can access your files without your permission.

Multi-Platform
Thanks to its web dashboard, Windows, Linux, and macOS software, as well as iOS and Android apps, One Backup can be used on practically any platform (at least for downloads and synchronization).

Folder Sharing
Folders and files can be shared with others using the service's software, even if they aren't One Backup subscribers.

Unlimited Versioning and Storage of Deleted Files
You can create as many versions of files as you'd like, as well as keep data in the recycling bin for as long as you'd like.

24-Hour Support
In the event of issues, support is available round the clock.

Sync Functions
Thanks to automatic file synchronization, you can synchronize as many different systems as you'd like.

Usable on Multiple Computers
The software can be installed on as many Linux, Windows, and macOS computers as you'd like with a single account.
For anyone that places a premium on security, and wants to use the software on multiple systems, you're in luck. Apart from that, the combination of backup, synchronization, and share functions is intuitive and logical. Of course, you'll have to make do with reduced features and servers located in the US, however, One Backup really impresses thanks to its capabilities and ease of use.
(Features) Score: 4 / 5
Server Performance and Capacity
The automatic encryption of all file transfers means that transfer times are long. However, this is the cost for maximum security. Even in comparison to other services that encrypt files prior to transfer, such as iDrive, this takes a long time.
We needed around eight and a half minutes to upload our 153 MB test folder, however, it should be kept in mind that we conducted our test in Germany.
(Server) Score: 2.7 / 5
Score: 3.3 / 5
One Backup's greatest advantage is the high degree of security it provides. As already mentioned, all files are encrypted with AES-256, and the company adheres to a strict zero-knowledge policy. At least in theory, this means that even in the event US authorities request access to your account, they wouldn't be able to receive it since SpiderOak doesn't have any information about your password. Whether it's actually the case, remains to be seen. With that said, we only deducted a few points in terms of security.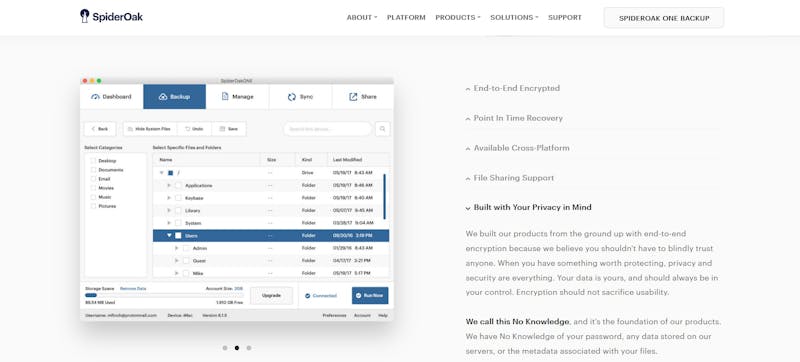 Apart from that, One Backup does pretty much everything right in terms of security. Multi-user sharing, file synchronization, AES-256 data transfers to the company's servers, and adherence to a zero-knowledge policy all make One Backup a very safe bet. One other (minor) issue, are unsafe password, which SpiderOak could easily rectify with a password manager.
Score: 4.7 / 5
SpiderOak provides both an iOS and Android app for One Backup users. The app's functionality only entails that of a web dashboard, meaning that you can't upload files from your smartphone or tablet, or back them up. With that said, you are able to easily and conveniently download files from shared folders, or backups of any Windows, Linux, or macOS computers to your tablet or smartphone.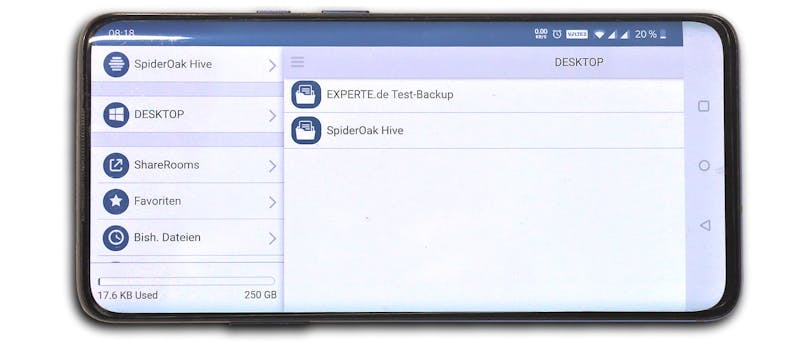 ShareRooms can also be entered using the app. If desired, the app can be password protected to prevent unwanted access. It's also possible to create download links in the app, thereafter copying or sharing them. The only thing preventing the app from getting a perfect score is the inability to upload files on the go; otherwise, we couldn't ask for more.
Score: 4.7 / 5
SpiderOak's support is kind of 'meh'. Subscribers aren't given access to a hotline, or a live chat, with the time-tested support ticket (in the form of an e-mail or web form) the only possibility for getting in touch with a live person. Apart from that, there's an online help center that provides something akin to FAQs. During testing, we waited about 30 minutes for an answer to our query. Although we filed this in the evening locally, since we're based in Europe, we were writing during prime US business hours. The answer was friendly and informative, so we can't really fault SpiderOak on that front, however, support is probably best during regular business hours and the workweek.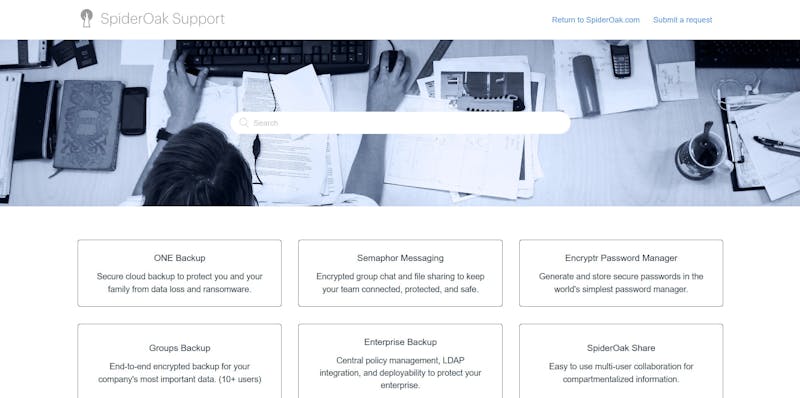 For those who like to get support fast when they have an issue, SpiderOak probably isn't for you.
The FAQ section is clearly-arranged and provides a great deal of useful insight into issues as well as solutions. Unfortunately, it's necessary to dig through this section a bit to find what you're looking for, but overall, it's fairly solid.
Score: 3.3 / 5
In terms of price, One Backup is definitely on the higher end, which might not even be all that warranted considering its limited functionality and average performance. Nevertheless, the service does have some advantages, thanks in large part to its excellent security, large storage capacity, as well as ease of use. With all of that in mind, the price is, in our eyes at least, fair and reasonable, so long as you can value One Backup's strengths and overlook its shortcomings.
150 GB
400 GB
2 TB
5 TB
Setup
$0.00
$0.00
$0.00
$0.00
Price per Month
$5.75
$9.58
$12.42
$26.67
Price per User
-
-
-
-
Contract Periods (Month)
1 - 12
1 - 12
1 - 12
1 - 12
Limits
Storage
150 GB
400 GB
2,000 GB
5,000 GB
Number of Devices
unlimited
unlimited
unlimited
unlimited
Features
Full Disk Backup
Private Key Encryption
File Versioning
Two Factor Authentication
Platform

Windows

macOS

Linux

iOS

Android

Windows

macOS

Linux

iOS

Android

Windows

macOS

Linux

iOS

Android

Windows

macOS

Linux

iOS

Android
Overall Evaluation & Conclusion
Installation & Usage
9.4 / 10
SpiderOak's One Backup is definitely not the right choice for everybody. If you're looking for an easy to use software for backing up, synchronizing, and sharing as many files and folders as possible, from multiple computers, you might have struck gold. Apart from installing the software on an unlimited number of computers, the service also doesn't limit the amount of versioning, file size, or the storage of deleted files. Few, if any providers offer all of this, setting One Backup apart from most of its competitors.
Accordingly, it can be said that SpiderOak's cloud backup solution is a solid one. The service is intuitive, provides a variety of functions which are appealing to its clients, and offers impressive multi-platform solutions. Apart from that, One Backup is straightforward; you can test it for 21 days without a credit card, which is really remarkable and even unique.
For companies or organizations with up to 500 users, SpiderOak's "Enterprise Backup" is worth looking into.
Storage
Devices
Contract Period
SpiderOak 150 GB
$5.75
monthly price
Visit Website »
Customer Reviews
Here, we've compiled a number of customer reviews to create an average score, which might help in making your decision., based on how users have evaluated the service.
Customer Ratings
38 Bewertungen
Visit Website
We analyzed the reviews and ratings from various portals and found 38 ratings with an overall rating of 3.8 out of 5 .
Alternatives
If you'd rather not get tangled up in SpiderOak's One Backup's web, there are a number of alternatives that might be interesting for you.
Should you be on the hunt for additional features like Office, database, or system backups, as well as better IT infrastructure integration, we can highly recommend iDrive. This service provides a native app for both iOS and Android which allows for smartphone backups, meaning that its breadth of functions is better than that of One Backup. The service does suffer somewhat more in terms of performance than One Backup though.
IDrive is entirely free in the entry-level package (5 GB) and offers a convincing range of features and is easy to use.
Storage
Devices
Contract Period
IDrive Free
$0.00
monthly price
Visit Website »
5 GB for Free
Acronis True Image is an excellent cloud backup solution for both beginners and advanced users, offering many features besides just syncing and backup.
Malware protection included
Backup for mobile devices
9.4

excellent
Storage
Devices
Contract Period
Acronis Advanced (1 Computer)
$7.50
monthly price
Visit Website »
30 Day Free Trial
1&1 IONOS provides very good performance, moderate pricing and excellent support. It is suited for both private users and companies.
30 days money back guarantee
Somewhat complicated setup
9.0

excellent
Storage
Devices
Contract Period
IONOS MyDefender Starter
$2.50
monthly price
Visit Website »
Try IONOS Now
Simple, intuitive interface
No backup of mobile devices
8.2

good
Storage
Devices
Contract Period
CrashPlan Backup
monthly price
Visit Website »
30 Day Free Trial

Carsten Podszun studied computer science and business administration and was self-employed in the retail industry for 15 years. Since 2014 he is a consultant for startups, freelance author and writes at EXPERTE.com about homepage, hosting & IT security.
Continue Reading
Other languages
Deutsch