SpiderOak ONE Review 2023: Encrypted Backups for Maximum Security?

Ad disclaimer:
For links on this page, EXPERTE.com may earn a commission from the provider. This supports our work and has no influence on our editorial rating.
These days, cyberattacks seem to happen all the time. Securing your data is an important way to ensure that these don't impact you. However, even though many people regularly back up their files, they do so on local devices. Cloud backups, such as those offered by SpiderOak, offer both more flexibility and scalability.
Like all cloud backup services, SpiderOak ONE operates data centers with redundant infrastructure. This means that in the event of an attack, stored data will be safe. In comparison to other providers, data security is the highest priority for SpiderOak. To find out why and what this means for users, we took a closer look at the program.
What Is SpiderOak ONE?
SpiderOak* is a cloud backup solution, that's been operating since 2006. ONE Backup, its flagship service is known for its high-security standards underlined by its commitment to the zero-knowledge principle. This means that the company's employees have no access to customer data.
But that's just the tip of the iceberg: Security is further enhanced through the usage of blockchain. This decentralized architecture enables automatic authentication and unlimited version management.
Alongside ONE Backup, SpiderOak also offers a filesharing program, with which you can share files, manage teams, and organize secure chats.
We tested SpiderOak ONE Backup and will let you know if we would use it to secure our most sensitive files.
SpiderOak ONE Review
Installation & Usage
9.4 / 10
Maximum security thanks to zero-knowledge principle

Multiple options for sharing data
No image or mobile device backups

Customer service only by email

Doesn't support two-factor authentication
To get started, you'll need to download the ONE Backup client from SpiderOak's website. Once the program is installed on your computer, log in with your account or create a new one.
The software's main menu includes the following areas::
Dashboard – Here, the amount of used storage space, as well as the number of folders, and the largest folder in the backup are shown. You can also check when the last backup and synchronization were performed.

Backup – Specify which files and folders should be backed up.

Manage – View and download all backed-up files and folders. If needed, it's also possible to generate share links here for individual files.

Sync – Select the folder (also on a different device) where you'd like content to be synchronized.

Share – Create so-called Share Rooms, where you can add folders to be shared with others.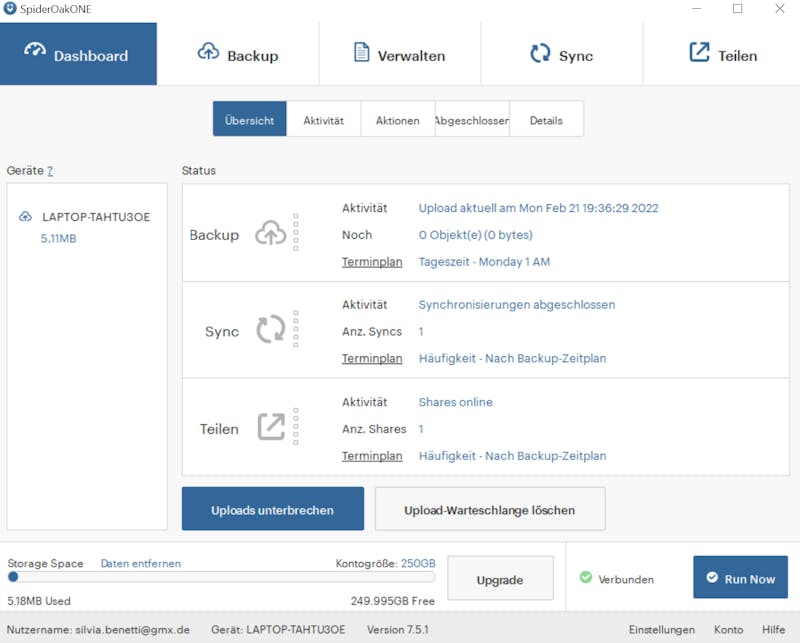 The Dashboard tab summarizes all of your most recent activites.
We found the software easy to use and self-explanatory. The menus are logically structured and not redundant, making it possible to access the most important features with just a few clicks.
For that reason, SpiderOAK ONE is awarded a "very good" score in terms of user-friendliness. One disadvantage we identified was the inability to change the software's language: Even though SpiderOak claims that this is possible, we couldn't find the option for doing so.
Installation & Usage
9.4 / 10
SpiderOak ONE is compatible with Windows, macOS, and Linux, as well as NAS systems, and Exchange, MySQL, and Oracle servers. With the latter, however, it's more of an archive as it does not create backups during operation (known as 'hot copies'). Earlier versions of ONE supported Android and iOS, however, it's no longer possible to back up mobile devices.
Three options are available for backing up your files:
In the Backup tab, you can specify which file(s) or folders the software should secure. Once in the tab, browse through your system and mark anything that you'd like to back up. After you're finished, click on Run Now to start the backup.

Should you not want to manually sort through files and folders, you can add entire types of files using the Select Categories menu off to the left. With this, ONE will automatically back up all music, image, movie, or desktop files that it finds.

In the Sync tab, you can synchronize folders across different devices, so long as they're connected.

After installation, a SpiderOak Hive icon will appear on your desktop. Drag and drop folders or files here that you'd like to back up, and they'll automatically be secured and synchronized across any devices that you've specified in the Sync tab.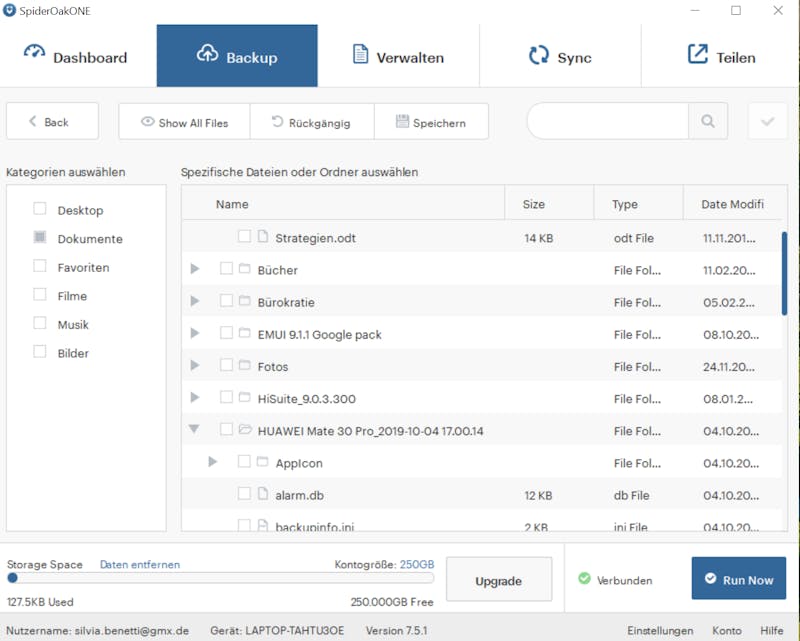 When the box next to a folder is blue, it will be backed up.
To see which data is included within a backup, click on Manage. There, you'll be able to remove folders and files that the software should no longer back up. SpiderOak advises against backing up the entire C drive, since doing so can take a significant amount of time. Image backups that include system files are also not recommended, since the software doesn't copy app or system data.
Share Data
Should you want to share files with friends or colleagues, ONE offers two options:
In the Share tab, you can create a so-called Share Room to send files or folders to others via URL. Recipients get read-only access to the file or folder, without having to install ONE.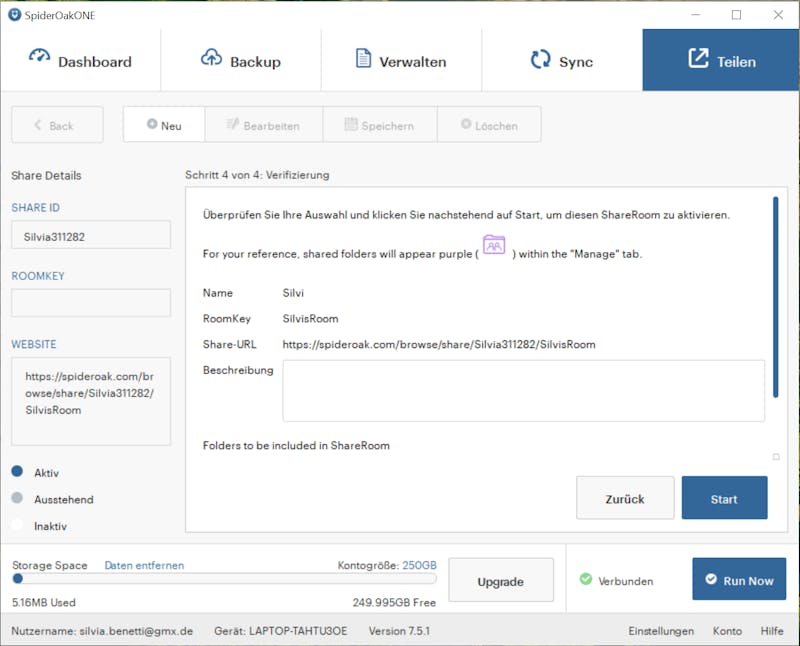 Your files are safely encrypted even in the Share Room.
On the other hand, if you only want to share a single file, go to the Manage tab and click on the Link button (upper right). This will create a link that remains valid for three days, which you can also share via email.
Web App
In addition to ONE's desktop client, it's also possible to access files through your browser. Keep in mind that maximum security according to the zero-knowledge principle is only offered in the desktop client. For this reason, you should never delete backed-up files through your browser, but only download them.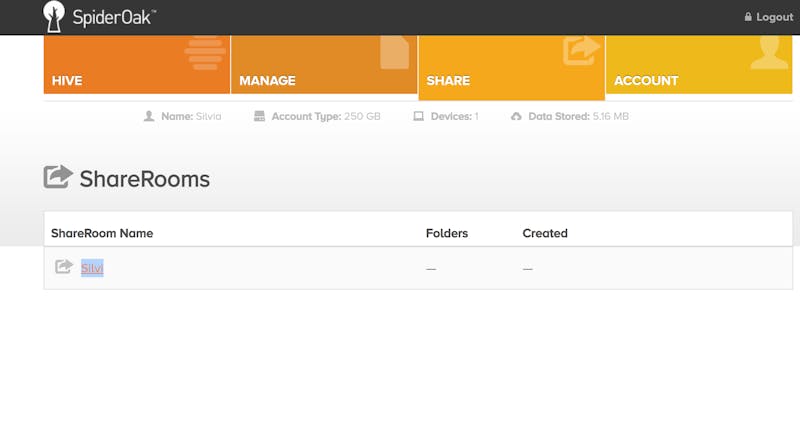 With ONE's web browser, you can access your backups when on the go.
The web dashboard also provides access to your Hive folder and any Share Rooms that you created. Keep in mind that you can only view or download files, but not back them up.
Storage Location
As noted during account creation, SpiderOak stores your data on US servers. Local backups are only possible through a workaround (uploading the file to the cloud and then downloading or copying and pasting it to the desired device).
Encryption
By adhering to the zero-knowledge principle, SpiderOak guarantees a high degree of security and privacy. When creating a password for your account, the software generates a cryptographic key, which isn't stored on SpiderOak's servers.
For the encryption key itself, the program uses a combination of AES 256 and PBKDF2 algorithms. This multi-layer approach to security prevents brute-force attacks and data theft arising from breaches or leaks. Oddly, two-factor authentication is not possible.
Additional Features
It's possible to customize backups with ONE. At the bottom right of the desktop client's interface, click on Preferences and a new window will open with four tabs:
Backup is where you can specify whether files exceeding a certain size or created after a particular date should be ignored.

Schedule allows you to decide how often your data should be backed up (hourly, weekly, or on a particular day). The software's automatic backups are performed incrementally. This means that the app only uploads data that's been changed since the last backup.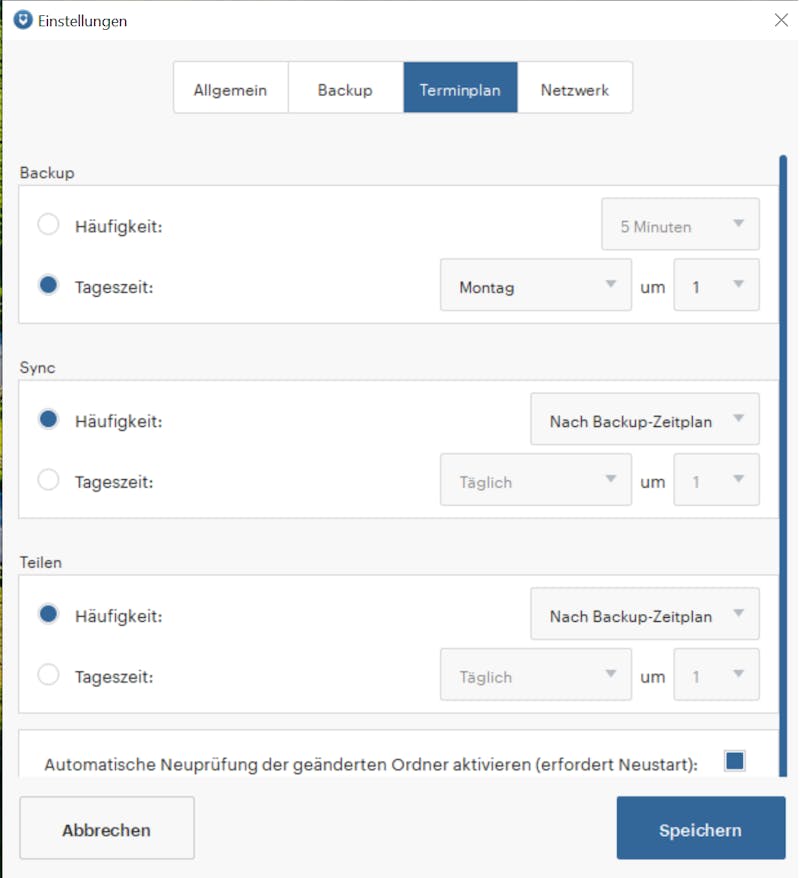 Under the Schedule tab, you can plan backups to be performed at night, so that you won't be disturbed while working.
Even when you do modify files, ONE doesn't overwrite them when performing your next backup but maintains them as a different file version. Unlike other providers, SpiderOak allows you to maintain an unlimited number of file versions.
Broadly speaking, we were very impressed with SpiderOak ONE's range of features. The unlimited number of file versions is a major advantage, while the ability to send files or folders to others through Share Rooms is highly practical.
At the same time, it was disappointing not to be able to back up our entire system or mobile devices or enable two-factor authentication. For that reason, we can only award the service a "good" score, however, it isn't too far from "very good".
We weren't disappointed with SpiderOak ONE's performance: On its website, the provider claims that it can take up to an hour for one gigabyte of data to be uploaded. This wasn't the case for us, as we were finished uploading in 42 seconds, with a download taking slightly longer than a minute.
Beyond its data transfer speeds, ONE also doesn't consume lots of CPU or RAM. During our backup, all of its apps performed well even on a relatively old system (8 GB RAM, Intel i5 processor). Among the services in our sample, ONE's upload speeds were good enough for fourth place, while its download speeds earned it fifth. These aren't fantastic, but still enough to earn it a "good".
During our test, we had difficulty downloading a saved backup, so, we contacted SpiderOak's customer service through their website. After a few hours, we received a detailed answer that offered multiple solutions. Thanks to their effort, we were able to quickly solve the problem we were having.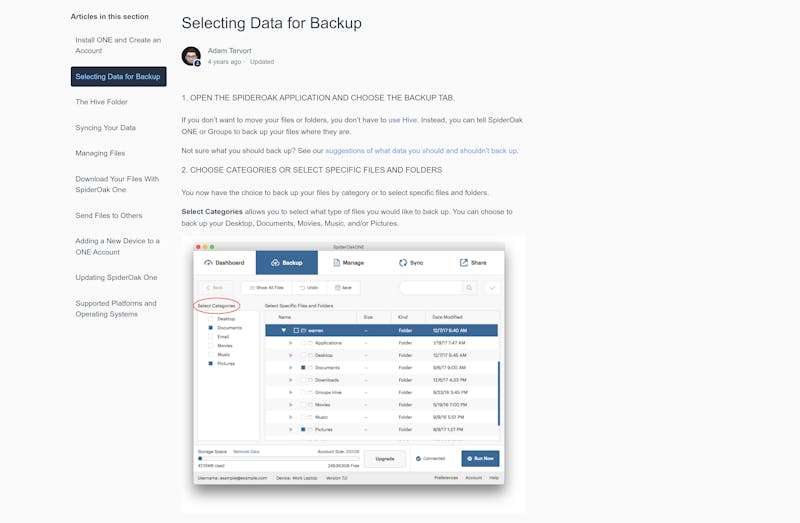 SpiderOak's well-structured articles and guides offer plenty of information about a range of different topics.
In terms of contact options, only email is offered. Still, the developer provides a range of different guides and support articles that explain the most important features step-by-step and use plenty of screenshots. Overall, we've awarded SpiderOak's support a "good" score, but it's close to being "very good".
SpiderOak ONE's pricing corresponds to the desired amount of storage space. Four different levels are offered, ranging from 150 GB to 5 TB, each of which includes unlimited devices.
Below, we've prepared a summary of the various individual and business solutions on offer:
150 GB
400 GB
2 TB
5 TB
Setup
$0.00
$0.00
$0.00
$0.00
Price per Month
$5.75
$9.58
$12.42
$26.67
Price per User
-
-
-
-
Contract Periods (Month)
1 - 12
1 - 12
1 - 12
1 - 12
Limits
Storage
150 GB
400 GB
2,000 GB
5,000 GB
Number of Devices
unlimited
unlimited
unlimited
unlimited
Features
Full Disk Backup
Private Key Encryption
File Versioning
Two Factor Authentication
Platform

Windows

macOS

Linux

iOS

Android

Windows

macOS

Linux

iOS

Android

Windows

macOS

Linux

iOS

Android

Windows

macOS

Linux

iOS

Android
Other services from our sample have better price-performance ratios. With SpiderOak ONE, you'll pay four-five times as much for 5 TB of data as elsewhere. However, ONE is still more affordable than providers like IONOS MyDefender, since you can back up as many devices as you'd like.
The table below compares how much one year of 250 GB of cloud backup storage costs from each provider in our sample:
1.
2.
3.
4.
5.
6.
7.
8.
In case you want to try ONE out before you buy it, a 21-day free trial is offered on the service's website. There's no money-back guarantee, however, subscriptions can be canceled at the end of any month.
Conclusion
Installation & Usage
9.4 / 10
SpiderOak ONE is a high-quality backup solution that impresses thanks to its top-notch security standards. If, for example, you're afraid about putting your data in someone else's hands, SpiderOak's security mechanisms are some of the most robust in the business. We liked its multiple sharing options, ease of use, and powerful performance.
The provider does suffer from a few disadvantages though: In comparison to other US cloud backup solutions, it's expensive. You also won't get image or smartphone backups. For servers and businesses that need to restore their system files after an attack, there are definitely better backup solutions.
SpiderOak stands out with strong performance and end-to-end encryption, where data is encrypted before being uploaded.
Storage
Devices
Contract Period
SpiderOak 150 GB
$5.75
monthly price
Visit Website*
Customer Reviews
Even though there aren't many reviews for SpiderOak ONE, it does well in those that we found. Its performance, high level of security, and intuitive interface were all praised, as is its price-performance ratio.
Customer Ratings
26 Bewertungen
Visit Website*
We analyzed the reviews and ratings from various portals and found 26 ratings with an overall rating of 4.1 out of 5 .
Alternatives
Should you want a more comprehensive backup solution that includes powerful malware protection, Cyber Protect Home Office by Acronis, is one of the best-performing options available and includes mobile device backups. On the other hand, if you're looking for a more affordable and straightforward backup option with unlimited storage space, consider Backblaze.
Acronis True Image is an excellent cloud backup solution for both beginners and advanced users, offering many features besides just syncing and backup.
Malware protection included
Backup for mobile devices
9.4

excellent
Storage
Devices
Contract Period
Acronis Advanced 50 GB (1 Computer)
$4.58
monthly price
Visit Website*
30 Day Free Trial
1&1 IONOS provides very good performance, moderate pricing and excellent support. It is suited for both private users and companies.
30 days money back guarantee
somewhat complicated setup
9.0

excellent
Storage
Devices
Contract Period
IONOS MyDefender Starter
$2.50
monthly price
Visit Website*
Try IONOS Now
Crashplan is a solid backup program that features a user-friendly interface and unlimited storage space. However, image backups of the entire system are not supported.
simple, intuitive interface
no backup of mobile devices
8.2

good
Storage
Devices
Contract Period
CrashPlan Backup
monthly price
Visit Website*
30 Day Free Trial
Synology C2 scores with great performance and good value for money. Automatic encryption of the data before uploading ensures a high level of security.
Storage
Devices
Contract Period
Synology Personal 500 GB
$2.92
monthly price
Visit Website*
Backblaze offers unlimited storage for a low flat rate. Unfortunately, backing up and restoring data is sometimes a bit cumbersome.
complicated backup and restoring of data
no backup of mobile devices
7.8

good
Storage
Devices
Contract Period
Backblaze 24 months
monthly price
Visit Website*
15 days free trial
* Ad disclaimer:
For links marked with an asterisk, EXPERTE.com may earn a commission from the provider. The commission has no influence on our editorial rating.

After her studies in physical engineering, Silvia Benetti was active in the development of wind turbines. She has been writing about technical subjects as a freelance author for several years. Her focus areas include IT, artificial intelligence, industry 4.0 and renewable energies.
Continue Reading
Other languages
Deutsch