Cloud Backup Review: Acronis True Image

The market leader among cloud backup solutions is Acronis's True Image ⇱ software. Over time, True Image has transitioned from a pure Imaging service program to a complete backup solution for private and professional users. Alongside a basic version, there are also two subscription packages that include cloud backup storage. We've taken a closer look at the cloud service packages in this review.

To help assess Acronis's True Image software, we've created a list of advantages and disadvantages below, so that you can quickly see if the solution is right for you.
Review
Installation & Usage
10 / 10
Dual protection for local and cloud backups

Compatible with Windows, macOS, Android, iOS, and Linux

Telephone and online support

Native app including smartphone backups

Data centers secured according to SSAE-16 and Tier-III standards

Social media and Office 365 backups

Backups also possible on NAS and network devices

Possible to create mirror images of operating systems
Software has high space and resource needs

Apps not completely developed

Somewhat too complex for simple backups

Servers located in the US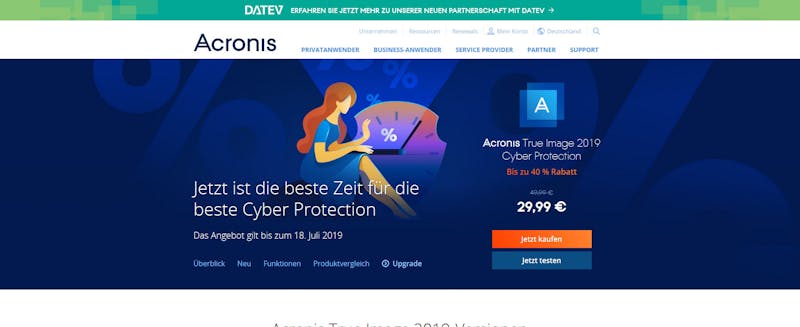 To start, it's worth mentioning that Acronis offers users a 30-day free trial of its True Image software. The first disappointment didn't take look to surface. When attempting to download the installation file, we had to use multiple browsers, and even then, only reached a maximum speed of 21.3 kb per second. This wouldn't be a problem if the installation file were small, however, at a whopping 560 MB, it would take seven hours to get the client. Of course, we checked our Internet connection to make sure that it wasn't an issue on our end.

Only when we downloaded the file from a different server was it possible to get the software quicker. This is annoying, but because we couldn't find other users with the same issue, and since it really appears to be an outlier, we decided to not hold it against Acronis and negatively impact this review.
After the download and installation were wrapped up, we were shown a quick tutorial, which concludes with putting users in a perfect position to start their first backup.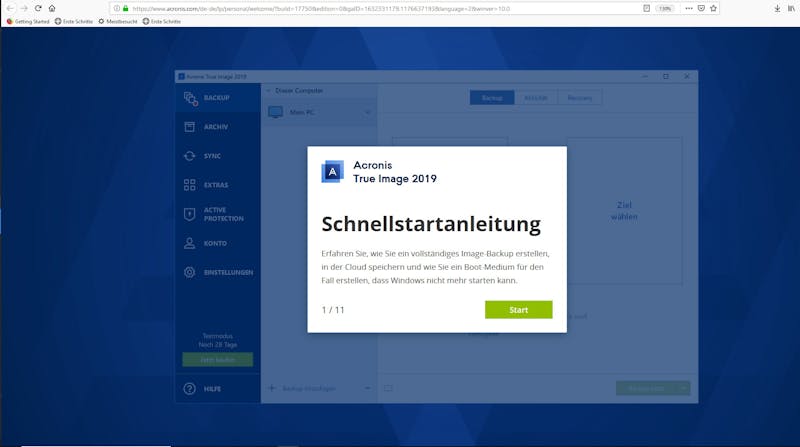 Installation is automatic and we didn't need to set any additional parameters, and once it was finished, could immediately access the dashboard, and perform the first cloud backup.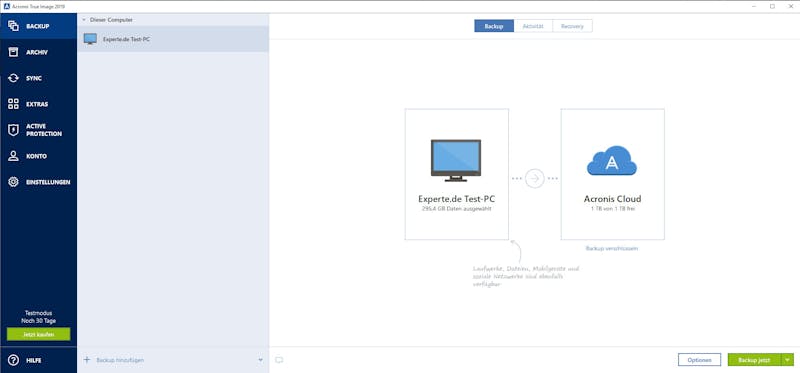 Taken together, the first installation of True Image is straightforward. The quick tutorial is very useful for beginners since it explains changes in the current version and takes users through the ins and outs of the program. If we look over our difficulty in downloading the client, there's absolutely nothing to take issue with.
Or, on second thought, there is: The software embeds itself in your system, creating six simultaneous processes, which relate mostly to background monitoring. For older systems, this can definitely create some problems, greatly taxing available resources. As a result, with this in mind, less demanding solutions are certainly better for those running older computers or laptops. With that said, we didn't notice any performance issues on our system during testing.
Score: 4.7 / 5
3.
Interface & Ease of Use
The software is nicely designed, with all important functions easily accessible through the navigation menu on the left. In particular, the software has been optimized for touchscreens, such as Surface Pro.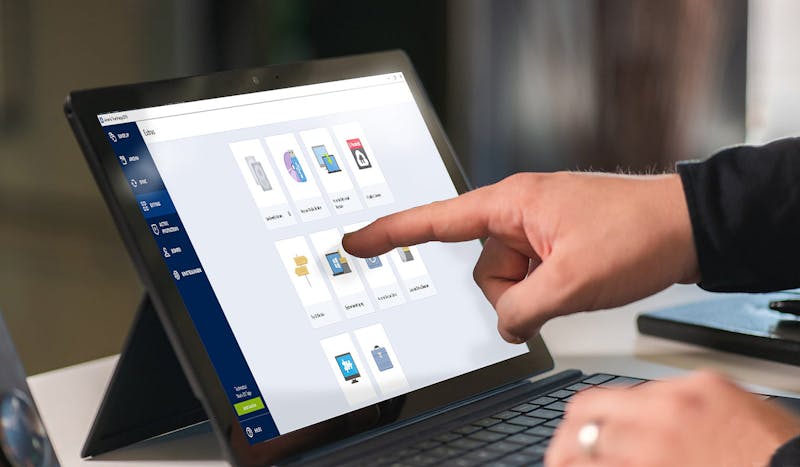 Any extra, such as creating a boot drive, system cleanup, disk cloning, or even "Try & Decide" can be activated and managed with a single click. This is particularly useful for anyone who wants to create an image or backup a specific drive. Nevertheless, despite their number, these are all well-structured and easy to reach.

The only issue is that True Image might be too complex for anyone looking for a simple backup tool. Nevertheless, the service is easy to use and well-arranged, so there shouldn't be too much of a learning curve. If you're only planning on using a handful of features, you will have to navigate through all of the options to get what you need.
Cloud synchronizing is very straight forward with the service offering you the ability to select individual folders or entire hard drives with a single click. To automatically monitor and synchronize your system you won't need to do anything more.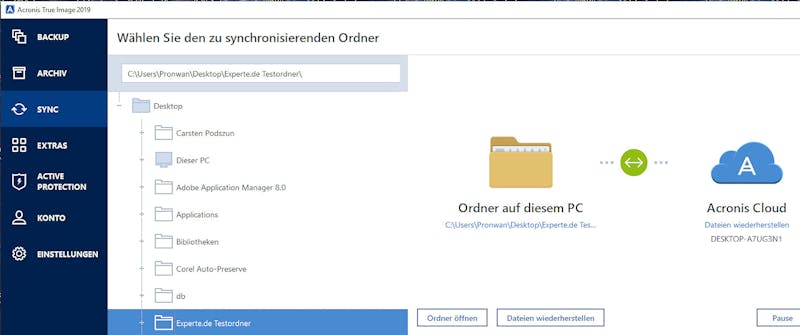 Altogether, menu navigation and user comfort both impressed us; we don't have bones to pick in this area.
Score: 5 / 5
4.
Functionality and Performance
Acronis's True Image is one of the most feature-filled backup solutions on the market, allowing you to recover both mobile devices and computers and to create local and cloud backups. The multi-platform software is available for both Windows systems (starting with XP SP3), macOS (starting with Version 10.11), as well as iOS (from 8.0), and Android (from 4.1).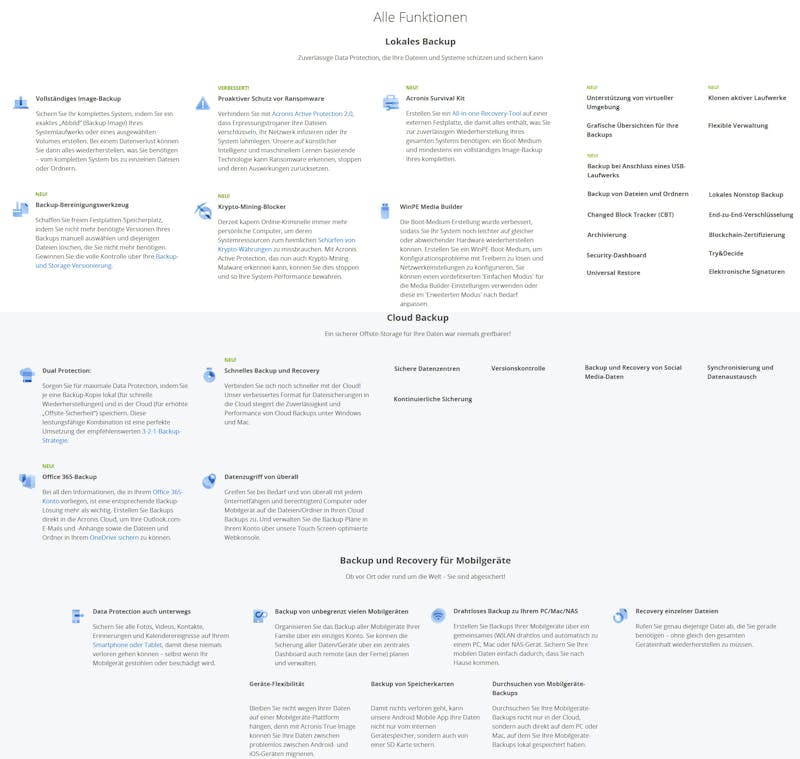 In particular, dual protection (the simultaneous backing up of data both locally and to the cloud) and the cloud backup and recovery features' speeds impressed us. Data can be easily accessed from anywhere, with the ability included to manage backup plans on touch-screen optimized web consoles. Office 365 backups are also possible.
Beyond that, users can also backup and restore social media data, and synchronize file changes live in the background, without needing to stop whatever you're working on. As long as you've purchased a license that includes multiple devices, you can also synchronize files across computers. For example, you can access files from your office on your home computer.
Locally, you're also outfitted with ransomware protection and the ability to create images of your operating system or individual volumes. Apart from that, there's also a recovery tool for external hard drives and a manager for creating boot media. Rounding out the features are the ability to backup and restore files from mobile devices or SD cards (including searchable backups of every device), and a notarization service that uses blockchain to certify that files haven't been altered.
The "Try & Decide" function is also worth mentioning. This allows you to open insecure sites, links, or e-mail attachments and restore your system to where it was with a single click, should the content be malicious. Acronis comes with one of the fullest arsenals of extras and features available on the market.
Prior to purchasing, you should carefully consider how many PCs you'd like to install the software on. By default, you're limited to a single license with each package, however, options are available to expand this to three and five computers, naturally, at cost. These solutions are particularly interesting for small businesses since the price differences aren't that significant.
Should you, or your organization be on the hunt for a complete backup solution, but not need any of Acronis's bells and whistles, the "Backup" package is likely your best bet. This subscription, which is targeted at small and medium-sized businesses, has a higher licensing cost but comes with additional features, such as a management console, and a data privacy center. Dual protection, as well as Office 365 and mobile backups, are also included. And for those who use virtual servers, it's possible to integrate these, even if they have different hypervisors than your computer.
Special Features Offered by Acronis
In the list below, we've summarized the special features offered by Acronis.
Quick Backups & Mirror Images
The software allows users to quickly create complete images of their operating systems, and save them in the cloud if need be. These can be created quickly, and if desired, automatically.

Dual Protection

Different Kinds of Backups
A number of different kinds of backups are at your fingertips. These include system, file, social media, Office 365, and smartphone backups, as well as a range of synchronization options.

Malware Protection
Acronis helps identify ransomware and blocks crypto-mining on compromised systems for all subscribers.

Multi-Platform
The software is available for Windows (starting with XP SP3), macOS (from Version 10.11), and Linux, with apps for iOS (starting with 8.0) and Android.

Acronis Backup
With Acronis Backup, small and medium-sized businesses gain a powerful backup tool for servers or work stations, independent of the company's True Image software.

Blockchain Certification
The notarization function helps secure the integrity of backups and prevent unwanted manipulation or modification.
Server Performance and Capacity
Acronis's cloud storage allows for files to be accessed from any computer or device with an Internet connection. Remotely managing backups is also possible through the service. Of course, we are a bit pensive about the servers' location in the US, however, there's not much we can do about that. Indeed, our test upload went well, making full use of our bandwidth.
A number of different cloud storage licenses can be found in each of Acronis's packages, ranging from 250 GB for a single computer in the "Advanced" subscription, up to 5 TB for five computers in the "Premium" subscription. For a reasonable fee, you can supplement your storage in the "Advanced" subscription with up to 500 GB of space, while the same goes for the "Premium" subscription, albeit up to 1 TB.
This is definitely enough storage capacity for both individual users, as well as small businesses. And, for those who need more, Acronis makes it clear that they are always ready to talk about creating the ideal solution in conjunction with their customers.
Score: 4.7 / 5
Acronis provides its users with a high degree of security. This extends to both data transfers to the server, as well as its storage once there. Thanks to AES-256 end-to-end encryption, password protection, as well as SSAE-16 and Tier-III certified data centers, your data is in very safe hands.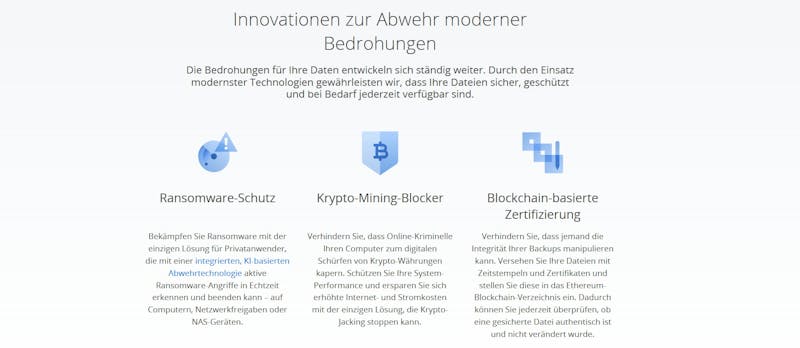 Additional features, such as blockchain certification, electronic data signatures, crypto-mining blockers, and ransomware protection make Acronis's offer even more secure. Unfortunately, even taken together, these only theoretically protect against unwanted access by authorities in the US, where the servers are based. This is the only point of critique, in an otherwise flawless security offer.
Score: 4.7 / 5
Acronis provides a free iOS and Android app for its subscribers, that still works on older devices with iOS Version 8.0 or Android Version 4.1. These allow you to not only back up all of your contacts, pictures, video, messages, and calendars but also to restore them on a different device. As a result, these apps are excellent for helping transfer data from your old smartphone to your new one (or vice versa), so long as it runs on iOS or Android.
The apps also allow you to download backups of files from your PC. As far as their design and usability are concerned, they are largely self-explanatory. It's a little bit annoying that no functionality exists in the Android app to skip the first backup; It can only be interrupted after you've selected the files to be backed up. Only then will you receive access to existing backups, allowing for data to be restored.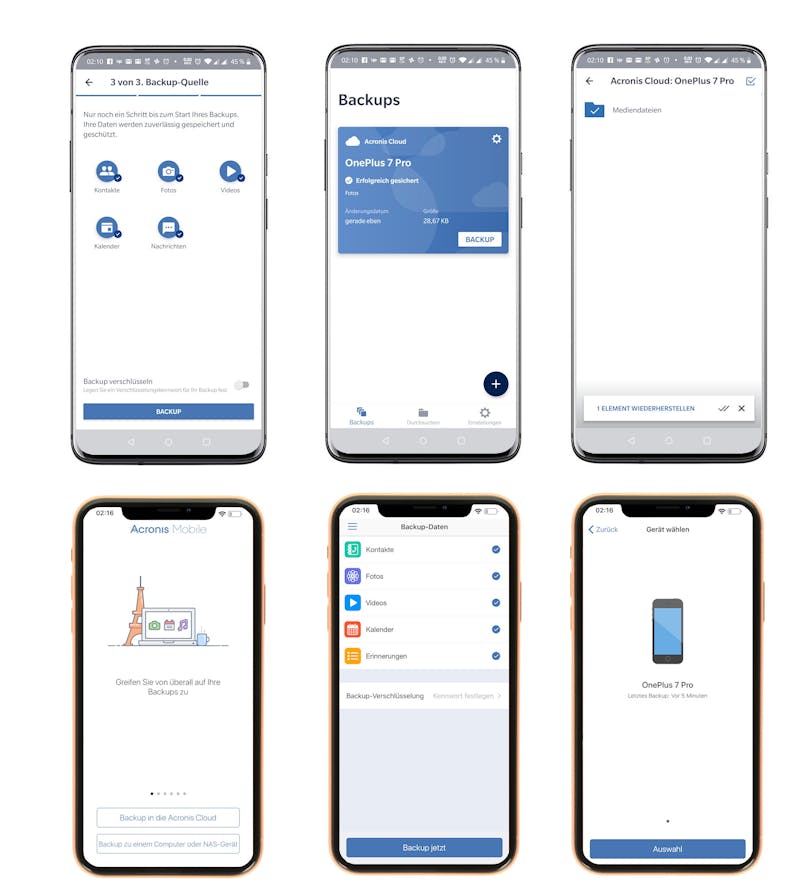 In sum, using the app on either iOS or Android is very straight-forward. Unfortunately, Acronis's website isn't optimized for mobile usage, but that isn't such a big loss since it's only possible to configure a few settings or check account details there, and not access any files that you've uploaded to the cloud.
The app has somewhat poor ratings in the various app stores, with NAS support issues the most common complaint, alongside the aforementioned automatic creation of backups after the first installation. We couldn't confirm the first complaint independently, however, there are enough reviews mentioning it for it to be included here. In regards to the website's imperfect optimization for mobile devices, we have to take away a few points, however, overall, we were definitely pleased with the app and its functionality. After all, not every provider offers a mobile app, and even those that do, often limit it to downloading backed up files.
Score: 4.3 / 5
If you purchase a cloud storage package, you'll be entitled to 24/7 e-mail, live chat, and hotline support.

Apart from this, Acronis also offers a very good knowledge base, as well as a community support center.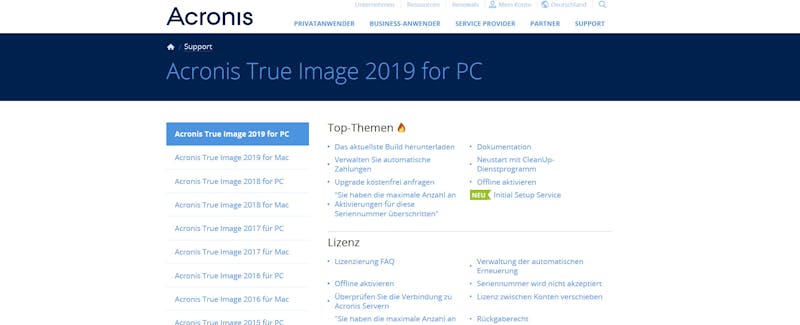 Most problems can be quickly resolved without involving the company's support staff, through the well-organized knowledge base. In the event that you're unable to get around your issue, we had excellent experiences with Acronis's live chat. For live support on technical issues, the hotline can be costly, however.
Score: 4 / 5
Acronis's True Image software with cloud storage is definitely in the lower price segment. There are a number of different packages to select from, and each can be upgraded (or downgraded) relatively easily, depending on your needs. Thanks to their variety of features and extras, multi-platform software, and excellent performance, we have no qualms rating their price-performance ratio highly.
Advanced (1 Computer)
Premium 1 TB (1 Computer)
Advanced (3 Computer)
Premium 2 TB (1 Computer)
Advanced (5 Computer)
Premium 1 TB (3 Computer)
Premium 3 TB (1 Computer)
Premium 1 TB (5 Computer)
Premium 2 TB (3 Computer)
Premium 4 TB (1 Computer)
Premium 2 TB (5 Computer)
Premium 3 TB (3 Computer)
Premium 5 TB (1 Computer)
Premium 3 TB (5 Computer)
Premium 4 TB (3 Computer)
Premium 4 TB (5 Computer)
Premium 5 TB (3 Computer)
Premium 5 TB (5 Computer)
Setup
$0.00
$0.00
$0.00
$0.00
$0.00
$0.00
$0.00
$0.00
$0.00
$0.00
$0.00
$0.00
$0.00
$0.00
$0.00
$0.00
$0.00
$0.00
Price per Month
$7.50
$10.42
$10.83
$13.75
$15.83
$15.83
$17.08
$17.50
$19.17
$20.46
$20.83
$22.50
$23.75
$24.17
$25.83
$27.50
$29.17
$30.83
Price per User
-
-
-
-
-
-
-
-
-
-
-
-
-
-
-
-
-
-
Contract Periods (Month)
12
12
12
12
12
12
12
12
12
12
12
12
12
12
12
12
12
12
Limits
Storage
500 GB
1,000 GB
500 GB
2,000 GB
500 GB
1,000 GB
3,000 GB
1,000 GB
2,000 GB
4,000 GB
2,000 GB
3,000 GB
5,000 GB
3,000 GB
4,000 GB
4,000 GB
5,000 GB
5,000 GB
Number of Devices
1
1
3
1
5
3
1
5
3
1
5
3
1
5
3
5
3
5
Features
Full Disk Backup
Private Key Encryption
File Versioning
Two Factor Authentication
Platform

Windows

macOS

iOS

Android

Windows

macOS

iOS

Android

Windows

macOS

iOS

Android

Windows

macOS

iOS

Android

Windows

macOS

iOS

Android

Windows

macOS

iOS

Android

Windows

macOS

iOS

Android

Windows

macOS

iOS

Android

Windows

macOS

iOS

Android

Windows

macOS

iOS

Android

Windows

macOS

iOS

Android

Windows

macOS

iOS

Android

Windows

macOS

iOS

Android

Windows

macOS

iOS

Android

Windows

macOS

iOS

Android

Windows

macOS

iOS

Android

Windows

macOS

iOS

Android

Windows

macOS

iOS

Android
Overall Evaluation & Conclusion
Installation & Usage
10 / 10
Acronis's True Image is an excellent cloud backup solution for both beginners as well as more advanced users. Not only does it provide a number of synchronization and backup options, but comes with a wide variety of extras too. The software is easy to use, comes with useful apps for Android and iOS, and provides superior all-round security to its users and their data. And at a fair price too! For all of the above, we can highly recommend Acronis, especially since we only came across a few minor issues during testing. Should you prefer the easiest or most straightforward solution at the lowest possible price, then True Image might not be for you, but in all other cases, we recommend giving it a shot.
With its 30-day free trial, there's no reason not to see if True Image isn't what you're looking for.
Acronis True Image is an excellent cloud backup solution for both beginners and advanced users, offering many features besides just syncing and backup.
Malware protection included
Backup for mobile devices
9.4

excellent
Storage
Devices
Contract Period
Acronis Advanced (1 Computer)
$7.50
monthly price
Visit Website »
30 Day Free Trial
Customer Review
Below, it's possible to see how customers have rated True Image. Taken together with our evaluation, this will help to gauge whether the software is the right choice for you.
Customer Ratings
3,154 Bewertungen
Visit Website
We analyzed the reviews and ratings from various portals and found 3,154 ratings with an overall rating of 3.5 out of 5 .
Alternatives
In our evaluation, we looked at seven of the best cloud backup solutions available on the market. With that said, only a few of them offer access to so many features at such a fair price as Acronis does.
Should you want to connect multiple devices and pay a bit less for a provider whose servers aren't based in the US 1&1 IONOS is worth a closer look. The trade-off is that you'll have to do without smartphone or image backups.
1&1 IONOS provides very good performance, moderate pricing and excellent support. It is suited for both private users and companies.
30 days money back guarantee
somewhat complicated setup
9.0

excellent
Storage
Devices
Contract Period
IONOS MyDefender Starter
$2.50
monthly price
Visit Website »
Try IONOS Now
Storage
Devices
Contract Period
SpiderOak 150 GB
$5.75
monthly price
Visit Website »
simple, intuitive interface
no backup of mobile devices
8.2

good
Storage
Devices
Contract Period
CrashPlan Backup
monthly price
Visit Website »
30 Day Free Trial
Storage
Devices
Contract Period
Backblaze 24 months
monthly price
Visit Website »
15 days free trial

Carsten Podszun studied computer science and business administration and was self-employed in the retail industry for 15 years. Since 2014 he is a consultant for startups, freelance author and writes at EXPERTE.com about homepage, hosting & IT security.
Continue Reading
Other languages
Deutsch