IDrive Review 2023: Flexible and User-Friendly Cloud Backups?

Ad disclaimer:
For links on this page, EXPERTE.com may earn a commission from the provider. This supports our work and has no influence on our editorial rating.
In the past, data backups were stored on clunky magnetic tapes. These days, all you need is an Internet connection, since cloud backups allow you to store your folders and files on remote servers.
IDrive, from the US, claims to offer a straightforward and affordable cloud backup solution. Below, we'll find out if it delivers on its promise.
What Is IDrive?
IDrive* based in Calabasas (California) has specialized in cloud backups since its founding in 1995. Its main focus has been on affordable and straightforward backup solutions for computers, servers, and mobile devices that meet all security standards and criteria. We tested IDrive and will let you know below how it compares to the other programs from our sample.
IDrive Review
Installation & Usage
8.6 / 10
Easy and intuitive to use
Slow, CPU-intensive software

No subscription includes unlimited data
IDrive can be used in your browser (Centralized Admin Console) or through a dedicated app. For either option, you'll need an account, which is quick and easy to set up, requiring only your name and email address. After you've signed in and installed the app, the home screen will display the following:
Backup – Launch backups and select devices, folders, or files that you'd like to secure.

Restore – Download previously backed-up files and specify where they should be saved.

Scheduler – Specify the frequency, date, or time of the day when a backup should be performed.

Sync – Create a folder on a linked device that will be synchronized with the content of your cloud backup at regular intervals.

Server Backup – This option is for users of Hyper-V environments as well as Oracle and SQL server operators.

Settings – Here, you'll fine-tune the software to your preferences, adjusting notification settings for failed backups.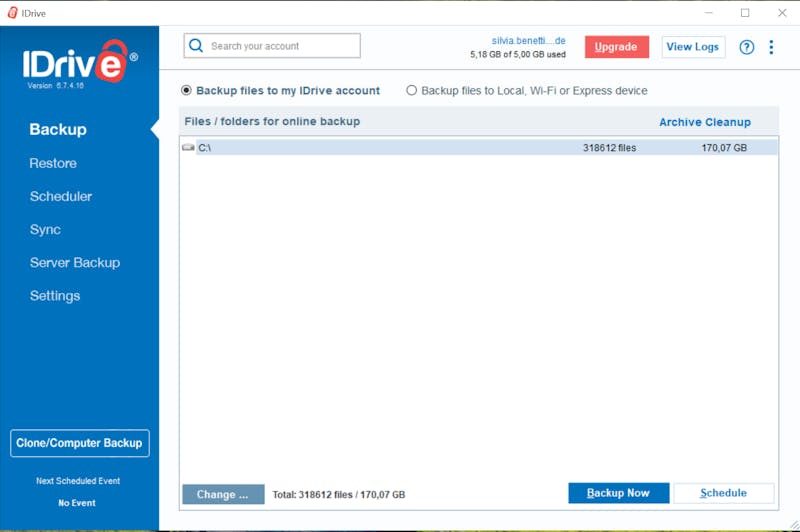 IDrive's app is quickly installed and user-friendly.
Centralized Admin Console
IDrive's Centralized Admin Console allows you to access your backups, add new computers, launch backups, or adjust recovery settings from anywhere without leaving your browser. Additional features include:
View all registered devices and some details about them by heading to Dashboard > Computers. For example, you'll be able to see whether they are online and if their last backup was successful. This is particularly important for companies or organizations with lots of systems and servers. If you click on Weblogs, you can consult activity protocols in the web console.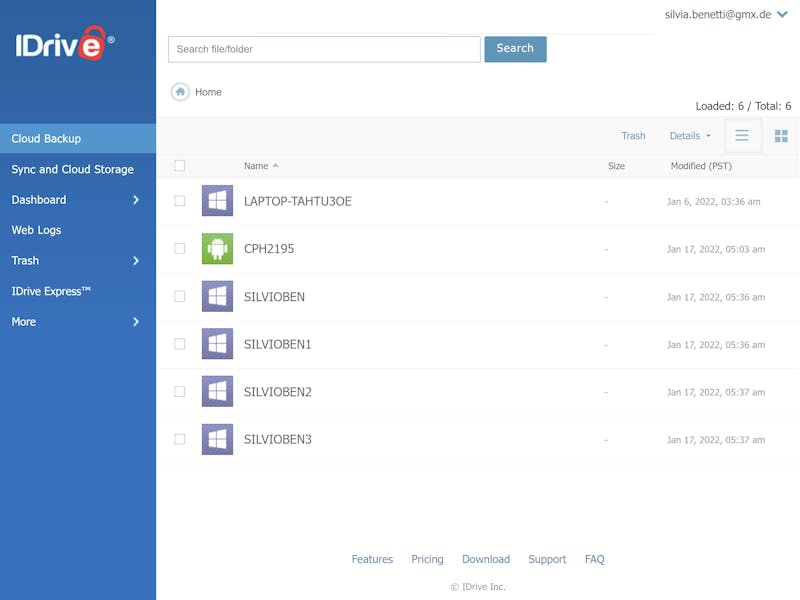 By clicking on Computers, IDrive summarizes all of your registered devices and their status.
IDrive is easy to install, and its menus are well-structured and clear to understand. Even those who have never backed up data before should be able to find and use all of the program's features and options.
Installation & Usage
8.6 / 10
IDrive is compatible with Windows, macOS, and Linux, as well as Android and iOS. Under settings, you can specify how you would like to secure your data:
Should you only want to back up specific files or a drive at regular intervals, go to Schedule to create a backup plan. For example, you can back up your C drive every Monday at 3 PM.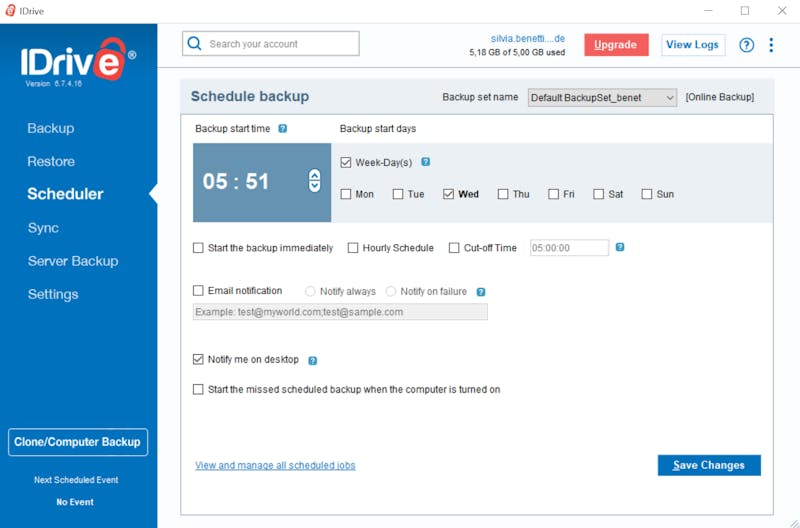 With IDrive, it's possible to plan your backups in advance.
Clone/Computer Backup creates an image backup of your entire drive including its operating system and settings.

Continuous Backup uploads all files to the cloud that are smaller than 500 MB at frequent intervals. This does not have an impact on any other backups you've scheduled.

Server operators can back up their Microsoft SQL, Oracle, Exchange, and SharePoint servers. Anyone with a Microsoft 365 mailbox can create a copy of the email folder that's linked to their account. Backups are also possible for virtual, Hyper-V environments.

So that you can work or stream videos while a backup is ongoing, head to Settings and specify how much bandwidth and CPU your backups can use.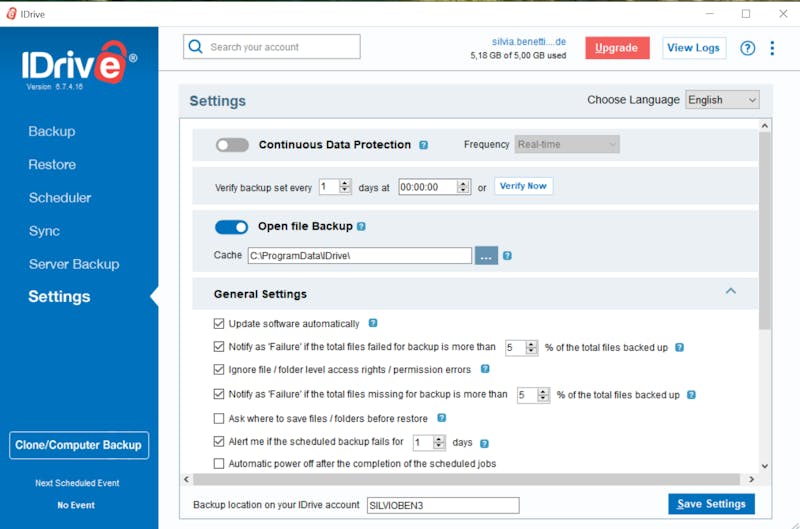 In the Settings area, you can specify error notification settings.
Archive Cleanup compares newer backups to those stored on the cloud, deleting files that no longer locally exist. This helps to free up storage space.

By clicking on the share icon (three dots connected by lines) you can grant an email recipient access to your backup. They'll receive a link that allows them to either read or make changes to what you've shared.
Storage Location
In terms of where your data is stored, you'll have two options: Either through your IDrive account on the cloud or locally. If saving to the cloud, it isn't possible to specify a particular server. IDrive's website doesn't provide information about where its servers are located.
For local backups, you can choose another drive or external device like a USB stick, hard drive, or computer on the same network.
Encryption
IDrive protects your data with AES 256 encryption. Every time you log in, you'll need to input a key, which you can either choose yourself or have randomly generated.
In both cases, the key cannot be recovered if lost, since IDrive does not store it on its servers. This means that if you lose the key, you'll have to perform a reset and lose all of your data, or create a new account.
Recovery
During testing, file recovery went as smoothly as backing up. Simply click on the Restore button, put a checkmark next to those files which you'd like to download, and click on Restore Now.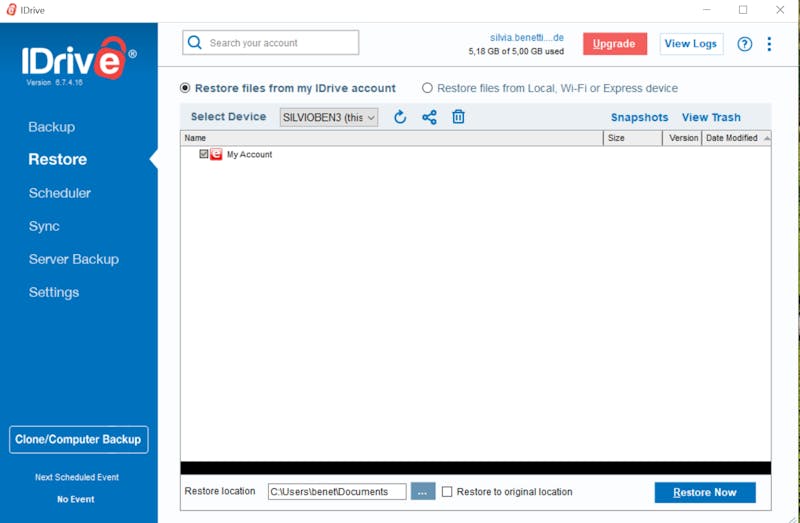 You can select a local folder or an external device for your restore location.
Mobile Device Backups
One advantage of IDrive's cloud backups is that it's possible to back up mobile devices. While more options are offered for PCs, there are plenty of features in the browser console and app to protect your most important data.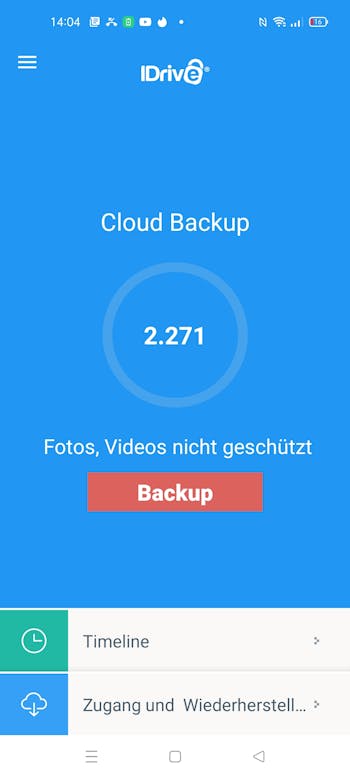 With the IDrive app for mobile devices, you can secure photos, videos, messages, call lists, and contacts.
With the Automatic Backups feature, you can schedule backups or specify conditions for them to start, such as when your phone is charging. Timeline gives you an overview of your most recently backed-up files. By tapping on Restore on the app's home screen, you'll be able to access and download data saved to the cloud just as though you were on a PC.
Additional Features
Alongside classic backups, IDrive also offers the following capabilities:
Snapshots – Create a system backup at a specific moment. In the event of a catastrophic loss of data (such as a hacker attack), you'll be able to turn back time and restore your system to when the snapshot was taken. Up to 30 versions can be stored.

IDrive Photos – This works similarly to Google Photos, automatically backing up all images and videos on your smartphone. Highly affordable, it also offers unlimited storage.

Hard Drive Backup – Should you not want to use your upload bandwidth, IDrive will send you an encrypted USB drive to which you can save your files and data. Once you've returned this to IDrive, they'll upload its contents to the cloud. This is an interesting option for users in the US, however, for those outside of North America, not practical for weekly backups.
All in all, IDrive offers quite a large selection of easy-to-use features and options.
Ideally, data backups should not consume too many resources and take as little time as possible. IDrive did not do great in either area: Uploading a 1 GB test folder took around a minute while downloading it from the Cloud took three times as long (download speed: 50 MB/s, upload speed: 40 MB/s).
Making matters worse, the app consumed up to 30% of our CPU and quite a bit of RAM. On mobile devices, the software's resource usage means that it's something of a battery vampire.
The software also took quite a while to scan a drive before backing it up. For systems with powerful processors, this won't be an issue, however, older ones and laptops are likely to be challenged.
Altogether, we scored IDrive's performance as "satisfactory".
In case you encounter a problem or have a question about the software, IDrive offers the following support resources:
FAQ page – This is divided into four areas, Backup, Sync, Restore, and General. In each, you'll find commonly asked questions with comprehensive answers and screenshots.

Video tutorials – These show you, step-by-step, how to do things like create snapshots, sync a backup folder to a different computer, or share files. We found these to be clear and helpful.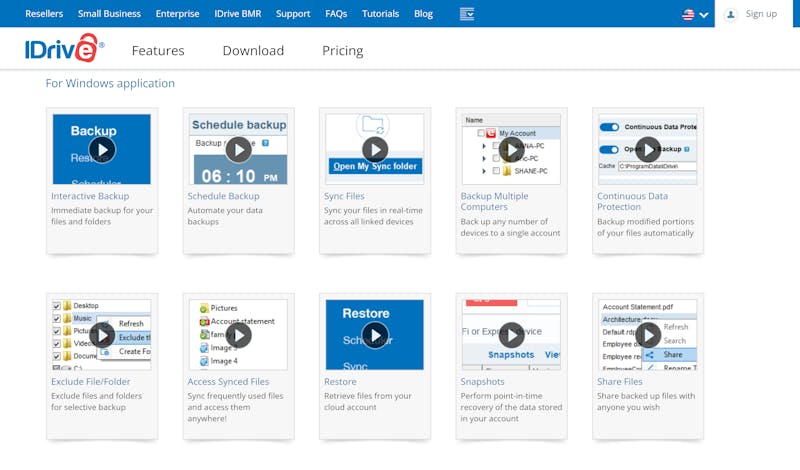 The video tutorials offer comprehensive and clear walkthroughs for all of IDrive's main features.
Notes – If you leave your cursor over a menu item in the desktop app, a small box will appear containing some information. This is practical since it allows you to get help without navigating away from the page.

Customer service – Support staff can be reached either via email or hotline, however, the charge for calling is that of an international call to the US. Outside of North America, this won't be an affordable option. We emailed our query and received an answer after a few hours, however, this didn't solve our problem and was fairly generic.
We found IDrive's static support content to be good, however, its live support was slightly disappointing. For that reason, its score in this area is "satisfactory".
Depending on the number of devices you have and how much storage space you'll need, you can select from several different IDrive subscription plans, summarized below:
The free version includes 5 GB of storage and is only intended as a trial.

Personal is for individuals and offers 5 or 10 TB of storage. Only one user is allowed, however, there are no device limits.

Team is for organizations or businesses. Here, IDrive offers five plans: The smallest includes 5 users and 5 devices, whereas the largest entails 100 users and 100 devices.

Business allows unlimited devices, including external hard drives, as well as Exchange and SQL servers. The amount of storage space also varies.
Free
Mini 100 GB
Mini 500 GB
Business 2.5 TB
Personal 5 TB
Personal 10 TB
Business 250 GB
Personal 20 TB
Business 500 GB
Personal 50 TB
Business 1.25 TB
Business 5 TB
Business 12.5 TB
Business 25 TB
Business 50 TB
Setup
$0.00
$0.00
$0.00
$0.00
$0.00
$0.00
$0.00
$0.00
$0.00
$0.00
$0.00
$0.00
$0.00
$0.00
$0.00
Price per Month
$0.00
$0.25
$0.83
$79.95
$4.97
$6.22
$6.22
$12.47
$12.47
$31.22
$31.22
$93.72
$187.47
$368.72
$724.97
Price per User
-
-
-
-
-
-
-
-
-
-
-
-
-
-
-
Contract Periods (Month)
0
12
12
1 - 24
1 - 24
1 - 24
12 - 24
1 - 24
12 - 24
1 - 24
1 - 24
1 - 24
1 - 24
1 - 24
1 - 24
Limits
Storage
5 GB
100 GB
500 GB
2,500 GB
5,000 GB
10,000 GB
250 GB
20,000 GB
500 GB
50,000 GB
1,250 GB
5,000 GB
12,500 GB
25,000 GB
25,000 GB
Number of Devices
unlimited
unlimited
unlimited
unlimited
unlimited
unlimited
unlimited
unlimited
unlimited
unlimited
unlimited
unlimited
unlimited
unlimited
unlimited
Features
Full Disk Backup
Private Key Encryption
File Versioning
Two Factor Authentication
Platform

Cloud / SaaS

Windows

macOS

iOS

Android

Cloud / SaaS

Windows

macOS

iOS

Android

Cloud / SaaS

Windows

macOS

iOS

Android

Cloud / SaaS

Windows

macOS

iOS

Android

Cloud / SaaS

Windows

macOS

iOS

Android

Cloud / SaaS

Windows

macOS

iOS

Android

Cloud / SaaS

Windows

macOS

iOS

Android

Cloud / SaaS

Windows

macOS

iOS

Android

Cloud / SaaS

Windows

macOS

iOS

Android

Cloud / SaaS

Windows

macOS

iOS

Android

Cloud / SaaS

Windows

macOS

iOS

Android

Cloud / SaaS

Windows

macOS

iOS

Android

Cloud / SaaS

Windows

macOS

iOS

Android

Cloud / SaaS

Windows

macOS

iOS

Android

Cloud / SaaS

Windows

macOS

iOS

Android
IDrive is one of the most affordable providers from our sample. Its numerous plans offer a high degree of flexibility, which is only enhanced by the ability to purchase additional storage space if required.
1.
2.
3.
4.
5.
6.
7.
8.
Conclusion
Installation & Usage
8.6 / 10
IDrive scores with its affordable cloud backups and user-friendly interface that won't overwhelm beginners. So far as security is concerned, your data is in safe hands. On top of all that, plenty of backup options are offered, making it possible to customize these to your needs, even for mobile devices.
There are some disadvantages in terms of performance, with uploading taking much longer than elsewhere, and CPU usage very high. Even though IDrive's subscriptions are flexible, none of them include unlimited storage.
Still, IDrive is a good choice for individuals and businesses working on a small budget. If you'd like to frequently back up your data but not be ready or willing to accept any burdens on your system's performance, the more expensive and powerful alternatives might be better.
IDrive scores with inexpensive backups and a user-friendly interface. There is a penalty for the performance, which leaves a lot to be desired, especially when uploading data.
Storage
Devices
Contract Period
IDrive Free
$0.00
monthly price
Visit Website*
5 GB for Free
Customer Reviews
On the platforms we checked, IDrive's reviews are mixed. Some users seem satisfied, commenting positively upon its good price-performance ratio, whereas others criticized its sluggishness and unhelpful customer service.
Customer Ratings
20,846 Bewertungen
Visit Website*
We analyzed the reviews and ratings from various portals and found 20,846 ratings with an overall rating of 4.4 out of 5 .
Alternatives
If you'd like to back up your files without breaking the bank, but aren't willing to compromise on security and performance, CrashPlan's subscriptions might be worth considering. On the other hand, should you want the most bang for your buck, SpiderOak ONE offers fast cloud backups with an unbeatable price-performance ratio.
Or perhaps money isn't an object so long as data security is robust. In that case, Acronis Cyber Protect Home Office offers a comprehensive cloud backup solution that allows you to store your data on German (EU) servers.
More of the best alternatives to IDrive can be found here:
Acronis True Image is an excellent cloud backup solution for both beginners and advanced users, offering many features besides just syncing and backup.
Malware protection included
Backup for mobile devices
9.4

excellent
Storage
Devices
Contract Period
Acronis Advanced 50 GB (1 Computer)
$4.58
monthly price
Visit Website*
30 Day Free Trial
1&1 IONOS provides very good performance, moderate pricing and excellent support. It is suited for both private users and companies.
30 days money back guarantee
somewhat complicated setup
9.0

excellent
Storage
Devices
Contract Period
IONOS MyDefender Starter
$2.50
monthly price
Visit Website*
Try IONOS Now
SpiderOak stands out with strong performance and end-to-end encryption, where data is encrypted before being uploaded.
Storage
Devices
Contract Period
SpiderOak 150 GB
$5.75
monthly price
Visit Website*
Crashplan is a solid backup program that features a user-friendly interface and unlimited storage space. However, image backups of the entire system are not supported.
simple, intuitive interface
no backup of mobile devices
8.2

good
Storage
Devices
Contract Period
CrashPlan Backup
monthly price
Visit Website*
30 Day Free Trial
Synology C2 scores with great performance and good value for money. Automatic encryption of the data before uploading ensures a high level of security.
Storage
Devices
Contract Period
Synology Personal 500 GB
$2.92
monthly price
Visit Website*
* Ad disclaimer:
For links marked with an asterisk, EXPERTE.com may earn a commission from the provider. The commission has no influence on our editorial rating.

After her studies in physical engineering, Silvia Benetti was active in the development of wind turbines. She has been writing about technical subjects as a freelance author for several years. Her focus areas include IT, artificial intelligence, industry 4.0 and renewable energies.
Continue Reading
Other languages
Deutsch