Cloud Backup Review: iDrive

Nearly everyone knows or has at least heard of Silicon Valley, the hub of worldwide tech firms. However, few would recognize Calabasas, California, which is a sort of southern outpost of 'the valley' or Pro Softnet Corporation, one of the tech companies headquartered there. That changes today, as we'll introduce you to iDrive ⇱, Pro Softnet Corporation's cloud backup solution, a favorite among many for its strong price-performance ratio. In this review, we'll explore whether iDrive lives up to its good reputation, or if you should focus your attention elsewhere.

This review is divided into several categories, intended to provide a complete overview of the software. After detailing its advantages and disadvantages, we'll examine its configuration, ease of use, functionality, security, support, mobile features, and finally, pricing. After the conclusion, we'll also suggest several alternatives, should iDrive have not piqued your fancy.
Review
Installation & Usage
8.6 / 10
Dual protection for both local and cloud backups

Compatible with Windows, macOS, Android, iOS, and Linux

Good support (hotline and 24/7 live chat)

Native app with smartphone backup functionality

MS Exchange, Office 365, Exchange, Hyper-V, Oracle Server, MS SQL, and VMware backups

Free option, with 5 GB of storage

Includes ability to create a mirror image of your hard drive

Strong price-performance ratio

Zero-knowledge security architecture for backups
Packages cannot be cancelled on a monthly basis, only yearly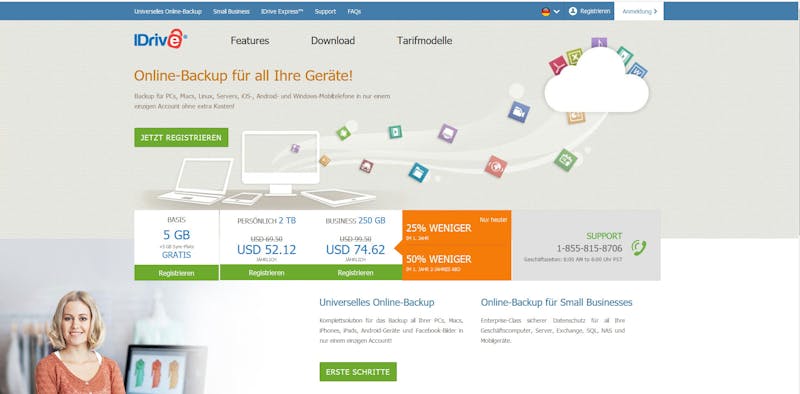 iDrive's website provides a nice overview of the services which the software offers and prominently highlights the free beginner package (including 5 GB of storage capacity). The site's user interface is easy to navigate, so much so, that with a few clicks you can select the package you'd like, and register for it. If you're unsure about which of the three options is right for you, you can also read about the benefits of each (primarily their storage capacities) on the site.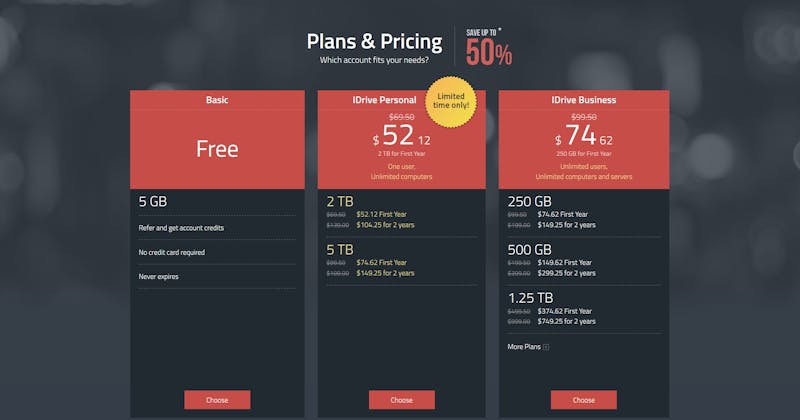 Once you've chosen a subscription package and created a user account (the free package does not require the input of any payment methods), you can select between default (AES-256) or user-defined encryption when uploading your files. For the latter, the key will only be known to you, or better said, your computer, allowing you to be certain that if the provider is ever compromised, it won't impact you - in other words, a zero-knowledge security architecture is in place.

Once registration is wrapped up (the process only takes a few moments), you can download a client for your operating system. Installation is also painless, and the software's structure is easy to get the hang of, so much so, that you'll quickly be able to use it. In Windows, by default, the user folder is recommended as the backup folder, however, you can modify this to whichever folder you'd like.

When using the service's software, you can backup a folder with a single click, or switch to local backups, which also come free of charge with the software. In other words: You don't need to back up to the cloud.
On the website's dashboard, you'll also be given an overview of the devices and computers that you have linked with the service by installing its software. You'll also be able to rummage around through the files that have been uploaded and configure a few settings. The web dashboard is simple and practical.

Altogether, we definitely spent more time writing about this process, and you've probably spent more time reading what we wrote than we needed for both registration and installation. Together, these took around three minutes, after which, we were immediately able to begin our first backup. The registration process is clear and the web dashboard as well as the software are nicely designed and 'clean'. The free version requires an e-mail address and password; Payment details are only needed if you decide to subscribe to a premium package.
Score: 4.3 / 5
3.
Interface & Ease of Use
At first glance, the software looks a little bit stale. Similarly, when starting out, it isn't made abundantly clear which features or settings exist in the web dashboard, and which, if any, are exclusive to the client. However, this lack of familiarity doesn't last particularly long. Thanks to the structure of both, as well as their design and composition, they have excellent touch functionality, for both tablets, as well as PCs like a Surface Pro.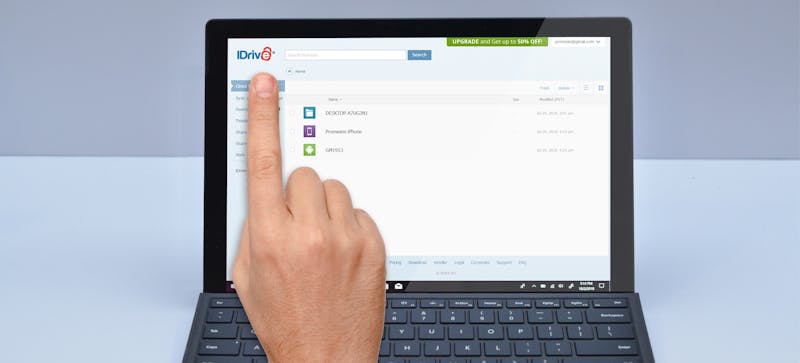 All settings and advanced features, such as the extensive backup options for servers, can be reached with a few clicks, owing in large part to the straightforward design of the dashboard and client.
This means that within a matter of seconds, you can plan backups either locally or in the cloud, book upgrades, restore files or your system, configure settings, or even synchronize devices with one another. iDrive should also be commended for allowing as many computers, smartphones, and tablets to be linked within a single account as desired.
Even though it's bad form to "judge a book by its cover", we have to criticize iDrive slightly for its somewhat outdated design. However, thankfully, looks aren't everything, and we were impressed with its ease of use, particularly for tablets and PCs with touch functionality. On these, it's easy to reach all menu items and features. Of course, it does take some time to get a hang of the software, since not everything is intuitive, however, great attention has definitely been paid to making users as comfortable as possible with the service. Any complaints are really little more than splitting hairs.
Score: 4.3 / 5
4.
Functionality and Performance
iDrive's catalog of features is excellent, and we don't see any reason for the company to play second fiddle to any of its competitors. Of course, the most important of these is its handling of cloud backups. iDrive offers users the ability to backup Windows and macOS computers, as well as iOS and Android devices. Linux systems can be backed up through the web dashboard. As a result, the majority of users will be able to back up their systems, with the notable exception of smartphones running on Android. For these, unfortunately, you're only able to secure certain areas like your gallery, contact list, or calendar.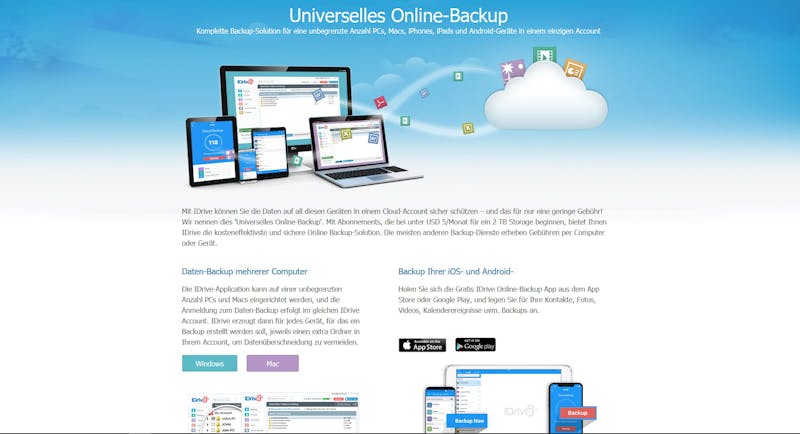 Apart from the wheelhouse of cloud backups, iDrive also provides the ability to create local backups, helping you to double down on securing your system.
In addition, users are also able to synchronize their systems, share files with friends online, and save up to 10 different versions of files at the same time, allowing them to be worked with if need be. Multi-platform functionality is also one of iDrive's calling cards, allowing users to view PDF files saved and uploaded from a PC, for example, on a smartphone.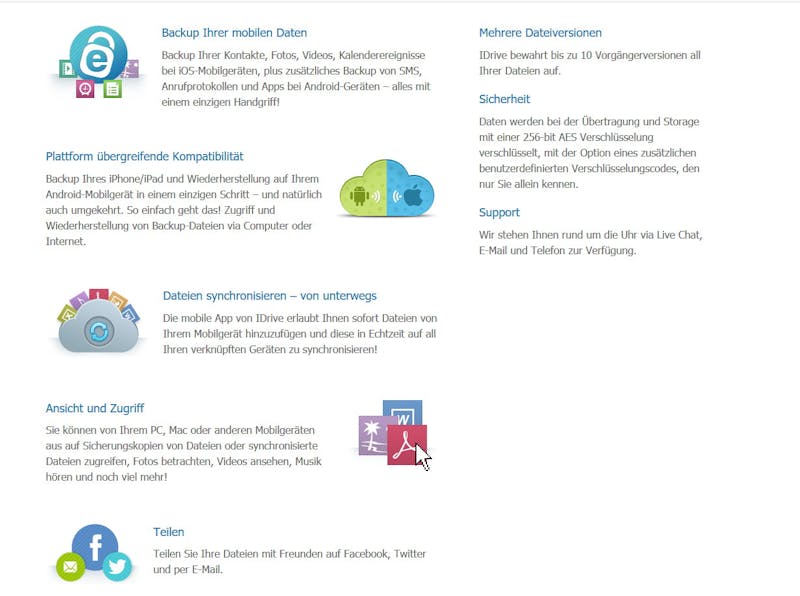 Social media data can also be saved by linking your account with iDrive. Live background synchronization, which allows for multiple systems to be wirelessly connected with one another, is not offered. Apart from that though, all basic features and functions that you could hope for are included, as well as some that its competitors don't offer. These include additional server backups, iDrive Express, and iDrive One, all of which we'll take a closer look at in the next section.
Special Features Offered by iDrive
10 File Versions
iDrive allows for up to 10 different versions of the same file to be saved at once, helping you to keep track of changes.

Dual Protection
Files can be backed up both locally and to the cloud.

Backup Features
The service's backup features are numerous. Apart from traditional system and file backups, these include synchronization, social media, Office 365, and server backups (e.g for MS SQL, MS Exchange, virtual machines, or even Oracle servers). In addition, you can also backup smartphone content.

Zero-Knowledge
Thanks to unique encryption keys, you can protect any files that you've stored with iDrive from unauthorized access.

Multi-Platform
The software is available for Windows and macOS, where a native app exists for iOS and Android, and a web dashboard for Linux.

iDrive Express
With this, you're able to copy your cloud backups to a physical data storage device and have it sent to you (at cost).

iDrive One
This is iDrive's wireless storage device, which allows you to create local backups over the Internet.

Summing up, it can certainly be said that iDrive provides a well-rounded package of features and special functions that will match the needs of nearly any type of user. Set against other (relatively speaking, more expensive) providers, there are a few absences here and there, but overall, iDrive definitely gives a lot of bang for the figurative buck.
Server Performance and Capacity
iDrive offers 5 GB of cloud storage, free of charge, to anyone willing to register with an e-mail address and password. Beyond that, there exist two "Personal" (premium) packages of 5 and 10 TB.
In the "Business" package, considerably more tiers are offered, ranging from 250 GB all the way up to 12.5 TB. Should you exceed limits in either the "Personal" or "Business" subscriptions, you may be charged a fee of $0.25 or $0.50 per GB, respectively.
With this, both private as well as organizational or corporate users can definitely find a solution that best matches their needs. The price-performance ratio for storage capacity is excellent, especially in light of the numerous functions users are given access to.
Unfortunately, just before the finish line, iDrive tripped up, owing to its poor upload speed. Our test folder with 153 MB of data took more than six minutes to upload, achieving an upload speed of 0.4 MB per second. Restoring the folder took even longer. As such, speed is definitely not iDrive's strong suit, meaning that for large volumes of data, the service really isn't all that well-equipped. In spite of this, the amount of storage capacity provided at the price it is still makes for an option worth exploring.
Score: 3.7 / 5
Thanks to its usage of AES-256 and adherence to a zero-knowledge policy, iDrive's security standards are very high. The only issue is that the servers are located in the US, which means that it's theoretically possible for authorities to access your data. However, this is made less likely owing to the ability to create your own encryption key. Beyond that, you also have the ability to password-protect shared content.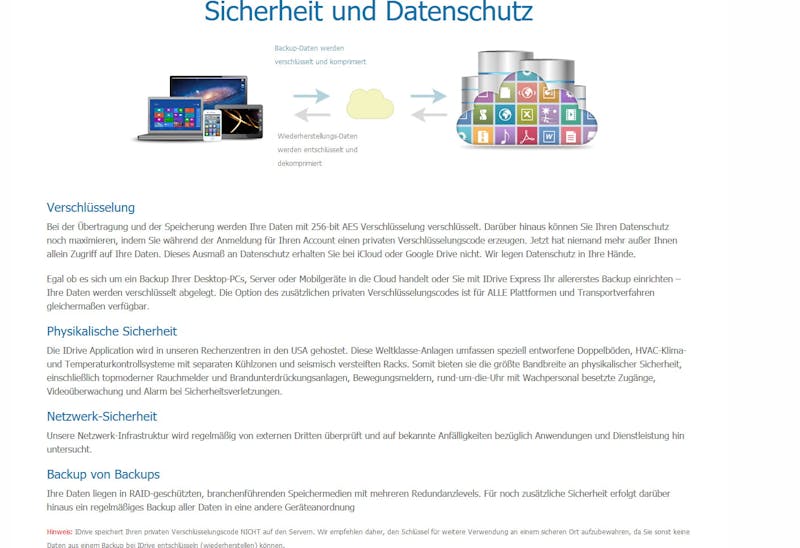 iDrive definitely excels in terms of security, equipping its customers with the best standards available. Even though the servers are located in the US, we can't really fault them for anything here.
Score: 5 / 5
iDrive offers a native app for both iOS and Android that impressed us a lot during testing.
The app can be used to access backups from other devices, as well as to create a backup of your smartphone. It provides full access to any files that you've synced or backed up, and allows you to download individual files for offline usage. You can also create backups of pictures, videos, contacts, messages, or your calendar.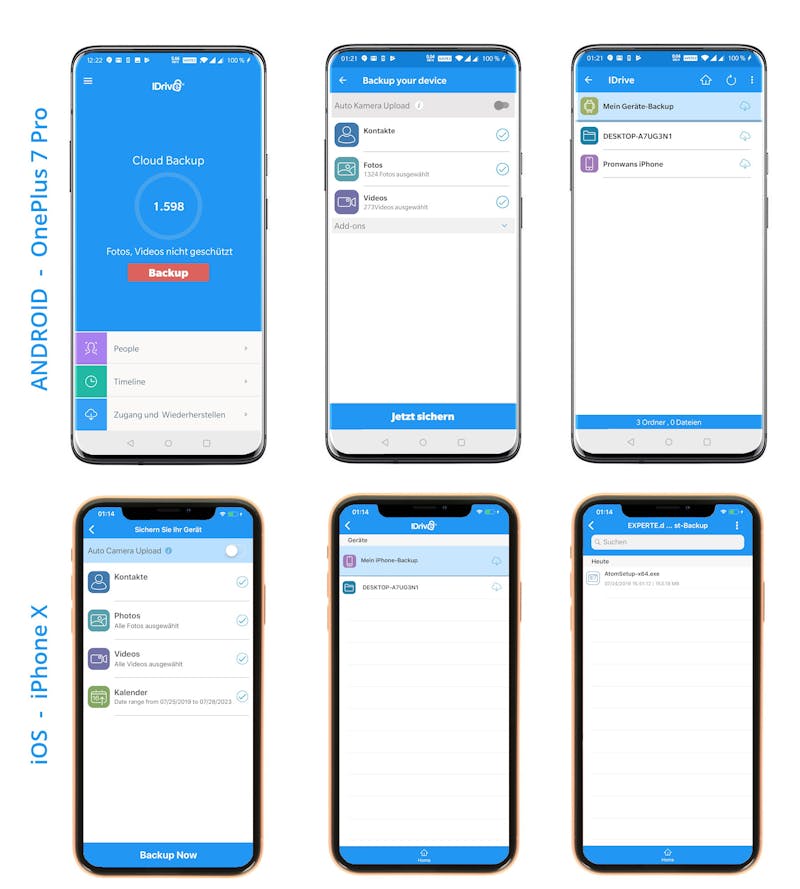 The app is very convenient to use and includes every function that one would expect. The types of files that can be backed up on iOS devices is slightly limited, however, this doesn't take away much from the overall functionality or usability.
Score: 4.7 / 5
iDrive's support staff can be reached through contact forms, a live chat, or even a hotline. The last of these is only available during business hours, however, the live chat can be used 24/7. The wait times are short, and the answers we received were competent and authoritative.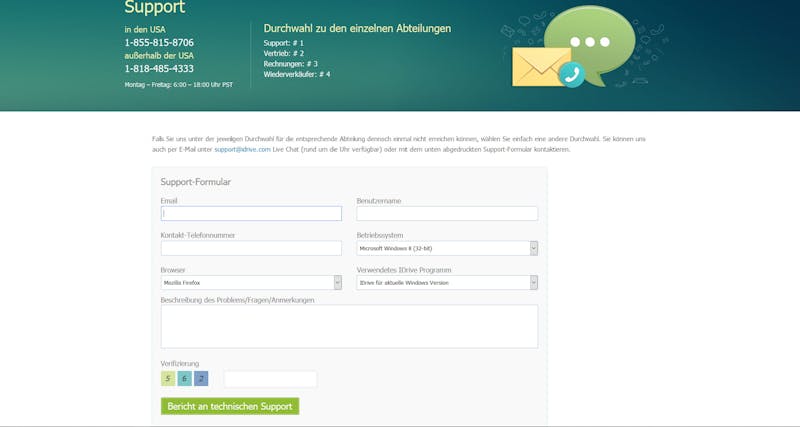 If you're more of a DIY type, you can also try to find answers to any questions you might have in the FAQ section. This is well-structured, but a little bit underwhelming, owing to the limited number of questions and answers. Similarly, iDrive doesn't have a user/help forum.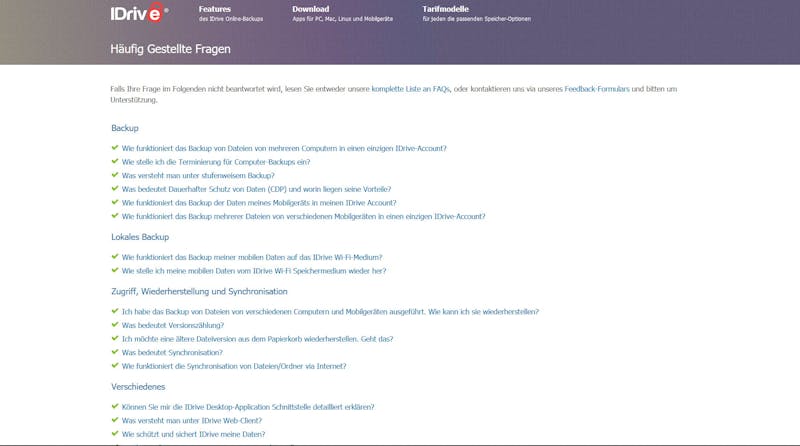 Apart from the telephone support constraints and the somewhat lackluster FAQ section, there's not much to take iDrive to task with in terms of the help it provides users. We didn't have to wait long to receive useful answers, and when we did call support, they were very helpful and professional.
Score: 4 / 5
As mentioned at the beginning, iDrive's price-performance ratio is outstanding, since its subscription packages are reasonably priced, and provide an abundance of storage capacity. The free 5 GB option is also worth mentioning again since it's one of the few such packages among the providers we took a look at.
Free
Personal 5 TB
Personal 10 TB
Business 250 GB
Business 500 GB
Business 1.25 TB
Business 2.5 TB
Business 5 TB
Business 12.5 TB
Setup
$0.00
$0.00
$0.00
$0.00
$0.00
$0.00
$0.00
$0.00
$0.00
Price per Month
$0.00
$4.97
$6.22
$6.22
$12.47
$31.22
$49.97
$93.72
$187.47
Price per User
-
-
-
-
-
-
-
-
-
Contract Periods (Month)
0
12
12
12
12
12
12
12
12
Limits
Storage
5 GB
5,000 GB
10,000 GB
250 GB
500 GB
1,250 GB
2,500 GB
5,000 GB
12,500 GB
Number of Devices
unlimited
unlimited
unlimited
unlimited
unlimited
unlimited
unlimited
unlimited
unlimited
Features
Full Disk Backup
Private Key Encryption
File Versioning
Two Factor Authentication
Platform

Cloud / SaaS

Windows

macOS

iOS

Android

Cloud / SaaS

Windows

macOS

iOS

Android

Cloud / SaaS

Windows

macOS

iOS

Android

Cloud / SaaS

Windows

macOS

iOS

Android

Cloud / SaaS

Windows

macOS

iOS

Android

Cloud / SaaS

Windows

macOS

iOS

Android

Cloud / SaaS

Windows

macOS

iOS

Android

Cloud / SaaS

Windows

macOS

iOS

Android

Cloud / SaaS

Windows

macOS

iOS

Android
Overall Evaluation & Conclusion
Installation & Usage
8.6 / 10
We were really impressed with iDrive. Its variety of features, price, and support for smartphones and servers are all excellent. It's also easy to use and provides good support for customers. The complete package is definitely worth a look, even if we did notice the odd mishap here or there, particularly in terms of the poor upload and download speeds.
Since iDrive offers a free 5 GB option, there isn't really much to lose in taking the service for a test drive (no pun intended).
Storage
Devices
Contract Period
IDrive Free
$0.00
monthly price
Visit Website »
5 GB for Free
Customer Reviews
A useful tool for gauging how a service performs is looking at the ratings it receives from users. We've done all of the hard work for you, gathering together as many reviews as we could, compiling them for you here.
Customer Ratings
18,714 Bewertungen
Visit Website
We analyzed the reviews and ratings from various portals and found 18,714 ratings with an overall rating of 4.4 out of 5 .
Alternatives
There are a number of alternatives to iDrive, which, depending on your needs, might be more suited to your purposes.
If you're looking for better upload and download speeds with equally high-security standards, we can suggest Acronis True Image.
Acronis True Image is an excellent cloud backup solution for both beginners and advanced users, offering many features besides just syncing and backup.
Malware protection included
Backup for mobile devices
9.4

excellent
Storage
Devices
Contract Period
Acronis Advanced (1 Computer)
$7.50
monthly price
Visit Website »
30 Day Free Trial
1&1 IONOS provides very good performance, moderate pricing and excellent support. It is suited for both private users and companies.
30 days money back guarantee
somewhat complicated setup
9.0

excellent
Storage
Devices
Contract Period
IONOS MyDefender Starter
$2.50
monthly price
Visit Website »
Try IONOS Now
Storage
Devices
Contract Period
SpiderOak 150 GB
$5.75
monthly price
Visit Website »
simple, intuitive interface
no backup of mobile devices
8.2

good
Storage
Devices
Contract Period
CrashPlan Backup
monthly price
Visit Website »
30 Day Free Trial

Carsten Podszun studied computer science and business administration and was self-employed in the retail industry for 15 years. Since 2014 he is a consultant for startups, freelance author and writes at EXPERTE.com about homepage, hosting & IT security.
Continue Reading
Other languages
Deutsch