Cloud Backup Review: Carbonite Safe

Boston-based Carbonite ⇱ was founded in 2006, making a name for itself thanks to its cloud backup solutions for both large and small businesses, home offices, as well as individuals. The company offers a number of different subscription packages, providing support for servers as well as individual PCs.
In this review, we'll explore these packages, helping you to find the right one for you or your business, by comparing them to other solutions in terms of their performance, usability, and functionality.

It would be impossible to list and test all of Carbonite's backup solutions, so we've decided to focus this review on the "Carbonite Safe" package since this comes closest to mirroring the classic range of functions expected by users from cloud backup. In this way, we're more easily and fairly able to compare all of the services in our evaluation, as well as to make choosing the right one for you as easy as possible. During testing, we concentrated on four important factors, namely, installation, ease of use, functionality and performance, as well as support.
But don't worry! We've provided brief summaries of what you can expect from the other Carbonite packages ("Server", "Endpoint", and "Recover") in the Functionality and Performance section below. Immediately below, you'll find a short overview of how Carbonite fares set side-by-side against its competitors:
Review
Installation & Usage
6.0 / 10
Strong security thanks to stringent password criteria and AES-256

Variety of different packages suitable for all kinds of users

Easy to purchase additional storage space or user access privileges

Native iOS and Android app for accessing backups

Integrated backup functionality in Windows Explorer

Possible to connect NAS and external hard drives, or perform bare-metal restore (BMR) backups

24/7 support (paying subscribers) and comprehensive knowledge base

30-day, money-back guarantee for most subscriptions
No smartphone backups, and no local backups for single-user subscriptions

Limited app functionality

Poorly designed cloud backup features

No automatic backups of video files for subscribers with unlimited storage

Subscriptions can only be booked and paid for annually
Carbonite's website is clearly organized and tries to summarize the most important features of its packages in the clearest and most concise manner possible. They don't quite manage to pull this off though, since owing to the large variety of packages, which differ in storage space, functionality, and even security standards, it takes a while to understand the advantages and disadvantages of each.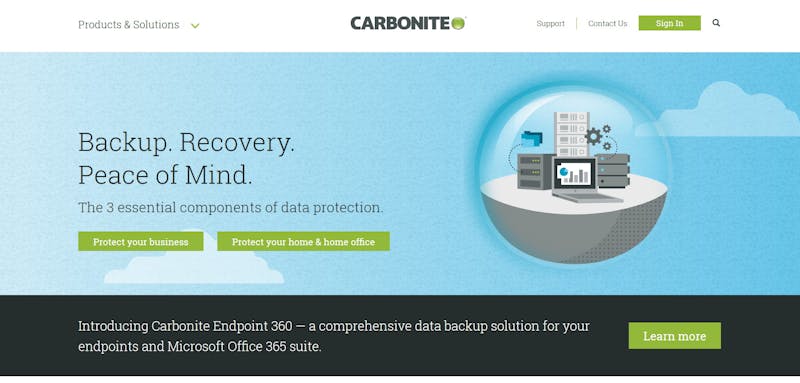 Unfortunately, we couldn't find any sort of price/feature table that clearly articulated what each package offered in terms of storage space, number of users, or individual features. Instead, you'll have to click through a number of subpages and scroll around before finding the most suitable subscription option.
Making this even more difficult is that the beginner packages for both business and private users differ considerably in terms of their price, but at first glance, far less so in terms of their functionality. It took us a fair amount of digging to determine why "Backup" which includes access for multiple computers, 128-bit encryption, a centralized management console, and remote access costs as much as the "Safe" beginner business package, which only covers a single computer.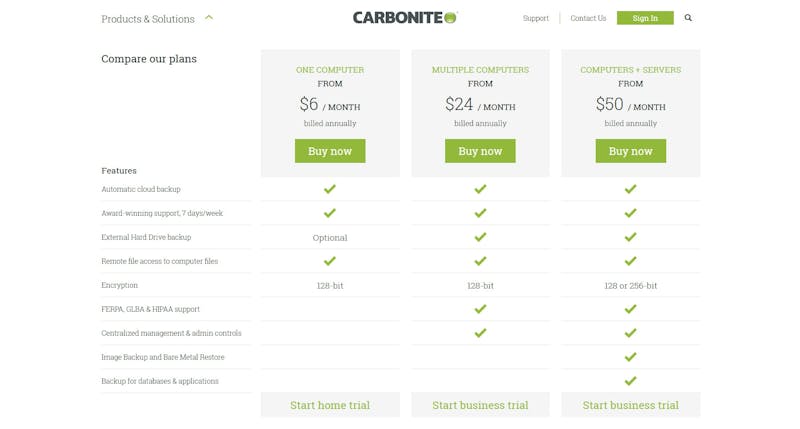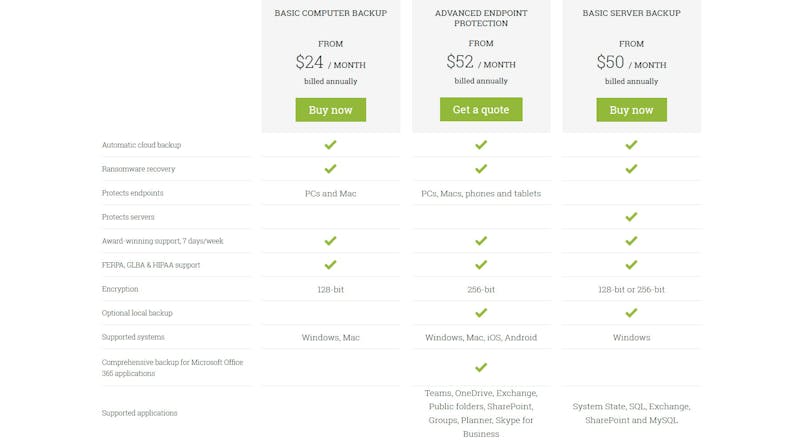 Beyond the service's six main packages, there are a number of special add-ons and rates designed for businesses with more than 25 PCs or complex server infrastructure. As mentioned above, during testing, we selected the "multiple computers" option within the "Safe" package, which is designed for businesses with up 25 PCs, and includes all important features with the exceptions of image backups and BMR.
By clicking "Buy Now" you can enter into a contract, or start a 30-day trial period. Creating an account for the latter requires the completion of a few annoying image captchas, which magically disappear if you decide instead for a paid subscription. As noted above, unfortunately, Carbonite only offers annual subscriptions, billing them in a single lump sum, rather than monthly.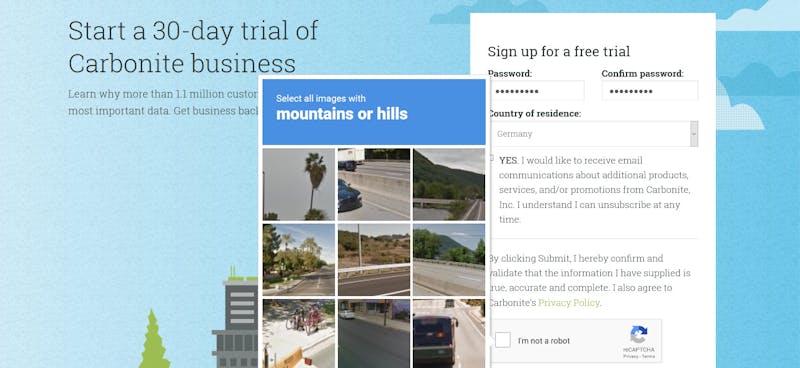 Once you've jumped through all of the figurative hoops, created an account, and secured it with a tough password, you'll be taken to Carbonite's dashboard. E-mail confirmation is not required.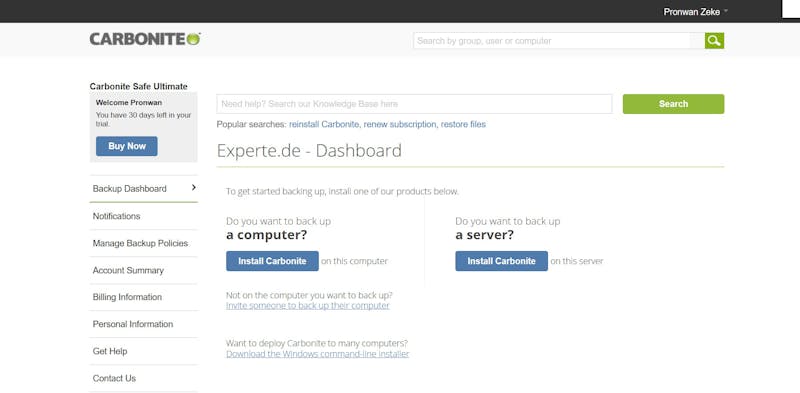 From this dashboard, you can register your PC or server as the machine to be backed up, which will then generate a link for downloading the necessary software. During testing, we were able to download and install this within around a minute, which is very good in comparison to other solutions we've examined. Nevertheless, a bit of care is called for: If you click through all of the steps during installation without making any changes, all user folders in Windows will be automatically backed up immediately once installation wraps up.
For that reason, we recommend choosing user-defined installation, since it will allow you to select which folders (if any) you want to backup immediately after the program is loaded on your system. This allows you to encrypt your files and folders with a key of your choosing, whereas by default, Carbonite will encrypt these with a key it has generated.
Once the installation process is concluded, Windows Explorer will be restarted. After this, you'll be able to right-click on files or folders and back them up. Further, you'll be able to set whether backups should continually run in the background, or only be performed at specific times.

With that, you're done setting up the program and can start backing up files and folders. Overall, the most time-consuming part of the entire process was selecting the right subscription package; in comparison, installation was a walk in the park. The software's compactness means that it is easy to quickly integrate it onto your system, providing a great deal of convenience through the ability to backup anything by right-clicking on it. Another positive is that Carbonite barely uses any system resources, and after configured to do so, will carry on all of its work unobtrusively in the background.
Apart from the lack of clarity in terms of subscription rates, we also found it a bit odd to automatically backup a user's entire system after installation, by default. We can't imagine a great number of new users wanting to install a program and spend hours waiting for it to finish copying all of their files and folders to the cloud. Coupled with the annoying captchas for free users (but not for paying subscribers) we felt it fair to take a point away from Carbonite.
Score: 4 / 5
3.
Interface & Ease of Use
Users are able to somewhat put their own spin on Carbonite's web dashboard, such as by setting user privileges. Apart from that though, this dashboard serves more as an interface for accessing data that has been backed up, as well as keeping tabs on your contract, user account, subscription, and billing information. The interface is not well-designed for touchscreens, with the menu too small to accurately select options without zooming in.

Carbonite's (web) user interface.
The software can also be easily controlled with a mouse or trackpad, however, the options available here are a bit limited. Apart from settings relating to backup scheduling, manually starting a backup, and some links to the web dashboard, there's not much else that can be user-configured. As mentioned above, folders and files can be added to the backup queue directly through Windows Explorer (by right-clicking on them and selecting the appropriate option).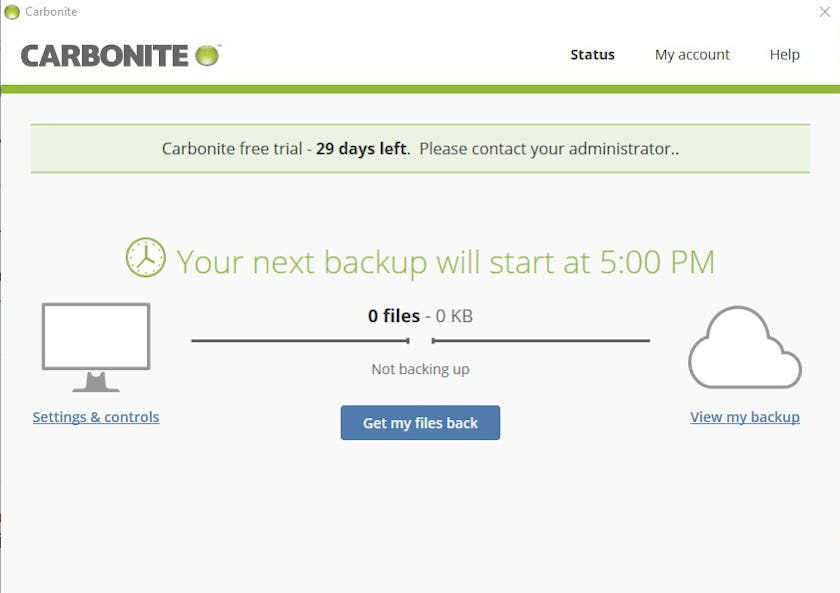 Carbonite's management console.
Taken together, the user interface is a little bit underwhelming. Apart from that though, navigating through the software's menus is very straightforward on the PC, and nesting is kept to an absolute minimum. This makes it easy to use both the software and the web dashboard, however, at least in part, this is due to the service's paucity of functions and limited settings.
The overview of your stored files is clear, and accessible at any time through the web dashboard from any device with an Internet connection and browser. Further, when saving folders to Carbonite's cloud, their hierarchy is maintained. The service doesn't synchronize your folders, but files can be automatically backed up after they've been modified. In addition, versioning of your files takes place, allowing you to easily restore older versions of your data. Should you locally delete a file that has been backed up, you'll have 30 days to download it from Carbonite's cloud before it's removed there as well. With a matter of clicks, you can schedule backups, or perform them manually, meaning that the service's primary function is never far out of reach
For anyone who doesn't need a touch-optimized desktop app and can live with the software's somewhat stale design, Carbonite's ease of use is sure to be a hit!
Score: 4.3 / 5
4.
Functionality and Performance
The number of functions that Carbonite makes available for both individual, as well as corporate users is nothing to write home about. You can automate backups, set a few simple restore options, and rest easy knowing that the encryption provided is solid, however, beyond that, there's isn't much on offer for those who have booked one of the beginner packages. Advanced features like local or image backups of your operating system and BMR are only included in the much more expensive (large) business subscription packages.
In addition, those who have booked one of the more affordable packages will have to make do with a lot of limitations in terms of their ability to perform backups. For example, you won't be able to include video files in automatically-scheduled backups, while image backups and BMR are only provided in the subscriptions designed for servers.
Unfortunately, Carbonite doesn't make it possible to tack-on the use of additional features to its packages, which can make life difficult for growing companies that start small to select the subscription which offers the best price-performance ratio. This is a real shame because Carbonite shows that it has the ability to provide extensive functionality, albeit, only for those customers who are willing to pay up for its (relatively) expensive subscriptions, which won't be an option for small businesses or the self-employed. At the same time, the more affordable packages are clearly targeted at individual users, and poorly suited for businesses of any kind, offering a handful of functions for a low price.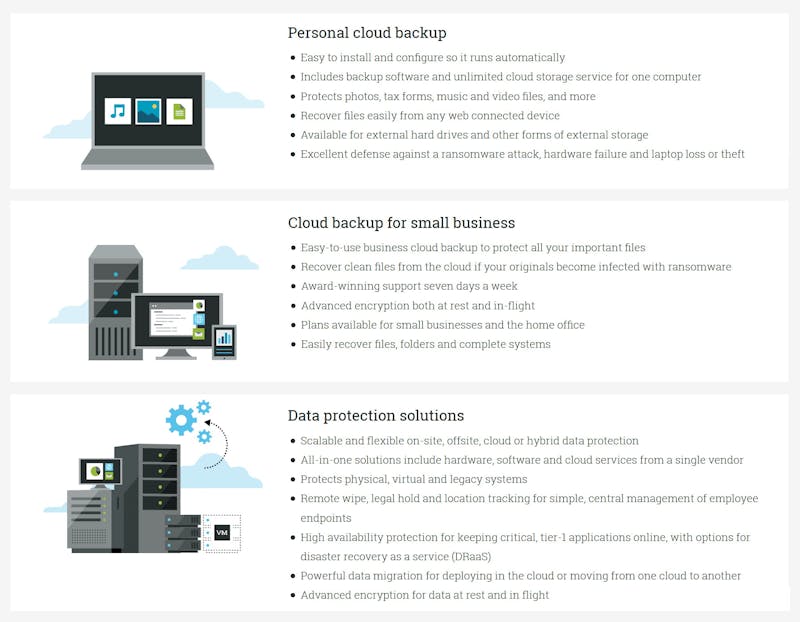 Carbonite's cloud backup solutions for small businesses and the self-employed.
Should you opt for a more expensive package which provides access to larger numbers of users, or a subscription which allows for server backups, the variety of functions is a lot more impressive than in the beginner packages. The trade-off for this is limited storage capacity, which isn't an issue for the beginner packages since they come with unlimited storage. A sort of 'happy medium', offering access to a single user, Office 365 backups, as well as local and cloud backups isn't anywhere to be found.
As a result, the variety of features that you'll have access to depends entirely on the subscription package you choose, with functionality limited in one way or another (either backup options or storage space). To overcome this, you can purchase multiple packages or accept limits in certain areas, neither of which are particularly 'good' options.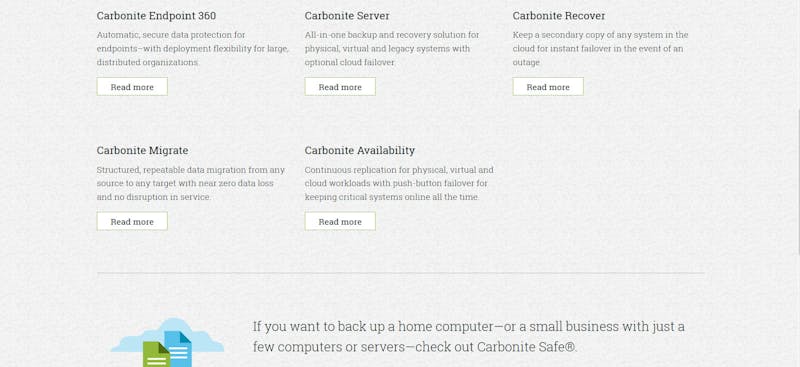 Overview of the various subscription options and their areas of applicability.
Despite limited functionality in the individual subscription packages, overall Carbonite does offer its clients, be they small or large businesses, access to a number of interesting features, albeit, not in a single package. Below, we've provided a breakdown of some of the most notable of these.
Special Features Offered by Carbonite
Strong Security
Depending on the subscription you've booked, Carbonite provides either 128- or 256-bit end-to-end encryption. In addition, the company also adheres to a zero-knowledge policy, providing users with the ability to individually encrypt their files with a unique key. Finally, strong passwords are required for all accounts.

Multi-Platform
Owing to its web dashboard, macOS and Windows software, as well as server backup solutions for Windows, Linux, VMware, Hyper-V, Oracle, IBM AIX, HP-UX, Solaris, and IBM iSeries, Carbonite can be used practically everywhere.

Affordable Subscriptions for Beginners
The package with unlimited cloud storage for a single computer is reasonably priced.

Versioning
Old versions of files are saved and can be restored if the need arises. In addition, user deleted files can be restored for 30 days.

24/7 Support
Support is available around the clock, either via a hotline or live chat.

Client and Server Backups
A number of subscription packages include backups for both client PCs and servers.

BMR
For customers of the more pricey packages, in the event of a hardware defect, you'll be able to restore your system on new hardware thanks to images.

Local and Cloud Backups
"Business" subscribers are able to perform local backups in the background.

File Compression Prior to Transfer
Thanks to pre-transfer compression, server backups consume less traffic.

User Management
In each package including multiple users, managing them is intuitive. "Business" and "Server" subscribers are afforded greater control over user accounts, which includes the ability to set individual backup guidelines.

Scalable
Since Carbonite also offers solutions for large businesses, its subscriptions are particularly interesting for small enterprises looking to scale up, since they can be easily adjusted to accommodate growth.
Should money not play a large role in your decision, for the right price, you can gain access to nearly every feature imaginable in one of Carbonite's more top-shelf packages. In particular, the solutions for large businesses offer excellent functionality. At the opposite end of the cost spectrum, the beginner packages are limited in terms of functionality, but, reasonably priced, without storage limits, and easy to use.
(Features) Score: 4 / 5
Server Performance and Capacity
Turning to performance, Carbonite is a lot like the alter ego of Batman's Harvey Dent, Two-Face, both impressing and disappointing us, nearly simultaneously. We were able to upload our 153 MB test folder in around two minutes, which owing to our European location, accounted for full utilization of our upload bandwidth. Put simply, this means that Carbonite performed excellently, heads and shoulders above its competitors. However, when it was time to restore the folder from the cloud, we only achieved a maximum download speed of 1 MB/s, on multiple occasions. We were disappointed since this means that restoring large amounts of data, one of the main purposes of paying for cloud backups in the first place, would consume an inordinate amount of time.
The same is true for Carbonite's storage capacity. On the one hand, individuals starting out are treated to unlimited cloud storage, whereas those who book the service for up to 25 computers or servers, will have to make do with 250 GB or 500 GB of capacity, respectively. Based on data usage among modern PCs, laptops, and servers, this is a very small amount of space. As can be seen below in the screenshots, it is possible to book additional storage (in 100 GB increments) albeit for an additional $99 per year (excluding the already high subscription price).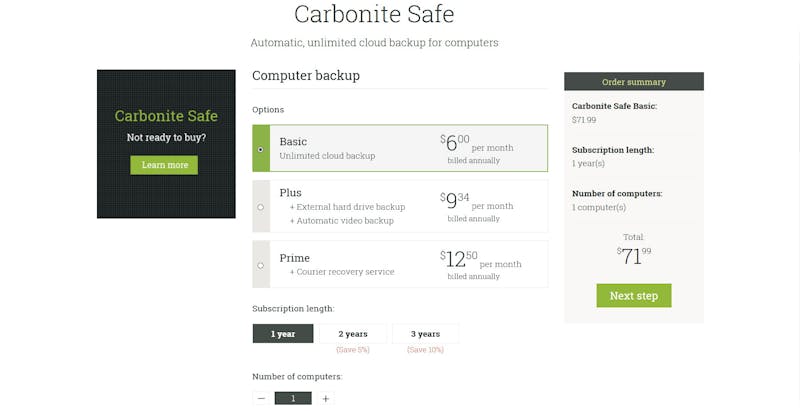 Carbonite "Safe" pricing.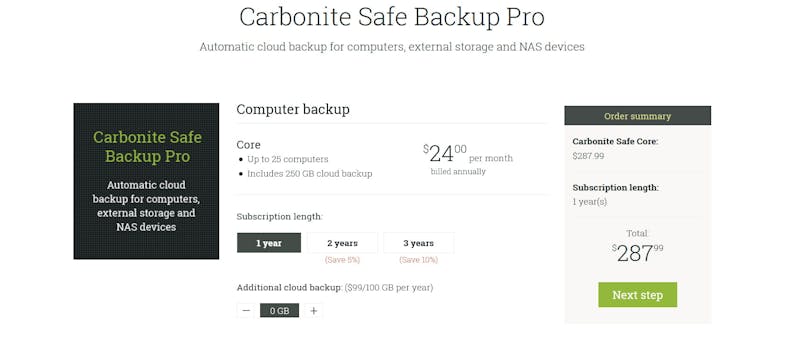 Carbonite "Safe Backup Pro" pricing.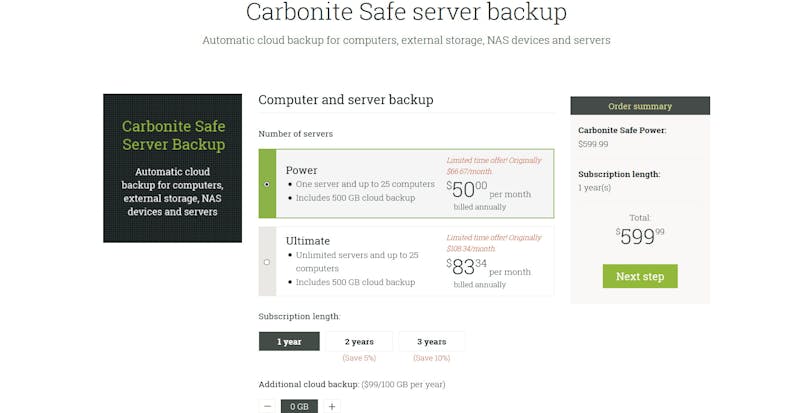 Carbonite "Safe Server Backup" pricing.
Both in regards to its performance and capacity, Carbonite is akin to the Ancient Roman god Janus. One 'face' is good, providing fast uploads and unlimited storage for beginners, while the other 'face', with slow download speeds and highly-limited (and nonsensical) storage limits for clients using multiple computers, less so. As a result of its 'split personality', we can only award Carbonite average marks.
Score: 3 / 5
Carbonite makes an admirable effort to put its customers' minds at ease regarding the safety of their data. This starts with stringent password requirements, progressing to its provision of end-to-end AES-128/AES-256, and concluding with extensive failsafe measures for endpoints in complex network structures. Ransomware protection and other advanced security features are only provided to "Server" subscribers.
In addition, you are also given the ability to activate multi-factor authentication and can access older versions of your files owing to the service's integration of versioning. Beyond that, Carbonite adheres to a zero-knowledge policy: You are the only person who knows your password, and it isn't saved anywhere, meaning that no one else can decrypt your data. Of course, you'll have to take Carbonite's word for it: Since the company is based in the US (albeit with corporate headquarters of its parent company, OpenText in neighboring Canada), it is entirely within the realm of possibility that any data would be turned over to authorities if requested.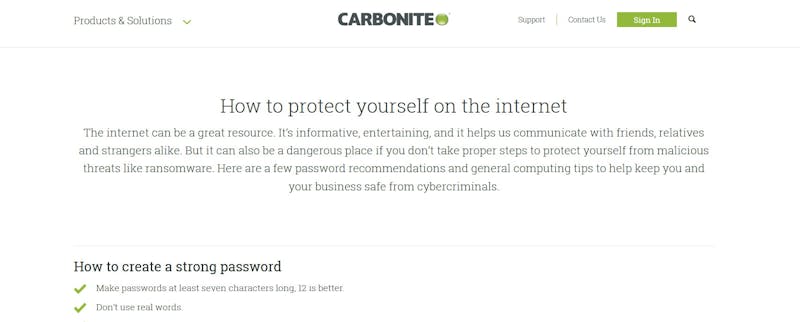 Carbonite's approach to security.
If you value security and don't see any issue in the company's servers being located in the US, Carbonite's measures shouldn't be cause for any concern. Individual users will need to create secure passwords, encryption is supplied through a uniquely-generated key, and restoring deleted or old files from the cloud is possible. For the more high-end subscriptions, additional security mechanisms are included. In our eyes, Carbonite does a great job in terms of security, so we have no issue awarding it (nearly) top marks.
Score: 4.7 / 5
Carbonite offers a mobile app for both iOS and Android users, which sounds very promising at first, since such apps are the exception, and not the rule among cloud backup providers. However, the app's functionality is limited, only allowing users to download or view data that has been uploaded already, nothing more. Furthermore, the app requires a significant number of permissions from the device's user, as shown in the screenshot below. Considering the functionality that the app offers, simple access to device files would be more than adequate. For this reason, Carbonite's app has come under heavy attack in app stores, holding only a 2-star rating in Google's Playstore.
We don't want to be unfair: The app also makes it possible to remotely start a backup on a previously registered system, however, during testing, this didn't work, since the confirmation e-mail wasn't received by either of the two users which were linked. The app also doesn't allow for files to be uploaded from a smartphone or for backups of these devices to be created, and as a final sour note, changes to downloaded files cannot be synchronized with those on the cloud.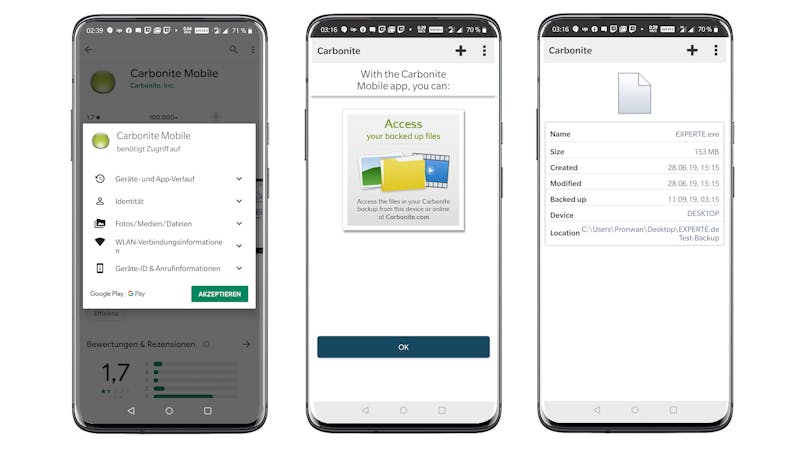 Carbonite does make its dashboard accessible to users of mobile browsers, however, beyond the ability to download files off of the cloud, there's almost nothing else that the app allows you to do. As the old saying goes "If you're not going to do something right, don't do it at all." We feel that this can be applied to Carbonite's well-meaning but poorly conceived and frankly, useless app.
Score: 2.7 / 5
Carbonite "Business" subscribers can enjoy 24/7 support. Those who have booked beginner packages will have to do make do with support offered during US business hours. Nevertheless, the company does makes a number of means for getting in touch available, including a hotline, live chat, contact form, and e-mail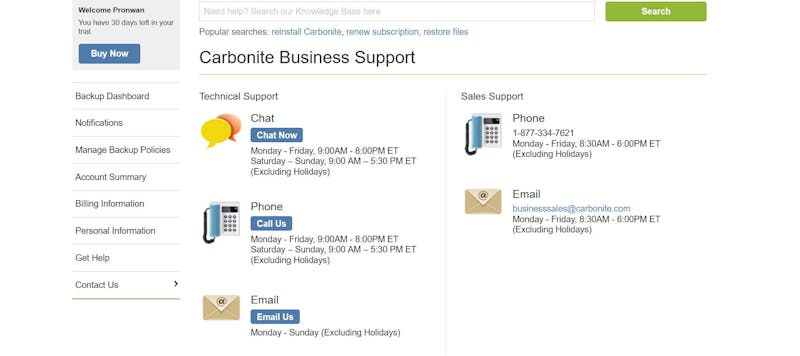 The service's knowledge base was highly impressive, providing a number of authoritative and extensive FAQs. Navigating through these is easy, with all topics well-organized, and the live chat never far off. Beyond this, Carbonite offers its "Server" subscribers additional installation support, in the event that they are unable to configure the backup solution for their server themselves.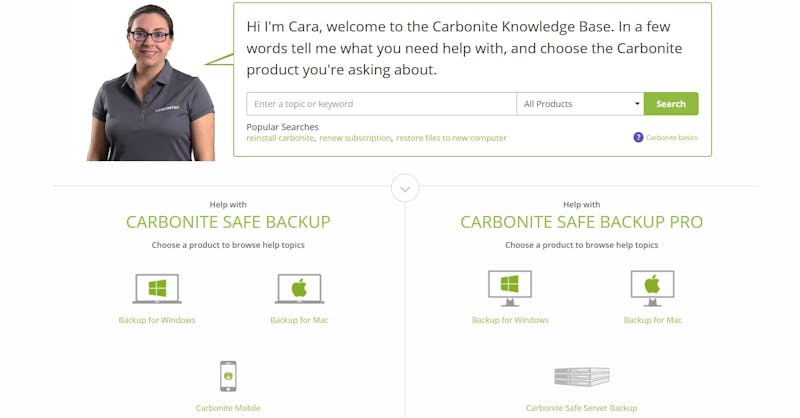 Carbonite's knowledge base.
On paper, everything looked good, but how was it in practice? During testing, we didn't receive an answer to our e-mail, even after two days, and we had difficulty getting hold of a staffer who could answer technical questions or explain the difference between subscriptions on the hotline.
In sum, Carbonite's support looks impressive but folds when put to the test. For us, and certainly also those who have real technical issues, this simply isn't good enough.
Score: 2.7 / 5
Owing to the variety of subscription options that Carbonite has, pricing ranges considerably from less than $100 per year to several thousand dollars per year. For that reason, we can't really comment on the service's price-performance ratio. What we can say is that the beginner packages are very reasonable, even if they don't offer many features. The ability does exist, however, to book external backups or video file backups (albeit at a relatively steep markup). For more 'advanced' subscriptions, which come with greater numbers of features, prices quickly rise, whereas the amount of data storage is capped, making them unappealing to the self-employed or small businesses.
Whether Carbonite makes sense for you, or your business, in terms of what it can do, and how much it costs, depends entirely on what sort of features you need, and whether you can get them in an affordable enough package.
Basic
Plus
Prime
Setup
$0.00
$0.00
$0.00
Price per Month
$4.92
$7.00
$8.75
Price per User
-
-
-
Contract Periods (Month)
12
12
12
Limits
Storage
unlimited
unlimited
unlimited
Number of Devices
1
1
1
Features
Full Disk Backup
Private Key Encryption
File Versioning
Two Factor Authentication
Platform

Cloud / SaaS

Windows

macOS

iOS

Android

Cloud / SaaS

Windows

macOS

iOS

Android

Cloud / SaaS

Windows

macOS

iOS

Android
Overall Evaluation & Conclusion
Installation & Usage
6.0 / 10
Carbonite excels in some areas while performing abysmally in others. For example, its upload speeds were impressive, whereas its download speeds were poor. Similarly, it offers unlimited storage to beginners, but severely limits the number of features that they're provided access to, doing the reverse for other subscribers. Both the mobile app and support looked good on paper but were disappointing when put to the test.
The provider definitely has strengths though, offering a variety of functions and features that one would be hard-pressed to find elsewhere, even if they are spread out among a seemingly endless number of subscription packages and levels. If you're looking for cloud storage that will grow with your business, Carbonite might prove a solid partner. "Premium" clients can enjoy 24/7 support, and a wide range of features. In addition, the service also offers a number of possibilities for integrating its backup solutions and dashboards into your existing IT infrastructure. Similarly, those looking for an affordable backup service with unlimited storage capacity won't be disappointed. Uploads aren't an issue and the interfaces are easy to use.
If you've liked what you've read here, but are still unsure about Carbonite, we advise taking a look at all of the available packages and subscriptions offered by the service, checking which contain the features that you're looking for, and what sort of outlay you'd have to contend with to secure access to them. Should you operate one or multiple servers, Carbonite can really be a solid choice, offering more bang for your buck than most of the other providers we evaluated.
One final advantage of Carbonite is that you can test most packages for 30 days for free, helping you to make a decision as to whether the service is for you, or not.
Storage
Devices
Contract Period
Carbonite Basic
$4.92
monthly price
Visit Website »
Customer Reviews
Customer reviews which we've compiled reflect the same sort of dichotomy that we uncovered when evaluating the service. Whereas some were effusive about the service's price-performance ratio, others highlighted glaring shortcomings in critical areas. We've gathered as many of these reviews together for you, providing what we think is a good overview of consumer opinion regarding the provider.
Customer Ratings
7,774 Bewertungen
Visit Website
We analyzed the reviews and ratings from various portals and found 7,774 ratings with an overall rating of 3.9 out of 5 .
Alternatives
Should Carbonite not seem like quite your cup of tea, there are a number of alternatives that are worth considering.
For example, if you're looking for a provider that offers a more functional app for iOS/Android, in addition to solid file-sharing, we can highly recommend SpiderOak One Backup. Set against Carbonite, you'll have to make do with slower uploads, however, download speeds are much better. Further, SpiderOak encrypts all files with AES-256.
Storage
Devices
Contract Period
SpiderOak 150 GB
$5.75
monthly price
Visit Website »
Acronis True Image is an excellent cloud backup solution for both beginners and advanced users, offering many features besides just syncing and backup.
Malware protection included
Backup for mobile devices
9.4

excellent
Storage
Devices
Contract Period
Acronis Advanced (1 Computer)
$7.50
monthly price
Visit Website »
30 Day Free Trial
1&1 IONOS provides very good performance, moderate pricing and excellent support. It is suited for both private users and companies.
30 days money back guarantee
Somewhat complicated setup
9.0

excellent
Storage
Devices
Contract Period
1&1 IONOS MyDefender Starter
$2.50
monthly price
Visit Website »
Try IONOS Now
Simple, intuitive interface
No backup of mobile devices
8.2

good
Storage
Devices
Contract Period
CrashPlan Backup
monthly price
Visit Website »
30 Day Free Trial
Storage
Devices
Contract Period
Backblaze 24 months
monthly price
Visit Website »
15 days free trial
IDrive is entirely free in the entry-level package (5 GB) and offers a convincing range of features and is easy to use.
Storage
Devices
Contract Period
IDrive Free
$0.00
monthly price
Visit Website »
5 GB for Free

Author: Carsten Podszun
Carsten Podszun studied computer science and business administration and was self-employed in the retail industry for 15 years. Since 2014 he is a consultant for startups, freelance author and writes at EXPERTE.com about homepage, hosting & IT security.
Continue Reading
Other languages
Deutsch