Cloud Backup Review: Crashplan

Crashplan ⇱ is one of the US-based Code42 Software Inc.'s ventures. The backup solution has been on the market since 2001 and is regarded as both reliable and well-established. Following its abandonment of a Facebook-like application in 2006, Code42 Software Inc. began to concentrate on online data storage, launching Crashplan one year later, in 2007.
In this review, we've summarized what the program is capable of, how it fares against its competitors, and everything else you need to know about Crashplan.

Crashplan's marketing slogan could be "fully-automated backups, nothing more" since the service offers little more than online backups. This shouldn't be seen as a negative though, since, in our reviews, we're only interested in the services as cloud backups. In this way, we're able to accurately compare web service providers that offer cloud backup solutions as just one of many products in their portfolios, against those dedicated to cloud backups.
In the comparison below, you'll be able to gain a general insight into how "Crashplan for small businesses" performed. Further details on certain aspects of the program can be found in each section of the review. At the end of this review, we've also provided details concerning a few alternative providers, should Crashplan not meet your needs.
Review
Installation & Usage
9.4 / 10
High security standards thanks to ransomware protection and AES-256

Excellent price-performance ratio

Doesn't have traffic, storage, or bandwidth limitations

Native app for iOS and Android as well as desktop software for macOS, Windows, and Linux

Web restore and user management support for every browser

Versioning and real-time protection

30-day money back guarantee
No smartphone, automated, or local backups

App and software lack functionality

Limited customization settings and options

No ability to create system images, or bare-metal recovery (BMR)

Mediocre support that can't be reached by phone

New license needed for every computer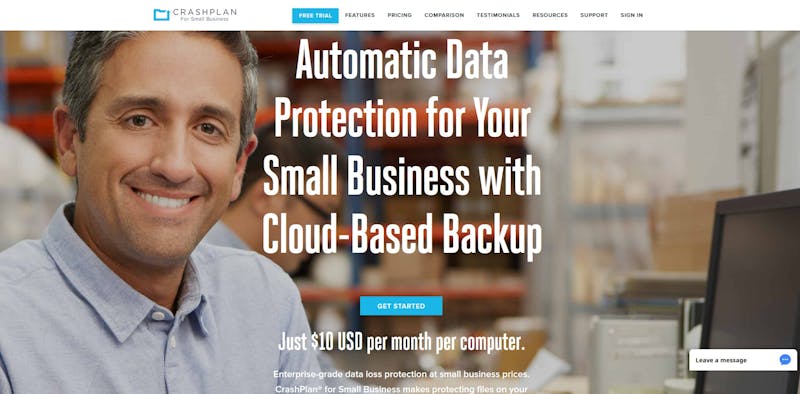 The phrase "automatic data protection" is pretty much everywhere on Crashplan's website. As noted above, this allows us to conclude that the service's main selling point is its provision of precisely this. Accordingly, a tricky setup or hours spent configuring the program shouldn't be expected.
The site's landing page is clearly organized and provides a good overview of what Crashplan does: Simplicity, straightforward pricing, and a high degree of automation coupled with no-nonsense security standards.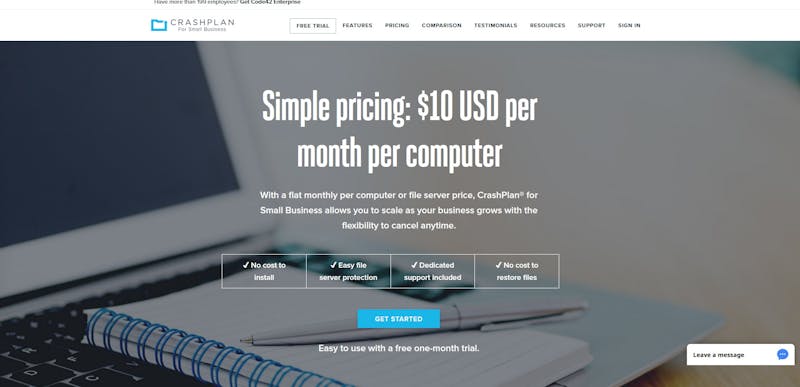 Crashplan doesn't offer numerous subscription packages or account tier, preferring to charge all of its customers a single flat rate: One license per computer, as well as unlimited storage and traffic. If you're unsure about the service, a free trial that doesn't require e-mail confirmation is offered. However, you will need to input a valid payment method.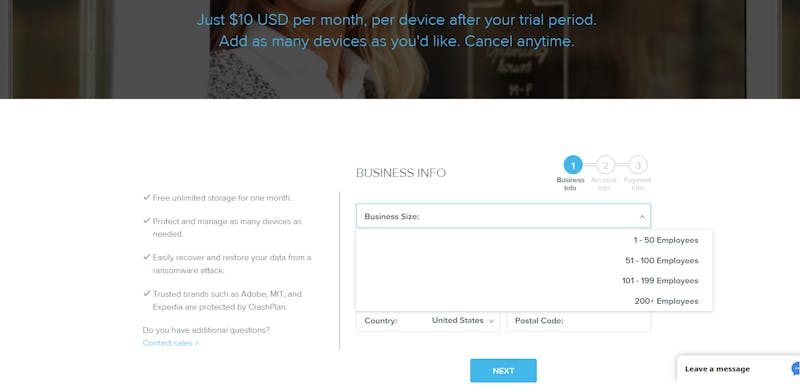 Should you be considering the software for your business, you'll need to enter how many employees your company has when creating an account. During the free trial, you can use the service on as many computers as you wish, however, when the trial automatically finishes, you'll need to pay for each of these every month. Once you've set up an account, you should be forwarded to a download page or link, however, this didn't work in either Firefox or Chrome during testing. An automatic download link for Crashplan was only generated in the oft-derided Internet Explorer. In the other two browsers, we needed to log in again and search through the service's dashboard to download the client.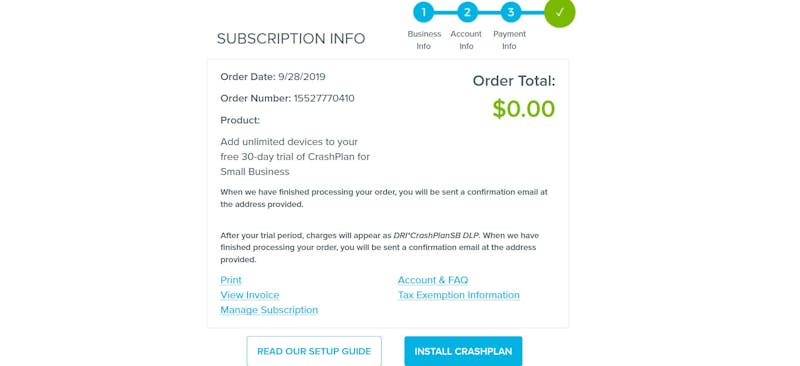 Since billing information is necessary to start the free trial, and auto-renewal is activated in the dashboard, before downloading, we wanted to see if we could turn auto-renewal off. Unfortunately, we weren't able to do this in Firefox, however, in Chrome and Internet Explorer, we had no issues.

After logging in again to the dashboard (manually), we were finally able to download the program's software (during testing, for Windows). Beyond that, the provider also offers Linux and macOS versions of Crashplan. Both the download and installation were quick and self-explanatory since there's almost nothing to configure.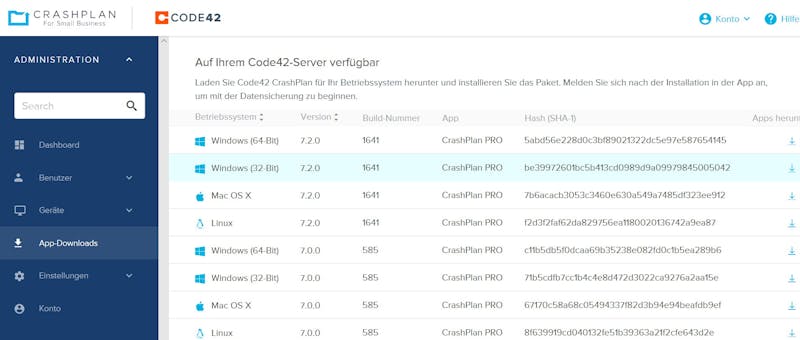 Once the software is installed, your PC or laptop will be registered automatically. You'll then be able to access backups of your computer via the service's web dashboard, which is easily reached through your browser.

Taken together, installing Crashplan isn't complicated, however, we did encounter a number of issues that probably weren't one-offs, such as page loading issues and difficulties in generating a download link for the software. We also weren't particularly impressed with the default configuration of auto-renewal, although, Code42 is a business and does need to generate sales. To make the installation of Crashplan as smooth as possible, we recommend using Chrome or Internet Explorer to set up the software on your system.
Score: 3.3 / 5
3.
Interface & Ease of Use
Once everything has been set up, the browser dashboard will be launched. Here, everything is well-organized and intuitive, with the most important settings little more than a click away.
The dashboard is also well-developed for touch, with a wide navigation bar and ample space between menu items.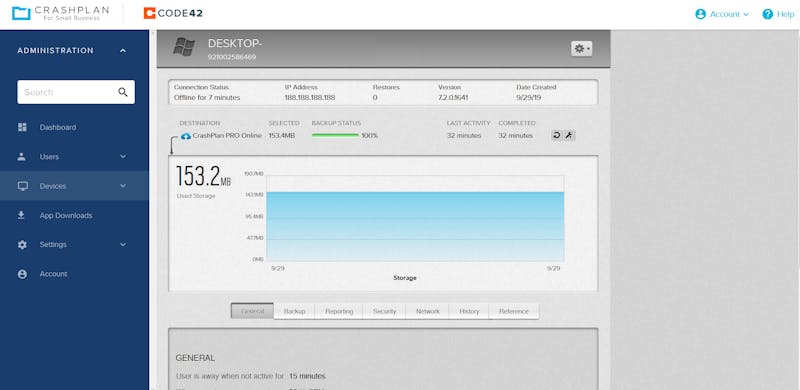 Crashplan's browser dashboard.
The software's user interface lacks some of the browser dashboard's finesse, and its touch control is noticeably worse. Owing to the limited variety of features and the ease of installation, once you've selected a file or folder using the software, uploading it to Crashplan's cloud is as easy as pie. For all intents and purposes, however, once the software is installed, you won't need to open it again, and can instead rely entirely on the browser dashboard.

Crashplan's desktop software.
Apart from small issues in terms of the desktop software's functionality and usability, we didn't find much to complain about.
Score: 4.3 / 5
4.
Functionality and Performance
Crashplan is all about simplicity. As a result, the number of features that the service offers is very limited. Don't expect to be able to create protocols, server backups, or configure individual settings for local backups, mobile devices, or Office 365. Basically, you're only able to select specific folders to backup or restore and adjust a few settings in regards to backup cycles and security.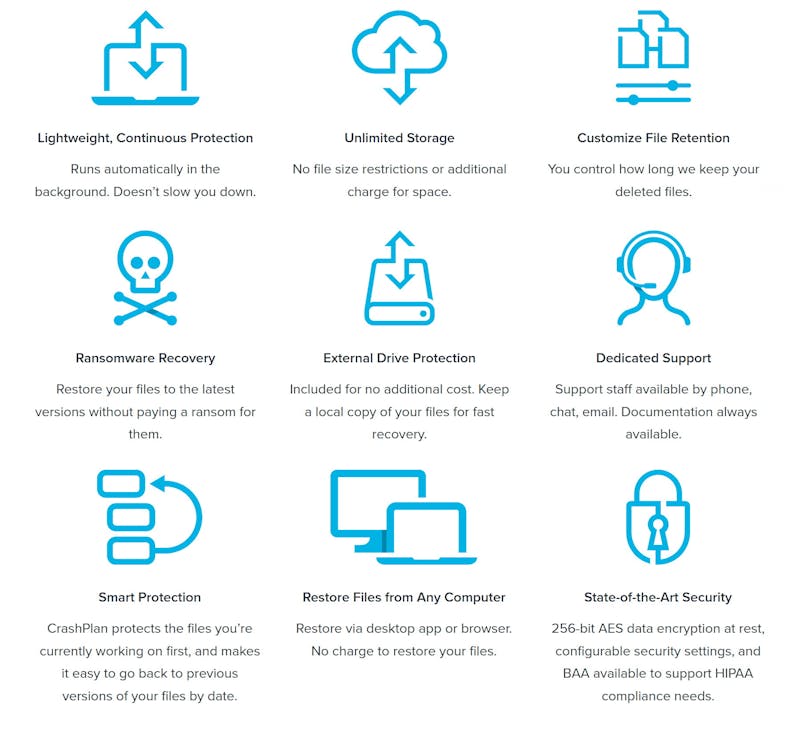 Crashplan's cloud backup features for small businesses.
In spite of this, the number of features that Crashplan offers isn't all that small. For example, you're given unlimited storage, automatic real-time file protection, ransomware protection, AES-256, and the ability to restore files through the browser dashboard. Anyone looking for more advanced abilities, such as integration of the service into your existing IT infrastructure, will be disappointed.

Crashplan's settings (software).
Settings, relating to backup cycles and CPU usage during backups can be configured in the desktop app as well as in the browser dashboard (see below). You'll also find a few options relating to the save location, your network, encryption, as well as excluding certain file types from backups.
With Crashplan, backing up folders and drives is convenient and easily fit to your needs.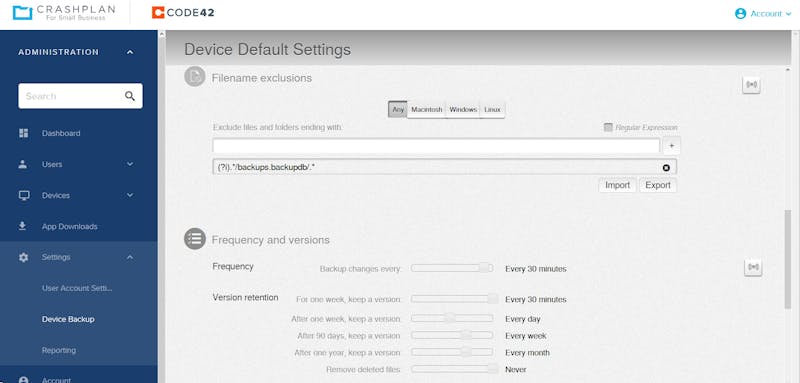 Crashplan's settings (browser dashboard).
Even though Crashplan's settings are somewhat limited, the service does offer a number of special features that set it apart from its competitors. We've listed some of these below for you.
Special Features Offered by Crashplan
Strong Security
Crashplan provides AES-256, ransomware protection, versioning, and security for deleted files.

Straightforward Pricing
All subscribers pay a flat rate per device. This includes unlimited cloud storage and allows different users to be added.

Unlimited Online Storage
Unlimited storage and upload/download traffic.

Versioning and Security for Deleted Files
Files are secured while you work on them in real-time, with different versions indexed for later use. In addition, you can also set how long deleted files should be stored for.

Web Restore
Backed up files can be downloaded through the web dashboard to a device of your choosing.

Native Apps for iOS and Android
Apps for iOS and Android are offered. These can be used to download backed up data.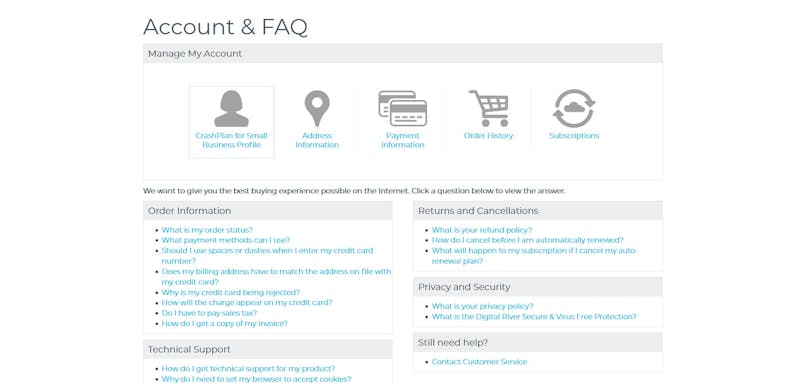 In addition to the service's web dashboard and desktop software, there's also an account dashboard that provides information about your user account, payment methods, and subscription settings. Anyone looking for no-frills cloud backups and uninterested in server or mobile backups is likely to be pleased with Crashplan's purist approach.
If, on the other hand, you're pining for a service that you can configure and integrate into your existing IT infrastructure, Crashplan is probably not your best bet. The service relies on its simplicity and ease of use, consciously refraining from offering full system, local, server, or online service backups, or the ability to create images.
Taken together, Crashplan's concept of simplicity is well-executed. Not much is offered beyond the most important functions, and that's okay. Settings can be easily accessed, and once everything is configured, you won't need to open the software until you experience data loss or another issue that requires restoring files or folders.
(Features) Score: 3.5 / 5.
Server Performance and Capacity
As noted above, Crashplan doesn't limit your traffic or storage, which, in view of its fair price, is commendable. During testing, despite the high level of encryption (AES-256), the data transfer speed yielded impressive numbers. Our test folder with 153 MB of data was uploaded in around four and a half minutes. Although this is not as fast as other cloud storage services, the files were encrypted, which accounts for most, if not all, of the delay.
However, a snag appeared when it was time to load a backup. During testing, the download speed varied considerably, and it took more than 16 minutes to download the same 153 MB folder, which is far below average and seems to indicate that restoring files stored on Crashplan's cloud is trickier than uploading them.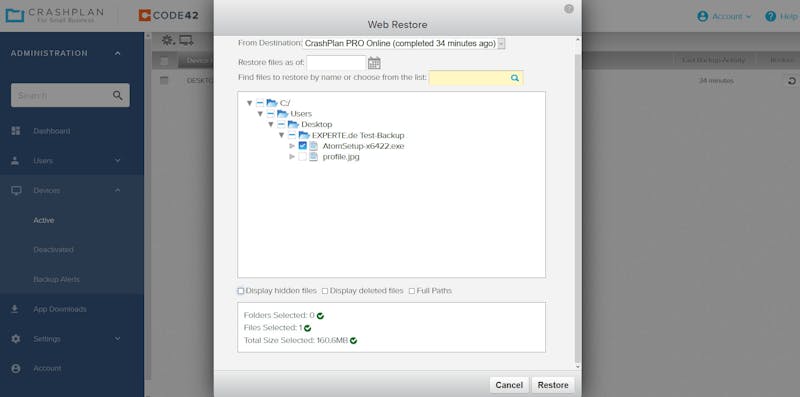 Performance testing backups and restoring with Crashplan.
Don't get us wrong! Unlimited storage is good, but we have a hard time seeing past the service's poor download speed. In an emergency, such as a ransomware attack, or hardware defect, it could easily take days to download the files necessary to fully restore a system.
Should you only be interested in saving smaller amounts of data, Crashplan's download speed will be less of an issue. Similarly, if you want unlimited storage, and are tired of having to book additional data 'boosters', Crashplan is also ideal. Nevertheless, its shortcomings in performance, particularly when set against those of its competitors, are important to keep in mind.
(Server) Score: 2.7 / 5.
Score: 3 / 5
Crashplan provides a high degree of security. Alongside protection against ransomware, the service also secures deleted files, provides versioning, and uses AES-256, the highest standard available. The only absences are multi-factor authentication and stringent password creation requirements, which could undermine the service's security, for example, in the event of an insecure or compromised password being used to login to a user's web dashboard.
Beyond that, it's also worth mentioning that Crashplan is a US provider and that its servers are physically located there. In combination with the lack of an articulated zero-knowledge policy, your files are data would theoretically be accessible by authorities, if the company was legally requested to provide them.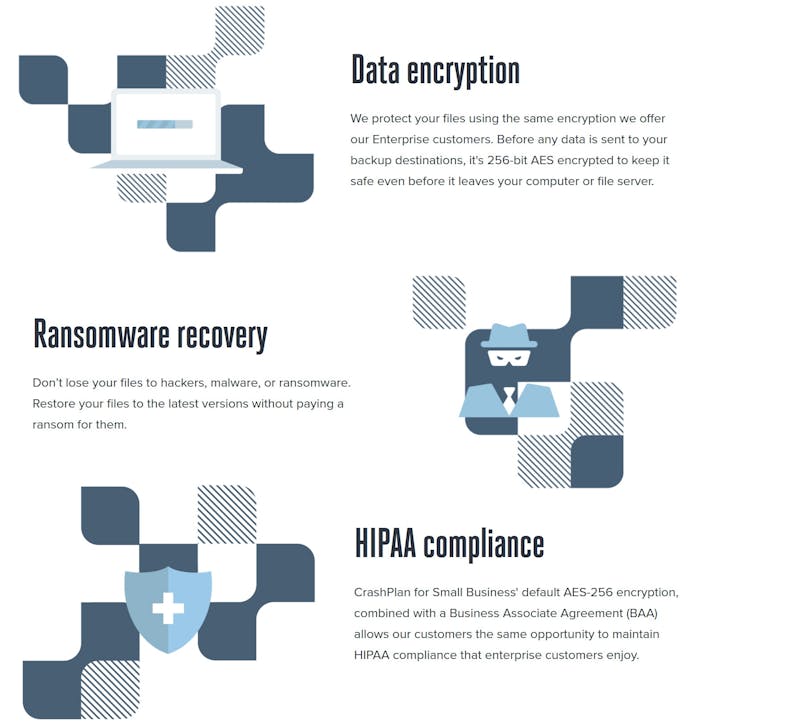 Should you be able to live with having your data stored in the US, and be capable of creating a secure password, there's nothing amiss with Crashplan's security. The provider is safe, and through tweaking a few software settings, can be made even more secure.
Some important features like multi-factor authentication, an automatic virus scan, or the creation of strong passwords that are only known to you, aren't included. With that in mind, we have to deduct a point from Crashplan's score.
Score: 4 / 5
In addition to its well-configured mobile website, Crashplan also offers native iOS and Android apps. These can only be used to download saved files. The apps also don't include any noteworthy settings. Plainly speaking, the app is capable of fulfilling the same role as a mobile browser, and as such, doesn't really contribute any added value.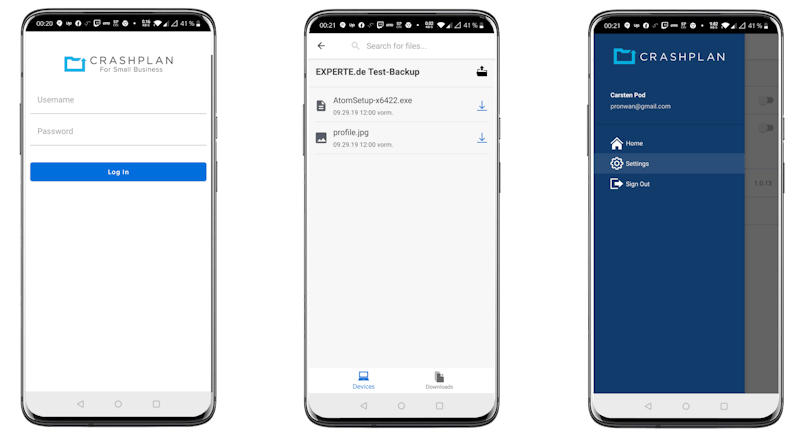 Nevertheless, the app is comfortable to use and makes navigating through your saved folders easy. The download speeds are disappointing, and no option is included to save data from your smartphone through the app. In contrast to a number of other providers, Crashplan at least offers an app, even if it doesn't really add any functionality.
Score: 3.7 / 5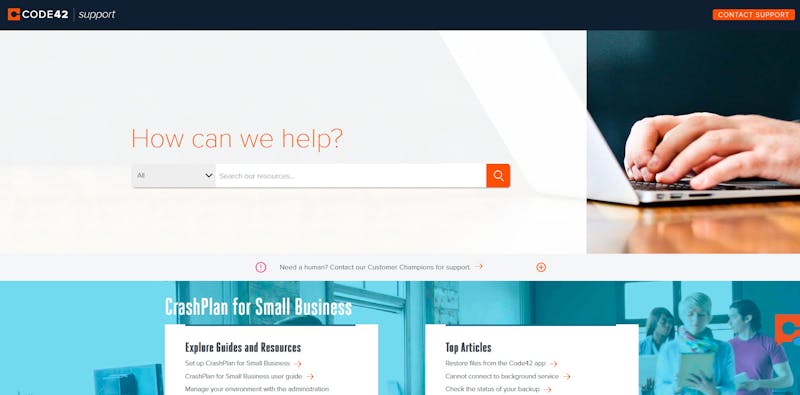 Crashplan's FAQ section is impressive and includes a full-text search. The division into categories makes sense, and the solutions provided for a range of problems are competent.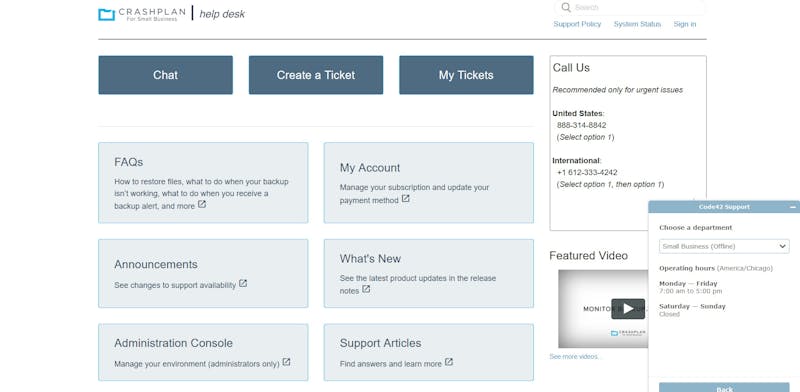 Beyond the FAQ section, there's also a help center where you can open support tickets and get in touch with staffers through live chat (during business hours). Crashplan doesn't provide 24-hour support or a hotline.
In connection with the relatively long waiting times for answers that we experienced during testing, we have to deduct some points from the service. Of course, the answers we received were competent and informative, so if you don't mind waiting, you shouldn't have any issues with Crashplan.
Score: 2.7 / 5
One area where Crashplan is definitely unparalleled is in terms of its pricing strategy: There's only a single subscription package, and you need a new one for each PC or laptop that you want to connect. Because the service offers unlimited storage and features, there's no need (or ability) to book anything else. In connection with the fair price, the price-performance ratio is solid, even if we uncovered a few shortcomings.
Backup
Setup
$0.00
Price per Month
$0.00
Price per User
$10.00
Contract Periods (Month)
1
Limits
Storage
unlimited
Number of Devices
unlimited
Features
Full Disk Backup
Private Key Encryption
File Versioning
Two Factor Authentication
Platform

Cloud / SaaS

Windows

macOS
Overall Evaluation & Conclusion
Installation & Usage
9.4 / 10
If you're looking for a provider that offers unlimited storage, is priced reasonably, emphasizes simplicity and ease of use, and offers high security, Crashplan might be just the service you're looking for. Of course, you will need to deal with a few lapses in support (long response times) as well as functionality and performance.
Setting up and installing the software is child's play. The ability to download saved files from anywhere through its web interface or app makes Crashplan interesting for a number of users. Ultimately, your individual needs will largely determine if you're able to live with the service's deficits or not.
simple, intuitive interface
no backup of mobile devices
8.2

good
Storage
Devices
Contract Period
CrashPlan Backup
monthly price
Visit Website »
30 Day Free Trial
Customer Reviews
Among the reviews that we've evaluated, Crashplan performed well, coming in for a lot of praise owing to its simplicity. As expected, criticism was levelled primarily at the service's poor download speeds.
Customer Ratings
772 Bewertungen
Visit Website
We analyzed the reviews and ratings from various portals and found 772 ratings with an overall rating of 4.0 out of 5 .
Alternatives
If after reading through all of the above, Crashplan doesn't quite meet your needs, there are a number of alternatives that are worth considering. For example, if you're looking for more settings and options, we can recommend SpiderOak One Backup. This easy to use service also includes an excellent cloud backup app for Android and iOS, as well as easy file-sharing. In terms of performance, it's similar to Crashplan, however, includes storage limits.
Storage
Devices
Contract Period
SpiderOak 150 GB
$5.75
monthly price
Visit Website »
Acronis True Image is an excellent cloud backup solution for both beginners and advanced users, offering many features besides just syncing and backup.
Malware protection included
Backup for mobile devices
9.4

excellent
Storage
Devices
Contract Period
Acronis Advanced (1 Computer)
$7.50
monthly price
Visit Website »
30 Day Free Trial
1&1 IONOS provides very good performance, moderate pricing and excellent support. It is suited for both private users and companies.
30 days money back guarantee
somewhat complicated setup
9.0

excellent
Storage
Devices
Contract Period
IONOS MyDefender Starter
$2.50
monthly price
Visit Website »
Try IONOS Now
simple, intuitive interface
no backup of mobile devices
8.2

good
Storage
Devices
Contract Period
CrashPlan Backup
monthly price
Visit Website »
30 Day Free Trial

Carsten Podszun studied computer science and business administration and was self-employed in the retail industry for 15 years. Since 2014 he is a consultant for startups, freelance author and writes at EXPERTE.com about homepage, hosting & IT security.
Continue Reading
Other languages
Deutsch