CrashPlan Review 2023: A Safe Backup Choice?

Ad disclaimer:
For links on this page, EXPERTE.com may earn a commission from the provider. This supports our work and has no influence on our editorial rating.
As if hackers weren't scary enough, there are other threats to your data. More often than you'd like to believe, data loss occurs because of disgruntled or careless employees with no grudge against you.
So, how can you prevent someone from accidentally and permanently deleting your files or folders either out of misdirected anger or incompetence? CrashPlan markets scalable cloud backup solutions which are tailored to the needs of businesses and organizations.
What Is CrashPlan?
CrashPlan* is a cloud backup product developed by Code42, a company founded in Minneapolis in 2001. The 42 in its name is an homage to Douglas Adams, the author of "The Hitchhikers Guide to the Galaxy". In his novels, when asked what the meaning of life is, the answer comes back as "42".
The IT developer doesn't try to offer a different answer to the existential question, instead focusing on high security, unlimited storage space, and backups that can be accessed from anywhere. When it first appeared on the market in 2007, CrashPlan was offered to both individual and business users, however, a decade later, announced its intention to focus solely on the latter.
Alongside CrashPlan, since 2020 Code42 also offers Incydr, a risk detection and threat management software as a service (SaaS).
CrashPlan Review
Installation & Usage
9.4 / 10
Clear, intuitive interface
No plans for individual users

Impossible to back up mobile devices
Once you've created a profile and input your payment information, all you'll need to do is download the installer, and set up the app before you can start your first backup.
When logging in for the first time, you'll need to authenticate yourself using a special browser extension that generates a two-factor authentication code. This is available for all common browsers and during testing, we didn't have any issues, being able to get started within a matter of minutes.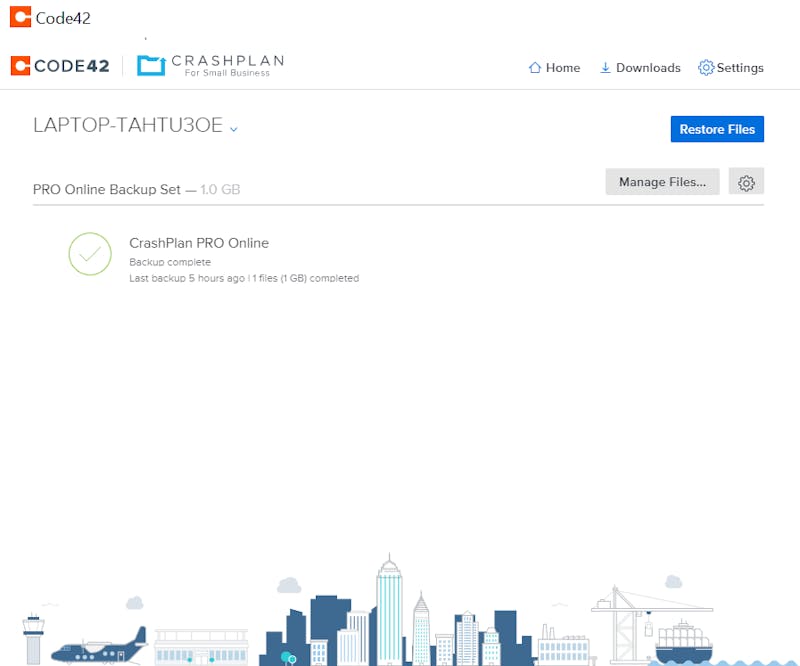 In the dashboard's Home area, you can manage downloads and backups, or upload files to the cloud.
When you open CrashPlan's app, the home screen displays the most important features:
Manage Files is where you specify which files and folders the software should back up.

Restore Files allows you to download existing backups.

Settings for adjusting security and network options.
The visual interface is kept clear, making it possible to find whatever you need quickly. Overall, we liked CrashPlan's easy setup and user-friendly approach.
Installation & Usage
9.4 / 10
CrashPlan is capable of backing up Windows, macOS, and Linux systems. NAS storage devices can only be backed up if you're running the Linux or macOS versions of the software. Small business subscribers cannot save system or app files, since image backups (as well as those of virtual machines) aren't supported.
When logging in for the first time, CrashPlan will scan your drive and (by default) upload all files to the cloud. Should you only want specific folders to be secured, click on Manage Files and then uncheck the boxes next to those folders or files that don't need to be backed up.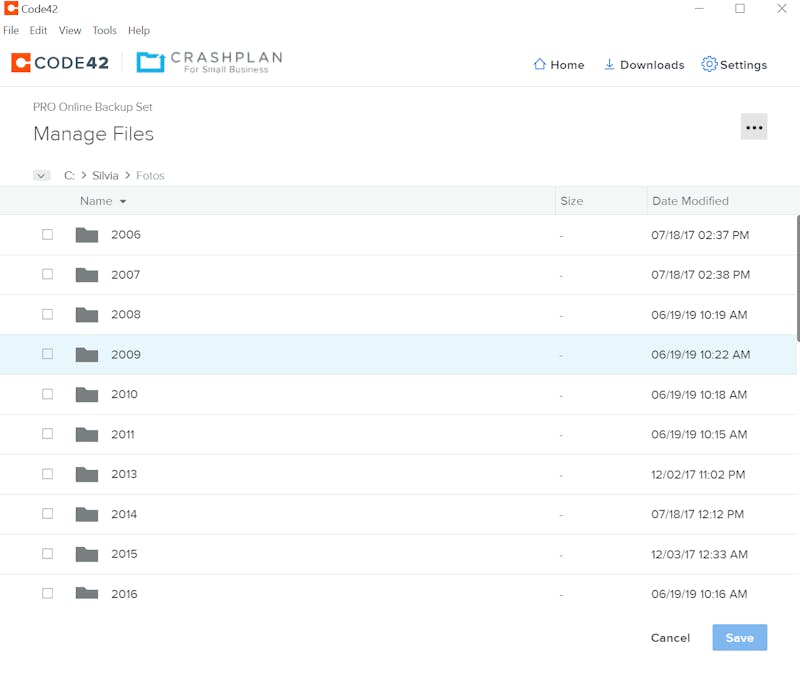 CrashPlan makes it easy to select and upload folders and files.
CrashPlan continuously backs up your data. This doesn't mean that uploads are always occurring, however, its File Watcher monitors changes to the folders or files that you've marked for backups. Whenever a change is saved, the file will be added to the backup list, with backups running every 15 minutes. However, if you haven't saved any changes or created a new file, nothing will be backed up.
Backup Options
CrashPlan offers multiple options for customizing your backups:
You can pause File Watcher, and adjust how often it backs up files (Settings > Backup > Backup Sets), or when it works (for example, during the night).

To specify how long the program should hold on to older file versions, go to Settings > Backup > Backup Sets. By default, CrashPlan stores one version of a file per day. For files that are older than three weeks, the program stores one version per week, and after a year, one version per month.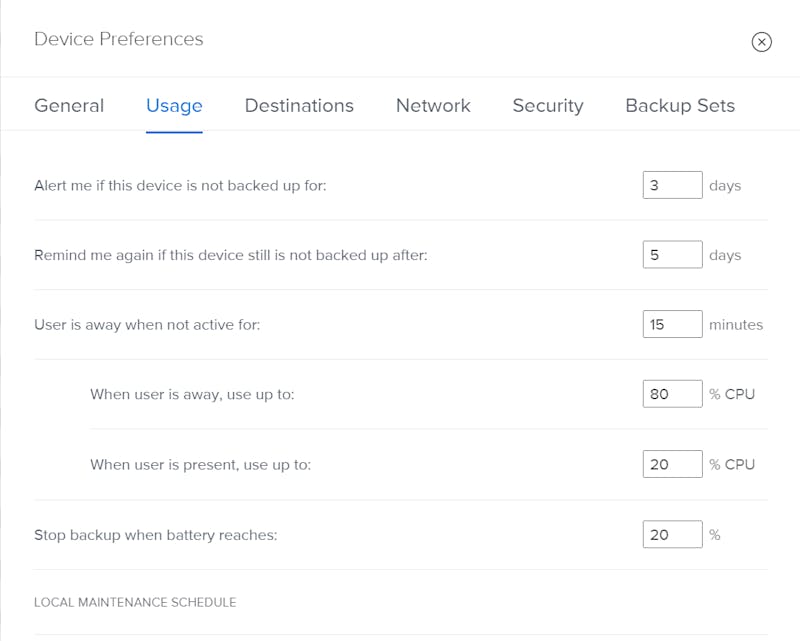 In the Settings area, you can specify how often backups should be performed.
In case CrashPlan noticeably slows down other processes on your system, you can set CPU and battery usage limits by heading to Settings > Usage.
Browser App
Once you've logged in through your browser, you should see your system in the Devices area. CrashPlan also displays statistics about storage usage, as well as reports relating to any recoveries over the past month. Here, it's also possible to specify conditions for your backups. Unfortunately, you won't have access to backed-up files, or be able to launch backups.
Security
Code42 takes its users' security very seriously. Logins are only possible with two-factor authentication using the code generated by Google Authenticator. This process cannot be deactivated.
CrashPlan encrypts all backups using the AES 256 algorithm, which conforms to military-grade standards. In combination with your password, the software generates a key which is then stored separately in another file on a different server.
This is certainly safer than storing the code on a regular server, however, it still doesn't completely rule out data breaches. Locally stored and managed keys are possible, but only if you're an Enterprise subscriber.
Mobile Backups
At the end of 2021, CrashPlan discontinued its mobile app. This means that it's no longer possible to create smartphone or tablet backups. You can still log in to your CrashPlan account via your mobile device's browser, however, you'll only see account information. There's no option to download backed-up files while on the go.
Recovery
Should you suffer an unexpected catastrophic data loss, click on Restore Files to see all of your stored backups. For the target, you can select an external hard drive, USB stick, or another computer on your network. During our testing, we had no issues quickly recovering folders.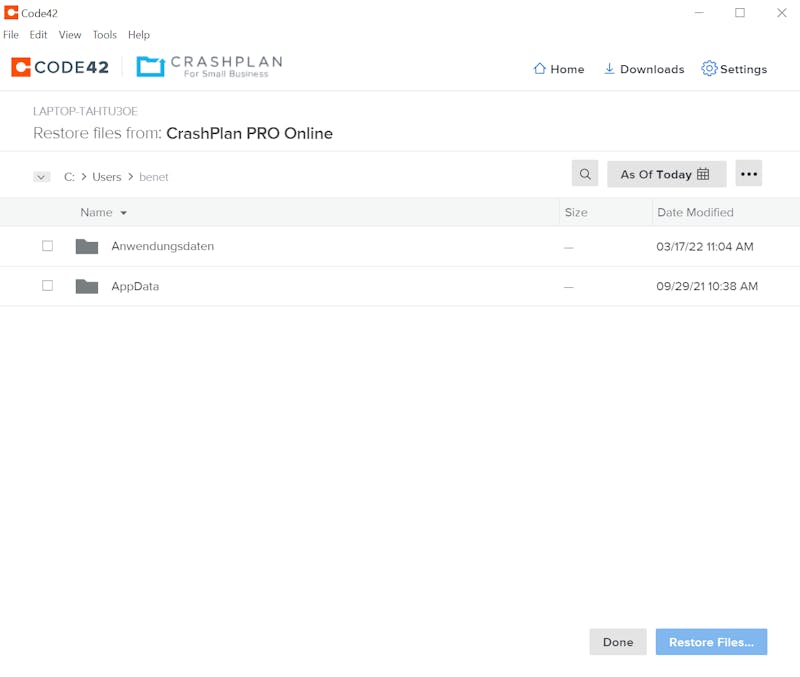 Restoring backed up data is easy with CrashPlan.
CrashPlan offers multiple backup options and settings. During testing, these performed very well, however, we were disappointed at the inability to back up an entire system or mobile device. The solution also lacks extras like an integrated antivirus program, malware scan, or the ability to share files.
As such, we award CrashPlan a "good" score in this section.
To test all of the services from our sample, we uploaded and then downloaded a 1 GB folder to the cloud. With CrashPlan, our connection speeds were 280 MB/s (download) and 27 MB/s (upload).
In terms of CPU and RAM usage, the program proved itself to be efficient. We were able to safely back up our data without having to endure any performance issues.
As the table above shows, CrashPlan had the highest download speeds from our sample. At the same time, its upload speeds were among the lowest.
In terms of performance, there's much worse, however, other providers offer faster upload speeds. For that reason, we award it an average score.
Should you encounter difficulty when backing up your data, CrashPlan offers several kinds of help:
On the FAQ page, you'll find articles and video tutorials about account management, backups, and recovery.

By clicking on Create a Ticket you can request an emailed support response.

When opening the chat, you'll first touch base with a bot, which should link you to relevant articles. If these don't resolve your issue, you'll be forwarded to a service representative. For Small Business subscribers, the live chat is staffed from 8 AM - 5 PM (Central Time UTC).

Enterprise subscribers are provided with a telephone hotline.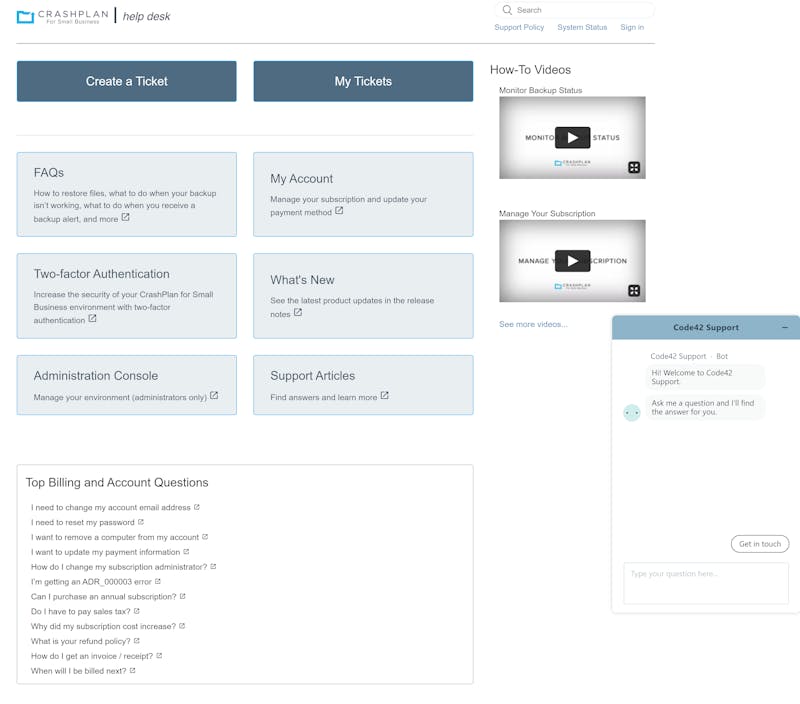 CrashPlan's support was fast and reliable during testing.
We sought help in the chat since the app asked us to log in every two minutes. The customer service representative quickly identified the issue (a misconfigured setting) and solved our problem. Our conversation was professional and pleasant.
Overall, CrashPlan's customer support is first-rate.
The Small Business rate (up to 100 computers) is straightforward: For $10 per month, you'll get unlimited cloud storage and an unlimited number of file versions. Enterprise subscribers (more than 100 end devices), receive tailored offers based on what it is that they need. CrashPlan doesn't provide any details about what these range from.
Backup
Setup
$0.00
Price per Month
$0.00
Price per User
$10.00
Contract Periods (Month)
1
Limits
Storage
unlimited
Number of Devices
unlimited
Features
Full Disk Backup
Private Key Encryption
File Versioning
Two Factor Authentication
Platform

Cloud / SaaS

Windows

macOS
In terms of pricing, CrashPlan is in the middle of the pack: Its affordability, in comparison to other cloud backup services, depends on how much data you're intending to secure. Should you want to back up 10 TB, the cost will be very low, however, for 200 GB, it will be one of the pricier options.
Still, unlimited storage can have other benefits, since it means you can scale up and grow into the plan without having to switch to another rate. The table below compares the annual cost of 250 GB of storage from among our sample's providers:
1.
2.
3.
4.
5.
6.
7.
8.
In case you just want to try CrashPlan out, you can for 30 days at no cost. However, you'll have to input your payment information and be sure to cancel before the trial concludes. Should you forget to cancel on time, you'll be charged for a month's subscription.
Conclusion
Installation & Usage
9.4 / 10
CrashPlan is a solid cloud backup solution with a user-friendly interface and unlimited storage. If you want to secure your most important data without too much effort, it's an intuitive option thanks to its practical version management and good customer service at a fair price.
However, CrashPlan could definitely be more flexible. For example, image and mobile device backups aren't possible. Upload speeds were also low during testing, which means that backing up files could take a while. Should you want to back up more than two devices, you'll benefit from a better price-performance ratio elsewhere.
Crashplan is a solid backup program that features a user-friendly interface and unlimited storage space. However, image backups of the entire system are not supported.
simple, intuitive interface
no backup of mobile devices
8.2

good
Storage
Devices
Contract Period
CrashPlan Backup
monthly price
Visit Website*
30 Day Free Trial
Customer Reviews
Taken together, user reviews for CrashPlan are "good", however, there is some criticism on Trustpilot and in the Apple Store. Many users like having unlimited storage and the service's reliability. At the same time, others note how larger backups can take longer. Interestingly, several users also voiced their disappointment about the service's customer service, which didn't meet their expectations owing to slow response times.
Customer Ratings
723 Bewertungen
Visit Website*
We analyzed the reviews and ratings from various portals and found 723 ratings with an overall rating of 4.1 out of 5 .
Alternatives
Would you like a backup solution with a better price-performance ratio? If so, SpiderOak ONE is a good and user-friendly choice. In case your budget is limited, both IDrive and Backblaze are affordable and secure cloud backup solutions, even though they're not without their drawbacks.
More of the best alternatives to CrashPlan can be found here:
Acronis True Image is an excellent cloud backup solution for both beginners and advanced users, offering many features besides just syncing and backup.
Malware protection included
Backup for mobile devices
9.4

excellent
Storage
Devices
Contract Period
Acronis Advanced 50 GB (1 Computer)
$4.58
monthly price
Visit Website*
30 Day Free Trial
1&1 IONOS provides very good performance, moderate pricing and excellent support. It is suited for both private users and companies.
30 days money back guarantee
somewhat complicated setup
9.0

excellent
Storage
Devices
Contract Period
IONOS MyDefender Starter
$2.50
monthly price
Visit Website*
Try IONOS Now
SpiderOak stands out with strong performance and end-to-end encryption, where data is encrypted before being uploaded.
Storage
Devices
Contract Period
SpiderOak 150 GB
$5.75
monthly price
Visit Website*
Synology C2 scores with great performance and good value for money. Automatic encryption of the data before uploading ensures a high level of security.
Storage
Devices
Contract Period
Synology Personal 500 GB
$2.92
monthly price
Visit Website*
Backblaze offers unlimited storage for a low flat rate. Unfortunately, backing up and restoring data is sometimes a bit cumbersome.
complicated backup and restoring of data
no backup of mobile devices
7.8

good
Storage
Devices
Contract Period
Backblaze 24 months
monthly price
Visit Website*
15 days free trial
* Ad disclaimer:
For links marked with an asterisk, EXPERTE.com may earn a commission from the provider. The commission has no influence on our editorial rating.

After her studies in physical engineering, Silvia Benetti was active in the development of wind turbines. She has been writing about technical subjects as a freelance author for several years. Her focus areas include IT, artificial intelligence, industry 4.0 and renewable energies.
Continue Reading
Other languages
Deutsch