Synology C2 Backup Review 2023: Seamless Integration With Synology NAS?

Ad disclaimer:
For links on this page, EXPERTE.com may earn a commission from the provider. This supports our work and has no influence on our editorial rating.
To pay or not to pay? Those who've had the misfortune of falling victim to ransomware might have asked themselves this question, but, the answer should always be "No". If you regularly back up your data to the cloud, all you have to do is restore your system.
But which program is the best? Synology C2 Backup promises straightforward and safe cloud backups.
What Is Synology?
Cheen Liao and Philip Wong, two former Microsoft employees, founded Synology Inc. in Taiwan at the turn of the last century. At first, they focused on developing network-attached storage (NAS) and server solutions. One of their most successful products was DiskStation, a NAS system that remains in use to this day. So far as NAS devices are concerned, Synology Inc. is a global leader.
However, the company also markets cloud backup software, network and IT platforms, and a video surveillance program known as Surveillance Station. Its cloud storage solution, C2 Backup* claims to be a user-friendly and reliable data security tool for individuals, businesses, and server operators. We reviewed it and below will let you know what we did and didn't like.
Synology C2 Backup Review
Installation & Usage
8.0 / 10
Good price-performance ratio
Not possible to back up individual files or folders
Synology C2 offers cloud backups for Windows (starting from 7 SP1) and Windows Server (from 2008 R2 SP1). At the moment, it isn't possible to back up systems running macOS, however, this is supposed to change in the near future. On the other hand, there are no plans to expand the software to mobile devices (Android and iOS).
To start your first backup, you'll need to create an account and select a plan (Individual or Business). Once you've accepted the terms and conditions, you'll create your C2 Encryption Key. This password is needed for all Synology C2 services. After that, a window will open displaying an emergency code that you should note in case you lose your password. We recommend saving both in a secure location.
Once you've created your account, you can log in to C2 Backup through your browser. There, you'll be able to add new devices, as well as download and install the so-called Backup Agent. During testing, this went quickly and smoothly.
User Interface
The following features are available on the app's main screen:
Personal Computer – This displays all registered systems and their status. In addition, the program also details the last backup and when the next is planned for.
Backup Policy – Here, you'll be able to customize the backup plan for your system. This includes specifying how often and when backups should be performed.

Storage– This displays how much of your available storage space is being used.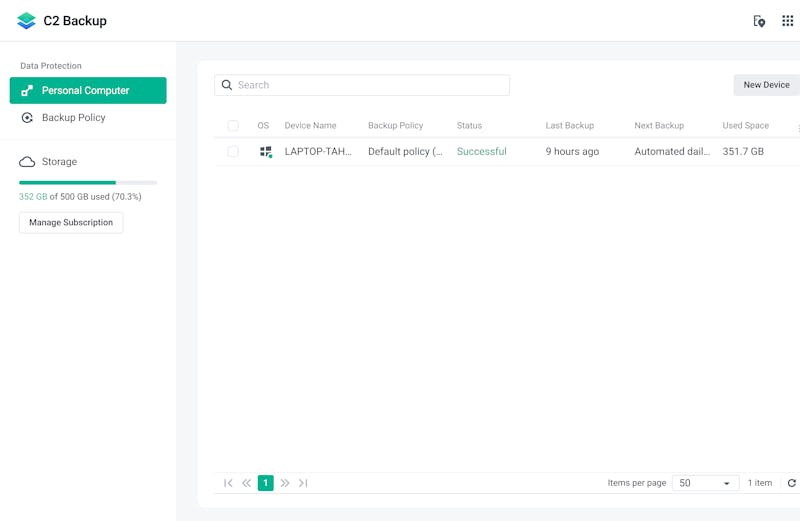 In the app's main screen, you'll have an overview of registered systems and backup information.
Manage Subscription – Modify, cancel, or extend your subscription.

Region (map arrow icon in the upper right) – Change your location (Europe - Frankfurt, North America - Seattle, or Asia-Pacific - Taiwan). This determines where your data is stored.

C2 services (tile icon in the upper right) – Switch to a different Synology C2 service, such as Transfer (filesharing) or Storage (cloud).
C2 Identity Agent
When opening the C2 Identity Agent, a window will appear. This displays your system's status, as well as when the last backup was, and when the next backup is planned. In addition, you'll also find the following options:
Click on the three points (upper right) to open a window summarizing your activities. This lists interrupted, started, and ongoing backups.

Here, you can also access the browser version (Backup Console), or file recovery (Recovery Portal), where it's possible to download backed-up files. There's also a link to the support page (Help).
Overall, Synology C2 Backup's interface is well-structured and easy to use. We missed the variety of options that other cloud backup programs integrate into their app's main screens. Without them, you need to take a detour to access the Recovery Portal. Adding a "recovery" menu option would have been better. For that reason, we award the service a "good" score in this area.
Installation & Usage
8.0 / 10
When backing up your system for the first time, you'll have to specify your preferences on C2 Backup's website (Backup Policy).
It's possible to customize the following parameters:
Backup Schedule – Select from automatic daily backups or user-defined ones, which allow you to set when and how often they occur. Event Trigger makes it possible to link backups to particular actions, such as your screen locking, or turning on your system. Beyond that, you can also work without a schedule, and back up data on demand.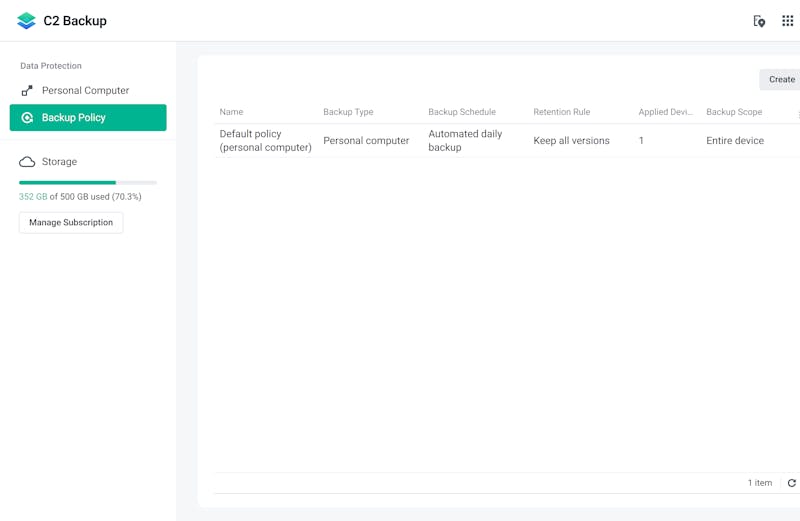 Customize your backups in the Backup Policy area.
Retention rule – Specify how long Synology C2 should store your backups. By default, the program keeps all backup versions indefinitely.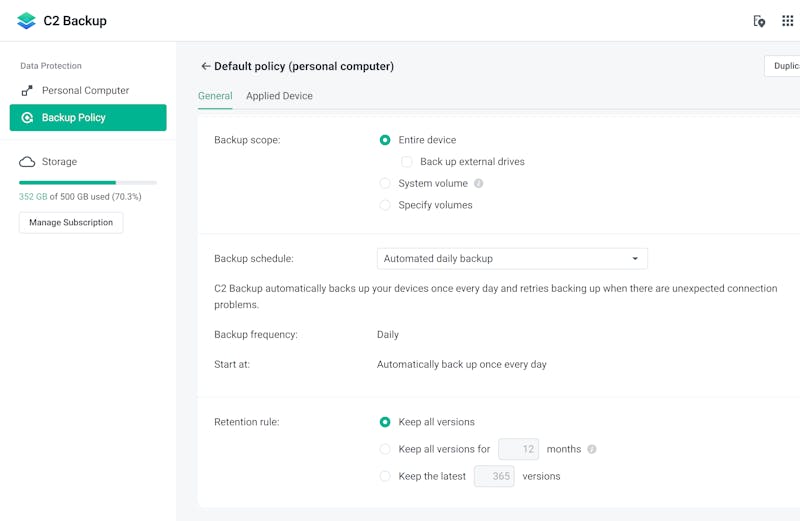 By default, C2 Backup indefinitely keeps all backup versions.
Backup scope – Back up your entire PC including external or individual drives. Unlike the case with most other cloud backup software, it isn't possible to back up individual files or folders.
Storage Location
Should you not want to store your sensitive files on US servers owing to data protection concerns, Synology is there to help. For users outside of North America, by default, Synology saves data to its servers in Frankfurt (Germany) or Taiwan, depending on their geographic location. Even those within the US can switch to its European or Asian data centers.
Security
By default, C2 encrypts all backups. As noted above, when creating an account, you'll also set up a unique encryption key. However, Synology does not store a copy of this on its servers. Should you misplace it, you can only regain access to your account with the emergency code. After logging in this way, set up a new encryption key.
Two-factor authentication can be enabled by going to the C2 Identity user portal, clicking on Security and then Enable next to 2-factor authentication (2FA). After that, you can decide whether you want to use Synology Secure SignIn (Android/iOS) or a third-party authenticator as the second factor.
Recovery
Should you want to access stored backups, open the desktop client and head to the Recovery Portal. Clicking on the link will open the recovery platform in your browser.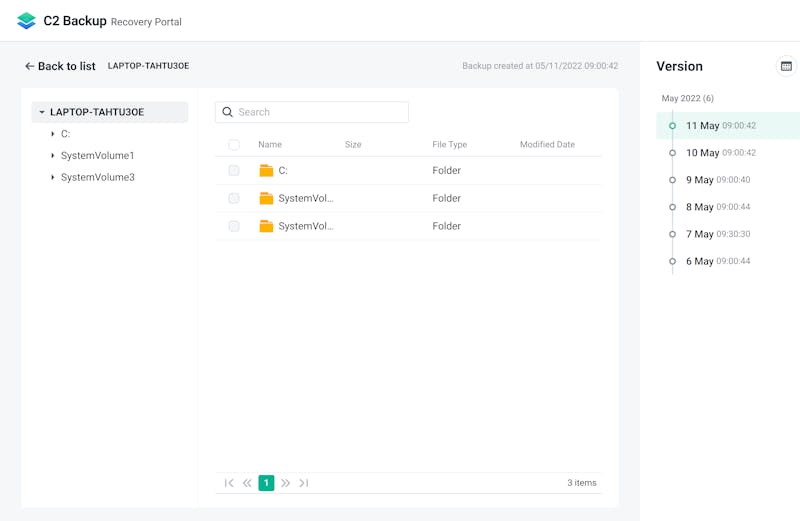 All versions of your backups are stored in the Recovery Portal.
After logging in, you'll see all of your stored backups. For these, the following options are available:
Download the entire backup

Download individual files or folders

Perform a bare-metal restore, saving your entire system to a boot-capable device (such as an external hard drive).
Additional Features
The range of features C2 Backup provides isn't that impressive. We were disappointed at the inability to secure individual folders or files of a specific type. There were also not many options for configuring backups. Unlike most of the other providers from our sample, it isn't possible to set a maximum bandwidth or CPU usage level. As such, C2 Backup is actually somewhat below average in this area.
Synology C2 Backup's nimbleness does have its advantages though. During testing, we didn't encounter any performance issues. Uploading a gigabyte took 18 seconds (upload speed: 26 MB/s). There also weren't any issues with our system's performance: The high point of CPU usage was 3%, but on average, around 1%.
Set alongside the other providers from our sample, C2 Backup is one of the leading services.
Should you have questions about C2 Backup, several support channels are offered:
Account > Help > FAQ takes you to the Synology Knowledge Center. Using the search bar, you can add a few keywords like "Start backup" or browse through thematically-sorted articles. In our opinion, the guides are clear, informative, and well-written.

Account > Help > Community forwards you to the Synology C2 forum, where you can post questions. Quick answers are not guaranteed.

Account > Help > Contact support opens a ticket, to which you can add screenshots illustrating your problem.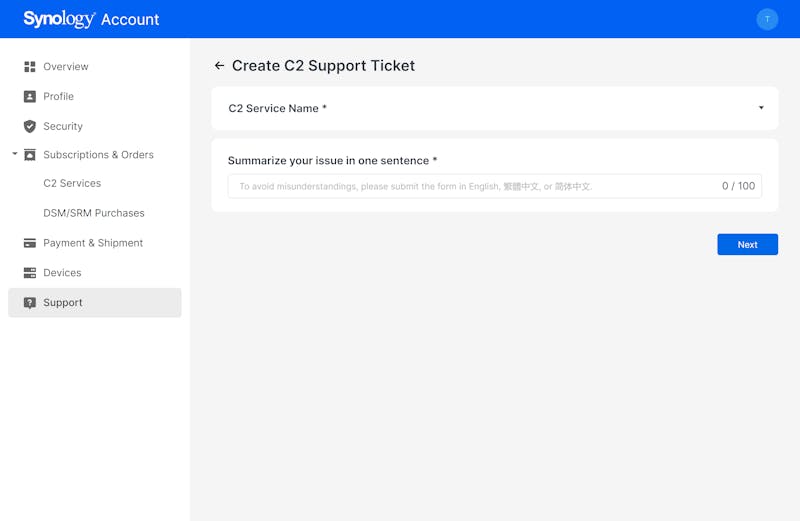 In the Support area, you'll be able to request solutions for problems by creating a ticket.
A support staffer responded to our question about backup options within a matter of hours with a personalized and informative answer. As such, we were satisfied with Synology's customer service.
Unfortunately, the developer does not offer a hotline or a live chat. The latter, in particular, has become standard among cloud backup services. Said differently, there's definitely some room for improvement.
C2 Backup offers different payment options for individuals and businesses. The first can back up as many devices as they'd like, receiving 500 GB, 2 TB, or 5 TB, depending on the plan they choose. For businesses, there's the Basic package which includes 1 TB, and Advanced with a customized amount and additional options such as file sharing, syncs, and a local cache.
You can try C2 Backup for 30 days at no cost. Should you want to continue your subscription at the end of the trial period, it's possible to select between a more affordable annual package or a more expensive monthly rate.
Personal 500 GB
Personal 2 TB
Personal 5 TB
Business
Setup
$0.00
$0.00
$0.00
$0.00
Price per Month
$2.92
$8.33
$20.83
$41.66
Price per User
-
-
-
-
Contract Periods (Month)
1 - 12
1 - 12
1 - 12
1 - 12
Limits
Storage
500 GB
2,000 GB
5,000 GB
5,000 GB
Number of Devices
unlimited
unlimited
unlimited
unlimited
Features
Full Disk Backup
Private Key Encryption
File Versioning
Two Factor Authentication
Platform

Windows

Windows

Windows

Windows
The table below compares cloud backup plans from the providers we assessed (annual price for 250 GB of storage). Among these, C2 Backup is not the most affordable option and winds up in the middle of the group. Still, its price-performance ratio is solid, especially since it can be used to back up an unlimited number of PCs.
1.
2.
3.
4.
5.
6.
7.
8.
Conclusion
Installation & Usage
8.0 / 10
Synology C2 Backup scores with its excellent performance and some of the best transfer speeds within our sample. Windows PCs can be easily and quickly backed up with the software. We also liked the high degree of security it affords and its focus on data protection. Considering how the software performs and the amount of storage space users receive, its price is fair, even though there are more affordable alternatives.
There are some downsides to C2 Backup though: The inability to perform custom backups consisting of a few folders or files is disappointing. Similarly, it's surprising that no security extras are offered. Anyone looking for personalized backups (photos or documents) probably won't be pleased. On the other hand, if you'd like to protect an entire system, C2 Backup is a good choice.
Synology C2 scores with great performance and good value for money. Automatic encryption of the data before uploading ensures a high level of security.
Storage
Devices
Contract Period
Synology Personal 500 GB
$2.92
monthly price
Visit Website*
Customer Reviews
Since C2 Backup is fairly new to the market, there aren't so many reviews yet. Users are very positive about other products from its portfolio, such as DiskStation and Synology Drive (cloud storage similar to Google Drive), highlighting their ease of use and good performance.
Customer Ratings
10,542 Bewertungen
Visit Website*
We analyzed the reviews and ratings from various portals and found 10,542 ratings with an overall rating of 4.3 out of 5 .
Alternatives
If you'd like to back up individual folders and files while taking advantage of security extras like malware checks and mobile backups, Acronis Cyber Protect Home Office is worth taking into consideration. Like C2 Backup, it offers excellent performance, however, many more features. Should cost be a factor, IDrive or Backblaze are more affordable options.
Below, you can see more of the best alternatives to Synology C2 Backup:
Acronis True Image is an excellent cloud backup solution for both beginners and advanced users, offering many features besides just syncing and backup.
Malware protection included
Backup for mobile devices
9.4

excellent
Storage
Devices
Contract Period
Acronis Advanced 50 GB (1 Computer)
$4.58
monthly price
Visit Website*
30 Day Free Trial
1&1 IONOS provides very good performance, moderate pricing and excellent support. It is suited for both private users and companies.
30 days money back guarantee
somewhat complicated setup
9.0

excellent
Storage
Devices
Contract Period
IONOS MyDefender Starter
$2.50
monthly price
Visit Website*
Try IONOS Now
SpiderOak stands out with strong performance and end-to-end encryption, where data is encrypted before being uploaded.
Storage
Devices
Contract Period
SpiderOak 150 GB
$5.75
monthly price
Visit Website*
Crashplan is a solid backup program that features a user-friendly interface and unlimited storage space. However, image backups of the entire system are not supported.
simple, intuitive interface
no backup of mobile devices
8.2

good
Storage
Devices
Contract Period
CrashPlan Backup
monthly price
Visit Website*
30 Day Free Trial
Backblaze offers unlimited storage for a low flat rate. Unfortunately, backing up and restoring data is sometimes a bit cumbersome.
complicated backup and restoring of data
no backup of mobile devices
7.8

good
Storage
Devices
Contract Period
Backblaze 24 months
monthly price
Visit Website*
15 days free trial
* Ad disclaimer:
For links marked with an asterisk, EXPERTE.com may earn a commission from the provider. The commission has no influence on our editorial rating.

After her studies in physical engineering, Silvia Benetti was active in the development of wind turbines. She has been writing about technical subjects as a freelance author for several years. Her focus areas include IT, artificial intelligence, industry 4.0 and renewable energies.
Continue Reading
Other languages
Deutsch