Cloud Backup Review: Backblaze

Backblaze ⇱ is a cloud backup solution provider founded in 2007 in California. The company's claims to fame are its particularly fast transfer rates, unlimited storage, and ease of usage, all at affordable prices. In this review, we'll take a closer look at whether Backblaze's cloud backup service burns up the competition, or is all smoke and no fire.

To best compare different providers, we've concentrated on a handful of pre-defined criteria when reviewing different services. In this way, you're able to see the strengths and weaknesses of each in terms of installation, ease of use, performance and capacity, mobile use, and support, gaining a clearer picture of the price-performance ratio of each. Alternatively, you can scroll down to the pros and cons, overall evaluation, or the scores from each of the sub-categories if you're in a hurry.
Should Backblaze not fully meet your needs for a cloud backup service, we've also provided a brief overview of interesting alternatives that could better suit you at the end of this review.
Review
Installation & Usage
10 / 10
Strong security thanks to stringent password criteria and AES-128

Very good price-performance ratio

No traffic, storage, or bandwidth limits

Native iOS and Android apps for downloading files

NAS or external hard drives physically sent with backups if requested (after payment of a deposit)

Multi-factor authentication

15-day, unlimited, free trial period
No smartphone backups or local backups on media storage devices

Greatly constricted functionality

Manual backups of selected files, operating systems, and software not possible

Versioning limited to 30 days

No private end-to-end encryption keys

No ability to add multiple users to a single package. One package per computer. No user management.

Backup client only compatible with Windows and macOS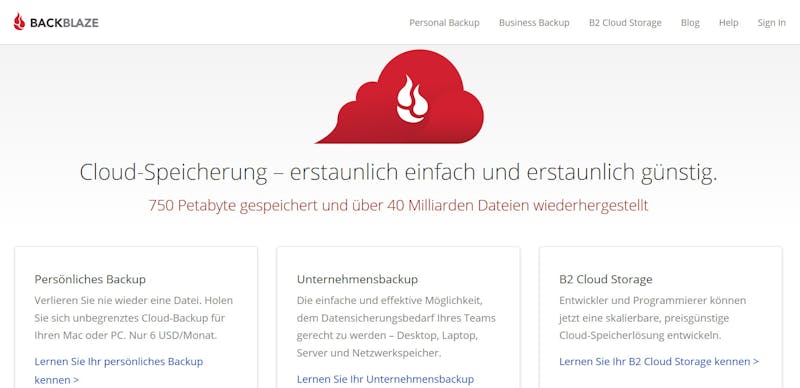 Backblaze's slogan is "Cloud storage that's astonishingly easy and low-cost". The service's landing page is clearly arranged. You won't find lists of subscription packages offering different features. Even though Backblaze is offered in "Personal-" and "Business-Backup" plans, the packages are nearly identical in terms of their functionality and pricing.
The main element is the price of cloud backups for a single computer. You're able to choose between paying per month, per year, or for two years. Even the monthly option is affordable, and you can test the service for free for 15 days.

If you take a look at the "Business Backup" prices, you'll see estimates for NAS and server backups. These include unlimited storage space, however, traffic is capped. In the example provided, 1 TB of initial uploads, as well as 100 GB of additional monthly uploads, 5 GB of deleted files, and 10 GB of downloads are included. This would cost $100 per year, which is a very fair price. In addition, the pricing structure is clearly presented. Of course, there can be issues if you need to completely restore an entire server, which would quickly exceed the monthly download volume.
Nevertheless, it's refreshing to see that a single package can be used to create customized subscriptions for both multiple computers as well as servers. In this way, you don't have to compare packages and weigh features you don't need against those that you do, instead of tailoring the service to fit your needs.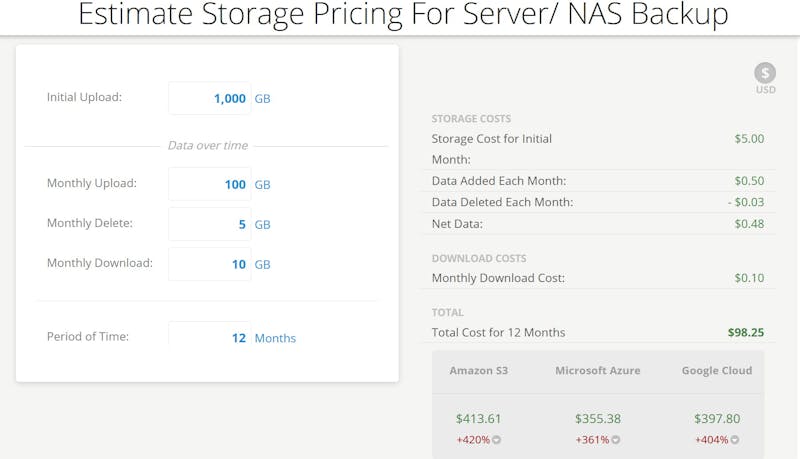 Once you've selected a package, you'll need to register with an e-mail address, which doesn't need to be confirmed. After this, you'll be forwarded to a software download, which takes a matter of seconds.

Once installation is wrapped up, the software automatically starts to backup all data on your computer, without the configuration of any further settings. You'll only be able to exempt individual drives from the backup, and can't exclude system partitions from the plan. Through the browser dashboard, you'll gain an overview of the registered system, see and be able to download the files that are stored there, and make use of a number of different features. Everything is very straightforward and well-organized.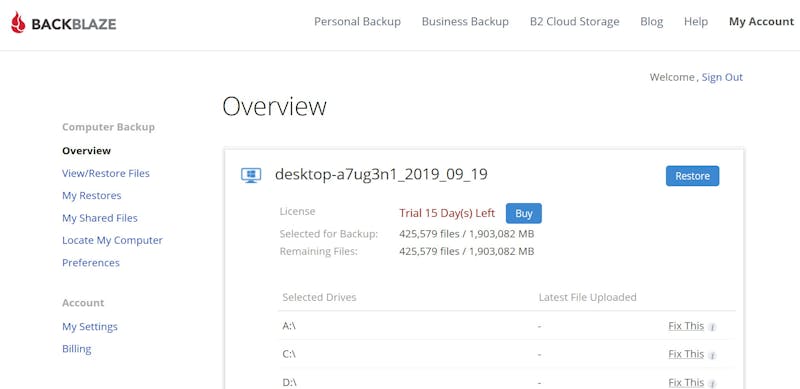 You won't be able or need to do much with the software that is installed on your PC, besides create a private encryption key, configure your backup schedule, or manually start or stop one that's running. Everything else occurs in the background.

Installing Backblaze for the first time is uncomplicated, easy, and mostly self-explanatory. The inability to backup individual files or folders is part of the company's concept. If you're looking for individual freedom, you'll also be disappointed with the software's attempt to immediately backup your entire system. For anyone that wants a more guarded and comprehensive experience, you'll be able to get up and running with a complete backup without having to configure any additional settings or options.
Score: 4.7 / 5
3.
Interface & Ease of Use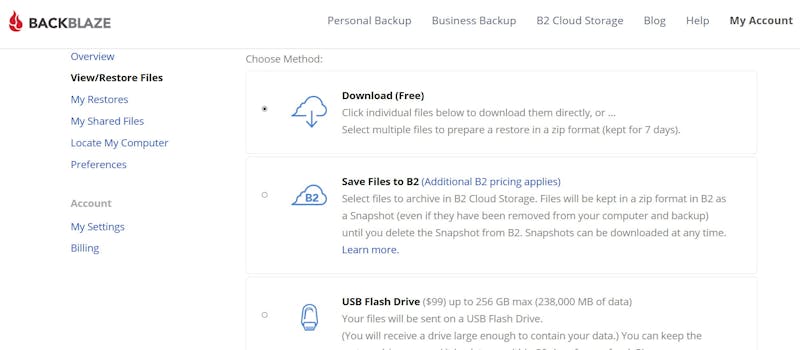 Backblaze's user interface.
The web dashboard is nicely arranged and offers a number of options and settings for restoring backed-up data or downloading it without problem. Beyond that, the dashboard also provides information about your contract and billing, allowing you to make adjustments. Since the entire backup is performed automatically, the number of settings that you can modify are limited, which enhances the ease of use.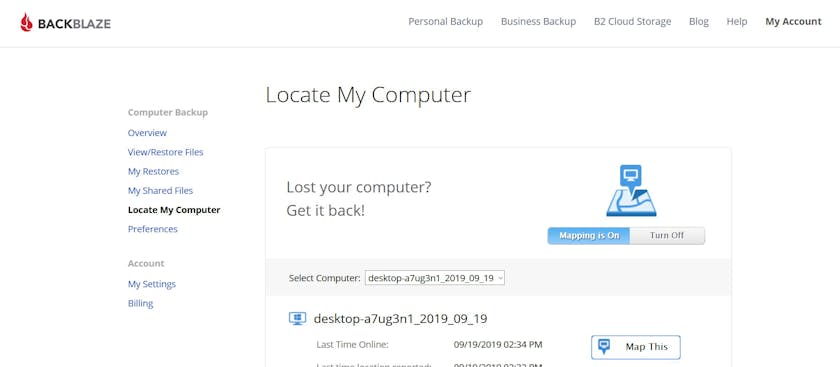 Backblaze's management console.
Backblaze's user interface is somewhat rudimentary and not particularly well-designed for devices with touch functionality, which doesn't really impact how you can use the program with a mouse. If you want to backup on external storage devices, this is possible, however, it's a bit laborious. This is because Backblaze will create the backup and mail it to you on a storage device, such as a USB drive. This is comfortable and free since you pay for the postage back to them, but also not really flexible. Apart from this, you can't create local backups on your own drive. Advanced settings like backup cycles or manually starting backups can't be performed in the web interface, however, this can be done in the software.
Navigating through the menus as well as installing the software is very easy. Apart from the lack of support for touchscreens and the restrictions on backing up individual folders, which are mostly functional, there isn't much to complain about. As a result, we're able to give the service a solid score, since even beginners will be able to quickly get the hang of the program.
Score: 4 / 5
4.
Functionality and Performance
Features are limited to the most important, including the ability to schedule backups and make changes to the folders that you're backing up. As mentioned above, it isn't possible to exempt system drives from the backup. This means that personal documents, desktop content, and other files are automatically secured. This might not be wanted, particularly on personal computers. Unfortunately, Backblaze doesn't offer any way to get around this issue.
At the same time, simplicity also has its own sort of logic. Since everything is automatically backed up, you won't need to worry about small details, but can rest assured that all of your most important documents are safe, once the software has been installed. Beyond that, there are a number of nice additional features such as the localization of registered computers, which is appealing for users of laptops or Windows tablets. Should you not want to use the mapping feature, you can manually deactivate it, since it's activated by default.
Apart from that, all files are versioned for 30 days, so that you can restore an older version at any time. All files that are stored on Backblaze's servers are encrypted, and you can add multi-factor authentication and unique keys for added security. Using the software, the service's mobile apps, or its web interface, you can download local data at any time, or enable access to certain files. Backblaze also offers you the possibility to create local backups on external storage devices, albeit as an additional service. After paying a deposit, you'll get a complete backup sent to you on an external drive. This deposit is returned once the storage device has been received by Backblaze. With all of that said, we don't really understand the point of this in the 21st century.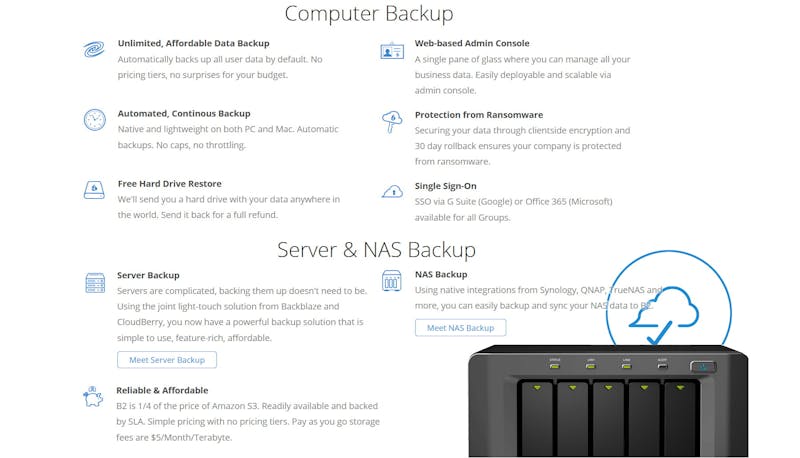 Backblaze's cloud backup solutions for small businesses and the self-employed.
Backblaze's pricing is very straightforward since there aren't a wide variety of packages to choose from. Rather, data on a single computer or server can be backed up with a subscription, but not restored, deleted, or edited. All drives on your server or PC are fully backed up, however, apart from system drives, you can exempt partitions or drive from the backup.
Additional features such as pre-transfer data compression, BMR, or operating system backups of installed software are not included. Mobile backups are also not possible, and there's no way to integrate existing IT infrastructure into Backblaze's system. Beyond that, also missing are backup solutions for e-mail boxes, social media data or databases, virtual machines, or Office 365. Backblaze is only compatible with Windows and macOS systems; Linux computers or servers, as well as those with other operating systems, can't be backed up.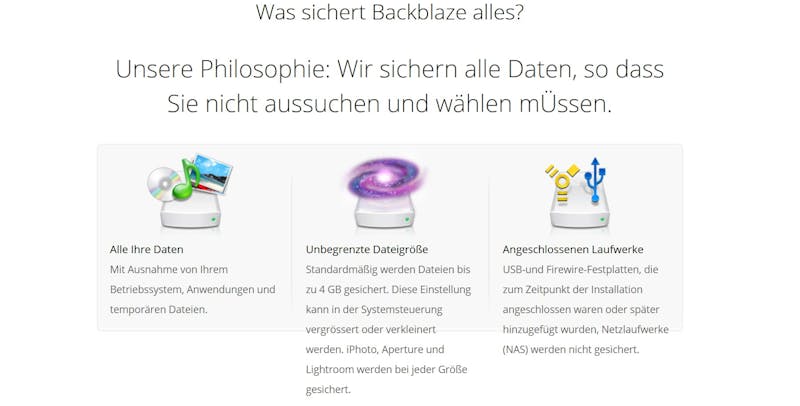 Mandatory system drive backups.
Despite the somewhat limited functionality and paucity of configuration options, Backblaze does offer a number of interesting features that aren't anywhere to be found among other providers. These are summarized below.
Special Features Offered by Backblaze
Strong Security
Backblaze uses AES-128 to encrypt data on its servers. In addition, you can also set a unique encryption key and enable multi-factor authentication.

One Package
Backblaze only offers a single package, which includes unlimited storage. As a result, both servers and PCs can be easily backed up. It isn't possible to add additional clients. Taken together, these make the company's pricing structure very clear and easy to understand.

Unlimited Online Storage
There are no limits on file sizes or online storage.

Versioning
Files are versioned for a period of 30 days.

Computer Mapping
The actual location of the registered system is tracked and can be followed online.

Client and Server Backups
Regardless of what you want to back up, this is included in the standard package.

Free Backup Copy on an External Storage Device
If you wish, you can request a backup copy of your data be sent to you through the mail. You'll only need to pay a refundable deposit and provide your address. Once you've received the storage device, copy your files, and mail it back (at your cost) to Backblaze. Once they receive the storage device, your deposit will be refunded.

Native Apps for iOS and Android
In addition to cloud backups, if you're a "Business" subscriber, you'll be able to perform local backups in the background.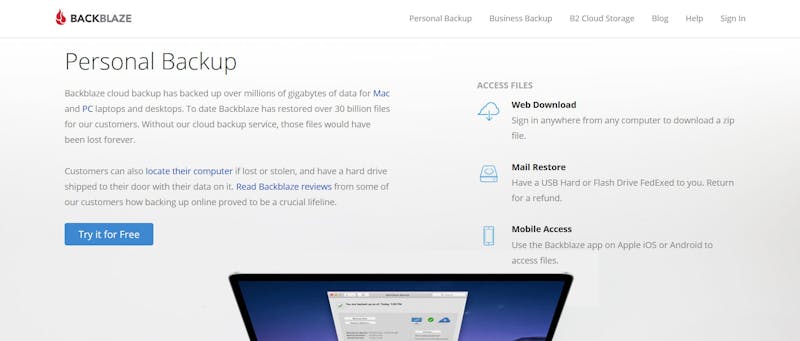 The variety of features offered by Backblaze is not that great. Should you be looking for lots of options for customization, or the ability to embed the program in your own IT infrastructure, the program most likely isn't the right one for you. On the other hand, if you value simplicity, and can look beyond the backing up of entire system partitions, you're in luck. Unlimited storage, a simple pricing policy, and the ability to download files through the web interface or app onto a number of different devices are only a few of Backblaze's highlights.
The software's ease of use is visible and well implemented. Unfortunately, this negatively impacts Backblaze's flexibility. As an example, none of the other providers we examined force users to backup specific folders or drives. This is all the more unfortunate as even when the system drive is backed up, the operating system and any installed programs aren't. As a result, BMR is not possible.
Beyond that, we also never quite came to terms with the service's pricing policy. On the one hand, Backblaze provides lots of storage at a low price, however, if you need to restore a large amount of data (exceeding a certain monthly limit) you will incur additional costs. Particularly as backed up data have a tendency to snowball over time, this can result in a nasty surprise (and a big hit to your wallet) if you suddenly need to restore your entire system. Taken together with the limited features that the service offers, we can only score Backblaze below average.
(Features) Score: 2.7 / 5
Server Performance and Capacity
Backblaze actively promotes its abstention from throttling user bandwidth, making it fully available for backups. Based on our testing, we can confirm this, since data was uploaded at the maximum transfer speed. With that said, we weren't able to perform our obligatory speed test, since it isn't possible to backup individual files, without uploading the entire system drive to the cloud. For anyone who only wants to secure a few important files or folders, be advised, since you won't be able to do this without backing up your entire drive.
Apart from that, we were also able to ascertain that while uploads are quick, downloads are considerably slower. When dealing with large volumes of data, this can be especially frustrating, leaving little option but to make use of the data shipping service.

In terms of capacity, Backblaze advertises unlimited storage, which is true. At the same time, downloads and the deleting of files from the cloud are limited. Accordingly, it's very difficult to estimate just how much restoring a system with Backblaze would cost, since you won't know until you have to do it, and by then, the size of files you've stored could be massive. Backblaze does provide a few sample price breakdowns for backing up and restoring servers. Taken together, the company's "transparent" and "straightforward" pricing policy is actually anything but when you get into the nitty-gritty of it.
By default, the web browser's restore limit for files is 500 GB, whereas the limit for the desktop software isn't clear. What this means is that while Backblaze offers unlimited storage and can handle files as big as you can make them, restoring them is constrained. This approach makes it difficult to compare the service with those of its competitors since they provide fixed storage and packages based on their consumers' needs. However, should you want to secure significantly less than 500 GB of data in the cloud, you won't have to deal with any additional costs.

Backblaze's unlimited storage.
In terms of both performance and storage capacity, there's a lot of fine print that Backblaze conveniently obscures in its advertising materials. Its upload speeds are good, however, you have to back up your entire system, and only limited bandwidth is made available when downloading from the cloud. Storage capacity is similar: You're not limited, however, if you download or restore beyond a certain limit (500 GB), you'll be hit with additional costs.
(Server) Score: 3.3 / 5
Score: 3 / 5
Backblaze provides solid protection against ransomware, as well as AES-128, multi-factor authentication, and private key encryption, all of which are excellent features.
At the same time, there are a number of factors, which, when taken together, do provide some grounds for concern. The company's servers are located in the US, which while providing improved speeds for US customers, also means that they can be accessed by US authorities practically at will, even more so, since the company doesn't adhere to a zero-knowledge policy. Beyond that, the service's fixation on full system or drive backups means that all personal data and documents, as well as temporary Internet files, are saved. Location services, for tracking your computer, are also activated by default. These can be deactivated, however, if this really happens isn't entirely clear.

Backblaze's security features.
On the surface, everything looks good, however, the company's non-adherence (or non-adoption) of a zero-knowledge policy leaves us skeptical. When coupled with the servers' locations, default tracking service, and mandatory upload of sensitive files, a perfect storm of factors could be brewing to undermine your privacy. At the end of the day though, everyone needs to decide for themselves if the product on offer meets their needs, or if the sacrifices of privacy and security are too high.
Should you not have any sensitive information on the drive which is backed up to Backblaze, you can be sure that your files will be in good hands and available for restoration in the event of a disaster. Of course, 256-bit encryption, or an automatic virus scan of backed-up data would be nice, but other than that, we don't have much to take issue with besides what's been noted above.
Score: 3.7 / 5
Backblaze offers a native app for both iOS and Android. Beyond that, the web dashboard appears to have been well-designed for mobile use, albeit a bit cumbersome. This is because the navigation menu is somewhat too small for touch usage, which is particularly noticeable when holding your device vertically. When using your device horizontally, this problem goes away but still, the web dashboard isn't ideal for smartphone or touch-screen users. With that said, the ability to download files on devices either through the app or the web dashboard is convenient.
If you don't want to deal with the somewhat small menus in the web dashboard, you can use the service's Android and/or iOS apps. These enable users to download and forward individual files, but not much else. If you're looking for the ability to perform uploads or backups remotely, you're bound to be disappointed. As another negative, the Android app crashed three times on two different devices when we attempted to access certain files. On the positive side, the iOS app worked without issue.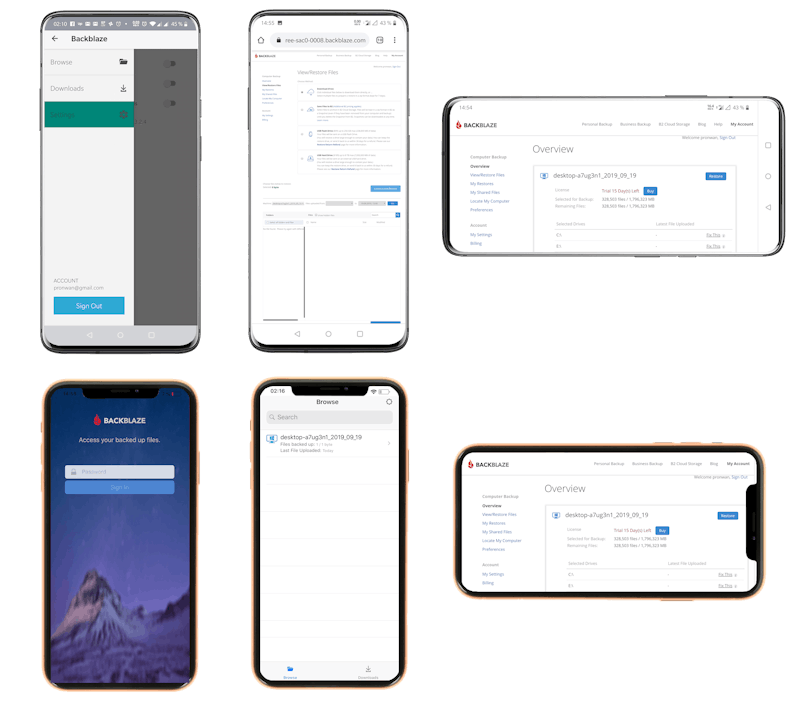 In sum, the mobile experience with Backblaze is far from perfect. At the same time, the service does at least provide native apps that make it possible to download files on the go. Of course, there's a lot of room for improvement in both the app and the web dashboard (greater accessibility and ease of use).
Score: 3.3 / 5
Backblaze provides a very good FAQ section on its site which is well-organized and informative. FAQs are neatly grouped into categories, and a search function, which examines the full text of all articles, makes finding what you need easy.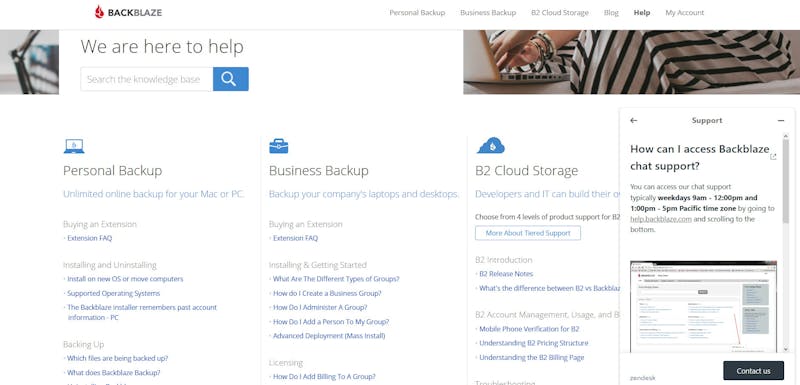 If you're looking for a more human touch, there's also the possibility to contact the service's support team by telephone. You can speak with a staffer by live chat during the company's business hours, or communicate with them by e-mail. Since the service has limited functionality and backups are automatic, there's little reason to get in touch with support. The response time to our e-mail query was good, and we received an answer within 24 hours. The live chat, which uses Zendesk, was also good.
Note: 2.7 / 5
We already discussed Backblaze's pricing policy in brief above. Its somewhat unusual method of charging users for additional download traffic seems to hit hardest when they need the service most and are in the worst position to make compromises; like tow-trucks on highways looking for stranded cars. With that said, the service's price-performance ratio is good, especially since the additional costs for extra downloads aren't unreasonable. Apart from that, it's worth remembering that you can back up unlimited amounts of data with Backblaze. Should you not have a large volume of data to secure, you'll be fine without additional download traffic. The service's upload speeds are high, and there's only a single package, with a very low beginner price, for both individual computers and servers. Beyond that, the provider also scores owing to its easy installation, high-security standards, and fully-automated backups of all partitions and drives. In view of its price, users are provided with a great deal, so much so that despite the numerous hiccups, we liked the service.
Anyone who can live within the inclusive download volume, and looking for a provider that makes backing up files easy and automatic will definitely find a lot to enjoy about Backblaze.
24 months
12 months
1 month
Setup
$0.00
$0.00
$0.00
Price per Month
$0.00
$0.00
$0.00
Price per User
$5.42
$5.83
$7.00
Contract Periods (Month)
24
12
1
Limits
Storage
unlimited
unlimited
unlimited
Number of Devices
unlimited
unlimited
unlimited
Features
Full Disk Backup
Private Key Encryption
File Versioning
Two Factor Authentication
Platform

Cloud / SaaS

Windows

macOS

iOS

Android

Cloud / SaaS

Windows

macOS

iOS

Android

Cloud / SaaS

Windows

macOS

iOS

Android
Overall Evaluation & Conclusion
Installation & Usage
10 / 10
Backblaze offers a number of advantages, such as its ease of installation, solid performance, and unlimited storage space, all of which come in a very affordable package, for both computers and servers. At the same time, the service does have some limitations, there are a few security concerns, and a bit of work is needed in terms of mobile usage. In addition, downloads and backups are limited in terms of traffic speed and size.
This means that Backblaze isn't perfect for everybody, since it's missing things like round-the-clock support, the ability to integrate it into your existing IT infrastructure, or to backup individual folders or files without sharing your entire drive. For those searching for an easy-to-use and affordable cloud backup solution, we recommend taking advantage of Backblaze's 15-day free trial.
Storage
Devices
Contract Period
Backblaze 24 months
monthly price
Visit Website »
15 days free trial
Customer Reviews
The summary of customer reviews below shows how satisfied Backblaze's users are with the cloud provider's performance.
Customer Ratings
1,288 Bewertungen
Visit Website
We analyzed the reviews and ratings from various portals and found 1,288 ratings with an overall rating of 3.4 out of 5 .
Alternatives
If Backblaze doesn't seem like the right fit for you, there are a number of alternatives that might be better suited to your needs.
One of these is SpiderOak One Backup, which provides more freedom in terms of uploading individual files and folders, as well as excellent mobile apps for both iOS and Android. Beyond that, the service also provides excellent file-sharing capabilities, albeit with limited storage space, and poor upload speeds. As a trade-off, SpiderOak One uses AES-256, securing your files with the highest-end encryption.
Storage
Devices
Contract Period
SpiderOak 150 GB
$5.75
monthly price
Visit Website »
Acronis True Image is an excellent cloud backup solution for both beginners and advanced users, offering many features besides just syncing and backup.
Malware protection included
Backup for mobile devices
9.4

excellent
Storage
Devices
Contract Period
Acronis Advanced (1 Computer)
$7.50
monthly price
Visit Website »
30 Day Free Trial
1&1 IONOS provides very good performance, moderate pricing and excellent support. It is suited for both private users and companies.
30 days money back guarantee
Somewhat complicated setup
9.0

excellent
Storage
Devices
Contract Period
IONOS MyDefender Starter
$2.50
monthly price
Visit Website »
Try IONOS Now
Simple, intuitive interface
No backup of mobile devices
8.2

good
Storage
Devices
Contract Period
CrashPlan Backup
monthly price
Visit Website »
30 Day Free Trial
IDrive is entirely free in the entry-level package (5 GB) and offers a convincing range of features and is easy to use.
Storage
Devices
Contract Period
IDrive Free
$0.00
monthly price
Visit Website »
5 GB for Free
Storage
Devices
Contract Period
Carbonite Basic
$4.92
monthly price
Visit Website »

Carsten Podszun studied computer science and business administration and was self-employed in the retail industry for 15 years. Since 2014 he is a consultant for startups, freelance author and writes at EXPERTE.com about homepage, hosting & IT security.
Continue Reading
Other languages
Deutsch