Backblaze Review 2023: Unlimited Storage for Your Cloud Backups?

Ad disclaimer:
For links on this page, EXPERTE.com may earn a commission from the provider. This supports our work and has no influence on our editorial rating.
Ransomware attacks are on the rise. During these, cyber criminals encrypt data on infected computers, demanding a fee for the decryption key. Backing up your files to the cloud is a proven security measure that allows you to quickly restore files when disaster strikes, and say no to digital hostage-takers.
Backblaze, from the US, advertises its ability to offer safe and easy backups for both individual and business users, but how does the service really perform?
What Is Backblaze?
Backblaze*, is a cloud backup provider that can trace its roots back to Silicon Valley. According to its website, in 2007, the founders came up with the idea while in a kitchen in Palo Alto. From that moment, the start-up has sought to offer affordable, simple, and transparent backups.
Brian Wilson, one of the co-founders, planned to use Amazon S3 servers, however, as these were too expensive, Backblaze resorted to its own data centers from the beginning.
We tested the software and below, will let you know whether Backblaze burns up the competition or is just a puff of smoke.
Backblaze Review
Installation & Usage
10 / 10
Affordable subscriptions and straightforward pricing
Complicated/no custom backups

Not possible to back up mobile devices
Backblaze is compatible with Windows (from Windows 7), macOS (from Sierra 10.12.x), and macOSX (from Mavericks 10.9.x). Linux, Unix, Android, and iOS are not supported. There is a smartphone app, however, this is only to view your stored backups.
To get started, you'll need a Backblaze account, which you can create on the service's homepage. After you've installed the service's client, open the app to start backing up your data.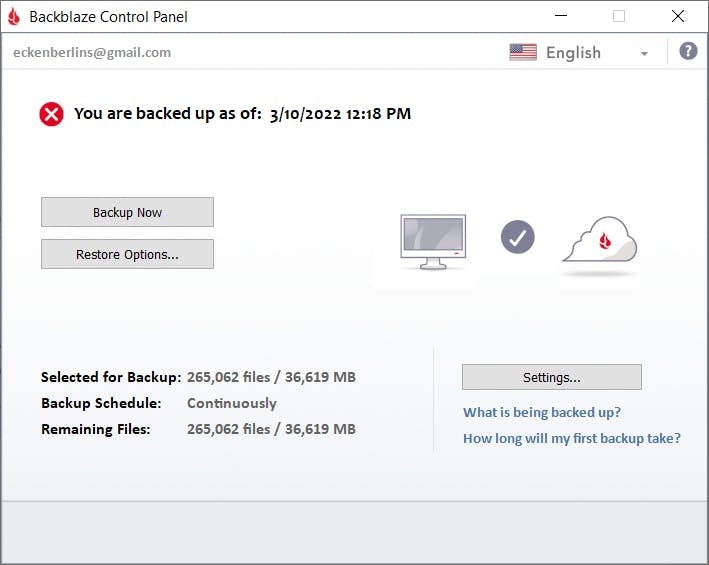 On the Backblaze app's main screen, you'll be able to create backups, adjust settings, and recover files.
On the client's main screen, you can create your first backup by clicking on Backup Now. Alternatively, you can adjust the program's settings or check out the recovery options. When performing a backup, you'll be able to see how many files you've selected, how much storage space you're currently using, and how much data still needs to be uploaded to the cloud.
Web App
Alternatively, you can access your backups through your browser. Here, you'll see all systems for which you've created a backup. By clicking on View/Restore Files you can recover data and share it with others via a link.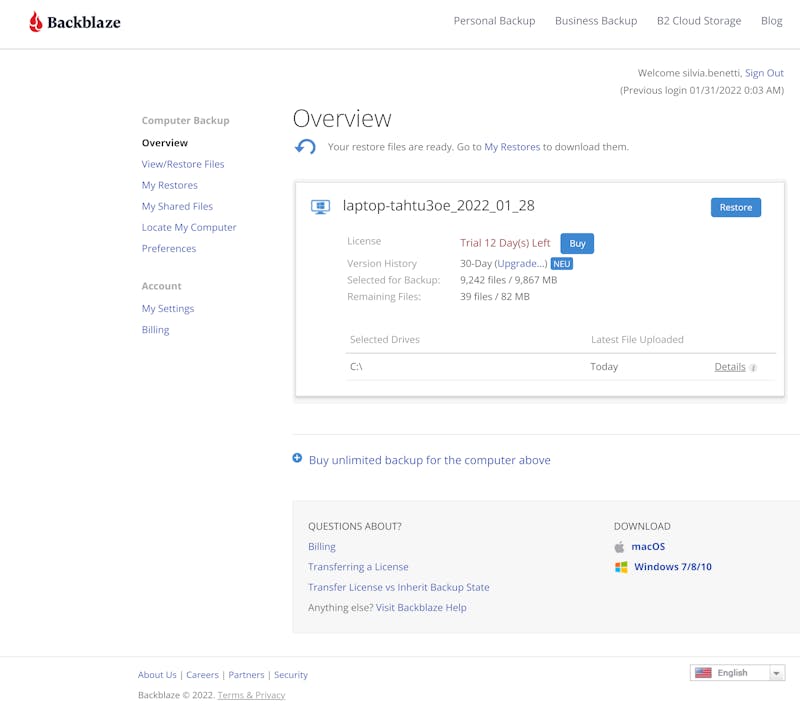 Manage backups in your browser with Backblaze's web app.
By clicking on My Restores you can view all recoveries that you've performed as well as potential ones. My Shared Files shows which files you've shared with others.
In Settings, you'll manage your account and be able to activate additional protection by enabling two-factor authentication.
We didn't encounter any issues when installing or setting up Backblaze. Its menus are well-structured and organized, making it easy for beginners to find whatever they need. For these reasons, we've awarded the software maximum points.
Installation & Usage
10 / 10
When you're ready to create your first backup, click on Backup Now. After this, Backblaze will scan your drive and external storage device, loading all files to the cloud. System files, application data, temporary files, and NAS drives aren't included.
Things become a bit more complicated if you don't want to back everything up at once. Unfortunately, Backblaze makes it unnecessarily tricky to create backups of specific folders or even drives, since, by default, all files are copied. Folders that you want to exclude from the backup need to be added individually in the Exclusions tab of the Settings area.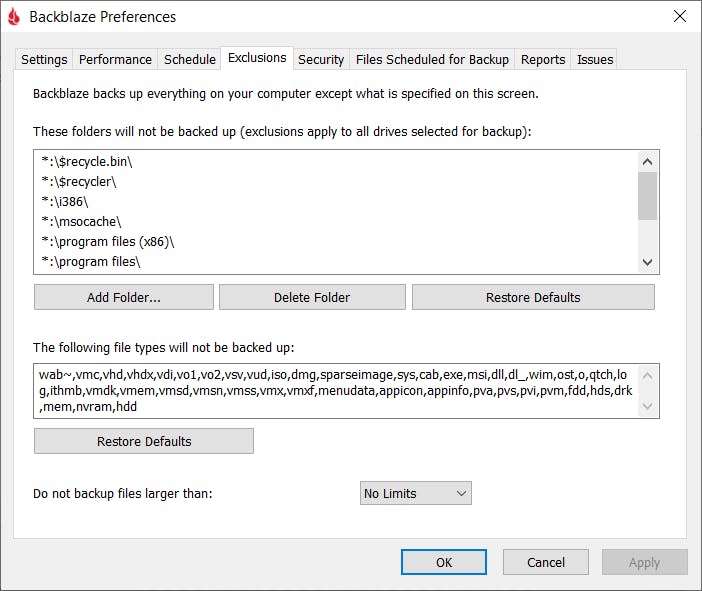 The Exclusions tab lists all folders that the software doesn't back up.
Thanks to this workaround, we were able to configure our backup to our preferences, however, it's tedious and unnecessarily complicated.
Backup Options
In addition to Exclusions, you'll have the following options for your backups:
By clicking on the Reports tab, you can see how much data you've backed up, sorted by type (documents, photos, music, etc.). In addition, it's also possible to check how much storage space your backups use.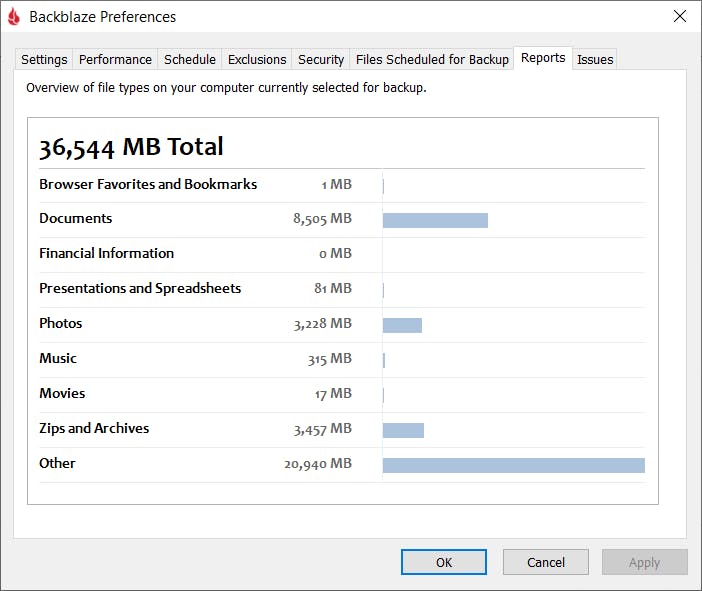 In the Reports tab, Backblaze summarizes how much and what kind of files you've backed up.
The Performance tab displays all technical specs for your backup, including the last transfer speed and a list of blocked network connections.

Schedule is where you'll specify when your backups should occur. You can select Continuous, Daily, and Only when I click <Backup Now>. The first will continuously monitor your system in the background and back up new files or those that have been modified.

Under Issues, Backblaze reports unsuccessful backups or interrupted transfers along with a timestamp.

In the Security tab, you'll be able to specify your encryption preferences (we discuss this more in the Encryption section below).

Files Scheduled for Backup shows which files are new to your system since your last backup.
Storage Location
Backblaze operates data centers in California (US) and Amsterdam (The Netherlands). For users in the EU, data is automatically saved to the Dutch location, while California is the default for US subscribers. The former benefit from stricter EU data privacy laws.
Encryption
So far as security is concerned, Backblaze offers high standards, using the AES 128 algorithm, and transferring files to its data centers over an SSL connection. By default, only Backblaze has the encryption key for these.
Alternatively, you can create a key and store it elsewhere. This guarantees extra security since it prevents unauthorized access if someone gets onto Backblaze's servers. At the same time, all of your backups will be lost if you misplace the key.
To boost your security even further, be sure to enable two-factor authentication.
Recovery
If you want to restore backed-up files, Backblaze offers three possibilities in the Restore Options area:
Web Download allows you to access your backups immediately and for free. A link will be emailed to you, with which you can download a Zip folder from Backblaze's website, after logging in. For security reasons, direct downloads aren't possible.

If you select USB Flash Drive, Backblaze will save your data to a USB stick and mail it to you. This option is limited to backups smaller than 256 GB. In addition, at $99 per stick, it isn't exactly a bargain.

For USB Drive, a courier will deliver an external hard drive containing your files (no size limit) to you. Costing $200 per delivery, this is also an expensive luxury.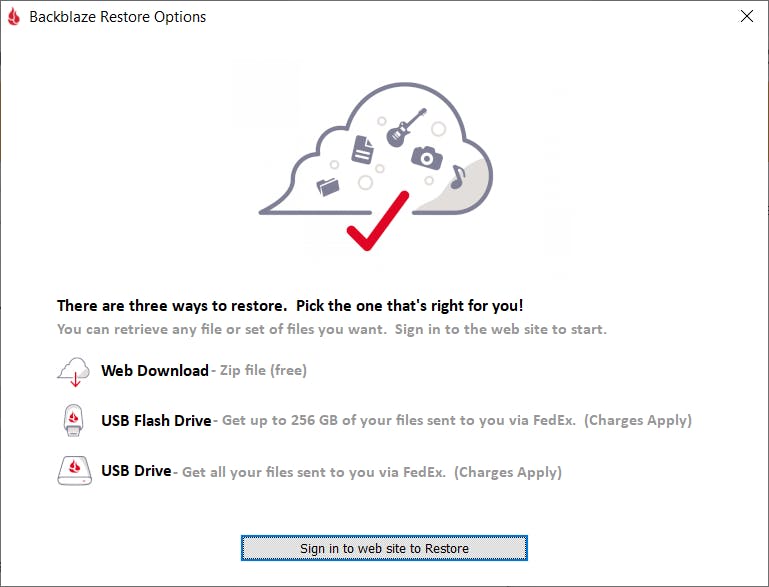 Should you not want or be unable to immediately download your files, Backblaze will send them to you on an external storage device for a fee.
Options for Mobile Devices
Backblaze's mobile app can be downloaded from the App Store or Google Play Store.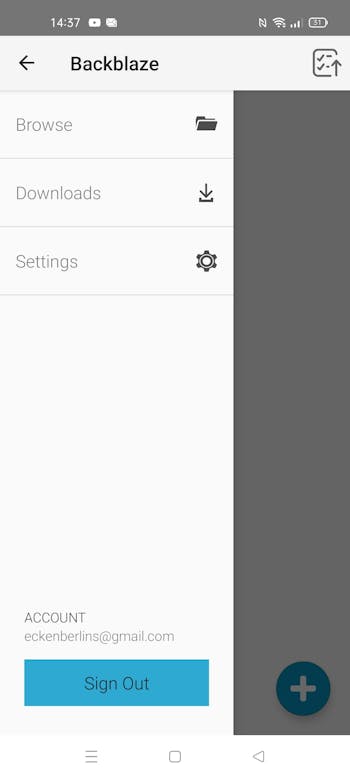 The Backblaze mobile app is just for browsing files.
However, you'll only be able to browse files you've uploaded to the cloud, not download them or create mobile backups. If you'd like to save a backup to your smartphone, you'll need to request a download link (sent via email).
Versions
By default, Backblaze saves unlimited versions of your backups, so long as they aren't older than 30 days. For an extra $2 per month, you can extend this to one year. If you'd like to store your backups permanently, you'll pay an extra fee on top of the $2, based on the amount of storage space needed.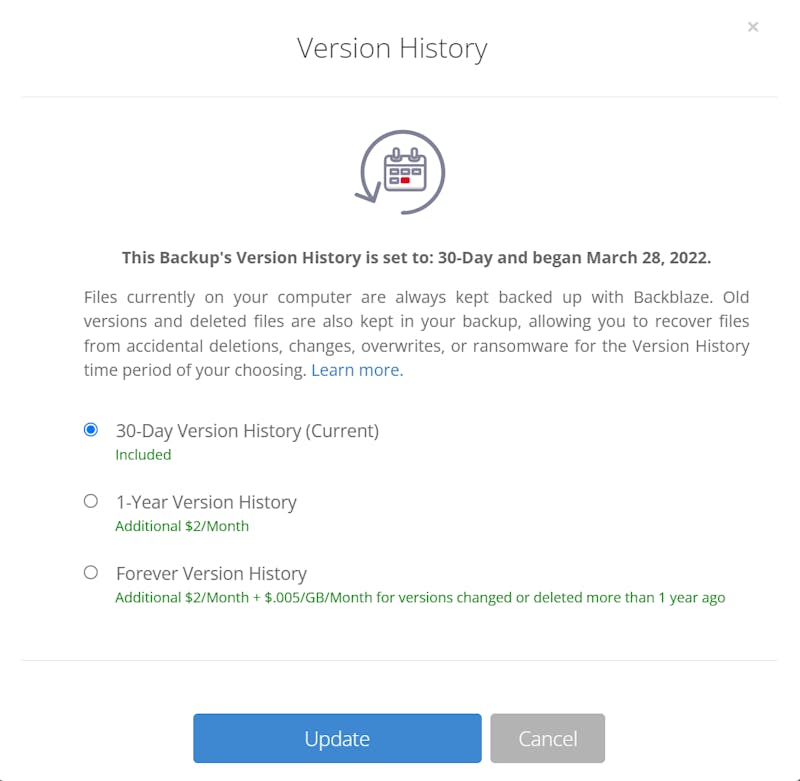 If you'd like to save older versions of your backups, you'll need to pay an extra fee.
In our opinion, the ability to save multiple backup versions is one of Backblaze's greatest strengths. On top of this, the software offers plenty of options for backing up and restoring files.
At the same time, we were frustrated at the 'choice' of uploading our entire drive or excluding specific files and folders manually. Almost every provider from our sample offers much easier solutions for this. Similarly, the need to request a link to a downloadable Zip folder to download any backed-up file or folder is odd. SpiderOak ONE and IDrive are both far more flexible in this area.
During our assessment, Backblaze did very well. Uploading a 1 GB folder took less than a minute, while downloading it took slightly more than two minutes, on our average Internet connection (30 MB/s download speed; 12 MB/s upload speed).
As such, Backblaze wound up in the middle of our sample. It didn't consume a large amount of CPU or RAM, however. Taken together, Backblaze did well enough to earn a "good" score from us.
Backups don't always go according to plan. For that reason, Backblaze's help center offers FAQs for the most common issues. These answer questions relating to how long the software archives versions, and how to select files for recovery. Thanks to a large number of screenshots, we found these guides to be very helpful and understandable.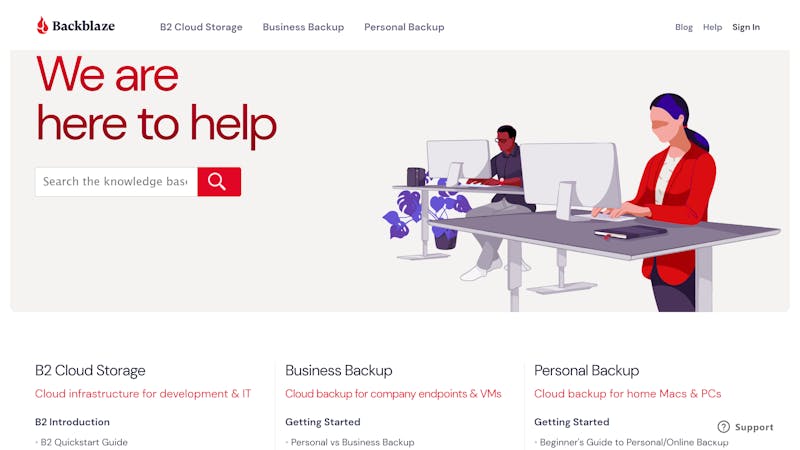 The static content in Backblaze's help center includes plenty of informative guides and articles.
In case the FAQs don't answer your question, you can try the chatbot. If it's also stumped, you'll be able to send an email or ticket (via a form) to the customer support team. No hotline is offered.
We asked whether it was possible to back up individual folders, and received a satisfactory answer the next day. The staffer didn't just copy and paste an answer, but actually appears to have taken the time to reply to us with a personalized message.
Overall, support was good, even though we would prefer to have the ability to call a telephone hotline or use a live chat. For that reason, we can only award a "satisfactory" score.
Backblaze's pricing structure is straightforward:
Individuals pay a flat rate per month and get unlimited storage space; each license is only valid for a single computer.

If you decide on an annual or two-year subscription, you'll pay much less than on a month-to-month basis.

Businesses that want to back up servers or NAS drives get B2 Cloud Storage, the price for which is calculated on how much storage space is used.
Below, we've provided a current overview of Backblaze's rates:
24 months
12 months
1 month
Setup
$0.00
$0.00
$0.00
Price per Month
$0.00
$0.00
$0.00
Price per User
$5.42
$5.83
$7.00
Contract Periods (Month)
24
12
1
Limits
Storage
unlimited
unlimited
unlimited
Number of Devices
unlimited
unlimited
unlimited
Features
Full Disk Backup
Private Key Encryption
File Versioning
Two Factor Authentication
Platform

Cloud / SaaS

Windows

macOS

iOS

Android

Cloud / SaaS

Windows

macOS

iOS

Android

Cloud / SaaS

Windows

macOS

iOS

Android
Compared to the other providers from our sample, Backblaze's plans are both affordable and transparent. As such, the company keeps true to one of its central promises.
When set alongside the other providers from our sample, a yearly subscription to Backblaze that includes at least 250 GB of storage space is relatively inexpensive:
1.
2.
3.
4.
5.
6.
7.
8.
Should you want to test the software out before purchasing a subscription, a free, 15-day trial is offered. If you book a one or two-year subscription, you'll also get a 30-day money-back guarantee.
Conclusion
Installation & Usage
10 / 10
Backblaze is a safe and relatively affordable cloud backup service that impresses in terms of performance. The nice selection of recovery options makes it particularly easy to share backed-up data.
Our biggest complaint is the inability to back up individual folders or files in a user-friendly way. Recovery could also be streamlined, and the mobile app should allow mobile backups, or at the very least, easy downloads of backed-up files.
Overall, Backblaze is a decent solution for those who want to easily secure their system without breaking the bank. On the other hand, if you're looking for extra features and maximum flexibility, there are much better options available.
Backblaze offers unlimited storage for a low flat rate. Unfortunately, backing up and restoring data is sometimes a bit cumbersome.
complicated backup and restoring of data
no backup of mobile devices
7.8

good
Storage
Devices
Contract Period
Backblaze 24 months
monthly price
Visit Website*
15 days free trial
Customer Reviews
We checked the most popular online portals for reviews about Backblaze. Its price-performance ratio is seen by many as good, as is its provision of unlimited storage space at a low price. The main criticisms against it relate to customer service and difficulties in restoring files. Overall, it gets a "satisfactory" customer score.
Customer Ratings
1,327 Bewertungen
Visit Website*
We analyzed the reviews and ratings from various portals and found 1,327 ratings with an overall rating of 3.4 out of 5 .
Alternatives
Should unlimited storage space and a user-friendly interface at a fair price be important to you, give Crashplan a look. It's particularly well-suited for small businesses. On the other hand, if you'd like plenty of backup options and top performance without breaking the bank, SpiderOak ONE is worth considering.
Or perhaps you want to back up your mobile devices and store sensitive data on servers based in the EU, benefitting from its strict data privacy standards? If so, Acronis Cyber Protect Home Office offers a comprehensive backup program that does all of that and more.
Below, you can review more of the best alternatives to Backblaze:
Acronis True Image is an excellent cloud backup solution for both beginners and advanced users, offering many features besides just syncing and backup.
Malware protection included
Backup for mobile devices
9.4

excellent
Storage
Devices
Contract Period
Acronis Advanced 50 GB (1 Computer)
$4.58
monthly price
Visit Website*
30 Day Free Trial
1&1 IONOS provides very good performance, moderate pricing and excellent support. It is suited for both private users and companies.
30 days money back guarantee
somewhat complicated setup
9.0

excellent
Storage
Devices
Contract Period
IONOS MyDefender Starter
$2.50
monthly price
Visit Website*
Try IONOS Now
SpiderOak stands out with strong performance and end-to-end encryption, where data is encrypted before being uploaded.
Storage
Devices
Contract Period
SpiderOak 150 GB
$5.75
monthly price
Visit Website*
Crashplan is a solid backup program that features a user-friendly interface and unlimited storage space. However, image backups of the entire system are not supported.
simple, intuitive interface
no backup of mobile devices
8.2

good
Storage
Devices
Contract Period
CrashPlan Backup
monthly price
Visit Website*
30 Day Free Trial
Synology C2 scores with great performance and good value for money. Automatic encryption of the data before uploading ensures a high level of security.
Storage
Devices
Contract Period
Synology Personal 500 GB
$2.92
monthly price
Visit Website*
* Ad disclaimer:
For links marked with an asterisk, EXPERTE.com may earn a commission from the provider. The commission has no influence on our editorial rating.

After her studies in physical engineering, Silvia Benetti was active in the development of wind turbines. She has been writing about technical subjects as a freelance author for several years. Her focus areas include IT, artificial intelligence, industry 4.0 and renewable energies.
Continue Reading
Other languages
Deutsch