IONOS Cloud Backup Review 2023: German Data Security?

Ad disclaimer:
For links on this page, EXPERTE.com may earn a commission from the provider. This supports our work and has no influence on our editorial rating.
Ransomware attacks increase every year. Regularly backing up your data is one of the best steps you can take to avoid the temptation of paying a hefty ransom.
The German IT company, IONOS, offers a wide selection of security tools with its cloud backup solution; is it worth it?
What Is IONOS?
1&1 Internet entered the market in 1998 as a hosting provider. In 2018, it changed its name to IONOS* and began offering cloud backups, while its hosting services were spun off to 1&1 Telecommunications.
IONOS' cloud backup solution is based on that of another German software company, Acronis, and emphasizes security and multi-functionality. We assessed it and below will discuss its advantages and disadvantages
IONOS Cloud Backup Rview
Installation & Usage
7.4 / 10
Comprehensive security concept
Free subscriptions lack storage space

No option to easily share backups
IONOS offers two backup solutions: Since 2021, individual users and small businesses can take advantage of its MyDefender security suite, which includes backup capabilities. Depending on the subscription you select, backups are possible either on several or unlimited devices. Windows (7 and above), macOS (OS X El Capitan 10.11 and above), Android (5.0 and above), and iOS (10.3 and above) are supported
For larger businesses with their own servers, there's Cloud Backup. This is also compatible with virtual machines, like Hyper-V and Virtuozzo, as well as SQL and exchange servers.
If you'd like to protect your data with IONOS MyDefender, download its Cyber Protection Agent. Once installed, register your new system and it should appear in the device overview area.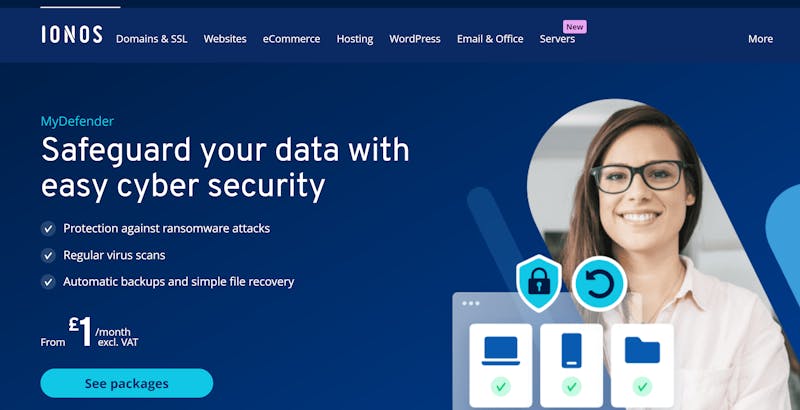 MyDefender offers backups along with many other security features.
We tested IONOS MyDefender but had to wait several days for our account to be activated. Only after we called customer service was our account unlocked.
However, that wasn't the end of our difficulties since we were unable to register our system with the software. Our attempts to change the password ended with errors since we never received the required link via email. Overall, our setup experience was very complicated. In contrast to other providers, it wasn't possible to simply input all of our data and start backing up our files.
User Interface
After opening the backup console, you'll see the following areas:
Dashboard – This provides an overview of all ongoing processes across your devices as well as any notifications.
Devices – In this menu, you can manage each of your registered devices, starting or stopping backups.

Pläne – Here, you'll configure your backups, specifying how often they should occur as well as which data should be backed up. It's possible to schedule backups for virtual machines, as well as multiple custom backups that will run separately (for example, a monthly image backup, and a C drive backup every week).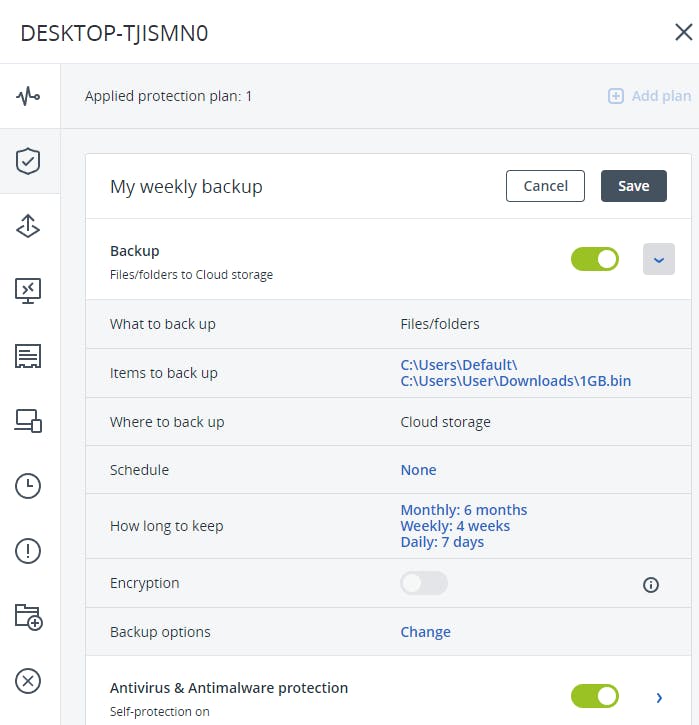 In the "Pläne" menu, you can customize all backup settings.
Anti-Malware Protection – Keep tabs on suspicious files that are in your quarantine.

Software Management – Fine-tune your system's protection plan, such as by configuring malware scans.

Backup Storage – Add local or external storage locations (both cloud-based or on another system).

Reports – A summary of all backups and recoveries.

Settings – By enabling options like Changed Block Tracking (CBT), files will be monitored for changes and only uploaded to the cloud if they've been modified.
The interface remains intuitive, even though it offers a wide variety of options and we were quickly able to find whatever feature we needed without issue. Only the complicated registration process and difficulty getting started lowered IONOS' score in this area.
Installation & Usage
7.4 / 10
In order to create a backup, click on the "Add +" button in the upper right or select the device that you'd like to back up. Next, you'll be able to decide whether you'd like to perform an image backup which will save all system and application data. Alternatively, you can back up individual drives, folders, and files to the cloud.
With MyDefender, you'll have the following backup options:
Storage – Specify how long your files should be saved and how many versions are stored.

Local or cloud – Files can be saved either to the cloud, external storage, or another device.

Snapshots – Instead of individually backing up files, the software 'photographs' your drive at a specific point in time. After an attack or data loss, you can turn the clock back and restore the device to its earlier condition.

Scheduling – Decide when your drive or files are backed up. Alternatively, you can create backups manually whenever it's convenient for you.
Storage Location
Data security enthusiasts will likely have no issue with IONOS. MyDefender subscribers aren't able to specify their server location, however, since all of these are in Germany, they're subject to strict EU laws. Cloud backup customers can choose for their data to be stored either in Germany or the US. All data centers are ISO-certified.
Encryption
IONOS leaves the choice of encryption algorithms up to its users, offering AES 256, the gold standard. For boosting your account's security you can also enable two-factor authentication. It's possible to encrypt backups with a user-defined password that isn't stored on IONOS servers, preventing unauthorized individuals from accessing your files. Should you forget it, however, you'll lose access to all of your backups.
Recovery
By heading to Devices > Recovery you can restore or download backed-up files and folders to an external storage device. Should there be multiple backups of the same system, select the one that you'd like to revert to.
Using a boot medium, you can also restore an entire system. During our test, we saved our backup of the "Documents" folder to another system and had no difficulty opening or accessing it there.

Restoring files is straightforward with IONOS.
Mobile App
In case you want to create a backup of your smartphone or tablet, you'll need to download Acronis Cyber Protection. This allows you to safely store music, photos, messages, as well as contacts, and access them from anywhere.
The app is easy to use, however, it doesn't include all of the desktop program's features. For example, you won't be able to create image backups.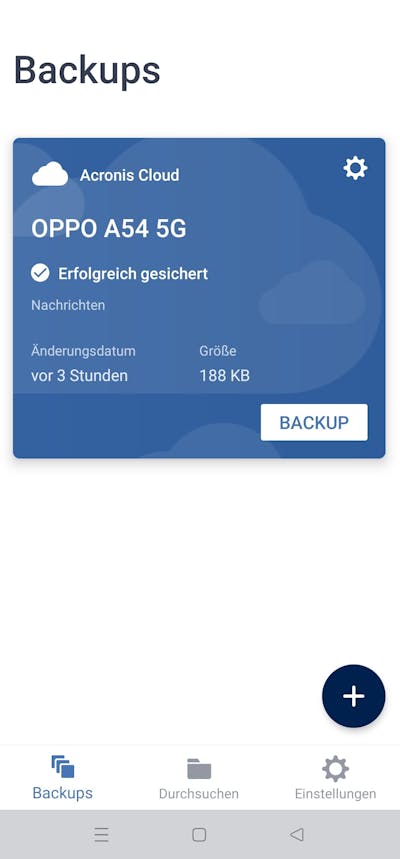 With the accompanying smartphone app from Acronis, it's possible to easily create mobile backups as well.
Extras
Apart from backups, IONOS also offers a range of different cybersecurity solutions. For that reason, MyDefender includes quite a few options for protecting your system:
Anti-Malware Protection

– This scans your backup folders for malware. Whenever a threat is identified, it will be quarantined.

Ransomware and cryptocurrency mining prevention

– Notifies you whenever a program attempts to encrypt files in the background.

Self-protection – This prevents malware from changing local backups or their configuration files.

Vulnerability detection – Check your system for weaknesses, poorly-secured areas, and suspicious files.
Broadly speaking, IONOS offers a wide variety of options for customizing backups. We were very impressed with its numerous analytical tools and how they help to identify and close security gaps. For this reason, the German provider was awarded the maximum points in this section.
Apart from our difficulties when getting started, MyDefender performed well. Files and folders are quickly backed up and downloadable from the cloud (we checked with a 1 GB folder). Restoring files was particularly fast (download speed, 30 MB/s, upload speed, 23 MB/s) with minimal CPU and RAM usage.
The table above compares the results of our speed test with those of the other providers from our sample. According to it, MyDefender's cloud backups have very good download speeds. In terms of upload speeds, the rates are average. For this reason, we award the provider a "good" score in this area.
Should you encounter difficulty with your backup or recovery, IONOS offers four options for getting help:
In the Help Center, you can find answers to specific questions or topics by keyword search (such as "backup recovery"). IONOS will then suggest articles with detailed guides and even video tutorials.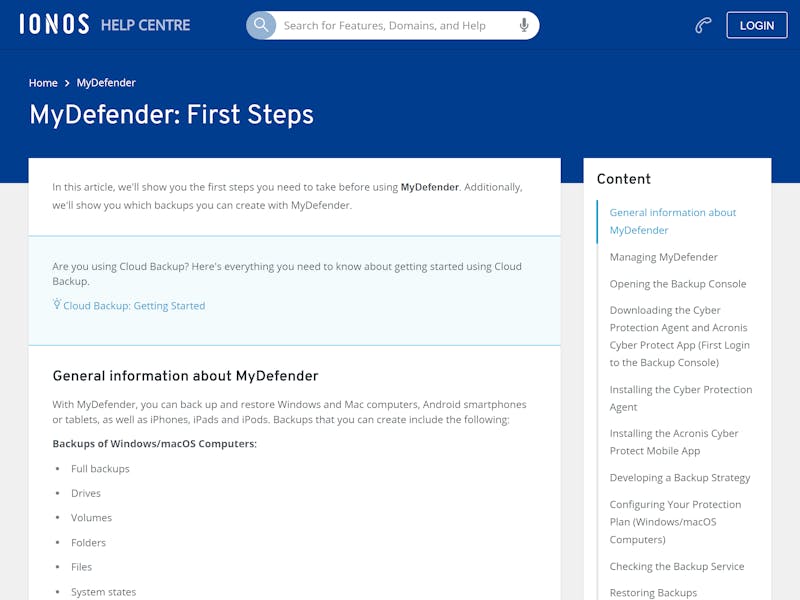 You can find detailed guides in the IONOS Help Center.
With the online contact service, you can file a ticket or begin a live chat.

A telephone hotline is available to registered users around the clock.

In addition, there's a personal adviser who you can contact directly. They won't only help solve problems but also offer tips and suggestions for enhancing your backup strategy.
We called the hotline a few times because of the account issues mentioned above (our account was not enabled and we could not log in to it on our computer).
The staffer we spoke to was friendly and took the time to address our problem. He also clarified each step we would need to follow to rectify the issue. For this reason, we award IONOS support a perfect score.
IONOS offers different subscriptions for both private (MyDefender) and professional (Cloud Backup) users. MyDefender includes all of the extra features we mentioned above. Prices vary according to how much storage space is needed as well as the number of devices that can be connected. The most affordable rate includes 100 GB of storage and 1 device, with the most expensive offering 1 TB of storage and unlimited devices.
MyDefender Starter
MyDefender Plus
Cloud Backup 100GB
MyDefender Pro
MyDefender Expert
Cloud Backup 250GB
Cloud Backup 500GB
Cloud Backup 1 TB
Cloud Backup 2 TB
Setup
$0.00
$0.00
$0.00
$0.00
$0.00
$0.00
$0.00
$0.00
$0.00
Price per Month
$2.50
$5.00
$7.00
$9.00
$15.00
$16.00
$32.00
$62.00
$120.00
Price per User
-
-
-
-
-
-
-
-
-
Contract Periods (Month)
1
1
1
1 - 12
1
1
1
1
1
Limits
Storage
100 GB
250 GB
100 GB
500 GB
1,000 GB
250 GB
500 GB
1,000 GB
2,000 GB
Number of Devices
1
3
unlimited
5
unlimited
unlimited
unlimited
unlimited
unlimited
Features
Full Disk Backup
Private Key Encryption
File Versioning
Two Factor Authentication
Platform

Cloud / SaaS

Windows

macOS

iOS

Android

Cloud / SaaS

Windows

macOS

iOS

Android

Cloud / SaaS

Windows

macOS

iOS

Android

Cloud / SaaS

Windows

macOS

iOS

Android

Cloud / SaaS

Windows

macOS

iOS

Android

Cloud / SaaS

Windows

macOS

iOS

Android

Cloud / SaaS

Windows

macOS

iOS

Android

Cloud / SaaS

Windows

macOS

iOS

Android

Cloud / SaaS

Windows

macOS

iOS

Android
For businesses or organizations, subscriptions are marketed under the Cloud Backup label. You can choose between packages that include a specific amount of storage, or more flexible pay-as-you-go options.
The table below compares how much 250 GB of cloud storage costs per year from each provider in our sample:
1.
2.
3.
4.
5.
6.
7.
8.
Conclusion
Installation & Usage
7.4 / 10
With its private and professional backup solutions, IONOS offers a solid all-around package that doesn't stop at securing your data, but also, protects your entire system. The wide selection of options is particularly appealing, data transfer rates are fast, and smartphone backups are possible.
All the same, the software does have some weaknesses. We needed to invest quite a bit of time to register and set up the service. On top of that, you don't get too much storage for your money.
In case you want to comprehensively protect your devices against malware and ransomware and don't need too much storage space, MyDefender and IONOS Cloud Backup are worth considering. However, if your focus is on backing up large amounts of data, several providers offer more for less.
1&1 IONOS provides very good performance, moderate pricing and excellent support. It is suited for both private users and companies.
30 days money back guarantee
somewhat complicated setup
9.0

excellent
Storage
Devices
Contract Period
IONOS MyDefender Starter
$2.50
monthly price
Visit Website*
Try IONOS Now
Customer Reviews
IONOS' cloud services generally enjoy positive reviews. Plenty of users commend their features, good data transfer rates, and intuitive interfaces. However, most of these are directed at Cloud Backup and not MyDefender. Since it's a relatively new product, the latter has fewer reviews.
Customer Ratings
34,633 Bewertungen
Visit Website*
We analyzed the reviews and ratings from various portals and found 34,633 ratings with an overall rating of 4.2 out of 5 .
Alternatives
If you'd like a cloud backup solution that offers an excellent price-performance ratio, SpiderOak ONE is a user-friendly alternative to IONOS. On the other hand, if you'd prefer to stick with Acronis, Cyber Protect Home Office is powerful, albeit a bit pricey. Should you want a no-frills backup that won't break the bank, you might want to consider IDrive or Backblaze.
You can find more of the best alternatives here:
Acronis True Image is an excellent cloud backup solution for both beginners and advanced users, offering many features besides just syncing and backup.
Malware protection included
Backup for mobile devices
9.4

excellent
Storage
Devices
Contract Period
Acronis Advanced 50 GB (1 Computer)
$4.58
monthly price
Visit Website*
30 Day Free Trial
SpiderOak stands out with strong performance and end-to-end encryption, where data is encrypted before being uploaded.
Storage
Devices
Contract Period
SpiderOak 150 GB
$5.75
monthly price
Visit Website*
Crashplan is a solid backup program that features a user-friendly interface and unlimited storage space. However, image backups of the entire system are not supported.
simple, intuitive interface
no backup of mobile devices
8.2

good
Storage
Devices
Contract Period
CrashPlan Backup
monthly price
Visit Website*
30 Day Free Trial
Synology C2 scores with great performance and good value for money. Automatic encryption of the data before uploading ensures a high level of security.
Storage
Devices
Contract Period
Synology Personal 500 GB
$2.92
monthly price
Visit Website*
Backblaze offers unlimited storage for a low flat rate. Unfortunately, backing up and restoring data is sometimes a bit cumbersome.
complicated backup and restoring of data
no backup of mobile devices
7.8

good
Storage
Devices
Contract Period
Backblaze 24 months
monthly price
Visit Website*
15 days free trial
* Ad disclaimer:
For links marked with an asterisk, EXPERTE.com may earn a commission from the provider. The commission has no influence on our editorial rating.

After her studies in physical engineering, Silvia Benetti was active in the development of wind turbines. She has been writing about technical subjects as a freelance author for several years. Her focus areas include IT, artificial intelligence, industry 4.0 and renewable energies.
Continue Reading
Other languages
Deutsch