Cloud Backup Review: 1&1 IONOS HiDrive

HiDrive, 1&1 IONOS's cloud storage service ⇱, represents a joint venture between it and STRATO, a German hoster, known for its high-security standards. In this review, we'll take a closer look at what HiDrive is capable of, summarizing our most important findings for you.

This review is divided into four sub-categories, each of which details how the service performs when set against similar products. Alternatively, if you're in a hurry, you can scroll down to the pros and cons, overall evaluation, or the scores from each of the four sub-categories.
Review
Installation & Usage
7.4 / 10
Sleek and well-organized user interface

Apps for iOS, Android, and Windows

Data transfers with SSL-256 or AES-128 (conforming to ISO 27001)

24/7 e-mail support and free hotline

Excellent price-performance ratio
Lacks web office functionality

Accompanying software is incompatible with macOS and Linux

Versioning, mobile device backups, as well as FTP and SCP protocols only available in the more expensive packages

No Office 365 or Google backups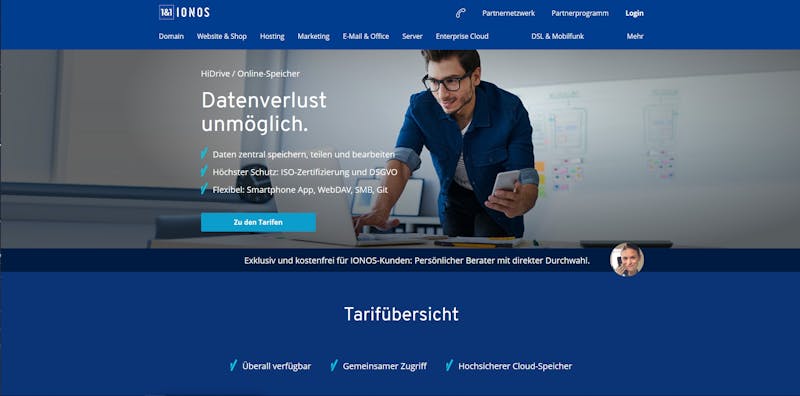 1&1 IONOS's homepage is neatly organized, prominently showcasing the benefits of its cloud storage service, namely, personalized support, strong security, easy user administration, and effortless file sharing. A bit further down the page, you'll be provided with a clear overview of the different packages on offer. Should you be looking for end-to-end encryption, backups for mobile devices, unlimited storage, and the ability to add multiple users to a single account, there's no getting around the "Pro" package. However, if you're demands are not so extensive, the "Basic" or "Essential" packages are good options. During testing, we evaluated the latter of these, which includes 250 GB of storage, and allows for up to three different users to be added.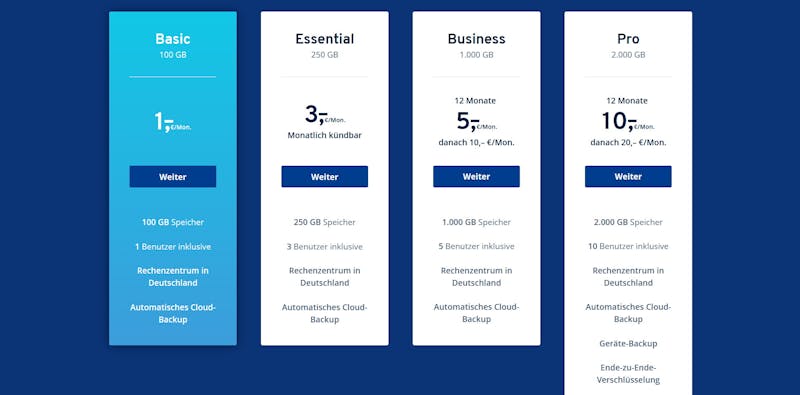 After clicking on the package we had selected, we were taken to the registration and payment pages. Interestingly, while paying with PayPal is possible, doing so with a credit card isn't. If needed, prior to paying, you can also add extra features to your subscription package (at cost), such as a unique domain for even easier access.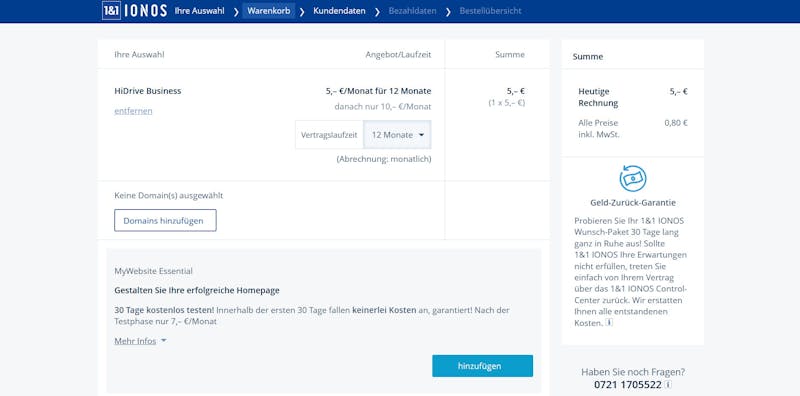 Once registration is finished, you'll create your administrator account, since your 1&1 IONOS login data doesn't automatically become your HiDrive account. At first glance, this appears an inconvenience, however, it is part of the service's security and user protocols and does serve a purpose. After you've created your HiDrive account, you'll be taken to your new cloud storage system's control center.

This area is neatly organized and configured so that you can immediately get to work backing up your files and folders or adding new users. Even without any background knowledge, it doesn't take long to get a feel for the program's ins and outs.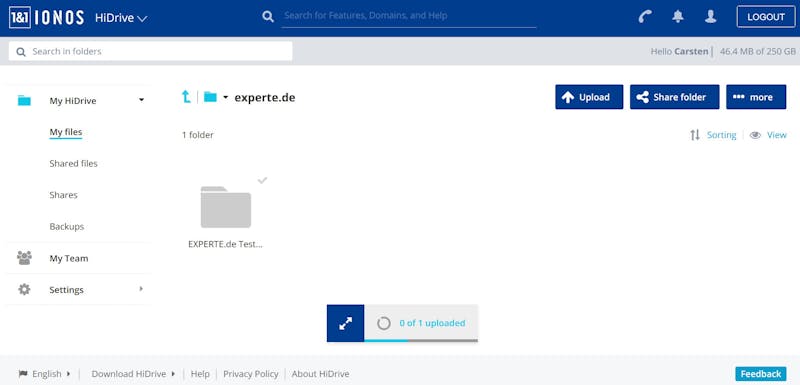 Registering with 1&1 IONOS was simple and quick, with little more to do than enter the usual data and pay. We were able to start backing up files quickly thanks to HiDrive's convenient control center. Our only complaints were the need to create two accounts (one for 1&1 IONOS, and another for HiDrive) as well as the inability to pay for the service by credit card. Taken together though, getting started with the service is a breeze, regardless of your level of experience or IT know-how.
Score: 4.3 / 5
3.
Interface & Ease of Use
HiDrive's sleek user interface puts all of the service's features and functions at your fingertips. Through the upper navigation bar, you can view your 1&1 IONOS service package, adding domains, web servers, or other features and products from the company's portfolio to your heart's content. For HiDrive itself, everything that you need, such as managing your team, granting (or removing) access permissions, as well as backed up files and folders, can be found in the interface's main window. Here, you're also able to generate links for sharing files with others, even if they don't have HiDrive.
The interface's large control panels make it touch-friendly. There aren't a lot of configuration options, but you can check your account settings, manage shared files, and take a closer look at the protocols included in your subscription (such as WebDAV, FTP, GIT, and rsync). You can also generate an SSH key for OpenSSH to enable remote access.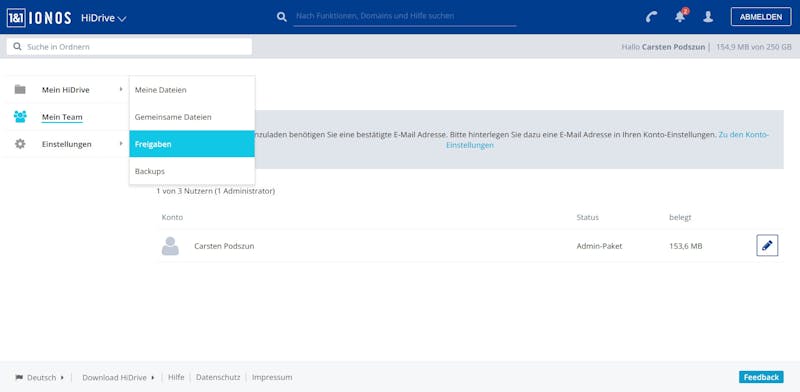 You can also download the service's Windows client through the control center. This is not a typical program, such as those offered by other cloud services, but a cloud drive, complete with its own partitions, that is embedded in your operating system. A HiDrive directory is created on your system that automatically synchronizes files or folders you put into it with your cloud storage. This feature makes using HiDrive on Windows even easier since you won't have to do anything through your browser. Unfortunately, this software is only available for Windows, meaning that Linux or macOS users are left in the lurch.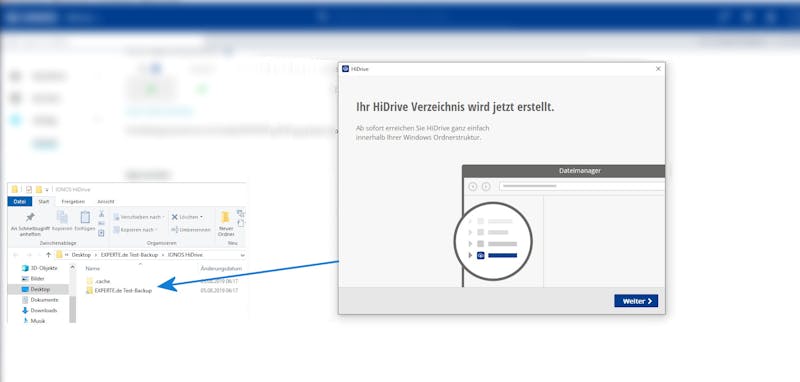 For those searching for an all-in-one program that allows users to manage or create local backups, look elsewhere as 1&1 IONOS's HiDrive doesn't offer these. What it does provide, however, is a simple tool that apart from its very clear web interface, embeds a dedicated cloud-syncing drive in your operating system. This simplicity is what truly sets HiDrive apart since it's easy to set up and configure. Just install the software, copy files, or create a backup folder, and you're good to go.
We're pretty sure that this simplicity is especially attractive for beginners, however, 1&1 IONOS doesn't marginalize more advanced users, since it also enables tinkering with protocols such as SSH and WebDAV, among others. For these reasons, the service can be seamlessly integrated into any (Windows) system and we aren't shy about giving it a solid score.
Score: 4.7 / 5
4.
Functionality and Performance
Despite the program's simplicity, 1&1 IONOS HiDrive still manages to provide access to a nice range of features from which experts, businesses, and advanced users can all profit, including the added connection possibilities through different protocols. Files that are running or opened can also be backed up, encrypted (end-to-end encryption is only offered in the more expensive subscription packages), and (nearly) automatically sent to the cloud with the use of the service's software.
The high degree of user account control greatly facilitates working in teams, also making such work more efficient and secure. Projects can be shared online without hassle, and collaboration is a cinch. With the "Pro" package, you're also given the possibility to backup entire devices, allowing you to save contacts, calendars, photos, and videos from your Android or iOS device.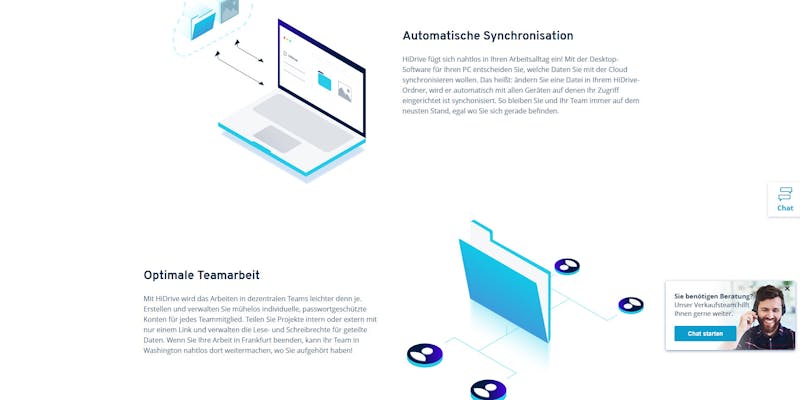 Additional products from 1&1 IONOS's portfolio (web servers, domains, and others) can be easily booked by adding them to your subscription. The remaining administrative matters, such as user or payment management, as well as the service's integration into your existing IT infrastructure, are also very straightforward. HiDrive's round-the-clock support hotline is the figurative cherry atop the program's package of features, ensuring that functionality and ease of use are perfectly balanced.

Unfortunately, in comparison to other providers, the service is missing some features that we look out for, such as social media, web office, or local backups, as well as the ability to directly edit Office documents in the cloud. Compounding this, the selection of features offered in the "Essential" and "Business" packages isn't all that great, with a number of different protocols and device backups nowhere to be found. However, in spite of this criticism, HiDrive's relatively low price (starting at just $1 per month) shouldn't be overlooked. If more features are needed, transitioning from a less expensive package to a more comprehensive one is easy, as is the booking of certain features (such as more storage capacity) for an existing subscription.
Despite the absence of a few features provided by other services, HiDrive does offer a number of useful features that set it apart from its competitors. We've listed some of these for you below.
Special Features Offered by 1&1 IONOS HiDrive
Strong Security
HiDrive supports end-to-end encryption, meeting the ISO 27001 security standard's requirements. This ensures that all of your data is secure.

User Management
Starting with the "Essential" package, multiple users can be added to an account, allowing them to access and synchronize selected folders in HiDrive. This makes collaborating and working together digitally on individual documents or projects easy.

Multi-Platform
Software is available for Windows, while a browser solution is provided for macOS and Linux subscribers, as well as a native app for iOS and Android users.

Device Backups
Beginning with the "Pro" package, full backups of smartphones and devices can be performed.

Additional Access Options
In addition to WebDAV, HiDrive's "Pro" subscription also includes support for additional protocols that allow users to wirelessly connect cloud storage to existing system infrastructure. These include (S)FTP/FTPS, rsync, SMB/CIFS, SCP, and Git Repository for developers.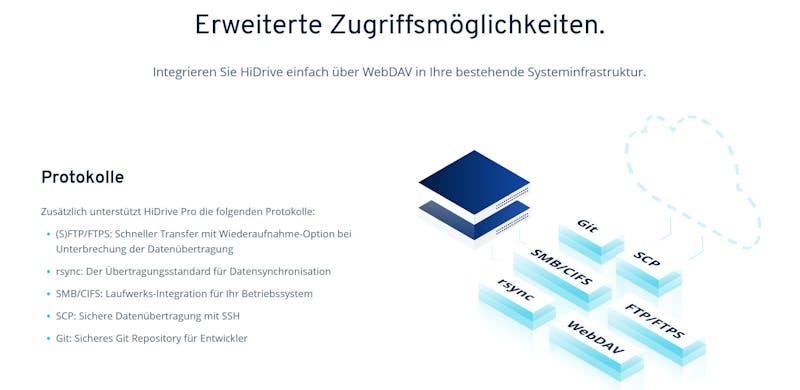 User control and the advanced access options and protocols ensure that HiDrive is appealing to professional users as well as beginners. The service has an excellent price-performance ratio, provides access to all basic functions, and is easy to use.
Of course, if you're a macOS or Linux user, HiDrive isn't really doing you any favors, and even if you aren't, you'll still have to make do without local, social media, or web office backups. As long as you can accept these limitations, you'll be able to rely on a well-performing and solid cloud solution regardless of whether you're a private user, small business, or even company.
(Features) Score: 3.7 / 5
Server Performance and Capacity
HiDrive comes in four different packages. The first of these, "Basic", provides a single user with access to 100 GB of cloud storage. This is targeted at those who want to make use of the service and its servers, without having to book a great deal of space or share their files with others. The "Essential" (250 GB) and "Business" (1 TB) packages provide significantly more storage capacity, as well as the ability to provide access to 3 and 5 users, respectively. Only with the "Pro" package, which includes 2 TB of storage, are additional features, such as device backups or end-to-end encryption, put at users' fingertips. Versioning is included in the "Business" and "Pro" packages.
Should the amount of storage provided in the "Pro" package not be enough, it's possible to book additional 100 GB data supplements at cost.
During testing, a folder with 153 MB of content was uploaded in around 2 minutes, making good use of the connection's entire upload capacity. For anyone who needs to continuously upload and/or synchronize large volumes of data, in relation to HiDrive's price, its performance is first-rate. We also like the flexibility that the service offers, should extra capacity be needed.
(Server) Score: 5 / 5

Score: 4.3 / 5
In regards to security, 1&1 IONOS is definitely not to be trifled with. All uploaded files are encrypted with AES-128 and stored in a highly-secure data center in Germany. This is where the partnership with STRATO comes into play since HiDrive's users profit from its ISO 27001 certification. For "Pro" subscribers, end-to-end encryption with SSL-256 is provided. In terms of transferring data and storing it on the cloud, HiDrive doesn't leave many wishes unfulfilled.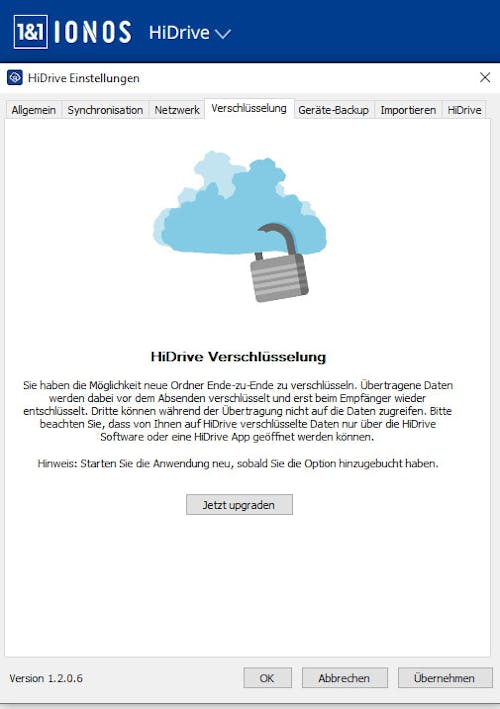 HiDrive offers end-to-end encryption for "Pro" subscribers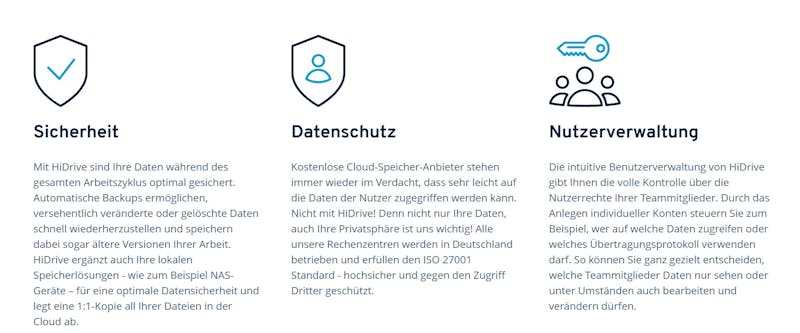 The service's commitment to security is rounded off with its secure password requirements when creating an account, the ability to backup opened or running files, and login encryption. Multiple data centers also ensure that a backup is available at any time. Only the absence of multi-factor authentication slightly sours our otherwise positive view of HiDrive.
Score: 4.7 / 5
HiDrive's app is available for both iOS and Android, and provides complete access to all files that you've uploaded to the cloud. Through the app, you can also grant access permission for files or upload them directly from your smartphone.
Device backups for Android and iOS users are only included in the "Pro" subscription, which is a letdown for subscribers to the other three packages. These allow photos, videos, and calendars to be automatically uploaded to and synced with the cloud.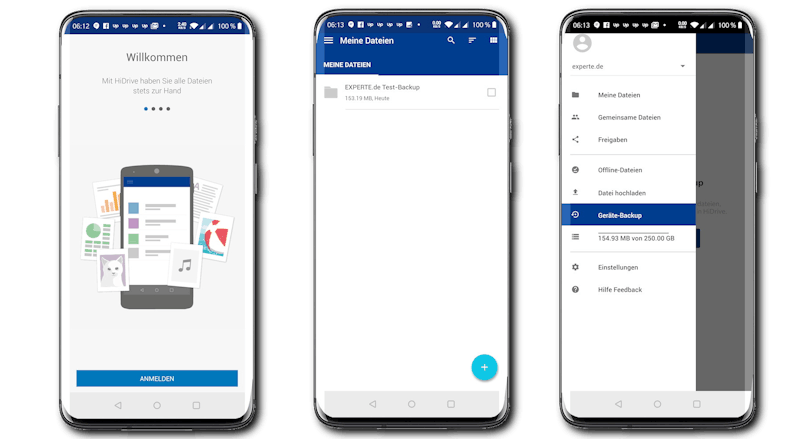 Overall HiDrive's app is both intuitive and easy to use, with the iOS and Android versions not differing from one another in terms of their appearance. The feature limitations of the beginner packages make the app less useful than for "Pro" subscribers, however, it performs well and is user-friendly. The app doesn't provide any web office functionality, meaning that you can't directly edit files. A workaround for this is saving such files to your device, editing them there, and then re-uploading them to the cloud. This option would be very tedious for iOS users owing to the closed systems on their devices.
Score: 4.3 / 5
With regards to support, 1&1 IONOS pulls out all the stops. Help is never more than a phone call away thanks to the provider's free, 24/7 hotline. If you'd prefer to resolve issues on your own, 1&1 IONOS also offers an extensive, informative, and well-structured help center. There, you can receive support for any 1&1 IONOS product, or learn more about them through tutorials and guides.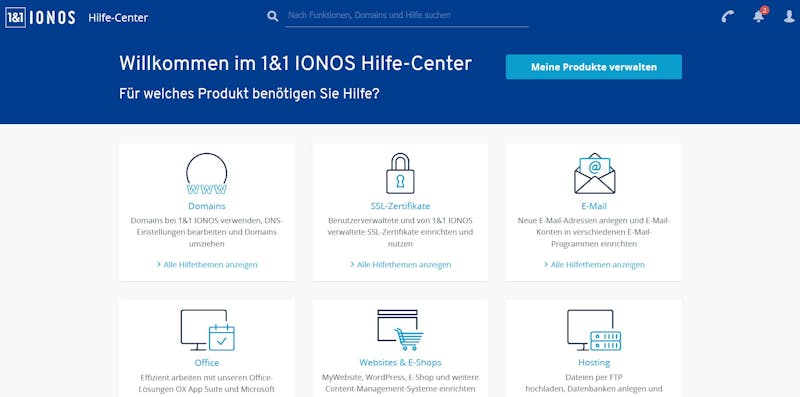 Beyond that, you'll also have the ability to contact 1&1 IONOS digitally. To do this, you'll need to work your way through the help center's FAQs by confirming that they don't help you to resolve your particular issue. Once you've answered "No" a sufficient number of times, you'll be given a contact form for getting in touch with 1&1 IONOS.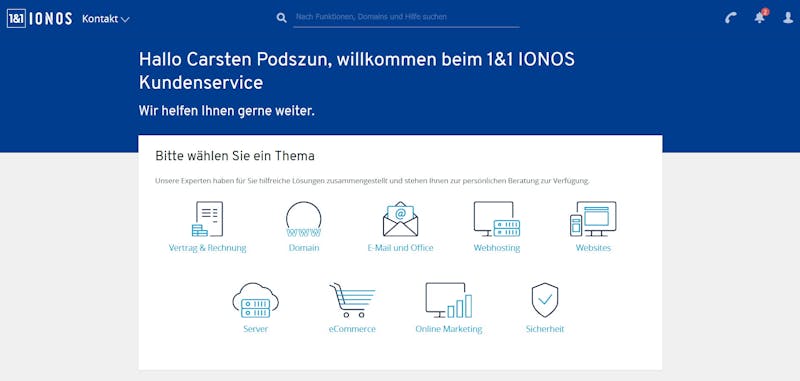 The support staffer we communicated with was able to satisfactorily answer the question we posed. Even complex queries relating to server infrastructure and advanced connection possibilities were answered professionally, if not in the first message, then in follow-up e-mails. The response time was good, and we weren't left hanging during testing. In sum, 1&1 IONOS's support is excellent, clearly setting itself apart from its competitors.
Score: 5 / 5
As mentioned above, HiDrive's price-performance ratio is excellent. The beginner packages are affordable, whereas the more sophisticated packages provide small businesses and companies with advanced features that are well-worth their markup. In particular, as a cloud solution for different teams, HiDrive is a good investment which in terms of connection possibilities and breadth of features, easily eclipses its competitors.
MyDefender Starter
MyDefender Plus
Cloud Backup 50GB
MyDefender Pro
Cloud Backup 100GB
MyDefender Expert
Cloud Backup 250GB
Cloud Backup 500GB
Cloud Backup 750GB
Cloud Backup 1000GB
Cloud Backup 2000GB
Cloud Backup 5000GB
Setup
$0.00
$0.00
$0.00
$0.00
$0.00
$0.00
$0.00
$0.00
$0.00
$0.00
$0.00
$0.00
Price per Month
$2.50
$5.00
$5.00
$9.00
$9.00
$15.00
$22.00
$42.00
$60.00
$75.00
$140.00
$325.00
Price per User
-
-
-
-
-
-
-
-
-
-
-
-
Contract Periods (Month)
1
1
1
1 - 12
1
1
1
1
1
1
1
1
Limits
Storage
100 GB
250 GB
50 GB
500 GB
100 GB
1,000 GB
250 GB
500 GB
500 GB
1,000 GB
2,000 GB
5,000 GB
Number of Devices
1
3
unlimited
5
unlimited
unlimited
unlimited
unlimited
unlimited
unlimited
unlimited
unlimited
Features
Full Disk Backup
Private Key Encryption
File Versioning
Two Factor Authentication
Platform

Cloud / SaaS

Windows

macOS

iOS

Android

Cloud / SaaS

Windows

macOS

iOS

Android

Cloud / SaaS

Windows

macOS

iOS

Android

Cloud / SaaS

Windows

macOS

iOS

Android

Cloud / SaaS

Windows

macOS

iOS

Android

Cloud / SaaS

Windows

macOS

iOS

Android

Cloud / SaaS

Windows

macOS

iOS

Android

Cloud / SaaS

Windows

macOS

iOS

Android

Cloud / SaaS

Windows

macOS

iOS

Android

Cloud / SaaS

Windows

macOS

iOS

Android

Cloud / SaaS

Windows

macOS

iOS

Android

Cloud / SaaS

Windows

macOS

iOS

Android
Overall Evaluation & Conclusion
Installation & Usage
7.4 / 10
We were truly impressed with HiDrive. Some basic features are missing, particularly those that would be most appealing to private users, however, the breadth of functions that the service provides is solid. Companies and businesses, in particular, are likely to profit from HiDrive's user management and the numerous possibilities for integrating the service into existing system infrastructure.
Owing to its strong performance, fair pricing, and excellent support, there isn't much to take 1&1 IONOS's collaboration with STRATO to task for.
For individuals, as well as small businesses or teams, HiDrive is worth its figurative weight in gold.
1&1 IONOS provides very good performance, moderate pricing and excellent support. It is suited for both private users and companies.
30 days money back guarantee
Somewhat complicated setup
9.0

excellent
Storage
Devices
Contract Period
IONOS MyDefender Starter
$2.50
monthly price
Visit Website »
Try IONOS Now
Customer Ratings
Should you still be undecided about whether HiDrive is right for you, the customer ratings and reviews we've compiled might help you make up your mind.
Customer Ratings
31,569 Bewertungen
Visit Website
We analyzed the reviews and ratings from various portals and found 31,569 ratings with an overall rating of 4.2 out of 5 .
Alternatives
Should you prefer to take a look at some other providers, there are two that we recommend wholeheartedly.
If performance, features, and a native app that includes local and device backups are important to you, look no further than Acronis True Image. Individual users and small businesses, in particular, are sure to benefit from its web office functionality, social media backups, and easy creation of system images.
Acronis True Image is an excellent cloud backup solution for both beginners and advanced users, offering many features besides just syncing and backup.
Malware protection included
Backup for mobile devices
9.4

excellent
Storage
Devices
Contract Period
Acronis Advanced (1 Computer)
$7.50
monthly price
Visit Website »
30 Day Free Trial
The second provider we have no hesitation in suggesting is iDrive, especially for anyone not particularly fussy about upload and download speeds. iDrive impressed us owing to its high security standards, excellent apps, and wide range of features. The last of these includes a considerable number of backup solutions for Office 365, databases, and server infrastructure (such as for VMware and Oracle).
IDrive is entirely free in the entry-level package (5 GB) and offers a convincing range of features and is easy to use.
Storage
Devices
Contract Period
IDrive Free
$0.00
monthly price
Visit Website »
5 GB for Free
Storage
Devices
Contract Period
SpiderOak 150 GB
$5.75
monthly price
Visit Website »
Simple, intuitive interface
No backup of mobile devices
8.2

good
Storage
Devices
Contract Period
CrashPlan Backup
monthly price
Visit Website »
30 Day Free Trial
Storage
Devices
Contract Period
Backblaze 24 months
monthly price
Visit Website »
15 days free trial

Carsten Podszun studied computer science and business administration and was self-employed in the retail industry for 15 years. Since 2014 he is a consultant for startups, freelance author and writes at EXPERTE.com about homepage, hosting & IT security.
Continue Reading
Other languages
Deutsch