Ecommerce
Best Alternatives to Shopify 2022: Our TOP 3 Recommendations
The good news first: There are lots of ways to create a digital presence for your business. Beginner-friendly SaaS ecommerce platforms, which help anybody, even those without a lick of programming or web design knowledge, can be used to quickly and easily build an online store. The bad news? You'll have to figure out which of the numerous services is best for your business. But don't worry, EXPERTE.com is here to help!
The first reaction to being confronted with such a range of choices is to go with the most popular, or well-known option. Afterall, if everybody else is using it, it must be good, right?
In the world of ecommerce platforms, one of the most popular is Shopify, thanks in no small part to its user-friendly dashboard, numerous features, and ability to meet all sorts of needs and requirements. Here at EXPERTE.com, we have no problem designating it as one of the best all-around packages on the market, but, that doesn't mean that the service is right for everyone or without issues. During our review, we were disappointed in its slow support, and limited options for personalizing an online store, especially for anyone lacking in knowledge of programming.
So, in this article, we wanted to introduce you to some of the alternatives that exist to Shopify, highlighting our Top 3 in particular. Without further ado, here they are!
1.
Wix Stores - Our Winner
Wix builds on its strengths as a website builder and adds great sales and marketing features. This makes Wix especially suitable for ambitious beginners.
Number of Products
Transaction Fee
Sales Channels
Payment Options
Wix Business Basic
$22.00
monthly price
Visit Website »
14 day free trial
As anyone who reads EXPERTE.com's reviews knows, Wix has shown up, and impressed, in quite a few of our rankings. Its site builder wowed us on account of its variety of features and user-friendliness, so it shouldn't come as much of a surprise that the Israeli provider's ecommerce platform, built around the same site builder, ran away with our hearts in this battery of reviews as well.
Getting into detail, Wix Stores is a highly-functional ecommerce platform that allows pretty much anyone to design a digital storefront with true drag and drop flexibility. Oh, and you won't need to know a thing about coding either! Users can look forward to sensible product management, as well as a variety of selling options, including support for dropshipping, multichannel sales, and multiple language localizations.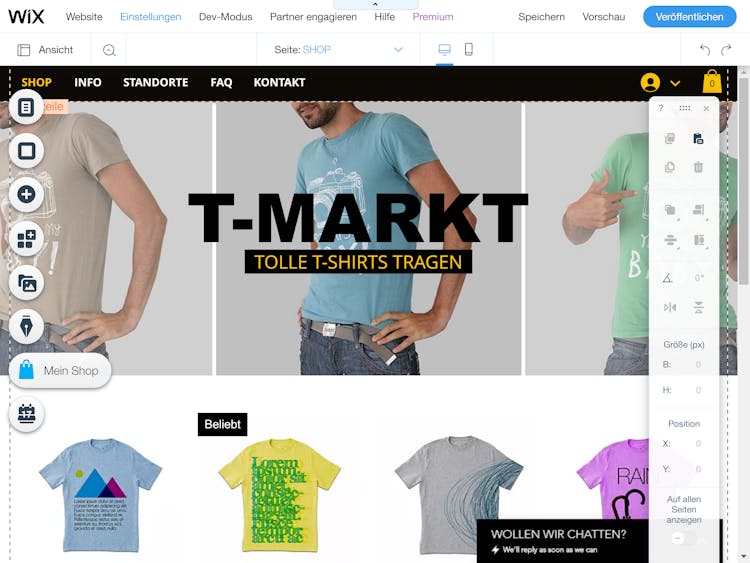 Of course, not all that glitters is gold, and we found a few things we didn't like about Wix Stores. All packages include somewhat strict storage limits (something no other provider we reviewed had), and some functions, like the integration of multiple currencies, can only be accomplished with the help of external add-ons.
Still, at the end of the day, Wix offers the best package in our view, and as such, was our top pick among ecommerce platforms.
Powerful builder which offers users considerable design freedom
Extremely user-friendly and geared towards beginners
Supports dropshipping, multi-channel sales, and POS
Personalizing Your Store
5.0 / 5
Configuration & Usage
4.7 / 5
Product Management
4.7 / 5
Marketing & Analytics
4.3 / 5
2.
BigCommerce - For Big Ecommerce Projects
lots of marketing features
BigCommerce is a powerful ecommerce platform with a well-designed product management, many sales channels and solid analytics features. It is especially suitable for more complex ecommerce projects.
Number of Products
Transaction Fee
Sales Channels
Payment Options
BigCommerce Standard
$29.95
monthly price
Visit Website »
Start Free Trial
BigCommerce does pretty much everything right. The service provides nearly countless options for product management, and the ability to create as many product variations as you'd like. In particular, the platform scores owing to its powerful marketing capabilities, foremost among which are its excellent discount and sales options.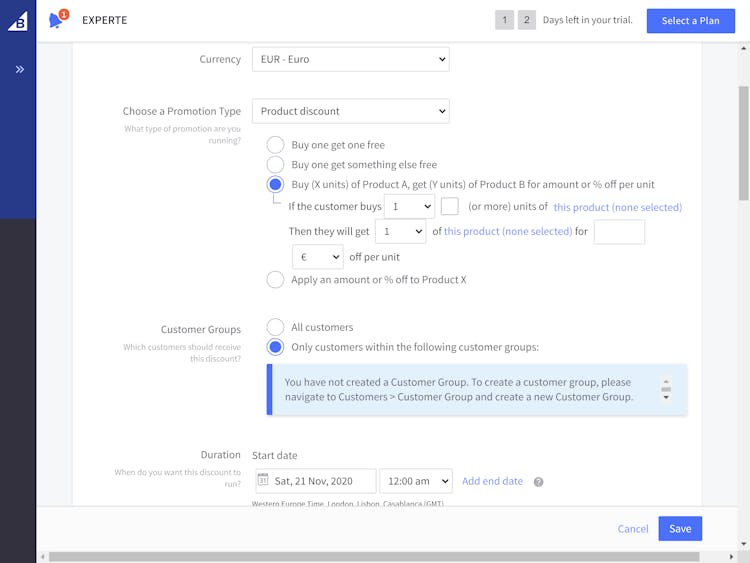 You want to dropship, sell your goods on multiple channels, or in different currencies? All possible and easy with BigCommerce.
Intuitive usage concept and clear dashboard
Excellent product management with unlimited product variations
Tons of marketing features, such as detailed discount settings
Product Management
4.7 / 5
Marketing & Analytics
4.7 / 5
Configuration & Usage
4.0 / 5
Personalizing Your Store
3.3 / 5
3.
1&1 IONOS's eCommerce Website Builder - Reliable Across the Board
simple product management
multilingual stores possible
fast support with live chat
1&1 IONOS takes Ecwid's powerful ecommerce software and complements it with its in-house website builder. The result is a solid ecommerce platform that is also suitable for advanced users.
Number of Products
Transaction Fee
Sales Channels
Payment Options
1&1 IONOS Starter
$6.50
monthly price
Visit Website »
First Month Free
The Internet is an international place, and so are our top picks for ecommerce platforms. Having already started in Israel, and then jumped over to Texas, we make our way to EXPERTE.com's homeland, Germany. But don't be fooled, 1&1 IONOS's eCommerce Website Builder is in our Top 3 because it deserves to be. Like Wix, the platform outfits the provider's excellent site builder with an arsenal of ecommerce features, resulting in a well-rounded and highly versatile tool. Thanks to its drag and drop functionality, 1&1 IONOS's eCommerce Website Builder also grants its users a considerable degree of design freedom.
With 1&1 IONOS you'll get a first-class ecommerce platform that allows you to personalize your site, all the while giving you extensive options in terms of managing and selling your products. In the event that you encounter a problem, top-notch support is at hand as well.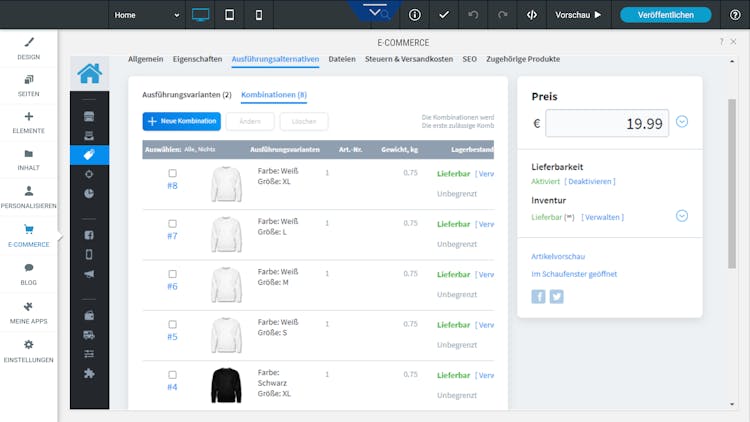 1&1 IONOS's eCommerce Website Builder allows store owners to sell different variations of their products.
1&1 IONOS's eCommerce Website Builder didn't climb higher in our rankings owing to a few small issues. For example, email marketing is only possible with the integration of external software, and the less said about the platform's discount options, the better.
Another blemish was the service's lack of a free trial version, which is all but standard among 1&1 IONOS's competitors.
Powerful site/store editor
Fast support and personal advisers for each customer
Facilitates multiple language localizations
Product Management
4.7 / 5
Personalizing Your Store
4.7 / 5
Configuration & Usage
3.7 / 5
Marketing & Analytics
3.7 / 5
None of our Top 3 caught your attention? No problem! Among the other 8 services to Shopify that we reviewed are a number of platforms that might curry your fancy. Check them out here:
In our modern world it is no longer necessary to be a programmer or web designer to create an online store: With the right ecommerce platform, even a beginner can bring their business into the 21st century. Of course, the problem nowadays isn't so much finding a tool that can do this, but rather, the right platform for your project's specific needs.
Make no mistake: There are a number of good reasons why Shopify is one of the most popular ecommerce platforms on the market, but, it isn't infallible. Particularly for those who place great emphasis on the ability to personalize their store, and don't want to learn a programming language to do so, better options exist. Since nearly every platform we've looked at offers a free trial version, there's little stopping you from trying one, or several of them out right now! To help decide which you should start with first, you can get your bearings with EXPERTE.com's comprehensive evaluation. Happy building!

Author: Janis von Bleichert
Janis von Bleichert studied business informatics at the TU Munich and computer science at the TU Berlin, Germany. He has been self-employed since 2006 and is the founder of EXPERTE.com. He writes about hosting, software and IT security.