Sellfy Review 2023: How Easy Is It To Create an Online Store?

Author
Janis von Bleichert
Ad disclaimer:
For links on this page, EXPERTE.com may earn a commission from the provider. This supports our work and has no influence on our editorial rating.
If you have something that others want, it's never been easier to monetize it. To help, look no further than ecommerce platforms, which allow anyone, even those without the faintest idea of programming or web design, to quickly and easily create a professional-looking online store in a short amount of time.
One provider that promises to make this as stress-free as possible is Sellfy.
What Is Sellfy?
Sellfy* is a cloud-based ecommerce platform that allows pretty much anyone to create an online store. The company targets authors, designers, musicians, or directors, who can sell their creations on Sellfy with relative ease.
In this review, we'll take a look at whether Sellfy is really as hassle-free as it claims to be, and what sets it apart from other, similar, ecommerce platforms.
Sellfy Review
Configuration & Usage
9.4 / 10
Marketing & Analytics
7.4 / 10
Product Management
6.0 / 10
Personalizing Your Store
6.0 / 10
Easy to use, especially for beginners

Adding products is straightforward

Specially designed for selling digital products
Few customization options

Limited features and settings in comparison to other platforms

Little support for physical products and no delivery/shipping assistance
Like most ecommerce platforms, Sellfy offers a free trial, which doesn't require you to input payment information. As such, registering is a breeze: Simply click on Start Free Trial on the service's homepage, enter your email address, set a password, and name your store. Then, answer a few questions about your shop and how many customers your expect. After that, you're already in the dashboard.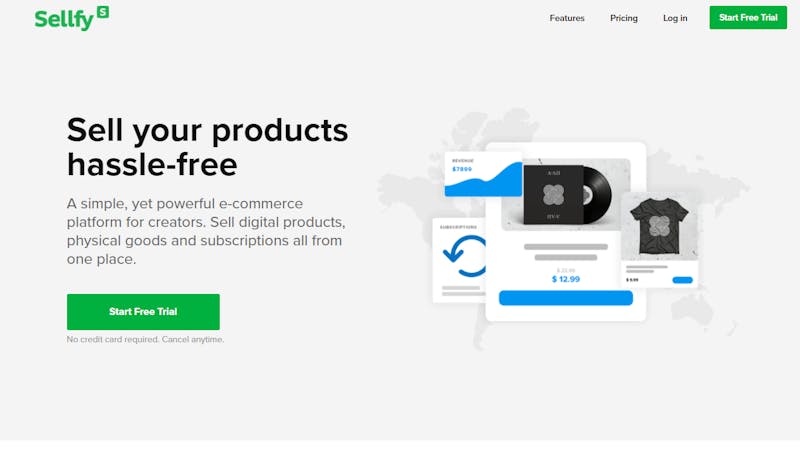 Sellfy promises to help sell products hassle-free, but is it really so easy?
When you enter the user interface for the first time, the Setup Assistant will help you to create your online store. First, you'll be taken to the product management section, followed by the design section, payment settings, and finally, an advertisement for upgrading to the service's paid version.
Before you take this step, let us walk you through the service as we experienced it. The dashboard makes a good impression, with all navigation occurring through the blue sidebar to the left, which contains sections titled Overview, Products, Orders, Marketing, Apps, and Store Settings.
In the bottom left, after clicking on Account, a menu will open, in which you can edit your account settings, payment details, and contact options.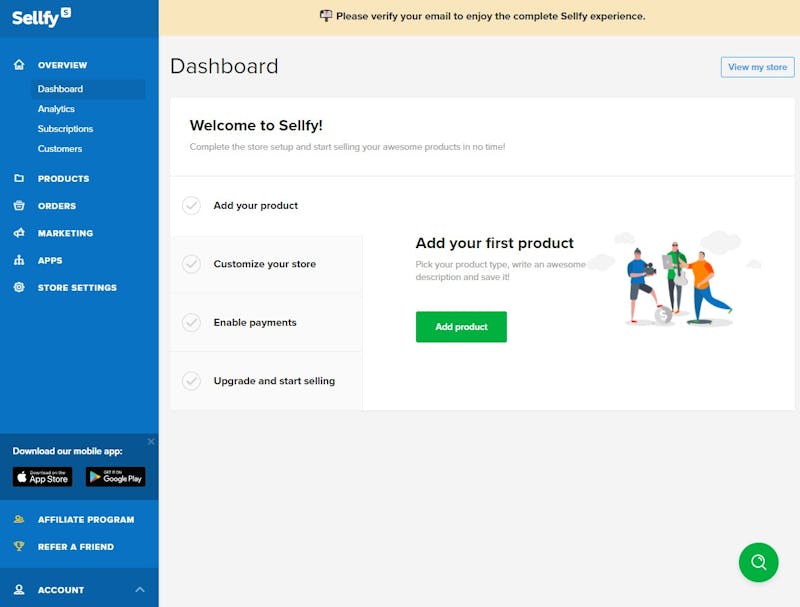 The service's Setup Assistant takes you through the first steps of using Sellfy.
By selecting Overview and clicking on View my store you'll be taken directly to your online store. Here, in the Analytics area, you can find a statistical summary, as well as an overview of your customers and subscriptions/orders.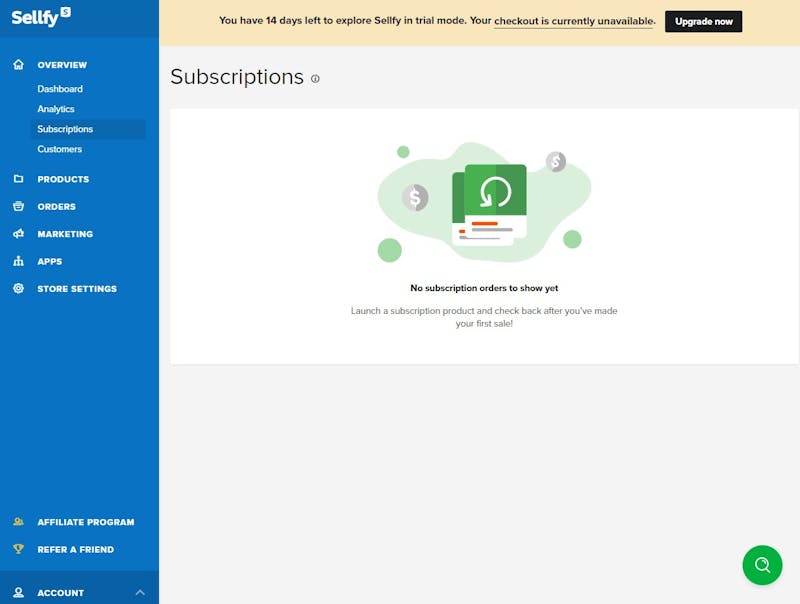 The overview provides you with all the most important information about your online store, orders, and customers.
By clicking on Store Settings you can adjust its main currency, the number of payment options available, and taxes. In addition, you'll be able to edit the default email that is sent to customers after making a purchase.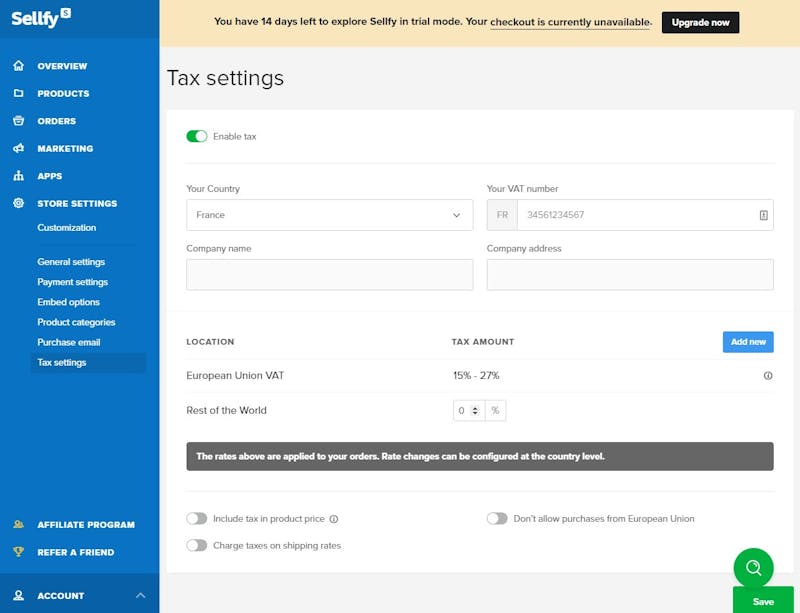 Users can specify their currency preferences and tax settings in the Store Settings menu.
After just a few minutes of use, it became pretty clear to us that Sellfy wants to appeal to as many types of users as possible. The platform's learning curve is flat, and we're certain that even the most inexperienced user will just nothing more than a few moments to get acquainted with it.
For our tastes, the grouping of certain features didn't always make sense - for example, product categories are created under general settings, instead of in the product/inventory area. With that said, there's no doubt in our minds that Sellfy is user-friendly.
Configuration & Usage
9.4 / 10
2.
Personalizing Your Store
You can access your store's site builder by clicking on Store Settings > Customization. Here, Sellfy's ease of use shows its first drawback in the complete absence of templates. Whereas other platforms provide a variety of designs users can choose from, Sellfy has only a single basic template.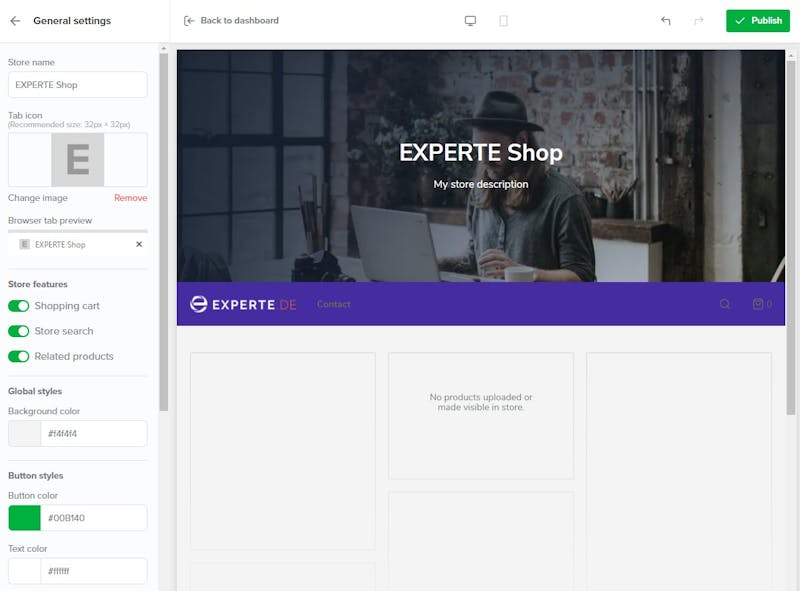 Sellfy's site/store builder is easy to use, but greatly inhibits creative freedom.
Using the drop-down menu in the upper left, it's possible to jump between your store's different pages and create new subpages. These appear automatically in the menu bar.
In the pages menu, you'll find the content blocks for each page: Hero blocks for catchy images, text blocks, product blocks, and newsletter and contact forms. Their arrangement in the menu determines each block's position in your store. Menu items or product types can be dragged and dropped directly onto the page.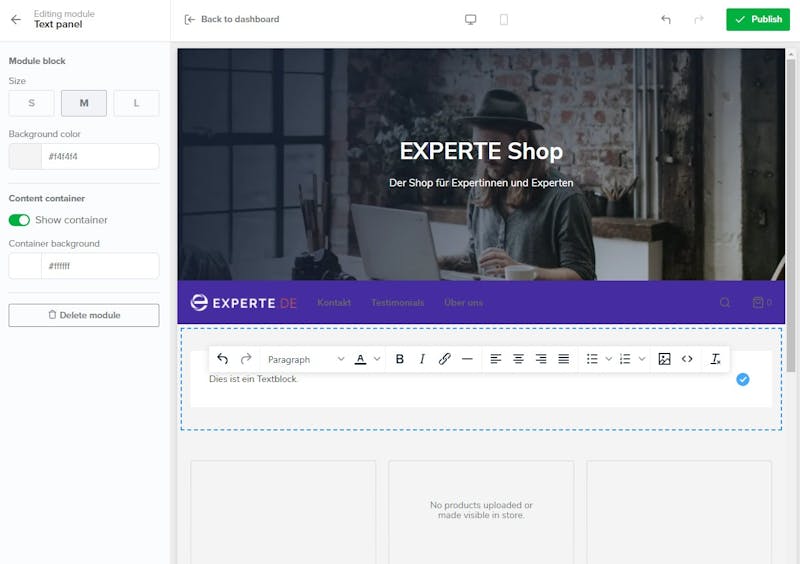 The store builder has some drag and drop functionality, but not much.
In the upper menu bar, it's also possible to switch between the web and mobile views of your store, to check how it displays on any device. By clicking on Publish, any changes you've made will go public, after which you'll receive a link to your now-finished store. There, you can navigate through your store just like a regular shopper, but thanks to the buttons in the dashboard, can also add or make changes to some content (i.e., add new products).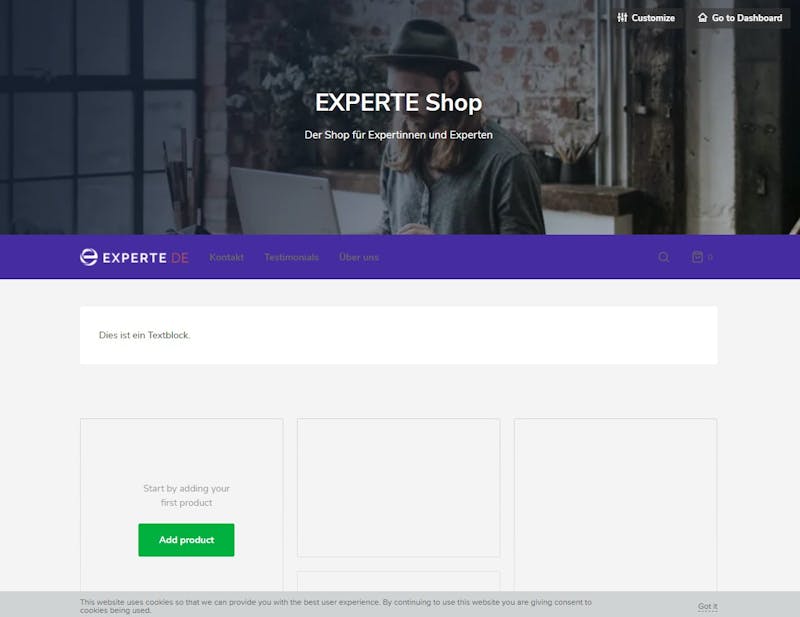 It's possible to preview your store through a customer's eyes and make small changes.
On the plus side, it's tough to make mistakes in Sellfy's store builder. Unfortunately, this comes almost entirely at the cost of your creative/design freedom, and the ability to personalize your store.
Images, colors, fonts, and menus can be edited, and adding different subpages is possible. The uncomplicated nature of the default template also ensures that by adding other elements, you can create a store that fits your needs. With that said, don't get your hopes up about breaking the mold.
For us, Sellfy is a lot like riding a bike with training wheels. Beginners, in particular, will appreciate the ability to create a sleek online store, without having to worry about all of the frills (and dangers) that can be associated with this. Our issue with Sellfy is that it wouldn't be difficult to provide this along with enhanced design options, such as more templates to choose from.
Product Management
6.0 / 10
Managing products can only be done through the similarly named submenu. There, you can select from digital products, freebies, subscriptions, and physical products. If you want to add a new product, you'll have to select one of these four types.
Also included is a Print On Demand feature, which allows you to offer personalized items like t-shirts or coffee mugs. Unfortunately, as of the time of our review, this was still in an "Invite only" test phase.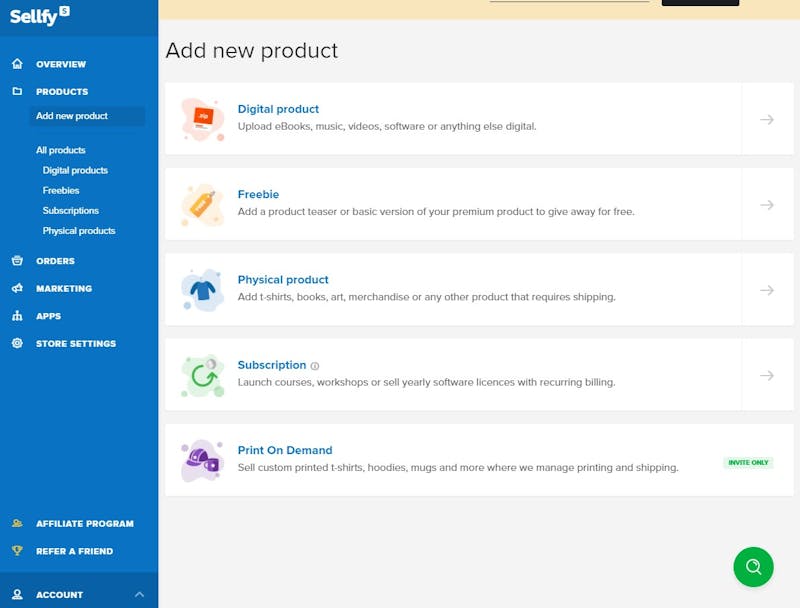 You can select from four different product types, with a fifth, "Print On Demand", currently being tested.
Creating a product is fairly straightforward. Simply name your item, describe it, and set a price (for subscriptions, include a payment cycle), upload images of the product, and if desired, specify which category the good should be assigned to. After this, all you'll need to do is input your delivery region and, optionally, an in-stock quantity before you start selling.
We found the "Pay What You Want" feature to be a nice touch since it allows customers to set a sale price (you can provide a minimum price). Particularly when starting out, this feature is useful for drawing visitors to your store.
When adding digital products an upload window will appear in the product area. Here, Sellfy is fairly generous in comparison to other solutions, allowing files with a size of up to 10 GB to be uploaded.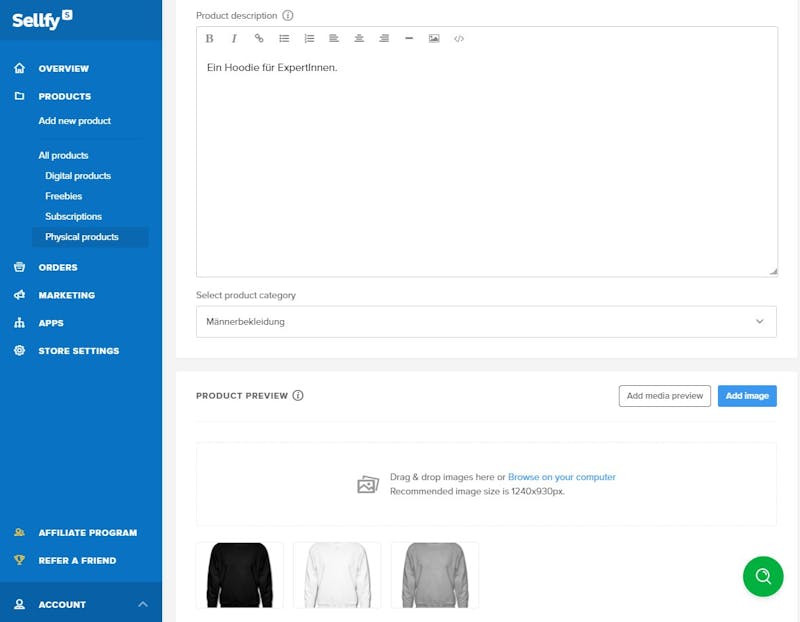 Creating a new product just takes a few clicks.
It's also possible to add product variants including unique names, images, and prices. The ease of doing this, like that of designing your store, creates a few disadvantages as well.
For example, it isn't possible to combine variations, which means that you'll need to create a new variant for each color/size combination when selling clothing. Customers will select such items from a single drop-down menu, rather than two side-by-side boxes, or charts. If you're offering many different sizes and color options, this can make your menu unwieldy.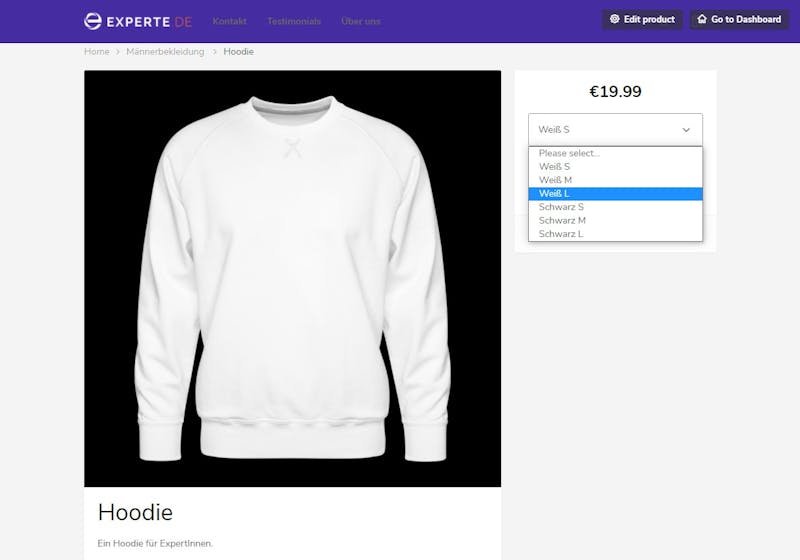 Adding new products is easy, but creating variations is tedious.
Especially when set alongside other ecommerce platforms that make it possible to create lots of different product combinations in one swoop, Sellfy's support for variants is disappointing. We're certain that those selling apparel will look elsewhere when thinking about bringing their business online. Worsening this, it isn't possible to add extra information to items, such as weights or taxes. User-defined fields displaying this cannot be created.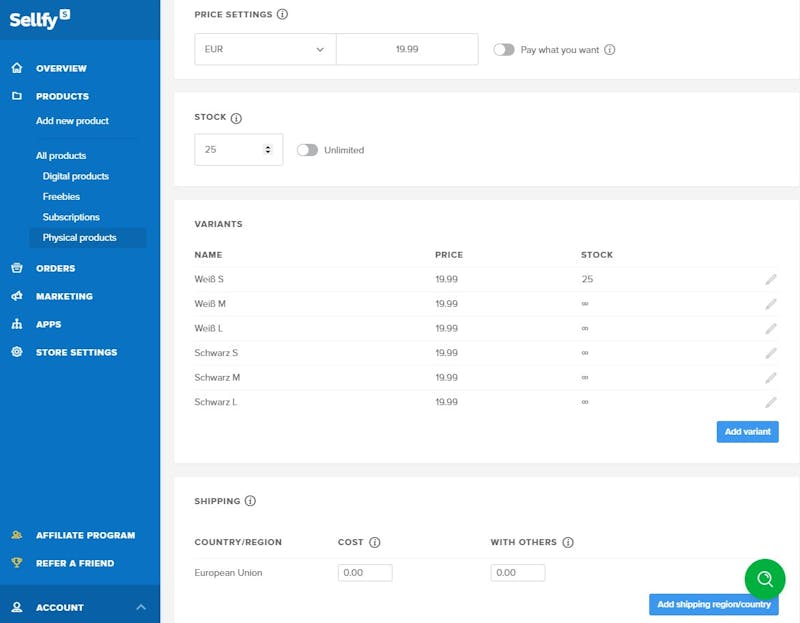 Managing your products in Sellfy isn't particularly complicated, but don't expect to get a lot of options.
Since Sellfy isn't geared towards selling physical products, it doesn't offer much in the way of inventory either. You'll have to manually enter the quantity available for each product variation. Once sold out, customers won't be able to add the product to their shopping cart. Tracking, deliveries of new stock, or automations can't be readily integrated into the inventory section.
Of course, it is somewhat unfair to compare Sellfy with much larger all-around solutions that offer a completely free hand when adding new products. It's basically a once-and-done solution, meaning that you only need to do everything one time to get started selling. As such, its appeal to beginners shouldn't be underestimated.
So far, wherever we've looked, Sellfy's focus has been on simplicity, with this translating into digital goods and products not offered in multiple variations. If you're in the market to offer downloads quickly and efficiently to your customers, Sellfy will certainly fulfill your needs. But, if you want to sell physical goods, such as apparel or computer products, the limitations can and will sap your love for the service.
Personalizing Your Store
6.0 / 10
To sell the products that you've so carefully added to your store, you'll need to configure your payment options. This can be done by clicking on Store Settings > Payment Settings. The selection of providers isn't particularly large, with PayPal and Stripe the only two services which support card payments. Of course, considering how prevalent these are in the digital landscape, less isn't necessarily a bad thing.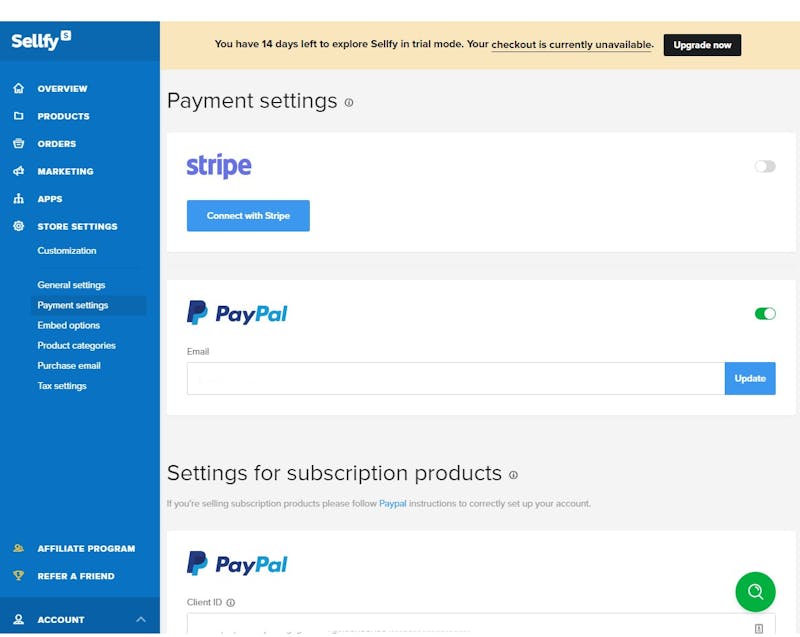 Payments can be made on Sellfy with either PayPal or Stripe.
Turning to shipping options, Sellfy's digital focus again becomes apparent. As noted above, when adding products, it's possible to input the delivery region(s) and specify their respective costs. Here, you can enter two prices: The cost of delivery when the article is ordered on its own, and extra fees if it's part of a larger shipment.
Sellfy isn't integrated with any delivery or logistics services. This contrasts with other ecommerce platforms that include live pricing from companies like DHL, FedEx, or UPS. With Sellfy, you'll have to handle this entirely on your own.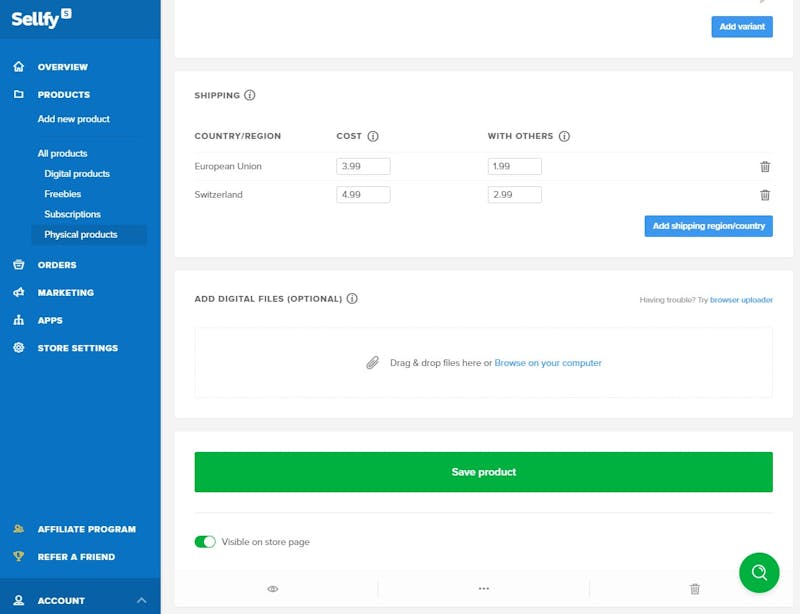 If you want to ship physical products, Sellfy doesn't provide much in the way of support.
Tax settings can be found by clicking on Store settings > Tax settings. Sellfy automatically calculates tax, however, it isn't possible to manually create different tax regions, as you can with most other ecommerce platforms. As something of a trade-off, you can choose whether to show before-tax or after-tax prices to your customers, and whether or not to tax delivery.
Orders are listed in the Orders submenu. All of the purchases customers have made from your store are reflected here, with the ability to sort them by the date when they were made, or to search for an email address or particular item. For each order, you're also shown the delivery date, the product, the buyer's email address, its status, and the total price.
By clicking on an order, you'll be given additional information. This includes a timeline of when the order was placed as well as any changes or updates that have occurred since then. For digital products, it's possible to re-send emails containing download links if customers request them. For physical orders, you'll be able to view the customer's email address.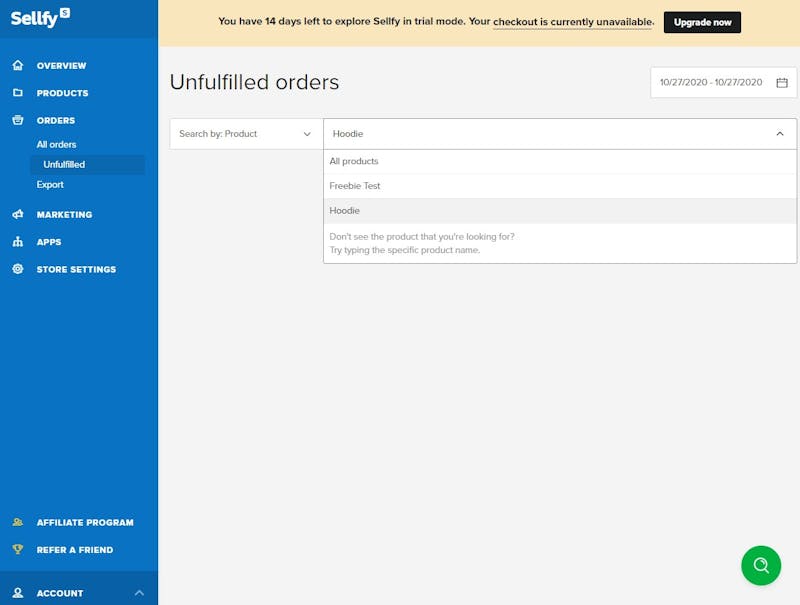 Each order is marked in the relevant submenu.
English comes pre-installed as Sellfy's store language. To create a store in another language, you'll need to change the main language. Simply go to Store Settings > General Settings and set the Store Language. All ready-made/default texts will be automatically translated, while any content which you've added in English, will have to be translated manually.
You can also set the language to Automatic which changes it based on a shopper's location.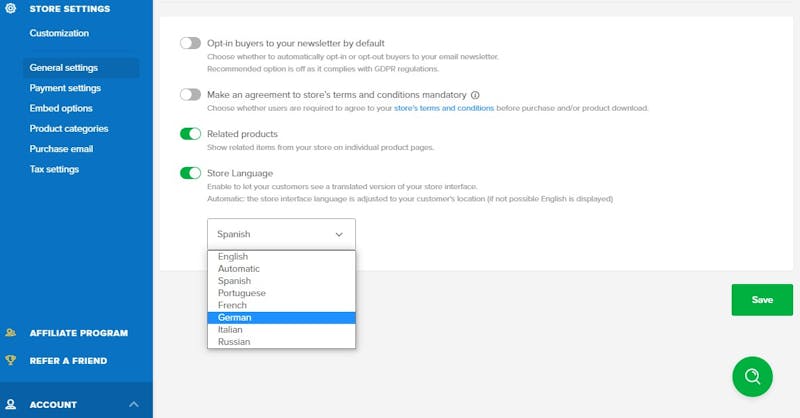 Even though Sellfy's dashboard is set to English by default, it's possible to change your store's language.
Unfortunately, Sellfy doesn't offer the ability to integrate additional sales channels like Facebook Shops or Amazon.
Overall, so far as sales are concerned, Sellfy shows both strengths and weaknesses, but they follow the trend established in the previous section: If you're selling digital products, Sellfy has got your back; if you're selling anything else, you're likely to be on your own either in part or entirely.
Another complaint, albeit much smaller, is that Sellfy's payment options are more limited than those of other providers. At the same time, we have to commend its support for multi-lingual websites.
By clicking on Marketing > Email Marketing you can launch an email campaign with a minimum of effort, dispatching it to all recipients or specific groups (all customers of a product, or just newsletter subscribers). Each email costs a Credit, which you'll receive starting with the Business package (more on prices below).
Email templates are provided for three different scenarios (new product launch, discount, or a product update) as is the ability to create a new message from scratch. In comparison to dedicated services, Sellfy's functionality is definitely basic, however, we still liked the inclusion of email marketing, since we encountered enough providers that don't have integrated solutions.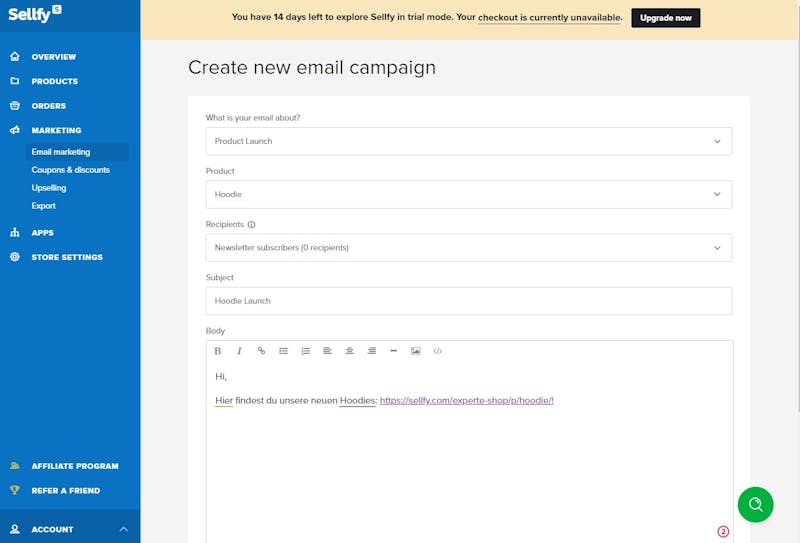 With Sellfy's integrated email marketing you can inform your customers about a new product or discount.
It's also possible to surprise your customers with a discount or markdown on individual products (if you want to put an entire category on sale, you'll need to reduce the price of each item). By clicking on Coupons & Discounts, you can quickly set up coupons and sales.
So far as discount codes or vouchers are concerned, these must be set in percent and can be optionally given a validity period and usage limit. For special sales, you can add a countdown timer to help motivate your customers.
Sellfy's options are again limited when set alongside those of its competitors. For example, discounts can only be offered in percentages, and not lump sums. Automations, such as welcome coupons, aren't offered either.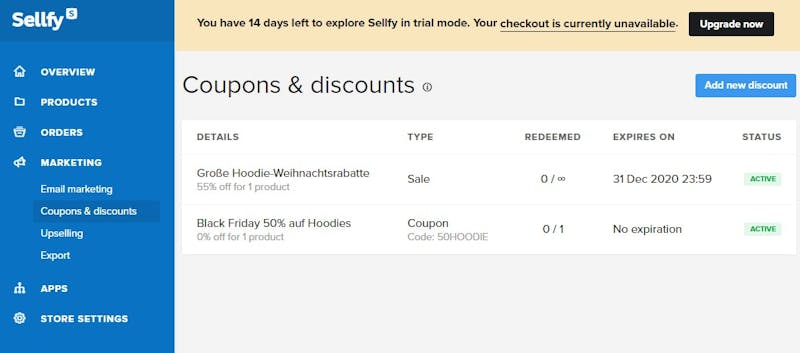 In Sellfy, you can create coupons and discounts, albeit only in percentages.
Sellfy's Upselling feature, which is made available for Business subscribers and above, is worth mentioning here. This allows you to automatically recommend an additional, discounted product to customers, based on the items already in their shopping cart.
Comprehensive SEO features aren't included, however, your online store is already optimized for search engines by default, which you can improve by adding slugs to your products.
Analytics
Statistics can be found by clicking on Overview > Analytics. Here, you can keep tabs on your visitors, as well as customers, by monitoring their conversion rate and browsing behavior. You can also track your orders and see which products have generated the most profit. In addition, it's possible to learn how visitors find your site, and where they are located.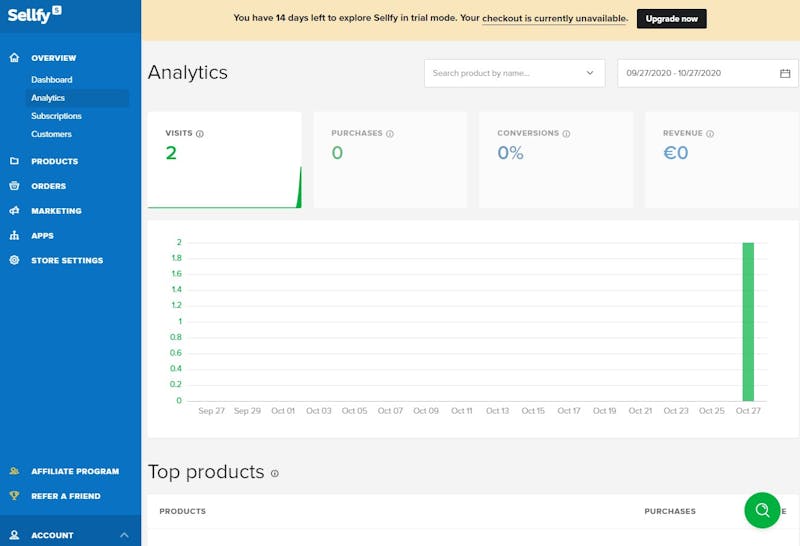 Sellfy's analytics keep you informed about how many visitors your store has, as well as how likely they are to place orders.
Like elsewhere, Sellfy's options are a bit less impressive than those of its competitors. For example, no information about returning customers or average order amounts is provided. If you need or want more statistics for your store, you can integrate Google Analytics, Facebook Pixel, or Twitter Conversion Tracking, through the Apps section.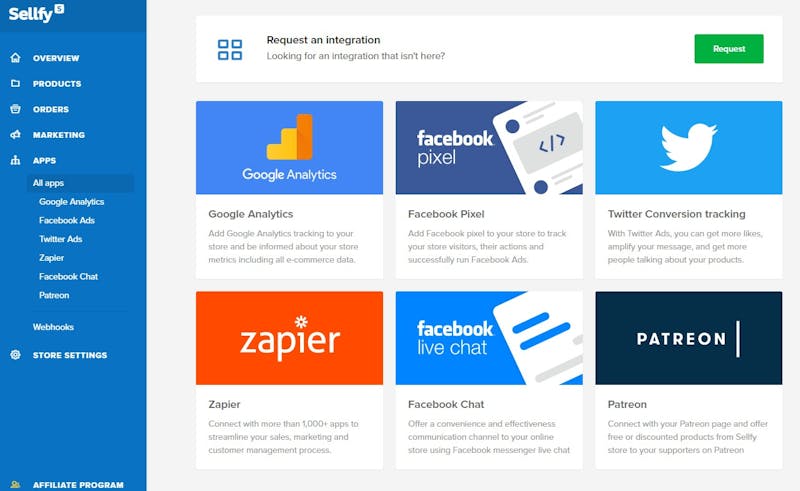 If you need more statistics, you can get these by integrating third-party apps.
As above, Sellfy provides a decent range of options and features, however, lags far behind its bigger competitors.
Marketing & Analytics
7.4 / 10
To view a help article or guide in a mini-window, click on the magnifying glass in the bottom right, and then select an area of the dashboard. This is convenient since you won't need to leave the dashboard to fix an issue you might be having. It would be nice if an option was available to open certain help articles in an additional browser tab though since going back and forth between the mini-window and the dashboard can become annoying.
Of course, you can also read the same article in the help center. The articles themselves are well-written and include screenshots, info-boxes, and links.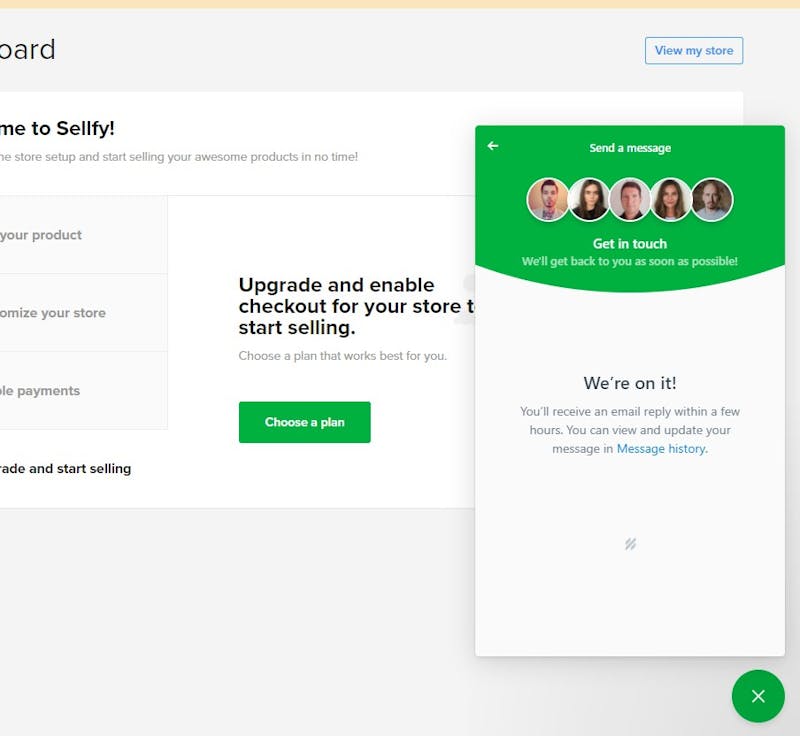 Sellfy's support team can be contacted directly through the dashboard.
To get in touch with Sellfy's support team, click on Account > Contact Us. In the window that opens, you'll only need to enter your message, and, if desired, include a screenshot. After that, click send, and a support ticket will be opened. We received an extremely helpful answer to our query after just a few minutes.
Additional contact options, such as a hotline or live chat, aren't available. Premium subscribers are given priority support.
Sellfy is available in three different subscription packages: Starter, Business, and Premium. Each subscription can be paid either monthly or yearly. As of the time of writing, a yearly subscription provides a discount of 34% off the monthly price.
In all packages, you can add as many products as you'd like, and won't have to pay any transaction fees. Instead, there are annual sales limits - $10,000 for Starters, $50,000 for Business, and $200,000 for Premium subscribers. If you plan on selling more, Sellfy will create a specialized plan based on your needs.
These aren't the only differences between subscriptions though. Sellfy's branding is visible in the Starter subscription. The Business subscription removes this while unlocking the upselling feature, and providing you with 10,000 email credits for marketing messages.
Premium subscribers get all of the Business features, an additional 40,000 email credits, and priority support.
An overview of all subscription packages can be found here:
Starter
Business
Premium
Price per Month
from $19.00
from $49.00
from $99.00
Transaction Fee
0 %
0 %
0 %
Contract Period (Months)
1 - 24
1 - 24
1 - 24
Product Management
Number of Products
unlimited
unlimited
unlimited
Product Filters
Product Variants
Product Reviews
Digital Products
Features
Multilingual
Multiple Currencies
Sales Channels

-

-

-

Payment Options

PayPal

Stripe

PayPal

Stripe

PayPal

Stripe
To better compare the prices of all providers from our sample, the table below shows the annual price for a plan with at least 100 products.
Unfortunately no matching providers were found!
Conclusion
Configuration & Usage
9.4 / 10
Marketing & Analytics
7.4 / 10
Product Management
6.0 / 10
Personalizing Your Store
6.0 / 10
Wrapping up this review, we again want to make it clear that comparing Sellfy to the other ecommerce platforms we looked at in our series is somewhat unfair. As the 'hobbyist/artist' among the group, Sellfy comes up short in nearly every area: Selling physical products is significantly more difficult, owing not only to how time-consuming it is to add multiple variations, but also the absence of any help whatsoever in shipping or delivery.
But that's not all, the service's design options are greatly limited and analytics aren't as informative as those of other providers.
However, for anyone selling digital products, the platform excels, outpacing its more well-established rivals. Similarly, its user-friendliness can't be beaten, with the ability to create and open a store in the same amount of time others would need to learn the ins and outs of the store builder alone. In that spirit, if you're selling digital products, we highly recommend Sellfy.
Sellfy has tailored its offering to the ecommerce needs of creatives, which makes the platform ideal for selling digital products and subscriptions. It's not the best option for selling physical products, however.
great platform to sell digital products
supports sale of subsriptions
7.5

good
Number of Products
Transaction Fee
Sales Channels
Payment Options
Sellfy Starter
$19.00
monthly price
Visit Website*
14 day free trial
Customer Reviews
Here, we've summarized what customers and users are saying about Sellfy.
Customer Ratings
163 Bewertungen
Visit Website*
We analyzed the reviews and ratings from various portals and found 163 ratings with an overall rating of 3.5 out of 5 .
Alternatives
Should you want a platform that makes selling digital products as easy as Sellfy, but also provides the ability to peddle physical ones as well, with significantly more design freedom, you can't go wrong with our overall winner, Wix.
If personalizing your store isn't your top priority, but you want to sell physical and digital products, Shopify or BigCommerce are definitely worth checking out.
You can find more alternatives to Sellfy here:
Wix has built a shop solution on the foundation of its powerful website builder. The result: a beginner-friendly platform with strong personalization and ecommerce features, which is best-suited for smaller shops.
beginner-friendly interface
supports lots of sales channels
9.1

excellent
Number of Products
Transaction Fee
Sales Channels
Payment Options
Wix Business Basic
$22.00
monthly price
Visit Website*
14 day free trial
BigCommerce boasts well-designed product and inventory management features, solid marketing and analytics capabilities, and support for many sales channels. Possibly too complex for smaller shops, it's ideal for larger ecommerce projects.
many features 'out of the box'
up to 600 variants per product
supports multiple currencies
too complicated for smaller shops
8.7

good
Number of Products
Transaction Fee
Sales Channels
Payment Options
BigCommerce Standard
$29.95
monthly price
Visit Website*
Start Free Trial
Shopify is a great all-rounder for small, medium, or larger shops. If you're looking for a platform that's more powerful than a regular website builder, but not as complicated as other ecommerce platforms, Shopify might offer the right mix.
Number of Products
Transaction Fee
Sales Channels
Payment Options
Shopify Basic
$29.00
monthly price
Visit Website*
14 day free trial
Using its powerful website builder as a starting point, IONOS' ecommerce platform adds a solid set of sales features that should cover all the needs of smaller shops and websites with sales pages.
powerful editor for customization
affordable first-year prices
intuitive inventory management
limited marketing features
8.6

good
Number of Products
Transaction Fee
Sales Channels
Payment Options
IONOS Starter
$19.50
monthly price
Visit Website*
First Month Free
Ecwid works best as a plugin for other platforms: it can easily be integrated into a CMS, a website builder, or a social media site, and streamlines the sales process across these and other channels. The free tier is a nice extra.
easy to integrate with other platforms
many features behind paywalls
7.9

good
Number of Products
Transaction Fee
Sales Channels
Payment Options
Ecwid Free
$0.00
monthly price
Visit Website*
Sign up for free
* Ad disclaimer:
For links marked with an asterisk, EXPERTE.com may earn a commission from the provider. The commission has no influence on our editorial rating.

Janis von Bleichert studied business informatics at the TU Munich and computer science at the TU Berlin, Germany. He has been self-employed since 2006 and is the founder of EXPERTE.com. He writes about hosting, software and IT security.
Continue Reading