Email Marketing Software Review: Sendinblue

Ad disclaimer:
For links on this page, EXPERTE.com may earn a commission from the provider. This supports our work and has no influence on our editorial rating.
If you're a website or webstore owner keen to stay in regular contact with your visitors and customers, a solid email marketing service is an absolute must. These allow you to send transactional emails, as well as to configure and launch automated campaigns, helping you to design targeted newsletters that transform visitors into customers, growing your business, and increasing your profits.
However, finding the right option for you and your business is made difficult not only owing to the number of service providers but also, their varying specializations. To lend you a helping hand, we've looked at some of the most well-known and reputable providers from top to bottom, reviewing each and letting you know their ins and outs. In this review, we'll examine Sendinblue.

What is Sendinblue?
Sendinblue* is an email newsletter service founded in France in 2012. According to its own promotional materials, it offers modern email marketing solutions for both small as well as medium-sized businesses.
The French company is not sitting idly by either, actively vying for the title of Europe's leading newsletter service. Its merger with the German Newsletter2Go in 2019 signaled Sendinblue's intention and for users, the integration of a range of new functions such as SMS campaigns, landing pages, website live chat widgets, and a variety of possibilities for marketing automation.
Sendinblue's free version offers greater functionality than most of its paid competitors do, however, we'll still assess the service from top to bottom, letting you know whether you should "send in" your money and buy a subscription, or if you'll be feeling 'blue' if you do so.
Review
Configuration & Usage
10 / 10
Tracking & Statistics
10 / 10
Unlimited number of contacts/subscribers

Loads of newsletter templates and forms

Easy to use builders and dashboard

Nice extras like a landing page builder, SMS campaigns, and customer service live chat widgets

Highly detailed statistical reports

Bountiful automation and transactional email options for webstores
A/B testing only for subject lines

Live support limited to "Premium" and "Enterprise" subscribers

User management only for "Premium" and "Enterprise" subscribers
Registering for the free version of Sendinblue is easy since you won't be asked to input any payment information. As is the case with most of the services we examined, following verification, the email address that you use for registration is set as your default sending address.
Despite the wide variety of features which it offers access to, Sendinblue's interface is very easy to navigate and user-friendly. You'll find the most important information and up-to-date statistical data about your campaigns in the dashboard. As an added bonus, you're able to add and remove features from the menu, tailoring it to your needs and preferences.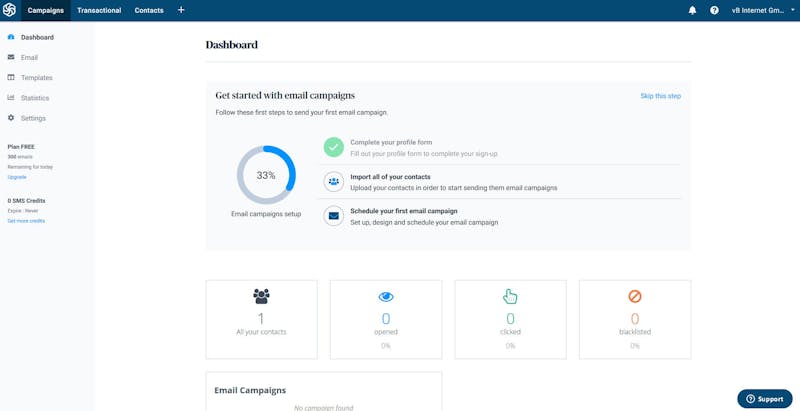 Sendinblue's user dashboard.
By clicking on the "+" symbol in the upper navigation bar, you'll be able to add apps to the service. These include additional features like transactional emails, SMS campaigns, automation, and more. You can also synchronize your contact/subscriber lists with those of other services by selecting Integrations from the menu. Sendinblue supports ActiveCampaign, HubSpot, Intercom, Mailjet, and Mailchimp, to name a few.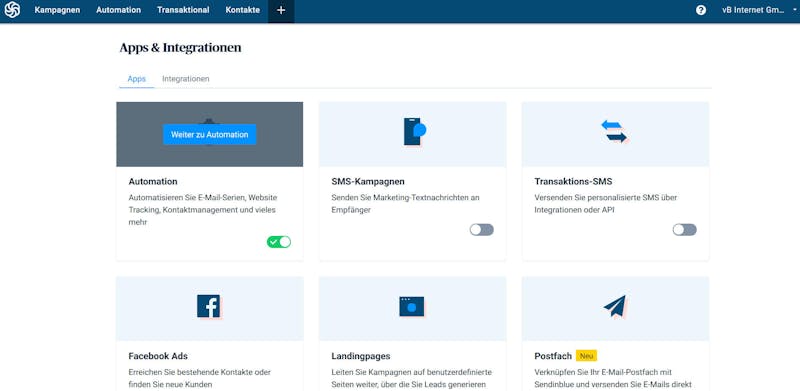 Sendinblue's apps and integrations.
User management is limited to "Premium" package subscribers, however, since the free version only allows a single user, this isn't that much of an issue. In the free version, you can authenticate your own domain if you'd like, however, this isn't mandatory.
By following Sender & IP -> Domains, you can generate all necessary keys to set your domain as the sender domain. Here, you'll also be able to find all TXT entries required for digital signatures (SPF, DKIM, and DMARC).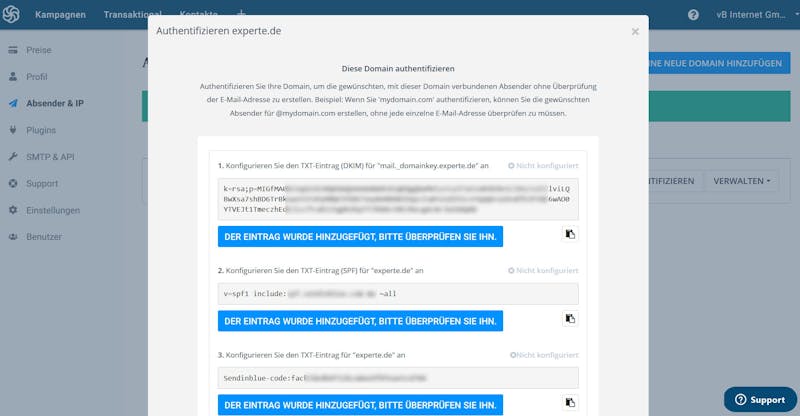 Associating your domain with Sendinblue.
The remaining settings, which can be reached through the similarly named menu item on the navigation bar to the left, are also clearly arranged. Here, you can configure Google Analytics, create personalized cancellation or unsubscribe pages, and tweak additional details., as well as manage WebHooks, by creating events for transactional emails.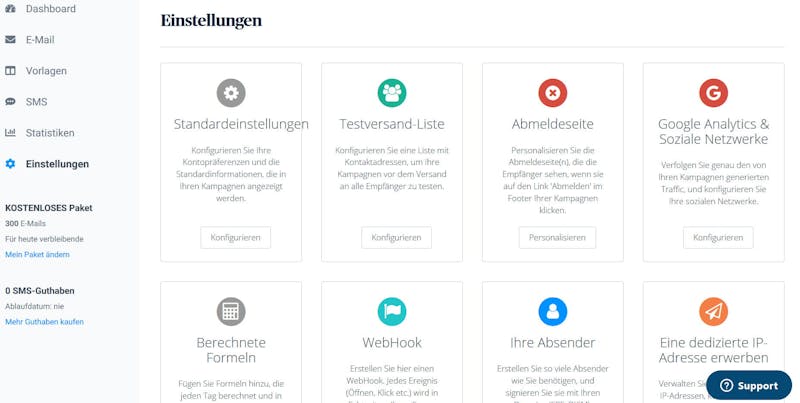 Linking Sendinblue with your website, CRM, or other applications is a breeze, thanks to the wide variety of plugins offered for services like WordPress, Magento, Shopify, Drupal, WooCommerce, Jimdo, and many more. You can easily link any of these using the API key.
If desired, it's also possible to directly link another email account with Sendinblue other than the one provided at registration.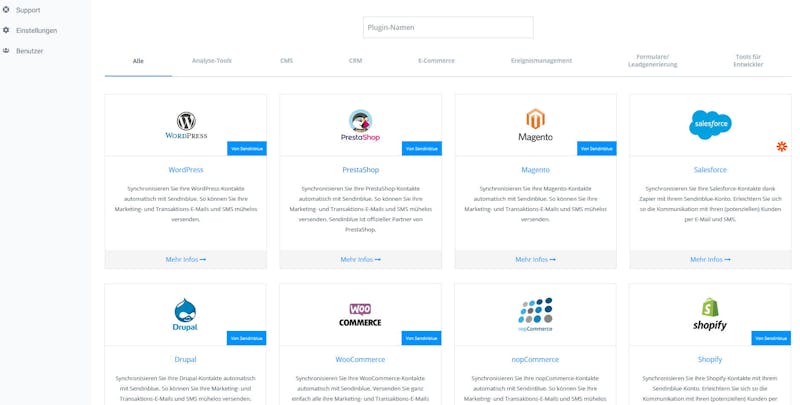 Setting up Sendinblue is child's play, with everything configured by default to be ready for out-of-the-box usage. The dashboard is well-organized and can be customized, which is a nice feature. The service is definitely beginner-friendly, but also offers more advanced users a great deal of freedom in configuring the dashboard to their liking.
Score: 5 / 5
Sendinblue's user-friendliness is also clearly visible when importing contact lists. The first time you create a contact list, you'll be given two options to choose from:
Upload a file (*.cav or *.txt)

Copying and pasting from a file (*.xls)
You can also manually add contacts, however, only after you've created a contact list.

Importing contacts into Sendinblue.
Sendinblue provides a useful drag and drop form builder under Contacts -> Forms. You won't find any design templates here, however, you can edit any and all elements to your heart's content. The service also includes a nice preview tool for both desktops and mobile devices, which helps you to ensure that any forms you create will be visible and display properly on whatever medium they are viewed on.
GDPR-compliance, which can be activated by clicking on the relevant box, is also worth mentioning here since it goes some distance in ensuring that your campaigns conform to the European Union's data protection laws.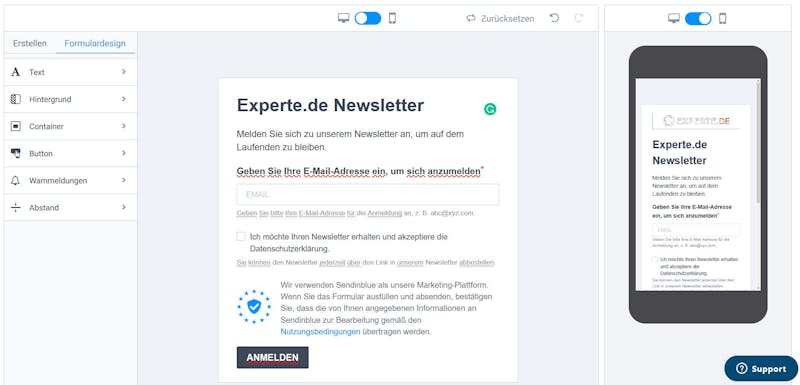 In addition to these aspects, you're also able to create an individual landing page for compiling subscriptions from users and visitors, although this feature isn't available in the free version. The contact form builder is similar to those for other forms and the newsletter, meaning that it is easy to use and navigate.
Sendinblue definitely makes gathering and managing your contacts and subscribers a great deal easier than other providers. With that said, there is one aspect that we'd like to criticize: Owing to the lack of design templates, the forms are too basic and slightly boring, requiring a good deal of effort to make appealing. It's also unfortunate that the landing page builder isn't included in the free version.
Apart from these issues though, Sendinblue does everything right, offering a variety of options for synchronization and importing, making the creation of contact lists straightforward, providing users with the ability to add individual fields, create segments and categories, and much more. Topping everything off, Sendinblue also helps in ensuring that your campaigns conform to the EU's GDPR.
Score: 4.7 / 5
Sendinblue allows you to communicate with your subscribers through a variety of different methods:
Automation (Workflows for automated emails)

Transactional (automatic emails sent via API to a single user following their meeting of a set condition on a website)

Live Help Now (for directly communicating in real-time with users on your site)

SMS campaigns
Traditional newsletters can be found in the Campaigns section. Here, you'll be able to create a newsletter with HTML code or text using the drag and drop editor. Sendinblue provides a wide selection of design templates that can be customized to your individual needs.
When creating a campaign, you can conduct A/B testing in order to gauge the performance of messages with differing (albeit similar) subject lines. Unfortunately, Sendinblue doesn't facilitate A/B testing of newsletter content.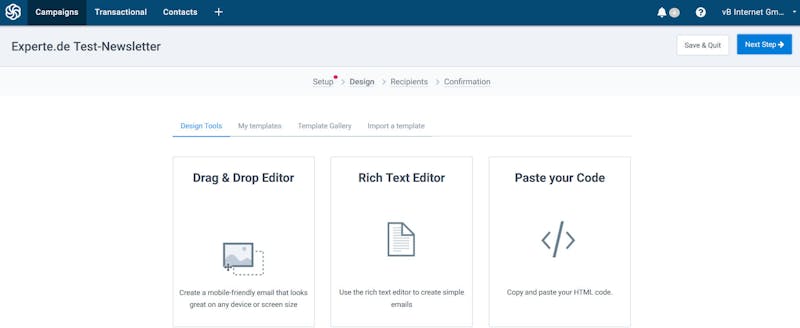 Users are given a wide range of design templates to choose from, all of which are responsive, meaning that they display equally well on both mobile devices as well as desktops. Thanks to how these are grouped, it's possible to easily create individualized, tasteful, and professional-looking layouts.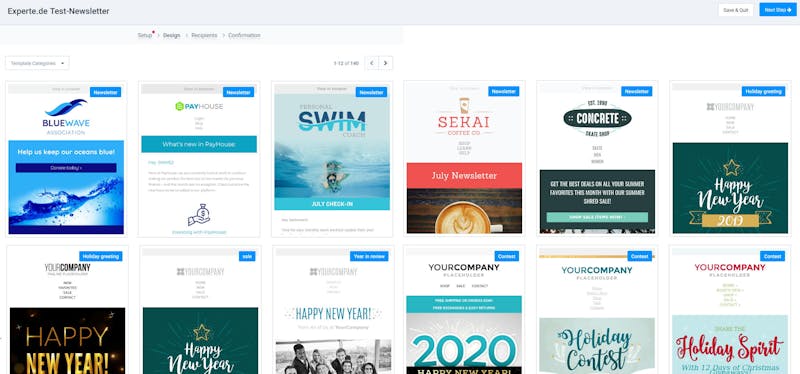 The newsletter editor isn't all that challenging to get the gist of and performs well: Everything is kept as simple as possible, with tools arranged and structured logically. Beginners will quickly be able to master the editor, while more advanced users will feel satisfied with the wide variety of options and functionality on offer.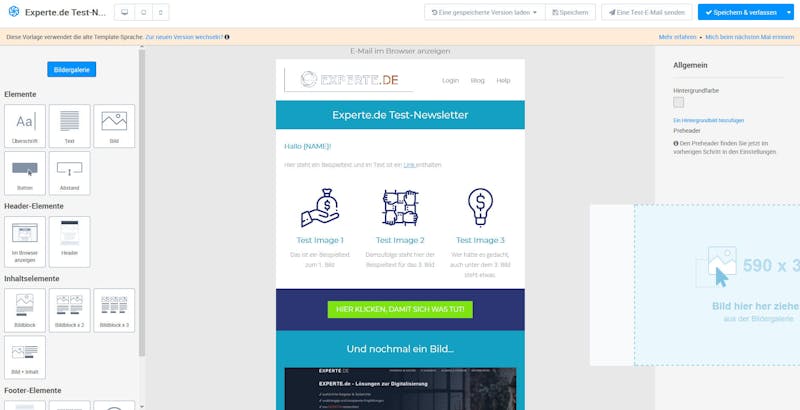 Sendinblue's drag and drop newsletter editor.
Through Automations on the menu, you can find automation workflows. We were quite taken with the templates for these. You're able to choose between ready-made workflows, which suit existing processes, or you can create your own from scratch. Some of the ready-made templates included are for autoresponders, events, and welcome messages.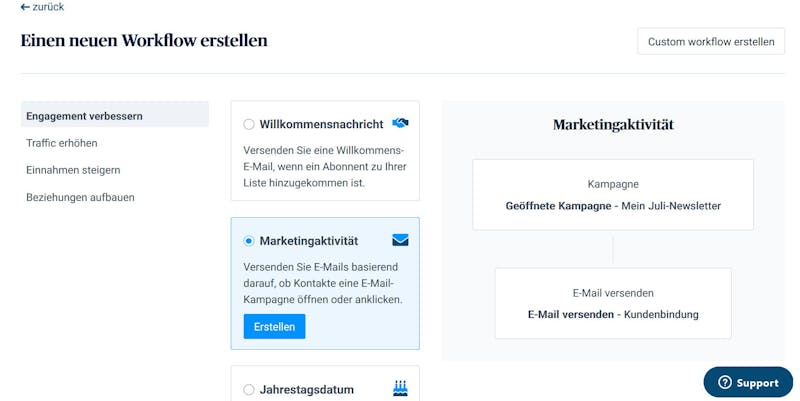 Creating a new workflow with Sendinblue.
The workflow editor doesn't function as intuitively as those of other providers as it lacks drag and drop functionality. As a result, it takes a bit of getting used to. However, the way that the editor is structured is logical, and it is possible to create useful sequences.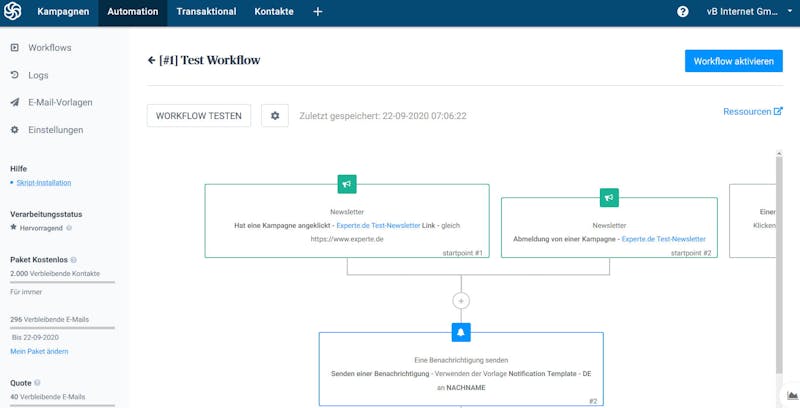 Sendinblue's workflow editor.
In addition to the typical automation features, Sendinblue also makes lead scoring and CRM available. These enable you to interact more closely with your customers since you're given the ability to add different tasks, attributes, and functions to your contact/subscriber list.
Another unique feature of Sendinblue is Live Help Now, which assists you in creating a real-time customer support widget for your site, allowing you to answer queries within your browser.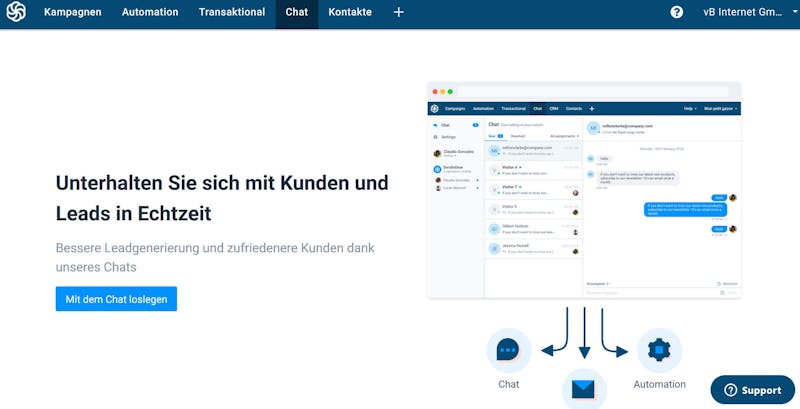 Sendinblue's Live Help Now feature allows you to create a live customer support widget for your website or store.
You can also configure messages to automatically be sent to your subscribers and contacts by SMS. This can be performed in the free version, however, you'll need to gather enough credits for SMS dispatch.

With Sendinblue, creating and launching SMS marketing campaigns is easy.
Another nice feature that Sendinblue offers is Send Time Optimization, which, like its name suggests, dispatches your emails at the best possible time for each contact. This premium feature is particularly interesting for those who send large volumes, so pay attention!
Basically, an algorithm uses open rates and delivery times to check when each person on your contact list is most likely to open their email inboxes, automatically firing your email off at these times. With this tool, it's possible to significantly increase the open rate for your messages as compared to synchronized sending.

One of Sendinblue's premium features, Send Time Optimization, tabulates when each contact on your list is most likely to open one of your messages, sending to them at exactly this time.
Taken together, Sendinblue makes dispatching emails and SMS very convenient. Its editors and builders are well-designed, and the service provides a nice selection of versatile templates. Thank to its clear design, you don't have to navigate through its various interfaces but glide through them, while intricate workflows can be readily individualized with specific events. Transactional emails can be created, so long as you've linked your website with Sendinblue. The ability to create live chat widgets for your webstore or site is just the icing on top.
If we're going to split hairs, the workflow editor's lack of drag and drop functionality, as well as the inability to send or embed RSS, feeds soured our mood a little bit. There is some room for improvement, but not much.
Score: 4.7 / 5
Turning to tracking and statistics, Sendinblue has really done well. By clicking on Statistics you can gain an overview of all relevant information and data relating to your campaigns, even for specific periods of time.
Sendinblue automatically manages hard bounces by shifting those contacts onto a blacklist. In contrast, for soft bounces, addresses are deactivated only after four unsuccessful delivery attempts.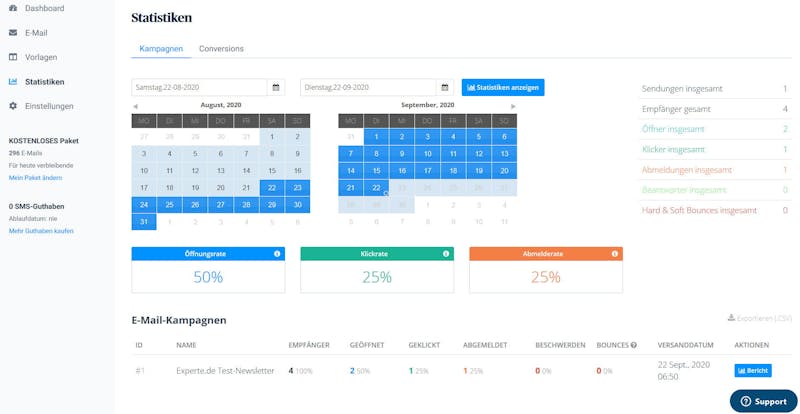 Statistics in Sendinblue.
On both the overview page, as well as in the Campaigns area, you can gain detailed insight into your campaigns. These exportable statistics include information on the open and click rates (the latter of these is a premium feature) as well as how often links are clicked on, how much time is spent reading through your mailing, and much more. So long as you've enabled it beforehand in the API, you can also view the conversion rate here as well.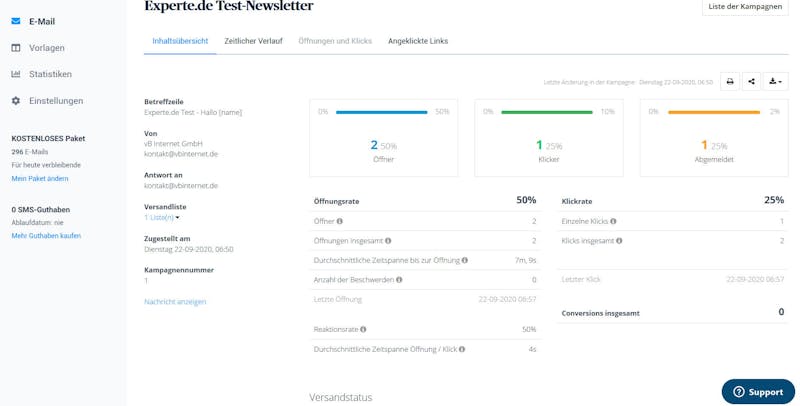 Detailed overview of statistics in Sendinblue.
All of the usual suspects are here and in ample amount. In addition, "Premium" package subscribers can look forward to additional tools like a heat-map for analyzing click behavior, geo-tracking, and much more. Sendinblue makes everything available that you'll need to optimize the performance of your mailing campaigns, and enough extras to make shelling out for a "Premium" package worth it.
Score: 5 / 5
Strangely enough, despite excelling in more difficult areas, such as those outlined above, Sendinblue loses a bit of steam when we get to its support. Users have access to decent email support through a ticket system. During testing, we received a friendly and competent answer to our query in around four hours (business hours). Access to a support hotline is provided only in the "Premium" subscription package, while neither round-the-clock support nor a live chat is offered.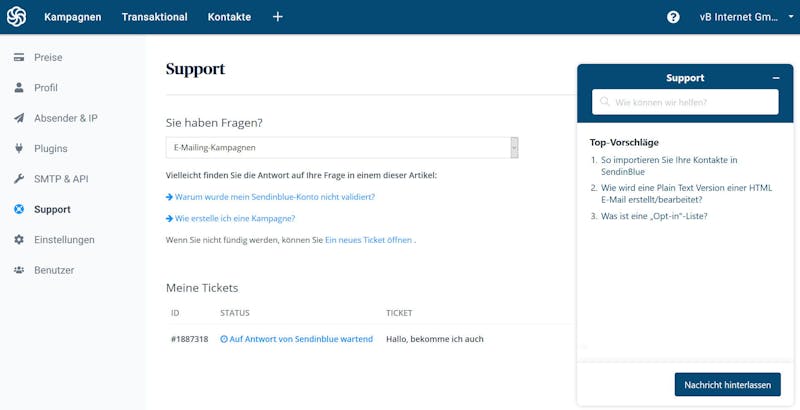 Sendinblue's customer support.
The help center can be accessed through the button on the bottom right of the dashboard. Here, you can also view support tickets that you've already filed.
Most of the other providers which we examined in our test are either quicker in replying, or offer more aid, even to their free users. With that said, the only real problem is the absence of round-the-clock support for any sort of user. Should an issue arise outside of business hours, valuable time could be lost in resolving it, even for paying subscribers.
Score: 4 / 5
Right off the bat, it's worth mentioning that Sendinblue offers a free version. For paying customers, the service uses a different system than most of its competitors: Instead of charging its customers based on their number of subscribers/contacts, it relies on the number of emails sent per month.
In order to equate this with the other services we examined, we chose 5 emails per contact (with 500 contacts, or 2,500 emails per month).
| Contacts / Provider | 500 | 1,000 | 5,000 | 10,000 ▲ | 50,000 | 100,000 |
| --- | --- | --- | --- | --- | --- | --- |
| Mailjet | $0 | $0 | $10 | $19 | $167 | $334 |
| MailerLite | $0 | $0 | $30 | $50 | $210 | $360 |
| GetResponse | $15 | $15 | $45 | $65 | $250 | $450 |
| AWeber | $0 | $26 | $46 | $66 | - | - |
| Mailchimp | $0 | $0 | $50 | $75 | $259 | $499 |
| Sendinblue | $0 | $0 | $66 | $81 | $229 | $379 |
| Constant Contact | €18 | €40 | €57 | €83 | €292 | - |
| Campaign Monitor | €9 | €29 | €49 | €99 | €329 | - |
| CleverReach | €15 | €20 | €55 | €100 | €400 | €900 |
| ConvertKit | $0 | $0 | $79 | $119 | $379 | $679 |
| ActiveCampaign | $15 | $29 | $89 | $139 | $299 | $459 |
| Klaviyo | $20 | $30 | $100 | $150 | $700 | $1,200 |
Sendinblue can quickly put you in the red should you have a very large contact list and like to frequently send them emails. If, on the other hand, you have a large list of subscribers, but only communicate with them monthly, or bi-weekly, you'll be able to take good advantage of the service's approach and keep your costs low.
Free
Lite+
Premium
Set-up Fee
$0.00
$0.00
$0.00
Price per Month
$0.00
from $37.00
from $65.00
Contract Period (Months)
0
1
1
Limits
Contacts
unlimited
unlimited
unlimited
Emails
up to 9,000
up to 100,000
up to 1,000,000
Features
Segmentation
Tagging
Marketing Automation
Ad Free
Open-Rate Tracking
Click Tracking
A/B-Testing
Conclusion
Configuration & Usage
10 / 10
Tracking & Statistics
10 / 10
Sendinblue definitely won't put you down in the dumps. It provides users with a nice range of features, impressing with its ease of use. In particular, the French email marketing service truly excels in terms of both sending messages, as well as evaluating the performance of automated campaigns through a variety of different channels. Owners of webstores can benefit from Sendinblue's features too since they allow you to actively use sales data for transactional campaigns.
However, should you need to grant several different users access to a single account, be looking for a flat-rate plan with the ability to send an unlimited number of emails, or desire round-the-clock support, the service might leave you feeling a bit gloomy. Whether you're of the first or second types, or somewhere in between, the good news is that you can try out the service for free before committing or looking for an alternative.
Sendinblue is a fully recommendable email marketing service with a wide range of features and ease of use. It is particularly suitable for sending automated campaigns.
unlimited number of contacts
loads of newsletter templates
9.4

excellent
Contacts
Emails / Month
Marketing Automation
Sendinblue Free
$0.00
monthly price
Visit Website*
User Reviews
Should you still be undecided if Sendinblue is the right choice for you or your organization, perhaps a collection of reviews made by those using the service can be of help? If so, you're in luck, because we've gathered a large number of evaluations from reputable sources to aid in making up your mind.
Customer Ratings
6,326 Bewertungen
Visit Website*
We analyzed the reviews and ratings from various portals and found 6,326 ratings with an overall rating of 4.4 out of 5 .
Alternatives
CleverReach likewise offers a free version of its service, is easy to use, and provides extensive features as well as plugins for more intricate automations.
On the other hand, if Sendinblue's skies are cloudy, maybe you'll be able to fly off with Mailjet, which provides a nice selection of features to choose from, and also comes in a free version. Further speaking in Mailjet's favor are its very reasonable rates
GetResponse stands out with its ease of use, excellent customization options, extensive statistics and numerous templates. It is suitable for both beginners and frequent senders.
Contacts
Emails / Month
Marketing Automation
GetResponse Basic
$15.00
monthly price
Visit Website*
30 days free trial
ActiveCampaign is a fully integrated sales and marketing platform including CRM system, complex automation and multi-channel marketing.
Contacts
Emails / Month
Marketing Automation
ActiveCampaign Lite
$15.00
monthly price
Visit Website*
CleverReach is an European email marketing service, which shines with well thought-out functions, intuitive editors and many features and also provides a free plan for beginners.
Contacts
Emails / Month
Marketing Automation
CleverReach Lite
$0.00
monthly price
Visit Website*
Try CleverReach for Free
Contacts
Emails / Month
Marketing Automation
Campaign Monitor Basic
$9.63
monthly price
Visit Website*
wide selection of templates
numerous integration options
Seite und Support nur in Englisch
8.8

good
Contacts
Emails / Month
Marketing Automation
Mailchimp Free
$0.00
monthly price
Visit Website*
* Ad disclaimer:
For links marked with an asterisk, EXPERTE.com may earn a commission from the provider. The commission has no influence on our editorial rating.

Carsten Podszun studied computer science and business administration and was self-employed in the retail industry for 15 years. Since 2014 he is a consultant for startups, freelance author and writes at EXPERTE.com about homepage, hosting & IT security.
Continue Reading
Other languages
Deutsch