Email Marketing Software Review: Campaign Monitor

Ad disclaimer:
For links on this page, EXPERTE.com may earn a commission from the provider. This supports our work and has no influence on our editorial rating.
You're a business owner who wants to keep in touch with your customers and personalize how you interact with them? If so, you'll need a reliable email marketing tool. However, with so many services to choose from, which is the best for your needs? To help out, we at EXPERTE.com have taken a close look at a number of providers, reviewing them in detail so that you can find the right tool for your business!
Campaign Monitor promotes itself as providing an easy-to-use platform, transparent pricing, and the ability to quickly create professional-looking newsletters and automations. In this review, we'll let you know whether the service holds true to its word, as well as what its strengths and weaknesses are.

What is Campaign Monitor?
Campaign Monitor* is an email marketing tool that has already been used by more than 250,000 businesses around the world. Founded in 2017, Campaign Monitor is just one product in the Nashville-based CM Group's portfolio.
Campaign Monitor promotes itself as a beginner-friendly email marketing tool that makes it possible for users to easily create, send, and optimize campaign workflows and classic newsletters. In addition to its visually-appealing templates, drag and drop editors and builders, and segmentation options, it's capable of helping you to create content for specific groups of customers. The service's analytical tools are also excellent.
As a result, Campaign Monitor provides an easy to use and highly effective email marketing solution.
Review
Tracking & Statistics
10 / 10
Configuration & Usage
9.4 / 10
Well-arranged analytics section and live tracking

Lots of plugins and a good API

Excellent newsletter editor and professional templates

Both automations and A/B tests are easy to set up
Form builder only has limited functionality

500 subscriber limit in the Basic package
It shouldn't come as much of a surprise that getting started with Campaign Monitor is fairly straightforward. After all, the provider emphasizes how easy its service is to use, and at least in this area, holds true to its promise. You won't need to input any payment information, so long as you only want to send your newsletter to five contacts or less. Of course, this isn't really practical for any sort of business or organization, however, the free version of Campaign Monitor does allow you to see (and use) all of the service's features, before deciding to purchase a subscription.
Even before logging in for the first time, the service provides you with a setup assistant. This asks whether you are planning to use Campaign Monitor for simple newsletters, automated campaigns, or transactional emails, as well as if you'd like to automatically import contacts from other services, or input them manually yourself.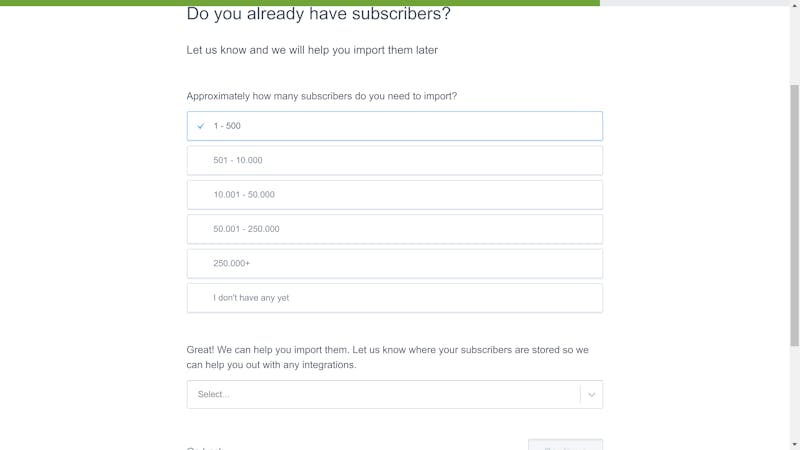 Campaign Monitor's setup assistant walks you through the first steps of using the service.
All of this serves to customize your dashboard to your needs and requirements, as well as segmenting and grouping your existing contacts. As a nice touch, you can also set whether new additions to your recipient list should have to go through the double opt-in process (and manually confirm their registration via email) or not. This is extremely useful for anyone doing business in the EU since double opt-ins are necessary to remain compliant with the General Data Protection Regulation (GDPR).
After logging in for the first time, Campaign Monitor will show you an introductory video and make recommendations for what to do next, showing you step-by-step how to use the service's tools.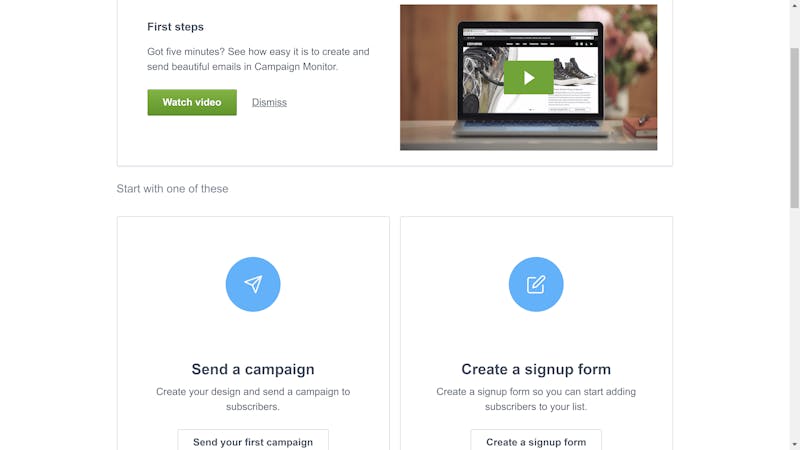 All important features are easily accessible through the dashboard with just a single click, and it's possible to navigate at any time between different areas. These include:
Overview

(main dashboard with an overview of your most recent campaigns and

A/B tests

)

Campaigns (for preparing a new newsletter and/or A/B test)

Automation (for automatic email campaigns and workflows)

Transactional (for automatic emails triggered by specific events or behavior on your site or store)

List & Subscribers (for managing your contacts and contact lists)

Insights (tracking and analytics relating to your newsletters and campaigns)

Integrations (for access to plugins and integrations)
Beyond that, you can access account settings and the help area with a single click in the respective area. Everything is clearly arranged and the areas listed above each contain only a few submenus, making navigation easy and beginner-friendly.
In the Integrations area, you'll find a number of plugins for existing systems (all told, more than 250). Some of the big names included are WordPress, WooCommerce, Shopify, and Google Analytics. Here, you'll also be able to configure individual access for APIs on your website.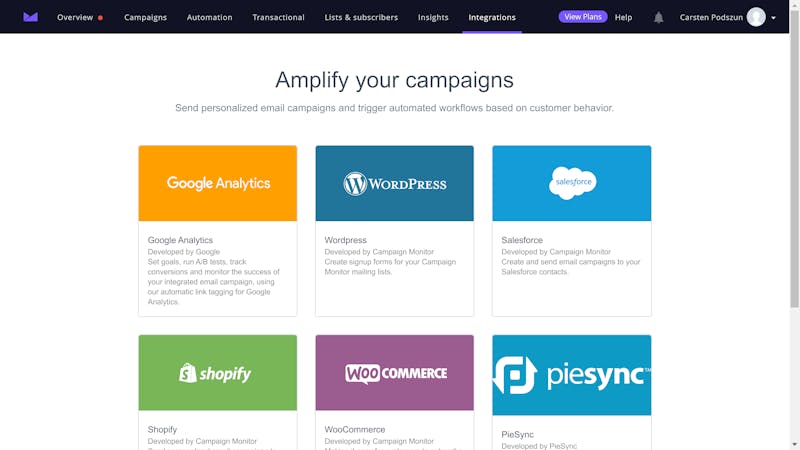 Campaign Monitor offers more than 250 plugins and integrations.
As is common, the email address which you use to register is verified as your sending address. If you would like to authenticate your own domain, you can do this by clicking on Account Settings -> Sending domains.
Here, you'll be shown exactly which DNS settings you'll need to adjust to be able to send emails using your domain. This increases deliverability and is necessary if you would like to use the API for transactional emails. For example, these can be messages automatically sent to customers when they make a purchase or order from your store.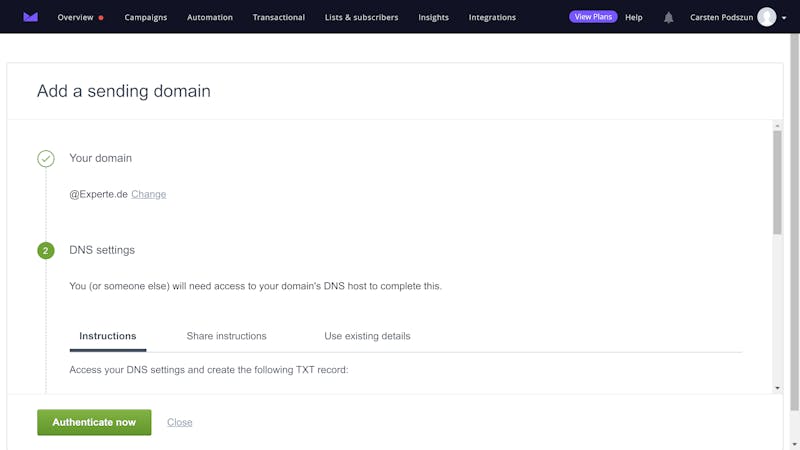 Authenticating your own domain only takes a few steps.
Integrating Google Analytics is also relatively easy to do. Simply go to Analytics tracking settings in the Settings menu, and set which domains your newsletter should track. Campaign Monitor will then automatically add analytic tags to messages you send to these domains.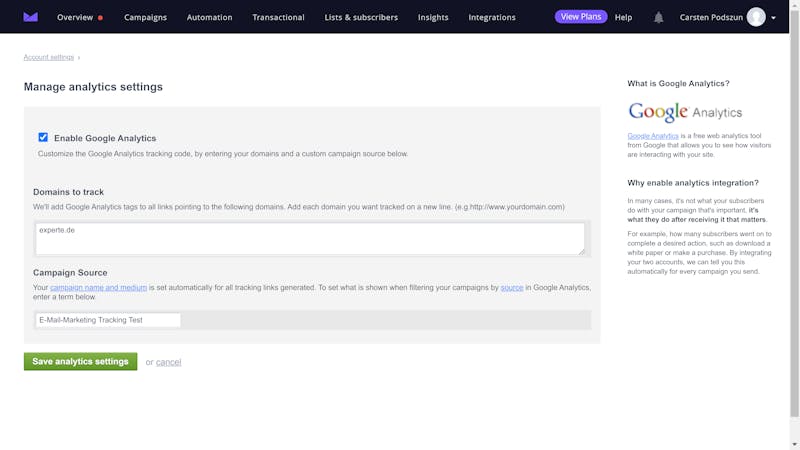 With Google Analytics, it's easy to configure which domains should be tracked.
Overall, getting started with Campaign Monitor is very pleasant, not least because of the service's high degree of user-friendliness and clearly-arranged menus. The helpful setup assistant and tutorial videos make sure that beginners have as much help as needed and can gradually feel their way around the service.
Enhancing our overall opinion of Campaign Monitor's usability are its numerous integrations, solid API, and convenient authentication and tracking options. If you're planning to send a simple newsletter, you won't need to do anything more than answer the introductory questions and start entering content.
Score: 4.7 / 5
As mentioned above, when setting up the dashboard, Campaign Monitor offers users the ability to automatically import contact data from other services like Mailchimp or ActiveCampaign.
Of course, you can also import recipient lists from your computer, or manually input contacts. For this, a number of different file types and formats are supported, making it very easy to work with existing spreadsheets or tables.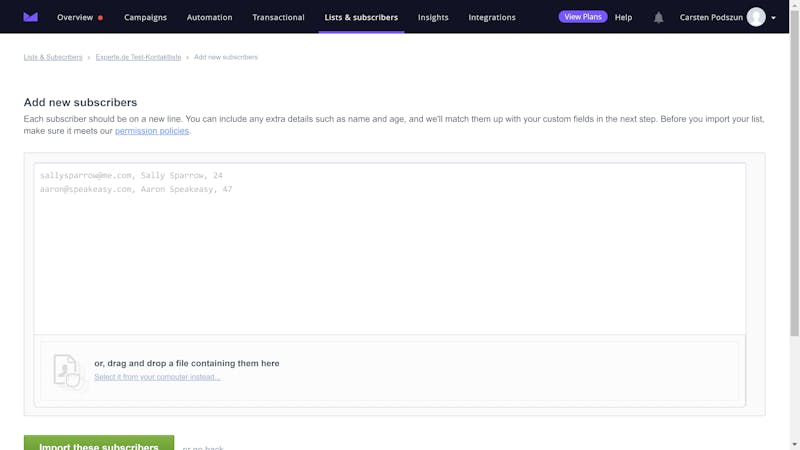 In Campaign Monitor, it's possible to manually input contact data.
You can segment contact information on the basis of individual fields, or skip unneeded fields. The entire process is so intuitive that those just starting out will be able to easily import their contact lists into Campaign Monitor. Managing contacts is also handled nicely since within a single list, you can create new segments, fields, or even include additional information.
Beyond this, when managing contact lists, it's also possible to create forms, either as separate websites, or pop-ups for an existing website.
The service has a form builder, however, it doesn't provide all too many options for creating or customizing these. In addition, Campaign Monitor doesn't offer any professional templates, so you're stuck with basic sign-up forms tied to a specific contact list.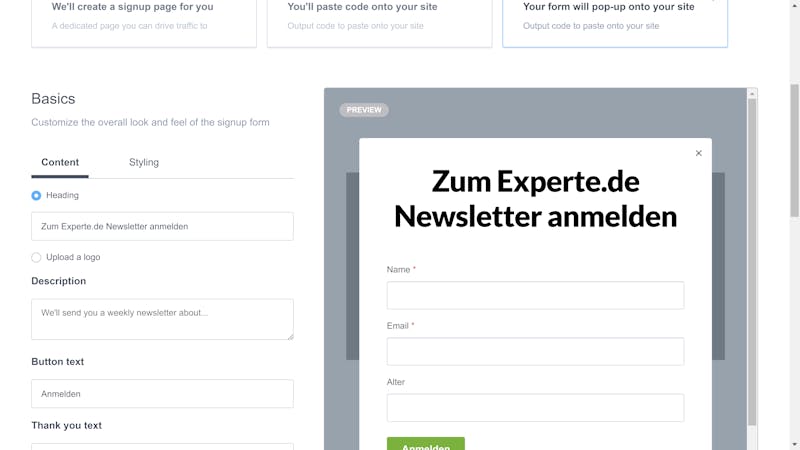 The service also doesn't provide much in the way of creating unique landing pages, which can be handy for gathering subscribers. As such, Campaign Monitor excels so far as transferring existing contacts, or manually inputting them, but falls pretty flat in terms of helping users to generate or gather additional ones.
Specifically, the inability to create landing pages and the limited options for designing sign-up forms are too little for our taste. If this isn't such a big loss for you, you can rest assured that you'll have a solid contact management system with excellent segmentation options, a good API, and functional (although not spectacular) forms.
Score: 3.7 / 5
With Campaign Monitor it's possible to create the following kinds of campaigns:
Campaigns (for classic newsletters and A/B testing)

Automation (for automated email sequences)

Transactional (for automated emails sent when conditions are met in the API)
Classic newsletters can be created in the Campaigns area. For this, users are helped step-by-step along the way by the service's assistant and tips. You can choose between regular campaigns and A/B tests, the latter allowing you to gauge the efficacy of different newsletter variants on the basis of their subject lines, content, or other criteria.
You'll have to make do without some advanced features such as automated RSS feed-based newsletters, or those comprised of blog entries.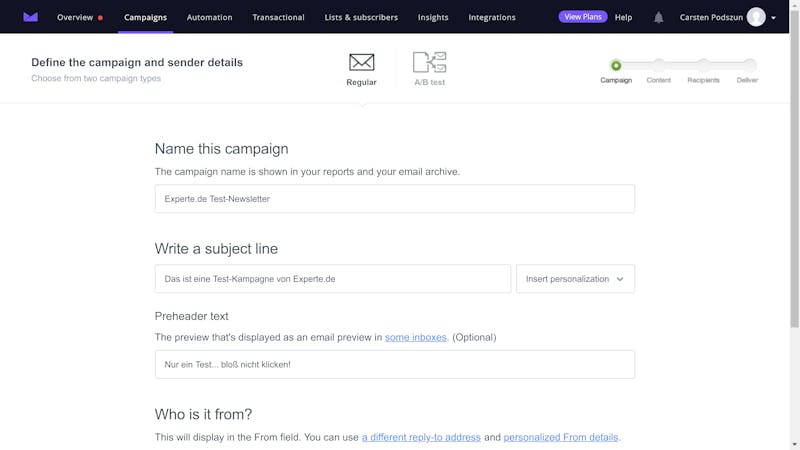 Creating a newsletter in Campaign Monitor.
In the Automation area, you'll have the ability to create email sequences using the service's workflow editor. This is particularly useful for creating autoresponders, designating recipients to new subscriber groups or segments, and sending automatic emails when specific conditions are met. The editor is very easy to use, and most of its inner-workings are self-explanatory.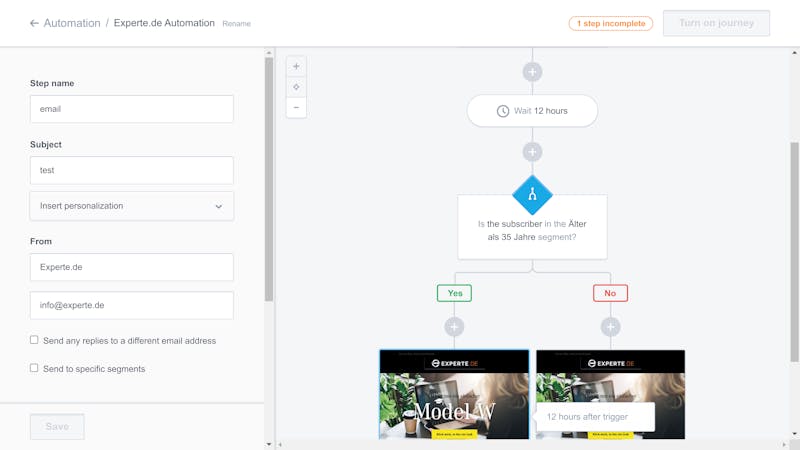 Campaign Monitor's workflow editor.
When creating a newsletter, you can choose between a number of different templates, all of which are neatly categorized. The selection is large and suitable templates can be found for nearly any type of content, all of which are professionally-designed and easy to adjust.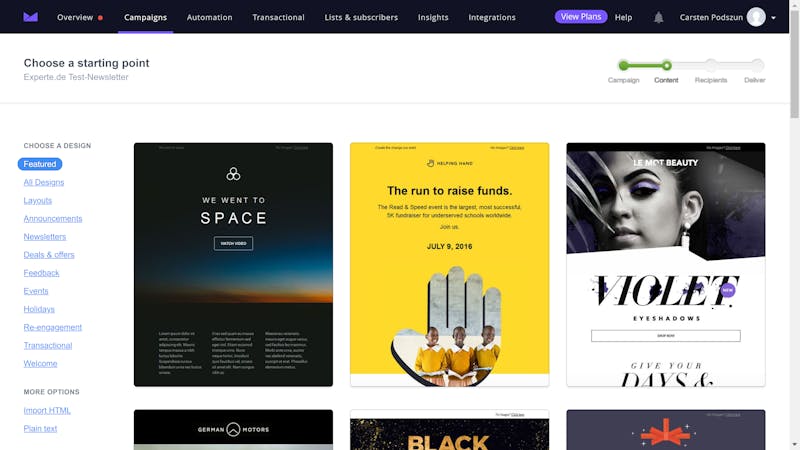 Campaign Monitor's newsletter templates.
The intuitively-designed drag and drop editor stood out during testing, allowing pretty much anyone to quickly and easily create a new newsletter or adjust an existing template for one. The editor is highly versatile, making it possible to bring almost any concept or idea to life, and with a high degree of usability to boot.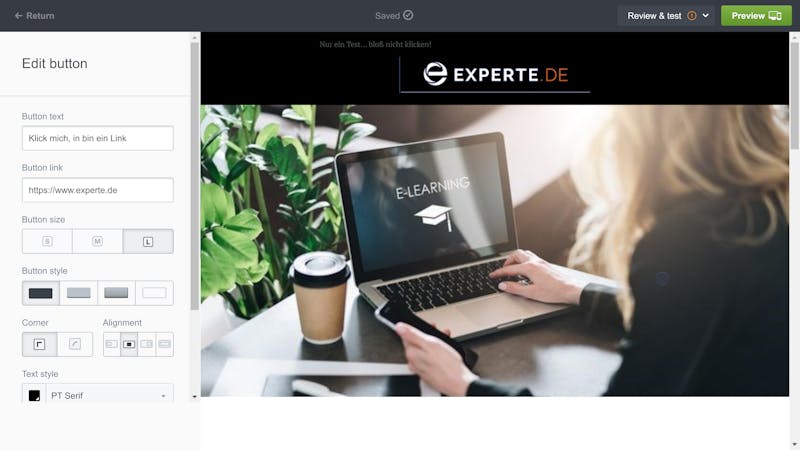 Campaign Monitor's practical drag and drop editor for creating newsletters.
Another practical feature of Campaign Monitor is that prior to launching your campaign, you can preview it both for mobile as well as web display, making sure that it is optimized for all devices.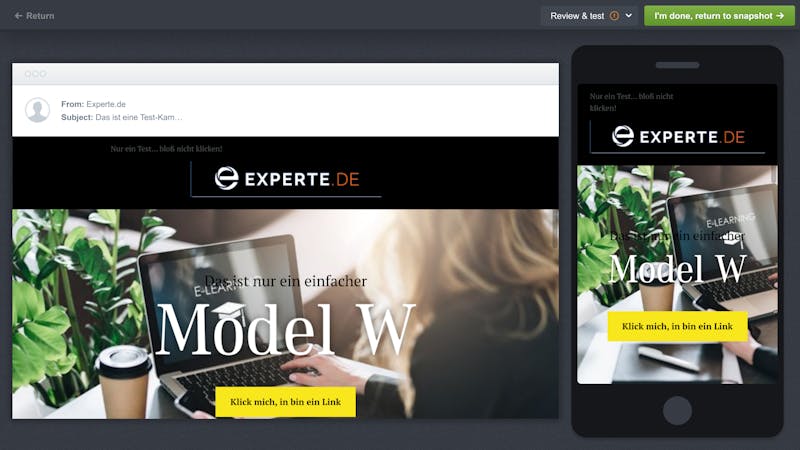 Campaign Monitor does nearly everything right as far as sending emails is concerned. Automations are quickly set up and despite the wide range of features, intuitive to use. Transactional emails can be sent after authenticating your domain and linking it via the API. This last bit does require some technical know-how, but Campaign Monitor provides all the documentation needed to pull this off.
If you can live without RSS feed-based newsletters or SMS campaigns, you won't really be missing out on much with Campaign Monitor.
Score: 4.7 / 5
In terms of tracking and analytics, Campaign Monitor again gives a good accounting of itself. Immediately after sending a newsletter, you can view all sorts of metrics relating to it in the Tracking and Statistics area. These include a good overview of all the most important figures such as the open, click, and bounce rates, as well as detailed insights into clicked links, cancellations, and much more.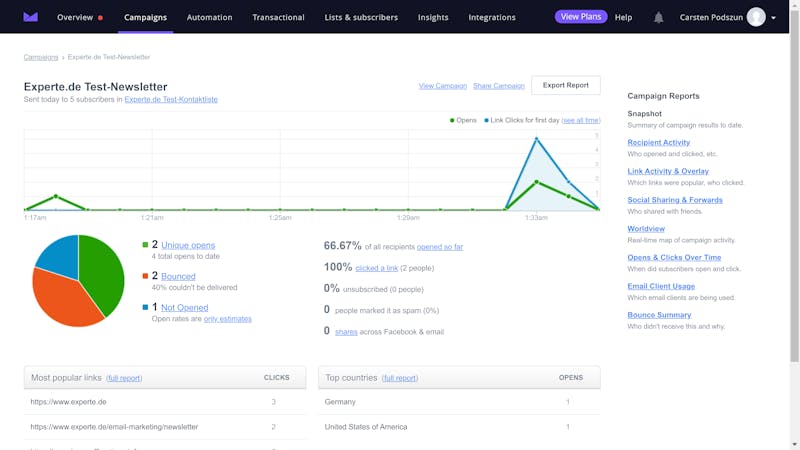 Soft bounces are converted into hard bounces after five failed delivery attempts. Hard bounces are automatically set as inactive contacts in their respective contact list.
If desired, it's also possible to dive deeper into the statistical evaluation of your campaign and view the open and click rates, as well as email provider details, link activities, or other recipient behavior. Once again, Campaign Manager keeps true to its promise and offers extensive features, all without overloading users.
The map view is another nice aspect since it enables users to see where their messages are opened and which links are clicked on most frequently. Should you be catering to an international audience, this feature is extremely helpful.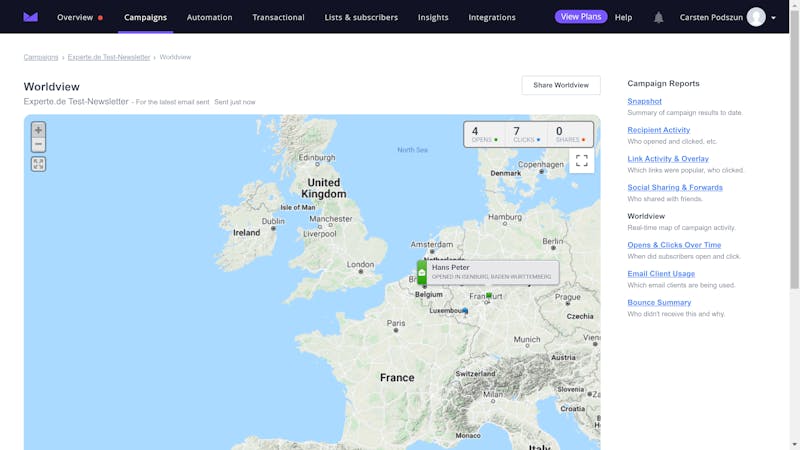 Map view of recipients, including analytical data.
With user-friendly A/B testing, it's possible to gauge the efficacy of individual newsletters or entire campaigns on the basis of their subject lines, content, or other content. To conduct these, simply send 20-25% of your recipients Version A and another 20-25% of your recipients Version B, and then send the remaining 50-60% the more successful variant.
In this way, you can not only gain important insights for optimizing your campaigns but because the entire process can be automatized, it's also possible to send every newsletter as an A/B test to continually keep your open rates high.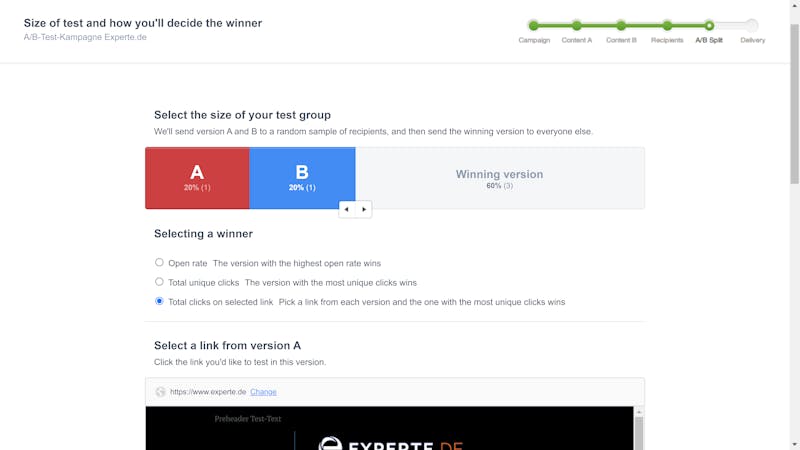 Campaign Monitor provides automatic A/B testing, which automatically dispatches the better-performing variant to your remaining subscribers.
In the previous few categories, Campaign Monitor has scored highly, but so far as tracking and statistics are concerned, it really takes the cake. Everything is clearly designed and accessible, however, if you need or want more detailed insights, the service supplies you with these as well. Live tracking, as well as geo-tracking, are possible, while A/B testing can be used to not only optimize your future campaigns but also, to continually boost your open rates thanks to their automation.
Tracking and analytics don't have to be complicated, as Campaign Monitor so elegantly demonstrates. In the Premier package, even more features are offered for optimizing campaigns, such as tweaking delivery times, additional link tracking, and spam tests. All in all though, Campaign Monitor delivers a perfect performance in this area.
Score: 5 / 5
All good things must come to an end, and Campaign Monitor's series of highs tapered off somewhat when we assessed its support. Hotline support is only offered to Premier subscribers, meaning that users of the less-expensive packages will have to content themselves with email support.
To get in touch, click on the Help link in the upper navigation bar of the dashboard. This will take you to the well-structured help center, where you'll find comprehensive video tutorials, a full-text searchable FAQ area, as well as a contact form.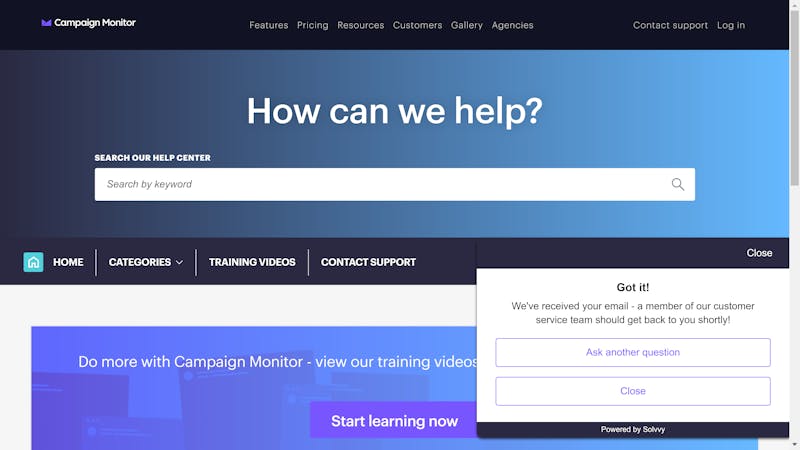 Campaign Monitor's help center is very well-structured.
Even though we can (and do) take this opportunity to criticize Campaign Monitor's lack of means for getting in touch with customer support, we were positively surprised by the response times. Each of our email queries, regardless of the time of day when sent, were answered within 15-35 minutes. Among other providers, we've experienced live support chats that don't answer as quickly, let alone support tickets/emails that are days in coming.
All the same, the absence of a live chat, and limitation of hotline support to Premier subscribers mean that we have to deduct a few points from Campaign Monitor's overall score.
Score: 4 / 5
When talking about pricing, Campaign Monitor is in the middle of the pack. For those considering a Basic subscription, be aware of the limits (2,500 emails per month/500 recipients). Customers of the more pricey packages will be able to send unlimited emails, however, to varying numbers of recipients.
A 'usable' free version doesn't exist, since any organization or business considering email marketing will certainly have more than five customers or members. With that said, you can simulate how an email campaign might work using the program, and find out if its features cover your needs, without having to worry about whether you'll need to unlock something behind a paywall to get full usability. As such, this free version is in reality little more than a trial phase, albeit, without any time limit. We think this is a nifty way of allowing prospective customers to try before buying.
| Contacts / Provider | 500 | 1,000 | 5,000 | 10,000 ▲ | 50,000 | 100,000 |
| --- | --- | --- | --- | --- | --- | --- |
| Mailjet | $0 | $0 | $10 | $19 | $167 | $334 |
| MailerLite | $0 | $0 | $30 | $50 | $210 | $360 |
| GetResponse | $15 | $15 | $45 | $65 | $250 | $450 |
| AWeber | $0 | $26 | $46 | $66 | - | - |
| Mailchimp | $0 | $0 | $50 | $75 | $259 | $499 |
| Sendinblue | $0 | $0 | $66 | $81 | $229 | $379 |
| Constant Contact | €18 | €40 | €57 | €83 | €292 | - |
| Campaign Monitor | €9 | €29 | €49 | €99 | €329 | - |
| CleverReach | €15 | €20 | €55 | €100 | €400 | €900 |
| ConvertKit | $0 | $0 | $79 | $119 | $379 | $679 |
| ActiveCampaign | $15 | $29 | $89 | $139 | $299 | $459 |
| Klaviyo | $20 | $30 | $100 | $150 | $700 | $1,200 |
Here, you can find an overview of all of Campaign Monitor's subscription rates:
Basic
Unlimited
Premier
Set-up Fee
-
-
-
Price per Month
from $9.63
from $31.03
from $159.43
Contract Period (Months)
1
1
1
Limits
Contacts
up to 50,000
up to 50,000
up to 50,000
Emails
up to 250,000
unlimited
unlimited
Features
Segmentation
Tagging
Marketing Automation
Ad Free
Open-Rate Tracking
Click Tracking
A/B-Testing
Conclusion
Tracking & Statistics
10 / 10
Configuration & Usage
9.4 / 10
In terms of user comfort, breadth of features, and ease of use, Campaign Monitor doesn't promise too much. Yes, there are other email marketing tools that offer more features or better support, but overall, Campaign Monitor seems to provide noticeably more than the average in each category we examined, which will appeal to both beginners as well as more experienced users.
The excellent analytics, loads of plugins and integrations, as well as the easy to use workflow and newsletter editors leave little doubt in our mind that Campaign Monitor offers one of the most well-rounded and reliable marketing solutions available.
Contacts
Emails / Month
Marketing Automation
Campaign Monitor Basic
$9.63
monthly price
Visit Website*
User Reviews
On the basis of the customer reviews we've compiled from trusted portals and sites below, you can see how Campaign Monitor fares amongst its users.
Customer Ratings
1,179 Bewertungen
Visit Website*
We analyzed the reviews and ratings from various portals and found 1,179 ratings with an overall rating of 4.3 out of 5 .
Alternatives
If you'd prefer a more usable free version of an email marketing tool, you might want to head on over to CleverReach's website. In particular, if you still have a small client or customer base, you'll be able to stay in touch with them for free, all the while being able to take advantage of the service's extensive analytics and ease of use.
Should you be searching for a provider that offers as strong analytics and statistics as Campaign Monitor, but provides more freedom in terms of designing landing pages and newsletters, ActiveCampaign could be just what you're looking for. Take care though: You'll lose a bit of Campaign Monitor's usability and ease of use.
GetResponse stands out with its ease of use, excellent customization options, extensive statistics and numerous templates. It is suitable for both beginners and frequent senders.
Contacts
Emails / Month
Marketing Automation
GetResponse Basic
$15.00
monthly price
Visit Website*
30 days free trial
Sendinblue is a fully recommendable email marketing service with a wide range of features and ease of use. It is particularly suitable for sending automated campaigns.
unlimited number of contacts
loads of newsletter templates
9.4

excellent
Contacts
Emails / Month
Marketing Automation
Sendinblue Free
$0.00
monthly price
Visit Website*
ActiveCampaign is a fully integrated sales and marketing platform including CRM system, complex automation and multi-channel marketing.
Contacts
Emails / Month
Marketing Automation
ActiveCampaign Lite
$15.00
monthly price
Visit Website*
CleverReach is an European email marketing service, which shines with well thought-out functions, intuitive editors and many features and also provides a free plan for beginners.
Contacts
Emails / Month
Marketing Automation
CleverReach Lite
$0.00
monthly price
Visit Website*
Try CleverReach for Free
wide selection of templates
numerous integration options
Seite und Support nur in Englisch
8.8

good
Contacts
Emails / Month
Marketing Automation
Mailchimp Free
$0.00
monthly price
Visit Website*
* Ad disclaimer:
For links marked with an asterisk, EXPERTE.com may earn a commission from the provider. The commission has no influence on our editorial rating.

Carsten Podszun studied computer science and business administration and was self-employed in the retail industry for 15 years. Since 2014 he is a consultant for startups, freelance author and writes at EXPERTE.com about homepage, hosting & IT security.
Continue Reading
Other languages
Deutsch