Email Marketing Software Review: CleverReach

Ad disclaimer:
For links on this page, EXPERTE.com may earn a commission from the provider. This supports our work and has no influence on our editorial rating.
Reliable email marketing software is one of the cornerstones of any successful online advertising campaign. The best services are those capable of being adjusted to their users' specific needs, ranging from the manual creation of newsletters for a limited readership to an all-in-one email management system. In addition to the automation of certain processes, a variety of different metrics help in optimizing email campaigns and ensuring the best possible results.

What is CleverReach?
CleverReach* is one of the most widely-used email marketing tools in Europe within the low-moderate price segment. On its website, the company advertises its ability to deliver large numbers of newsletters, provide intuitive real-time reports, support e-commerce and CRM interfaces, and offer an address management system and responsive design in an easy to use package.
In this review, we'll take a closer look at whether CleverReach is a 'smart' solution, or if it's overreaching.
Review
Configuration & Usage
9.4 / 10
Tracking & Statistics
9.4 / 10
Good price-performance ratio

Wide variety of features for creating, automating, and analysing marketing campaigns

Numerous possibilities for integrating CMS and e-commerce systems

Free version for up to 250 recipients
Somewhat limited editing and design options

Lack of functionality in the free version
Registering with CleverReach is straightforward and the service's website is well-organized. Those planning to use the free version are given the ability to send 1,000 emails to up to 250 recipients per month. Should you just be starting out, CleverReach offers free video instructions that explain all of the service's features and capabilities in greater detail.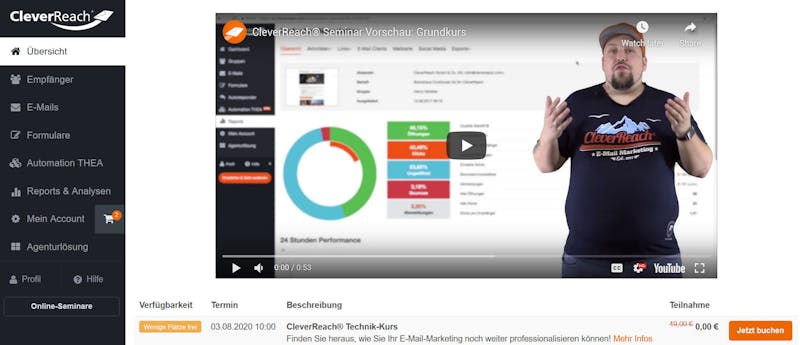 CleverReach provides users with a free video starter guide.
The email address used during registration is automatically saved as the return and recipient address for newsletter previews. This is because prior to dispatch, a preview of each newsletter is sent to your email address, to help you check your content before sending it out. It is possible to input individual email addresses as the sender for each newsletter, however, the verification of an entire domain through SPF is limited to paying customers only. Similarly, domain-based message authentication, DMARC, can be enabled, but again, only for paying subscribers, and after requesting access to it from support.
All outgoing mails from CleverReach receive an automatic DomainKeys Identified Mail (DKIM) signature. In addition, CleverReach is part of the Certified Senders Alliance (CSA) which means that it is whitelisted by most ISPs. This guarantees that all of the basic conditions are met for ensuring that your messages are delivered to those on your mailing list, and won't end up in their spam folders.
Setting up the service is very easy since, if wanted, you can start sending newsletters right away using the email address that you registered with, without configuring any additional settings..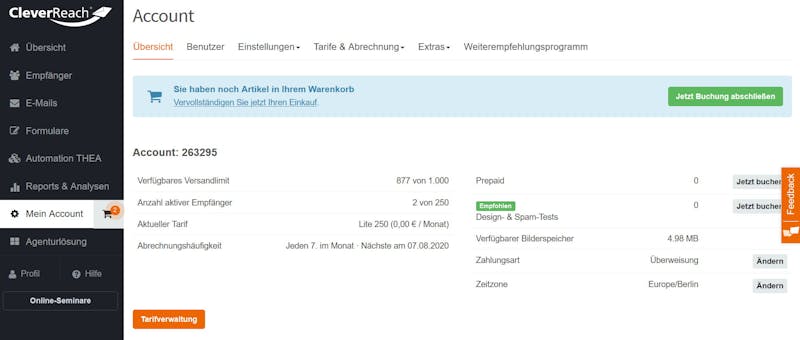 CleverReach's account overview.
The different options for configuring the service are clearly presented and well-structured. In the My Account area, you can monitor your subscription, sending limit, and other important settings. By clicking on Extras, you can also access the CleverReach REST Explorer, which provides an overview of all of the REST-API's functions. Here, you can also find the plugin library, which allows you to integrate your e-commerce and content management system into CleverReach.

Integration of Facebook and Google Analytics in CleverReach.
Since CleverReach conforms to the EU's General Data Protection Regulation (GDPR) and supports double opt-Ins, the privacy protection settings are also worth mentioning. CleverReach offers a number of possibilities for making email campaigns GDPR-compliant since by default, they aren't. To do this, make sure that the option "Data Protection Conformity" is toggled on, anonymizing metrics such as the number of opened messages, and the click rates.

GDPR-compliance in CleverReach.
Taken together, it isn't difficult to get started with CleverReach, since both its configuration and customization require little effort and are straightforward. Within at most two clicks, you'll be able to do whatever it is that you were planning on in the dashboard. The video lessons are also helpful, particularly for anyone just starting out. The only gripe worth repeating is that some functions like domain verification through SPF are only available to paying customers. With that said, we have no problem awarding CleverReach a (nearly) perfect score in this area.
Score: 4.7 / 5
There are a number of possibilities for importing and/or creating a recipient list. Through the menu item Recipient > Add Data, it's possible to manually input individual addressees, manage integrations, or import an entire list. You can also add multiple contacts by manually copying and pasting them into the interface. User-defined fields can be filled with values, dates, text, while titles/genders and tags can be defined, allowing you to more easily organize your contacts into groups. You can also manually segment a contact list, should you only want to send a newsletter to a specific subset.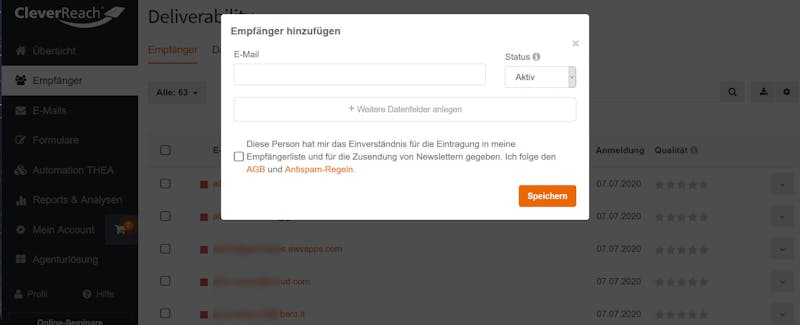 Adding recipients in CleverReach.
Through Signup form on the menu, you can easily create and add widgets to your homepage for directly collecting email addresses, which are automatically compiled into a recipient list. The widget editor is fairly straightforward with the individual elements clearly organized in the menu bar on the left. The design options are somewhat limited, however, the most important settings, like the color scheme and background color, can be modified.
Relevant source codes for subscribing and unsubscribing to your newsletter can be generated with a click, and you're also able to personalize the target URLs if you wish. Should you not want to do this, however, default URLs are used for confirmation, subscribing, and unsubscribing.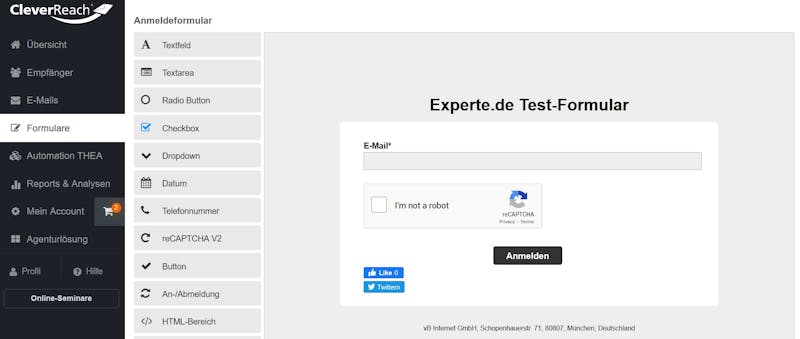 CleverReach's signup widget.
Alongside the various integration possibilities and RESTI-API, we were also impressed with the variety of plugins that CleverReach offers. While some of these are at cost (such as Salesforce) and don't offer all desired functionality, there's no getting around the number of options for nearly every notable CMS and e-commerce system. To name just a few, these include WordPress, Drupal, Typo3, xt:Commerce, Shopify, and Joomla.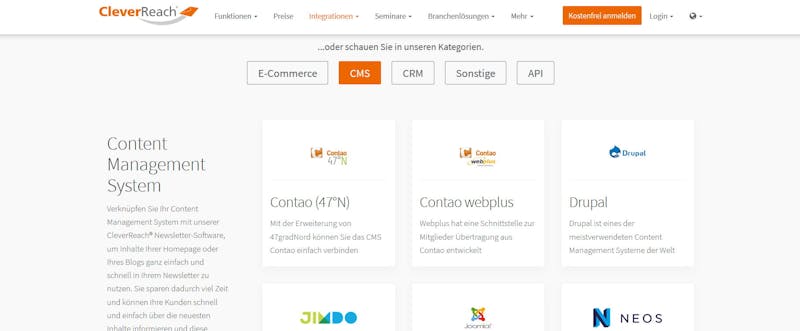 CleverReach's wide variety of plugins.
Double-opt ins can be assured through either plugins or the REST-API, helping to make your activities GDPR-compliant. We were somewhat put-off that the free version is very limited in regards to address management. For example, you're only able to add a single recipient list or subscription widget, and need to make do with its CleverReach watermark. Additionally, whenever you come up against a premium feature, the service marks it with an orange star as such.
At the same time, we don't really want to make too big of a deal out of any of this, since CleverReven is one of the few services we examined that offers a free version, making a versatile and highly-functional marketing solution available at absolutely no charge.

Limitations in the free version of CleverReach.
Overall, CleverReach makes administering and managing recipients a piece of cake, with a variety of options for gathering, importing, and linking them available in the user interface. Even beginners can easily create a widget with little more than a few clicks and select from an impressive range of plugins and tools. As a result, it isn't difficult to look past the free version's limitations.
Score: 4.7 / 5
For many, the most important question surrounding an email marketing solution is how it facilitates the launching of marketing campaigns, particularly if these are to be directed internally, rather than through an agency. CleverReach offers extensive templates and possibilities for tailoring campaigns to your exact needs and specifications. For creating custom designs and templates (albeit only in paid subscriptions), you can drop and drop elements, or input them using HTML or source text.
To create a new campaign, simply click on Email and select Create a new email. You'll then be given a step-by-step guide for completing this, including advanced settings, tracking options, and the ability to choose from a range of templates.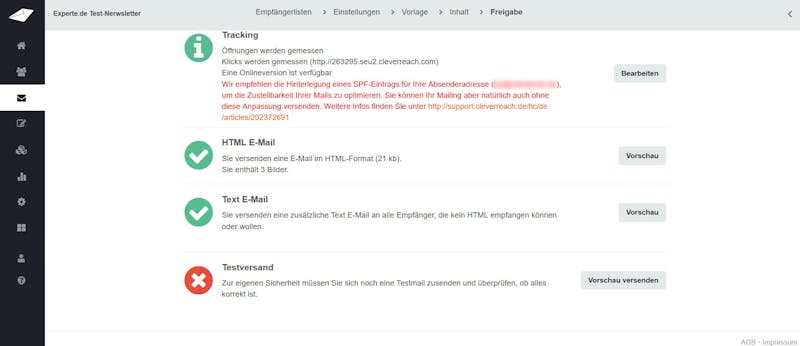 Step-by-step guide for launching a new email campaign.
CleverReach divides emails into three different types:
Simple Emails
These include classic newsletters and email campaigns that are sent to all contacts on a given list, or a specified group of recipients.

A/B Testing (premium feature)
A/B, or split testing uses multiple email variants with slightly different subject lines to gauge how effective each variation is.

Single-Track automation Workflow
This feature discerns between simple automated workflows, such as specific calendar events, registration for your newsletter, or the placing of an order, and more advanced workflows. These include transactional automated workflows or campaigns that are personalized on the basis of certain events or factors.
An unlimited number of simple emails can be sent in the free version, however, without upgrading to a premium subscription, you're limited to the creation of a single automated email campaign. The basic email editor is intuitively designed, allowing for classic newsletters to be easily created and personalized by dragging and dropping elements or content.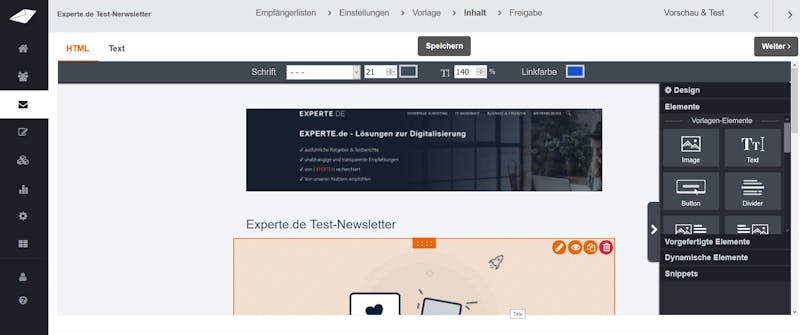 Designing individual emails with CleverReach's drag and drop email editor.
Should you opt for a paid subscription, you'll be given access to a range of design templates beyond those offered to not-paying users. Tread carefully though: Not all of these are responsive (optimized for display on mobile devices) and customization is a bit trickier than with the default templates. You are able to upload your own HTML templates or create one from the ground up, however.

CleverReach's extensive selection of premium design templates.
Of particular note is CleverReach's single-track Automation workflow for simple and automated workflows. This allows you, without any programming knowledge whatsoever, to create campaigns linked to specific conditions, to integrate A/B tests, and much more. In particular, if you already have experience with more complicated newsletter tools, you'll quickly get the hang of CleverReach's single-track Automation workflow.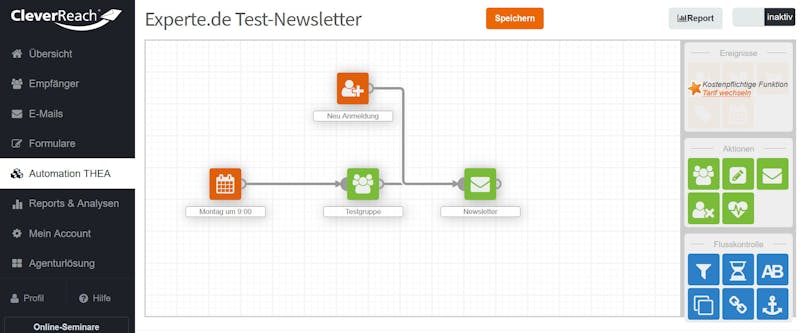 CleverReach's single-track Automation workflow makes automating newsletters easy.
The single-track Automation workflow also helps with more straightforward automated campaigns, helping you to observe and monitor them. This only slightly benefits users of the free version, however, as they're limited to a single campaign. Should you want to fully automate your email marketing, you can easily do this in the single-track Automation workflow without any detailed background knowledge.

CleverReach's single-track Automation workflow.
The email editor's variety of features is definitely praiseworthy, and the single-track Automation workflow really stands out. For paying subscribers, the added functions, extra design templates, and the ability to integrate RSS-feeds greatly increases the number of options available to you. Apart from sending emails through the backend, you can also launch campaigns with the help of any number of plugins, or the API. To top it all off, automation is easy to pull off through the user interface. The only blemish is that not all design templates are optimized for mobile usage, but apart from that, no complaints from our side.
Score: 4.7 / 5
Tracking of sent emails, as well as the click, open, and unsubscribe rates, are easy to keep tabs on through Reports & Analyses. Here, you'll be provided with a clear overview of your campaigns, allowing you to compare and monitor them on the basis of their click and bounce rates.
Selecting a specific campaign will provide you with more details, including all relevant data. This can, in turn, be exported into PDFs, and for paying subscribers, includes additional metrics such as the location of the recipient, or detailed information from their email provider. Free users don't need to fret though, as the analysis provided is informative and presented clearly. Especially helpful for beginners are the star ratings for the subject line and content quality.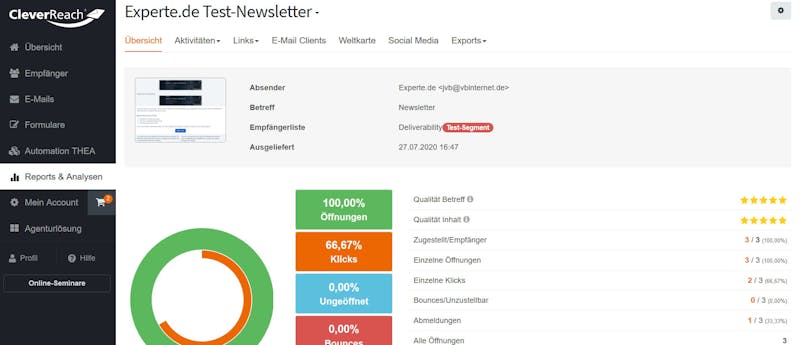 CleverReach's campaign statistics.
The provision of useful information such as 24-hour or click performance, as well as the ratio of desktop to mobile recipients, ensures that you can evaluate and optimize your campaigns efficiently and easily. CleverReach also makes discerning between soft and hard bounces clear, with the latter automatically deactivated from the recipient list, either temporarily, or permanently. All reports can be exported as PDF, XML, or CSV files to carry on even more thorough analyses. The only thing missing are detailed evaluations of spam markings.
Score: 4.7 / 5
Customer service with CleverReach takes the form of a ticket system, a solid FAQ section in its online help center, as well as webinars, and decent email support. Emails are typically answered within a working day, providing competent help and solutions. The help center is divided into thematic areas, and a good starting place for any issues you might be having, as well as for exploring the service's basic and advanced features.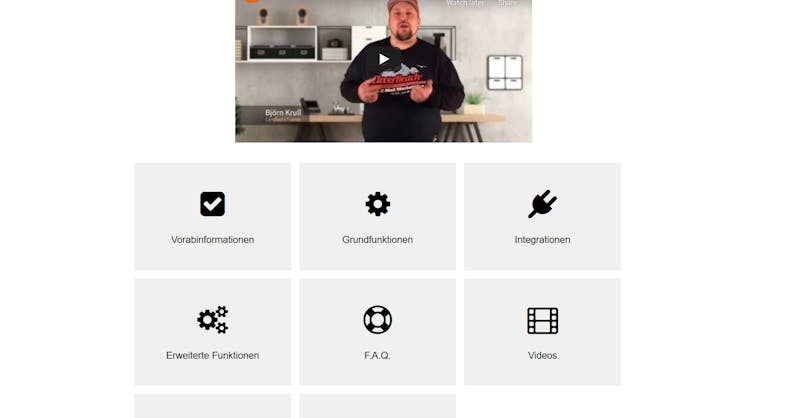 CleverReach's help center.
The 72-hour response time guarantee is a little bit disconcerting. During testing, the response time never came close to this, however, we wouldn't want to take this risk during an emergency. If customer service is a deal-breaker for you, it is possible to purchase premium support (guaranteed 24-hour response time), however, this costs a princely $30 extra per month. No hotline support is offered, and as such, there's definitely some room for improvement in this area.
Score: 3.7 / 5
CleverReach is definitely not the cheapest provider on the market, especially in terms of monthly costs. However, its "Lite" package (free) allows you to test the service out, before splurging on a subscription. The paid packages can be easily adjusted to fit your needs, and the price-performance ratio is very good. Another plus is that you aren't tied to a lengthy contract, and can cancel at any time.
| Contacts / Provider | 500 | 1,000 | 5,000 | 10,000 ▲ | 50,000 | 100,000 |
| --- | --- | --- | --- | --- | --- | --- |
| Mailjet | $0 | $0 | $10 | $19 | $167 | $334 |
| MailerLite | $0 | $0 | $30 | $50 | $210 | $360 |
| GetResponse | $15 | $15 | $45 | $65 | $250 | $450 |
| AWeber | $0 | $26 | $46 | $66 | - | - |
| Mailchimp | $0 | $0 | $50 | $75 | $259 | $499 |
| Sendinblue | $0 | $0 | $66 | $81 | $229 | $379 |
| Constant Contact | €18 | €40 | €57 | €83 | €292 | - |
| Campaign Monitor | €9 | €29 | €49 | €99 | €329 | - |
| CleverReach | €15 | €20 | €55 | €100 | €400 | €900 |
| ConvertKit | $0 | $0 | $79 | $119 | $379 | $679 |
| ActiveCampaign | $15 | $29 | $89 | $139 | $299 | $459 |
| Klaviyo | $20 | $30 | $100 | $150 | $700 | $1,200 |
If you have multiple recipient lists, want to launch a number of different automatic campaigns, or perform ample A/B testing, you can skip the free version, as even the most affordable package provides access to all premium features and advantages.
Lite
Flat rate
Set-up Fee
$0.00
$0.00
Price per Month
$0.00
from $9.63
Contract Period (Months)
0
1
Limits
Contacts
up to 250
up to 100,000
Emails
up to 1,000
unlimited
Features
Segmentation
Tagging
Marketing Automation
Ad Free
Open-Rate Tracking
Click Tracking
A/B-Testing
Conclusion
Configuration & Usage
9.4 / 10
Tracking & Statistics
9.4 / 10
CleverReach is an excellent email marketing service, with well-thought-out functions, intuitive editors, creator, and builder, decent support, strong analytical tools, and a wide array of features. Beyond that, it's also one of the few providers available in a free version.
For both beginners, as well as companies or organizations, the service is able to meet needs thanks to its plethora of solutions. Owing to its excellent plugin compatibility, extensive integration possibilities for e-commerce systems or CMS, as well as complete GDPR compliance, the service is well-suited for any market. It's also fairly priced, has an intuitive drag and drop editor, and can be used to create complex automated campaigns without any prior knowledge of programming.
There are a few issues here and there: The free version has limited functionality; Support is underwhelming, and the design templates could be optimized for mobile usage. Apart from these minor blips though, CleverReach is certainly not over-reaching, and definitely capable of outsmarting some of its more internationally-renowned competitors.
CleverReach is an European email marketing service, which shines with well thought-out functions, intuitive editors and many features and also provides a free plan for beginners.
Contacts
Emails / Month
Marketing Automation
CleverReach Lite
$0.00
monthly price
Visit Website*
Try CleverReach for Free
Customer Reviews
We've compiled verified reviews from customers of CleverReach so that you can gain greater insight into how actual users of the service feel about it.
Customer Ratings
91 Bewertungen
Visit Website*
We analyzed the reviews and ratings from various portals and found 91 ratings with an overall rating of 4.1 out of 5 .
Alternatives
If you're looking for another GDPR-compliant provider with a free version that isn't so limited as that of CleverReach, Mailjet might be worth considering. The service offers a similar variety of functions, and its pricing is equally affordable.
Similarly, thanks to its user-friendliness, ease of use, and versatile drag and drop email editor, Sendinblue is also worth mentioning. This service also makes staying on the right side of the GDPR easy, however, you'll have to make do without a free version. In exchange, Sendinblue's analytics are even more detailed than those of CleverReach.
GetResponse stands out with its ease of use, excellent customization options, extensive statistics and numerous templates. It is suitable for both beginners and frequent senders.
Contacts
Emails / Month
Marketing Automation
GetResponse Basic
$15.00
monthly price
Visit Website*
30 days free trial
Sendinblue is a fully recommendable email marketing service with a wide range of features and ease of use. It is particularly suitable for sending automated campaigns.
unlimited number of contacts
loads of newsletter templates
9.4

excellent
Contacts
Emails / Month
Marketing Automation
Sendinblue Free
$0.00
monthly price
Visit Website*
ActiveCampaign is a fully integrated sales and marketing platform including CRM system, complex automation and multi-channel marketing.
Contacts
Emails / Month
Marketing Automation
ActiveCampaign Lite
$15.00
monthly price
Visit Website*
Contacts
Emails / Month
Marketing Automation
Campaign Monitor Basic
$9.63
monthly price
Visit Website*
wide selection of templates
numerous integration options
Seite und Support nur in Englisch
8.8

good
Contacts
Emails / Month
Marketing Automation
Mailchimp Free
$0.00
monthly price
Visit Website*
* Ad disclaimer:
For links marked with an asterisk, EXPERTE.com may earn a commission from the provider. The commission has no influence on our editorial rating.

Carsten Podszun studied computer science and business administration and was self-employed in the retail industry for 15 years. Since 2014 he is a consultant for startups, freelance author and writes at EXPERTE.com about homepage, hosting & IT security.
Continue Reading
Other languages
Deutsch