Email Marketing Software Review: Constant Contact

Ad disclaimer:
For links on this page, EXPERTE.com may earn a commission from the provider. This supports our work and has no influence on our editorial rating.
So, you want to create a professional online campaign and optimize how you keep in touch with your customers? Good news: You can, thanks to email marketing tools, of which a number are available. The bad news? Owing to their popularity, the number of such services has exploded over recent years, so much so that getting started is less about finding a solution, than picking the one that is right for you or your business.
To lend a helping hand, we at EXPERTE.com took a look at a variety of different providers, comparing them to one another. One internationally-known service we've examined is Constant Contact, which we'll review for you here, in this article!

What is Constant Contact?
Constant Contact* is a little bit of an oldie in the marketing scene, having been founded in 1995 in Waltham, Colorado. Since then, the business has opened offices in New York, and in 2015, was bought by Endurance International.
Constant Contact is active around the world and one of the largest email marketing providers on the planet. The service specializes in support for ecommerce platforms and online stores, offering a range of features that its competitors simply can't match. In addition, Constant Contact makes it easy to integrate social media posts and Google Ads, two features that have seen its popularity skyrocket, particularly among operators of online stores.
Unfortunately, in contrast to some of the other services we examined, Constant Contact does not offer a free version. As a result, you'll need to select a subscription package and pay upfront if you want to use Constant Contact for your email marketing needs. Below, we'll go into further detail about the ins and outs of the service.
Review
Tracking & Statistics
6.6 / 10
Configuration & Usage
5.4 / 10
High deliverability rate for emails

Easy to integrate social media posts and Google Ads

Straightforward builder(s) with decent templates

Numerous integrations for store and content management systems

Provides useful features such as surveys and Shutterstock integration
Takes a long time to get started owing to the manual verification process

Subscription cancellations or account questions only handled via telephone
On the surface, getting started with Constant Contact is pretty straightforward. You'll only need to register with an email address and select a package based on the number of recipients in your contact list. Once your email address is verified, you can log in and use the service's dashboard.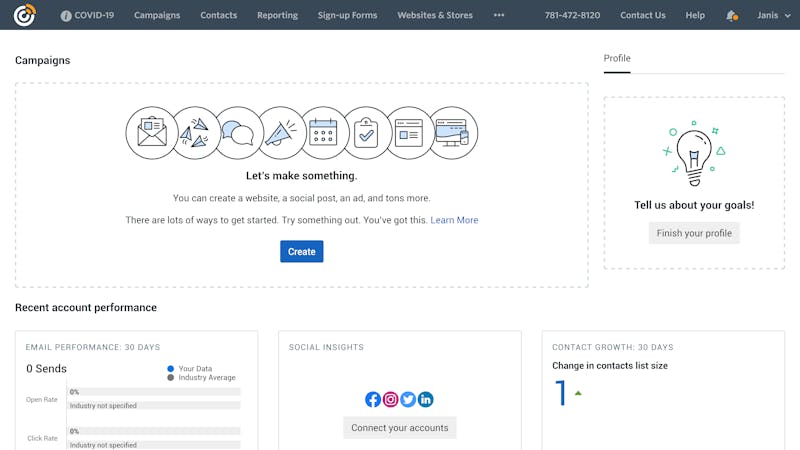 Constant Contact's user dashboard.
The dashboard is clearly arranged and allows you to access all of the most important features of the service directly through the upper navigation bar:
Campaigns (for classic newsletters, automations, surveys, and more)

Contacts (for adding and managing contacts)

Reporting (analytics and tracking)

Sign-Up-Forms (to create registration/subscription forms for gathering more contacts)

Websites & Stores (for websites, online stores, and ecommerce platforms)

Social (for creating social media posts)

Integrations (for plugins as well as store and content management systems)

Library (overview of all uploaded media and Shutterstock images)
Basically, you can access all features through the Campaigns tab, since alongside newsletters and automated campaigns, Constant Contact also groups websites, forms, social media posts, and much more under this heading.
So far as integrations with other systems are concerned, Constant Contact is well-structured. Plugins for all typical store and content management systems are provided, as well as some additional integrations with services like Google, ListBuilder, Office, Outlook, and more.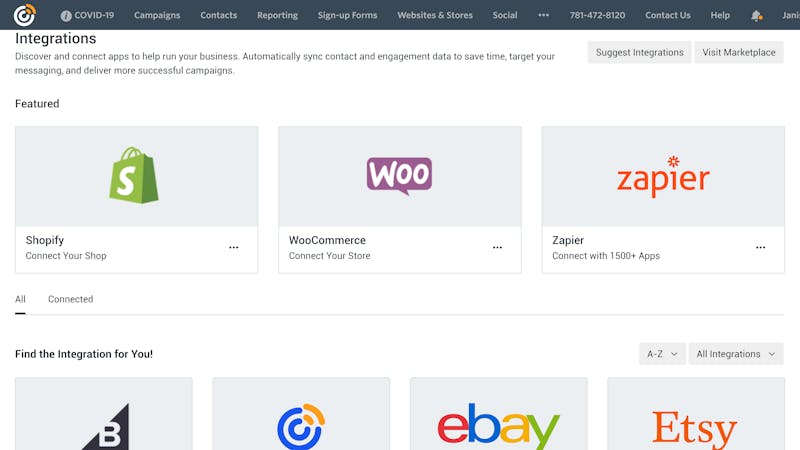 By default, the email address that you register with is verified as your sender address. If you would like to use your own domain or register a new domain through Constant Contact, you can do this by clicking on Websites & Stores -> Domains. Here, you'll also be able to see which DNS records you'll need to configure for your domain to use it as a sender address in Constant Contact.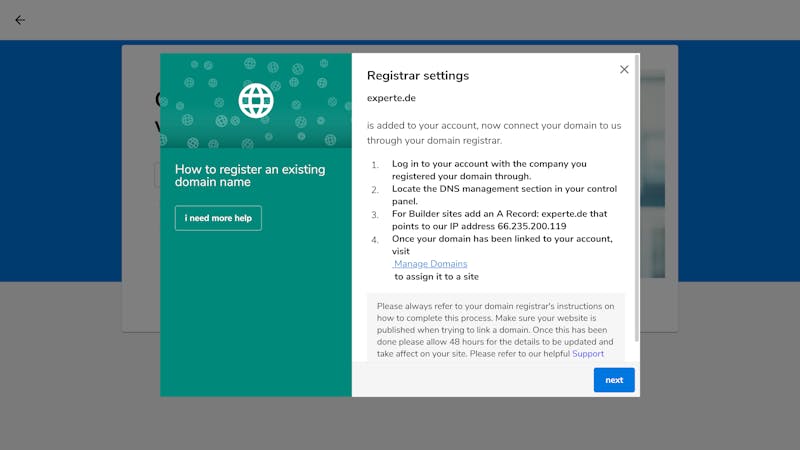 Domain linkage via DNS in Constant Contact.
Using the dropdown menu in the upper right, you can access additional settings, however, these aren't so neatly organized as the rest of the dashboard. Still, you can verify additional email addresses, make changes to your account, or manage your payment methods. Additional data privacy settings, such as double opt-ins can also be configured here, although they are referred to under a different name (confirm opt-ins).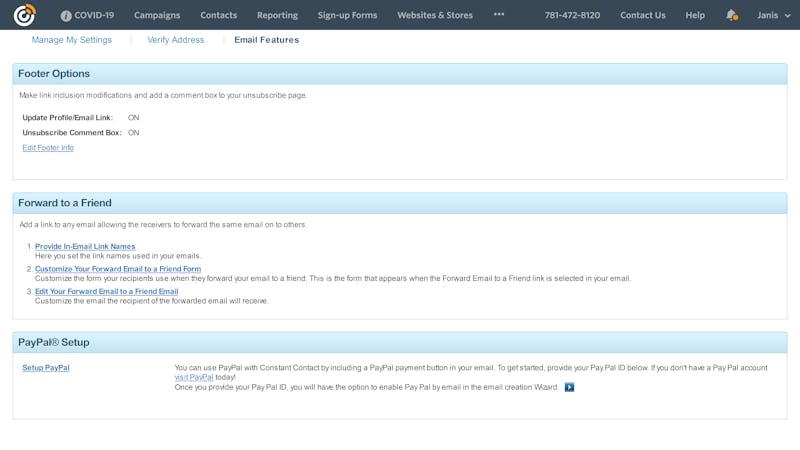 Advanced settings in Constant Contact are somewhat poorly organized.
Turning to usage, the service is very beginner-friendly. Navigation suffers ever so slightly owing to a large number of features and somewhat unclear advanced settings. During testing, we also noticed that prior to sending the first email campaign, it's necessary to manually verify your account by telephone. Since we tested outside of the US and the German hotline wasn't working, we needed to call the US number to do this; certainly not a problem for anyone stateside, however, users outside of the US may have to contend with costly international calling surcharges.
This last step left us with a really bad taste in our mouth concerning the service since it unnecessarily overcomplicated things. In the third decade of the 21st century, such verification could occur via Skype, Facetime, or even email.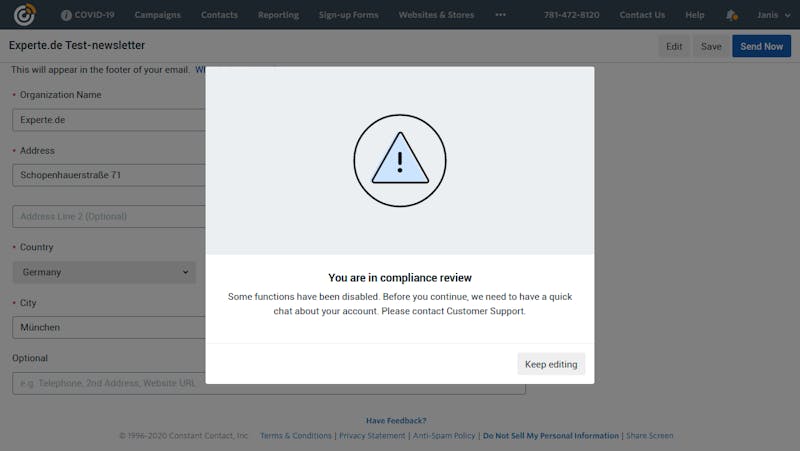 Unless you confirm your account via telephone, you won't be able to do much of anything with Constant Contact.
Oh, and did we mention how long the verification took? 45 minutes! That's right, we had to make a 45-minute international call just to verify an account that we had already paid for and confirmed via email earlier. For US customers, this might not be a big deal, but for anyone outside of the country, the costs for this can be enormous and equal to a few months of the subscription itself. Of course, Constant Contact does have a live chat and email support (which we'll discuss below), however, these cannot be used for verifying an account or making changes to an existing one.
Score: 2.7 / 5
Constant Contact offers a number of ways to add or import contact data. You can:
Manually input contacts

Upload a contact list (as a Microsoft Excel table, for example)

Import contacts from Gmail or Outlook

Gather contacts using a marketplace app
Of the four, the last is probably the most interesting, since this allows you to import contacts from any service that Constant Contact has an integration with. During testing, we counted more than 300 different contact databases and CRM systems that Constant Contact supports. As such, synchronizing contact data with a database is very easy.
Both when importing, as well as manually adding contacts you're able to create as many individual fields as you would like, helping you to better manage your recipient list(s). However, it's important to note that during the telephone verification of your account, you'll have to confirm that all contacts you have manually input or uploaded have given their explicit consent to be added to your distribution list.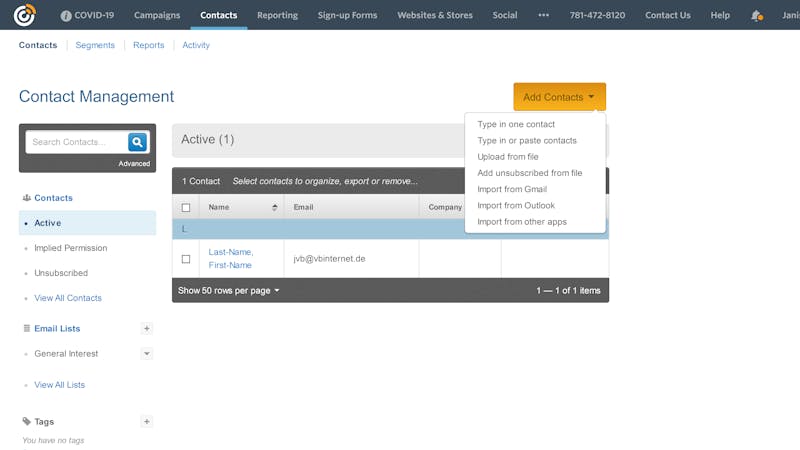 Importing contacts in Constant Contact.
A further option for adding email addresses is provided by forms. Constant Contact offers a number of different types of sign-up forms, such as inline, pop-ups, landing pages, or even Facebook lead ads.

Constant Contact's different types of forms.
After selecting what kind of form you'd like to create, you'll be taken to the form editor, which is easy to use, even for beginners. Of course, the trade-off for this simplicity is design freedom. As a result, anyone looking to give their sign-up forms a personal touch will likely be disappointed.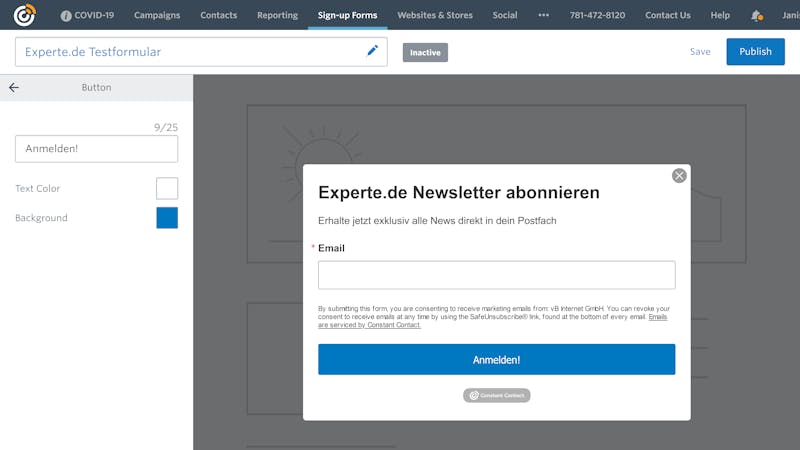 Constant Contact's sign-up form editor.
On the other hand, the service's segmentation options for contacts are very well-implemented, and creating different attributes or tags for grouping your contacts is not difficult at all. This makes creating targetted communications child's play.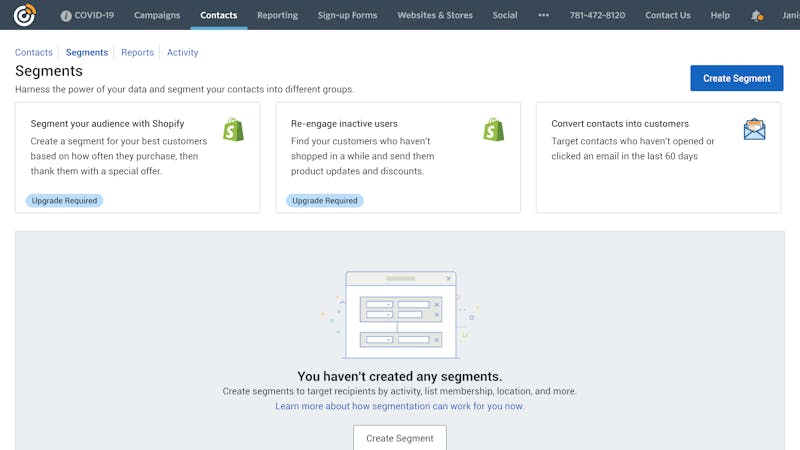 Recipient list segments in Constant Contact.
Both social media posts and Google Ads provide fertile grounds for gathering new contacts. Thanks to comprehensive tutorial videos the most important aspects of these are explained clearly and professionally.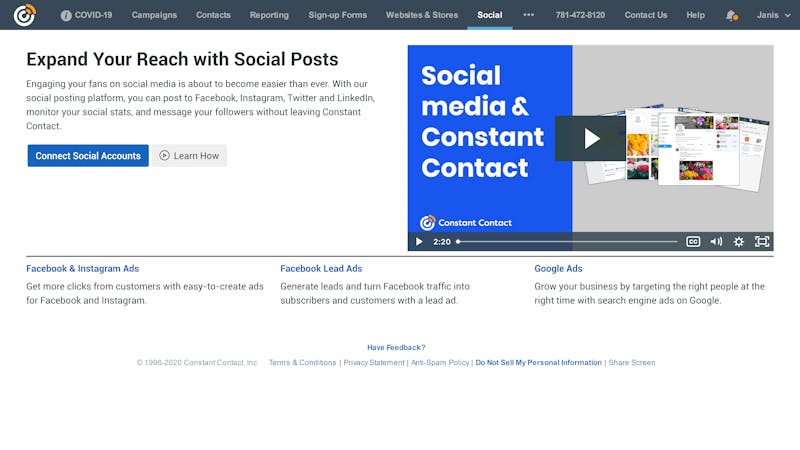 Both social media and Facebook Ads are readily integrated when using Constant Contact.
Forms can easily be created as separate lead generation landing pages, should you not want them to appear as pop-ups or standard site elements. The editor for these doesn't include many bells and whistles but does have all of the most important features so that beginners won't have trouble getting the hang of it.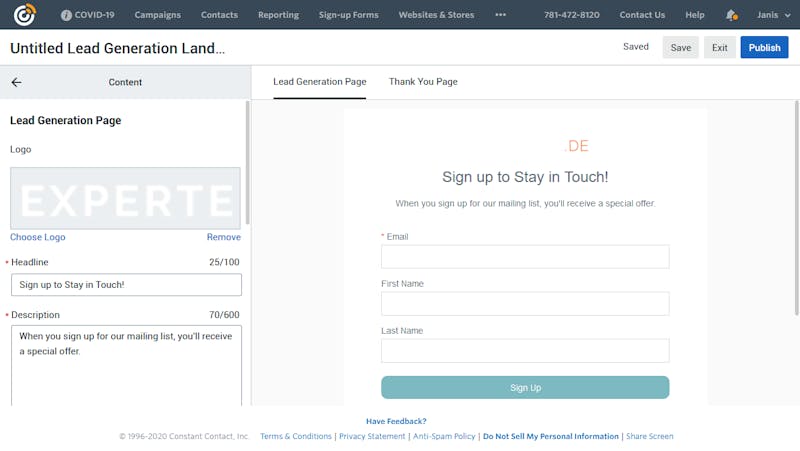 Creating lead generation landing pages in Constant Contact.
Complete landing pages, as well as websites with integrated ecommerce features, can be directly created in Constant Contact, however, once again, the design options are somewhat limited.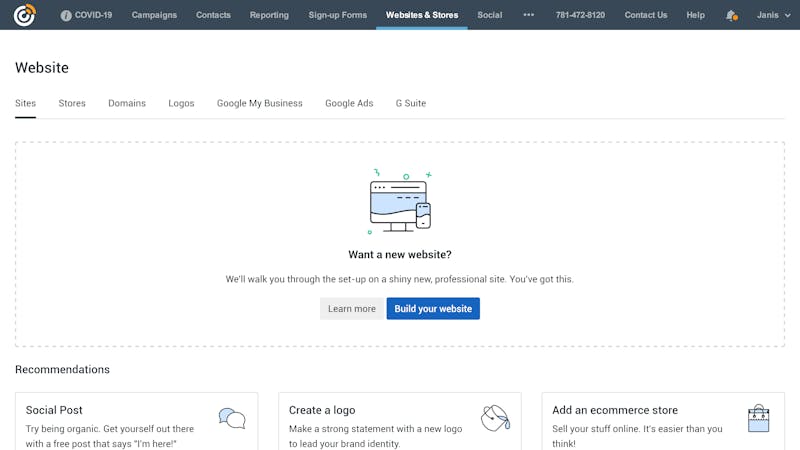 Beyond these, there aren't any other methods of gathering email addresses with Constant Contact. This means that SMS or automatic RSS feed integrations aren't included, and it isn't possible to A/B test your forms to maximize their conversion rates.
All the same, Constant Contact offers quite a bit and does go pretty far in helping its subscribers to gather or import contacts.
Score: 4 / 5
In the Campaigns area of Constant Contact, it's possible to select from a number of different kinds of campaigns.
Email (classic newsletters)

Email Automation (automatic emails, for when a user clicks on, enters, or makes a purchase from a particular section of your site/store)

Social Media Posts and Ads

Events, Survey Pages, Landing Pages, Websites & Stores
Only the first type (newsletters), automations, and social media posts are useful for staying in touch with your existing customers or users, whereas the rest of the features are more geared towards gaining new subscribers.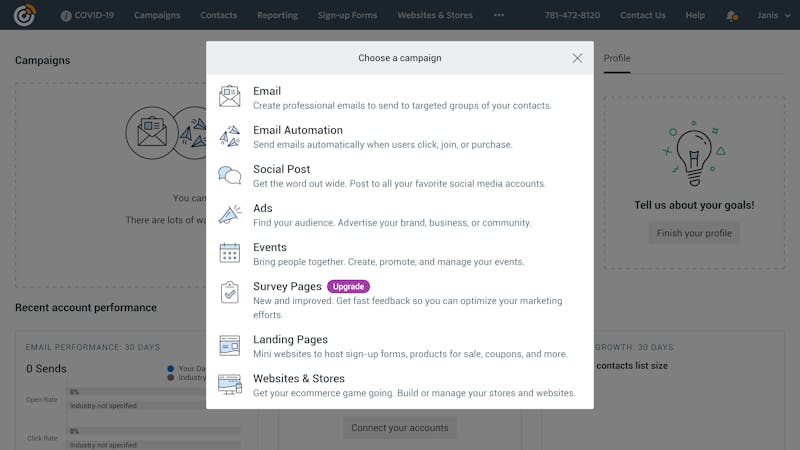 By clicking on Email Automation you can easily create simple automated campaigns such as welcome emails for new subscribers, birthday messages, or annual summaries. To do this, the service makes a number of different templates available. Complicated automated workflows cannot be created in Constant Contact. Transactional emails, which are automatic emails sent when a customer makes a purchase or performs a certain action in your store, can only be created with the help of plugins and integrations.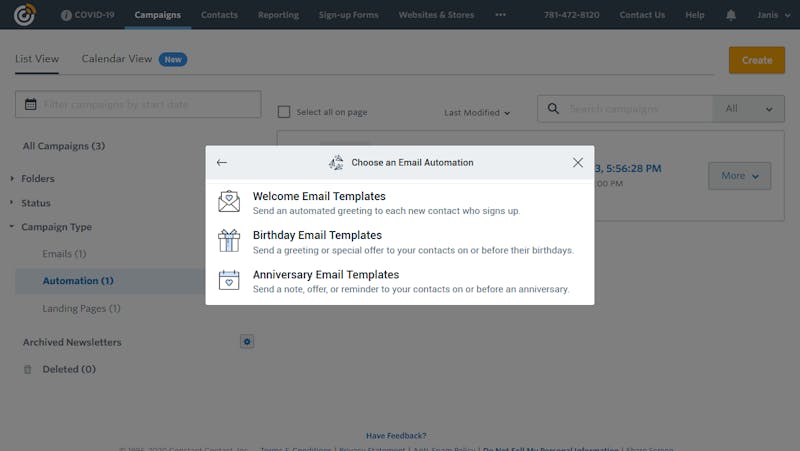 Constant Contact provides a handful of options for automation.
The selection of templates isn't all that spectacular, varying largely depending on which type of newsletter you're planning to design. At the same time, it is possible to create a very nice looking email (using the templates) with just a few clicks.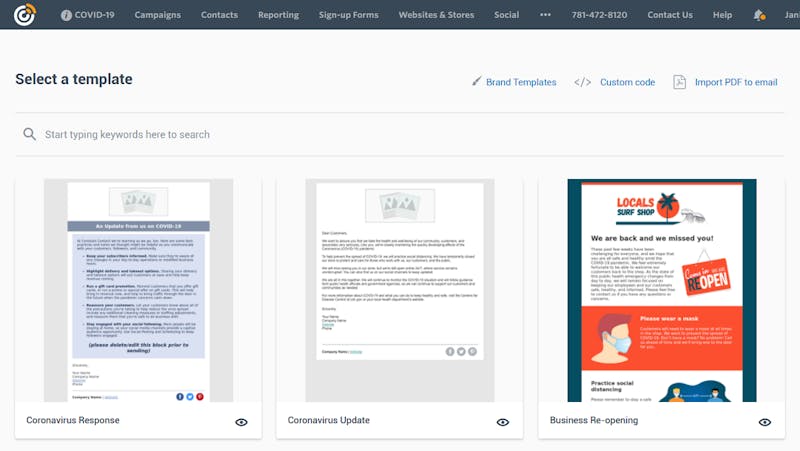 Once you've decided upon a particular design template, a tutorial video will play which clearly shows exactly how to use the newsletter editor. As a result, it won't take long for even the most inexperienced beginner to get comfortable with the service's tools.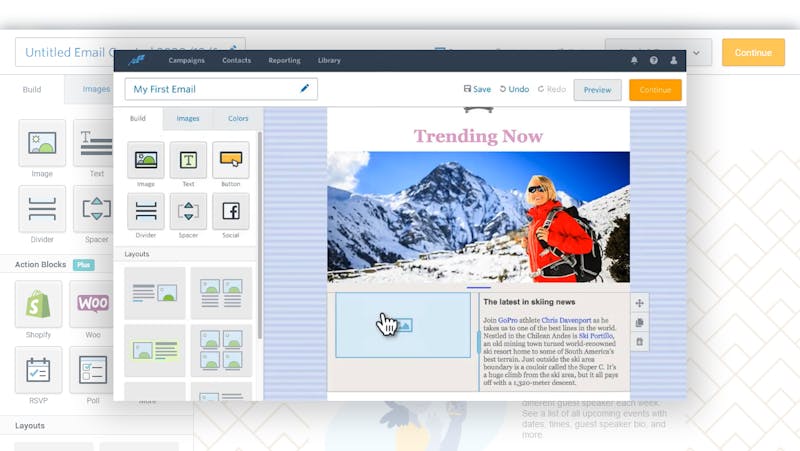 Beginner-friendly tutorials.
Constant Contact's newsletter editor is impressive thanks to its simplicity. Elements can be dragged and dropped, and on the right side of the interface, you'll be able to see a real-time preview of your newsletter. The variety of features offered by the editor is not as great as those of the more advanced editors or builders offered by other services, however, it is incredibly easy to use, and able to do most things that the average user will need it for.
Particularly commendable: After configuring an integration, it's possible to add action blocks from ecommerce platforms like Shopify or WooCommerce. In this way, emails can be further personalized and even re-purposed as transactional emails.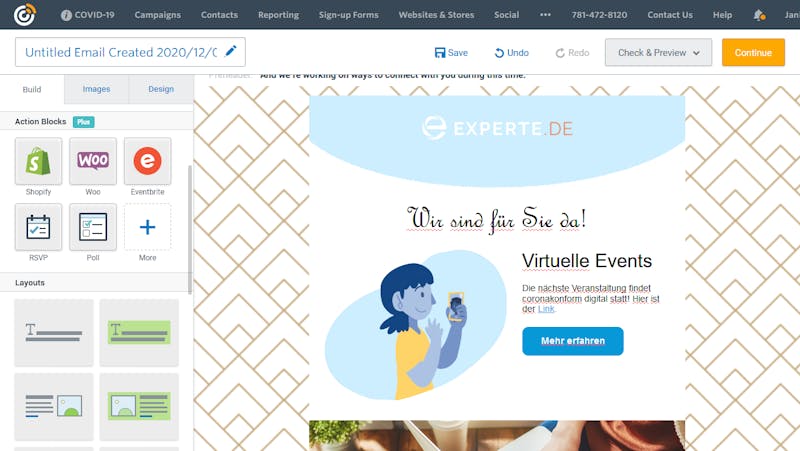 Constant Contact's newsletter editor.
One of Constant Contact's neatest features is its Shutterstock API Integration, which grants users access to loads of images that can be freely used in their newsletters.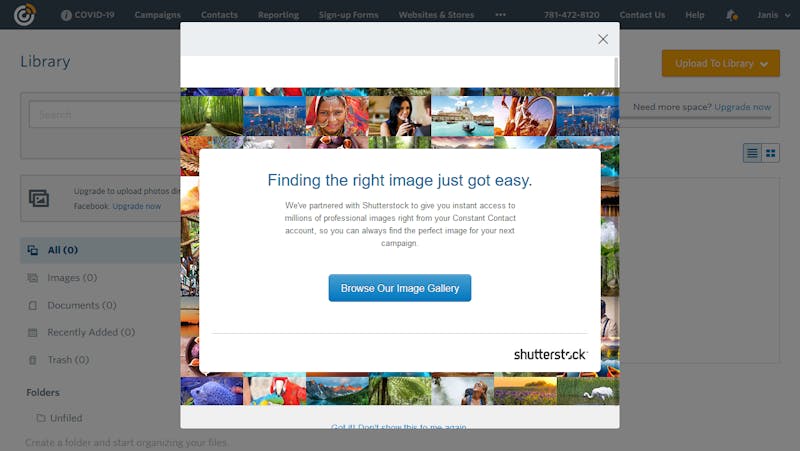 Constant Contact's Shutterstock API Integration is a particularly nifty feature.
Alongside classic email campaigns, automations, and transactional emails, Constant Contact also provides a number of useful tools to help your messages stand out from the crowd, such as surveys.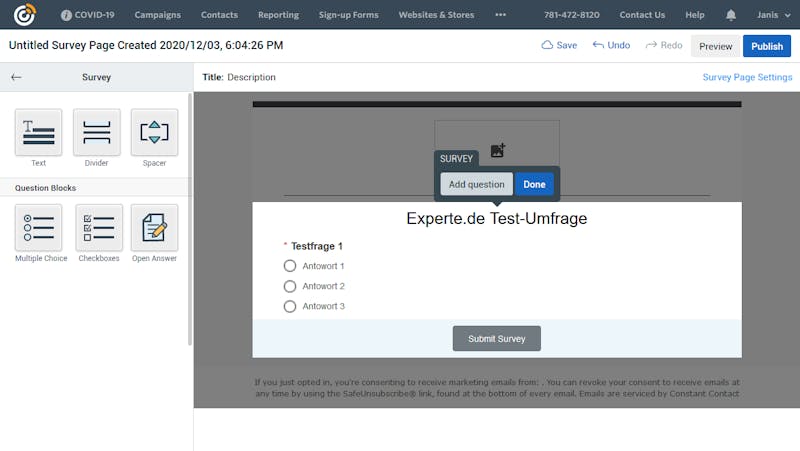 Customer surveys in Constant Contact.
Taken together, Constant Contact does an impressive job of helping users to send a variety of different emails, not least owing to its high deliverability rate. You will have to do without an extensive selection of design templates and automated workflows. In exchange, you'll get an easy-to-use editor, that offers tons of possibilities for integrating the service with your existing ecommerce platform, website, or online store, and send transactional emails.
Score: 4 / 5
In terms of tracking and statistics, Constant Contact offers significantly less than its competitors, providing the bare minimum. For example, open or click rates are difficult to ascertain from the reports which the service generates. Oddly enough, the provider offers a number of tips for how to improve open or click rates.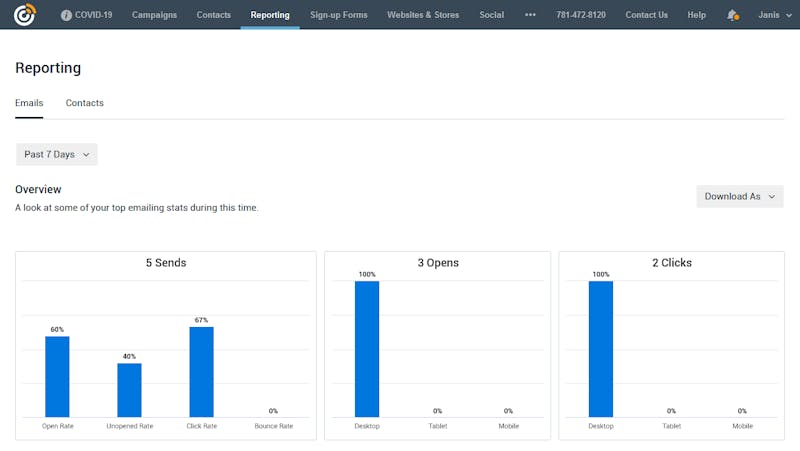 Beyond that, you'll also have the ability to view tracking information about your recipients, their locations, and their click behavior. Bounce rates can also be interpreted to a certain degree, but definitely not in their entirety.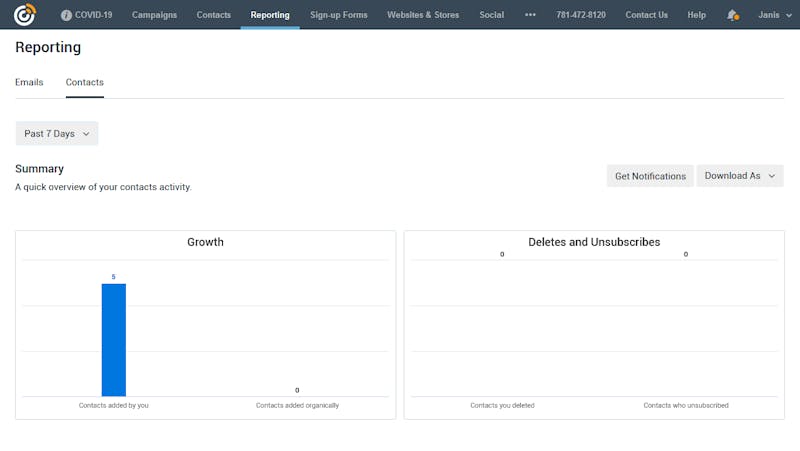 Constant Contact runs out of some steam in terms of its reporting and analytical features.
Constant Contact doesn't provide straightforward A/B testing options, or the ability to view a map of your subscribers. With that said, user comfort remains high, and the most important data, as well as a number of different tools, are made available to help optimize your email marketing concept.
Score: 3.3 / 5
When first clicking on Contact Us in the upper right corner of the screen, you might think that there's nothing to complain about, since a range of options for getting in touch, including email, hotline, live chat, and Twitter are offered.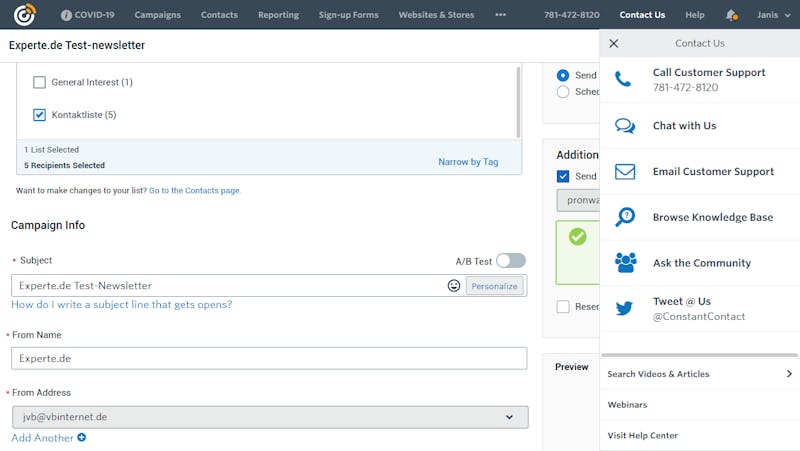 Overview of Constant Contact's support.
Unfortunately, during testing, the (German) hotline didn't work, meaning that most questions we had could only be posed through live chat or email. To clear up account or verification issues, you'll need to call the hotline, regardless of where you are. In our experience, we spent nearly an hour on hold waiting for a support staffer to take our call.

Constant Contact's live chat support can only help for (some) technical issues. For everything else, you'll need to call the support hotline.
One silver lining is that the service's knowledge base is well-structured, grouped into categories, and full-text searchable.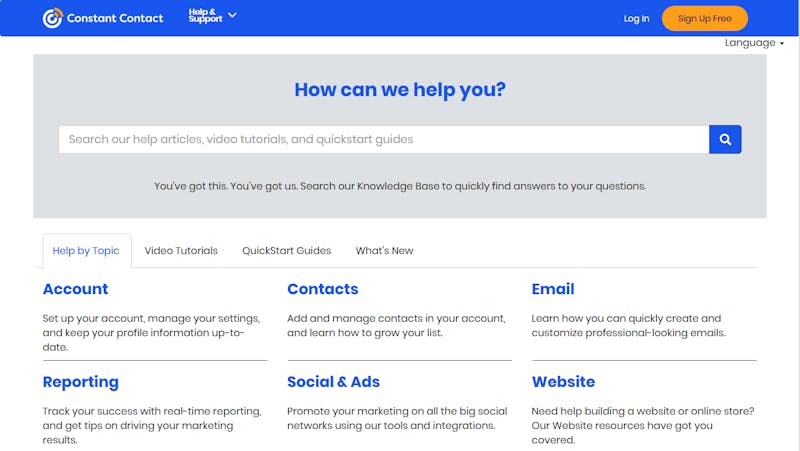 The long amount of time we spent on hold and live chat limitations definitely soured our view of the service. Once we did get in touch with support staffers, they were competent, knowledgeable, and friendly.
Score: 3.7 / 5
Constant Contact is one of the most expensive solutions on the market, however, this doesn't mean that its price-performance ratio is poor. Prices vary depending on the number of recipients in your contact list, which is both fair and transparent.
| Contacts / Provider | 500 | 1,000 | 5,000 | 10,000 ▲ | 50,000 | 100,000 |
| --- | --- | --- | --- | --- | --- | --- |
| Mailjet | $0 | $0 | $10 | $19 | $167 | $334 |
| MailerLite | $0 | $0 | $30 | $50 | $210 | $360 |
| GetResponse | $15 | $15 | $45 | $65 | $250 | $450 |
| AWeber | $0 | $26 | $46 | $66 | - | - |
| Mailchimp | $0 | $0 | $50 | $75 | $259 | $499 |
| Sendinblue | $0 | $0 | $66 | $81 | $229 | $379 |
| Constant Contact | €18 | €40 | €57 | €83 | €292 | - |
| Campaign Monitor | €9 | €29 | €49 | €99 | €329 | - |
| CleverReach | €15 | €20 | €55 | €100 | €400 | €900 |
| ConvertKit | $0 | $0 | $79 | $119 | $379 | $679 |
| ActiveCampaign | $15 | $29 | $89 | $139 | $299 | $459 |
| Klaviyo | $20 | $30 | $100 | $150 | $700 | $1,200 |
Unfortunately, Constant Contact doesn't offer a free or trial version of its service, meaning that you'll need to pay for it, even if you just want to take it for a spin. In our opinion, considering how many providers offer free versions (or trials), it makes sense to exhaust all of those options before paying for a Constant Contact subscription.
Email
Email Plus
Set-up Fee
$0.00
$0.00
Price per Month
from $19.26
from $42.80
Contract Period (Months)
1
1
Limits
Contacts
up to 50,000
up to 50,000
Emails
unlimited
unlimited
Features
Segmentation
Tagging
Marketing Automation
Ad Free
Open-Rate Tracking
Click Tracking
A/B-Testing
Conclusion
Tracking & Statistics
6.6 / 10
Configuration & Usage
5.4 / 10
Particularly for proprietors of online stores or those who want to create a new website (or store) using Constant Contact, it makes sense to take a closer look at what the provider offers. The more features that you take advantage of, the better the service's price-performance ratio will be.
Of course, the lengthy setup process (including hotline verification) and the need to call up the service to resolve basic issues means that Constant Contact makes things noticeably more difficult than its competitors. However, especially if the service offers integrations to systems or platforms which you already use, it can provide a powerful tool that is well worth the extra hassle.
Contacts
Emails / Month
Marketing Automation
Constant Contact Email
$19.26
monthly price
Visit Website*
User Reviews
In the overview below, you can see what kinds of experiences regular customers have had with Constant Contact. To compile this, we gathered ratings from different platforms for you, so that you can gain an objective option about the service.
Customer Ratings
17,942 Bewertungen
Visit Website*
We analyzed the reviews and ratings from various portals and found 17,942 ratings with an overall rating of 4.3 out of 5 .
Alternatives
Should you be looking for better analytical support and/or greater design freedom when creating newsletters, ActiveCampaign might be an interesting option for you. However, the service is not so beginner-friendly as Constant Contact.
If, on the other hand, data privacy and remaining 100% GDPR compliant, as well as a free version are important to you, Mailjet is worth checking out. Subscription rates are fair and the variety of features provided is excellent.
GetResponse stands out with its ease of use, excellent customization options, extensive statistics and numerous templates. It is suitable for both beginners and frequent senders.
Contacts
Emails / Month
Marketing Automation
GetResponse Basic
$15.00
monthly price
Visit Website*
30 days free trial
Sendinblue is a fully recommendable email marketing service with a wide range of features and ease of use. It is particularly suitable for sending automated campaigns.
unlimited number of contacts
loads of newsletter templates
9.4

excellent
Contacts
Emails / Month
Marketing Automation
Sendinblue Free
$0.00
monthly price
Visit Website*
ActiveCampaign is a fully integrated sales and marketing platform including CRM system, complex automation and multi-channel marketing.
Contacts
Emails / Month
Marketing Automation
ActiveCampaign Lite
$15.00
monthly price
Visit Website*
CleverReach is an European email marketing service, which shines with well thought-out functions, intuitive editors and many features and also provides a free plan for beginners.
Contacts
Emails / Month
Marketing Automation
CleverReach Lite
$0.00
monthly price
Visit Website*
Try CleverReach for Free
Contacts
Emails / Month
Marketing Automation
Campaign Monitor Basic
$9.63
monthly price
Visit Website*
* Ad disclaimer:
For links marked with an asterisk, EXPERTE.com may earn a commission from the provider. The commission has no influence on our editorial rating.

Carsten Podszun studied computer science and business administration and was self-employed in the retail industry for 15 years. Since 2014 he is a consultant for startups, freelance author and writes at EXPERTE.com about homepage, hosting & IT security.
Continue Reading
Other languages
Deutsch