Email Marketing Software Review: AWeber

Ad disclaimer:
For links on this page, EXPERTE.com may earn a commission from the provider. This supports our work and has no influence on our editorial rating.
Email newsletters are essential components of any 21st-century marketing strategy. To help you create, launch, and optimize these, a wide range of powerful email marketing tools are available, however, which one is right for you or your business?
To answer this question, we here at EXPERTE.com took a look at some of the most popular providers, comparing them with one another to see how they stack up. In this review, we'll take a look at AWeber, letting you know all of its strengths and weaknesses.

What is AWeber?
AWeber* is a Pennsylvania-based provider that has been active on the market for more than 20 years, priding itself on its innovative auto-responder features. But that's not all that it should boast about: The service has excellent editors and builders, solid tracking, loads of options for campaigns and automations, as well as some mobile apps, offering pretty much everything that a good marketing tool should.
A free version of AWeber is available, although this lacks some features, such as detailed statistics. All the same, users can send up to 3,000 emails per month to 500 recipients without paying a nickel. This also means that you, the reader, can test AWeber right now with nothing more required than a few clicks and keystrokes.
Below, we'll show you how well the service performs when set alongside its competitors, what it's particularly suited for, and much more!
Review
Configuration & Usage
9.4 / 10
Tracking & Statistics
6.6 / 10
Beginner-friendly navigation and usage

Free version for up to 500 recipients and/or 3,000 emails per month

Lots of plugins, add-ons, and mobile apps

Good editors, builders, templates, and integrated stock images

Easily-configurable automations
Barely any analytics included in the free version; lack of clarity regarding statistics for premium subscribers

Inactive email addresses also count towards the recipient limits for paying subscribers

No integrated optimization options
It didn't take us long to get started with AWeber. To try the free version, you'll only need to register with an email address. Thankfully, it isn't necessary to input any payment information whatsoever or wait for an admin to manually approve your account. As such, the entire process takes a matter of minutes, if not seconds.
When logging in for the first time, the setup assistant will help you create your first contact list, and walk you through the most important settings and features. Once finished, you're all set to create your first campaign or newsletter.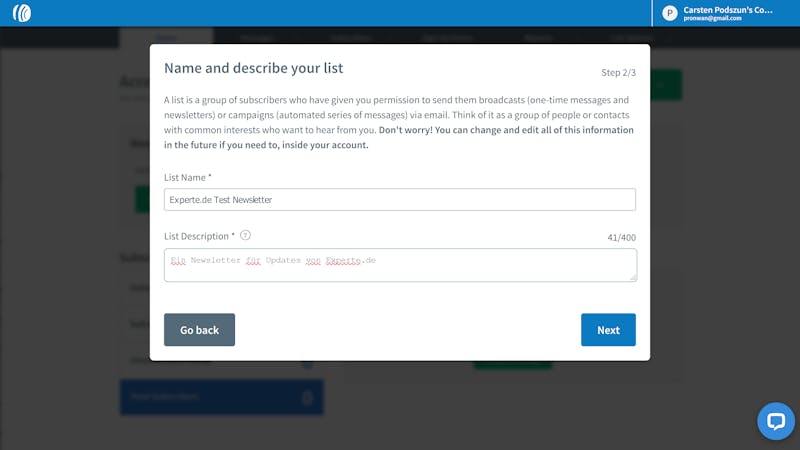 Taking the first steps in the service is easy thanks to AWeber's setup assistant.
Once setup is finished, you'll be taken back to the dashboard. Here, you can access all important features with a single click:
Messages (all newsletters, automations, messages, and templates)

Subscribers (your contact lists and import options for subscriber/customer data)

Sign Up Forms (registration forms including the form builder and templates)

Reports (access to Tracking and Statistics - only for paying subscribers)

List Options (for creating segments, tags, individual fields, and more)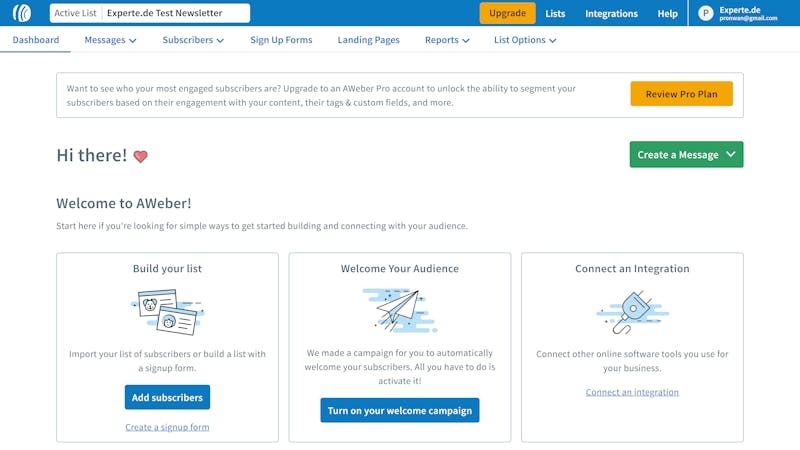 Although AWeber helps you get started with its setup assistant, you're pretty much on your own from there on out, as it doesn't provide you with any information, hints, or the like about the individual tools. Accordingly, you'll need to feel your way around the features until you've identified what each does. In the secondary navigation bar (blue) you can access the help area from anywhere, and view integration options (plugins and add-ons), your account settings, or contact lists.
While on the topic of integrations, AWeber does an excellent job of providing access to third-party services, and users can look forward to more than 1,000 integrations. As such, you can easily link AWeber with WooCommerce, WordPress, Google, PayPal, Facebook, and others.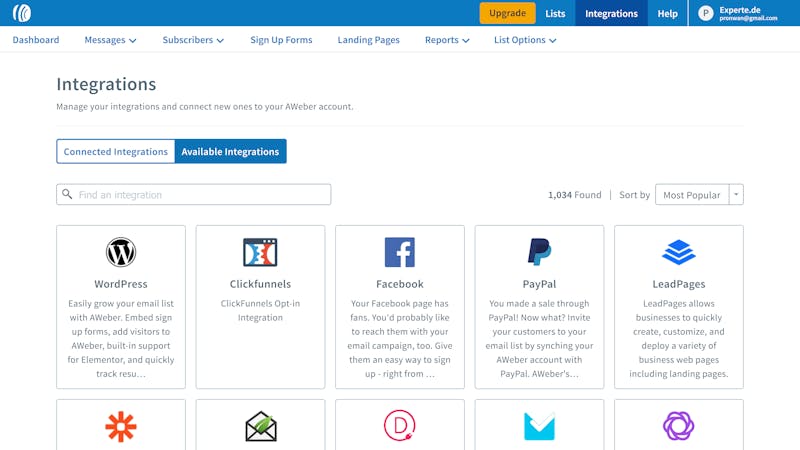 AWeber comes with more than 1,000 integrations and plugins.
After clicking on the confirmation link, the email address that you used to register with AWeber with is verified as your sending address. Under My Account -> Domains and Addresses, you can verify further email addresses using DKIM and SPF (Sender Policy Framework). Again, thanks to the ever-helpful setup assistant, this is made very easy for beginners.
Beyond that, you can also link your own domain, so that you can use AWeber to evaluate landing pages, tracking features, and more. The service walks you through the necessary DNS settings you'll have to configure to do this step-by-step.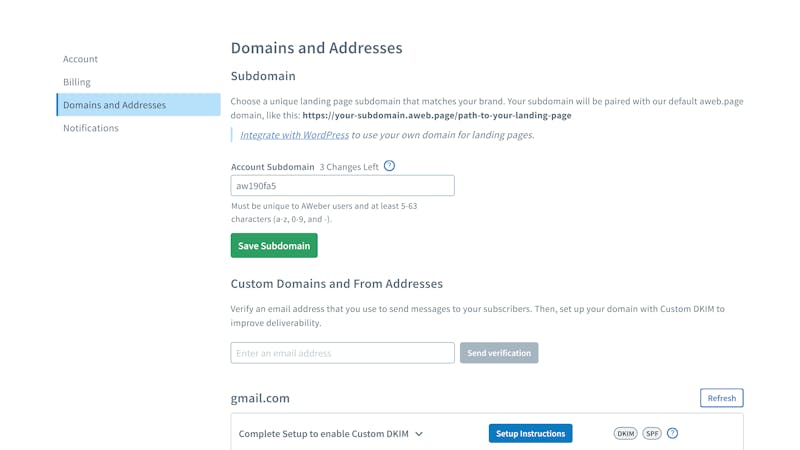 Authentification of email addresses and domains in AWeber.
We particularly liked how the setup assistant helps to set confirmation settings for your recipients and make them easier to integrate. Most prominently, this includes double opt-ins, which are necessary to remain GDPR-compliant (essential for anyone doing business in the European Union).
Once you've gone through all of the motions with the setup assistant, you can start importing (or inputting) your contacts, and creating/launching your first campaign. You won't have to configure any other settings to get started.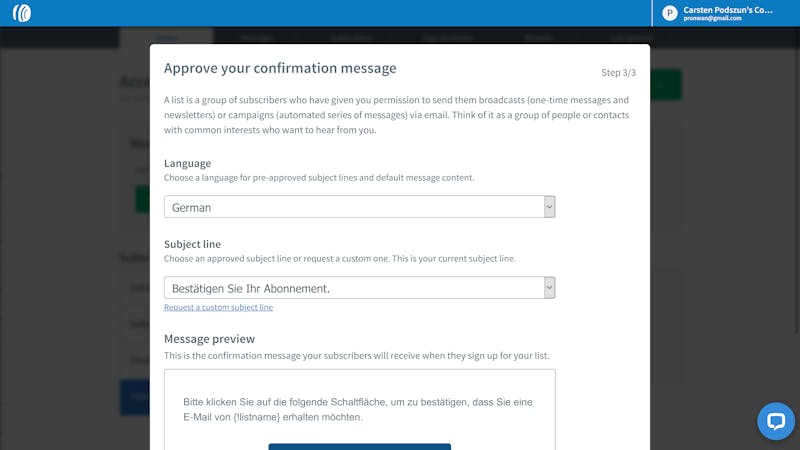 AWeber makes configuring double opt-ins (and remaining GDPR-compliant) very easy.
Overall, getting started with AWeber is a breeze. Beginners won't have any trouble finding their way around the dashboard, and only need a few minutes to feel right at home. Of course, if you're looking to specify each individual setting, it will take a bit more time.
Everything that we look for in an email marketing service's dashboard is present in AWeber's; integrating your own domain is painless, and there are a lot of plugins and add-ons available. As such, AWeber puts in a (nearly) flawless performance in terms of configuration and usage.
Score: 4.7 / 5
By clicking on Subscribers -> Add Subscribers in the menu, AWeber offers a diverse range of options for importing and/or creating contact information. You can:
Manually enter contacts one-by-one

Upload a table/worksheet (CSV, XLS)

Task AWeber with migrating the data from another source or service
The last option, in particular, is interesting, since AWeber offers you the ability to coordinate the migration of all of your contact data at no cost. Concretely, this denotes the importing of contact data from other services like Mailchimp, ActiveCampaign, or MailerLite.
Whether importing, or manually entering contacts, you can copy or create user-defined fields, tags, and more. This makes sure that things stay organized, and also allows you to easily segment your contact list(s). If desired, it's also possible to assign specific tags to certain subscribers or recipients. Unfortunately, it isn't possible to synchronize an existing database in AWeber.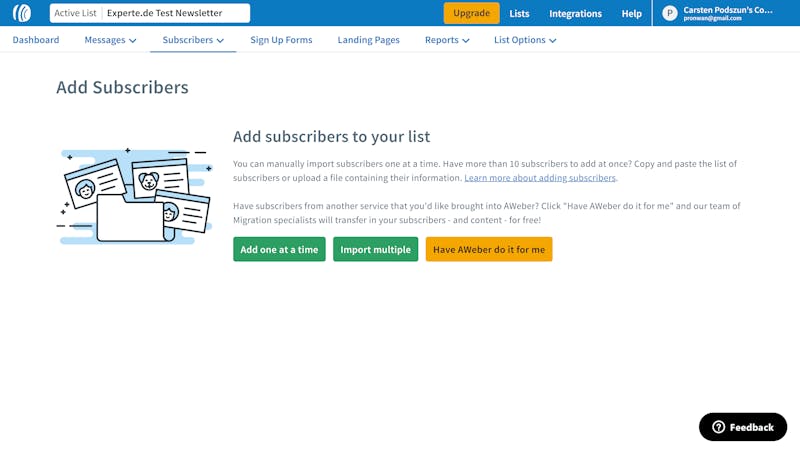 AWeber offers a free migration service for subscribers of other services looking to import their data.
In the Sign Up Forms area, you can also gather contacts, albeit through forms. AWeber makes creating registration/subscription forms a cakewalk thanks to its ease of use and the different templates on offer. These forms can be integrated into your existing website without much hassle by inputting a snippet of code, or alternatively, by creating a new landing page in AWeber.
For premium subscribers, it's also possible to perform A/B tests on your forms, allowing you to easily ascertain which forms work best and generate the most subscriptions. The form builder is fairly self-explanatory, and thanks to its supply of good templates, handy for beginners looking to create a registration form.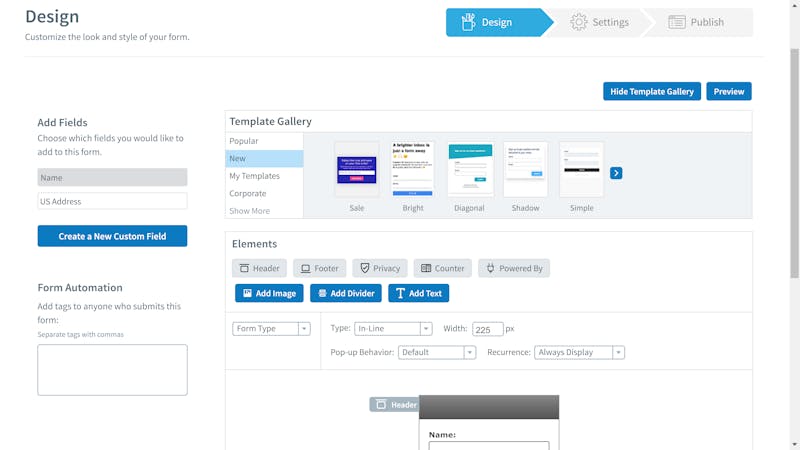 Building subscription/registration forms with AWeber.
By clicking on Landing Pages you can create your own landing pages or select from a template and edit it by dragging and dropping elements. You can link finished pages to your domain (e.g. through WordPress plugin) or host them with AWeber.
Landing pages can also be put to good use for gathering subscribers since you can add forms and call to action buttons to them. Thanks to integrations from Google Analytics and other tracking services, it's also possible to incorporate existing analytical tools into these as well.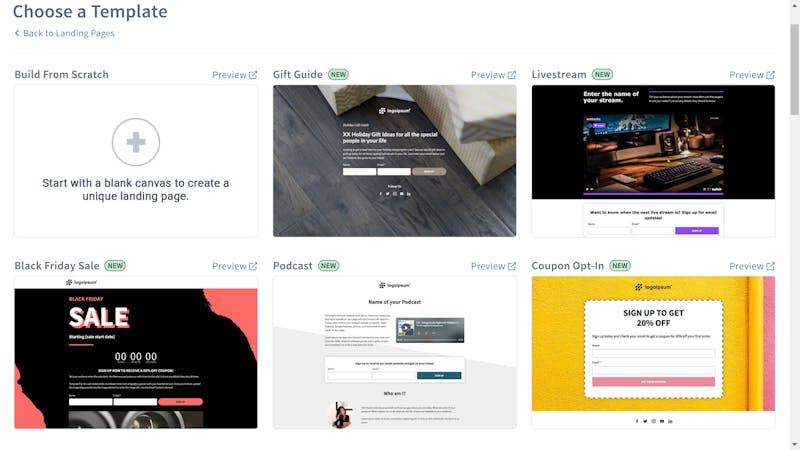 AWeber offers a range of different landing page templates to choose from.
The landing page builder includes drag and drop functionality, allowing for extensive adjustments to be made to the existing templates. Even beginners will be able to create a professional page with little more than a few clicks. It's also worth mentioning that you'll be given access to free stock images, which you can integrate into your page practically at will.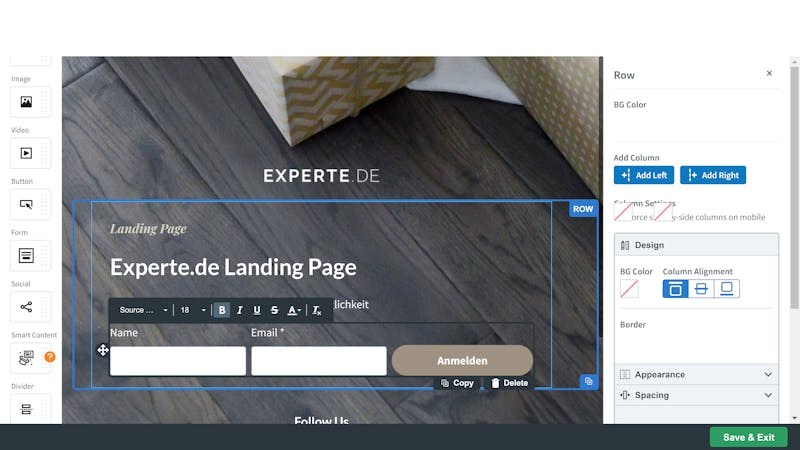 AWeber's landing page builder.
AWeber enables its users to create, edit, and segment contact lists, even offering a hand in migrating them from other services. Thanks to the automatic assignment of tags, some fields, and categories, you'll have the ability to administer your recipient list to your liking. The form and landing page builders are impressive, all the more since you can analyze their performance using A/B tests.
Of course, our testing did reveal that the builders don't always work as they should, at least in Firefox (in both Chrome and Edge, we didn't notice any issues). Because of this small issue, as well as the inability to synchronize contact lists with existing databases, we've made a small deduction.
Score: 4.7 / 5
In AWeber's Messages area, it's possible to create the following types of campaigns:
Broadcasts (classic newsletter)

Split Tests (A/B tests for different versions of the same newsletter)

Campaigns (automated email sequences)

Blog Broadcasts (automatic conversion of blogs into newsletters)
To create a basic newsletter, simply head over to the Broadcasts area. Here, you'll also be given a brief overview of the click and open rates of your last newsletter.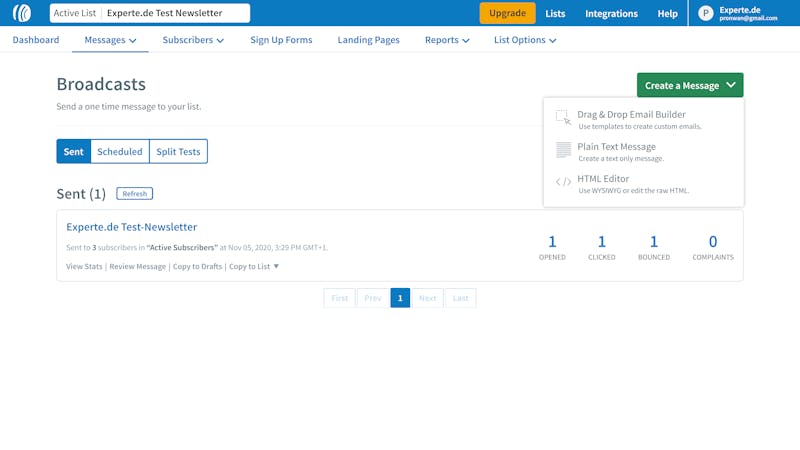 Creating a newsletter with AWeber.
In the Campaigns area, you can create automated email sequences. In the event of specific conditions or triggers, such as someone subscribing to your newsletter, or checking out a certain category of your store, the sequence you've set up beforehand will trigger. This makes it possible, without a great deal of hassle, to create a wide range of ready-made auto-responders.
Thanks to the useful templates which AWeber provides, it won't be necessary to start a campaign from scratch. These include welcome emails, lead magnet emails, blog series, and even email courses. With the use of sharing codes, it's possible to import campaigns that other members have created.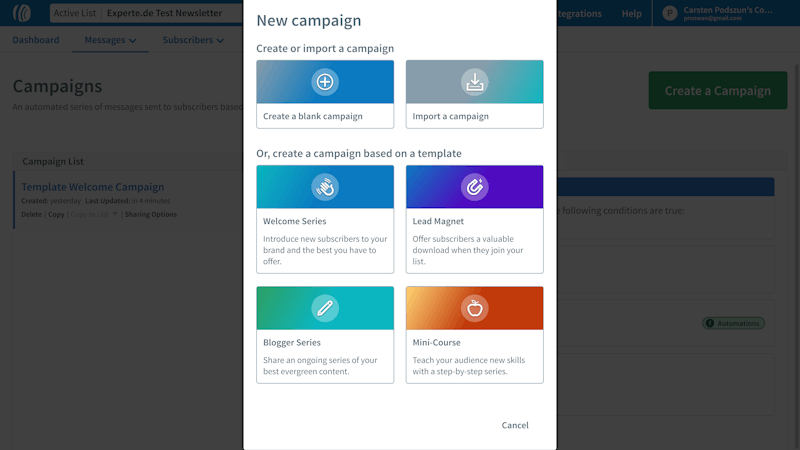 You can create email sequences in the Campaigns area.
Automated campaigns can be easily modified, as can their triggers. Over the course of a campaign, you can use different triggers, assign tags, move subscribers between groups, send alternative messages, and more.
Thanks to the handy tool tips, everything that you need to know to create such a campaign is made clear. In this way, beginners can comfortably create automated emails.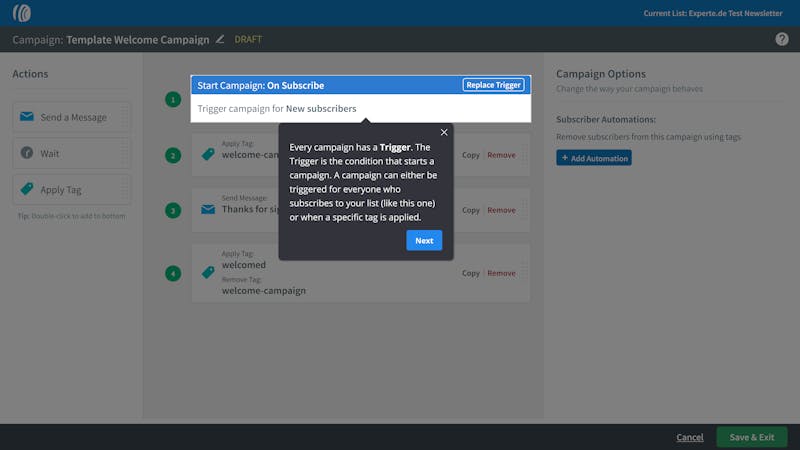 AWeber's newsletter builder is as user-friendly as its form and landing page counterparts. Once again, you can easily add elements by dragging and dropping them, or edit and modify them. The service's supply of stock images comes in particularly handy here since you can readily incorporate them into your emails.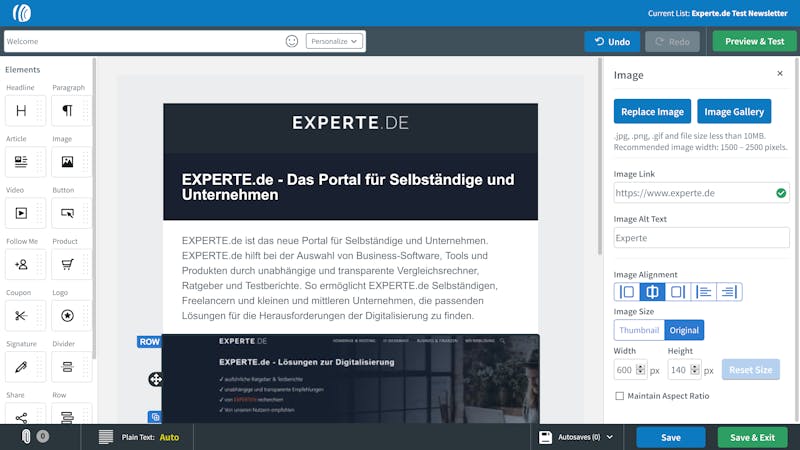 AWeber's newsletter builder.
AWeber provides a number of templates for newsletters, and thanks to the well-integrated filters, it's possible to search for exactly the right one for your needs. Most templates are available in different color variations and can be edited in the builder with a single click.
Mobile previews are provided, which are very convenient for checking the effects of changes you make, and ensuring that your newsletter will display correctly on a smartphone or tablet.
AWeber makes newsletter templates available in a variety of different color schemes.
One special feature in AWeber is its Email Template Smart Designer, which enables users to automatically transfer colors, images, and text elements directly from their homepage to a template. To take advantage of this, you'll only need to enter your website's address, and the Smart Designer will take care of the rest. Of course, you can also adjust the end result as much (or as little) as you'd like.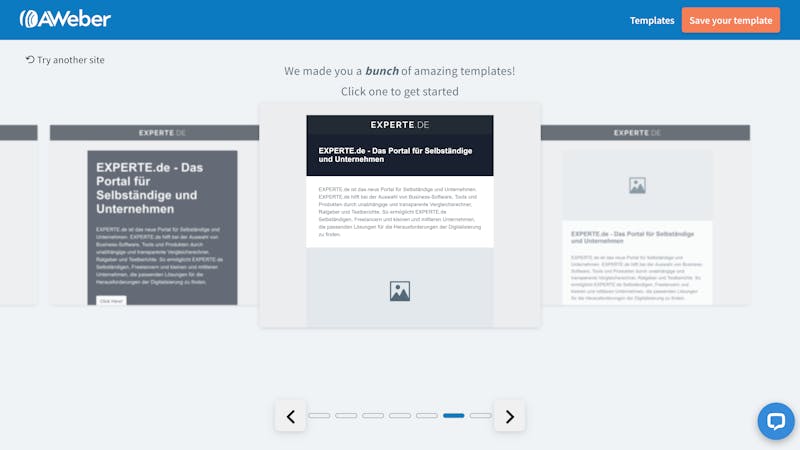 Transferring your website's or online store's color scheme to AWeber is easy thanks to the service's Email Template Smart Designer.
For anyone who isn't overly concerned with designing their newsletters, AWeber makes it easy to pay someone else to handle this for you. The service offers access to vetted designers who will, for a fee, create templates based on your requirements. As such, AWeber seems to have all of the angles covered, so far as creating and sending emails goes.
Of course, there are a few things missing from the service's wheelhouse, such as RSS-based emails, a workflow editor for complicated triggers, or integrating your store directly with AWeber. Compounding this, deliverability was average during testing, with half of our emails winding up in the spam folder. For that reason, we strongly recommend integrating your own domain to increase deliverability.
Apart from these disadvantages, AWeber provides an impressive range of options for sending newsletters, easy to use builders, and straightforward automations. The Smart Designer makes creating a professional newsletter that conforms to your brand's identity about as easy as can be.
Score: 4 / 5
Turning now to tracking and statistics, AWeber's offer is pretty poor, at least for users of the free version. If not paying for a subscription, you'll only be able to see the open and click rates, as well as bounces Delivery of soft bounces is attempted three times over the space of seven days before they are converted into hard bounces. Hard bounces are automatically deactivated as recipients in your contact list, but critically, not removed.
We mention this because deactivated addresses count towards recipient limits, even though they aren't technically subscribers anymore.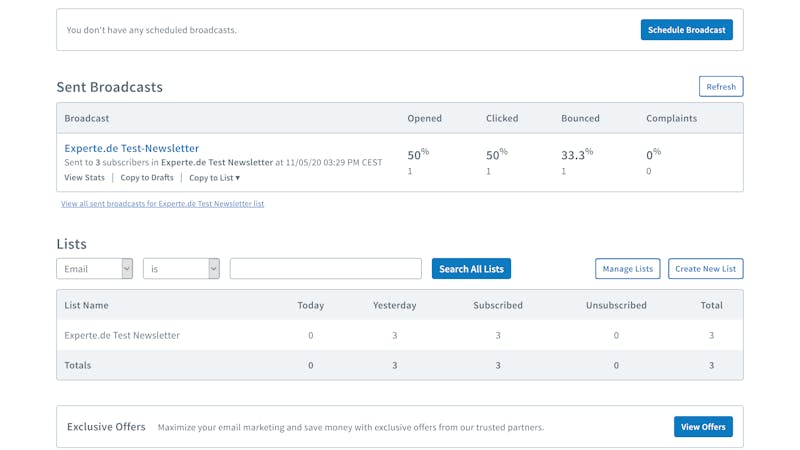 More detailed analytics such as the open rate over a longer period of time, the exact performance of certain links, and so on are only available to paying subscribers. But even here, money can't buy everything, as AWeber makes a few lapses: Everything looks a bit stale, isn't clearly organized, and some useful features like information about your recipients' locations, as well as real-time or geographic tracking, are nowhere to be found.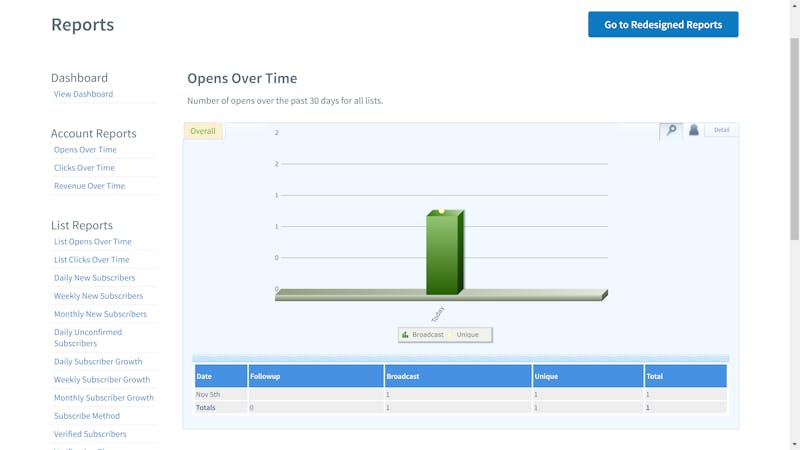 Even AWeber's premium statistics are underwhelming and poorly organized.
What AWeber does do a good job at is helping users compare different campaigns through split tests (A/B tests). These allow you to see exactly which recipient group is responsible for what amount of newsletter openings. Through this method, open and click rates can be compared among different versions of a (nearly) identical campaign.
AWeber's split tests allow you to effectively analyze and optimize your campaigns, even if these aren't so detailed as those of its competitors.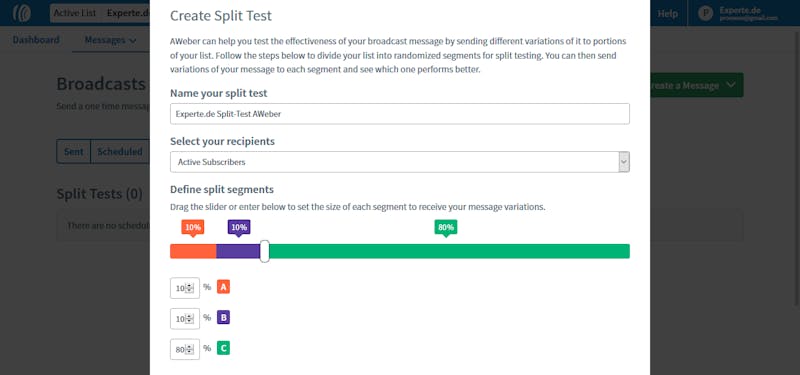 AWeber does a good job in terms of A/B tests.
To be frank, AWeber's support for statistically evaluating email or newsletter campaigns isn't anything to write home about. Of course, you can integrate and use Google Analytics for this, taking full advantage of its enhanced user comfort, display of statistical data, and detailed recipient information. At the same time, users of AWeber's free version can't look forward to much analytical support at all.
The service's mobile apps are worth mentioning though. Offered for both iOS and Android, these make it possible to view statistics about ongoing campaigns, create messages, or keep tabs on the live progress of your marketing strategy, all on the go.
Score: 3.3 / 5
We've refrained from any puns in this review, up to now. AWeber's support is an A+. Not only is its live chat staffed around the clock, but you can also call the provider's hotline during business hours, even as a free user. To top it all off, the provider maintains an excellent FAQ database and email support, if instant messaging isn't your thing.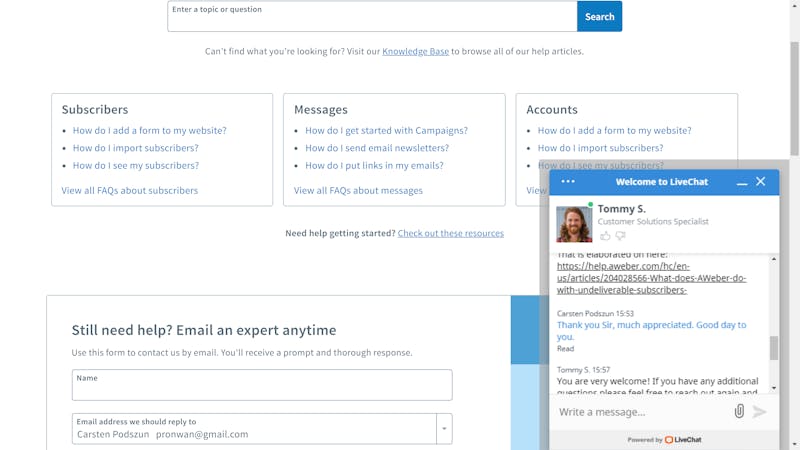 AWeber's live chat is staffed around the clock.
During testing, we received a response to a query we posed in the live chat within around two minutes, while we didn't have to wait at all on the hotline and were directly connected to a staffer. The quality of the answers we received was very good, and the support personnel were friendly on both occasions.
Score: 4.7 / 5
AWeber isn't the most affordable provider we reviewed. As the number of recipients increases, so too do the prices. At the same time, so far as features are concerned, AWeber doesn't really offer anything its competitors don't. We still commend AWeber for providing a free version of its service, which does set it apart from a number of its rivals.
For those who send in high volume, there are definitely cheaper options available. Again, we have to remind readers here that they should remove deactivated recipients from their contact list(s) since these count towards your account limits.
| Contacts / Provider | 500 | 1,000 | 5,000 | 10,000 ▲ | 50,000 | 100,000 |
| --- | --- | --- | --- | --- | --- | --- |
| Mailjet | $0 | $0 | $10 | $19 | $167 | $334 |
| MailerLite | $0 | $0 | $30 | $50 | $210 | $360 |
| GetResponse | $15 | $15 | $45 | $65 | $250 | $450 |
| AWeber | $0 | $26 | $46 | $66 | - | - |
| Mailchimp | $0 | $0 | $50 | $75 | $259 | $499 |
| Sendinblue | $0 | $0 | $66 | $81 | $229 | $379 |
| Constant Contact | €18 | €40 | €57 | €83 | €292 | - |
| Campaign Monitor | €9 | €29 | €49 | €99 | €329 | - |
| CleverReach | €15 | €20 | €55 | €100 | €400 | €900 |
| ConvertKit | $0 | $0 | $79 | $119 | $379 | $679 |
| ActiveCampaign | $15 | $29 | $89 | $139 | $299 | $459 |
| Klaviyo | $20 | $30 | $100 | $150 | $700 | $1,200 |
Of course, AWeber doesn't need to offer a trial period, since it provides a free version of its service to prospective customers. With that said, for more insightful statistics and additional tracking features, you will have to pull out your wallet. Pro subscribers will be able to take advantage of advanced automation features, as well as additional segmentation options for contact lists.
Free
Pro
Set-up Fee
$0.00
$0.00
Price per Month
$0.00
from $16.15
Contract Period (Months)
0
1
Limits
Contacts
up to 500
up to 25,000
Emails
up to 3,000
unlimited
Features
Segmentation
Tagging
Marketing Automation
Ad Free
Open-Rate Tracking
Click Tracking
A/B-Testing
Conclusion
Configuration & Usage
9.4 / 10
Tracking & Statistics
6.6 / 10
Over the course of testing, AWeber has shown itself to be a beginner-friendly email marketing tool, thanks to its easy to use automatic email sequences, solid newsletter, form, and landing page builders, and to top it all off, excellent support. We predict with some confidence that few will have trouble creating a professional campaign in a short amount of time using the service.
So long as you can live with the service's rather underwhelming analytics and absence of a workflow editor, AWeber should be able to do everything you'd expect an email marketing tool to.
Contacts
Emails / Month
Marketing Automation
AWeber Free
$0.00
monthly price
Visit Website*
User Reviews
Below, we've summarized verified user reviews from different rating portals to help you in making your decision. With these, it's possible to gain a general idea of what customers and users think about the service.
Customer Ratings
2,532 Bewertungen
Visit Website*
We analyzed the reviews and ratings from various portals and found 2,532 ratings with an overall rating of 4.4 out of 5 .
Alternatives
The biggest issue with AWeber is without a doubt, its spotty statistics and analytics, even for paying subscribers. If you'd like more insightful data and don't want to sacrifice any design freedom, ActiveCampaign could be just the ticket. As a trade-off, the service is not as beginner-friendly as AWeber.
If, on the other hand, you'd prefer a more well-rounded free email marketing tool, we have no qualms whatsoever about recommending CleverReach. Particularly for those with a limited or small number of subscribers, CleverReach offers a nifty solution since it comes with practically all features, including automations and detailed statistics. Similar to AWeber, the usage concept is also very straightforward.
GetResponse stands out with its ease of use, excellent customization options, extensive statistics and numerous templates. It is suitable for both beginners and frequent senders.
Contacts
Emails / Month
Marketing Automation
GetResponse Basic
$15.00
monthly price
Visit Website*
30 days free trial
Sendinblue is a fully recommendable email marketing service with a wide range of features and ease of use. It is particularly suitable for sending automated campaigns.
unlimited number of contacts
loads of newsletter templates
9.4

excellent
Contacts
Emails / Month
Marketing Automation
Sendinblue Free
$0.00
monthly price
Visit Website*
ActiveCampaign is a fully integrated sales and marketing platform including CRM system, complex automation and multi-channel marketing.
Contacts
Emails / Month
Marketing Automation
ActiveCampaign Lite
$15.00
monthly price
Visit Website*
CleverReach is an European email marketing service, which shines with well thought-out functions, intuitive editors and many features and also provides a free plan for beginners.
Contacts
Emails / Month
Marketing Automation
CleverReach Lite
$0.00
monthly price
Visit Website*
Try CleverReach for Free
Contacts
Emails / Month
Marketing Automation
Campaign Monitor Basic
$9.63
monthly price
Visit Website*
* Ad disclaimer:
For links marked with an asterisk, EXPERTE.com may earn a commission from the provider. The commission has no influence on our editorial rating.

Carsten Podszun studied computer science and business administration and was self-employed in the retail industry for 15 years. Since 2014 he is a consultant for startups, freelance author and writes at EXPERTE.com about homepage, hosting & IT security.
Continue Reading
Other languages
Deutsch