Email Marketing Software Review: Mailjet

Ad disclaimer:
For links on this page, EXPERTE.com may earn a commission from the provider. This supports our work and has no influence on our editorial rating.
If you don't want your newsletters and advertising materials to disappear into the morass that is the spam folder, there's no way around a reliable email marketing service. These help you to reach your audience with the right message at the right time, thanks to a pre-arranged strategy built upon the successes and failures of previous campaigns, as gauged through metrics and statistics. Can Mailjet* help your business or organizations take off into the stratosphere, or should you prepare for turbulence? In this review, we'll take a look at all of the service's functions and let you know!

What is Mailjet?
Mailjet could be described as a newsletter tool, however, it's much more than that. In addition to a solid email builder, clear contact management system, and extensive analytical tools, the service also can be integrated through API or as a WordPress plugin. The tools which it offers for creating, managing, analyzing, and optimizing email campaigns (including A/B testing) are highly versatile. Additionally, the service also makes it possible to conduct SMS campaigns.
To fairly compare Mailjet with the other services we've examined, this review focuses on its competencies in regards to email campaigns, encompassing the process of creating a campaign, importing contacts, sending, and then reviewing the entire process statistically. In this way, you should be able to clearly see Mailjet's strengths and weaknesses.
Review
Tracking & Statistics
9.4 / 10
Configuration & Usage
8.6 / 10
Decent price-performance ratio

Versatile editor with good templates

Wide variety of functions for creating, automating (premium), and analysing email campaigns
Somewhat clumsy contact management system
Registering for Mailjet is very straightforward and reminiscent of the same process with Mailchimp. Thanks to the free version (up to 6,000 Emails per month), you can try everything out before committing. Of course, the free version has limited functionality, and you'll have to live with a Mailjet watermark under every email you send, however, for getting started, or small campaigns, it isn't anything to sneer at.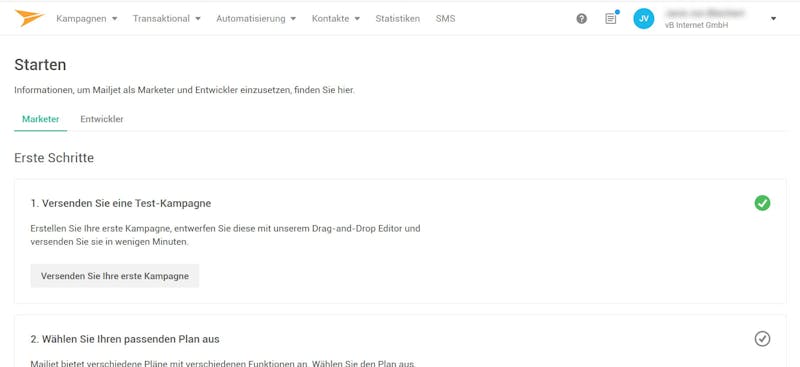 Mailjet's Getting Started guide.
If you're just starting, we can recommend checking out Mailjet's Getting Started Guide. This walks you through all of the steps needed to optimize email deliverability, as well as what settings to adjust to achieve the best results for your campaigns. You'll also learn how to create a sender address, and can choose to verify these individually, or an entire domain. The first of these is easy and accomplished through a one-off confirmation link, whereas the latter requires adjusting a DNS entry. But don't worry, Mailjet has got you covered, and makes this easy for beginners: You only have to upload a text file or a DNS entry template.
It's also possible to set up SPF, DMARC, and DKIM protocols to optimize deliverability. By default, Mailjet includes DKIM, but even in the free version, allows users to personalize the service. Once you've gone through the getting started guide, you can use this to either import or create your first contact lists, draw up an email template, or start tinkering around with statistics, automation, or A/B tests, but more on that below.
Additional settings and options are clearly summarized in the user account section. There, you're able to access features for advanced users such as its REST API, senders, and domains, as well as integrated functions like account settings. In addition, it's also possible to activate or deactivate email tracking here. To ensure GDPR-compliance, it would be useful if there were options for turning off email tracking for only certain accounts or groups of contacts, however, this sort of functionality is unfortunately not provided. Your only options are to completely turn off tracking, which will mean that you won't receive click or open rate information, or to leave it on, and run the risk of falling foul of the EU's data protection guidelines.
For those who haven't received explicit permission from recipients for individual tracking, but still want to gather statistical information relating to open rates while remaining on the right side of the GDPR, this is tricky to implement in Mailjet.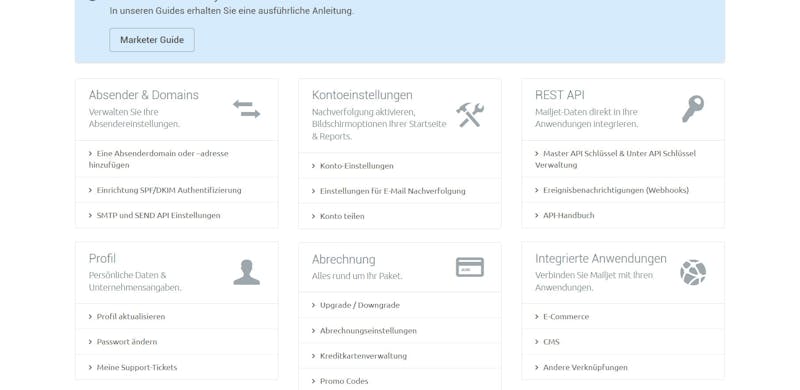 Mailjet's account settings.
Overall, Mailjet's level of user comfort is definitely high with practically everything made as convenient and easy as possible for beginners, with advanced settings for authentication, API, or integrations never far out of touch. In some circles, Mailjet is purported to have technical issues with its servers which can lead to certain settings or options not being properly configured. During testing, however, we didn't notice any such issues. As a result, the service is definitely above average albeit not stellar. Chucking in a few functions here and there would certainly fire up Mailjet, but, generally speaking, there isn't all that much wrong with it as is.
Score: 4.3 / 5
When preparing to launch or beginning a campaign, it's possible to manually create or import contact lists. Mailjet also makes it easy to integrate a widget on your site which will collect information and addresses for you. If you want to import an existing contact list, Mailjet's algorithms are capable of automatically identifying a number of different file formats and table documents. As such, any existing criteria you've included in your contact lists can be seamlessly imported into the marketing tool's interface.

Importing or creating contact lists in Mailjet.
Using forms, you can effortlessly add contacts, including not only their email addresses, but also additional data like their name, birthday, and physical address. Under Contacts select Subscription Widget to easily integrate a unique widget on your homepage. If desired, you can also create an integrated pop-in widget with individual fields. In the appropriate editor, all elements from a call-to-action (CTA) button to a confirmation page can be created and modified.
Once you've made your widget, and set all necessary parameters, you'll receive an HTML code that you can enter on your website. New contacts who register through the widget will be automatically added to your contact list, making gathering new subscribers a cinch, especially for beginners.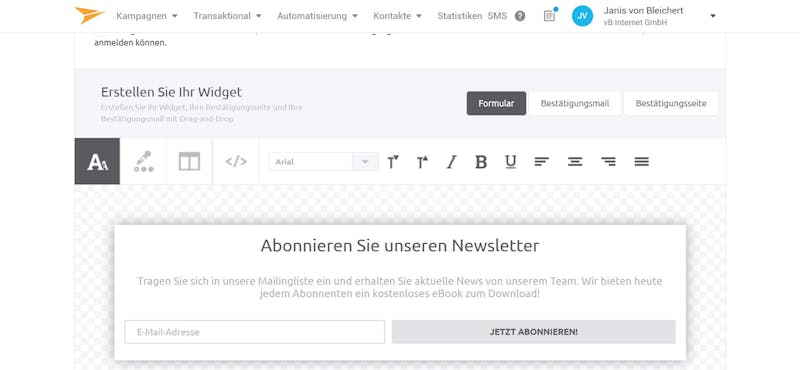 Mailjet's subscription widget.
If you use WordPress, you're in luck, because there's a free plugin that you can use to create subscription forms with customized data fields, as well as the ability to directly send newsletters from WordPress. Contacts that you've saved in WordPress can be automatically compared to those on your existing lists, while Buddypress and bbPress are also easily integrated.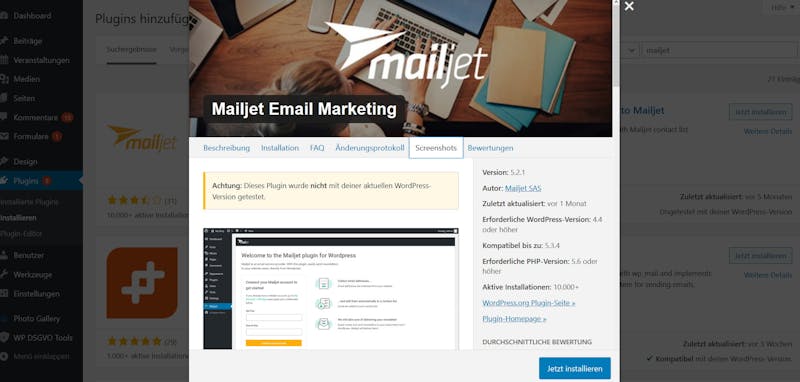 Mailjet's free WordPress plugin
API integration is also possible even if you don't use WordPress, however, integrating double opt-ins must be done manually. This is unfortunate since, in all other aspects, Mailjet facilitates staying GDPR-compliant. The service was one of the first to offers its users complete integration of the EU's data protection guidelines: Of course, the legal strength of these depends on how actively customers integrate and adhere to them.
Mailjet takes a somewhat lackadaisical approach to managing contact information. Lists that you've created or imported can't be sorted by name, and editing, cleaning, or modifying them isn't as easy as it could or should be. In this aspect, it's better to edit existing contact lists using third-party tools and simply import them into Mailjet once finished. Thanks to the ease with which these can be uploaded, the excellent subscription widget(s), and the ability to seamlessly integrate the service with WordPress, it's not difficult to look past Mailjet's engine stall and give it a decent score.
Score: 4 / 5
Once you've created or imported a contact list, you can divert all of your attention to starting your email campaign. In Mailjet, such campaigns can be manual or automated. Further, the service also offers the ability to send transactional emails. Automations, such as welcome messages for new newsletter recipients, are only available in the "Premium" and "Enterprise" subscriptions.
Basically, Mailjet's users can select from one of the three delivery options below:
Email Campaigns
Templates, such as weekly newsletters are manually sent to all recipients on a contact list, or to pre-defined groups.

Transactional Emails
Emails are automatically sent to recipients if certain pre-defined conditions are met. Examples of these types of messages include order confirmations or digital receipts.

Automations
Automations are sent when a specific event occurs (such as when a contact is added to a new list, or has a birthday).
One of Mailjet's greatest strengths is definitely the ease with which it allows users to launch email campaigns. Even if you only briefly leafed through the Getting Started guide, when creating a new campaign, you'll be taken through the process step-by-step. This starts with the subject line, and the optional input of variables relating to the creation of a sender address, all the way to a drag and drop designer with useful templates.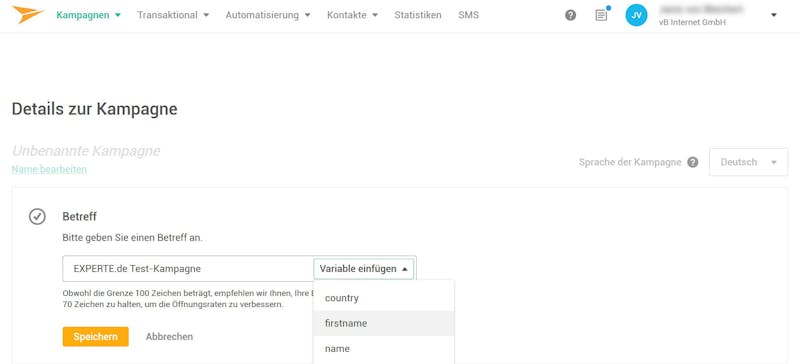 Mailjet's step-by-step guide for launching an email campaign.
Stylistically, you're given the choice between different (responsive) templates, all of which can be easily modified by dragging and dropping elements. With just a few clicks, you can create your first email, adding text boxes, graphics, and buttons to your heart's content.
It's possible to adjust the colors and sizes of individual elements or create an entire template from scratch. Beyond that, you can also edit graphics directly in the service's interface, adjusting their dimensions, or scaling them to fit particular sections. Beginners without any foreknowledge of programming can take full advantage of this, and within a short amount of time, commence a qualitative and impressive email campaign that is optimized for display on mobile devices as well as desktops.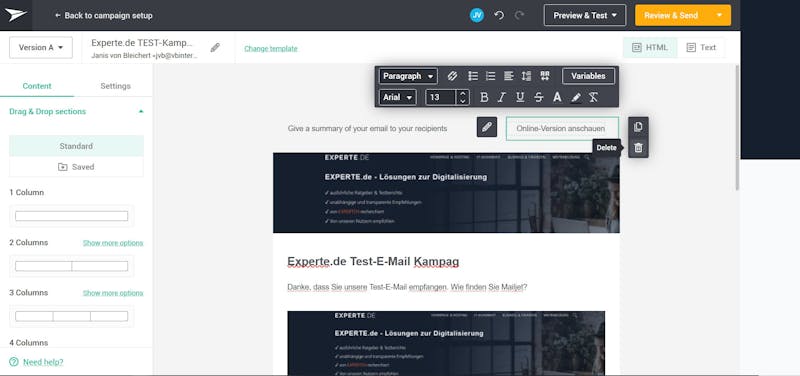 For those interested in attempting a more challenging campaign, Mailjet also allows for HTML templates to be uploaded and modified in its integrated advanced HTML editor.
All basic functions for personalizing emails are available, and it is also possible to preview your messages. Rendered previews in different email clients are limited to "Enterprise" subscribers. This increases the risk of emails not being displayed properly when viewed by their recipients. During testing, our personalized templates were displayed correctly among a number of different providers.

Mailjet's advanced HTML editor.
Transactional emails can be sent with SMTP-Relay or Send API . When selecting a template, you're able to choose from those for transactional, marketing, or simple automated emails, such as autoresponders. This facilitates the exact adaptation of emails to your requirements and offers you the ability to use Mailjet as an all-around email marketing solution.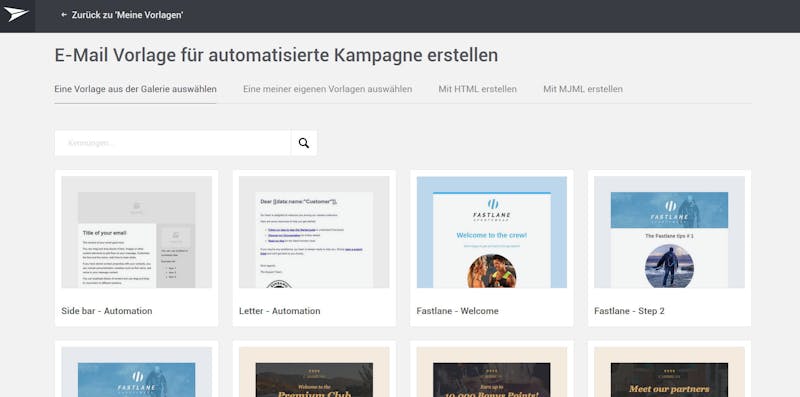 Email automation in Mailjet.
Similarly, the service also provides a number of different automation scenarios, which only require you to create a trigger, add emails, and define delays between each. Through this powerful tool, you can easily create, edit, and keep tabs on completely automated workflows.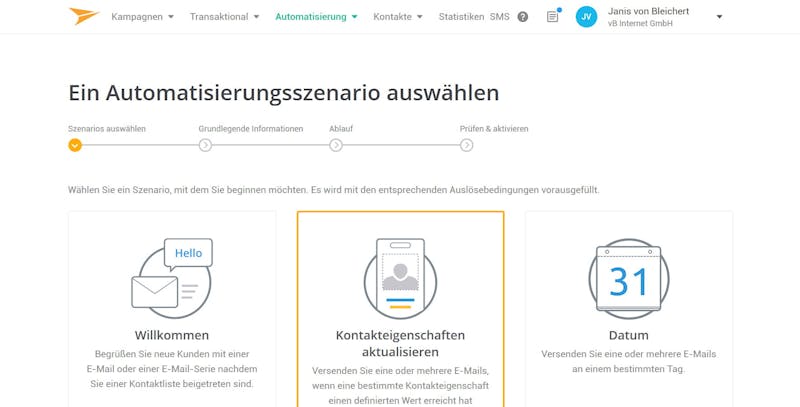 Automation scenarios in Mailjet.
The variety of functions offered by Mailjet's editors is impressive, with settings for advanced authentication, API, and integration all easily accessible. Bloggers will also be delighted with the ability to import RSS content via the feed's URL, and to select which content should and shouldn't be included. Preview images for YouTube or Vimeo videos are automatically generated by Mailjet in its "Fake Player".
Additional advantages are Mailjet's participation in ECO's Certified Sender Alliance (ECO CSA), a whitelisting organization of serious email marketing providers, which translates into greater deliverability of messages. Of course, this isn't a guarantee that your messages won't end up in a recipient's spam folder, but it certainly helps prevent this from happening.
Mailjet also allows for emails to be sent using the WordPress plugin or through API. You can also send automated, marketing, or transactional emails directly from the user interface. All design templates are optimized for mobile use, and despite the somewhat limited selection of templates, everything seems to have been well-thought-out and made easily customizable.
Score: 4.3 / 5
With regards to tracking sent emails, Mailjet really outdoes itself, in a good way. Simple, clear, and containing a great amount of detail are just three ways of describing the statistics provided by the service. These help you keep tabs on the performance of ongoing campaigns and compare them with one another through A/B testing (the sending of slightly different versions of marketing emails to groups of contacts to gauge their open or click rates).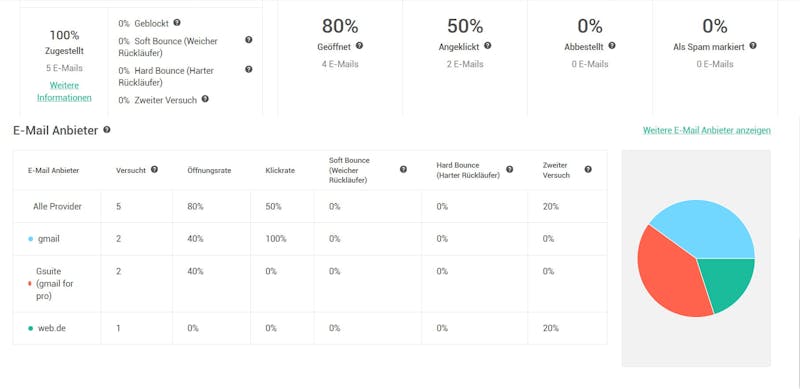 Mailjet's email statistics.
Among the metrics available, you can view the delivery rate, as well as the percentage of opened messages, clicked links, cancellations, spam markings, and both soft and hard bounces. The percentage of emails with multiple delivery attempts can also be viewed. Beyond that, Mailjet also offers a detailed overview of the different email providers used by your recipients and the number of bounces or blocks from each.
If needed, you can also view exact statistics relating to the click rates for links in your messages, and activity. Through bounce-management, it's possible to effectively analyze the delivery rate and optimize your future campaigns. All reports are easily downloaded. As such, Mailjet has a very good hand in terms of statistics. The only chink in its armor is that confirmations received from recipients aren't reflected in the statistics, slightly complicating the assessment of GDPR compliance in the user interface.
Score: 4.7 / 5
Mailjet's support center offers non-human assistance for the most common issues, including tutorials on how to integrate API. Thanks to its full-text search, it's easy to quickly find answers for whatever queries you might have. For everything else, Mailjet uses a support ticket system. Free users aren't allowed to file support tickets, but, as the old saying goes 'beggars can't be choosers.'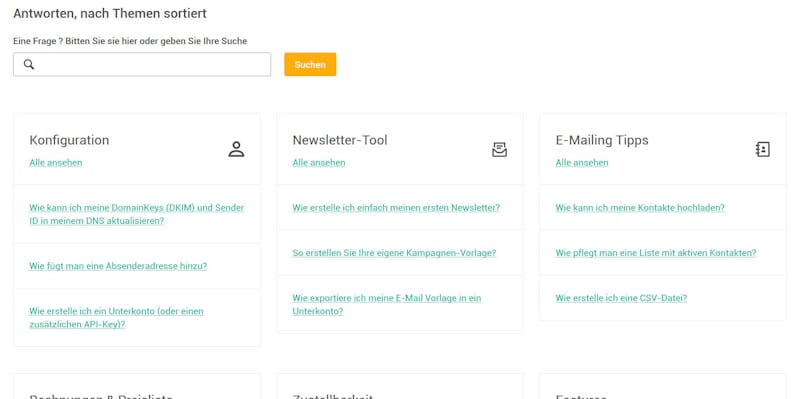 Mailjet's support and help center.
During testing, our query was answered in around 12 hours, which is a decent response time, however, its lack of detail didn't leave us feeling all that looked after. From what we can tell, technical questions aren't answered in great detail, and advice is kept to the absolute minimum. Improved email support is provided from the "Bronze Premium" package up. If you'd like to chew the figurative cud with a support staffer on the phone, you'll need the "Silver Premium" package.
Score: 3.7 / 5
Mailjet is one of the few providers that offers a free version of its service, which includes the ability to send up to 6,000 Emails per month (or 200 per day). For all paying subscribers, the daily sending limit, as well as the Mailjet watermark on email footers disappear. Mailjet prices its subscriptions on the basis of a starting rate, which increases depending on the number of emails sent per month; the number of recipients is unlimited across all packages. To fairly compare prices, we calculated five emails per contact, since most other providers charge based on the number of contacts an account has.
| Contacts / Provider | 500 | 1,000 | 5,000 | 10,000 ▲ | 50,000 | 100,000 |
| --- | --- | --- | --- | --- | --- | --- |
| Mailjet | $0 | $0 | $10 | $19 | $167 | $334 |
| MailerLite | $0 | $0 | $30 | $50 | $210 | $360 |
| GetResponse | $15 | $15 | $45 | $65 | $250 | $450 |
| AWeber | $0 | $26 | $46 | $66 | - | - |
| Mailchimp | $0 | $0 | $50 | $75 | $259 | $499 |
| Sendinblue | $0 | $0 | $66 | $81 | $229 | $379 |
| Constant Contact | €18 | €40 | €57 | €83 | €292 | - |
| Campaign Monitor | €9 | €29 | €49 | €99 | €329 | - |
| CleverReach | €15 | €20 | €55 | €100 | €400 | €900 |
| ConvertKit | $0 | $0 | $79 | $119 | $379 | $679 |
| ActiveCampaign | $15 | $29 | $89 | $139 | $299 | $459 |
| Klaviyo | $20 | $30 | $100 | $150 | $700 | $1,200 |
In terms of dollars and cents, Mailjet is one of the most affordable solutions on the market, offering not only well-priced packages for extensive marketing campaigns but also a free version for anyone who isn't ready to commit to a paid subscription. Adjusting your subscription based on the growth of your organization is easy, and for large corporate clients, Mailjet provides dedicated account management services.
If you can't do without abundant technical support or automated and transactional emails, don't waste any time and go right in for a premium subscription. With the "Enterprise" packages, you'll receive access to additional features, such as a personal advisor, VIP support, unlimited users, and white-labeling, as well as detailed reports, inbox previews, and exclusive webinars.
Free
Basic
Premium
Set-up Fee
$0.00
$0.00
$0.00
Price per Month
$0.00
from $9.65
from $20.95
Contract Period (Months)
0
1
1
Limits
Contacts
unlimited
unlimited
unlimited
Emails
up to 6,000
up to 900,000
up to 900,000
Features
Segmentation
Tagging
Marketing Automation
Ad Free
Open-Rate Tracking
Click Tracking
A/B-Testing
Conclusion
Tracking & Statistics
9.4 / 10
Configuration & Usage
8.6 / 10
Mailjet is an affordable, extensive, and scalable email marketing tool, which offers a wide variety of possibilities for both beginners, as well as those more experienced in the email marketing game.
Users of WordPress websites can easily and comfortably send newsletters and take advantage of Mailjet's email marketing and transactional emails to launch automated campaigns. Beginners are looked after too, with the free version providing the perfect starting point for getting acquainted with email marketing. Thanks to the service's highly-functional drag and drop editors, sensible templates, ease of use, GDPR-compliance, detailed statistics, and low price, Mailjet offers pretty much everything you could want in an email marketing tool.
Of course, all that glitters is not gold, and there are some shortcomings, even for Mailjet. Those using the free version will have to make do without human support, and the customization in terms of tracking could be a bit more developed. Apart from these hiccups though, Mailjet soars above its competitors.
6,000 mails free per month
versatile editor + good templates
comparatively inexpensive
Kontaktverwaltung etwas umständlich
8.4

good
Contacts
Emails / Month
Marketing Automation
Mailjet Free
$0.00
monthly price
Visit Website*
Try Mailjet for Free
Customer Reviews
A number of international companies work together with Mailjet, including Kia, Microsoft, and DHL. According to the service's homepage, around 130,000 organizations utilize the service, meaning that a large number of user reviews and reports are available. We compiled a number of these for you, and have provided an average score based on them below.
Customer Ratings
2,920 Bewertungen
Visit Website*
We analyzed the reviews and ratings from various portals and found 2,920 ratings with an overall rating of 3.8 out of 5 .
Alternatives
If you want to stay in the same price-segment, CleverReach offers a good alternative to Mailjet, thanks in no small part to its extensive range of features and free version.
Another solution with a comparable drag and drop editor is the GDPR-compliant Sendinblue. You'll have to do without a free version, however, as a trade-off, you'll get more detailed real-time reports, as well as the possibility to perform target audience cluster analyses, to more accurately compare different groups of recipients with one another.
GetResponse stands out with its ease of use, excellent customization options, extensive statistics and numerous templates. It is suitable for both beginners and frequent senders.
Contacts
Emails / Month
Marketing Automation
GetResponse Basic
$15.00
monthly price
Visit Website*
30 days free trial
Sendinblue is a fully recommendable email marketing service with a wide range of features and ease of use. It is particularly suitable for sending automated campaigns.
unlimited number of contacts
loads of newsletter templates
9.4

excellent
Contacts
Emails / Month
Marketing Automation
Sendinblue Free
$0.00
monthly price
Visit Website*
ActiveCampaign is a fully integrated sales and marketing platform including CRM system, complex automation and multi-channel marketing.
Contacts
Emails / Month
Marketing Automation
ActiveCampaign Lite
$15.00
monthly price
Visit Website*
CleverReach is an European email marketing service, which shines with well thought-out functions, intuitive editors and many features and also provides a free plan for beginners.
Contacts
Emails / Month
Marketing Automation
CleverReach Lite
$0.00
monthly price
Visit Website*
Try CleverReach for Free
Contacts
Emails / Month
Marketing Automation
Campaign Monitor Basic
$9.63
monthly price
Visit Website*
* Ad disclaimer:
For links marked with an asterisk, EXPERTE.com may earn a commission from the provider. The commission has no influence on our editorial rating.

Carsten Podszun studied computer science and business administration and was self-employed in the retail industry for 15 years. Since 2014 he is a consultant for startups, freelance author and writes at EXPERTE.com about homepage, hosting & IT security.
Continue Reading
Other languages
Deutsch