Email Marketing Software Review - Klaviyo

Ad disclaimer:
For links on this page, EXPERTE.com may earn a commission from the provider. This supports our work and has no influence on our editorial rating.
Today, email campaigns are one of the most important and ubiquitous forms of online marketing. The reasoning for this is pretty straightforward: With the right email marketing software, companies can organize their customers into different segments, targeting them with more effective messaging, and driving further sales. Beyond that, these tools also allow their users to analyze campaigns and optimize them for the future.
That's where we at EXPERTE.com come in! With dozens, if not hundreds of solutions available, getting started with email marketing is as much, if not more about finding the provider capable of doing what you need, as it is about actually using the software. To help, we've looked at some of the most well-known and reputable options on the market. In the review below, we've taken a look at Klaviyo.

What is Klaviyo?
Klaviyo*, which is based in the US, was founded in 2012. According to the company's own marketing materials, it services more than 50,000 businesses, catering in particular to ecommerce. The service can be easily integrated with online stores, and includes versatile tools for brand development and optimizing customer outreach.
The service offers plugins for a number of ecommerce platforms, such as Shopify, Magento, and WooCommerce. But don't let that fool you, its excellent contact management system, automated functions, editors and builders, as well as the ability to conduct SMS marketing, mean that it's capable of helping all sort of businesses and organizations apart from those which are digitally active.
Since Klaviyo also comes with analytical features, it's ideal for not only creating but also optimizing email campaigns of all shapes and sizes. Below, we'll show you where Klaviyo excels, for which groups it's best, and where it could do with some work.
Review
Tracking & Statistics
10 / 10
Configuration & Usage
8.0 / 10
Good analytical and tracking features

Numerous ecommerce plugins and well-performing API

Solid contact list management and segmentation

Lots of options for automated and transactional campaigns, as well as A/B tests

Powerful newsletter editor and form builder

Free for up to 250 recipients and/or 500 emails per month
Lacks a true landing page editor

Relatively expensive premium packages

Average in terms of user comfort
Registering with Klaviyo is very straightforward. You don't need to input any payment information, since the service offers a free version that allows you to send up to 500 emails (per month) to a maximum of 250 recipients. The premium (paid) subscriptions don't have these sorts of limits. After verifying your email address, you'll be able to head straight to the dashboard, where you can get started without configuring any further options.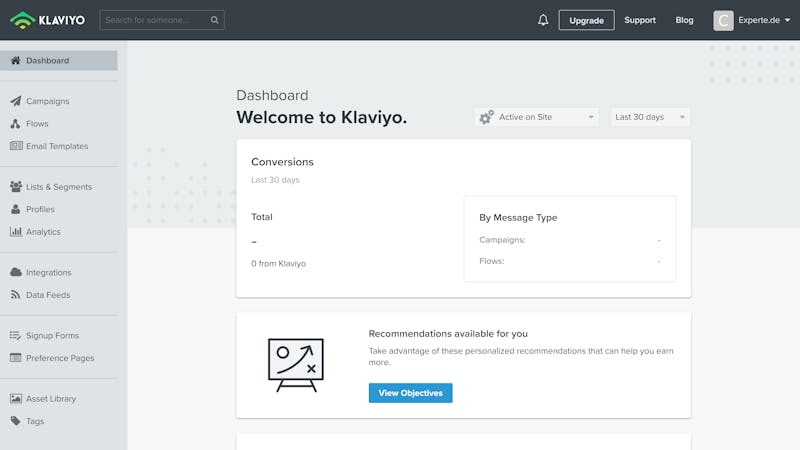 Unless you're doing business within the European Union that is. Klaviyo doesn't facilitate automatic double opt-ins, meaning that maintaining conformity with the EU's General Data Protection Regulation (GDPR) must be performed manually.
With that said, the dashboard puts all of the service's essential functions and features at your fingertips:
Campaigns

(For creating a new newsletter with or without

A/B testing

)

Flows (For automated email campaigns, as well as workflows and auto-responders)

Email Templates (Overview of new and user-created newsletter design templates)

List & Segments (For creating and managing contact lists)

Profiles (Overview of all contact data)

Analytics (Overview of reports and creation of user-defined reports)

Integrations (Overview of all plugins and add-ons)

Data Feeds (For creating automated campaigns using RSS-feeds)

Signup Forms (For creating registration or subscription forms)

Preference Pages (Settings for thank you pages, cancellation confirmations, etc.)

Asset Library (Overview of all uploaded media and files)

Tags (For classifying and organizing contacts)
Beyond that, through the upper navigation menu, you can enter the help area, configure advanced account settings, or read the service's blog.
A glance at Integrations shows the provider's emphasis on ecommerce, since pretty much every platform can be integrated here. In most cases, all this requires is creating a username, password, and entering your store's website. This is especially convenient for beginners. You'll also have the ability to create transactional emails that are linked to specific conditions or events in your store, such as purchases, abandoned shopping carts, and more.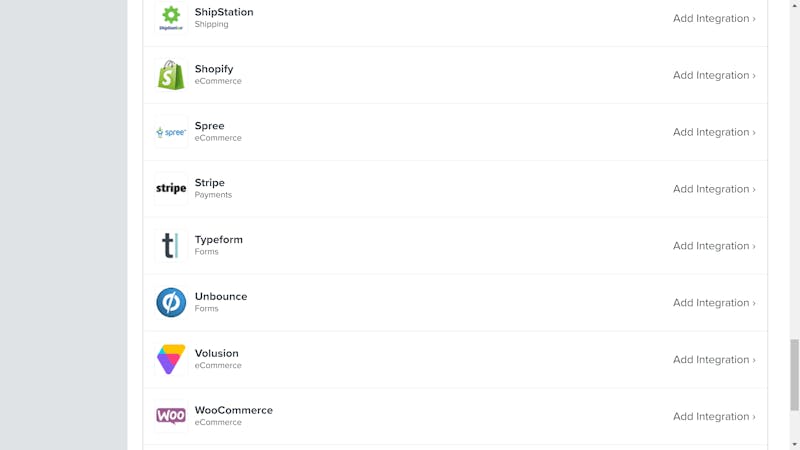 Klaviyo offers a number of integrations for ecommerce platforms.
By default, the email address which you registered with is set as the sender address for your campaigns. If you'd like to configure your own domain for sending, you can do this by clicking on Settings > Domains. In the help center, those just starting out can find useful guides for creating DNS entries and verifying domains.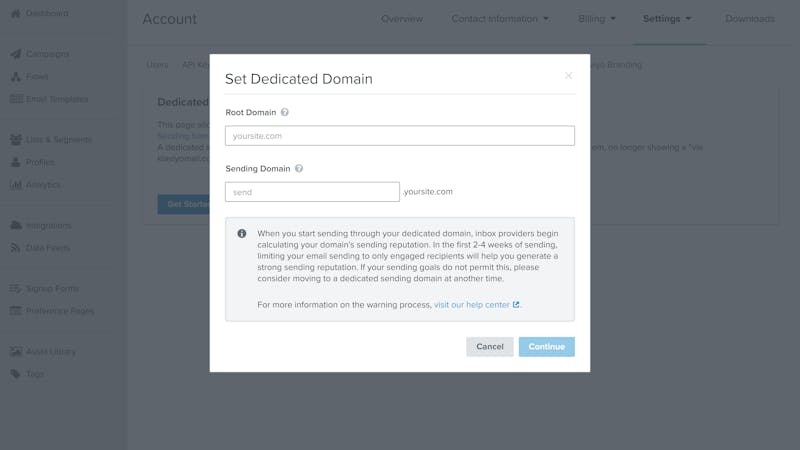 Already existing data from a number of email service providers (ESPs) or customer relationship management (CRM) services can be integrated by inputting the relevant API key from Mailchimp, Amazon Marketplace, Campaign Monitor, or Constant Contact in the Integrations area.
In Account Settings, you can adjust the default settings for tracking, and assign a free US telephone number for use in your SMS marketing campaigns.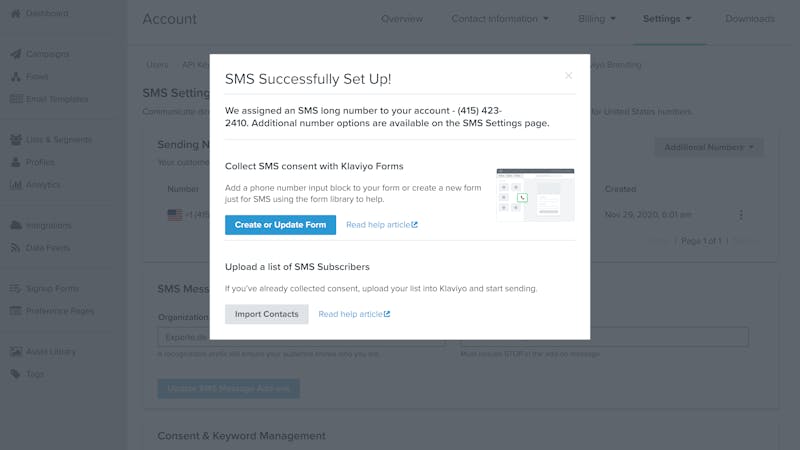 Klaviyo assigns a free outgoing US number for your SMS marketing campaigns.
Under Objectives, Klaviyo provides useful suggestions for the next steps users should take. These include links to helpful articles that explain how to integrate your website or store into your campaigns, create automated workflows, or use additional features. These Objectives help beginners to work more efficiently, optimize their efforts, and improve their contact management.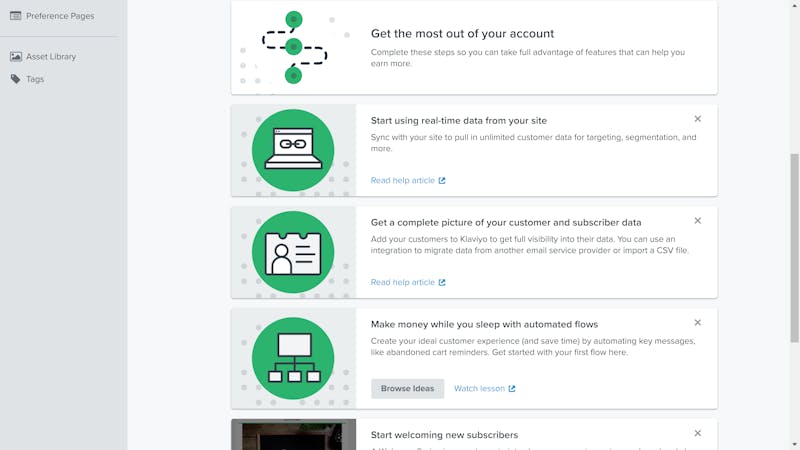 Objectives help users you optimize their campaigns and become more familiar with the platform.
Getting started with Klaviyo is both fast and easy. You don't need to input any payment information and can write to 250 recipients (twice) per month, for free. The dashboard is well-organized, and all features that you'll need to access, are quickly found. For beginners, Objectives are a nice touch, as is the wide selection of plugins for ecommerce platforms.
Unfortunately, some areas, like the Analytics section or Account Settings aren't so accessible, but other than that, there isn't really much to take issue with here.
Score: 4 / 5
Klaviyo doesn't only offer numerous options for importing contact lists via integrations to other services like Mailchimp or ActiveCampaign, it also allows users to upload customer lists, which are converted automatically into contact lists.
During testing, however, only homogenous data, with all fields containing the same value(s), worked for this. In other words, you'll need to format/clean your customer data before uploading it. One suggestion to the developers from us: Add commas as dividers. As is, each new contact needs to be added individually.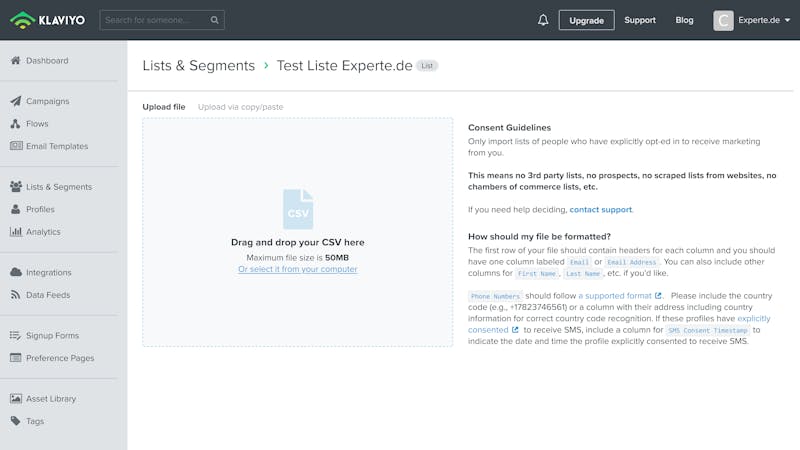 Uploading tables of contact data (such as from Microsoft Excel) is easy in Klaviyo, but you'll need to make sure your entries are clean.
For gaining new subscribers or recipients, Klaviyo helps users to create registration forms and landing pages, although options for the latter are fairly limited. Basically, landing pages are simplified subscription forms that don't open as a pop-up, but rather, a separate page.
Fortunately, forms can be easily designed and made to look very professional. In the Signup Forms area, it's possible to create these from scratch or with the aid of professionally-designed templates.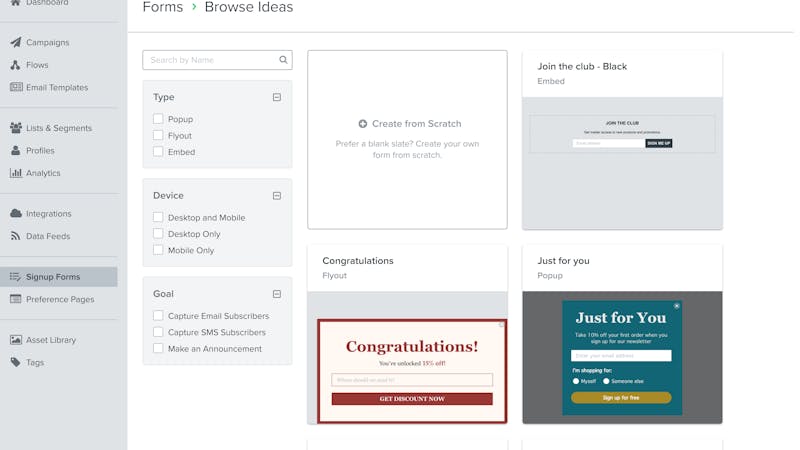 Klaviyo's form builder is beginner-friendly and easy to use. Each field can be individually adjusted, new elements are added intuitively by dragging and dropping them, and you can also configure what sort of confirmation is shown after a successful registration. As mentioned at the beginning though, one key feature is absent, namely, the inability to add double opt-ins and make forms GDPR compliant.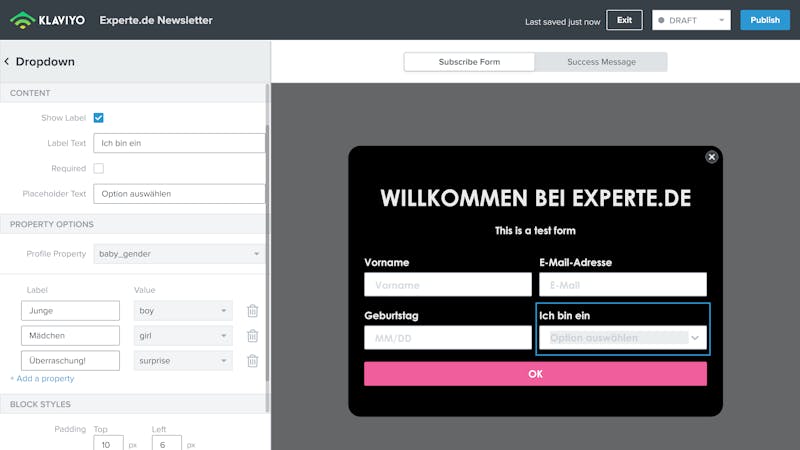 One of Klaviyo's highlights is the ability to create two different variants of a particular form. As a result, you can determine, by way of A/B testing, which of the two is more successful at yielding registrations.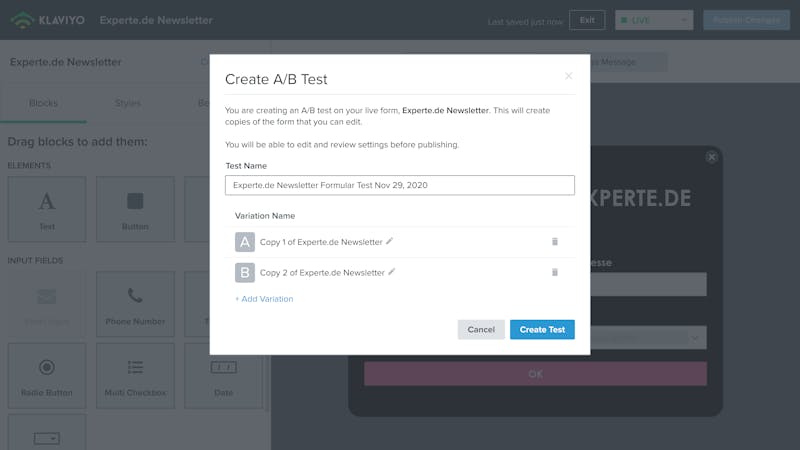 A/B testing of forms is possible in Klaviyo.
All aspects of contact management are nicely designed. With the help of different contact lists, tags, and segmentation options, you can efficiently manage your recipients and divide them into various groups, helping your campaigns to be more targeted and precise.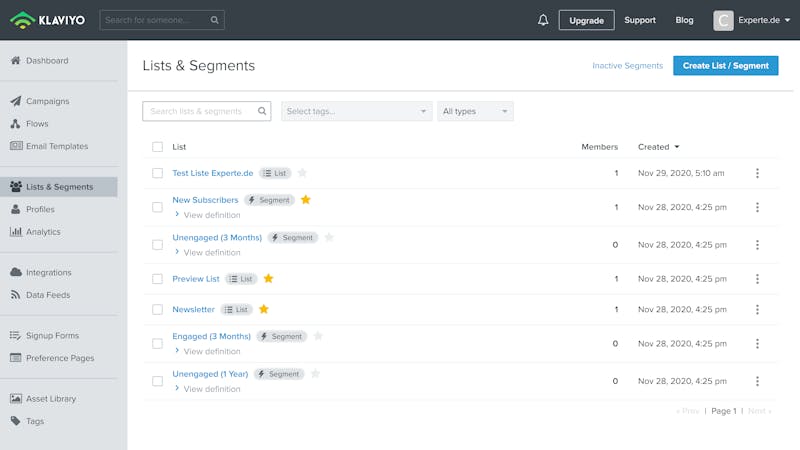 Klaviyo offers advanced options for contact management.
As far as contact management and the creation of professional forms are concerned, Klaviyo does an excellent job, providing extensive options, lots of form layouts, and making all sorts of additional features available to its users. Also included are a (limited) landing page editor and the ability to conduct SMS marketing.
In our book, even though there is room for improvement here or there, such as manually inputting contacts or making the landing page editor more functional, Klaviyo does most things right.
Score: 4.7 / 5
For sending newsletters and launching campaigns in Klaviyo, you'll need to navigate to one of the two areas below:
Campaigns (for classic email newsletters, SMS marketing, as well as A/B tests)

Flows (for automated email sequences, auto-responders, and transactional emails)
With Klaviyo, basic newsletters or SMS campaigns can be quickly created by clicking on Campaigns > Create Campaign. Then, you'll be able to choose whether your newsletter will be purely text-based, made by dragging and dropping elements, or through HTML code.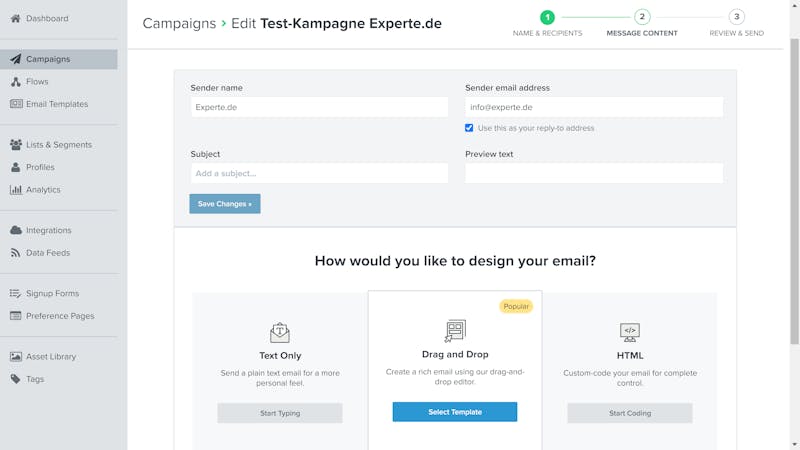 Creating newsletters with Klaviyo.
In the Flows area, you'll be able to set up simple auto-responders, intricate email sequences, or transactional emails that are linked to specific events that occur in your online store. For the latter, you'll need to link your store/ecommerce platform to Klaviyo either via plugin or API.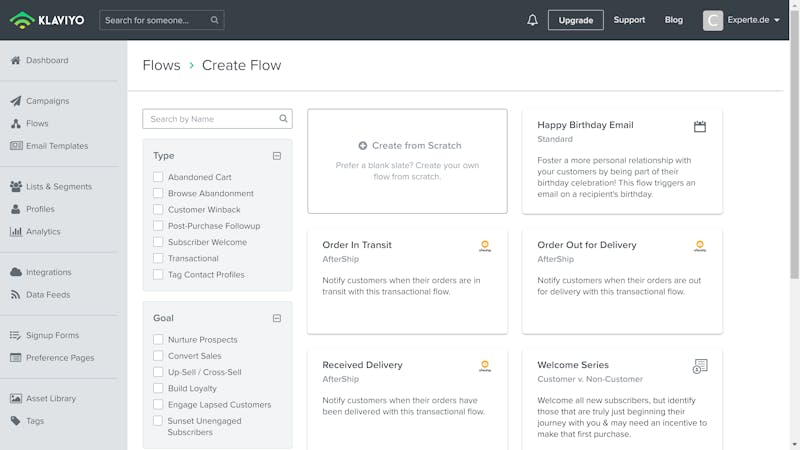 In Klaviyo, Flows encompasses all automatically-generated emails.
Turning to workflows, Klaviyo offers a few templates. If these don't appeal to you, you can create more complex automated email sequences with just a few clicks. Transactional emails are entirely integrated with the workflows, making it possible to create email sequences that are triggered by certain events or activities, however, to do this, you'll need a bit of technical know-how.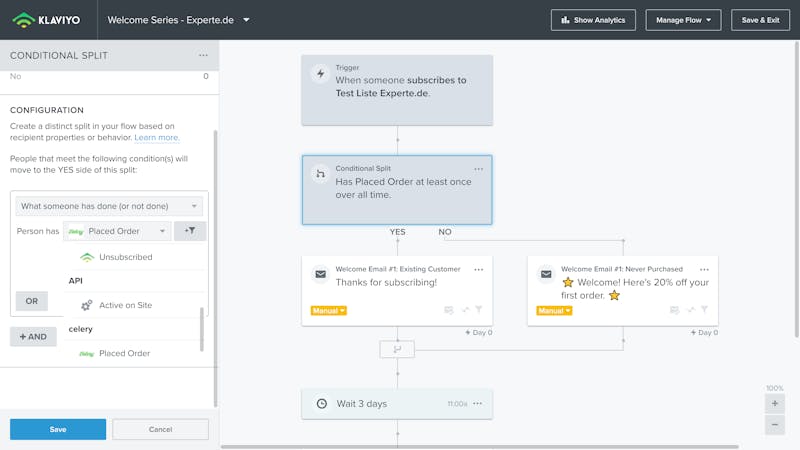 In addition to sending newsletters, in the Data-Feeds area, you can create automated emails from RSS or other web feeds. Simply input the feed's URL and set a few parameters.
All emails can be individually designed, or, based on the templates that come with Klaviyo. These are both plentiful and nicely organized, making it possible to create a professional newsletter with a matter of clicks.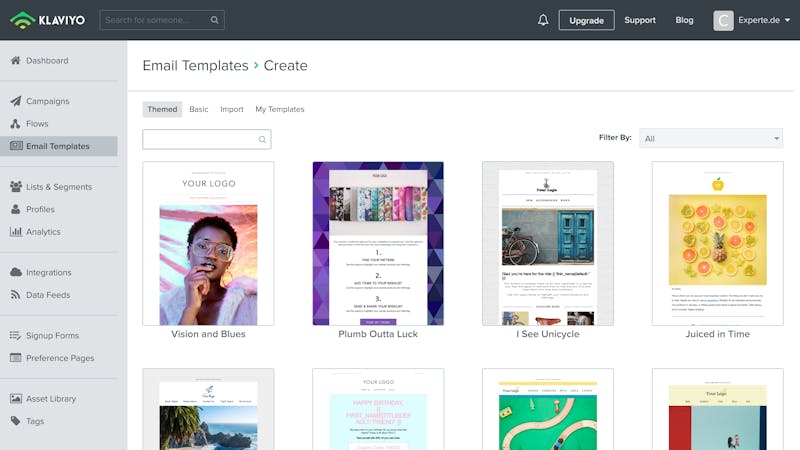 Klaviyo's newsletter templates.
Klaviyo's drag and drop newsletter editor really impressed us across the board. Through it, you can create your own design, or use the pre-loaded templates.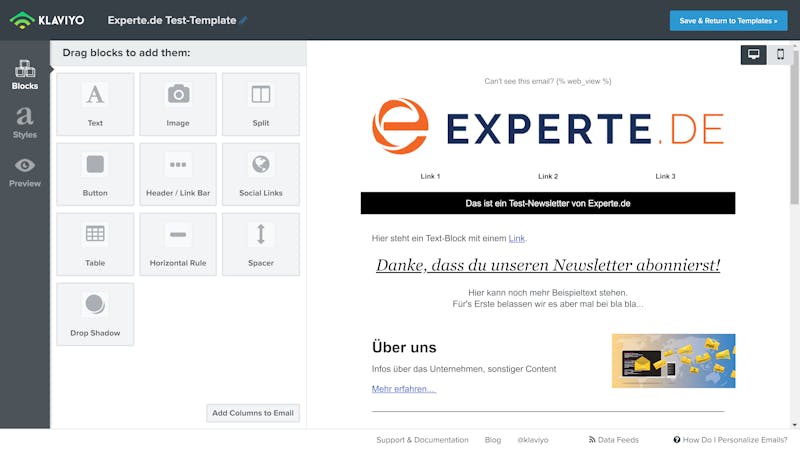 Klaviyo's user-friendly drag and drop newsletter editor.
Another neat feature we noticed when using Klaviyo was the ability to not only switch back and forth between desktop and mobile views of your newsletter but also to edit it in real-time in both. This makes it very easy to optimize newsletters for mobile devices.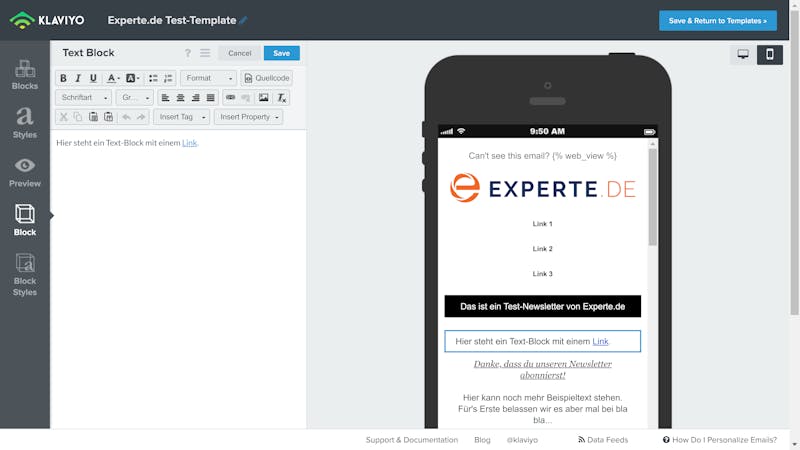 In terms of sending emails or launching campaigns, Klaviyo performs really well, owing in no small part to the ease with which basic newsletters, as well as RSS-based, or automated ones can be created. So long as you're able to integrate your ecommerce platform into the service, you can look forward to being able to readily create transactional emails in the Flows area. And, for auto-responders and workflows, such as welcome sequences, a number of templates are provided to help beginners get started.
The only blemish for us was the somewhat cumbersome procedure for A/B testing, which involves finding a somewhat hidden link in the newsletter design area. With that said, Klaviyo makes every tool available that a user could need.
Score: 4.7 / 5
Klaviyo, at least in our minds, successfully navigates tracking for email campaigns as well. Once you've launched your campaign, by clicking on it, you'll be taken to the overview page for its statistical evaluation. Here, you'll find all sorts of important analytical information, including its open and click rates, cancellations, and bounces.
As is common, Klaviyo differentiates between soft and hard bounces. The former are emails that can't be delivered owing to a temporary issue (for example, a full inbox). Klaviyo converts soft bounces to hard bounces after seven consecutive unsuccessful delivery attempts, removing the recipient from your contact list.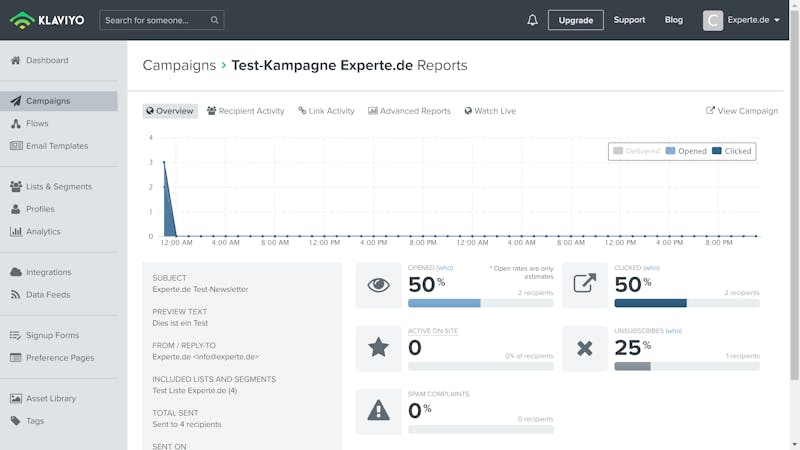 In addition to the above, you can also view advanced statistics, as well as real-time geographical data relating to your recipients' providers and link activity. The map view reveals a great deal about the location of your recipients.
As a nice touch, all users (including those of the free version) are given access to all statistic data, which is something of a rarity among email marketing tools.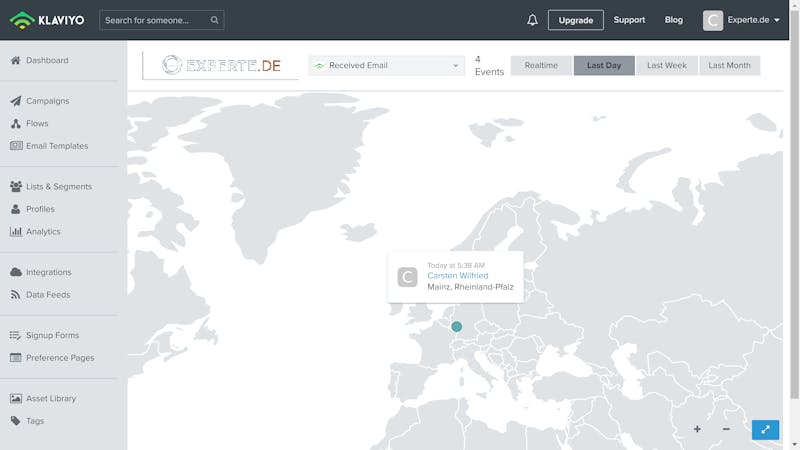 Map view showing recipients' locations.
The aforementioned A/B tests can also be used to statistically evaluate newsletters and signup forms. Over the course of an A/B test, Klaviyo will make it clear how each variation fares among particular groups of recipients, allowing you to quickly react and select the better-performing option.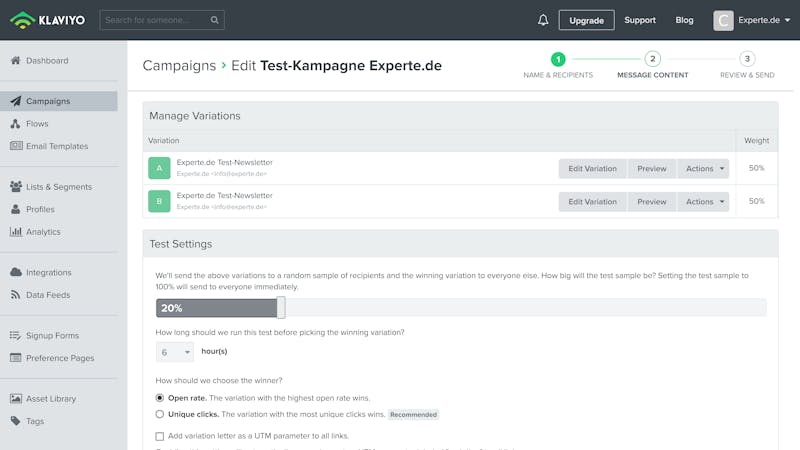 Klaviyo makes it easy to A/B test your newsletters and forms.
We really liked Klaviyo's approach to tracking and statistics, and how they make all metrics available to all groups of users. The quality of these is high too, with the service's analytics being both clear and comprehensive. The presence of additional statistical evaluation options, like live geo-tracking, makes it possible to optimize sending times for your recipients.
There's little doubt in our minds that even the most demanding of customers will find little to complain about in terms of Klaviyo's tracking options. Of course, some providers make a few additional features available, such as advanced link tracking or spam tests, however, we're confident that Klaviyo provides everything you'll need to optimize your campaigns.
Score: 5 / 5
Klaviyo shines a bit less in terms of support than it does in the above two areas. Free users will have to content themselves with the standard support ticket/contact form option, which is answered during US business hours. For paying subscribers, a live chat is available, but not staffed around the clock.
In terms of non-live support, Klaviyo gives a better showing, catering to more DIY types. By clicking on the Support button in the upper area of the dashboard, you'll be taken to the help center, which includes a number of webinars, classes, videos, and guides, as well as community help. Only after you've searched for a solution or answer and been unable to find it, will you be able to directly contact support.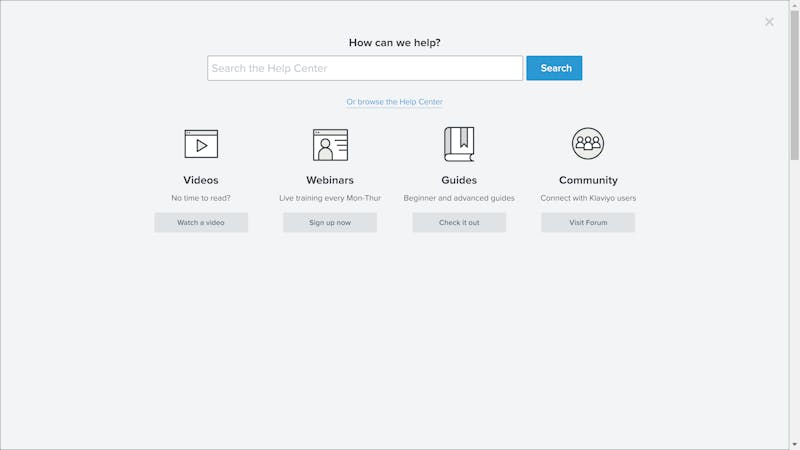 During testing, we waited around five hours for an answer to our email/support ticket query. This might even be considered impressive since we wrote outside of US business hours. We also found the help center to be very useful and well-structured, featuring live (bookable) training sessions as well as a fairly active support community.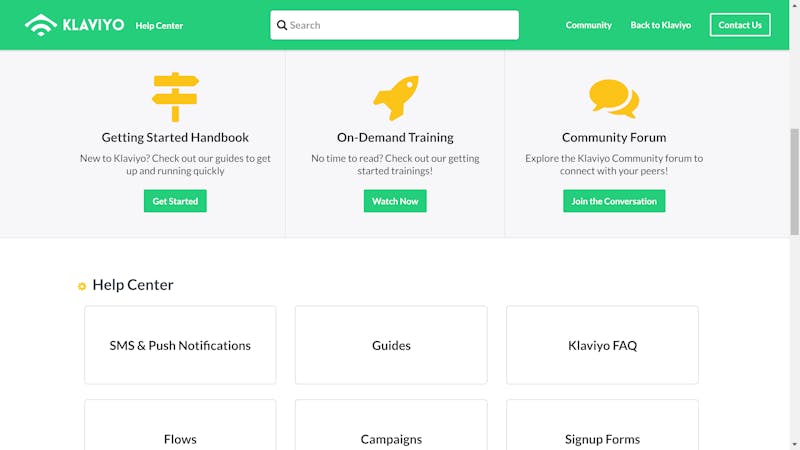 Klaviyo's support isn't great, but it isn't awful either. Yes, the options for getting in touch with a support staffer are limited, but the help center is well-stocked, and the response time was very good, all things considered. There's definitely room for improvement, but we've seen far worse.
Score: 3.3 / 5
Apart from the free version of Klaviyo, the service is one of the most expensive on the market. However, you won't need to worry about booking add-ons or extra features, since the service's feature package includes nearly everything users will need. Packages vary in price depending on the number of monthly emails.
| Contacts / Provider | 500 | 1,000 | 5,000 | 10,000 ▲ | 50,000 | 100,000 |
| --- | --- | --- | --- | --- | --- | --- |
| Mailjet | $0 | $0 | $10 | $19 | $167 | $334 |
| MailerLite | $0 | $0 | $30 | $50 | $210 | $360 |
| GetResponse | $15 | $15 | $45 | $65 | $250 | $450 |
| AWeber | $0 | $26 | $46 | $66 | - | - |
| Mailchimp | $0 | $0 | $50 | $75 | $259 | $499 |
| Sendinblue | $0 | $0 | $66 | $81 | $229 | $379 |
| Constant Contact | €18 | €40 | €57 | €83 | €292 | - |
| Campaign Monitor | €9 | €29 | €49 | €99 | €329 | - |
| CleverReach | €15 | €20 | €55 | €100 | €400 | €900 |
| ConvertKit | $0 | $0 | $79 | $119 | $379 | $679 |
| ActiveCampaign | $15 | $29 | $89 | $139 | $299 | $459 |
| Klaviyo | $20 | $30 | $100 | $150 | $700 | $1,200 |
Klaviyo's free version plays the role of both a trial subscription as well as a genuine 'freeware' product. Besides the number of recipients and monthly emails, the only real difference to a paid subscription is in terms of customer service. Paying subscribers can also take advantage of professionally-configured workflows for transactional emails.
Free
Email
Set-up Fee
$0.00
$0.00
Price per Month
$0.00
from $20.00
Contract Period (Months)
0
1
Limits
Contacts
up to 250
up to 150,000
Emails
up to 500
unlimited
Features
Segmentation
Tagging
Marketing Automation
Ad Free
Open-Rate Tracking
Click Tracking
A/B-Testing
Conclusion
Tracking & Statistics
10 / 10
Configuration & Usage
8.0 / 10
Klaviyo could definitely make some improvements in a few strategic areas, such as usage or support, and the results would enhance its overall package significantly. In the other areas we looked at, the service performs remarkably well, offering both beginners as well as more advanced users a number of options for not only creating and launching but also optimizing their email marketing campaigns.
As mentioned a few times above, it's possible to send two emails to up to 250 recipients per month (or 250 emails to two recipients) free of charge, and without having to deal with any paywalls so far as features are concerned. With that in mind, there's absolutely nothing to lose in testing the service out.
Thanks to its extensive evaluation and analytical tools, excellent integration of ecommerce platforms, and optimization options for brand development, Klaviyo is definitely an excellent choice for those doing business online, as well as a solid one for everyone else.
free up to 250 recipients
lots of ecommerce plugins
Webseite nur in englischer Sprache
8.7

good
Contacts
Emails / Month
Marketing Automation
Klaviyo Free
$0.00
monthly price
Visit Website*
User Reviews
Below, we've summarized customer reviews from Klaviyo's users. With these, it's possible to gain greater insight into what the service's users have to say about their experiences with the platform, and how satisfied (or dissatisfied) they are with it.
Customer Ratings
1,508 Bewertungen
Visit Website*
We analyzed the reviews and ratings from various portals and found 1,508 ratings with an overall rating of 4.5 out of 5 .
Alternatives
If you're looking for another provider that offers a free version, CleverReach is worth taking a look at. Like Klaviyo, CleverReach offers a number of plugins, especially for complex email automation, but also has (in our eyes at least) a better user concept.
Mailjet might be your cup of tea if you're looking for a wide range of features and a free version. Should you decide on the service, you'll also be in luck, since its prices are significantly lower than those of Klaviyo.
GetResponse stands out with its ease of use, excellent customization options, extensive statistics and numerous templates. It is suitable for both beginners and frequent senders.
Contacts
Emails / Month
Marketing Automation
GetResponse Basic
$15.00
monthly price
Visit Website*
30 days free trial
Sendinblue is a fully recommendable email marketing service with a wide range of features and ease of use. It is particularly suitable for sending automated campaigns.
unlimited number of contacts
loads of newsletter templates
9.4

excellent
Contacts
Emails / Month
Marketing Automation
Sendinblue Free
$0.00
monthly price
Visit Website*
ActiveCampaign is a fully integrated sales and marketing platform including CRM system, complex automation and multi-channel marketing.
Contacts
Emails / Month
Marketing Automation
ActiveCampaign Lite
$15.00
monthly price
Visit Website*
CleverReach is an European email marketing service, which shines with well thought-out functions, intuitive editors and many features and also provides a free plan for beginners.
Contacts
Emails / Month
Marketing Automation
CleverReach Lite
$0.00
monthly price
Visit Website*
Try CleverReach for Free
Contacts
Emails / Month
Marketing Automation
Campaign Monitor Basic
$9.63
monthly price
Visit Website*
* Ad disclaimer:
For links marked with an asterisk, EXPERTE.com may earn a commission from the provider. The commission has no influence on our editorial rating.

Carsten Podszun studied computer science and business administration and was self-employed in the retail industry for 15 years. Since 2014 he is a consultant for startups, freelance author and writes at EXPERTE.com about homepage, hosting & IT security.
Continue Reading
Other languages
Deutsch