Email Marketing Software Review: ConvertKit

Ad disclaimer:
For links on this page, EXPERTE.com may earn a commission from the provider. This supports our work and has no influence on our editorial rating.
Email marketing tools are an essential component of any online sales strategy, capable of generating interest and consumption of your product or service if done right. To ensure that this happens, it's best to start by clearly determining what your priorities, goals, and expectations are, thereafter matching these as best as possible to what services are available.
In this review, we'll tell you if ConvertKit can help bring your vision of email marketing to life.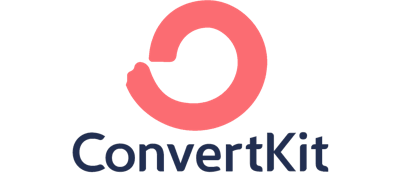 What is ConvertKit?
ConvertKit* was launched in 2013 by Nathan Barry, a blogger, and specializes in supporting content creators (bloggers, podcasters, streamers, and YouTubers). Of course, this doesn't mean that their service isn't for other types of marketing campaigns, however, the background of the company and its target group is unmistakable. This has both advantages and disadvantages as we'll see in greater detail below. For now, it suffices to say that ConvertKit is less a universally-adaptable solution, and far more a specific one for usage in certain areas that it's really designed for.
Below, we'll show you the strengths and weaknesses of the service, as well as everything else that you need to need about ConvertKit.
Review
Configuration & Usage
9.4 / 10
Tracking & Statistics
6.0 / 10
High deliverability rate thanks to the usage of plaintext newsletters

Convenient tagging and segmenting options for contact lists

Well-performing form and landing page builders

Straightforward and powerful automation workflow editor
Unimpressive statistics section

Lack of features in the newsletter editor

No design templates for newsletters
It's possible to not only test ConvertKit for free but also, since January 2020, to use it without paying a cent. This is thanks to a free package with limited features and functionality. Registering and configuring an account with ConvertKit takes a matter of minutes since you don't need to wait for your account to be activated. Everything works, except for automation, without inputting any payment information.
ConvertKit prioritizes contacts, and so the service doesn't have a typical dashboard. Instead, once you've logged in you'll start on the Landing Pages & Forms tab, where you're asked if you'd like to gather contacts either through a form, or a landing page.

Instead of diving in, ConvertKit provides a beginner's checklist, so that you can work on and complete each step. This takes you through each of the following sections step-by-step:
Creating landing pages

Adding your first contacts

Creating forms

Newsletters

Creating email sequences

Creating a visual automation

ConvertKit's first steps.
In each area, you can find an informative tutorial video that explains the underlying function and process in detail. Using the checklist, you can go through practically all of the functions that ConvertKit provides, leaving little to be discovered, and enabling you to create your first newsletter or visual automation with relative ease.
Should you run your own website and want to integrate it with ConvertKit through a plugin, the Automations tab is going to be your best friend, specifically its Integrations submenu. Here, you can gain a quick overview of all possibilities that are available for integrating the service with your website or store.

Just some of the apps, plugins, and integrations supported by ConvertKit.
The email address used for registration is automatically added as your default sender address and verified through an email link. In settings, you can add a unique domain for a landing page created in ConvertKit, or for the email address that you'll be sending with. In both cases, the domain will be verified through DNS records. Advanced authentication, such as through DKIM or Sender Policy Framework (SPF) aren't possible with ConvertKit.

Domain authentication for landing pages and emails in ConvertKit.
Since ConvertKit focuses on text emails and provides integrations for homepage tools, deliverability is very high, despite the limited authentication options. Embedding the service in WordPress is straightforward thanks to the API key. Simply copy this from the settings window in ConvertKit and paste it into the appropriate place in the plugin.
Before you fire off your first newsletter, it's worth taking a look in account settings. Here, you can access additional options for integrating GDPR-compliant double opt-ins, as well as general settings relating to delivery times, the landing page, and more.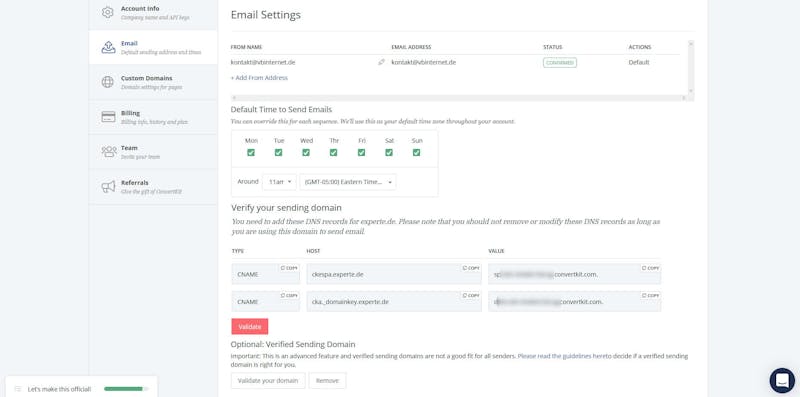 Getting started with ConvertKit is a breeze, and thanks to the checklist, there's 'someone' holding your hand every step of the way, if you want there to be. Owing to the large number of third-party services like WordPress, Thrive Leads, Zapier, or Unsplash that can be integrated, the service is easily augmented and linked with any of your existing communications or sales channels. A sort of 'blank' integration for all tools or plugins that aren't supported by name isn't offered, and we also didn't see any advanced settings such as tracking or statistics during testing.
Score: 4.7 / 5
There are three ways to import existing contacts using ConvertKit. These are:
As such, all of the most common means for transferring existing contact lists are represented. Automatically compiling individual addresses or even entire lists is also easy using specific email sequences. Apart from that, you can assign different tags to new recipients, which can be used later for sequencing or categorization. Unfortunately, directly synchronizing lists of contacts through a database is not possible.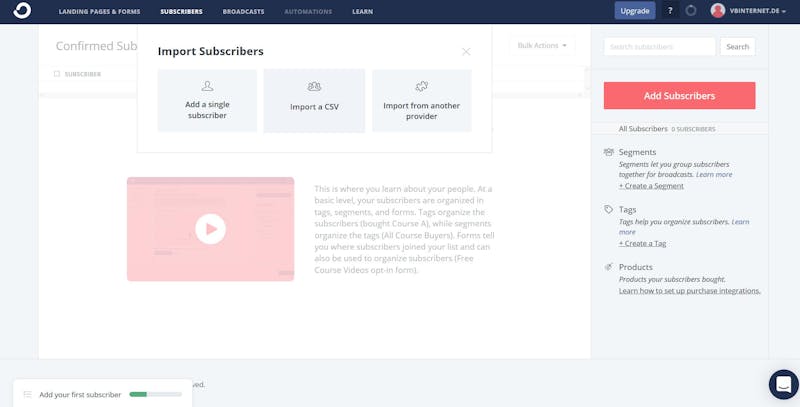 Adding or importing contacts in ConvertKit.
Under Landing Pages & Forms you're able to create different types of forms or floating bars which can be integrated by link, Javascript, HTML, or directly through WordPress or Unbounce (with the respective ConvertKit plugin). Alternatively, you can also embed a form directly in landing pages created using ConvertKit. All forms can be made to perform specific actions if certain conditions are met or to automatically assign tags to new users.

The form builder is largely self-explanatory, offering a range of possibilities for customization, even if we personally would have preferred a freer hand in terms of design and layout. Generally speaking though, it's possible to quickly create professional-looking forms, which makes gathering more contacts or subscribers easy.
Once the layout has been created, you can set the forwarding domain, the landing page, as well as any tags through the form builder's settings. Apart from that, it's also possible to hide forms or set alternative content for visitors that are already registered. Only a few providers make doing this so easy as ConvertKit does.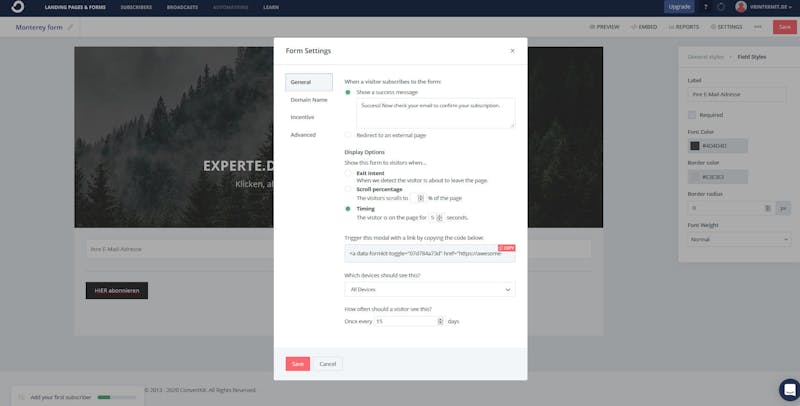 ConvertKit's form editor.
Landing pages, which can also be created through the Landing Pages & Forms menu, are another useful tool for gathering contacts. ConvertKit's editor for doing this is a bit plain and only provides a few design templates to choose from, however, it does include the most important functions. In comparison to most other providers, ConvertKit's editor for landing pages is certainly not the most intricate, however, this means that it's easier to navigate and use. As a result, achieving professional results is possible without a significant investment of time.
Through the WordPress plugin, landing pages that you've created can be directly embedded on your website. You can also link your Google Analytics or Facebook Business accounts, as well as tracking and analytical data from Segment or Pinterest to your landing page. As is the case with the forms, different content can be configured for registered and non-registered users.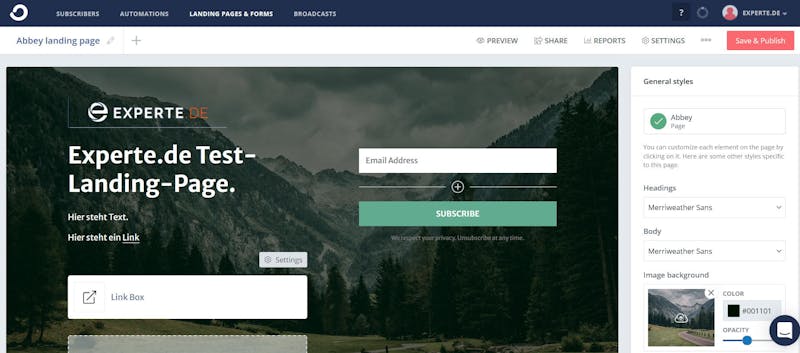 ConvertKit's landing page editor.
At the end of the day, the variety of functions offered in ConvertKit's editors aren't all that impressive. Compounding this is that the service's builders and editors don't have drag and drop functionality, as most of its competitors do. Ultimately, this makes personalizing a newsletter or email blast more complicated. At the same time, the quality of the results cannot be denied, with both landing pages and forms appearing professional and streamlined.
Creating contact lists, tagging users, and organizing them into groups is achieved effortlessly. As a result, ConvertKit does offer its users access to the most important functions relating to compiling and managing contacts. Advanced settings, like SMS-dialogues, database synchronization, or unique fields for addresses when manually inputting contacts, are, unfortunately, nowhere to be found, somewhat dampening the overall experience.
Score: 4.3 / 5
You can select from three options when launching a campaign:
Broadcasts

Automations

Sequences
Broadcasts refer to traditional newsletters that are sent once to different groups of contacts. A unique tab allows you to oversee these. By clicking on New Broadcast you can jump directly to selecting those recipients who should receive the newsletter from among your contact list.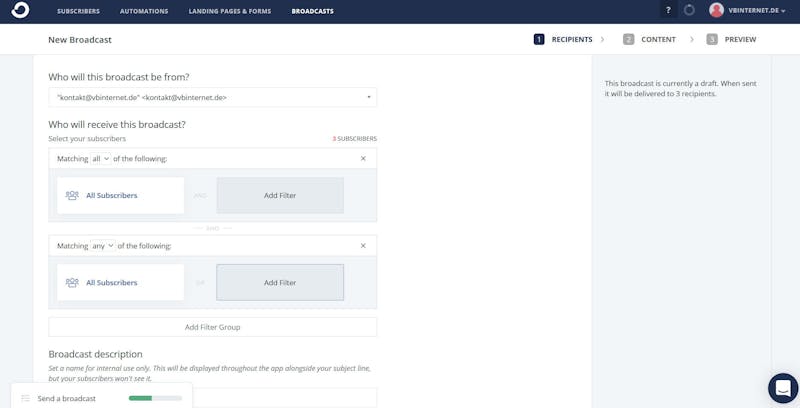 Creating a newsletter in ConvertKit.
Turning next to automations, these refer to three different types of automated emails:
Automations (workflows)

Sequences (email progressions)

RSS-Feeds (automatic, recurring emails)
Workflows are easy to design in the automation section, owing in large part to the editor's intuitive design. Thanks to a variety of different templates, which can be individually adjusted, automated email processes that are tied to specific events can be created. It's possible to set conditions, add delays, and perform A/B tests. At first glance, the workflow editor appears to be very complicated, however, with a bit of time, it becomes easy to understand, even without any background knowledge in programming.
In comparison to other providers, the options for transaction emails are not as extensive in ConvertKit. On the other hand, setting conditions for dispatching specific content to certain groups of contacts is not a hassle, as is automatic tagging in the event of varying conditions.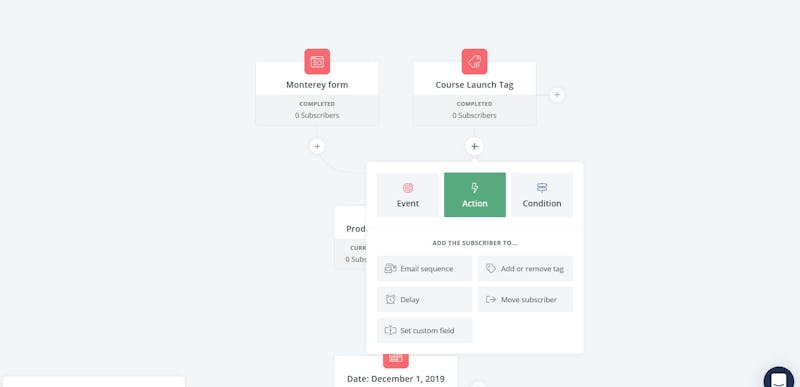 Creating workflows in ConvertKit for automated campaigns.
Alternatively, you can create email sequences instead of setting conditions for linked workflows. Email sequences are targeted at specific groups of contacts who should receive emails in a set order. In addition, in the RSS section, you have the ability to establish a link to an existing RSS feed and send its content at set times to fixed contact groups or lists. Unfortunately, RSS feed content cannot be integrated into broadcast or automated processes. In addition, it also isn't possible to design RSS feed emails.

In ConvertKit email sequences can be sent at pre-defined times.
ConvertKit's email editor is essentially a text editor with a few extra functions thrown in, such as the ability to add pictures or buttons. Owing to its lack of drag and drop functionality, you're not provided with a great deal of design freedom, making the editor highly reminiscent of Outlook.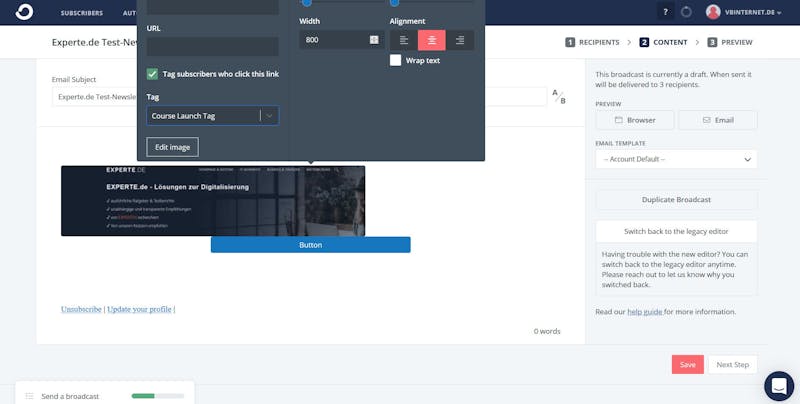 ConvertKit's newsletter editor.
In total, you're provided with three email templates from which to choose, and even these provide little more than basic text-based emails. There's a kind of logic behind this though, namely that ConvertKit doesn't see itself as a sales marketing tool, but rather a service for sending informative/textual emails. Its newsletters should therefore appear more personalized than colorful advertisements, as is common with larger corporations or businesses.
The high delivery rate reinforces the validity of the provider's approach, and in our test, none of the emails we sent ended up in the recipients' spam folders. This provides a solid argument for anyone that wants to send high-quality content as opposed to well-designed advertising materials by email. Should you want to add a bit more color to your newsletter, you can import HTML code, and design the newsletter using a third-party program or service.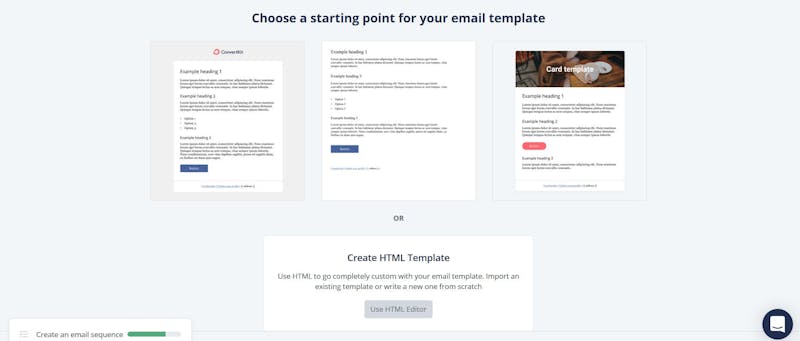 It was somewhat difficult for us to objectively rate the process of sending emails with ConvertKit. On the one hand, everything is easy to find, and the wide range of options for automation and email sequences are commendable and well-thought-out. Similarly, creating, editing, and sending emails is highly intuitive. Thanks to snippets of code and conditions that can be pre-defined, emails can be created quicker than in a classic email client. Templates can also be saved and used again, making the entire process easier after a few repetitions, as well as more harmonized.
On the other hand, the service doesn't really offer any freedom in terms of design options. The text-based approach forces users to turn to third-party software for creating newsletters. Even though ConvertKit is targeted at content-creators, and as such, the approach does have a certain logic, we still feel unnecessarily constrained, and would have preferred access to more functions and features. If you're looking for a free hand in designing, ConvertKit is probably not the service for you.
Score: 3.7 / 5
In terms of reports and statistics, ConvertKit reveals one of its major shortcomings. You are given information about the most important statistics, such as click and open rates, as well as recipient details (how many, cancellations, etc.), however, that's about it. You won't find any clues as to the exact cancellation, click, open, or delivery rates. The last of these is available, albeit only in the most expensive "Pro" package, which is certainly not appealing for anyone starting out, or working on a mid-sized project.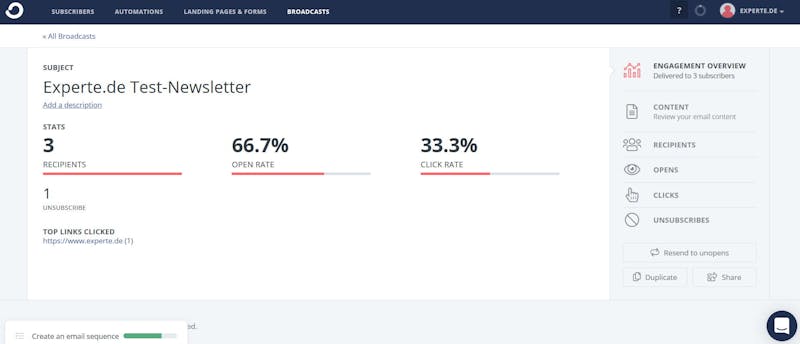 The absence of geographic, bounce, or live activity data is unfortunate and compounded by the flat nature of the service's reports. Almost all of the other providers we examined offer more detail in this area. This is all the more confusing since ConvertKit has A/B test functionality, which requires more intricate statistics to make sense of individual campaigns and compare them to one another. Limiting reports and statistics to the most essential aspects is simply inexplicable and inexcusable in this day and age.
Score: 3 / 5
ConvertKit provides 24-hour live chat support as well as an extensive database of content, allowing users to find answers to nearly any question imaginable. Live chat can be reached by clicking on a small button in the dashboard, and during testing performed reliably, answering our query in less than two minutes. The answers we received were friendly, competent, and relevant to the questions we posed. ConvertKit also offers the ability to contact support through email, however, hotline support is not provided.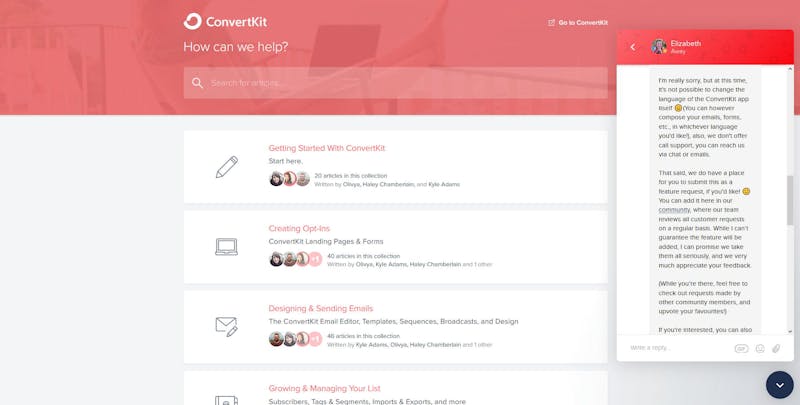 Live chat in the help center.
We really liked the community platform, which resembles a social media messaging board. Here, you can speak with users and experts, and receive support and advice. Entries can be created or commented on, while private messages can be sent to other users.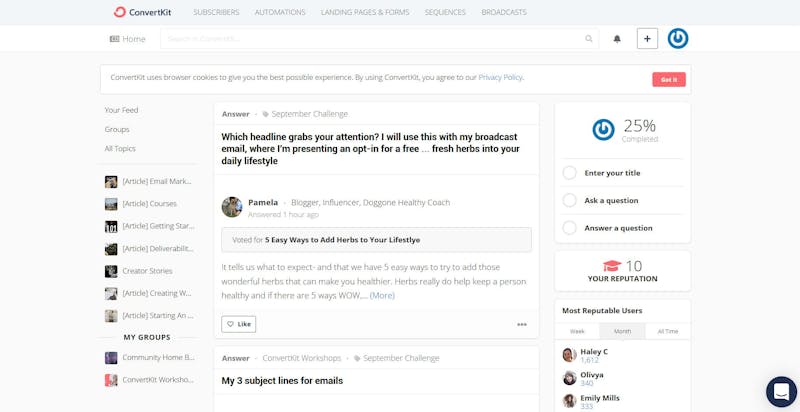 Community support in ConvertKit.
Apart from the absence of a support hotline, there's not much else to take ConvertKit to task for in terms of its customer service.
Score: 4.3 / 5
Starting with January 1st, 2020, ConvertKit began offering a free version of its service, which does not include automation or sequences. The paid subscriptions are priced moderately, and owing to the somewhat limited variety of functions, have a mediocre price-performance ratio. Thanks to a 50% discount, however, the situation was a bit different for us. We received this from a browser pop-up as we were preparing to cancel our subscription. Even though this is a common tactic used by all sorts of software and service providers, it didn't leave us feeling all that confident in the service, since it insinuates that anyone who pays the regular price is being taken advantage of.
With that said, ConvertKit does have its merits, even at full retail. Should your contact list grow over time, it's easy to upgrade to a different subscription, meaning that the service will grow in step with you and your business.
| Contacts / Provider | 500 | 1,000 | 5,000 | 10,000 ▲ | 50,000 | 100,000 |
| --- | --- | --- | --- | --- | --- | --- |
| Mailjet | $0 | $0 | $10 | $19 | $167 | $334 |
| MailerLite | $0 | $0 | $30 | $50 | $210 | $360 |
| GetResponse | $15 | $15 | $45 | $65 | $250 | $450 |
| AWeber | $0 | $26 | $46 | $66 | - | - |
| Mailchimp | $0 | $0 | $50 | $75 | $259 | $499 |
| Sendinblue | $0 | $0 | $66 | $81 | $229 | $379 |
| Constant Contact | €18 | €40 | €57 | €83 | €292 | - |
| Campaign Monitor | €9 | €29 | €49 | €99 | €329 | - |
| CleverReach | €15 | €20 | €55 | €100 | €400 | €900 |
| ConvertKit | $0 | $0 | $79 | $119 | $379 | $679 |
| ActiveCampaign | $15 | $29 | $89 | $139 | $299 | $459 |
| Klaviyo | $20 | $30 | $100 | $150 | $700 | $1,200 |
Since ConvertKit offers a free test phase that allows you to try out all functions for 14 days, you can see for yourself if the service is right for you.
Free
Creator
Creator Pro
Set-up Fee
$0.00
$0.00
$0.00
Price per Month
$0.00
from $29.00
from $59.00
Contract Period (Months)
0
1
1
Limits
Contacts
up to 1,000
up to 900,000
up to 900,000
Emails
unlimited
unlimited
unlimited
Features
Segmentation
Tagging
Marketing Automation
Ad Free
Open-Rate Tracking
Click Tracking
A/B-Testing
Conclusion
Configuration & Usage
9.4 / 10
Tracking & Statistics
6.0 / 10
ConvertKit is a specialized email marketing tool that definitely won't be at the top of everyone's lists since it's primarily geared towards content creators who frequently send text-based emails either in series, or automatically. The service is beginner-friendly, and there aren't a lot of hidden features, or bells and whistles to get tied up in.
Of course, these limits impair the service's statistics, and the design freedom for creating emails, especially when set alongside what its competitors have on offer. Nothing against ConvertKit, but If you need detailed reports, extensive A/B tests, or individually-designed marketing emails, we recommend looking elsewhere.
powerful automation editor
convenient segmenting options
8.0

good
Contacts
Emails / Month
Marketing Automation
ConvertKit Free
$0.00
monthly price
Visit Website*
Customer Reviews
Should the figurative jury still be out on whether ConvertKit is right for you, ratings from its current users might help you make up your mind. Below, we've compiled and summarized a number of these for you.
Customer Ratings
403 Bewertungen
Visit Website*
We analyzed the reviews and ratings from various portals and found 403 ratings with an overall rating of 4.4 out of 5 .
Alternatives
If you place a great deal of value on extensive statistics and want (nearly) unlimited freedom in terms of designing emails, ActiveCampaign might be just what you're looking for. Of course, there are some trade-offs, one of which is that the service isn't as easy to use as ConvertKit and has a bit of a learning curve.
CleverReach is another solid alternative, thanks to its free version which is less limited than that of ConvertKit. The service is easy to use, comes with a wide variety of plugins, and offers extensive automation and auto-respond functions.
GetResponse stands out with its ease of use, excellent customization options, extensive statistics and numerous templates. It is suitable for both beginners and frequent senders.
Contacts
Emails / Month
Marketing Automation
GetResponse Basic
$15.00
monthly price
Visit Website*
30 days free trial
Sendinblue is a fully recommendable email marketing service with a wide range of features and ease of use. It is particularly suitable for sending automated campaigns.
unlimited number of contacts
loads of newsletter templates
9.4

excellent
Contacts
Emails / Month
Marketing Automation
Sendinblue Free
$0.00
monthly price
Visit Website*
ActiveCampaign is a fully integrated sales and marketing platform including CRM system, complex automation and multi-channel marketing.
Contacts
Emails / Month
Marketing Automation
ActiveCampaign Lite
$15.00
monthly price
Visit Website*
CleverReach is an European email marketing service, which shines with well thought-out functions, intuitive editors and many features and also provides a free plan for beginners.
Contacts
Emails / Month
Marketing Automation
CleverReach Lite
$0.00
monthly price
Visit Website*
Try CleverReach for Free
Contacts
Emails / Month
Marketing Automation
Campaign Monitor Basic
$9.63
monthly price
Visit Website*
* Ad disclaimer:
For links marked with an asterisk, EXPERTE.com may earn a commission from the provider. The commission has no influence on our editorial rating.

Carsten Podszun studied computer science and business administration and was self-employed in the retail industry for 15 years. Since 2014 he is a consultant for startups, freelance author and writes at EXPERTE.com about homepage, hosting & IT security.
Continue Reading
Other languages
Deutsch