Email Marketing Software Review: MailerLite

Our editors test and evaluate all services independently. For links on this page, EXPERTE.com may earn a commission from the provider.
Email marketing is essential for both small and large organizations if they want to keep in touch with those interested in or consuming their products or services. Modern email marketing tools allow for newsletter workflows to be automated, helping those without any background in programming better understand their audiences and scale campaigns to grow with their business.
Email marketing tools help to optimize marketing activities in the long-term, and as such, should be chosen carefully. In this review, we'll take a look at MailerLite and let you know whether the service is nimble and efficient, or will leave you hungry for more.

What is MailerLite?
MailerLite* is a relative newcomer to the world of email marketing. Based in Lithuania, the service emphasizes simplicity above all else, helping beginners come to terms with email marketing as quickly and proficiently as possible. The service offers a wide selection of templates for campaigns, comes with onboard image processing, a workflow editor, all sorts of plugins, and a free version for sending newsletters to up to 1,000 recipients.
That all sounds too good to be true, and in this test, we'll let you know if it is!
Review
Configuration & Usage
7.4 / 10
Tracking & Statistics
7.4 / 10
Good price-performance ratio

Loads of functions for workflows and landing pages, as well as a form editor and integrated image processing

Wide selection of plugins (Shopify, WordPress, and WooCommerce) as well as RESTful API

Free version for sending newsletters to up to 1,000 recipients
Greatly limited conditions of use (i.e. no affiliate marketing)

Statistics aren't as detailed as those of other providers
It might be nimble, but despite its name MailerLite sure isn't quick, at least to set up. Before you can start using the service, you'll need to enter details about your business or organization, as well as your planned mailing activities, so that the administrators can review and approve them. After registering, we were asked by MailerLite to provide further corporate details by email and needed to again list our reasons for wanting to use the service and what we were planning to do. It was only then that our account was unlocked.
This delay is irritating, however, it does help MailerLite to prevent misuse of its service, particularly among free users, for spam or other dubious mailing campaigns. The company's no-nonsense policy extends all the way to a prohibition on affiliate campaigns, even legitimate ones. For this reason, we recommend carefully reviewing MailerLite's Terms of Service before creating an account.
Once we had been cleared, however, it was smooth sailing. Should you want to launch informative newsletter campaigns, you can expect a great deal from MailerLite, even in its free version.

MailerLite's clear and uncluttered dashboard.
Before creating or importing a contact list and launching your first campaign, you'll need to register and verify your sender domain. SPF is required for this, and the address will also need to be confirmed by link. Even though this means setup takes a bit longer than usual, these measures do ensure higher delivery rates and prevent misuse of the service for sending spam.
Whereas other providers only offer SPF authentication to paying customers, MailerLite doesn't take any risks and makes it mandatory for all users. For paying subscribers, there is an option to use a unique MailerLite domain.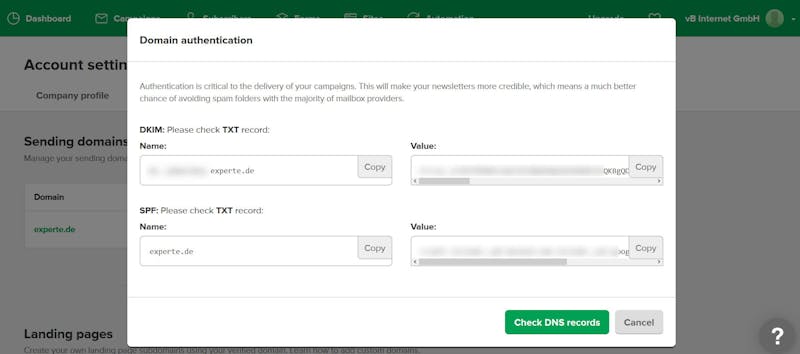 MailerLite's account overview.
All outgoing messages are DomainKeys Identified Mail (DKIM) signed. Despite the mandatory verification, setting up the service was comfortable and, at least in our mind, not too overwhelming, even for beginners.
Through Integrations, you're provided with a quick overview of all options for integrating external apps or plugins. These include all of the usual CMS and e-commerce systems, as well as third-party integrations. Alongside prominent ones like WordPress, Shopify, WooCommerce, Facebook, and Instagram, you can also configure RESTful API. As such, MailerLite offers a very good selection, as well as access to the most important plugins, even though we wouldn't say not to the inclusion of a few more.

MailerLite's integration possibilities.
In terms of settings, everything is kept clear and to-the-point. This makes setting up the service easy, but at the same time, also means that users aren't given a whole lot of choice in regards to data analysis, privacy settings, or other aspects. In addition to the basic settings, the Google Analytics menu option allows you to set individual UTM tracking parameters.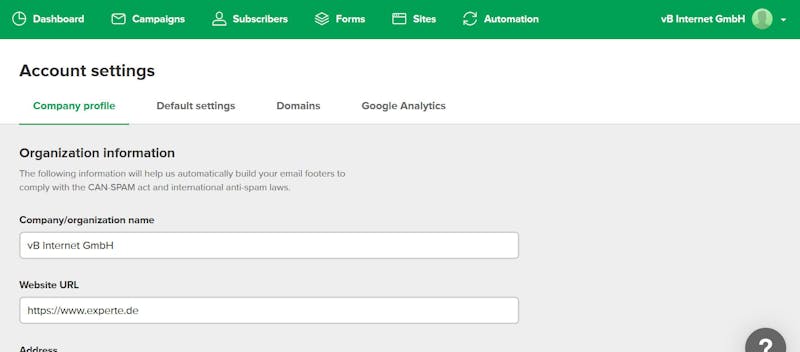 Although at first glance it may appear to be tedious, the ultra-secure registration process and limited customization options do serve concrete purposes. The first ensures that MailerLite isn't misused, whereas the second caters to those just starting out with email marketing. The entire web experience with MailerLite, including its homepage, interface, and menu was excellent. We were able to quickly navigate anywhere, and important settings were never far out of reach. As such, despite the odd weakness here or there, MailerLite is definitely beginner-friendly and well-structured.
Score: 3.7 / 5
In MailerLite creating, importing, and/or managing contact data is very straightforward. By clicking on Subscribers in the menu, you can add individual recipients, fields, or datasets by dragging and dropping them directly, even from a Microsoft Excel spreadsheet. You can also import contact lists from Mailchimp. This is easy in the free version too, with users given the ability to create multiple contact lists, which can total up to 1,000 addresses. In particular, if you're just starting out with email marketing, the free version of MailerLite will help you a great deal. Should you need to expand later, don't worry, as the service makes this easy too!

Contact management in MailerLite.
Under Forms, you're able to quickly and easily create pop-ups or widgets for your homepage to gather email addresses. Subscribers are automatically added to a contact list. The templates are logically designed and can be edited individually in the drag and drop editor if need be. Once you've created your widget, integrating it with your site isn't difficult since you're provided with the relevant source code. MailerLite also offers the ability to integrate and links all target URLs and confirmation pages.

MailerLite's subscribe widget templates.
Directly in the form editor, you can also include double opt-in confirmation, as well as additional settings, ensuring that your mailing list is GDPR-compliant. To a certain degree, this balances out the missing data protection measures under account settings.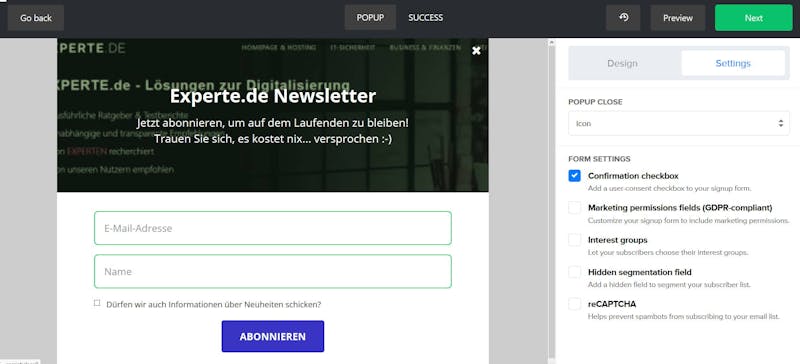 GDPR-compliant widget for gathering email addresses.
In addition to forms, by navigating to Sites, you can create individual landing pages and websites, adding workflows or widgets to them. MailerLite offers enhanced functionality, far beyond that of simple confirmation or thank you pages, as you're given access to a de facto website builder for use within the service, even if you're not a paying subscriber.

Website builder for landing pages and sites.
MailerLite does an excellent job of helping users to gather and manage contact data. GDPR-compliant widgets can be quickly and easily created, and the integrated website builder is a nice touch that could be used to make an entire site, even if it's only meant to help in constructing landing pages. And the cherry on top? Even users of the free version can create multiple contact lists and save up to 1,000 addresses. A perfect combination in our opinion.
Score: 5 / 5
MailerLite allows you to select from four different kinds of campaigns, three of which are available in the free version. These are:
Regular: A classic campaign that can be launched manually, scheduled in the workflow, or dispatched when specific conditions are fulfilled.

A/B Split: A/B or split testing entails the sending of slightly different versions of a single campaign to specific user groups to test and compare their performance.

Auto Resend: This refers to automated follow-up campaigns or those that are automatically sent to all recipients who haven't opened a certain newsletter.

RSS: These allow for RSS feed data to be automatically read and sent in the form of a newsletter to a specific group of recipients.
Beyond these, under Automation in the menu, you also have the possibility to send automated emails. To do this, you'll need to create a regular campaign and design an accompanying newsletter.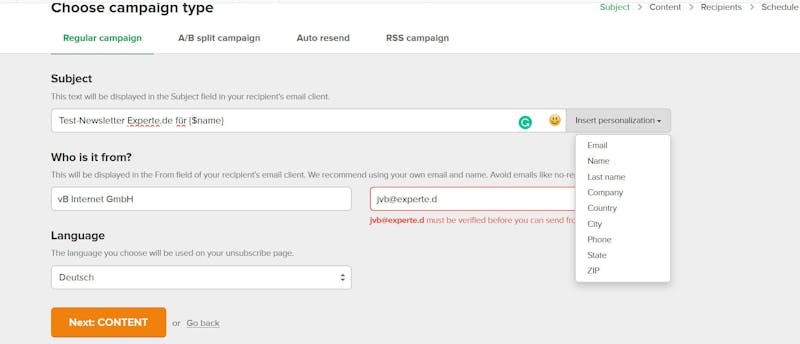 Creating campaigns with MailerLite.
Once you've created your campaign, you'll be guided through designing an appropriate newsletter. For this, you're given the choice of a rich-text editor, the service's Legacy rich-text editor for plaintext Emails, or a drag and drop editor. Paying subscribers can also take advantage of a high-quality HTML editor.
The drag and drop editor, which is intuitive and easy to use, offers a number of nifty design options, putting it easily on par with those offered by MailerLite's competitors.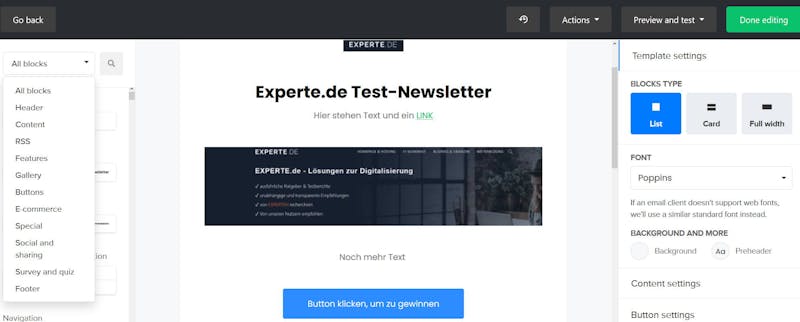 Creating a newsletter with the drag and drop editor.
Paying subscribers can also take advantage of a number of ready-made design templates, which can be easily edited and customized using the various editors. The number of templates is considerable, however, since they're grouped into thematic categories, it isn't difficult to quickly find one that suits your needs.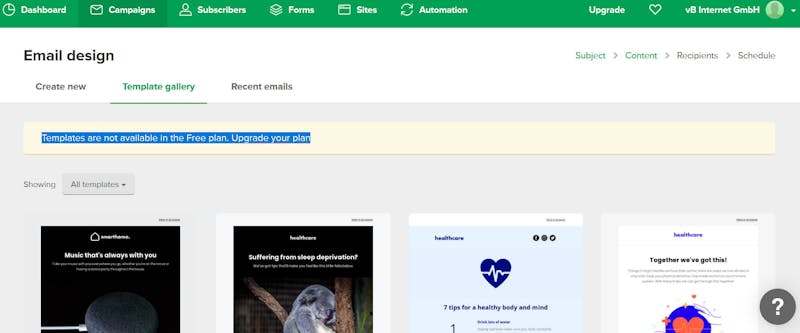 MailerLite's wide variety of design templates (for paying subscribers).
Here, it's important to also note the practical and efficient workflow editor, which allows for automated campaigns to be created. In comparison to most other workflow editors, MailerLite's doesn't offer as many options (the number of conditions is nothing to write home about, and it isn't possible to link them to website or store activity), however, it's easy to use and offers access to the most important automation functions.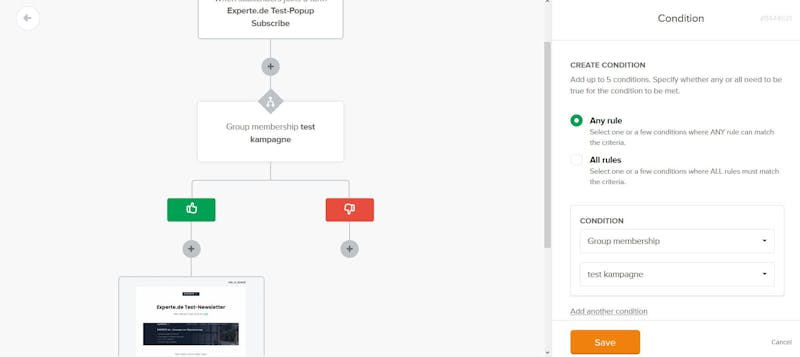 MailerLite's workflow editor for newsletter automation.
While MailerLite's workflow editor is slightly underwhelming, this is more than compensated for through the service's excellent image editing features. Essentially, you're given access to a high-quality, drag and drop photo editing program that allows you to cut, scale, or add filters to images you've uploaded.

MailerLite's integrated photo-editing software.
Thanks to the variety of campaigns available to users, a solid drag and drop editor, a number of automation options, as well as onboard image editing software, creating newsletters in MailerLite is very convenient. Numerous templates as well as the ability to integrate and automate RSS feeds are present, meaning that nothing is missing as far as API integration is concerned.
As such, MailerLite should appeal not only to beginners, but also more advanced users who want to conduct intricate email marketing campaigns. Our only points of critique are in regards to the workflow editor which could use with a few more features here and there, so that processes can be more personalized, without having to fall back on the API. Beyond that though, there's nothing amiss with MailerLite's ability to send emails.
Score: 4.7 / 5
In terms of tracking, MailerLite reveals a few more shortcomings. There's nothing wrong with analyzing newsletters you've sent using the service, and you are provided with the most important information about them, such as their open rates, as well as the number of hard and soft bounces. Beyond this though, you shouldn't expect a great deal of insight. With that said, email addresses that hard bounce your newsletter are automatically removed from the contact list, and you're notified about those that soft bounce your messages so that you can take further action. Renewed delivery attempts occur automatically.
For paying subscribers, a number of additional features, such as an overview of recipients and more detailed location data are included, however, metrics relating to read time, or reasons for bounces remain absent. Gaining essential information that would allow you to compare different campaigns (that aren't A/B tests) is also made rather difficult.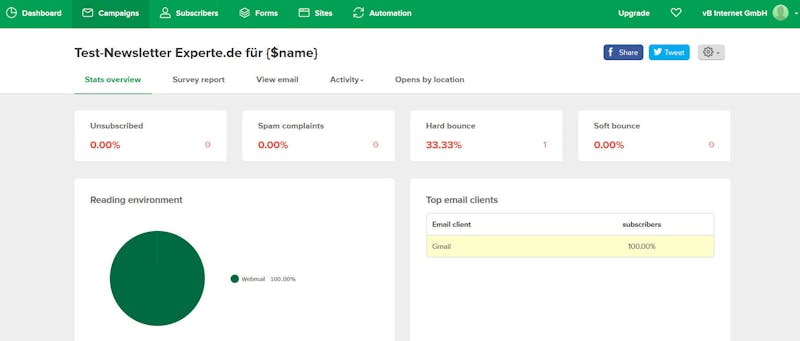 Campaign tracking and statistical information in MailerLite.
We would have liked to see click-performance, mobile and desktop-performance, as well as 24-hour-performance data for campaigns. The absence of these makes it difficult to gauge how successful a campaign is/was as well as to optimize future activities. With that said, MailerLite does present metrics clearly, allows for them to exported, and in the premium packages, includes a useful click map.
Score: 3.7 / 5
MailerLite's support ticket system can be accessed directly through the dashboard. After clicking on Help in the menu, you'll have access to an extensive database of helpful articles, the ability to discuss topics with community experts, and to open new support tickets. Unfortunately, MailerLite does not have a support hotline.
The help center is clearly organized, and readily accessible through the dashboard, a feature that we particularly like since it means that you don't need to navigate away from what you're doing to solve an issue, but can open a support window alongside your work.

MailerLite's FAQ database and support ticket system.
During testing, our ticket was answered within about an hour (business hours). This is an excellent response time, and definitely far better than those of other free versions of email marketing solutions that we tested. The answer we received was courteous, professional, easy to understand, and included screenshots. Should you be able to forgo hotline support, MailerLite provides excellent assistance to its free users.
Score: 4.3 / 5
MailerLite is one of the few providers which makes a free version of its service available to users. This allows for up to 1,000 recipient addresses to be saved, which should cover the needs of smaller organizations or businesses, as well as those who want to take the service for a test drive before purchasing a premium package. On that note, paid subscriptions are moderately priced, and owing to the variety of features, we rate MailerLite's price-performance ratio as very good.
| Contacts / Provider | 500 | 1,000 | 5,000 | 10,000 ▲ | 50,000 | 100,000 |
| --- | --- | --- | --- | --- | --- | --- |
| Mailjet | $0 | $0 | $10 | $19 | $167 | $334 |
| MailerLite | $0 | $0 | $30 | $50 | $210 | $360 |
| GetResponse | $15 | $15 | $45 | $65 | $250 | $450 |
| AWeber | $0 | $26 | $46 | $66 | - | - |
| Mailchimp | $0 | $0 | $50 | $75 | $259 | $499 |
| Sendinblue | $0 | $0 | $66 | $81 | $229 | $379 |
| Constant Contact | €18 | €40 | €57 | €83 | €292 | - |
| Campaign Monitor | €9 | €29 | €49 | €99 | €329 | - |
| CleverReach | €15 | €20 | €55 | €100 | €400 | €900 |
| ConvertKit | $0 | $0 | $79 | $119 | $379 | $679 |
| ActiveCampaign | $15 | $29 | $89 | $139 | $299 | $459 |
| Klaviyo | $20 | $30 | $100 | $150 | $700 | $1,200 |
We were particularly impressed with the few limitations in the free version of MailerLite, especially when compared to the free services offered by its competitors. Apart from the 1,000 recipient limit, you'll also have to make do without a few advanced features, and a watermark on the footer of all emails, however, in our opinion, none of these are particularly high prices to pay for such a qualitative email marketing tool.
Free
Premium
Set-up Fee
$0.00
$0.00
Price per Month
$0.00
from $10.00
Contract Period (Months)
0
1
Limits
Contacts
up to 1,000
up to 600,000
Emails
up to 12,000
unlimited
Features
Segmentation
Tagging
Marketing Automation
Ad Free
Open-Rate Tracking
Click Tracking
A/B-Testing
Conclusion
Configuration & Usage
7.4 / 10
Tracking & Statistics
7.4 / 10
MailerLite is a top-notch email marketing service, that not only offers access to a wide variety of features but also pulls off its 'simplicity first' approach. Its highly functional free version and excellent support are just the figurative cherries on top. We also can't forget about the integrated image editing software and website builder that come with the service, which would be decent even as standalone products.
Should you have more than 1,000 subscribers or clients, the paid subscriptions, which include additional features and templates, are definitely worth paying for. Of course, registering was a bit more difficult than usual, and the inability to engage in affiliate marketing (if detected, your account will be locked, and you'll lose access to all subscriber data) have to be taken into consideration.
With that said, if you can live with these restrictions, you shouldn't think of MailerLite as a bare-bones email marketing service, but rather, a full-fledged, robust, and beginner-friendly one capable of helping you to launch professional email campaigns and grow your business or organization.
extensive workflow features
wide selection of plugins
good price-performance ratio
8.6

good
Contacts
Emails / Month
Marketing Automation
MailerLite Free
$0.00
monthly price
Visit Website*
Customer Reviews
One of the best ways to gauge a service's performance is to see what its users have to say. Here, we've compiled and summarized a number of reviews and ratings from different portals to provide you with greater insight into MailerLite.
Customer Ratings
3,441 Bewertungen
Visit Website*
We analyzed the reviews and ratings from various portals and found 3,441 ratings with an overall rating of 4.7 out of 5 .
Alternatives
Mailjet offers a solid alternative to MailerLite, owing to its wide variety of functions, free version, and competitively-priced subscriptions.
The German provider, CleverReach, is another service that we'd recommend. While you won't be able to try it out in a free version, you will be afforded access to a plethora of third-party plugins for CMS and e-commerce systems as well as first-class editors, all in an easy to use package.
GetResponse stands out with its ease of use, excellent customization options, extensive statistics and numerous templates. It is suitable for both beginners and frequent senders.
Contacts
Emails / Month
Marketing Automation
GetResponse Basic
$15.00
monthly price
Visit Website*
30 days free trial
Sendinblue is a fully recommendable email marketing service with a wide range of features and ease of use. It is particularly suitable for sending automated campaigns.
unlimited number of contacts
loads of newsletter templates
9.4

excellent
Contacts
Emails / Month
Marketing Automation
Sendinblue Free
$0.00
monthly price
Visit Website*
ActiveCampaign is a fully integrated sales and marketing platform including CRM system, complex automation and multi-channel marketing.
Contacts
Emails / Month
Marketing Automation
ActiveCampaign Lite
$15.00
monthly price
Visit Website*
CleverReach is an European email marketing service, which shines with well thought-out functions, intuitive editors and many features and also provides a free plan for beginners.
Contacts
Emails / Month
Marketing Automation
CleverReach Lite
$0.00
monthly price
Visit Website*
Try CleverReach for Free
Contacts
Emails / Month
Marketing Automation
Campaign Monitor Basic
$9.63
monthly price
Visit Website*

Carsten Podszun studied computer science and business administration and was self-employed in the retail industry for 15 years. Since 2014 he is a consultant for startups, freelance author and writes at EXPERTE.com about homepage, hosting & IT security.
Continue Reading
Other languages
Deutsch
Ad disclaimer
* For links marked with an asterisk, EXPERTE.com may earn a commission from the provider. The commission has no influence on our editorial rating.