Ecommerce
Lightspeed Review 2022: Still A Good Choice For Ecommerce?
It has never been easier to operate an online store, even without any knowledge of web design or programming. This is thanks, almost entirely, to the boom in "Software as a service" or SaaS, which have allowed thousands, if not millions to quickly create professional-looking virtual stores for selling their physical or digital products.
One of the most important aspects of ecommerce platforms is their user-friendliness, particularly since this ultimately determines how much time and effort a beginner (whether an individual or a company) has to invest in launching their online store. In other words, speed is the name of the game. With a name like Lightspeed, it sounds like this service puts you in good hands, but is this really the case?

Lightspeed is a Canadian ecommerce solution intended to make it easy for businesses to make their first foray into selling their products online. Alongside its powerful store builder, which allows for all sorts of online shops to be created, Lightspeed also comes with a smart Electronic Cash Register (ECR) designed with restaurants, cafes, and bars in mind.
In this review, we took a closer look at Lightspeed, and will let you know whether it will quicken your pace, or slow you down.
Configuration & Usage
4.7 / 5
Product Management
4.0 / 5
Marketing & Analytics
4.0 / 5
Personalizing Your Store
3.0 / 5
Easy to use, navigable dashboard
Wide range of product management and sales options
Possible to create multiple language localizations and sell in different currencies
Product limits across all subscriptions
Few possibilities to personalize templates
Certain functions available only after the purchase of paid add-ons (for example, sales of digital products and email marketing)
Only a handful of ecommerce platforms ask their customers to pay right away when registering for the service, and thankfully, Lightspeed isn't one of them. Instead, the Canadian service provider offers a free, 14-day trial version. To access this, you'll only need to enter your name, email address, telephone number, as well as business name and type. Then, you'll receive a confirmation code by SMS, which after entering on the site, will 'unlock' Lightspeed's dashboard. Finally, you'll also receive a separate email for creating a password for your account. In total, all of the above took less than a minute.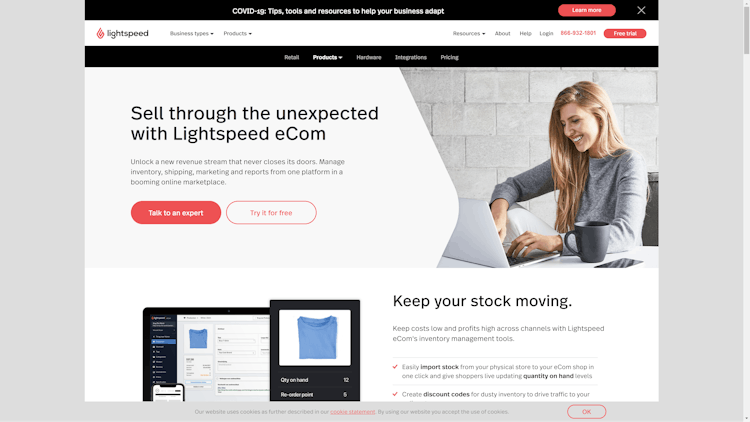 The dashboard is well-structured and clear. Navigation is through the sidebar menu and includes sub-areas like Statistics, Orders, Inventory, Customers, or Marketing. In the sidebar menu, you can also access Settings, where it's possible to make basic changes to your account or business, as well as configure shop, website, or payment information.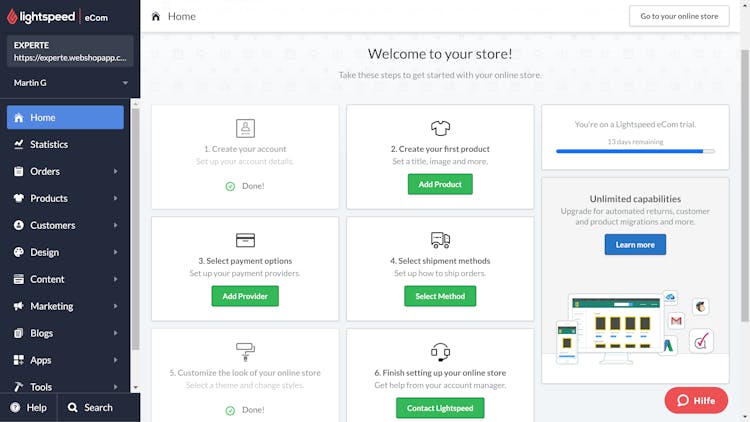 Lightspeed's dashboard is clearly arranged.
Using the drop-down menu in the upper left, which opens after clicking on your name, you'll be taken directly to your account settings and Tasks. This is a relatively convenient project management tool that allows you to create to-do lists either for yourself or your employees. In the Tasks submenu, you can review all of the assignments you've created and filter them on the basis of their status (Invalid, Pending, New, Resolved, or On Hold).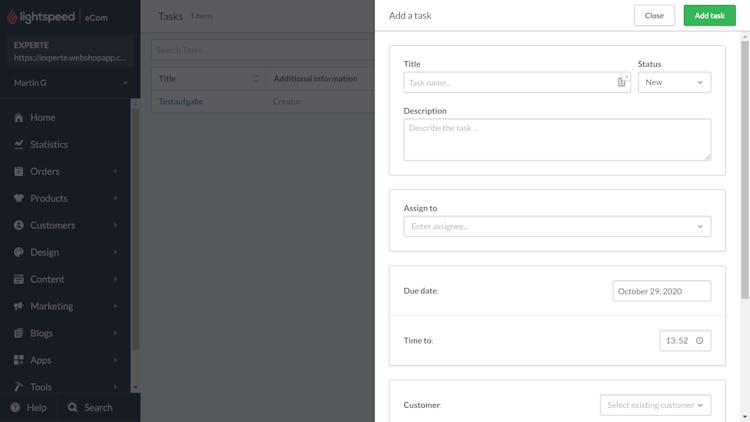 It's easy to stay on top of things by creating to-do lists for your employees in the Tasks section.
By clicking on the View Store button in the top right of the dashboard, you can navigate directly to your online store.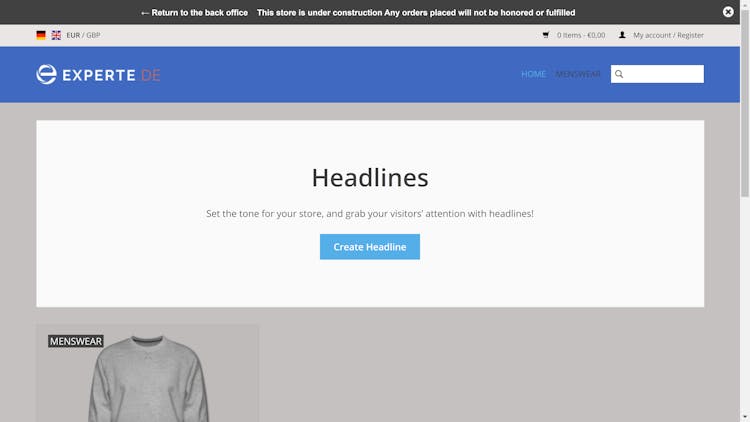 When starting out, your store will be empty. All you have to do is add products!
Immediately following registration, the service's Setup Assistant will walk you through the first steps of selling online, the most important of which are adding products, configuring payment and delivery methods, and customizing your store's design.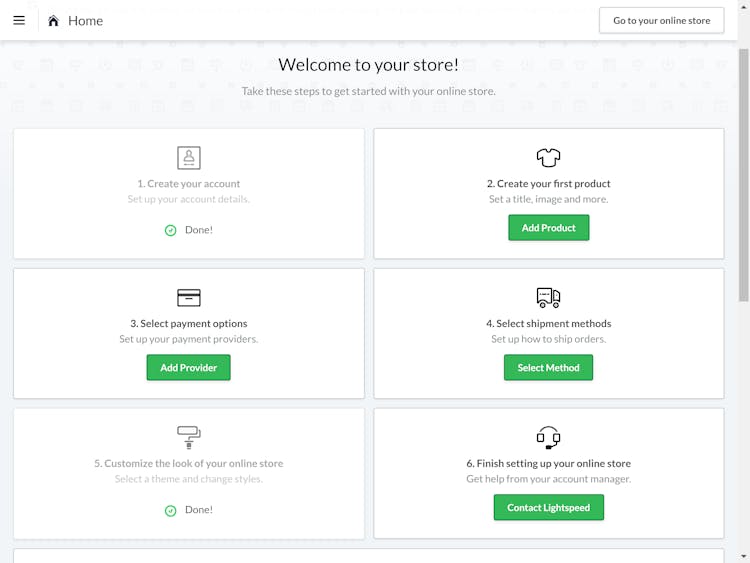 The Setup Assistant walks you through the first steps of selling online through your new store.
All-in-all, we really liked Lightspeed's dashboard. The user interface is reminiscent of WordPress, logically organized, and easy to get a hang of. The Setup Assistant helps those just starting out to create a fully-functioning online store in just a few steps.
Since most of the menus are multi-level, we would have liked to see a favorite feature, so that users could easily navigate to their most commonly-used tools or settings. All the same, it still only takes a bit of clicking around to get where you need to, so we can't complain too much.
Score: 4.7 / 5
In order to sell your products, you'll need to add them to your digital inventory. To create new products click on the Add Product in the Inventory menu. In the window that opens, you can name your item, as well as set its price and amount in stock. Brand information and the delivery options available can also be included, albeit through the similarly named menu options.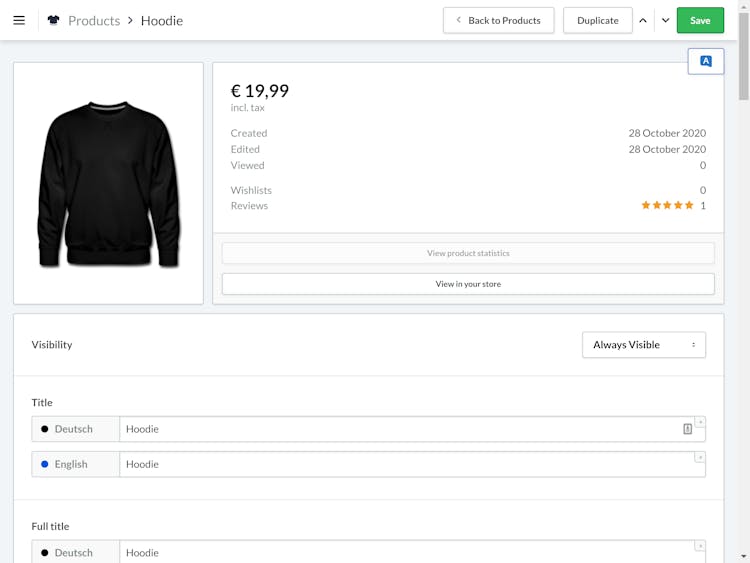 It's possible to create different variations for each product you offer. How to go about doing this depends on whether your product(s) differ in only one characteristic (such as size or color) or multiple ones.
For the first, open the product window after you've added the item to your inventory and in the Inventory and Variants area, add the different variations manually. You're able to set the price, tax, weight, and dimensions for each variation, as well as to add a unique SKU code.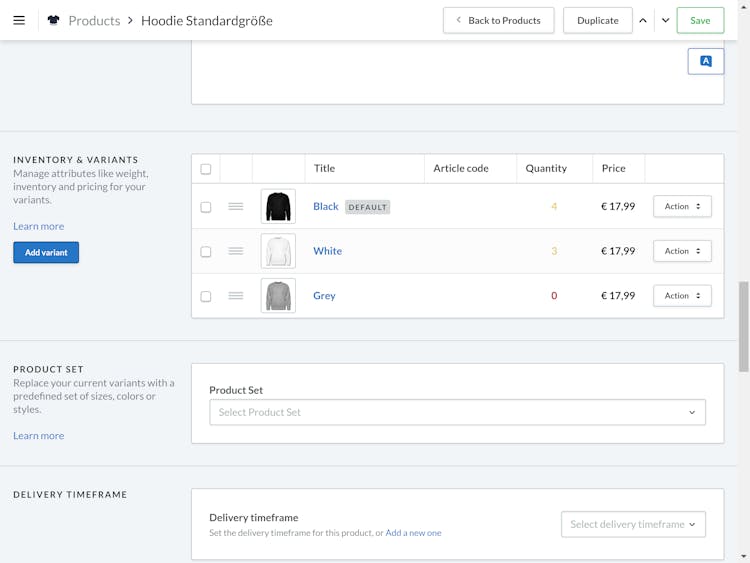 It's possible to create different variations for each product you offer in your store.
Should your wares differ in multiple characteristics (i.e. size and color), then you'll need to go to the Product Set area. A range of options can be specified for each product set, which is then automatically applied to a product. For our test example, a hoodie, we wanted to offer it in three different colors and sizes. To do this, we simply created the options "color" and "size" and then defined the values for each.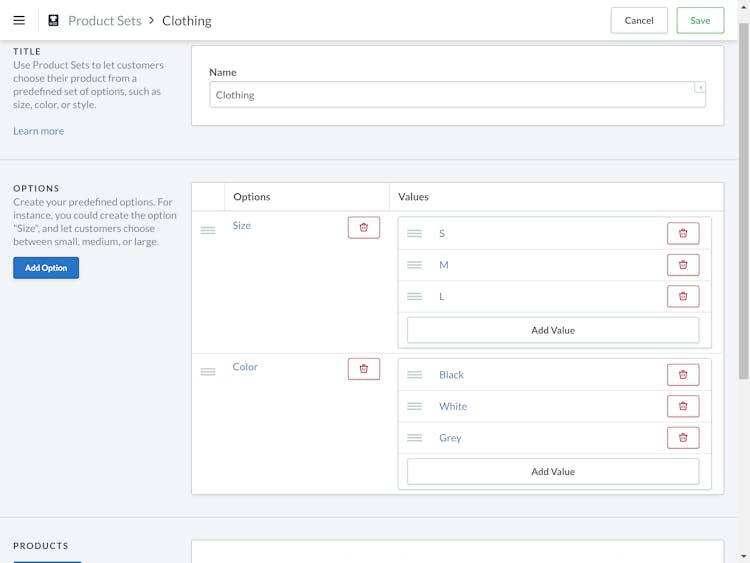 Products can differ in more than one characteristic.
In the product menu, we were able to assign each item to a product set, allowing for the different (possible) combinations to be created automatically. The only thing you'll have to do manually is upload a unique picture for each item. In our case, visitors to our store would be able to select the appropriate items using two different drop-down menus (one for size, and another for color).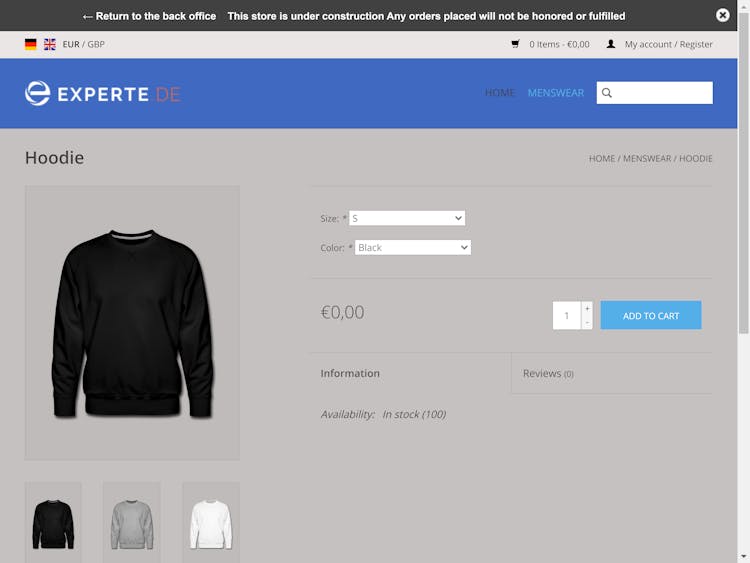 Customers can select from variations using the drop-down menus for the individual options.
By default, the available stock for each new product is set at 100, however, you can easily change this by updating the amount in the Inventory menu. There, you'll also be provided with an overview of all items and variations, which you can filter on the basis of a number of criteria, including the amount in stock. In this way, you can see which products are selling out quickly. As a nice touch, those products with low quantities in stock are colored in yellow or red, depending on how little of them remain.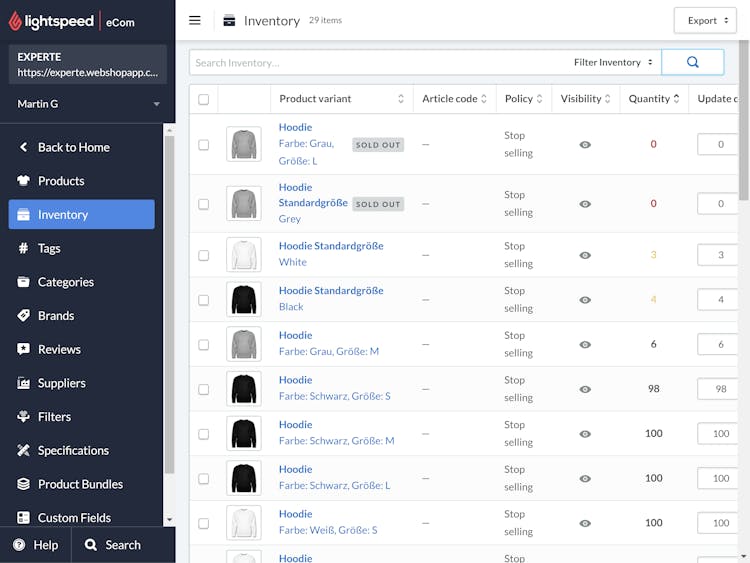 Lightspeed makes keeping track of your inventory easy.
There are a few more features worth mentioning in the Products menu. For example, you can create a product bundle, offering certain combinations of items (such as a pair of shoes and a cleaning kit) at a discounted price when bought together. You can also tag items in your store, making them more search engine-friendly. By creating product filters you can greatly aid your customers in their search for products in your store. Of course, categories can also be created for products.
You'll find all reviews that customers have left for your store (or individual products) in the, you guessed it, reviews area. These aren't made immediately visible in your store, with it possible to review and even edit them before they go public.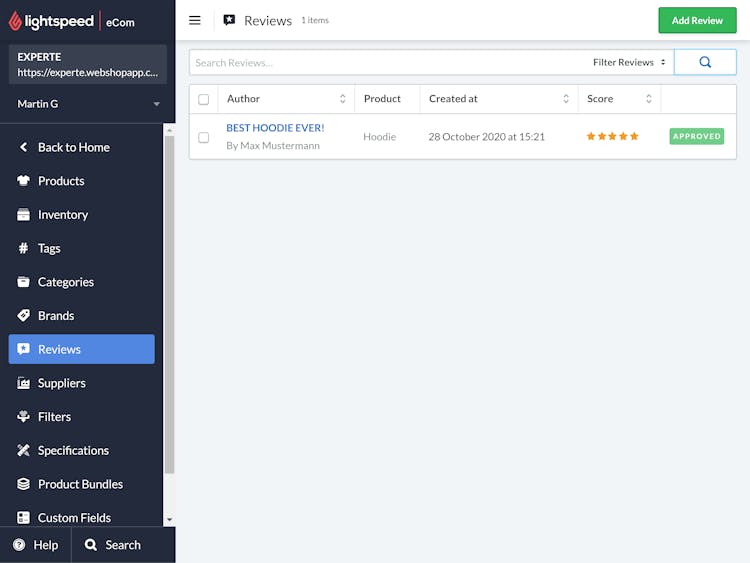 Unfortunately, there's no easy way to add digital products for sale. However, there is an App Store where you can find extensions for Lightspeed, such as MyDigitalSales or MyTicketSales. These are not free, however, and as a result, will push your monthly subscription price up. Most of the other ecommerce platforms we tested didn't put digital sales behind a de facto paywall, which makes Lightspeed's approach fairly annoying.
It's also a shame that Lightspeed limits how many products each subscription can sell - in the Starter package, it's 250. Again, other platforms are more generous here.
With these two blips aside, Lightspeed's product management capabilities are good: The provider definitely achieves a nice balance between offering lots of possibilities and making them readily accessible and easy to use.
Score: 4 / 5
4.
Personalizing Your Store
You can adjust how your store looks by clicking on Design. Here, you can change the theme, in case you don't want to stick with the free default template. In the theme store, you can choose from more than 160 options, however, most of these are not free, and must be paid for on a monthly basis.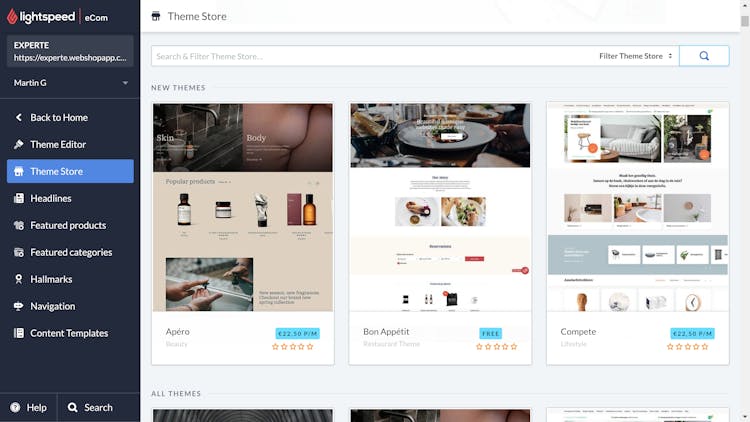 Lightspeed offers more than 160 different themes, however, only 11 of these are free.
The store builder doesn't have drag and drop functionality, meaning that your creative/design freedom is somewhat limited. What you can change are the basic aspects of your store, such as its colors, fonts, logos, and background images. Simply select the page or area you'd like to edit in the sidebar menu and adjust whatever it is you're thinking of changing.
All further design and navigation settings are automatically configured by the template, or based on settings in the dashboard.
Lightspeed's store builder lacks drag and drop functionality.
A few words about navigation: In the default template, this occurs either in the main menu bar (above) or near the footer (below). The upper menu bar allows you to add entries for creating new categories that should be automatically displayed. User-defined menu items can be enlarged by adding links to the Default entry. At least, this is how it worked in the default template.
The texts of certain pages, such as the About Us section, your Terms & Conditions, or the Contact Us page can all be edited by clicking on Content > Pages. Here, it's also possible to create FAQs for your customers.
You can further edit your online store's facade by clicking on Headlines, Featured Products, and Featured Categories, however, this only includes the ability to fill ready-made elements with your products and their images. True freedom of design, as with other ecommerce platforms, isn't provided, and since every template performs differently, it isn't possible to speak of intuitive usage either.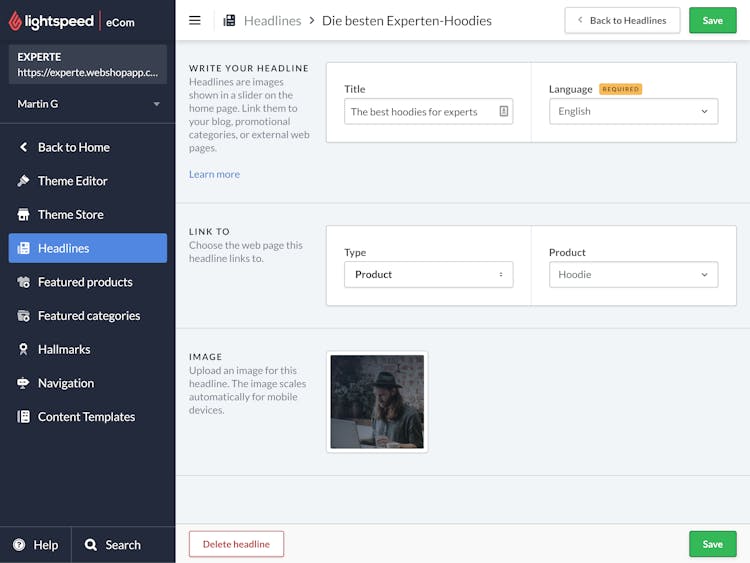 Lightspeed definitely sets some limits in terms of design and creative freedom.
By clicking on Content Templates you can adjust the content of your emails, receipts, and special offers. To do all of this, you'll need the most expensive Lightspeed subscription package, as well as knowledge of HTML and CSS. Here, the service could have made it easier for users by providing a more user-friendly editor.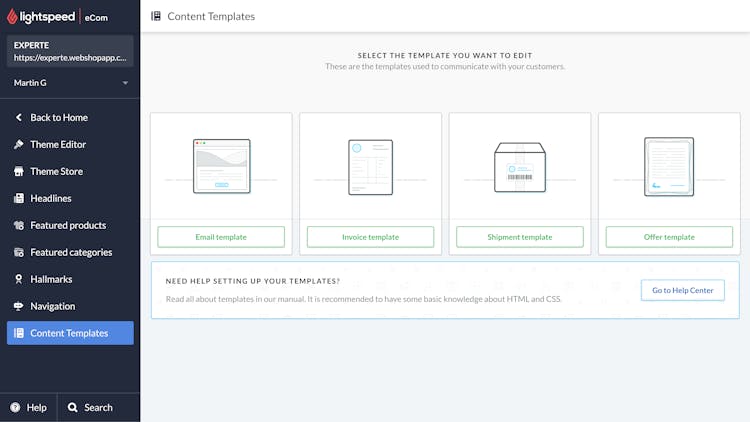 Content templates can be individually customized with some HTML and CSS knowledge.
Overall, we were disappointed with Lightspeed's store builder. The options for customization/personalization are limited, and its lack of drag and drop functionality means that it isn't as intuitive as other platforms. The selection of templates is good, however, most of these must be paid for, and not just once, but every month. Some of these cost as much as subscriptions to other ecommerce platforms. Accordingly, Lightspeed offers less design freedom at a higher cost.
Score: 3 / 5
Once you've added products and designed your store to your liking, it's time to open it up to the public, and most importantly, for them to start buying! To do this, you'll need to make payment methods available, by clicking on Settings > Payment Settings.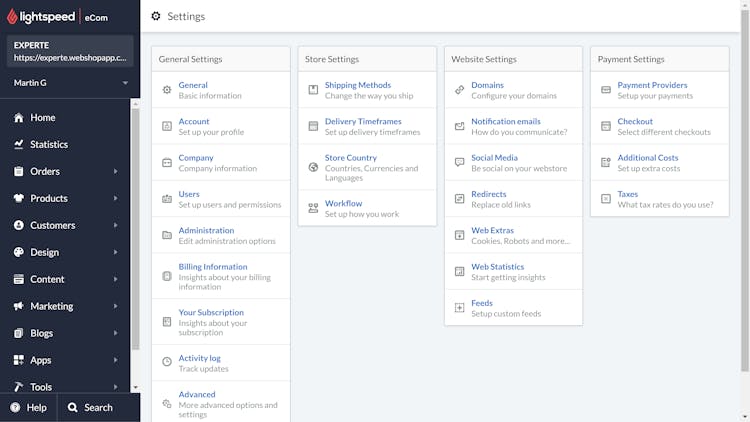 Here you'll find a number of different payment service providers, including Stripe, PayPal, Mollie, and MultiSafepay. As such, Lightspeed covers all of the most important payment methods.
By clicking on Checkout you can make different three configurations available to your customers, and gauge their effectiveness. These are:
Multi-step checkout: Customers click on Next after each step, completing checkout across multiple steps
Single-page checkout: All information is shown/input on a single page
One-step checkout: All information is shown next to one another on a single page
It's possible to activate all three configurations simultaneously, and with the help of A/B tests, determine which is the most successful.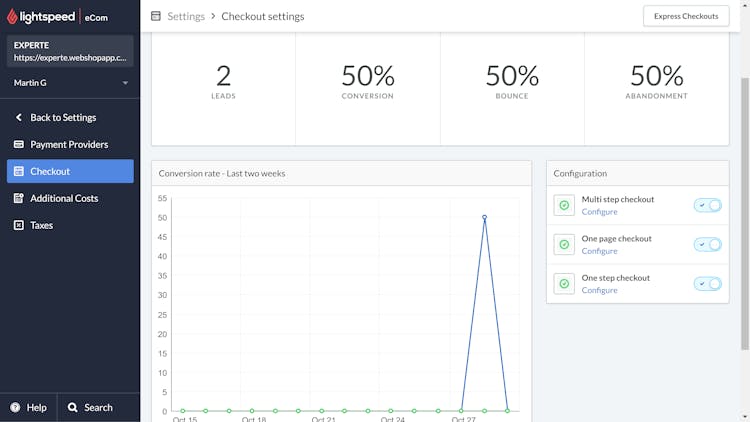 Determine which checkout method is preferred by your customers.
By clicking on Taxes you can set a flat tax, or individual taxes for your customers. In addition, you can also decide whether or not to show before-tax or only after-tax prices to your customers.
Customers can order as guests, or to create a user account when purchasing from you. If they're so inclined, they can also subscribe to your newsletter. In combination with the Express Checkout feature, Lightspeed goes some distance in helping your online customers feel at home shopping in your store.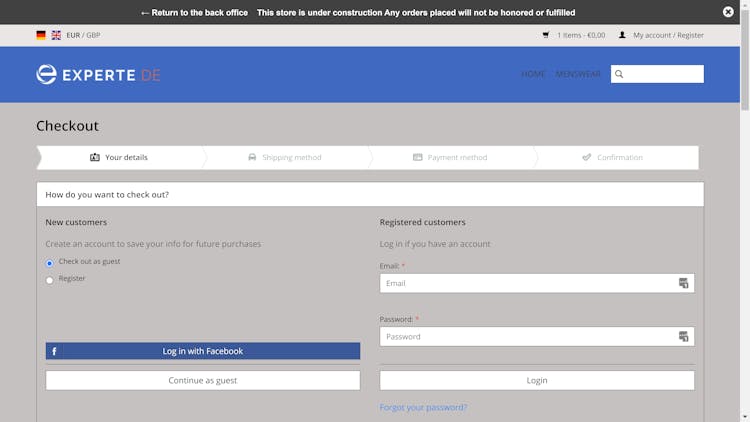 Customers can order from your online store without having an account.
Lightspeed's language and currency options are exemplary: By clicking on Settings > Store Country you can easily add languages and currencies to your store. Few of the ecommerce platforms we reviewed make this less complicated than Lightspeed.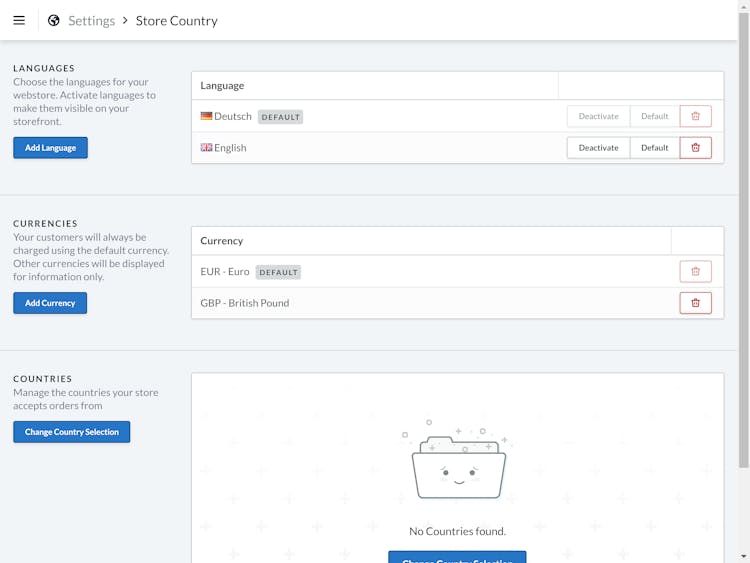 It's easy to add different languages and currencies to your store using Lightspeed.
All orders that you've received are shown in the Orders area, along with the order number, customer's name, status, and total cost. Orders can be also be easily searched using different filters.
After clicking on an order number, a detailed overview with all information about that order will open. Here, you're able to see the order's invoice, the customer's address, or even to cancel it altogether.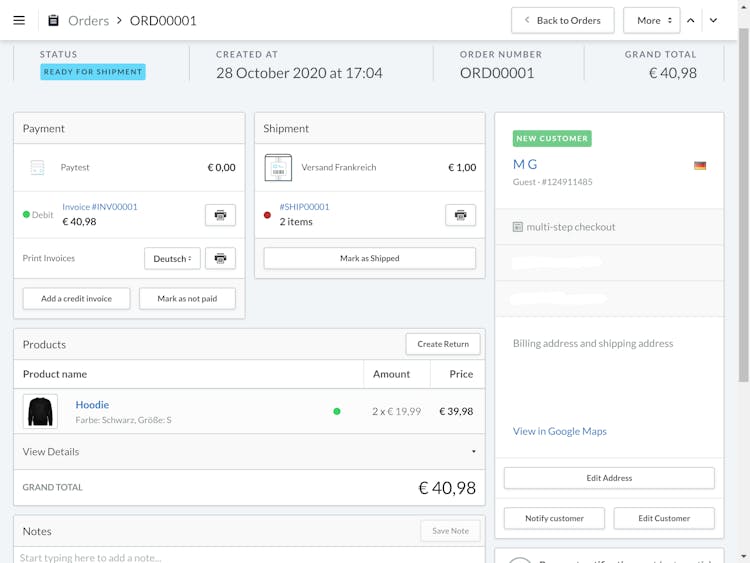 All pertinent information about an order can be found in the order overview.
Unfortunately, the Standard subscription package doesn't support multi-channel sales and marketing strategies or dropshipping. However, you can buy extensions in the App Store that allow for your products to be sold elsewhere, adding to your monthly subscription price.
Apart from that, there isn't much missing from Lightspeed. In terms of selling, the ecommerce platform offers high functionality, a wide range of options, and a strong customer-centric focus.
Score: 4.7 / 5
In terms of Marketing Lightspeed makes a few tools available with which you can drive sales. It's possible to create discount codes, either in lump sumps or percents, that you can use to entice your customers to purchase from you. To these, it's possible to add a period of validity as well as to limit use in combination with additional offers, specific products, or product categories.
In addition, Lightspeed also includes discount rules, which you can use to plan special sales or offers. These allow for different types of discounts to be offered: For example, you can offer the least expensive product in your customer's shopping cart to them for free, so long as they purchase a set number of items, or provide free shipping once an order meets a certain threshold. You can also surprise certain groups of your customers with a discount, or reduce prices within a given category.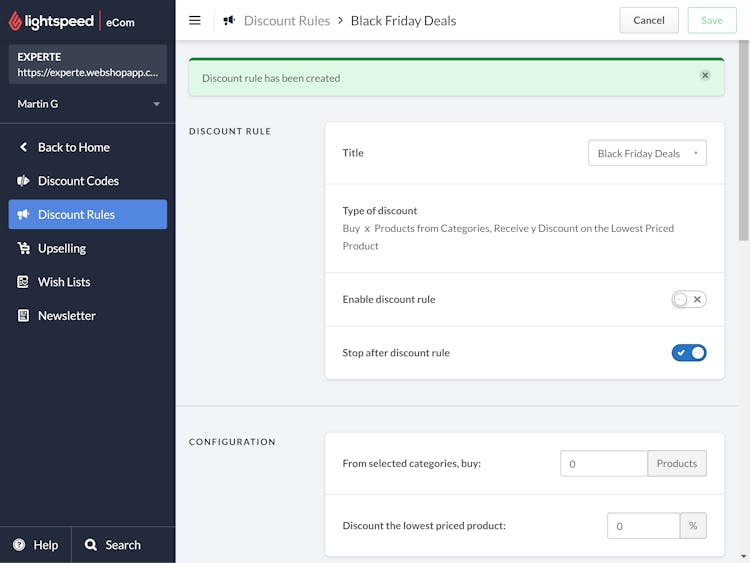 Discounts help motivate your customers to make purchases.
By clicking on Upselling, it's possible to select products that should be advertised to your customers in their shopping cart. However, you can only add a single set of upselling products, which means that you can't offer different sets to different customers. The upselling feature can also be used to offer gift wrapping to your customers.
The Wish List is an integrated feature in your store. Customers with an account are able to note items they'd like to purchase on their wish list, which you'll be able to see in the Marketing menu. If a certain product appears on lots of wish lists, you can attempt to drive its sales up by offering a targeted discount.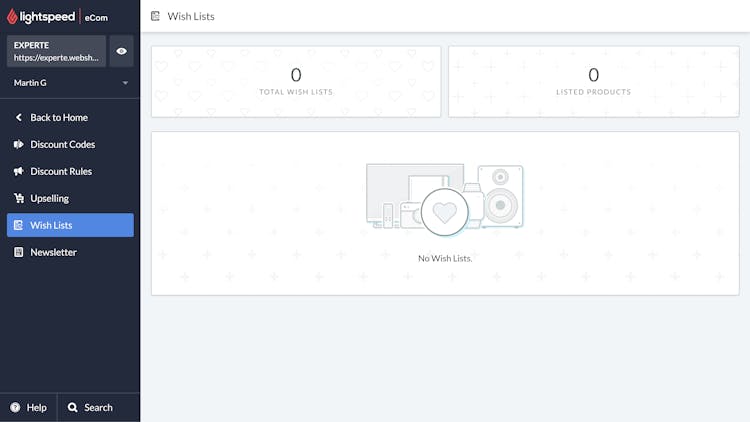 Still empty: Lightspeed's Wish List feature makes it possible to quickly find out what items your customers would like to purchase.
In terms of search engine optimization (SEO), Lightspeed definitely makes sure its users are well-equipped. It's possible to add titles, meta descriptions, meta keywords, and Google Categories to each of your products and product categories. You're also able to modify page URLs, and to add SEO-friendly tags. If these aren't enough, you can find additional apps and extensions in the App Store for furthering your SEO strategy. As above though, these aren't free.
By clicking on Marketing > Newsletter you can view subscribers to your newsletters, however, don't expect a full email-marketing suite from Lightspeed. Again, you can find paid extensions from GetResponse or Mailchimp in the App Store to help out here. Other platforms provide at least rudimentary email marketing options, so it's a little bit of a let down that Lightspeed doesn't.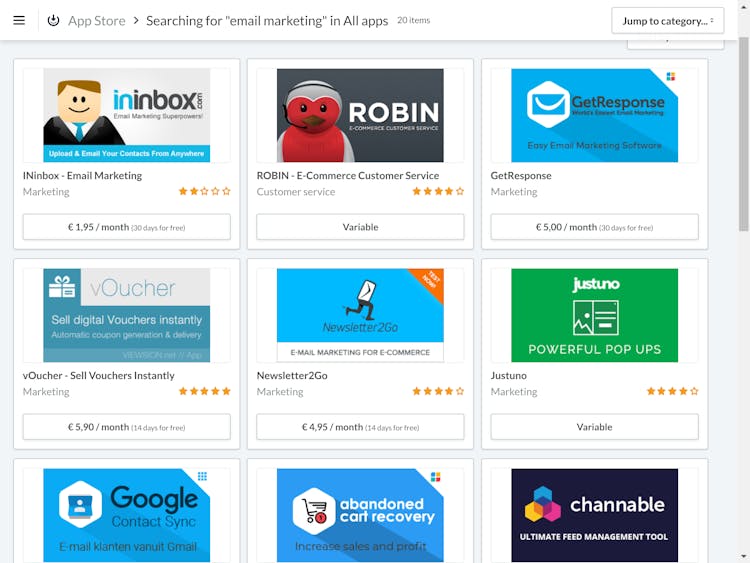 Email marketing is only possible through the use of (paid) extensions.
Analytics for your online store can be found in the statistics submenu. These include your total earnings, as well as the average order value and daily sales. But that's not all, Lightspeed also provides detailed information about your store's digital patrons, over customizable time periods. However, the integrated statistics aren't all that impressive. Thankfully, by clicking on Settings > Web Statistics, you can integrate Google Analytics, Facebook Pixel, and/or Clicky Web Analytics.
On account of its SEO settings and support for discounts, Lightspeed does a lot of things right in terms of marketing, however, the lack of email marketing, and the somewhat plain nature of the integrated analytics, mean that there is definitely some room for improvement.
Score: 4 / 5
Lightspeed's eCom help center, which can be reached by clicking on the question mark in the bottom left, is very well maintained: There, you'll find the most important/common FAQs on the loading page, and excellent step-by-step guides with screenshots for all of the features that you can expect from the service's dashboard. These articles would be even more helpful if they had links that took you directly to the features and menus under discussion.
Thanks to a full-text search, it's possible to find the right article or guide for your needs.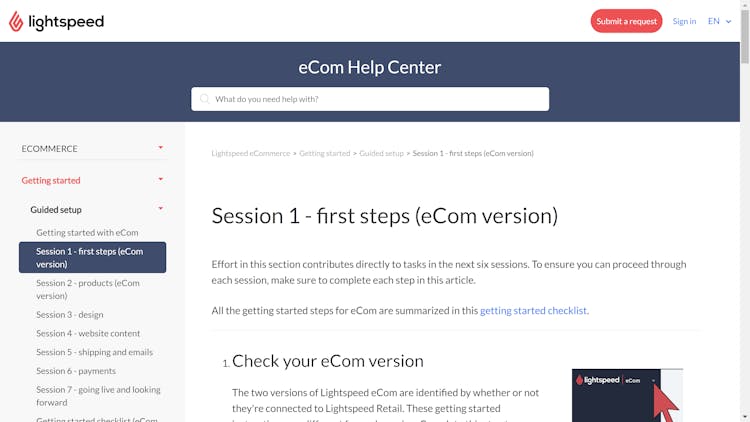 Lightspeed's eCom help center is definitely deserving of praise.
Live support can be reached by email, chat, or hotline, the last of which is available only to customers in the Advanced and Pro subscriptions. During testing, we had to wait around 40 minutes in the live chat for an answer to our question, whereas email took seven hours. The email response time was decent, but the chat query could have been answered sooner. Our overall impression of Lightspeed's support is that it's average; nothing great, but nothing terrible either.
Score: 4 / 5
Lightspeed comes in five different subscription packages: Basic, Starter, Standard, Advanced, and Pro. Basically, these differ in terms of the number of products (ranging from 250 to 15,000), the number of user accounts (1 to 10), and the number of languages (1 to 7). In the Starter package, only email support is provided, whereas the Standard, Advanced, and Pro packages also include hotline support. Customers with a large business or organization can create a customized plan using the Enterprise option.
Advanced subscribers can look forward to customizable checkouts, returns management, API access, the ability to edit by HTML/CSS, a blog, product filters, and bulk discounts. Pro users receive B2B-discount features, as well as PDF and email editors, in addition to everything from the Advanced subscription.
Lightspeed doesn't levy any transaction fees. When using its Lightspeed Payments service, though, you'll need to pay a fee of 2.6% of the transaction plus $0.10 for card-present or 2.6% of the transaction plus $0.30 for non-card-present transactions.
In terms of pricing, Lightspeed is definitely one of the most costly solutions we evaluated, thanks in no small part to the separate recurring charges for add-ons, templates, and the like, which can quickly turn an upper-moderately priced service into an exorbitant one.
An overview of the 'vanilla' Lightspeed rates can be found here:
Standard
Advanced
Pro
Pricing
Price per month
$99.00
$169.00
$229.00
Transaction Fee
0 %
0 %
0 %
Contract period (months)
12
12
12
Product Management
Number of Products
250
5,000
15,000
Product Filters
Product Variants
Product Reviews
Digital Products
Features
Multilingual
Multiple Currencies
Sales Channels

Facebook

Instagram

Facebook

Instagram

Facebook

Instagram

Payment Options

Rechnung

Credit Card

PayPal

Stripe

Rechnung

Credit Card

PayPal

Stripe

Rechnung

Credit Card

PayPal

Stripe
To better compare the prices of all the providers in our test, the following table shows the annual price when choosing a plan with at least 100 products.
$78.00
Visit Website
$150.00
Visit Website
$264.00
Visit Website
$288.00
Visit Website
$312.00
Visit Website
$324.00
Visit Website
$359.40
Visit Website
$378.00
Visit Website
Configuration & Usage
4.7 / 5
Product Management
4.0 / 5
Marketing & Analytics
4.0 / 5
Personalizing Your Store
3.0 / 5
Lightspeed definitely does a lot of things right. Its user-friendly dashboard should be a welcome sight to beginners, while its product and sales management options are both numerous, and easy to find. For more experienced users, the advanced features like API integrations or the ability to work directly with HTML/CSS will certainly go over well. For anyone planning to operate a store in multiple languages, or accept different currencies, Lightspeed makes doing both a cinch. Finally, its attention to SEO and solid support round out a very decent package of services.
At the same time, even with this sturdy foundation, Lightspeed has a few shortcomings which sap its overall potential. For example, the inability to sell digital products without an at-cost extension, is unclear to us, as is the absence/poor integration of email marketing.
Adding to that is Lightspeed's high cost, and recurring charges, both of which make greater customization on the platform a question of how much you're willing to pay, rather than what your skills or abilities are.
Overall, we're 'glass half full' types, and prefer to emphasize Lightspeed's strengths, but, its weaknesses are all too apparent especially considering the platform's hefty price tag. If money or costs aren't an issue to you, or if you don't envision selling digital products, and are satisfied with the service's default templates, then Lightspeed could easily help your business to accelerate.
Here, we've summarized what customers and users are saying about Lightspeed.
Review
11,968 Ratings
excellent
We analyzed the reviews and ratings from various portals and found 11,968 ratings with an overall rating of 4.6 out of 5 .
Show sources
If you'd like to pay less and be able to sell digital goods, then our overall winner, Wix, is a good choice. Thanks to its strong performance in all categories, and it's relatively low price, the Israeli platform is, in our eyes at least, without equal.
Should you feel more constrained by Lightspeed's lack of creative freedom, we can also recommend taking a look at 1&1 IONOS, which also offers a powerful ecommerce platform, built around a top-notch site/store builder.
A list of additional alternatives to Lightspeed can be found here:
Wix builds on its strengths as a website builder and adds great sales and marketing features. This makes Wix especially suitable for ambitious beginners.
Number of Products
Transaction Fee
Sales Channels
Payment Options
Wix Business Basic
$22.00
monthly price
Visit Website »
14 day free trial
lots of marketing features
BigCommerce is a powerful ecommerce platform with a well-designed product management, many sales channels and solid analytics features. It is especially suitable for more complex ecommerce projects.
Number of Products
Transaction Fee
Sales Channels
Payment Options
BigCommerce Standard
$29.95
monthly price
Visit Website »
Start Free Trial
Shopify is refreshingly uncomplicated and cleverly packs many features into a user-friendly dashboard. Flexible extensions make it suitable for larger stores as well.
Number of Products
Transaction Fee
Sales Channels
Payment Options
Shopify Basic
$23.25
monthly price
Visit Website »
14 day free trial
simple product management
multilingual stores possible
fast support with live chat
1&1 IONOS takes Ecwid's powerful ecommerce software and complements it with its in-house website builder. The result is a solid ecommerce platform that is also suitable for advanced users.
Number of Products
Transaction Fee
Sales Channels
Payment Options
1&1 IONOS Starter
$6.50
monthly price
Visit Website »
First Month Free

Author: Janis von Bleichert
Janis von Bleichert studied business informatics at the TU Munich and computer science at the TU Berlin, Germany. He has been self-employed since 2006 and is the founder of EXPERTE.com. He writes about hosting, software and IT security.