CRM Software: What Is It and How to Use It Right?

Customer relationship management (CRM) solutions help to strengthen your interactions with clients, keep tabs on their activities with your business, and, ideally, boost sales without raising costs.
One provider, Zoho, nicely summarizes these benefits on their website: "Get more leads, track your pipeline, and close more deals faster." In this guide, we'll let you know how CRM solutions can assist you in all three areas.
Email as your communication hub
An effective way to start generating more leads is by making sure that the right people are informed about the services or products you can offer. In the best case, you'll already have a well-maintained and detailed client or customer database.
For example, let's imagine that you're running an HVAC business and decide to launch a special offer at the end of summer for heating system check-ups or maintenance. If your client database contains information pertaining to which heating systems your customers have, your outreach to them can be more precise, owing to your expert knowledge of their exact needs.
To help in these efforts, many platforms offer a wide selection of tools and integration possibilities. Integrations for your existing email accounts or platforms represent the most basic level. Assuming that you don't currently employ a CRM solution, you likely engage with your customers via mail, telephone, or email. You can save yourself time alternating between email and CRM systems by integrating the latter into the former, something most providers offer extensions for. With these, you can compose and manage messages directly in the CRM system without opening your email client.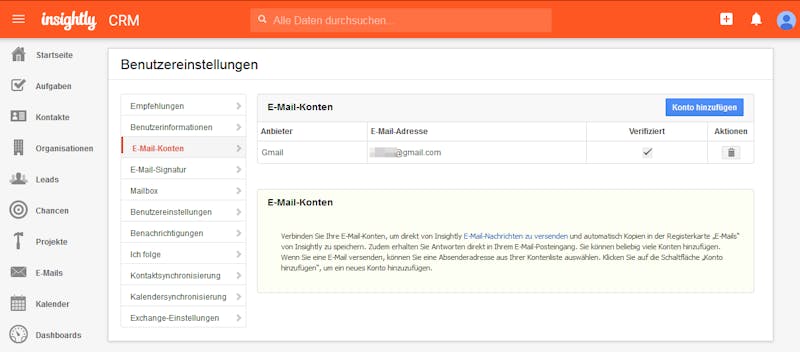 To set this up, you'll need to link your business email address with whatever platform you've decided to use. Most providers are compatible with major, cloud-based email systems like Gmail or Outlook.com, as well as Office 365 and Exchange servers. You'll also usually have the option to import existing messages from your inbox, and automatically link these to your customers. With Insightly, for example, you'll receive a generic email address that you can use to import messages and assign them to specific customers.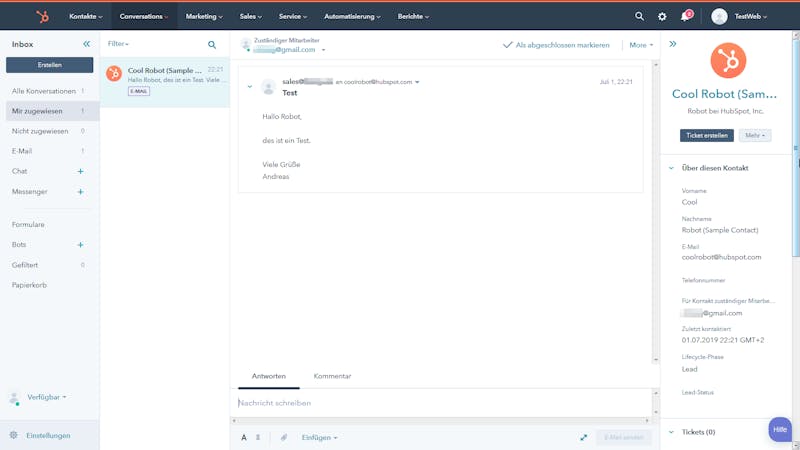 With that, you've completed the first step and linked your email and CRM systems. To see CRM providers which offer this capability, simply check the "Email Integration" filter option.
Communication and Following-Up
Most CRM platforms offer a wide selection of templates that come in handy for establishing and maintaining relations with your customers and clients. Among these, you'll find options for 'cold calls', or messages to individuals you've never contacted before who might be receptive to a business relationship, as well as follow-up messages containing additional information.
Pipedrive adopts a unique approach to templates. Even though its Standard package only includes five templates, you can tailor these to your exact preferences, enhancing them practically at will. For this, you're given control over a powerful editor and plenty of different fields that you can integrate into your messages. Once finished, be sure to save the template, after which it will be ready for immediate use.
Most of the CRM solutions we recommend come with plenty of ready-made email templates, while providing users with the ability to create their own texts. If this feature is particularly important to you, check the box next to "Email Templates" from among the filter categories.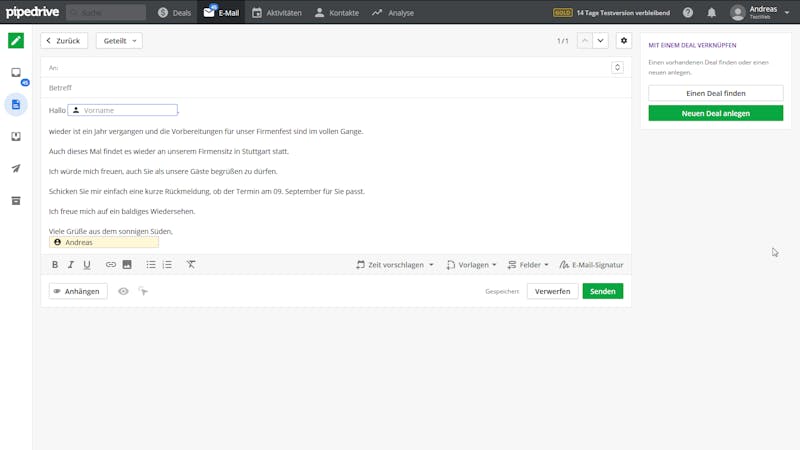 Pipedrive offers access to a number of well-made email templates, all of which are fully customizable in its easy-to-use editor.
Perhaps even more important than emailing your customers or potential clients is ensuring that your messages are reaching them and being read. A number of methods exist for determining the open rate of your communications, but the most common is tracking.
For this, the CRM system hides a tiny image with a unique ID in your outgoing messages, which is loaded as soon as the email is opened by its recipient. Thereafter, the CRM system is able to determine which messages have been read, allowing you to gain insight into just how effective your campaigns are.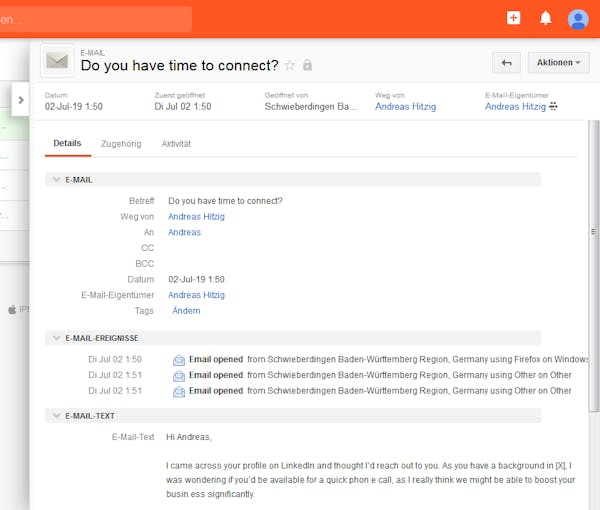 To view solutions that provide the ability to follow the success of your email campaigns, check the box next to "Email Tracking" from the filter list.
Campaign Management
In addition to helping structure your activities, some of the CRM solutions we examined also make it possible to engage in campaign management. Like their political or military counterparts, business or sales campaigns represent a planned and coordinated series of actions in pursuit of a clearly-defined goal (or goals), to be reached within a specific period of time.
CRM systems are a true asset in this. All you have to do is define what your goals are, what you need to achieve them, and which clients or potential customers should be addressed.
Once you've set those parameters, it's time to assign tasks and responsibilities. For this, simply determine who works on what, which of your employees or team members contact which clients, and who follows up with them. A task list created during the campaign could also look similar, with information about who is assigned which responsibilities and what sort of deadlines they have to complete their work within.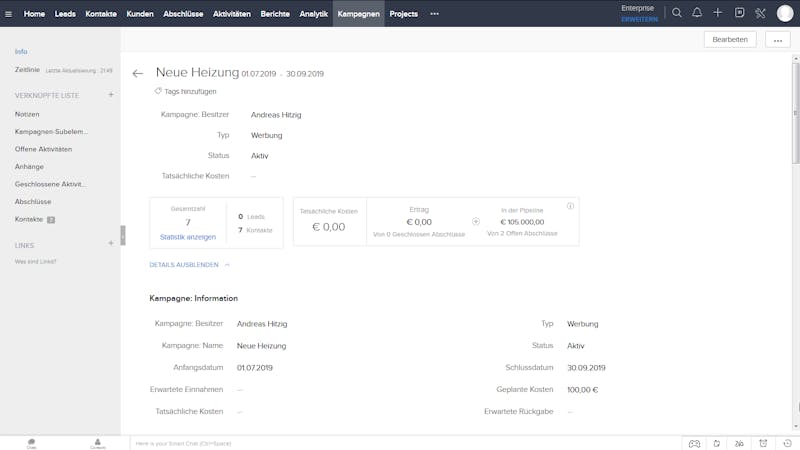 Once the campaign wraps up, depending on what your goal at its outset was, you'll either have generated enhanced interest in your business, more customers, introduced a product, or completed a particular task.
In the event that you'd like a CRM solution that helps in structuring your campaigns, make sure that you check the box next to "Email Campaigns" in the list of filters.
Filling the Pipeline
As mentioned in the campaign example above, one result of using CRMs can be increased interest in your business, products, or services. To take the next step, you'll need to sort and store contact details, so that you can accurately target particular segments down the road and make them accurate or even customized offers.
Sales pipelines offer an easy way to direct and visualize all of your current business activities. In these, you'll input all active requests and customer interactions, marking them with headings like "Appointment Scheduled" or "Work Order Sent". In this fashion, you'll be able to keep tabs on how your efforts are progressing and what steps you need to take with which groups of customers.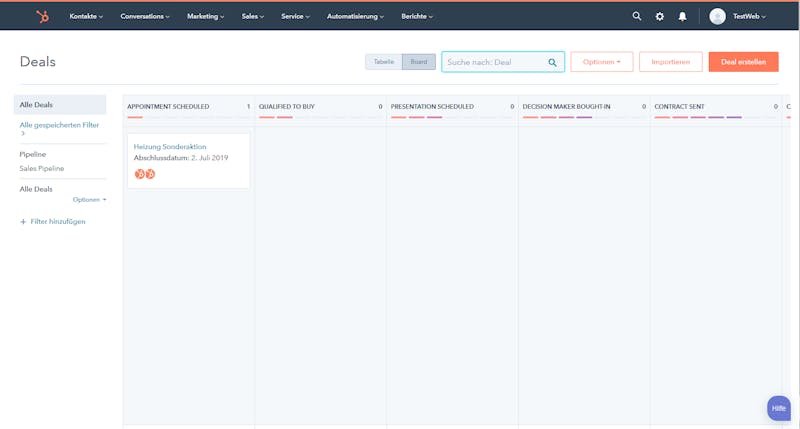 This feature is included with all CRM systems that cover business pages. To see precisely which platforms offer this, check the box next to "Sales Pipeline" from among the filters.
Maintaining Your Master Data File
In order to effectively fill your sales pipeline, most solutions offer an integrated product database. Here, you'll input the products and services you sell, while also setting their prices.
Should a customer demonstrate an interest in one of your offerings, you can then link this to the respective entry from the database. Through this process, you'll be able to maintain an overview of what sort of demand exists for your products and services.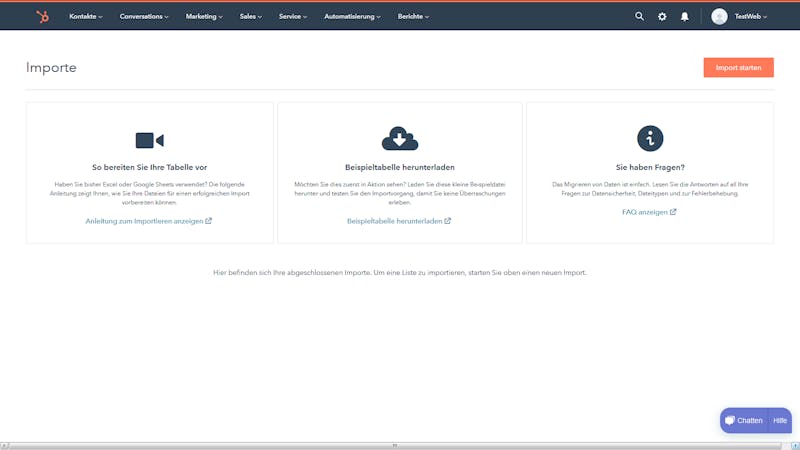 If you don't want to manually maintain your master data file, it's best to use your CRM system's import feature.
The degree of detail database entries have depends entirely upon the solution you've selected. Should you already use an enterprise resource planning (ERP) system, you can export your products' master data file from it, and upload it to your CRM. Most CRM systems support this.
This doesn't only apply to your product master data files, but also to those comprising your customers or leads.
After you've arranged your products and customer data to your preferences and launched your first email campaign, you should start to receive inquiries. Now is the time to create offers. Since this feature isn't included in every CRM system, we added a filter option for "Create an Offer". Most solutions that offer this include it as part of the sales pipeline.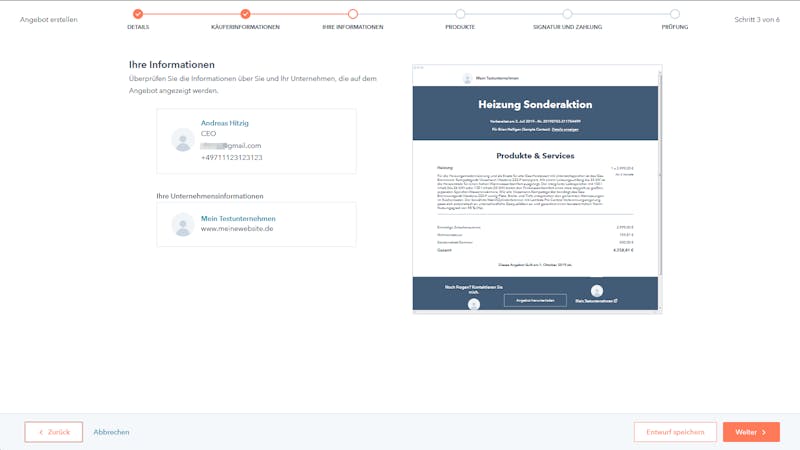 When creating an offer with HubSpot, for example, an assistant will pop up to walk you through the various steps. These include specifying the product and its contractual details, all the way up to setting a price and configuring payment options. When finished, you'll be able to market your clients a finished product or service linked to your sales process.
Depending on the platform you've selected, templates might be included not only for creating offers but also for follow-up communications. Nearly every CRM solution comes with a template generator, which you can use to create your own templates or adjust existing ones. Should you have experience working with a mail merging software, such as Microsoft Word, you won't have any difficulty getting accustomed to these features in your CRM. In the event that you do encounter trouble, each platform makes informative help features and tools readily available.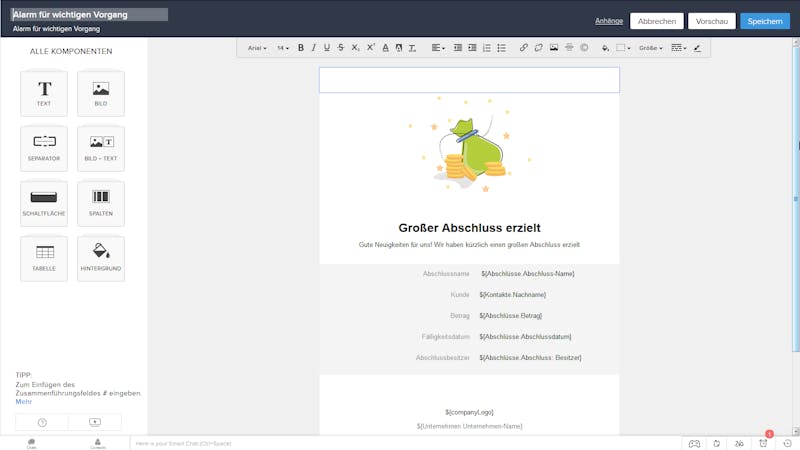 Reduce work with sales automation
Efficient processes are particularly important for small and medium-sized enterprises (SMEs). This is because the more that can be automated in terms of communications, the more time your team will have for pursuing potentially lucrative leads. As a result, most CRM platforms offer a variety of automation options. We found HubSpot's approach in this area particularly nifty. Its different sequences and workflows enable you to automate all sorts of activities.
Among the sequences, you'll find processes such as follow-up after meeting at a conference or outreach to new, potential clients who signaled interest in a particular product or service. After you've selected one of the ready-made sequences, you can adjust it to your requirements. The follow-up template, for example, contains three messages. In the first, you contact the customer and reference the conference while offering a personal meeting. You'll set a specific length of time for the recipient to react to the email, after which another message will be automatically sent. This includes additional information or promotional materials. The third message, to be dispatched after a specific period of inaction by the recipient, arrives much later and serves as a sort of 'refresher'.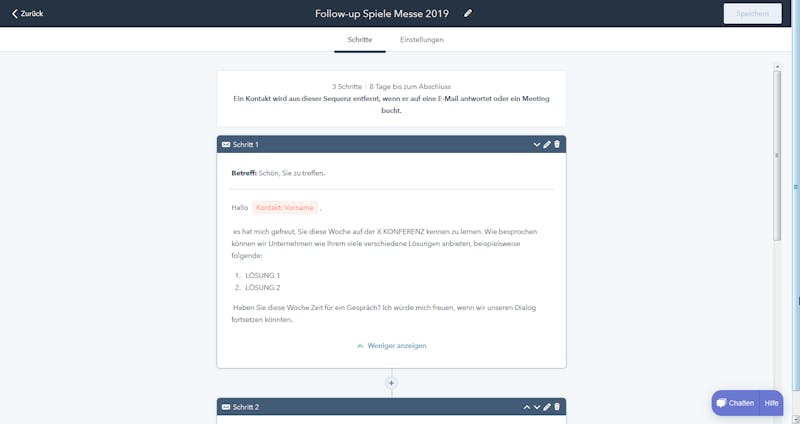 Your CRM system handles all of these activities automatically, including emails. The sequence is only interrupted if the recipient reacts to one of your messages. In this case, you'll receive a notification and can engage in direct contact with them without the sequence continuing.
Workflow engines represent another option made possible by automation. With these, you'll be able to define a specific series of actions, such as a request for an estimate, or the birthday of an important client. When triggered, the workflow jumps into action and automates whatever activities or tasks you assigned it. HubSpot augments its workflows with a range of different templates as well as the ability to create your own sequences with the help of a graphic editor.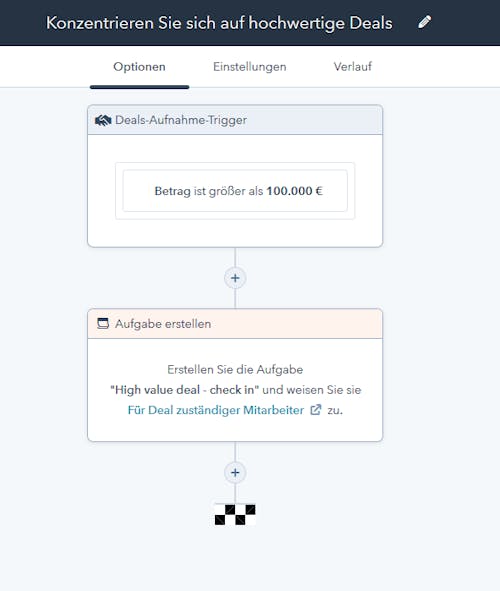 This makes it possible to automate specific activities or be kept apprised of developments through the workflow that might normally pass under your radar.
If these automation capabilities are appealing to you, check the box next to the "Sales Automation" filter.
Assessing your Efficacy
When it comes to lead generation and customer relations, reports and statistics are very important. Only through these is it possible to maintain a clear overview of how effective your activities and campaigns are. Should you work as part of a team and be responsible for its success, statistical reports offer an excellent way to identify the strengths (or weaknesses) of the efforts of individual members and enhance performance. These reveal which of your colleagues might need a helping hand in terms of sales activities, or who isn't taking full advantage of your master data files.
Many systems offer a central dashboard where you can view the most important business metrics, arranging them to your preferences.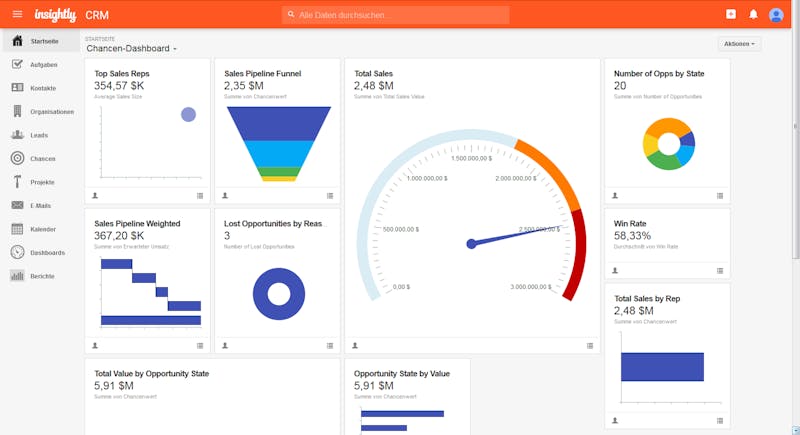 In addition to this dashboard, all CRM systems make it possible to analyze your sales activities in detail via specific reports. These range from individual responsibilities and tasks, to activity and chance reports. Most of the pre-configured reports can be customized and saved under new names.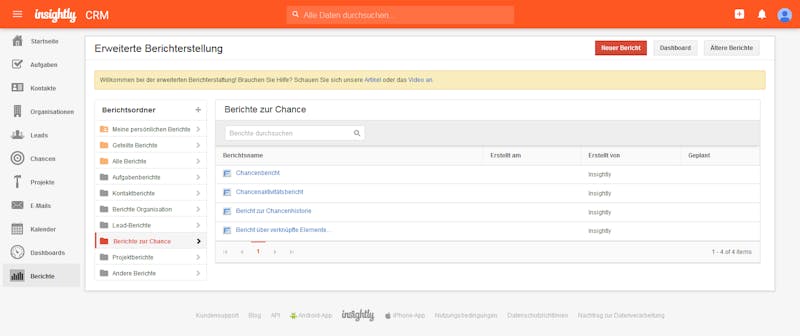 To see a list of all CRM systems that include reporting features, click on the box next to "Reports" from the filter list.
CRM on the go
Particularly for those working remotely or on the go, it's important that platforms offer convenient ways to access and manage saved data from outside of the office. For that reason, when selecting a CRM platform, we advise paying close attention to whether or not the devices your business uses are supported. To see which platforms support Android, Windows, and iOS, click on the "Software" tab.
Technical capabilities of the platforms
In the event that you use a CRM system within a team, you'll likely want to be able to assign different roles and privileges to its users. For most businesses, the sales personnel are responsible, at least in part, for how much their clients generate (and often, rewarded with commissions). To prevent other team members from becoming jealous or even sabotaging their colleagues, it's recommended that each employee only be able to see their own data. Supervisors or team leaders, on the other hand, should be able to gain insight into how all of the various sales associates are performing in order to support the team further. As such, we included a filter for "User Roles", showing which platforms offer this feature.
Should you have experience with an ERP or CRM system and have input plenty of custom fields into it, odds are that you won't want to lose the work you've already done. Unfortunately, not all platforms offer the same number of fields in their sections, meaning that some of your imported data might not make the cut. For this reason, CRM systems that grant users the ability to include custom or user-defined fields are worth paying attention to. If this applies to you, be sure to click on "Custom Fields" from the filter list.
"API" also plays a role in how adaptable a particular solution is. CRM providers have taken a few different approaches in rolling out this feature. Some services offer the technical ability to access the system's database and automatically display products in an ERP system without importing or exporting them. In such cases, the ERP system shoulders the programming burden.
Integrating the standard app into the CRM solution offers a more convenient option, however. With this, you can connect classic analytical programs to advertising platforms via a shop integration. HubSpot or Pipedrive provide this, making it possible to integrate up to 100 cloud products.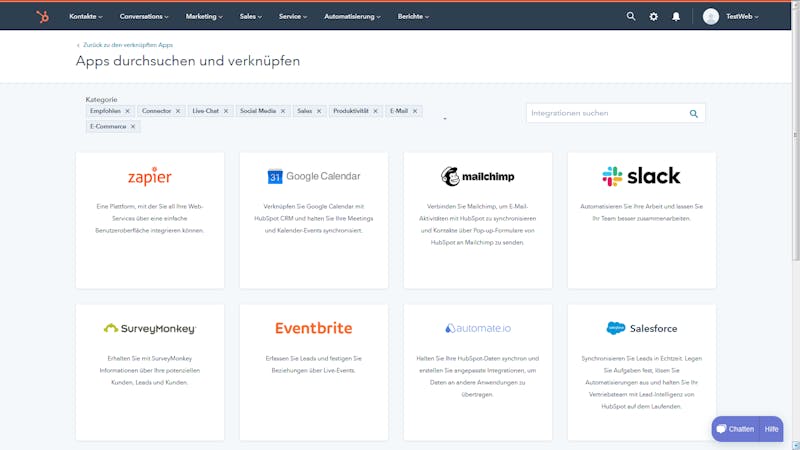 Security
It would be foolish to overlook security in the context of CRMs. After all, they don't only store information about your products, but also your customers, employees, and potential clients. For that reason, it's essential that all of this data is secure.
One important element of this is two-factor authentication, through which you and your employees will log on to the system not only via password but also a single-use code or key, most often generated by an app. To view platforms that include this, check the box next to "Two-Factor Authentication" in the filter list.
Equally important when it comes to storing data is where the servers are physically located, so, we also built in the ability to sort these in our filter tool. Accordingly, it's possible to limit platforms to those that store data in Germany, the EU, or the US. If you don't specify a preference here, all solutions will be displayed.
Important cost factors
Before finishing, we should devote a few words to the economic considerations involved in selecting a CRM. These boil down to two main factors, namely, the number of users and the desired contract duration. To provide insight into each, we integrated both features into our filter tool. Simply select how many users you'd like to include, as well as your desired contract length and you'll be provided with a current price overview.
Turning to contract duration, in general, the longer you sign on, the less you'll pay per month. However, you should not buy before you try, especially considering that all platforms offer free trial versions, with which you'll be able to test them out over the course of several weeks. If you don't like a particular platform, you can cancel without paying a cent, offering a risk-free way to decide upon your ideal CRM solution.
Conclusion
The selection of CRM solutions is constantly growing. Depending on what your needs are, the right solution for your business is probably out there. Costs range considerably, and the priciest solution isn't necessarily the best. For that reason, we recommend identifying which features and capabilities you need before looking at what's available. With your list in hand, you can use our EXPERTE.com filter tool to find the service that best matches your individual requirements.

Andreas Hitzig manages the IT of a medium-sized company in his main job. In addition, he has been a freelance IT author for more than two decades. He writes primarily about topics from the areas of Android and IT security, but also incorporates experiences from his everyday life into his articles.
Continue Reading
Other languages
Deutsch