Project Management Software Review: Zoho Projects

Ad disclaimer:
For links on this page, EXPERTE.com may earn a commission from the provider. This supports our work and has no influence on our editorial rating.
Zoho Projects* is an online project management solution marketed by "Zoho Corporation" from India. Thanks to its mix of project management features and team communication tools, Zoho Projects has enjoyed increasing success as of late, impressing users with its enhancement of well-known concepts, as opposed to the introduction of new ones.

As such, Zoho Projects offers a tool that is easy for both small and medium-sized companies or organizations to use, moderately priced, and provides all features needed from project management software (and even a few surprises).
Apart from the web-based project planning and reporting features, Zoho Projects also makes extensive collaboration tools available, which allow users to follow individual revisions on different documents. This makes it easy to link projects together, ensuring that assignments are completed faster, and more efficiently.
In this review, we'll let you know how Zoho Projects performed during our evaluation, and, how it compares to other, more well-known competitors such as Atlassian Jira or Asana.
Review
Configuration & Usage
9.4 / 10
Features und Anpassungsmöglichkeiten
9.4 / 10
Excellent price-performance ratio

Impressive communication options

Easy to set up and intuitive to use

Numerous configuration options

Possible to integrate apps using API
Not designed with multi-project tasks and/or large teams in mind

Resource data display takes some getting used to

Not possible to integrate external email inboxes

No user-defined task overview

No automatic synchronization (i.e. with Google Docs)

Few integrations and those which are available are dependent upon the subscription package you've purchased

Mobile app lacks features offered in the desktop version
Zoho Projects is part of a suite of 20 online business tools offered by Zoho, however, even on its own, can do a lot more than just help to plan projects.
Setting Up an Account
You won't need to install any additional software to start using Zoho Projects, but only have to go to zoho.com and register. To do this, simply enter your email address (preferably a business or organizational one) and create a password. Alternatively, you can also register using your Google, LinkedIn, or Office365 account.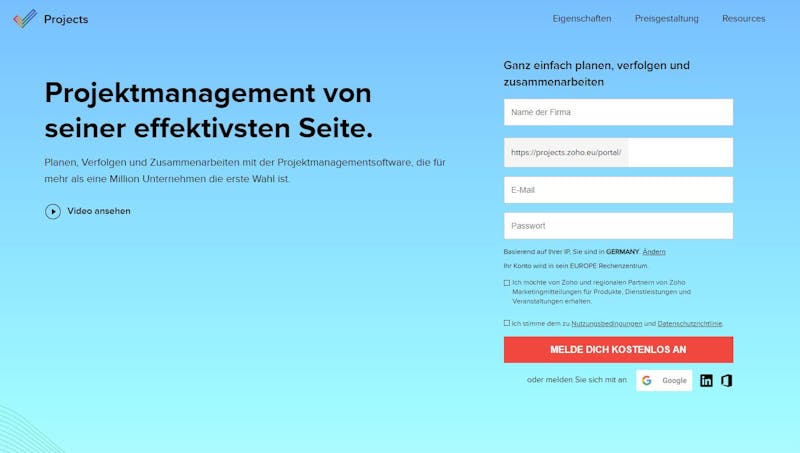 For our test, we selected the "Free Plan", and registered using Google. After accepting the Terms of Use, we were automatically forwarded to the page for creating a new portal. All we had to do there was enter the name of our company, confirming it by clicking on "Create Portal".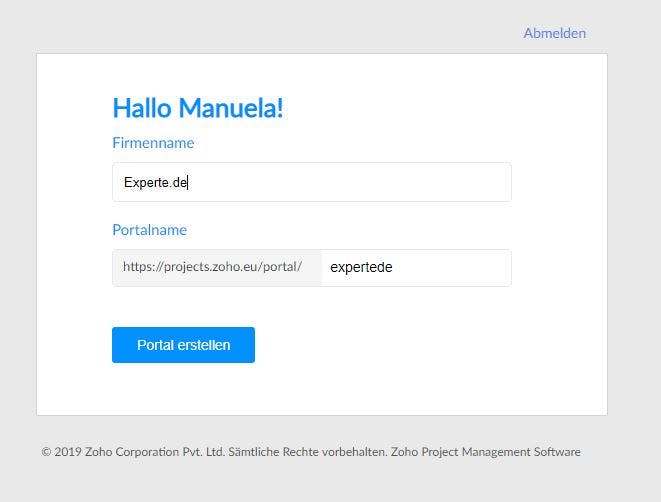 Zoho Projects then greeted us with a friendly pop-up which asked us to set our time zone and specify our organization's branch. We were also given the option to input a contact number, which the developer would use to get in touch with more details concerning the software. We didn't feel the need for this, and simply specified our time zone and branch, and clicked on "Get started".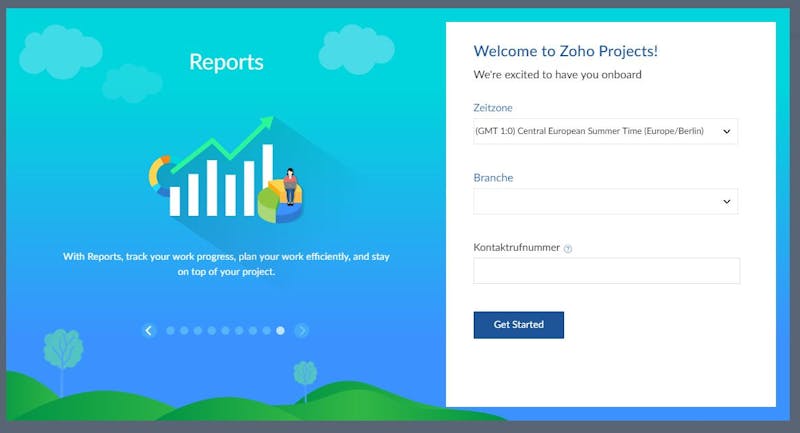 User Interface

The most important statistics are shown on the "Home" screen, in the form of widgets, 11 of which can be added to the dashboard. These provide users with a comprehensive overview of all processes and tasks within their project(s).
Some of these include:
My Overview: Displays the status of projects, tasks, milestones, and issues.

My Tasks: Provides details about ongoing assignments. By clicking on the "Show More" button, you're provided with an overview of all tasks, which you can filter further with user-defined criteria. Creating a user-defined task view is not possible.

My Issues: Includes information about issues that require your attention and need to be solved for one, or multiple projects.

My Overdue Work Items: This lists all assignments that have exceeded their due date.

My Milestones: Here, you'll find a multi-project overview of late and upcoming milestones.

Reports and Charts: This displays a milestone Gantt, a chronological Gantt, or a cross-project resource-usage diagram. To make full use of this feature, you'll need to upgrade to a paid subscription. With our free account, we weren't able to test this feature, so it has no bearing on our scoring.

My Calendar: Here, you can view all scheduled tasks for the last seven days.

Weekly Digest: This shows events planned for the current week.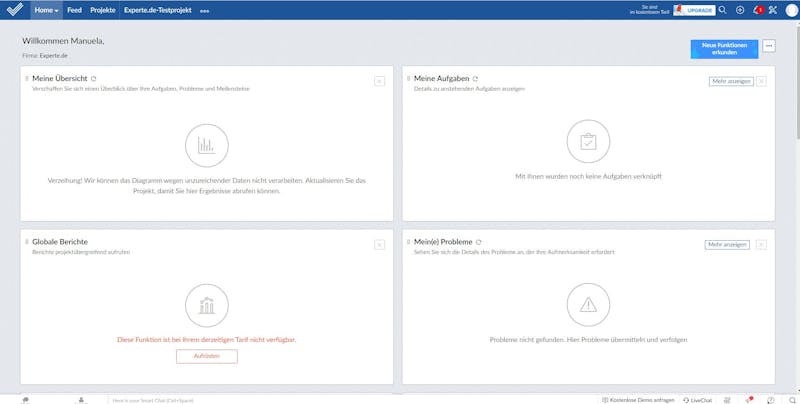 Hint:
Widgets can easily be moved by clicking on the symbol with six dots (in the upper left) and holding down the cursor over the widget you'd like to shift.
Create a Project
In Zoho Projects, you can create a new project from scratch, or start with a ready-made template.
1.

Click on the "Projects" tab and select "New Project".

2.

Enter a name for your new project and select a template from the drop-down menu. Unfortunately, our free version didn't come with any ready-made templates, so we had to start from scratch.

3.

Specify whether the project should be private or public, and confirm your selection by clicking on "Add".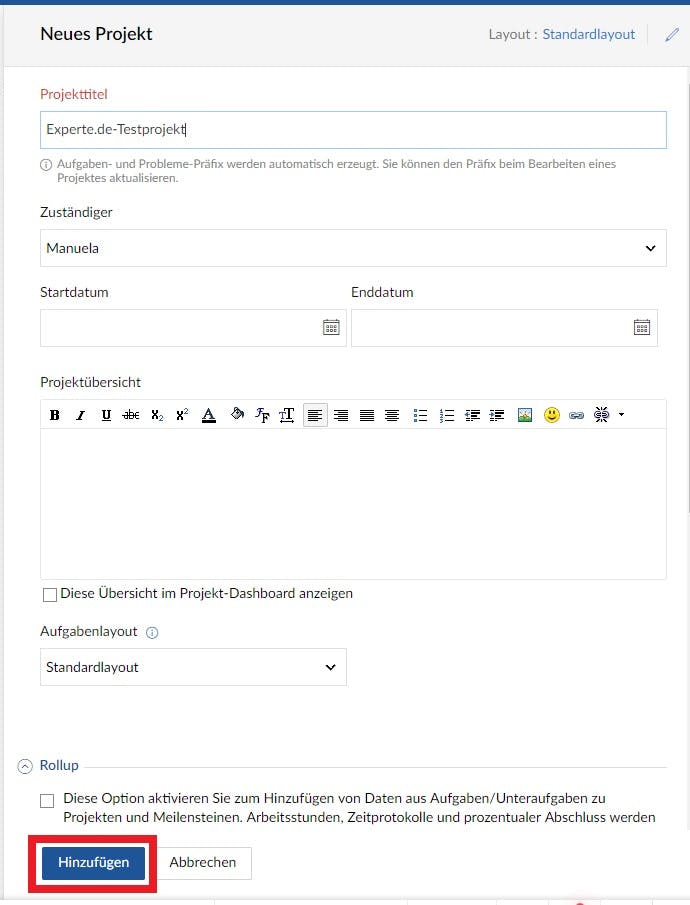 Good to Know:
If you've integrated Zoho Projects with Zoho Invoice or Zoho Books, the "New Project" window will include an option labeled "Accounting Method". Here, you can set whether employees are paid on an hourly basis, or a fixed sum for a specific number of hours.
After that, we landed on the project overview page. Here, tabs can be easily moved around by dragging and dropping them. All projects are automatically arranged according to the default layout. Using the Layout Editor (accessible by clicking on the pen symbol in the upper right) you can make changes at any time (i.e. create user-defined fields) or design a new layout. It's important to note that any changes you make here will be applied to all of the projects in your dashboard.

Task Management
Tasks are assigned in Zoho Projects on the basis of projects. This means that there isn't a superordinate view for all projects, however, a user can see all assignments they've been delegated in their dashboard. With Zoho Projects, you can administer as many projects as you can handle, however, apart from the dashboard, there aren't any tools for working on multiple projects at the same time.
"Task lists" help structure tasks within a project. The name is somewhat of a misnomer since all assignments are always listed and shown on a single list. The "task lists" are basically subheadings, which you group assignments into.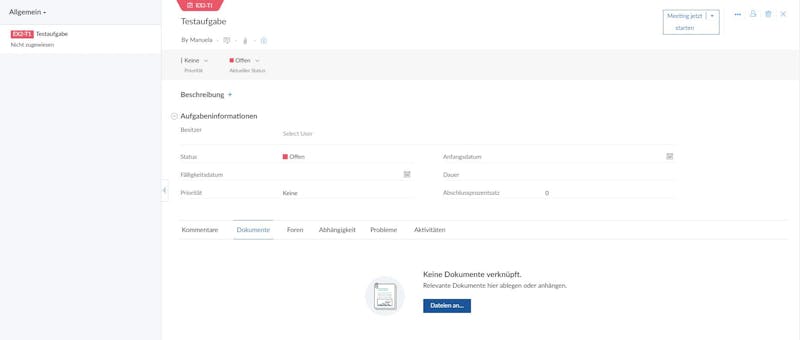 To add a new task, click on the "Add a new task" button in the "Task Status" widget, or alternatively, select "Tasks" from the menu on the left side of the screen. Enter a name and description for the new assignment, and select on which task list it should appear under. "Task Information" allows you to define the start and due dates, as well as indicate the assignment's priority. You'll also find a number of tabs containing metadata, options for attaching or uploading documents with the assignment, the ability to define the task's relation to other tasks, an option for creating sub-assignments, bug-tracking, and the activity log. By clicking on the "Add" button, you'll create a new task.
Good to Know:
Task lists can be linked with milestones in order to indicate a project's stages. Whereas a milestone can contain multiple task lists, it's a good idea to only link one milestone to each task list.
Three different views are offered for task management:
"Classic", displaying lists and tables

"Simple" which doesn't include any task lists and groups/ungroups entries under one another

"Kanban" which arranges tasks in columns according to their progress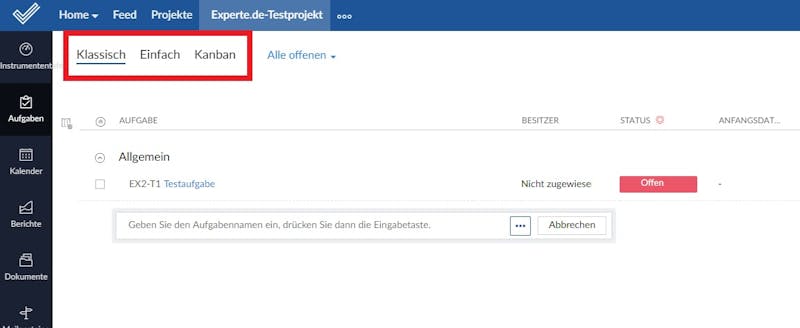 All three views have drag and drop functionality, meaning that you can easily move tasks around with your mouse. To view more options, simply click on a task.
These include the following:
Assignee

Status

Start Date

Due Date

Length

Priority

Percent Completed
You can also import or export tasks into/from Zoho Projects. The following formats are supported/offered:
MPP/MPX: Microsoft Project

CSV: Comma Separated Value

XLS: Microsoft Excel

JSON: Java Script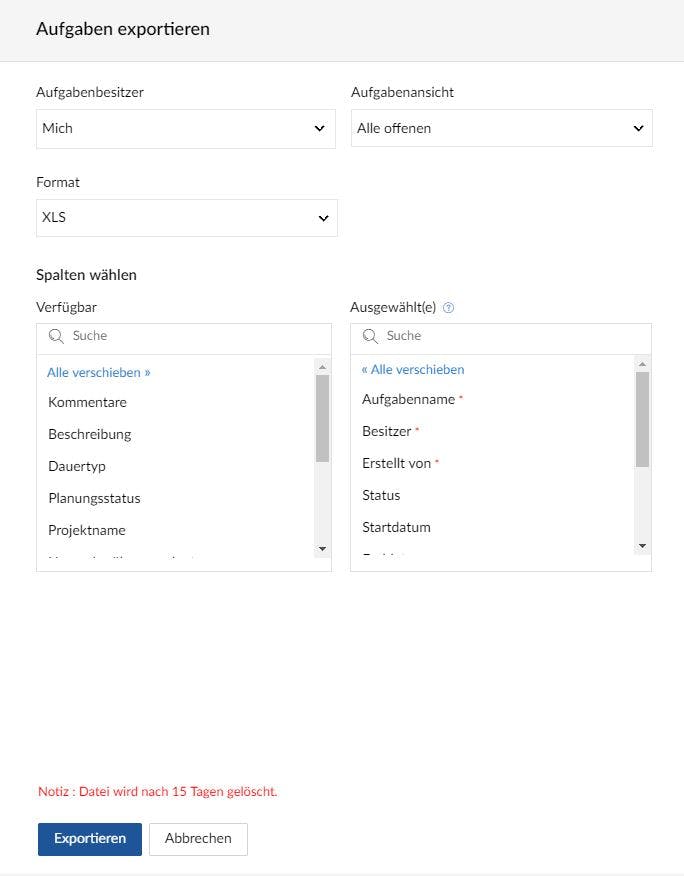 Time Management
Similarly to task management, time management is also tied to projects in Zoho Projects. The calendar and Gantt diagrams always relate to the selected project. Gantt diagrams, two kinds of which are offered, can be found in the Reports module:
In a Chronology Gantt tasks are arranged according to their start date.

In a Milestone Gantt tasks are ordered on the basis of their milestones.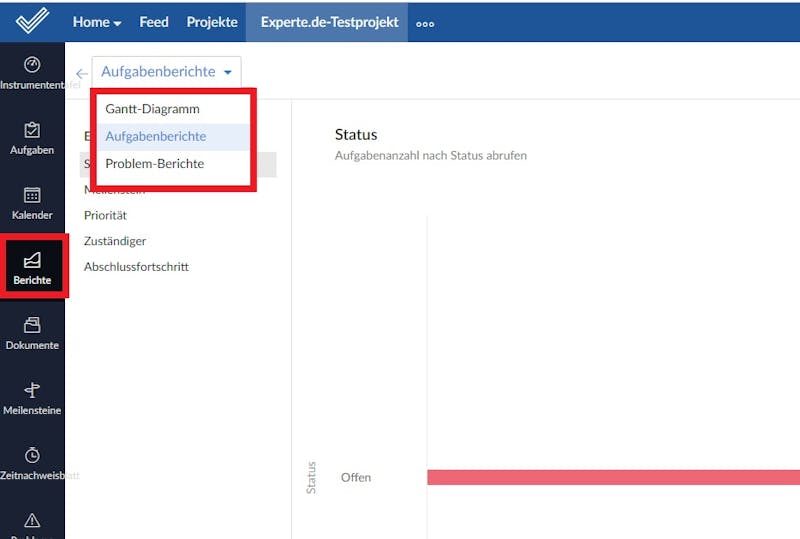 It's possible to both shift and link tasks within a diagram by dragging and dropping them, but only if you've paid for an Express, Premium, or Enterprise subscription. This feature isn't included in the free plan, and as such, we haven't factored it into our scoring.
The calendar feature is only rudimentary and not very flexible, showing, by default, a month view, which cannot be changed to a weekly, or yearly view. You can limit which dates should be shown using the filter options, but once again, these are limited (as of the time of writing) to "Assignee" and "Status".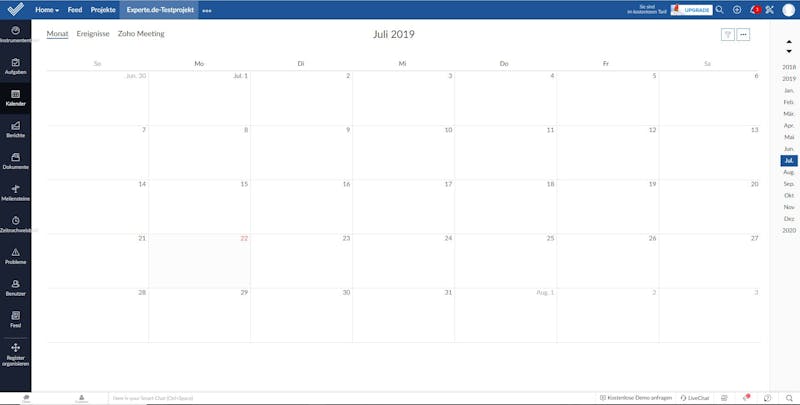 You can manually enter working hours on the Timesheet. Zoho Projects isn't integrated with an automatic timer like some of its competitors, and the Timesheet is only available to Express subscribers and above. As a result, we weren't able to test it during our evaluation.
Taken together, Zoho Projects has a nice and well-arranged user interface, that can be put to work right out of the box. Beginners shouldn't have too much trouble finding their feet, and even though the paywalls are a bit frustrating, we don't have too many bones to pick.
Score: 4.7 / 5
3.
Features and Customizability
Zoho Projects offers users a wide selection of team communication options, meaning that you won't need additional software such as an email or messaging service.
Chats and Fora
Alongside both the standard comment functionality, Zoho Projects also includes a live chat, and the ability to create fora. Chat contacts can be easily viewed through the bar along the bottom of the screen.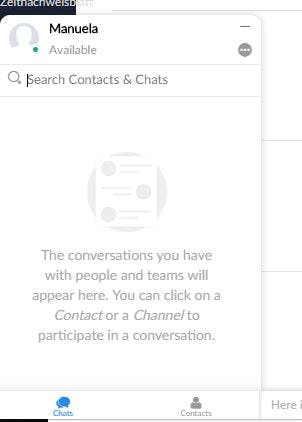 It's possible to create one-on-one chats, as well as group chats, responding to these in full screen, or in-screen. The latter allows you to keep working while waiting for a reply or discussing an issue with a co-worker and doesn't differ all that much from Facebook Messenger, including smileys, as well as the ability to attach documents or screenshots.
In the fora, which look best suited for larger organizations or those with lots of different teams, you can communicate with anyone from your organization. Here, it's possible to create new threads, discuss ideas, and share insight in a central location. Thanks to the ability to directly link tasks, you can request help on specific issues. A range of formatting options are integrated, as well as the ability to include links. Unfortunately, we weren't able to try out this feature since it isn't available for free users.
Integrations
Zoho Projects offers a number of different integrations, most of which are for the developer's own products. These can be used regardless of which subscription you have (or if you're a free user). We were able to access (and use) the following:
Zoho Docs

Zoho Cliq

Zoho Mail

Zoho CRM

Slack

Zapier

MS Teams

Google Drive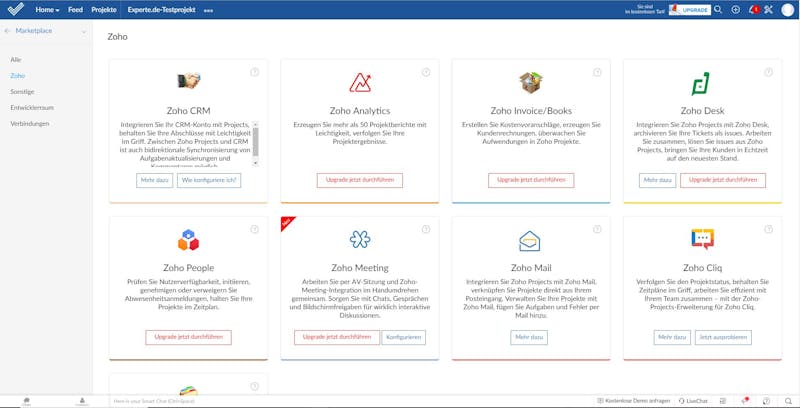 Through the API integration, you can access your own applications in Zoho Projects. This is based around the representational state transfer or REST protocol and basically means that you can use it with all kinds of different programs, written in languages such as Java, Python, or PHP. One API in Zoho Projects can be queried 100 times within two minutes, whereafter the API will be locked for the next 30 minutes.
Extensive documentation on Zoho Projects' REST-API can be found here.
Document Management
In addition to the project planning, task, and time management features mentioned above, Zoho Projects also offers an integrated document management system, which you can use to save and manage your files from a central location. This system makes it easy to restore earlier versions of files.
Reports and Statistics
It's hard to imagine a project management tool lacking the ability to create reports. Thankfully, Zoho Projects offers this. You can view progress on tasks that you've created in the online project reports. These include all of the usual information (for example, status, milestones, or completion) and can be displayed in bars, pie charts, or toroidal graphs. The results can also be filtered/refined (for example, to show only uncompleted or unplanned tasks).
Good to Know:
By integrating Zoho Reports, you'll gain access to more than 50 ready-made report templates and dashboards that you can further customize to your needs and specifications.
Zoho Projects is a cloud-based application, meaning that although you perform all actions via the client or a browser, these actually take place on a remote server. As such, users can't really influence the tool's performance, apart from loading times relating to the browser or hardware in use.
To examine this in greater detail, we evaluated Zoho Projects on two different laptops, each running Windows 10 Pro (64 Bit):
Laptop 1: Lenovo Ideapad with an Intel Pentium 4415U (2.3 GHz) processor, 8 GB RAM, and the stock Intel graphics card (HD Graphics 610).

Laptop 2: Lenovo Legion Y720 with a Core i7-7700HQ Quad-Core (2.8 GHz) processor, 16 GB RAM, and an Nvidia GeForce GTX1050 Ti graphics card with 2 GB of dedicated memory.
In terms of browsers, we alternated between the most recent versions of Google Chrome, Opera, and Mozilla Firefox.
As might be expected, the second laptop didn't have any issues with the tool, however, on Laptop 1, we encountered a number of problems when trying to access Zoho Projects in Opera. Following multiple crashes, we were able to start the software, however, it performed very poorly, lagging constantly. In the other two browsers, everything was fine. Unfortunately, we weren't able to ascertain whether the issue was related only to Opera, or had something to do with the laptop's hardware.
Score: 4.3 / 5
Zoho Projects pulls out all the stops in terms of security. Alongside its physical security measures (secure location, protection against fires and natural catastrophes, etc.) the company's security policy also takes a no-nonsense approach to network security.
All data traffic sent to Zoho Services is secured with TLS 1.2 protocols, and the certificates in use are provided by an SHA 256-based certification center authority. 128 Bit AES_GCM and 256 Bit AES_CBC are provided for encryption, while ECDHE_RSA is used for message authentication. Beyond this, the network is protected with powerful Intrusion Detection, and Intrusion Prevention Systems (IDS/IPS), which identify and defend against unauthorized access attempts.
All data traffic on Zoho's servers is automatically scanned for malware and secured through regular updates to the various antivirus programs in use.
To provide the greatest degree of reliability, Zoho Services are performed across a distributed network architecture, ensuring that even if an interruption occurs, you'll still be able to use the service. As such, customers are likely not to take notice of service interruptions when they do manifest. This is due, in large part, to Zoho's employment of redundant network devices, power supply systems, and multiple Internet connections.
Should data loss occur as the result of a service interruption, the regular backups which the tool performs to its servers will ensure that you'll be able to quickly restore your work.
All together, Zoho Projects performs well in terms of security: We can't see any issues.
Score: 5 / 5
Zoho Projects is also available as an Android and/or iOS app, allowing you to access the service on your smartphone or tablet from practically anywhere. The app's user interface is optimized for mobile usage and doesn't appear as cluttered as the desktop version.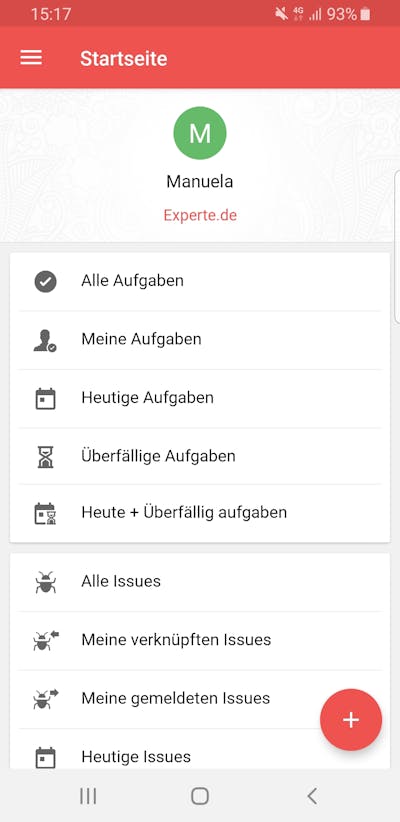 We tested the mobile app on a Samsung Galaxy S9, and didn't encounter any issues in creating new projects or assignments. By default, only the project's name and a checkbox are shown automatically, with further information available by tapping on the detailed view.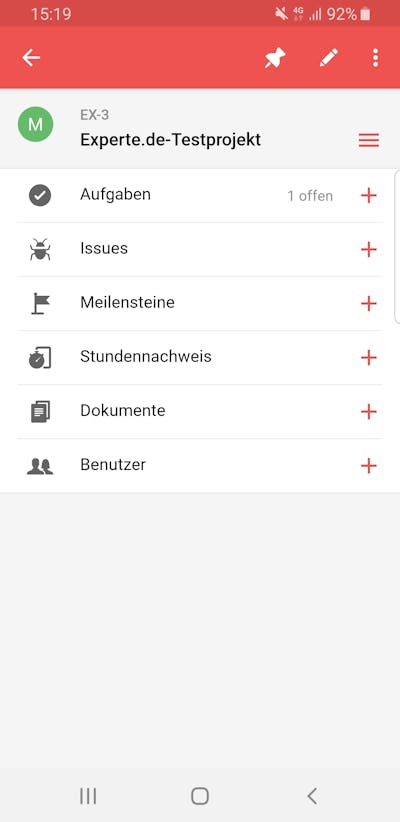 The app doesn't offer as much functionality as the web/desktop version, with the effect that certain features aren't available, such as Gantt diagrams, chat, or the calendar view.
Score: 3.7 / 5
Zoho's documentation is provided in the form of an FAQ catalog, with most answers not exceeding one or two sentences. As such, these aren't all that helpful. Entries are loaded with images and animated GIFs, with the intent clear to show most steps graphically. The resolution of these, however, is so low, that even with glasses, it was very difficult to read or see them. The service's help videos, consisting of a screencast and narration, are much better, but, unfortunately, far fewer in number.
If desired, you can request that a support staffer call you back. To do this, simply fill out the form. Unfortunately, after doing this, the loading symbol didn't disappear, so we sent our query via email (support@zohoprojects.com). More than a week after sending, we still didn't receive an answer to our query. Supposedly, a support live chat also exists which allows for customers to communicate directly with the provider's service, however, we couldn't find this, even after searching the website rather thoroughly.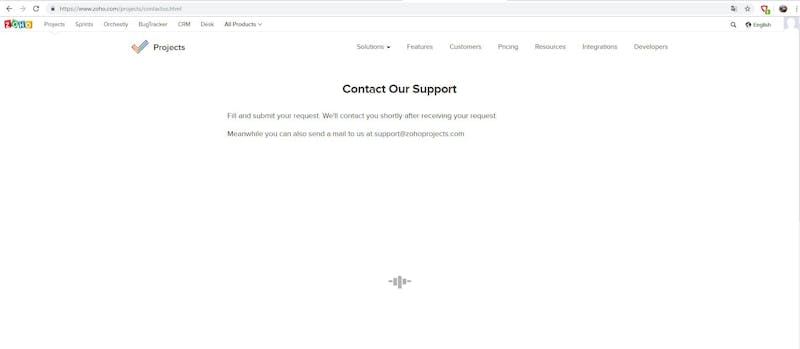 If you have an issue and want a quick solution, we recommend the Reddit-esque Zoho Projects Community Forum, since this appears to be very active. Both other users, as well as company staff, typically respond to new posts within 30 minutes.
Apart from that, Zoho's support is not very good at all, at least in our experience.
Score: 2 / 5
Zoho Projects is available in several different versions, ranging from the Free Plan we took advantage of, all the way up to the Enterprise version (which is definitely not free). Each subscription level is intended for a different segment of customer and user. In the free version we used, five users can access two projects, as well as the calendar and fora, while files with a maximum size of 10 MB can be sent.
If that isn't enough for you or your organization, the "Standard" subscription is designed for groups of 6-10 users, allowing access to 10 projects, 5 project templates, and 5 GB of storage. The next level ("Express"), is designed for 12-50 users, who can then work on unlimited projects, select from 10 project templates, and use up to 20 GB of file storage. This subscription also allows for recurring tasks to be scheduled.
The greatest degree of functionality is provided in the "Premium" and "Enterprise" subscriptions. "Premium" is available for 15-100 users, whereas "Enterprise" starts from 20 users. In the former, you'll get access to unlimited projects, 20 project templates, 100 GB of file storage, as well as a free live training session with a Zoho Projects coach. Upgrading from one package to another is made fairly easy.
Subscription prices are per user per month, calculated either monthly or annually. As might be expected, if paid yearly, a small discount is applied.
Free
Standard (12 months)
Standard
Express (12 Monate)
Express
Premium (12 months)
Premium
Enterprise (12 months)
Enterprise
Base Price per Month
$0.00
from $15.00
from $18.00
from $36.00
from $48.00
from $60.00
from $75.00
from $100.00
from $120.00
Price per User
$0.00
from $2.50
from $3.00
from $3.00
from $4.00
from $4.00
from $5.00
from $5.00
from $6.00
Contract Period (Months)
0
12
1
12
1
12
1
12
1
Limits
Number of Users
3
10
10
50
50
100
100
unlimited
unlimited
Number of Projects
2
10
10
unlimited
unlimited
unlimited
unlimited
unlimited
unlimited
Number of Tasks
-
-
-
-
-
-
-
-
-
Anzahl Automatisierungen
-
-
-
-
-
-
-
-
-
Views
Liste
Table
Kanban
Galerie
Kalendar
Zeitleiste
Gantt
Mindmap
Workload
Karte
Tasks
Benutzerdefinierte Felder
Conclusion
Configuration & Usage
9.4 / 10
Features und Anpassungsmöglichkeiten
9.4 / 10
Zoho Projects offers a full project management tool at a very competitive price. The software impresses, in particular, thanks to its well-thought-out user interface and practical features. In addition to different types of charts and diagrams, Zoho Projects also offers a range of communication tools that greatly facilitate teamwork and collaboration.
Project assignments, events, documents, and milestones are displayed neatly, with the browser-based notification system essentially removing the need for internal emails. With all of that said, the absence of an integration for email providers is unfortunate.
Zoho Projects' Free Plan and Standard subscription aren't really designed for intricate projects with high requirements, owing to their reduced functionality, but will surely serve their purpose for smaller or medium-sized organizations.
Unfortunately, there are some negatives to Zoho Projects. The mobile app doesn't have the same functionality as the web/desktop version, lacking both a calendar and chat. A far bigger problem, however, is the veritable absence of support, which we couldn't get in touch with either by the form (didn't send after completion and submission), email address (no answer as of the time of writing), or live chat (unable to find). However good a tool or piece of software might be, offering users no way to solve issues or problems they might encounter (apart from a very active forum) is not exactly a sign of quality in our minds.
Communication with chat, forums & feed
8.2

good
Zoho Free
$0.00
monthly price
Visit Website*
User Reviews
Zoho Projects enjoys a good reputation amongst its users, as can be seen from the reviews we've collected for you below:
Customer Ratings
20,493 Bewertungen
Visit Website*
We analyzed the reviews and ratings from various portals and found 20,493 ratings with an overall rating of 4.1 out of 5 .
Alternatives
In the event that after reading all of this, Zoho Projects doesn't seem like the right fit for you or your organization, you might have more luck with some of the alternatives we've listed below:
MeisterTask Project Management
Offers free starter version
Intuitive and easy to use
Apps for Windows and macOS
9.4

excellent
MeisterTask Basic
$0.00
monthly price
Visit Website*
Offers free starter version
Comparatively high priced
9.2

excellent
Wrike Free
$0.00
monthly price
Visit Website*
Basecamp Project Management
Basecamp Standard
monthly price
Visit Website*
Optimized for software development
Very affordable for small teams
9.2

excellent
Atlassian Free
$0.00
monthly price
Visit Website*
Trello Project Management
Trello Free
$0.00
monthly price
Visit Website*
* Ad disclaimer:
For links marked with an asterisk, EXPERTE.com may earn a commission from the provider. The commission has no influence on our editorial rating.

Manuela Lenz is a trained IT specialist and worked for 20 years as a system administrator and project manager for large companies. Since 2017, the IT specialist has been a passionate IT-author. For EXPERTE.com she writes about project management, software and IT security.
Continue Reading
Other languages
Deutsch