Project Management Software Review: Atlassian Jira

Ad disclaimer:
For links on this page, EXPERTE.com may earn a commission from the provider. This supports our work and has no influence on our editorial rating.
Jira (from the Japanese "Gojira" or "Godzilla") is a project management tool marketed by Atlassian*, an Australian software company. Originally developed as a bug-tracker, Jira has gone on to become a highly effective solution for all sorts of applications in the world of business. Jira relies on the structured and transparent compilation of information, offering integrated release management and numerous reporting options both of which provide users with a high degree of control.

Following a complete overhaul in 2018, the developers added roadmaps and individual boards to the version now available, allowing for work processes, fields, and issue types to be better matched to individual needs and requirements.
We evaluated Atlassian Jira to see which features the software offers, and how it stacks up against its competitors.
Hosting Options
Two different hosting options are available for Jira:
If using cloud hosting, your interface is built in the developer's software cloud. With this method, you won't have to fuss over the technical minutiae associated with hosting. This option is best suited for teams that want to quickly get to work.

Alternatively, you can

host Jira yourself

, selecting between

servers

or

data centers

. By installing

Jira's software server

on your own hardware, you'll be able to configure the service and manage a wide variety of details. If you'd like to have seamless entry and scalable performance, Jira's Software Data Center is definitely the right option for you. When using this option, you can host the software either on your own hardware or with an IaaS provider (such as

AWS

or

Azure

).
Versions
Atlassian Jira is offered in three different versions, each of which is intended to appeal to a specific target group. These are:
Jira Core for teams that want to jointly collaborate on issues or projects.

Jira-Software

, which is similar in functionality to

Jira Core

, but also offers additional features for agile project management.

Jira Service-Desk, which is intended for teams that want to handle issues or questions from other teams or clients. This version of Jira was specially designed for end-users to give them the possibility to send tickets to a help desk.
Review
Configuration & Usage
9.4 / 10
Features & Customizability
9.4 / 10
Unified workflows with clearly-defined areas of responsibility

Structured gathering of information

Real-time overview of project progress

Extensive reporting features

Task assignment and distribution to team members in dedicated work packages

Activity is always transparent and visible

Documents can be submitted together with tasks

Reduced processing and reaction times

Multi-regional team collaboration possible

Adjustable to all target groups

Can be enhanced with add-ons
Team members cannot remove themselves from a project board or unsubscribe from email lists

Some features are very complicated
Thanks to the numerous pre-configured templates for IT and customer service, manifold automation options, and extensive recommendations for business processes as well as integrated email support, Atlassian Jira is ready to use right out of the box.
During testing, we registered for a free trial in the software cloud and created a simple Jira project including a workflow.
Create a Project and Select a Template
To create a new project, click on the start page symbol and select "Projects" from the menu.

In the upper right, click on the "Create a Project" button, and select from one of two project templates:
Classic projects are managed by the Jira administrator and offer the flexibility and customizability options that the tool was originally conceptualized for. In addition to Kanban and Scrum, this includes bug-tracking, which is ideal for smaller teams that want to work without a board and document their tasks in list form.

Next-generation projects can be recognized by their simplified user-interface, which makes it possible to quickly set up and configure them.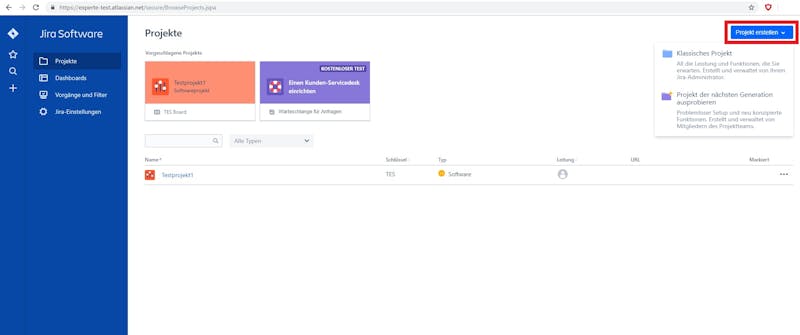 During testing, we opted for a classic project. Next, simply give the new project a name, and when done, click on "Create".
Create a Board
You can quickly stay on top of different projects and their progress through Jira's boards, compiling reports if desired. Jira offers three kinds of boards, the use of which depends upon the project template you select.
The Scrum board includes a backlog and is designed with teams in mind who want to complete their work in the form of 'sprints'.

The Kanban board is perfectly suited for teams that want to manage ongoing tasks and also contains a backlog.

Teams that are new to the world of agile project management are perhaps best advised to use the Next Generation board. This is relatively easy to set up, configure, and if need be, modify.
To create a board, click on your Jira project and select "Create a Board" from the drop-down menu.

Next, select whether you'd like to create a Scrum or Kanban board. During testing, we opted for the former.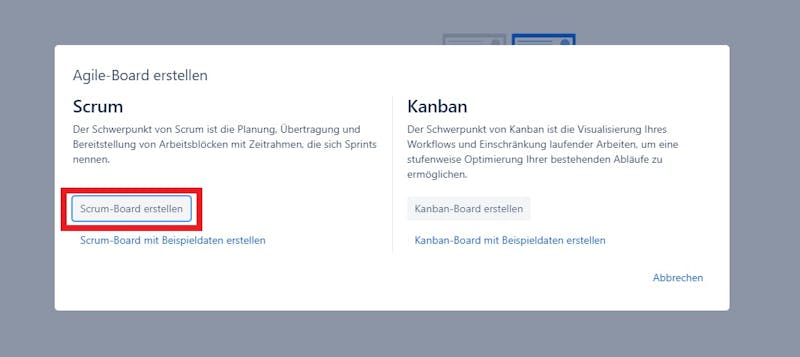 In the next step, you'll need to decide whether the board is for a new project or an already existing one. Since we already created our EXPERTE.com test project in the previous step, we selected the second option.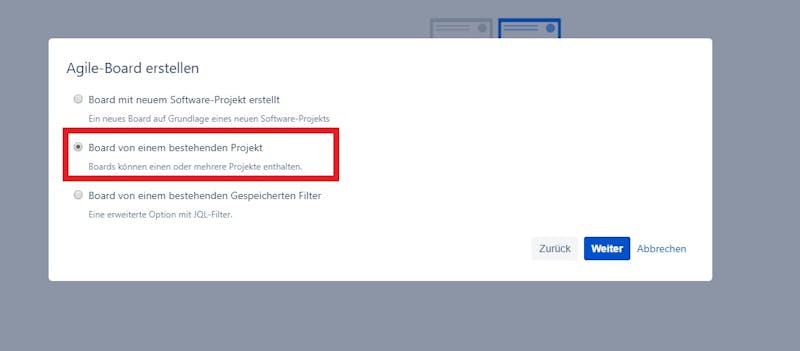 Now, give your new board a name, and click on "Create Board". After this, you can fill the new board with content.
Click on "Active Sprints" on the left side of the menu (if using a Kanban board, select "Kanban Board"). Next, click on the three dots in the upper right and select "Board Settings".

For our test, we wanted to display a relevant column for our team during each process step. To do this, navigate to "Columns" in the settings menu of the board, clicking on it to open the column management window.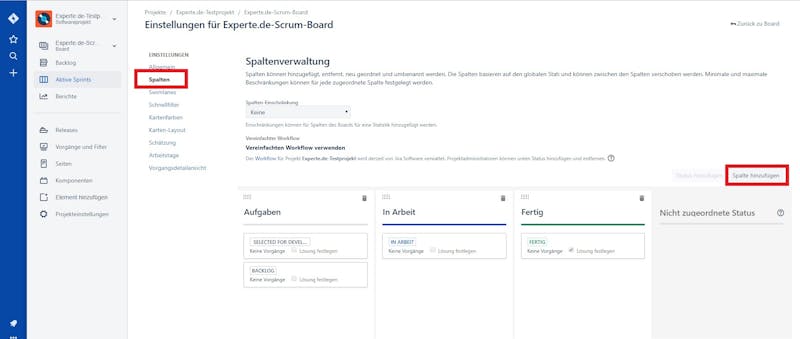 To add a new column, click on "Add Column".

Good to Know:
It's possible to display up to 5,000 issues at once on a Jira board. If trying to list more than 5,000 datasets, you'll receive an error message asking you to update your filter settings.
Create a Process
Each Jira project is made up of processes, which include bugs, features in the developmental phase, or stories. When using Scrum or Kanban boards, Jira includes suitable features for each.
To assign the backlog of a task to a scrum team, select "Backlog" from the project menu, and click on "Create a Sprint".

If in a Kanban team, click on the board and select the "+" symbol from the superordinate menu. The process will now be entered in the "Backlog" column.

Assemble Your Team
In the previous steps, we created a project and filled the accompanying board with assignments, now it's time to gather the troops. To start adding team members to your Jira workspace, you'll need to click on "Project Settings" and select "People".

Now, click on the "People" button in the upper right to add team members by entering their email addresses. Select a desired role for the user, and confirm your choices by clicking on "Add". This person will now be added to a list and receive an invitation for the relevant project.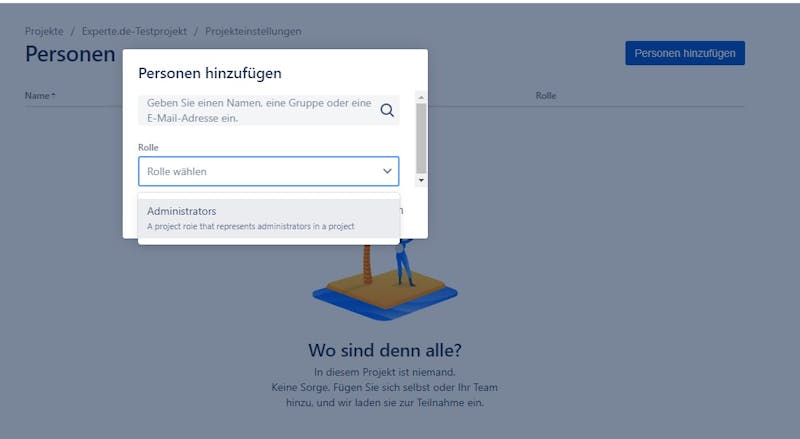 Setup a Workflow
The setup of your first Jira project is now complete and you can start creating a workflow.
In a Scrum project, you can start this with a sprint, whereas in Kanban you'll track the tasks directly through the board. To do this, depending on your progress, you'll be able to monitor all elements and move them from one column to the next with your mouse.
Ease of Use
Atlassian Jira's neatly arranged dashboard makes working with the software highly intuitive. Even beginners can get the hang of things in no time flat. During testing, we liked how we were able to easily direct and monitor multiple projects concurrently, jumping effortlessly between boards with little more than a mouse-click. All important features can be accessed through the menu bar in the "blue" area, making it possible to easily and quickly change your profile settings, view subscription receipts, or install features and add-ons from the Atlassian Marketplace.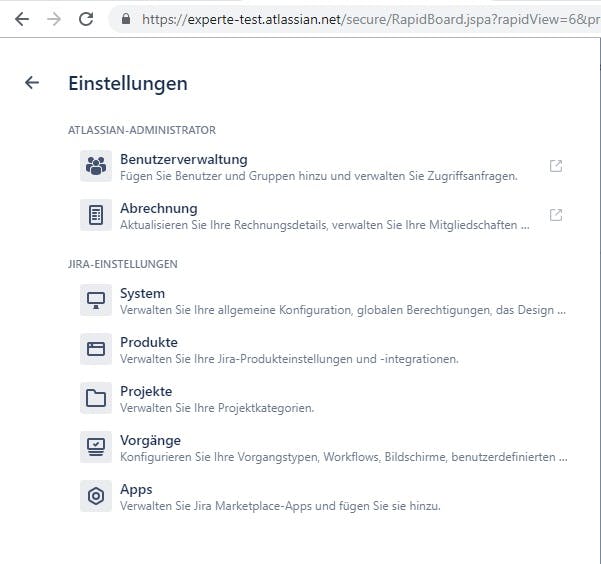 While testing Jira in Google Chrome, Mozilla Firefox, and Microsoft Edge, we couldn't ascertain any differences or limitations in performance. So far as we're concerned, the only thing missing is the ability for team members to de-register from a project or subscription list, but that's not much to complain about.
Score: 4.7 / 5
3.
Features & Customizability
Jira offers pretty much everything to be expected from an agile project management tool, impressing as a result of its flexibility and customizability. Alongside the aforementioned Scrum and Kanban boards, roadmaps are offered in the newest version. These aid in developing software projects by helping to sketch them in their entirety and better communicate with stakeholders. In addition, agile reporting functions are included, useful in keeping your team up to date.
In addition, Jira also offers these important features:
Using the Jira Query Language (JQL), you can create your own filters, to be used for saving searches for later use, and compiling results into a report, or unlimited user-defined fields, to fine-tune workflows to your personal needs and requirements.

Integrated importing/exporting makes it possible to import files from other systems, such as Asana or Bitbucket. With these, you can use CSV or JSON data from your preferred building, versioning, or feature-flagging tool in Jira, keeping tabs on development. You can also reverse this process and export Jira data as a CSV file, for analysis in Excel.

Jira's software development kit (SDK) provides an application programming interface (API) which your team or third-party applications can use to integrate any and all services you might require.
Score: 4.7 / 5
With the release of Version 8.0, Atlassian introduced a new, faster engine for Jira Server and Data Center that was specifically designed for scaling, noticeably boosting productivity. In addition, all underlying components were overhauled in part, or their entirety, yielding a well-performing and powerful system, which can be fit to match organizational development, without succumbing to "administrative overhead".
According to the developers, Jira 8 provides search results up to 31% quicker than its previous version (7.6), with data-based queries, performed 70% faster.
To test these claims, we ran both versions of the program (Jira 8 and Jira 7.6) and were able to determine that backlogs and boards in the newer version indeed do load much faster (in some cases, twice as fast) than in 7.6. Loading large boards with more than 10,000 issues is said to occur 21 times quicker. Unfortunately, we only had access to a medium-sized board with around 1,000 processes, so we couldn't verify this claim.
Score: 4.7 / 5
Good to Know:
The number of custom fields rather than the number of processes determines Jira's performance. Fields for freely-entering text hog the most resources, whereby the multi-select custom field, has the least impact on performance.
Atlassian doesn't take security for granted and has gone to some lengths to integrate a number of mechanisms into its infrastructure, processes, and products that underline this. These include complete encryption of all data transfers between the application and users, preventing manipulation and unauthorized access. A number of services within the tool use Transport Layer Security (TLS) 1.2+ with Perfect Forward Secrecy (PFS) for transfers over public Internet connections. In addition to the presence of TLS, the use of strong and lengthy keys is also provided, so long as your browser can support them.
Content that is stored in the Jira Cloud is not encrypted in this manner, relying instead on AWS (guaranteed 128-Bit Advanced Encryption Standard (AES)).
Atlassian also supports the Bug Bounty program, which is an initiative for identifying, fixing, and publicizing software and program weaknesses. The company practices exploit management and conducts internal, external, and penetration tests. Rounding out their commitment to security, Atlassian makes the entire program code, as well as accompanying documentation available to its testers.
Score: 5 / 5
Like most of its competitors, Altassian took the hint and has developed mobile versions of its software starting from Jira 8, providing optimized usage on the go. These allow users to indicate, monitor, weigh-in on problems, or add comments. As of the time of writing, Jira Cloud Mobile is available for iOS and Android.
During testing, we installed the app on a Samsung Galaxy S9 running Android 9. We attempted to access data from our (desktop-based) project, and are pleased to report that everything functioned as it should. We were even able to view previously-solved problems and leave comments on them. There were some issues in terms of performance (since we were using mobile data), so we switched over to fiber-optic WiFi. Once we made this change, the performance issues disappeared entirely.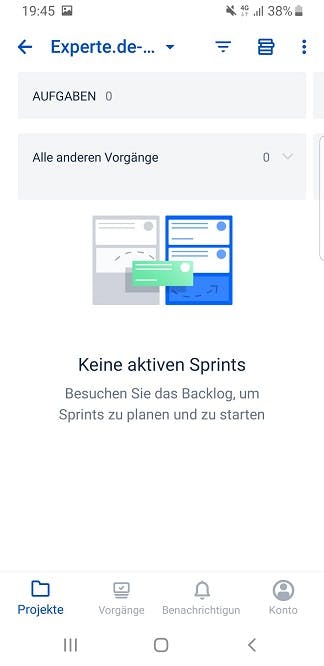 Should you want to access your Jira server on the go, you can do so through its URL. After entering it into your mobile device's web browser, you'll be able to access an optimized user interface. You can deactivate the mobile display and switch back to desktop view at any time.
Score: 4 / 5
Please Note:
User-defined fields created with your own renderer won't be displayed in the mobile app's interface. To view these fields, you'll need to switch to the desktop view.
Atlassian offers customers a wide variety of different support services.
Each Atlassian license includes select support, which guarantees that a support staffer will handle your issue during your hours of operation.
Premium Support for Jira Cloud provides faster response times for queries regarding all Atlassian Access products.

Premium Support for Jira Server ensures that business-critical applications are successfully scaled.

Premier Support, the highest level of support, provides you with access to a team of experienced support technicians around the clock and guarantees responses within 30 minutes.
The table below shows the different tiers of support in greater detail: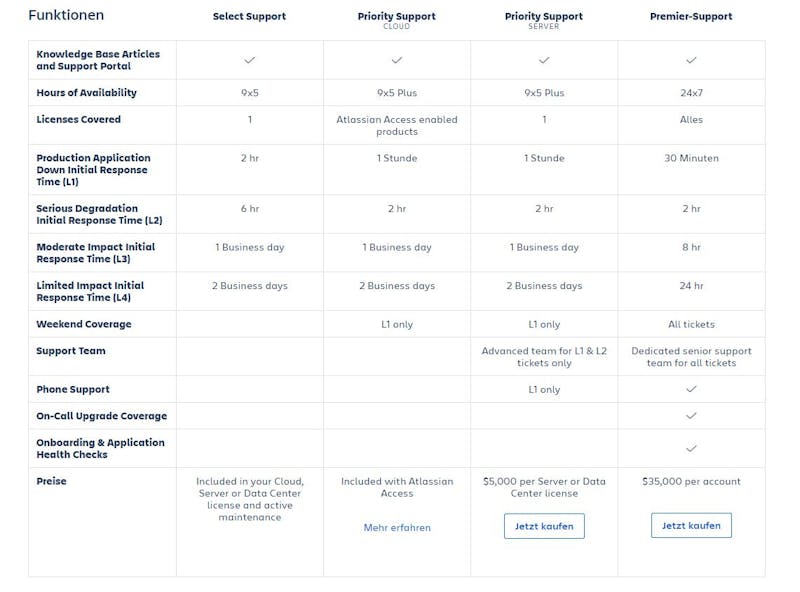 The account we created for testing included standard support, which provides a contact form for posing questions. We were satisfied with how our queries were handled, receiving a competent and helpful answer within around a day.
Score: 4.7 / 5
Owing to its higher security standards and power, Atlassian Jira is somewhat more expensive than its competitors. However, in our opinion, the prices are fair considering what is offered.
Atlassian uses two pricing models: For Cloud users, the monthly fee depends on the size of your team, whereas for those with self-hosted servers, you'll need to pay a one-time license fee. Here again, the price depends on the number of users.
Free
Standard
Premium
Base Price per Month
$0.00
from $7.00
from $14.00
Price per User
$0.00
from $7.00
from $14.00
Contract Period (Months)
0
1
1
Limits
Number of Users
10
10,000
10,000
Number of Projects
unlimited
unlimited
unlimited
Number of Tasks
-
-
-
Anzahl Automatisierungen
-
-
-
Views
Liste
Table
Kanban
Galerie
Kalendar
Zeitleiste
Gantt
Mindmap
Workload
Karte
Tasks
Benutzerdefinierte Felder
The cloud version of Atlassian Jira can be tested for seven days for free, while you can put the self-hosting version through the ringer for 30 days.
Good to Know:
Jira licenses are offered to allow users to see the source code. This makes the software a particularly interesting option for developers.
Conclusion
Configuration & Usage
9.4 / 10
Features & Customizability
9.4 / 10
Atlassian Jira's digital workflows make everyday business activity more transparent and efficient. Projects are easier to organize since the boards constantly keep all team members in the loop about their current tasks and responsibilities. The three options (Jira Core, Jira Software, and Jira Service Desk) offer each target audience ideal solutions for completing their tasks.
Jira is directed first and foremost at businesses and enterprises, however, considering how scalable the software is, and the specially developed tools it possesses, it's worth a look for smaller organizations as well. A wide range of IT and service desk templates, as well as automation guidelines, make getting started easy. We particularly liked how flexible the software was: Fields, workflows, and features can be individually modified, or expanded. As a result, Atlassian Jira can be optimized based on your individual needs and requirements.
The ability to handle or track issues on the go is particularly nifty, and the mobile app worked like a charm. Even in terms of pricing, we felt that considering what is provided, the amounts charged are more than fair.
Our only point of criticism regarding the service was its somewhat intricate and complex configuration, but that's really just a minor issue.
Optimized for software development
Very affordable for small teams
9.2

excellent
Atlassian Free
$0.00
monthly price
Visit Website*
User Reviews
But maybe you want a second, or third opinion? Sure! As can be seen from the ratings we've collected for you below, Atlassian Jira's users are thoroughly impressed with the service:
Customer Ratings
60,850 Bewertungen
Visit Website*
We analyzed the reviews and ratings from various portals and found 60,850 ratings with an overall rating of 4.5 out of 5 .
Alternatives
If Atlassian Jira is too detailed or expensive for the project(s) you have in mind, you might want to consider a freemium solution. Of course, you'll need to make do without some features here and there, but the reduced overhead will likely make up for this. For some alternatives, check out the links below:
MeisterTask Project Management
Offers free starter version
Intuitive and easy to use
Apps for Windows and macOS
9.4

excellent
MeisterTask Basic
$0.00
monthly price
Visit Website*
Offers free starter version
Comparatively high priced
9.2

excellent
Wrike Free
$0.00
monthly price
Visit Website*
Basecamp Project Management
Basecamp Standard
monthly price
Visit Website*
Trello Project Management
Trello Free
$0.00
monthly price
Visit Website*
monday Project Management
monday Free
$0.00
monthly price
Visit Website*
Try for Free
* Ad disclaimer:
For links marked with an asterisk, EXPERTE.com may earn a commission from the provider. The commission has no influence on our editorial rating.

Manuela Lenz is a trained IT specialist and worked for 20 years as a system administrator and project manager for large companies. Since 2017, the IT specialist has been a passionate IT-author. For EXPERTE.com she writes about project management, software and IT security.
Continue Reading
Other languages
Deutsch