Language Learning App Review: Rosetta Stone

At the British Museum in London, masses of people can be found, nearly every day, gathered around a large glass enclosure containing a dark-colored stone. The Rosetta Stone, containing decrees written concurrently in two different languages and three scripts, has allowed archaeologists and historians to decipher Ancient Egyptian texts and better understand the world of Antiquity since it was discovered by Napoleon's troops at the end of the 18th Century while campaigning in Egypt. A few years later, the British captured the stone from the French, and (cleverly) took it to London, where it has stayed for more than 200 years.
Nowadays, when you type Rosetta Stone in Google, the first hit will be to a language-learning platform, while only the second link leads to the namesake's Wikipedia page.

What Is Rosetta Stone?
Rosetta Stone ⇱ is a brand of language-learning software that was developed in the early 90s. Despite undergoing several changes, its purpose has remained the same: Dynamic Immersion, or enveloping users in the target language with as little 'translation' as possible, encouraging them to think, act, and react entirely in the language they are learning. As such, Rosetta Stone differs significantly from its competitors, which focus more on repetition and boosting competence through forming long-term memories. In this review, we'll explore whether the paid program can go head-to-head with newer platforms available on the market, or, whether it, like its namesake, belongs in a museum.
Review
Language Selection
8.6 / 10
Completely immersive approach to learning languages

High-quality applications
Requires frustratingly difficult language recordings

Slow progress and monotonous tasks
As we'll explore in greater detail below, you're going to pay more for Rosetta Stone than any of the other solutions we've reviewed. With that said, Rosetta Stone is a premium product, and you'll notice this from the first moment you log in to the interface. You won't have to deal with tons of gamification either, since motivation comes from paying for the course(s).
Your colorful learning journey starts by selecting a course from the list of available languages.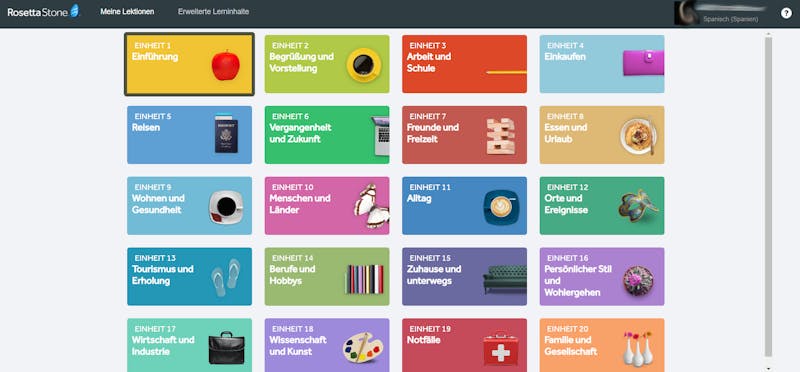 Each unit contains a number of different lessons, grouped into a main lesson with pronunciation, vocabulary, and grammar subsections. Lesson plans are well-thought-out and conceptualized, meaning that those who like structured learning will feel right at home.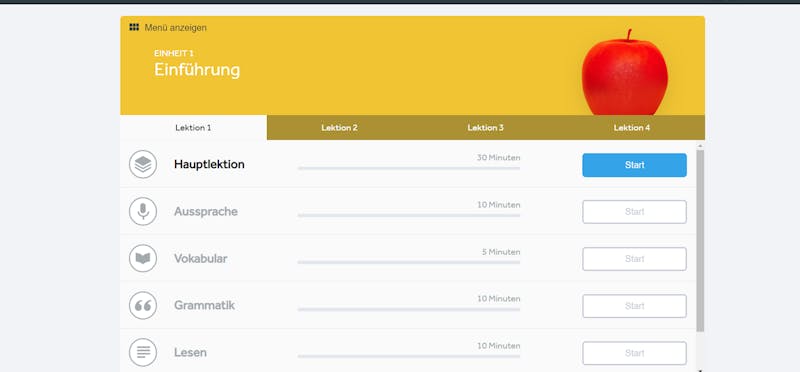 In the navigation bar, you'll find a link to "Extended Learning". Here, you can see how the platform understands the need for fun in its "Play" or "Talk" areas, which have minigames that you can complete alone, or with a partner. There's also the "Stories" feature, where you can read different stories, either on your own or with narration. You can record your voice when reading the stories, and compare it with that of the narrator.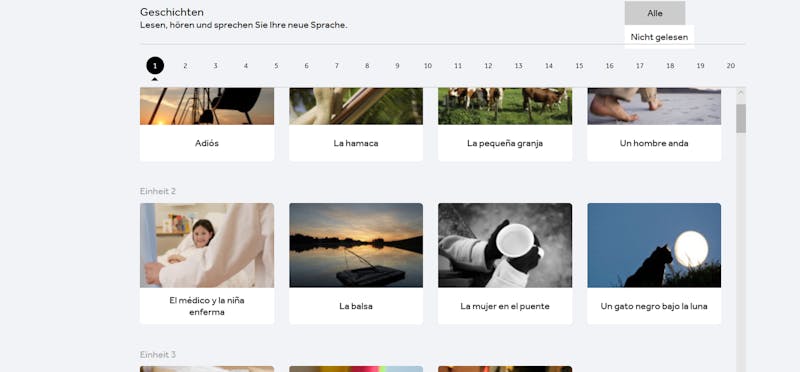 Since Rosetta Stone doesn't overwhelm users with dozens of menu options or buttons, the mobile version is uncomplicated and easy to use. Here, you'll find everything from the browser app, albeit in slightly modified form. Your progress is constantly synced so that you won't need to repeat lessons in one after you've completed them in the other, and can even finish a lesson you've begun elsewhere. Similarly, you can download all lessons so that you'll be able to use them when you're offline.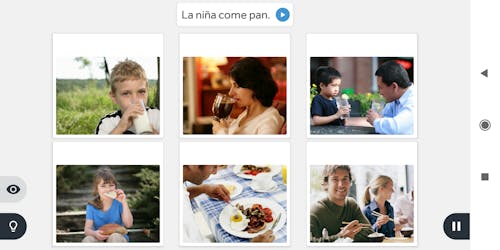 Rosetta Stone's applications are of high quality and visually appealing, even if the user interface has a few (minor) lapses here and there. For example, lessons could proceed a bit faster, since, in some cases, such as when you know all the answers, you'll need to wait for the program to catch up. It should be possible to skip over lessons without them being marked as incomplete.
We also had some issues recording ourselves. Sometimes, our voice wasn't recognized, and other times, even after recording the correct answer, we were asked to record again. In this area, Rosetta Stone is much stricter than its competitors, but understandably so, since practicing pronunciation on your own won't get you far in building up practice. At the same time, you don't receive feedback on how to improve your pronunciation, so, all of the rigor seems to be wasted.
Score: 4.3 / 5
If learning in English, you can select from 22 target languages. Alongside popular Indo-European languages, you can also select from Arabic, Japanese, or Chinese (Mandarin).
| Language of Instruction | Target Language |
| --- | --- |
| | Spanish (Latin America), French, Italian, German, Arabic, Chinese (Mandarin), Dutch, Filipino (Tagalog), Greek, Hebrew, Hindi, Irish, Japanese, Korean, Persian (Farsi), Polish, Portuguese (Brazil), Russian, Spanish (Spain), Swedish, Turkish, Vietnamese |
Who Is Rosetta Stone Designed For?
Like most online language-learning platforms, Rosetta Stone is marketed towards beginners. In the past, the company offered courses for advanced learners, and even placement tests up to the Common European Framework of Reference (CEFR) level of C1, or Effective Operational Proficiency (EOP). However, as of the time of writing, it's only possible to purchase the complete package, and it isn't clear why advanced courses were removed. This has the unfortunate consequence that advanced learners, perhaps those with B1 (Pre-Intermediate) or B2 (Intermediate) will have to click through exercises until they reach those that match their level of difficulty. With that said, users with such a degree of knowledge probably won't use Rosetta Stone in the first place to enhance their skills.
Score: 4.3 / 5
4.
How Do You Learn in Rosetta Stone?
Rosetta Stone refers to its language-learning approach as "dynamic immersion". Concretely, this means that users should learn with as many of their senses as possible, through their eyes and ears. Of course, this is precisely what happens in other language-learning platforms (you can't really 'smell', 'touch', or 'taste' a language). But, in contrast to many other language-learning platforms and apps, Rosetta Stone doesn't prompt its users to complete simple translation tasks (either from the target language into the language of instruction, or vice versa), but rather, interacts with students only in the target language from their first usage.
When starting out, you'll learn your first words of a new language with the aid of pictures. As your knowledge grows, you'll be able to exclude incorrect solutions through the process of elimination. For example, if you've learned the words "boy" and "eat" in a particular language, Rosetta Stone can teach adjectives ("tall", "short"), adverbs ("quickly", "slowly"), rooms ("kitchen", "living room"), foods ("sandwich", "apple") or a whole variety of other new vocabulary.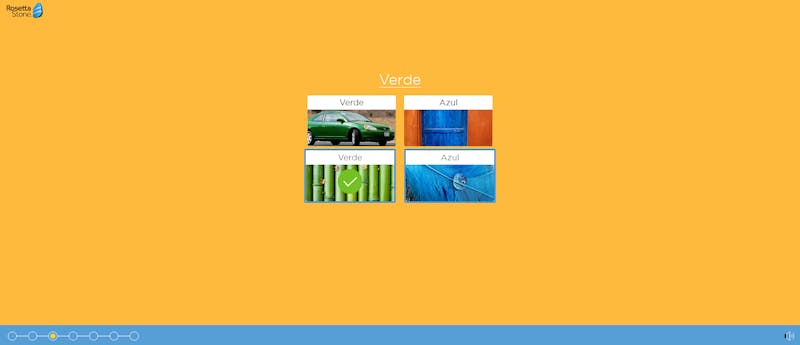 Each lesson is comprised of different components. In the main lesson, all concepts are addressed, whereas, in each subsection, you'll explore a particular aspect such as pronunciation, grammar, vocabulary, reading, writing, or listening, in greater detail. Not all of the various sub-lessons appear in each lesson, however.
Pronunciation
For pronunciation exercises, Rosetta Stone will read syllables, words, or phrases which you'll need to repeat into your microphone. The program then compares your recording to the original, displaying either a full green circle (positive) or, a less than half-full circle (you'll need to repeat the exercise). For this, Rosetta Stone uses TruAccent, a piece of language identification software that claims to be able to more accurately ascertain accents than any other option available. We have some doubts about this, since, during testing, we often had to repeat our entries even when they sounded exactly like those played in the example. Similarly, it's annoying to enable the microphone each time a pronunciation question is asked.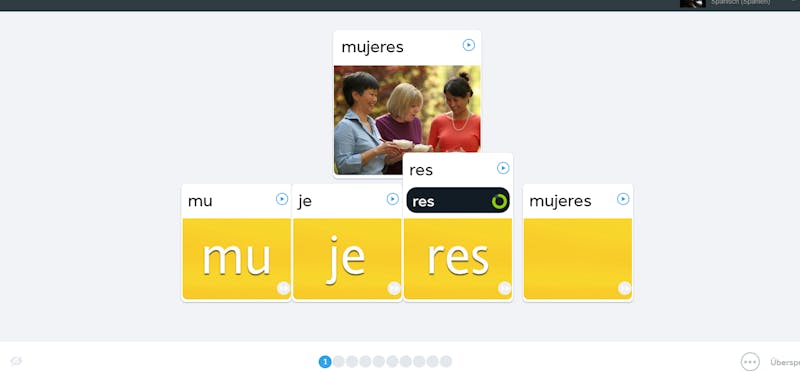 Grammar
For probably the least favorite aspect of learning a foreign language (grammar) Rosetta Stone doesn't stray too much from its competitors in relegating this to a place of lesser importance. You'll receive standard explanations for grammar when doing exercises from these subsections, albeit, in the target language, rather than the language of instruction, which doesn't seem to be the best approach.
We would have liked more effort in this area, particularly, for grammar to be explained in the language of instruction. After all, since most of the menus are in the language of instruction anyways, it doesn't seem like a significant departure to explain grammar in it as well. Similarly, it's unreasonable to expect someone with an extremely limited vocabulary (say 100-500 words) of a foreign language to be able to understand complex grammatical theories in that language.
Vocabulary
For vocabulary activities, you'll need to assign words or phrases that the program provides to pictures. In this context-based manner, you'll learn vocabulary and sentences. There is some risk of not knowing or learning the content, and just 'luckily' clicking on the right image by chance.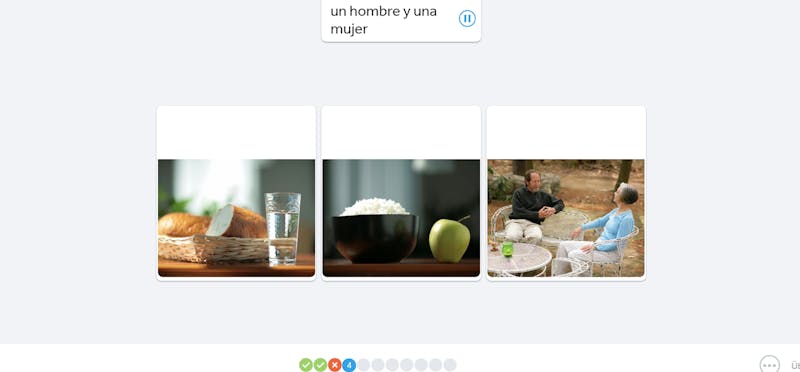 Reading
When completing reading exercises, Rosetta Stone will test how well you understand sentences and phrases in the target language. For example, you'll need to select the phrase that best applies to, or matches, a particular picture. The platform could enhance its capabilities (and add some variety) by including comprehension questions here to gauge how well users understand a topic or text, but unfortunately, this feature doesn't exist.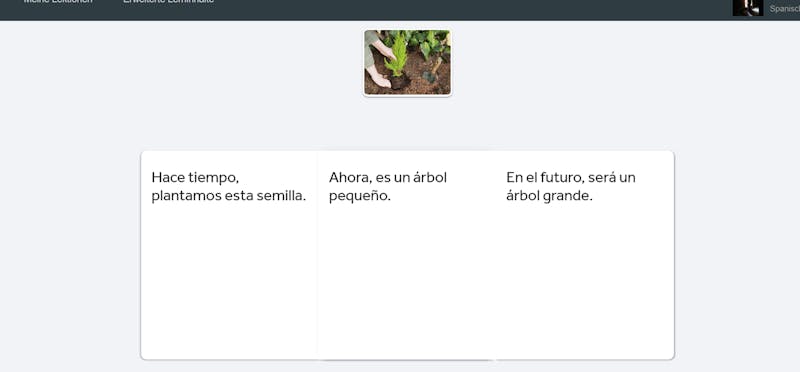 Listening Comprehension
Listening activities are similar to the reading exercises, except that instead of attaching the text to the correct picture, you'll have to select which picture belongs to which recording.
Writing
You'll (only) need to use your keyboard for the writing tasks. In these, you'll have to type words (and later sentences) in empty spaces. In contrast to most other online language courses, Rosetta Stone doesn't have any tolerance for missing accent marks or misspellings.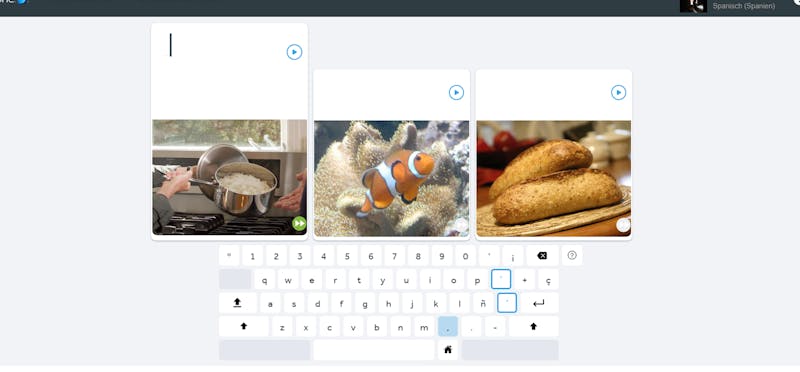 Live Tutors
Depending on which subscription you've booked, Rosetta Stone makes regular 25-minute live tutoring sessions available. In these, you'll be able to test your knowledge and show off what you've learned, along with a few other students. You'll be able to speak with real teachers, other students, and have something like a 'classroom' atmosphere. Since pronunciation and creativity are not the strong suits of language-learning apps, this is a very nice (albeit, not free) feature.
Overall, we have mixed feelings about Rosetta Stone's language-learning methodology and approach. On the one hand, the audio-visual content is good, of high-quality, and allows students to learn a language without going back and forth between the language of instruction and the target language. Even though it sounds scary or challenging, the results can be very impressive and surprising.
At the same time, we found the exercises to be monotonous and repetitive after a while, and "dynamic immersion" to create more problems than it solved. This is most apparent in terms of grammar, which, cannot really be explained to a beginner in the target language given their inadequate vocabulary. Typically, 'full immersion' in the classroom is only advised from the B1 or B2 levels for precisely this reason. The result of these is that progress becomes more and more difficult to notice, deflating motivation.
Score: 3.3 / 5
5.
What We Liked About Rosetta Stone
Immersion cuts both ways for Rosetta Stone; its audio and visual resources are well-made, high-quality, and helpful, providing beginners with a nice variety of vocabulary and grammar to start out. In addition, learning new words or phrases through deduction better anchors them in long-term memory than rote learning does.
The platform itself is also visually appealing and well-designed. This means that students won't have to click back and forth between exercises to find the answers that they need, or grammatical explanations, with the end result that students actually feel like they're using a premium product.
The selection of languages to choose from is excellent and includes both common as well as more exotic tongues. Beyond that, the live tutoring sessions with real teachers are a nice touch that really mixes things up when learning.
6.
What We Didn't Like About Rosetta Stone
If you read carefully in the last section, we noted that Rosetta Stone feels like a premium product, and this is not only because of its quality, but also its price. In comparison to other language-learning platforms and apps that we looked at, Rosetta Stone is definitely at the far end of the price scale. Considering that the underlying methodology that the platform employs isn't without issue, the question arises as to whether you want to pay for a good service that has some noticeable deficits.
In this regard, it's hard to justify the nearly complete exclusion of grammatical explanations, even in the target language. As any language teacher worth their salt will tell you, grammar may be disliked, but it is essential to gaining practical and actual fluency in a foreign language. For that same reason, language classes aren't taught with dictionaries, but with coursebooks. Compounding this, the exercises that the platform provides for language learning are repetitive and monotonous.
Finally, we also were disappointed that an SRS-based vocabulary trainer wasn't integrated into Rosetta Stone. Something along these lines would test students' vocabulary knowledge at regular intervals, and allow them to check up on words they hadn't yet cemented into their long-term memories with an interactive dictionary of some sort.
Rosetta Stone should be seen as an investment. Even its cheapest subscription, without live tutoring sessions and for two years is more expensive than most other premium programs offered by language-learning apps. Should you include tutors and opt for a shorter contract, the price rises considerably. For that reason, Rosetta Stone seems to be targeted at dedicated learners for whom financial costs are of secondary importance.
Somewhat confusingly, the service's mobile apps have different prices in the Apple and Google Stores. According to a support staffer, this is because each price is set per country and includes (or doesn't include) specific features. On the service's website, prices only differ in terms of the length of the contract and whether you want to book live tutoring sessions or not.
You can find a current list of Rosetta Stone's prices below:
Lifetime
12 months
3 months
Set-up Fee
$179.00
$0.00
$0.00
Price per Month
$7.46
$7.99
$11.99
Contract Period (Months)
0
12
3
Languages
Source Languages

Chinese

German

English

French

Italian

Korean

Japanese

Persian

Philippine

Polish

Portuguese

Spanish

Chinese

German

English

French

Italian

Korean

Japanese

Persian

Philippine

Polish

Portuguese

Spanish

Chinese

German

English

French

Italian

Korean

Japanese

Persian

Philippine

Polish

Portuguese

Spanish

Languages

Arabic

Chinese

German

English

French

Greek

Hebrew

Hindi

Dutch

Irish

Italian

Korean

Japanese

Persian

Philippine

Polish

Portuguese

Russian

Swedish

Spanish

Turkish

Vietnamese

Arabic

Chinese

German

English

French

Greek

Hebrew

Hindi

Dutch

Irish

Italian

Korean

Japanese

Persian

Philippine

Polish

Portuguese

Russian

Swedish

Spanish

Turkish

Vietnamese

Arabic

Chinese

German

English

French

Greek

Hebrew

Hindi

Dutch

Irish

Italian

Korean

Japanese

Persian

Philippine

Polish

Portuguese

Russian

Swedish

Spanish

Turkish

Vietnamese

Languages included
unlimited
1
1
Features
Real Teachers
Speaking Practice
Certificates
Offline Use
Business Plans
Conclusion
Language Selection
8.6 / 10
We're certain that Rosetta Stone will 'click' with a number of users; the service has been around for nearly three decades and remains extremely popular, despite being a 'premium' platform. As the old truism holds, people 'vote with their wallets' and if Rosetta Stone wasn't good, the company would have certainly gone under long ago.
Despite lacking in-depth grammar explanations, Rosetta Stone's dynamic immersion still has its advantages, endowing users with confidence in the language they are learning. Of course, this is what language learning is really all about, namely, not being afraid to produce in the target language and/or to communicate with others in that language. Rosetta Stone's somewhat unique approach to this makes it an option worth exploring for anyone looking to acquire competency in a foreign language, and the live tutoring sessions are an especially neat feature.
Unfortunately, Rosetta Stone suffers from a number of drawbacks, all of which we've highlighted above, but will recap here.
The platform is costly, and not just in a financial sense; users need to have a high degree of patience, particularly when doing the pronunciation or writing exercises. A seemingly perfect recording can be adjudged as inadequate with no recourse given but to record it again. Similarly, a misplaced accent mark or misspelling can sink an otherwise flawless sentence.
In our opinion, the lack of grammar explanations, especially in the language of instruction, took away from the value of the platform, since, without grammar, we were basically operating a vocabulary trainer with some bells and whistles tacked on. This wouldn't be so tragic if the exercises were varied, but they were repetitive and swiftly became more of a task and less of an adventure.
Beginners who are ready to pay a premium price for a well-designed immersive platform can definitely take a chance with Rosetta Stone. However, numerous online language-learning platforms exist that are either more well-rounded (i.e. they do a decent job of addressing grammar) and/or cost far less.
Rosetta Stone Language Learning
Source Languages
Languages
Languages included
Rosetta Stone Lifetime
$7.46
monthly price
Visit Website »
30-Day Money Back Guarantee
User Reviews
Customer Ratings
554,468 Bewertungen
Visit Website
We analyzed the reviews and ratings from various portals and found 554,468 ratings with an overall rating of 4.7 out of 5 .
FAQs
Can I use Rosetta Stone offline?
⊖
Yes, at least its mobile versions. In the browser version, you can download individual lessons for completion offline.
Does Rosetta Stone train grammar?
⊖
No, not really. Rosetta Stone focuses on immersing students in the target language, and as such, doesn't address grammar explicitly. There are grammar exercises, however, these are based on deduction and don't really explain the theory behind why an answer is correct or incorrect.
Does Rosetta Stone have special corporate rates?
⊖
Alternatives
individual content per language
vocabulary with spaced repetition
9.0

excellent
Source Languages
Languages
Languages included
Babbel 12 months
$6.95
monthly price
Visit Website »
Try 7 days for free
Duolingo Language Learning
intuitive interface & design
good for building vocabulary
8.6

good
Source Languages
Languages
Languages included
Duolingo Free
$0.00
monthly price
Visit Website »
Lingvist Language Learning
effective flashcard system
uses spaced repetition learning
adapts to your language level
8.2

good
Source Languages
Languages
Languages included
Lingvist Free
$0.00
monthly price
Visit Website »

Martin Gschwentner majored in American Studies and Media Studies in Germany, the USA and France and works as a freelance editor in Paris. He is a doctoral student at the Institute for English and American Studies at the University of Paris Diderot, where he is researching the influence of money on US politics. On EXPERTE.com he writes about IT security, data protection and software for the self-employed and small businesses.

Translator & Editor: D Bare
Continue Reading
Other languages
Deutsch