Language Learning
Language Learning App Review: Mondly
E-learning platforms make a lot of promises, such as language fluency within a matter of weeks through little more than fun and games. As anyone who has learned a language knows though, while vocabulary can be trained in all sorts of entertaining ways, grammar, pronunciation, and production are seemingly endless cycles of trial and error.
As such, language-learning platforms and apps should best be seen as a complement to, but not necessarily the central component of any effort made at acquiring competence in a foreign language. Mondly has sought to stake out a name for itself by emphasizing the areas that other language learning platforms and apps don't address that it does, such as through simulating real interactions with chatbots and conversational exercises. In this review, we'll take a closer look at how successful this approach is.

Mondly is a language-learning app that promises to help its users "start speaking quicker" than with other apps. Along with the typical vocabulary exercises and grammar drills, the platform provides simulated conversational practice that should help users internalize brief dialogues, which they can then tailor to their individual preferences. Our review below assesses whether Mondly's approach pays off or not.
Review
08/2019
satisfactory
Visit Website
Language Selection
4.0 / 5
Wide selection of languages
Gamification helps to motivate users to learn every day
Simulated conversations and dialogues with chatbots strengthen speaking abilities
Same content in each language
Most lessons are behind paywalls
No real vocabulary trainer
You can access Mondly's courses through your browser, or its iOS and Android apps. You won't need to create an account to get started, however, we advise doing so, since this allows for your progress to be synchronized across platforms. This can be done via email, Facebook, or Google.
Mondly visualizes the process of learning a language with dotted lines between modules superimposed upon a blue map of world monuments (just think of how Indiana Jones is shown traveling between destinations). However, unlike a map, you can complete each module in whatever order you like. In addition, there are daily lessons that you can do every 10 hours. These are particularly important for users of the free version, since, only when you visit the app every day, is it possible to complete these exercises, which are required to be able to write the weekly quiz. And it doesn't stop there! Only if you complete all weekly quizzes is it possible to do the monthly challenge. This approach, while perhaps a neat marketing trick, actually does help motivate students to learn something every day, or at least, open the app.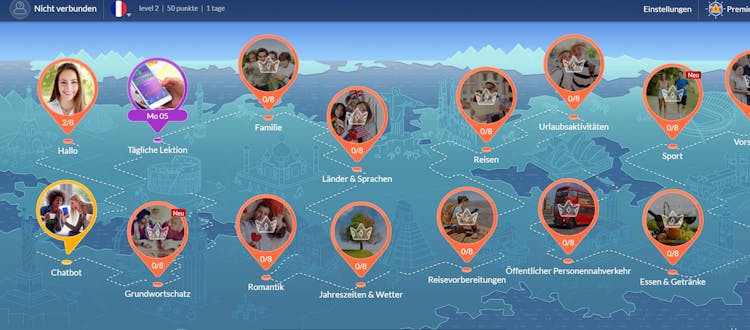 Mondly's highly gamified approach was chosen consciously, with the division of lessons into levels on a world map very reminiscent of games a la Super Mario World. However, in our opinion, the app is a bit too gamified, since a lot of important questions aren't addressed or answered.
For example, in your profile, it's possible to select your language level (beginner, intermediate, or advanced), however, this doesn't really change your daily tasks or the lessons that you're given. As a result, an intermediate or advanced (free) user of French would still have to start with the basics and learn greetings in the unlocked lesson.
Each lesson introduces users to different vocabulary, however, the lessons don't build upon one another, at least in a logical way. It would be more beneficial to users if each lesson increased in difficulty (preparing them for the most difficult lessons). In this way, the entire structure would follow a sort of 'peaks and valleys' pattern.
Instead, Mondly groups lessons into different topics, such as "Grammar 1" and "Grammar 2", without informing users about the exact content of each, their difficulty, or which concepts they'll be working on.
For anyone who likes structured learning, Mondly's game world can be a bit overpowering (or underwhelming).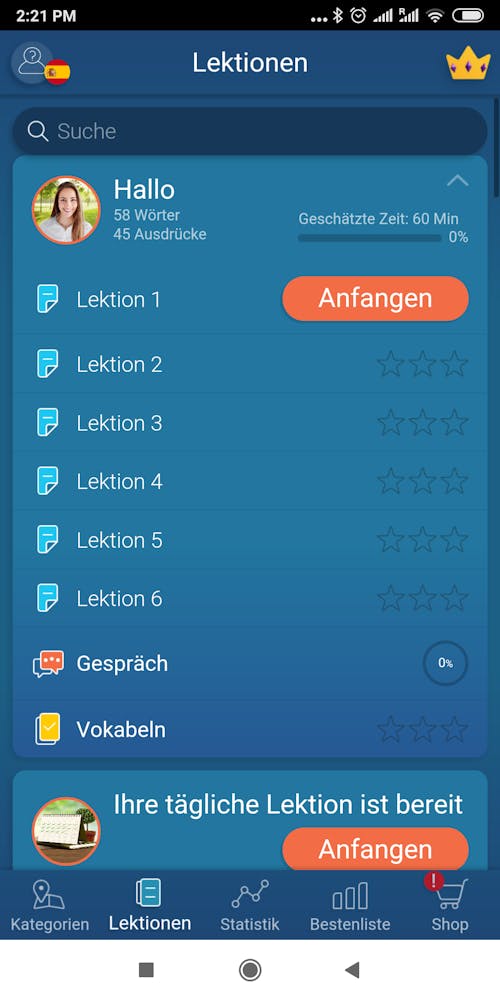 Another issue we noticed, is that the content for each language is the same, regardless of the combination. That means that each first module will be "Hello" and contain the same questions translated for that language. This all-in-one approach which neglects differences between cultures often leads to mistakes and errors, and it didn't take us long to find the first of these when using Mondly, which we'll discuss below.
Mondly's structure differs sharply from that of 'handmade' language courses, such as those offered by Babbel. Unfortunately, all the colors and game elements can't make up for technical inaccuracies.
Score: 3 / 5
Since Mondly doesn't offer individualized content for each language combination, it's able to cover a large number (whereby, American English and Brazilian Portuguese are included as individual languages alongside British English and standard Portuguese). It's also possible to freely set the combination of language of instruction and target language. A table, showing the languages that are available, can be found below:
| Language of Instruction | Target Language |
| --- | --- |
| | British English, American English, Spanish, French, German, Italian, Russian, Japanese, Korean, Chinese, Turkish, Arabic, Persian, Hebrew, Portuguese, Dutch, Swedish, Norwegian, Danish, Finnish, Greek, Romanian, Afrikaans, Croatian, Polish, Bulgarian, Czech, Hungarian, Ukrainian, Vietnamese, Hindi, and Indonesian. |
Who Is Mondly Designed For?
Even though it's possible to set your language level in your profile (beginner, intermediate, or advanced), these don't have any noticeable impact upon the difficulty or content or the exercises you're provided with. In total, you can expect to learn 5,000 words and phrases using Mondly, which is a decent amount. As a frame of reference, having a vocabulary of between 1,000 to 3,000 words is enough to carry on everyday conversations in a foreign language. With that said, the platform is definitely geared towards beginners and those just starting out with a language; advanced users will probably get bored with the content fairly quickly.
Score: 4 / 5
4.
How Do You Learn in Mondly?
Throughout its lessons, Mondly will provide instruction in vocabulary, spelling, pronunciation, and (in a very watered-down form), grammar. Exercises in each lesson are different so that users don't get bored with the content. In a typical translation assignment, you'll be given a sentence, and asked to translate it (into the language of instruction) in the text field.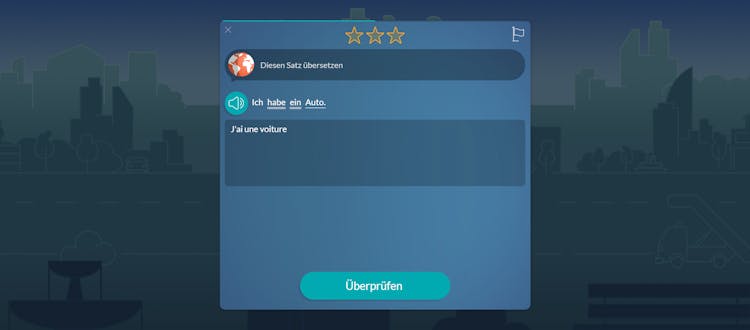 There are also multiple-choice questions, spelling tasks, and conversations that check your pronunciation. For the latter, the program checks your voice against recordings, even allowing you to hear yourself speak an entire dialogue after listening to recordings of a native speaker. This functioned fairly well during testing, even if some correct answers weren't accepted, however, this might also have had something to do with the audio's quality.
The platform provides a few grammar lessons, however, you'll have to figure out most theory on your own. When you need to translate a verb, simply click on it, and you'll see it declined. In most cases, clicking on a word will show you a translation for it into the language of instruction, however, we noticed a few errors here.
For example, when completing lessons in Polish with English as the language of instruction, we noticed some problems with the verb 'to be' (być). In one exercise, the sentence "What is your name" should be translated into Polish as "Jak masz na imię?" using pre-filled text blocks. The Polish version of this sentence literally translates into "How has (you) on name?". When clicking on "is" you're shown the verb 'być' conjugated, however, the exercises uses 'masz', or, the verb 'you have/have you'. Of course, for someone familiar with the language, this isn't a problem, however, a new user might search for the correct form of 'to be' in Polish (jest) and not see it among the options listed in text blocks and think that something was wrong. In such a situation, it would be important to explain to an English speaker that in Polish, the verb 'have' is often used in situations where some form of 'to be' might come to use in English.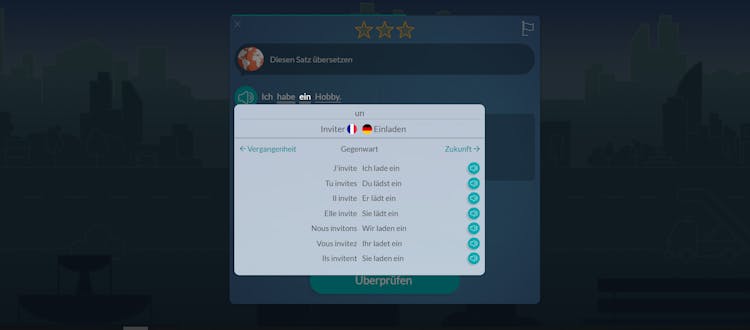 Each lesson contains a vocabulary round-up in which you'll need to choose the correct word or phrase from two options. Here, it would be helpful if Mondly used literal, rather than sense-for-sense translations. When completing the first lesson in French, 'bonjour' is translated as 'Good Morning'. If said in the morning, this is fine, however, if someone tells you 'bonjour' at 9 PM at night, they don't mean 'good morning'. In most cases, with Mondly, you'll be learning new vocabulary without seeing it in context, or receiving an explanation, two factors that we think can harden mistakes or errors in long-term memory, ultimately disadvantaging users.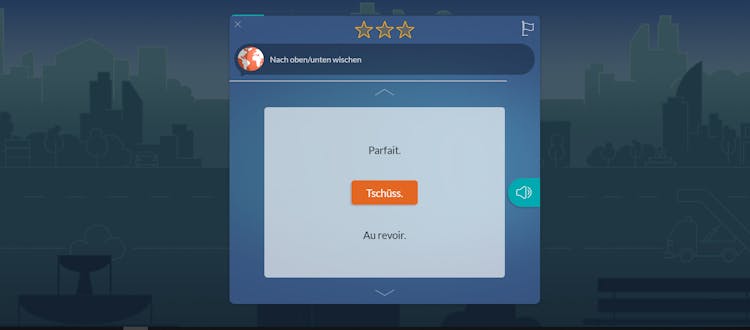 Conversations
Conversation tasks are one of Mondly's most interesting features. These are intended to help language learners improve their pronunciation based on recordings of native speakers. You'll find yourself in dialogue and need to repeat and record sentences that are spoken. At the end, the entire conversation will be read back, and you can pause the original and compare it with your recording. In this innovative way, it's possible to compare your pronunciation with that of native speakers, which, while not ideal, can definitely help.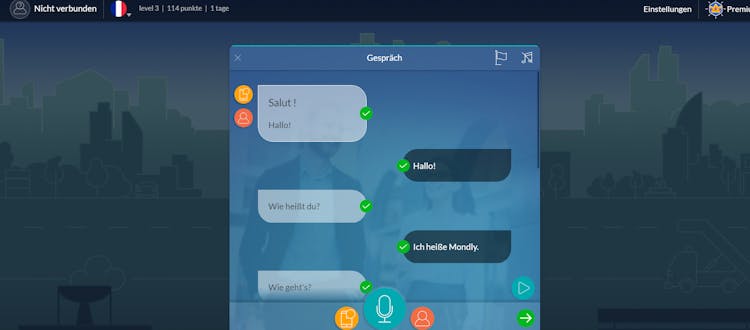 Chatbot
Complementing these dialogues, Mondly also offers an interactive means of improving your conversational abilities. Here, you'll also be entered into a dialogue, however, with the ability to select answers from a wide variety of choices. The idea is good, and trains creativity and spontaneity that other language apps often (unfortunately) lack. Regrettably, we also noticed some technical errors here.
In some cases, the options simply don't make sense. For example, in the German course, you're addressed with 'Sie' (you formal) whereas, you interact with your 'partner' using 'du' (informal you). In and of itself, there's nothing wrong with this (although, it would be somewhat unusual in modern contexts), however, the difference between the two (which is very important) isn't explained. Generally speaking, in German, one always starts with the formal address (Sie) with strangers (except perhaps small children), however, when one party 'offers' the informal address, switch to 'du'. Learners in Mondly would think that anyone they speak to should automatically address them as 'Sie', while they should refer to them using 'du'.
As another example, in the French course, one conversation begins with "Quel est votre nom?" (What is your name?), which is rarely used in conversations with "Comment tu t'appelles?" or "Comment t'appelles tu?" far more common in everyday usage.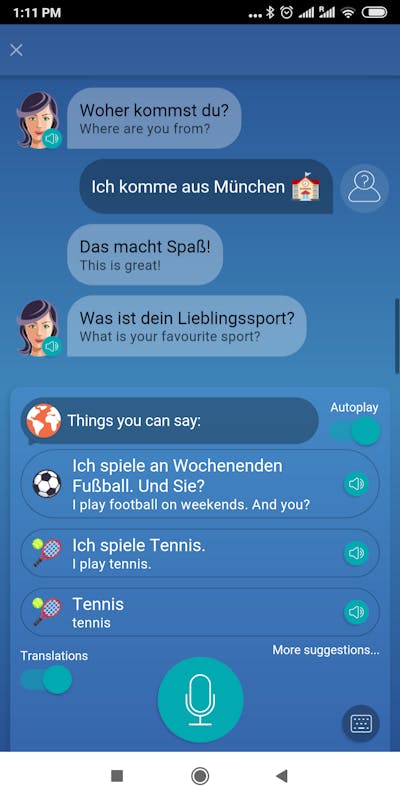 All of these issues seem likely to be the result of Mondly simply translating courses from one language to the next, without creating personalized content for each language pair. Even if an exercise might be well-thought-out or informative in one language, translating it directly into another language can create all sorts of issues.
We also sorely missed the presence of a vocabulary trainer. It is possible to redo vocabulary exercises as often as you'd like, however, beyond that, there isn't much to help users commit new terms or phrases to their long-term memory. Other platforms do a better job of this, testing language learners using flashcards and spaced repetition.
In almost every area, there are better solutions available, with Mondly only really excelling in terms of its chatbot dialogues and conversation practice, but even these aren't all that spectacular, considering their disadvantages (teaching users uncommon or inaccurate phrases).
Score: 3 / 5
5.
What We Liked About Mondly
Even though Mondly's user interface is a little bit too playful for us, and we prefer a slightly more serious approach to language learning, the platform still manages to do a number of things right. Users of the free version are motivated to complete exercises and activities every day since this unlocks special weekly and monthly topics. In a roundabout sort of way, practicing thereby pays off, with your time, effort, and consistency rewarded.
With each lesson, you'll also be awarded points, allowing you to see how far you've progressed with learning over the past week. These allow you to check how well you're doing on the leader board and compare yourself to others learning the same language.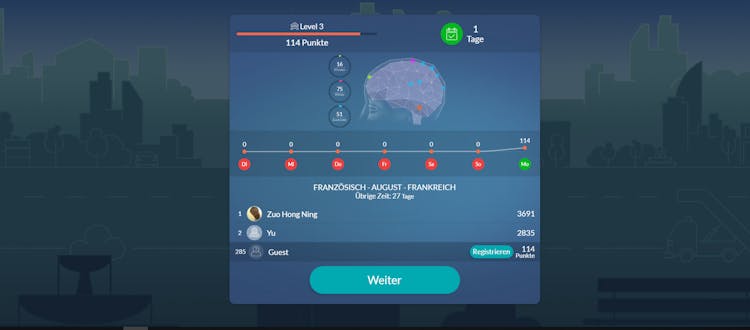 Mondly definitely tries to motivate its users to learn on a regular and frequent basis and seems to have stumbled upon a few good ideas. If you regularly complete lessons, it's possible to learn quite a bit with the platform. For building up a handy vocabulary in a foreign language, Mondly has its advantages, especially for beginners.
Although it isn't as effective as it could be, we did find the focus on creativity and conversations to be commendable. The chatbot trains linguistic muscles that most other platforms ignore, or don't deal with at all, and it certainly doesn't hurt to compare your audio recordings against those of a native speaker.
With that said, Mondly doesn't perform better than average in any of these areas, so its efforts aren't all that spectacular.
6.
What We Didn't Like About Mondly
In attempting to strike a balance between a textbook and a game, Mondly leans too far toward the latter. We'd gladly trade its visually-appealing, illustrated, and colorful 'learning map' for a more structured lesson plan that might introduce all concepts and provide a nice overview of them.
The platform does offer instruction in a lot of different languages, however, the content is the same. This feels 'cheap', as though the designers spent only the bare amount of time creating a new course before yelling out "Done!" to their colleague holding a stopwatch. While we can appreciate the difficulties and costs in designing an entire language course question by question, the number of mistakes or irregularities we encountered even in the first few lessons of a handful of different languages clearly show that Mondly leaves much to be desired.
There are also issues with the platform itself. Whereas in some language learning apps, translation exercises are automatically marked as correct once input or arranged properly, you'll need to confirm your entry in Mondly. Similarly, in exercises that you answer using text blocks, Mondly doesn't offer the option to type out your response. But that's not all, the capitalization of certain words and punctuation at the end of others makes it very easy to 'build' the right sentence.
We also noticed that at least in some languages (Polish, for example) after completing the first lesson ("Hello") and one dialogue with the chatbot, it wasn't possible to complete any more lessons (apart from the daily/weekly/monthly challenges), without paying for a subscription.
Free users can complete one lesson (Hello) plus a chatbot dialogue, as well as daily, weekly, and monthly challenges. However, if you want to access all lessons, you'll need to pay. Mondly Premium can be subscribed to in monthly or yearly packages, with the yearly package offering a significant discount over the monthly one (50%).
The platform regularly has sales that seek to boost the number of users and make subscriptions even cheaper. For a current list, check below:
Free
Premium 12 Monate
Premium Lifetime
Pricing
Set-up fee
$0.00
$0.00
$152.99
Price per month
$0.00
$4.08
$4.25
Contract period (months)
0
12
0
Languages
Source Languages

Afrikaans

Arabic

Bulgarian

Chinese

Danish

German

English

Finnish

French

Greek

Hebrew

Hindi

Dutch

Indonesian

Italian

Korean

Croatian

Norwegian

Japanese

Persian

Polish

Portuguese

Romanian

Russian

Swedish

Spanish

Thai

Turkish

Czech

Ukrainian

Hungarian

Vietnamese

Afrikaans

Arabic

Bulgarian

Chinese

Danish

German

English

Finnish

French

Greek

Hebrew

Hindi

Dutch

Indonesian

Italian

Korean

Croatian

Norwegian

Japanese

Persian

Polish

Portuguese

Romanian

Russian

Swedish

Spanish

Thai

Turkish

Czech

Ukrainian

Hungarian

Vietnamese

Afrikaans

Arabic

Bulgarian

Chinese

Danish

German

English

Finnish

French

Greek

Hebrew

Hindi

Dutch

Indonesian

Italian

Korean

Croatian

Norwegian

Japanese

Persian

Polish

Portuguese

Romanian

Russian

Swedish

Spanish

Thai

Turkish

Czech

Ukrainian

Hungarian

Vietnamese

Languages

Afrikaans

Arabic

Bulgarian

Chinese

Danish

German

English

Finnish

French

Greek

Hebrew

Hindi

Dutch

Indonesian

Italian

Korean

Croatian

Norwegian

Japanese

Persian

Polish

Portuguese

Romanian

Russian

Swedish

Spanish

Thai

Turkish

Czech

Ukrainian

Hungarian

Vietnamese

Afrikaans

Arabic

Bulgarian

Chinese

Danish

German

English

Finnish

French

Greek

Hebrew

Hindi

Dutch

Indonesian

Italian

Korean

Croatian

Norwegian

Japanese

Persian

Polish

Portuguese

Romanian

Russian

Swedish

Spanish

Thai

Turkish

Czech

Ukrainian

Hungarian

Vietnamese

Afrikaans

Arabic

Bulgarian

Chinese

Danish

German

English

Finnish

French

Greek

Hebrew

Hindi

Dutch

Indonesian

Italian

Korean

Croatian

Norwegian

Japanese

Persian

Polish

Portuguese

Romanian

Russian

Swedish

Spanish

Thai

Turkish

Czech

Ukrainian

Hungarian

Vietnamese

Languages included
1
unlimited
unlimited
Features
Real Teachers
Speaking Practice
Certificates
Offline Use
Business Plans
Mondly also offers special enterprise rates for large organizations, the price for which depends on the number of users.
Review
08/2019
satisfactory
Visit Website
Language Selection
4.0 / 5
Innovation is always commendable, particularly in a market that seems to be over-saturated with products that look and function too much like one another, such as is the case in the world of online language-learning apps. On paper, Mondly seems pretty good, considering its chatbot and conversational exercises. In terms of pronunciation and linguistic creativity, the service at least attempts to offer something unique, however, in practice, these can't compete with tandem partners or interactions with native speakers. When all is said and done, unfortunately, Mondly's highlights aren't all that impressive, and the rest of the program slumps when set against some of its more well-known competitors. As such, it's hard for us to recommend it, simply because most other apps we've reviewed do far better in each area that Mondly suffers in.
More structure in its interface would certainly be a good starting point. Similarly, cutting back on gamification might help boost the platform's seriousness' and make it more appealing to those who want to have fun while learning rather than play with some educational elements occasionally mixed in.
Turning to the courses themselves, it's hard to evaluate them since so much content is behind paywalls, but even in the introductory lessons that we could complete in a few different languages, we noticed some major issues. It's all fine and well to offer lessons in lots of languages, but when students are taught incorrect or outdated phrases, a line must be drawn, since after all, we're talking about language learning apps. You wouldn't spend much time in a language course where your teacher didn't have a solid command of the language they were instructing, would you?
Overall, Mondly has to settle for a place in the bottom half of our rankings, and we think, for good reason. While stylistic or motivational approaches are a matter of taste, 'teaching' students incorrect or inaccurate content and not explaining key concepts necessary for gaining command over a foreign language aren't.
many languages for learning
gamification as a motivation
chatbot and dialog exercises
the same in every language
Source Languages
Languages
Languages included
Mondly Free
$0.00
monthly price
Visit Website »
Review
750,200 Ratings
excellent
We analyzed the reviews and ratings from various portals and found 750,200 ratings with an overall rating of 4.6 out of 5 .
Show sources
How many words can I learn with Mondly?
Mondly claims to teach students around 5,000 words in each language they study.
How can I unlock more lessons?
Pay! In most courses, the first lesson (Hello) is free, as is one chatbot dialogue, and the daily, weekly, and monthly challenges. Beyond that, you'll need to crack open your wallet, however.
Does Mondly have any special offers on subscriptions?
Yes. Mondly often makes special offers or sales on its subscriptions. You can also enter coupon codes when paying, so, be on the lookout for these!
individual content per language
vocabulary with spaced repetition
Source Languages
Languages
Languages included
Babbel 12 months
$6.95
monthly price
Visit Website »
Try 7 days for free

Author (German Version): Martin Gschwentner
Martin Gschwentner majored in American Studies and Media Studies in Germany, the USA and France and works as a freelance editor in Paris. He is a doctoral student at the Institute for English and American Studies at the University of Paris Diderot, where he is researching the influence of money on US politics. On EXPERTE.com he writes about IT security, data protection and software for the self-employed and small businesses.

Translator & Editor: D Bare