Language Learning App Review: Memrise

Everyone remembers their favorite (or least favorite) teachers, whether from primary school, high school, or university. What makes a teacher unforgettable is something difficult to quantify since, by its very nature, the assessment is subjective and individual. One useful starting point is how well they communicate or transfer knowledge to students, and the degree to which students receive and retain this information.
At an unspecified date in the past, innovative teachers discovered that incentivizing students to learn, be it through games, prizes, or rewards, can yield impressive results. In the world of software and IT, this process of incentivization, or adding elements of games to non-game content (such as lessons or information) is referred to as gamification. Amongst online language-learning platforms, Memrise ⇱ is one app that has gone far in implementing this concept.

What Is Memrise?
Memrise is the name of both a brand of language-learning software, as well as a website where other skills can be learned, using mnemonic techniques and spaced repetition. The company markets itself as providing "the opposite of textbook learning". In this review, we'll take a look at how well Memrise pulls this off, and whether its approach to combining fun and learning is effective, or not.
Review
Apps und Interface
8.6 / 10
Language Selection
8.6 / 10
Gaming elements make it fun and easy to learn a language
Vocabulary exercises vary in quality

No help in terms of grammar

Only effective as an accompaniment or addition to other learning methods
Memrise's learning platform can be accessed either through its website, or Android/iOS apps. At first glance, the mobile apps don't look all that different from the colorful mobile games that most people play on their phones or tablets.
Memrise's language courses are divided into different levels and sub-levels. In place of quests and non-playable characters (NPCs) who interact with characters in a game, you'll need to complete vocabulary exercises and watch videos of native speakers. Instead of boss levels, you'll have to repeat words you've been learning and demonstrate your knowledge of them.
Memrise even has a kind of multiplayer mode, awarding users points for each correct answer they input, moving them up the leader board. In your profile, the progress you've made in both the browser and mobile versions of the platform is synchronized, with your points, learning level, and the number of known words also displayed.
The platform's user interface, both in its mobile apps and browser version is polished and logically structured. Navigating through a course is intuitive, and it's also possible to search for and add new courses at any time. There is a bit too much happening on the screen, but this is not any different than mobile games. Even modifying settings, such as fixing your daily goals, is made part of the 'game'. Other language-learning apps take a more minimalist approach here,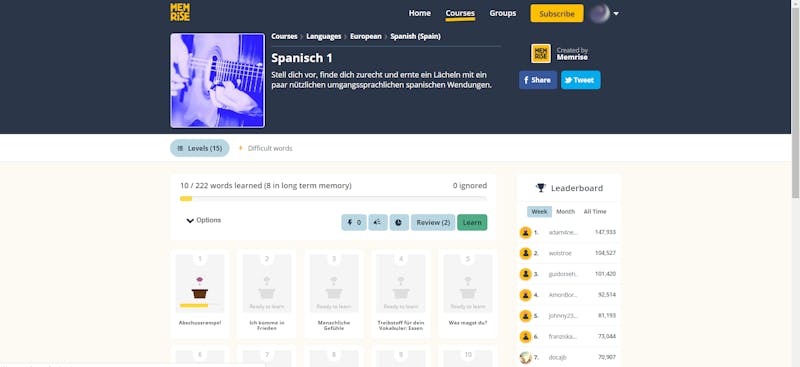 When this review was originally written, Memrise had begun to move user-created content (such as vocabulary decks and even community courses) to an app and website called "Decks". However, at the beginning of 2020, this content was re-merged with Memrise, and the "Decks" project terminated. According to forum posts, there was a considerable backlash against the original move as well as the subsequent decision to end "Decks". This is understandable, since, according to users, they had essentially created content (for free) for Memrise, which the service was then moving to monetize and make unavailable except in a specialized app.
According to fairly recent posts in a community form, user-made content can still be accessed, but only in a round-about way which many believe is due to Memrise's desire to promote its own (paid) content.
Score: 4.3 / 5
One interesting aspect of Memrise is that there's no limit to the number of (unofficial) language courses that the platform can host. However, the quality of these varies considerably. For English-speaking users, Memrise offers 24 official courses, some of which are for regional dialects of the same language (i.e. Latin American Spanish and standard Spanish, or Brazilian Portuguese and standard Portuguese) however, some users have complained about errors in these.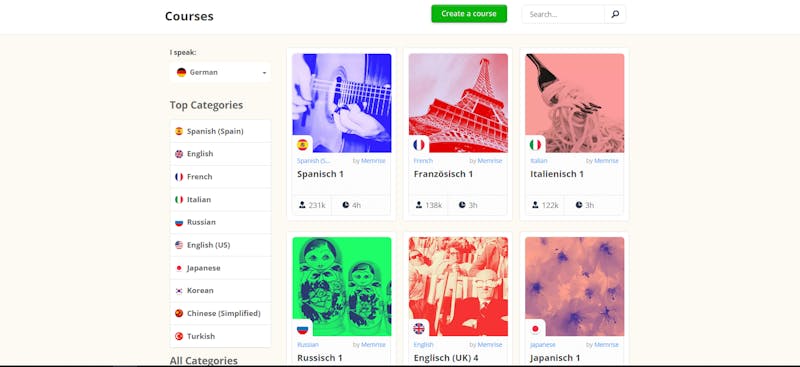 A list of the languages offered can be found here:
| Language of Instruction | Target Language |
| --- | --- |
| | French, Spanish, Geman, Arabic, Korean, Japanese, Spanish (Mexico), Turkish, Chinese (simplified), Italian, Dutch, Portuguese (Portugal), Swedish, Russian, Norwegian, Portuguese (Brazil), Polish, Danish, Icelandic, Japanese (no script), Mongolian, Slovenian, and Yoruba |
Who Is Memrise Designed For?
Like most online language-learning platforms and apps, Memrise is targeted at beginners and those wishing to train or practice vocabulary using spaced repetition. The platform is good for getting your feet wet in a new language and taking the first steps in using it. More advanced learners will likely become bored with the repetitive exercises. Similarly, beginners should be careful not to overestimate their abilities, since the platform doesn't really offer much in terms of grammar.
As such, Memrise is excellent for beginners and/or those wishing to train or practice vocabulary.
Score: 4.3 / 5
4.
How Do You Learn in Memrise?
Memrise's courses are broken down into different levels, each of which is further sub-divided into different theme-based components. For example, in the Spanish beginner course, these are titled "Human Emotions" or "Verb Usage". For anyone with some existing knowledge of the language they're studying, it's possible to start a more advanced course, however, unlike in Lingvist, there isn't a placement test, so you'll have to (honestly) evaluate your own abilities. As a trade-off, the vocabulary exercises are a bit more well-developed than those of Lingvist.
Learning Vocabulary in Memrise
Each set of new words has its own exercises. Most of the time, the program will display new words for the first time along with their definition(s), however, this isn't always the case.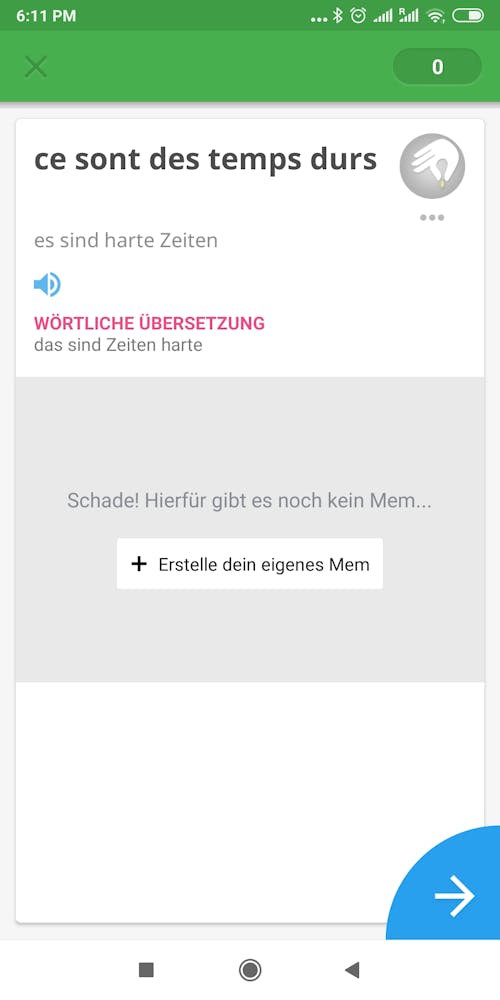 One of Memrise's most interesting features are its videos of native speakers repeating phrases, questions, or words in their (natural) context. As a result, you won't need to listen to monotonous computer-generated voices, and you'll also be able to hear naturally spoken conversations, as you might if you were actually in the country whose language you are learning. Some exercises will ask you to watch and listen to these videos, and then choose the correct answer from a list of choices.
Sometimes, phrases or words that you're supposed to learn will be read to you, and you'll have to arrange them in the correct order. In other cases, you'll be given an English phrase or term, and be asked to guess the corresponding term in the target language. In still other exercises, you'll need to arrange text elements to form sentences, or properly spell certain words.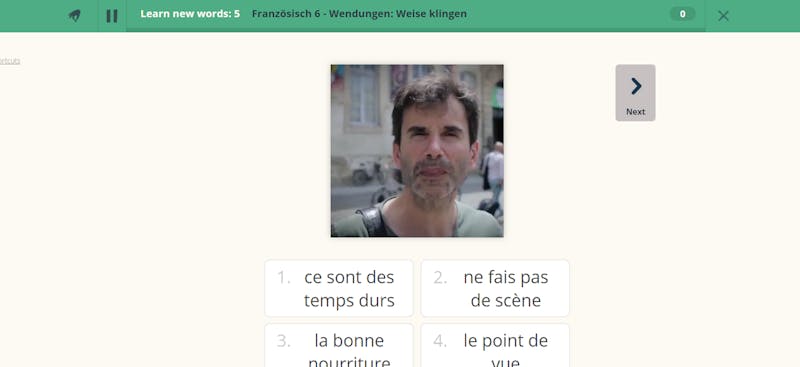 Despite the heavy emphasis on gamification and the variety of different types of questions and exercises, Memrise still has a problem with monotony. For more advanced users, more challenging questions would do a world of good, while generally speaking, the multiple-choice questions often contain three clearly incorrect answers, so finding the right choice is less about knowing the topic than rejecting (obviously) wrong responses. Overall, we didn't really feel all that challenged when learning with Memrise.
Meme Learning
"Memes" play an important role in Memrise's vocabulary exercises. Since it's well established that people learn through association or mnemonic devices, Memrise allows its users to add memes that might help their fellow language learners to remember particularly tricky answers or topics.
Since they're user-created, the quality of these memes can often vary, however, the ability to add (and view) helpful suggestions from other users is definitely commendable.
Spaced Repetition and Long-Term Memory
Like the best vocabulary trainers and virtual flashcard systems, Memrise relies heavily on spaced repetition. This means that the program's AI uses an algorithm to space out vocabulary in specific intervals, helping users to commit these terms and phrases to their long-term memory. In the past, Memrise represented this with a flower growing as you completed each stage of spaced repetition, however, according to a recent forum post, the flower's design has been changed.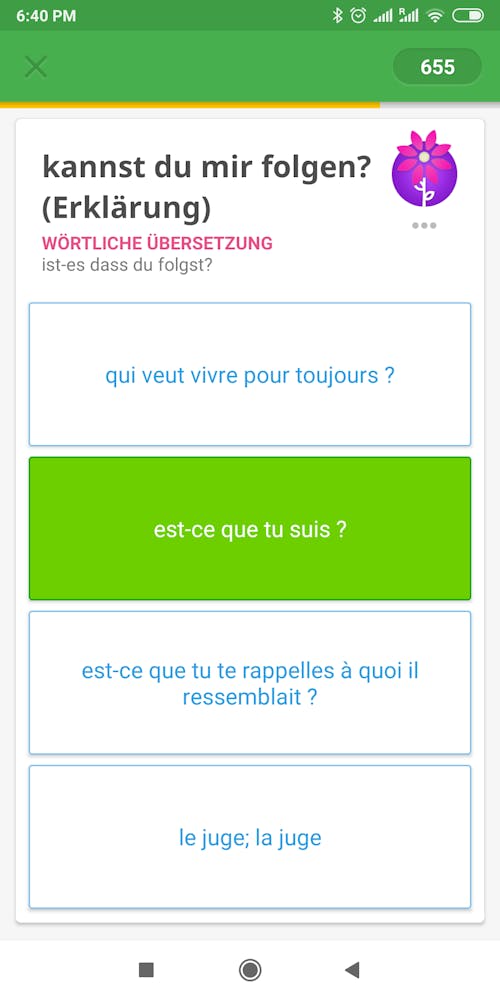 How the flower grows is meant to symbolize how vocabulary establishes itself within a student's long-term memory; from a seed (first interaction) to a flower ready to be picked at any time (signaling the term's ability to be used in conversation). Even if the platform doesn't stray far from multiple-choice questions and other well-established learning/teaching methods, how your 'flower' grows is still a useful indicator of the progress you've made.
But that's also part of the problem: The satisfaction of seeing the flower grow doesn't actually match or correlate with your language competence. It is possible to learn with Memrise, however, in our opinion, the service is a bit too self-congratulatory and game-like, raising the possibility that students can think they've learned something, and then be negatively surprised when they meet a native speaker and attempt to show off their knowledge.
Score: 3.3 / 5
5.
What We Liked About Memrise
There's not really any other way of saying it: Memrise is fun. Its levels, point system, and visualizations really trick users into thinking they're playing a game when in actuality, they are doing something more akin to learning. As such, Memrise definitely effectively gamifies the process of language learning.
Learning doesn't suffer too much, as the quality and variety of different native speakers are very good, giving the entire process a character of its own and imparting users a feeling of actually being immersed in the language.
It's possible to set whether you'd like to see the videos or not, as well as a range of other factors, such as how many words you'd like to learn per session, or how much practice you'd like to have with words that have been added to your dictionary. We liked the ability to tailor our learning experience to our preferences.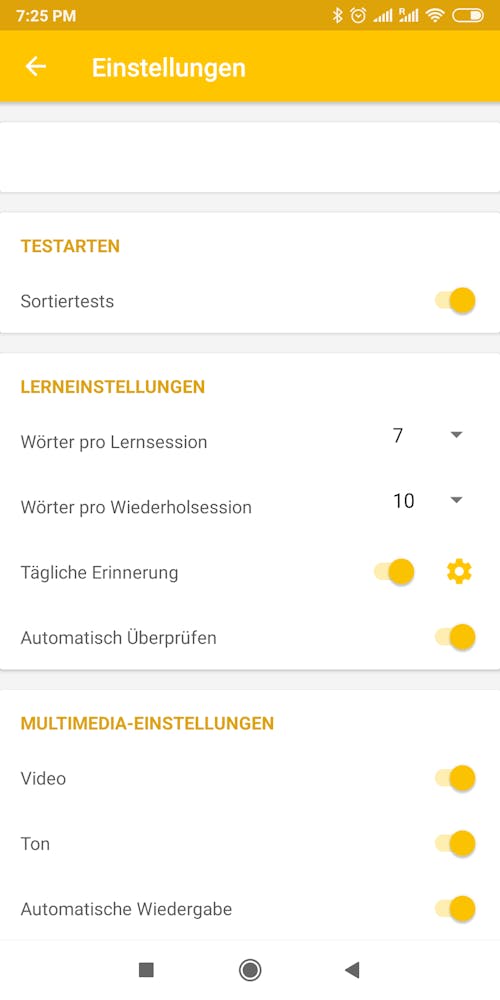 For beginners in particular, who want to build up a baseline of vocabulary in a foreign language, Memrise is definitely easy to recommend. Since the platform provides access to a nice selection of different languages, it's possible to try out a few different languages before settling on the one you'd like to invest more time and energy into. And Memrise isn't just for languages: The service can also help train programming or even Geography.
6.
What We Didn't Like About Memrise
While beginners will likely get the most out of Memrise, as intermediate language learners, we were left feeling underwhelmed. It's possible to skip over words that are already known, however, it isn't possible to indicate unknown terms and practice only them, such as in Lingvist.
The entire process of learning could also be more focused. Multiple choice questions are often so easy that choosing the correct answer isn't much of a challenge at all and can be done by the process of elimination. As a result, the program recognizes that the user is familiar with the terms, and trains them less and less. Ultimately, the user feels that they know or understand terms when in reality, they might not.
As a vocabulary trainer, Memrise does its job well, however, dedicated spaced repetition programs do this even better.
It's entirely possible that after a brief honeymoon period with Memrise, users can quickly see its flaws and repetition, feeling less and less motivated to continue learning with it.
While in the past Memrise was available for free, that has changed since this review was first published. As of the time of writing, Memrise is divided into "official" courses, i.e. those that are developed by the company, as well as "community" courses, or those which have been made by the user base. Community courses are available for free, but, can only be accessed through the Memrise app by first 'adding' them in the browser version. Official courses can be trialed for free (beginner lessons), however, at a certain point, users are asked to book a paid Pro subscription to continue learning. There are also rumors among the Memrise user community that community courses will eventually be placed behind paywalls. For a current price list, see below:
Free
Premium Lifetime
Premium 12 months
Premium 1 month
Set-up Fee
$0.00
$139.99
$0.00
$0.00
Price per Month
$0.00
$5.83
$7.50
$8.99
Contract Period (Months)
0
0
12
1
Languages
Source Languages

Chinese

Danish

German

English

French

Italian

Korean

Japanese

Polish

Portuguese

Russian

Spanish

Turkish

Vietnamese

Chinese

Danish

German

English

French

Italian

Korean

Japanese

Polish

Portuguese

Russian

Spanish

Turkish

Vietnamese

Chinese

Danish

German

English

French

Italian

Korean

Japanese

Polish

Portuguese

Russian

Spanish

Turkish

Vietnamese

Chinese

Danish

German

English

French

Italian

Korean

Japanese

Polish

Portuguese

Russian

Spanish

Turkish

Vietnamese

Languages

Arabic

Chinese

Danish

German

English

French

Icelandic

Italian

Korean

Mongolian

Norwegian

Japanese

Polish

Portuguese

Russian

Swedish

slovenian

Spanish

Turkish

Arabic

Chinese

Danish

German

English

French

Icelandic

Italian

Korean

Mongolian

Norwegian

Japanese

Polish

Portuguese

Russian

Swedish

slovenian

Spanish

Turkish

Arabic

Chinese

Danish

German

English

French

Icelandic

Italian

Korean

Mongolian

Norwegian

Japanese

Polish

Portuguese

Russian

Swedish

slovenian

Spanish

Turkish

Arabic

Chinese

Danish

German

English

French

Icelandic

Italian

Korean

Mongolian

Norwegian

Japanese

Polish

Portuguese

Russian

Swedish

slovenian

Spanish

Turkish

Languages included
unlimited
unlimited
unlimited
unlimited
Features
Real Teachers
Speaking Practice
Certificates
Offline Use
Business Plans
Apart from access to all lessons in official courses, Pro users can also take advantage of "difficult words" vocabulary exercises, more detailed statistics, and complete lessons offline. Unfortunately, even these details about the benefits of a Memrise subscription were scrounged up from third-party sources (such as Reddit), since the service doesn't provide any details about what subscribers are entitled to. Other apps are definitely more transparent about what their paying subscribers can look forward to than Memrise.
Enterprise or organizational rates are not offered.
Conclusion
Apps und Interface
8.6 / 10
Language Selection
8.6 / 10
Memrise promises users to make learning language fun and games, and the "opposite of a textbook". Objectively speaking, the platform does precisely this since its apps are well designed and definitely help beginners to get their feet wet in a new language. In terms of textbooks too, Memrise is not much like them at all, in both positive and negative ways.
For the latter, while students are likely to learn a fair amount from a textbook, Memrise's limits become apparent all too quickly, especially for non-beginners. The truth is, to learn a language, you will need more than Memrise, and likely have to reach for at least a good grammar book.
Of course, this isn't much different than other language learning apps, but Memrise is an extreme case. We don't hesitate to say that the platform is over-gamified, and likely, inflates the confidence of many of its users in their actual abilities in a foreign language. Language-learning is difficult, not because teachers make it so to torment students, but because you're establishing new pathways in your neural networks. Just think, how many years are spent in school learning your mother tongue? In the US, Language Arts starts in 1st Grade and goes all the way up to "College Writing". In other words, twelve plus years to become fully fluent in your first language. So where does that put other languages?
Memrise Language Learning
Source Languages
Languages
Languages included
Memrise Free
$0.00
monthly price
Visit Website »
Memrise's shortcomings or deficiencies are ultimately best measured in conjunction with the individual user's expectations. Should you start using the program knowing that it's a helpful tool, you'll likely not understand our complaints about the platforms, or think that we've perhaps over-reacted. However, if you sign up for the service thinking that you'll become fluent within a matter of months, all we can say is "we told you so".
So, we'll say it one last time, at least in this review: As a tool to support your overall plan for acquiring foreign learning competence, Memrise is a great addition. However, we would not recommend Memrise as the cornerstone of your language-learning efforts.
User Reviews
Customer Ratings
1,681,393 Bewertungen
Visit Website
We analyzed the reviews and ratings from various portals and found 1,681,393 ratings with an overall rating of 4.6 out of 5 .
FAQs
Can I use Memrise offline?
⊖
Yes and No: Community courses can be used offline, however, official courses cannot.
Does Memrise train grammar?
⊖
Memrise users have created specially designed grammar courses, however, in the service's official courses, the focus is squarely on learning vocabulary.
Alternatives
individual content per language
vocabulary with spaced repetition
9.0

excellent
Source Languages
Languages
Languages included
Babbel 12 months
$6.95
monthly price
Visit Website »
Try 7 days for free
Duolingo Language Learning
intuitive interface & design
good for building vocabulary
8.6

good
Source Languages
Languages
Languages included
Duolingo Free
$0.00
monthly price
Visit Website »
Lingvist Language Learning
effective flashcard system
uses spaced repetition learning
adapts to your language level
8.2

good
Source Languages
Languages
Languages included
Lingvist Free
$0.00
monthly price
Visit Website »

Martin Gschwentner majored in American Studies and Media Studies in Germany, the USA and France and works as a freelance editor in Paris. He is a doctoral student at the Institute for English and American Studies at the University of Paris Diderot, where he is researching the influence of money on US politics. On EXPERTE.com he writes about IT security, data protection and software for the self-employed and small businesses.

Translator & Editor: D Bare
Continue Reading
Other languages
Deutsch