Language Learning App Review: Lingvist

The Digital Revolution has brought the world closer than its ever been, making it possible to 'visit' far reaches of the globe in just a few seconds (assuming that your Internet connection is fast enough). It's entirely possible for a highly profitable company based in Argentina to sell products made in Taiwan from raw materials gathered in Siberia and Kenya without the CEO ever traveling to Asia or Africa. All the same, that CEO would be well advised to either have expert interpreters on staff, or to speak Russian, Mandarin, and for good measure, English, fluently.
To help, language learning apps have exploded in popularity, since they allow users to gain competence in foreign languages on the go, from practically anywhere. These don't simply create a digital classroom, but rather a playful environment where learning occurs (at least in part) through games and challenges that can be completed on the bus, train, or even, toilet. Some of the biggest names in the business include Duolingo or Memrise, however, in this review, we'll take a closer look at Lingvist ⇱, a platform some call the insider's tip.

What Is Lingvist?
Lingvist is language-learning software that utilizes digital flashcards, statistical analysis, and AI to help its users develop their skills in a foreign tongue. As such, it seeks to optimize how users learn a foreign language, making the best use of their time and energy. To do this, Lingvist relies on spaced repetition, or the targeted repeating of words in specific intervals, with the end goal of anchoring this terminology in the learner's long-term memory. Think of it like high-intensity interval training (HIIT) for your brain; you train a set of words or phrases, take a rest, train them again, take a longer rest, and so on until they're committed to your memory. In this review, we'll take a look at how good Lingvist really is.
Review
Apps und Interface
9.4 / 10
Language Selection
6.0 / 10
Effective learning with flashcards and spaced repetition

Learn vocabulary directly in its context

Automatically adjusts to the language level of the user

Vocabulary taught based on its frequency in the target language

Provides a significant amount of useful statistics
Becomes monotonous over time

Little attention to grammar
Most language-learning apps are designed with usage on the go in mind, however, Lingvist is also available in a browser version that makes using it on your desktop comfortable. Once you've created an account, you'll be able to synchronize your progress between platforms. Lingvist is available for Windows, Android, and iOS, and in both versions we tested (Windows and Android) cut a good figure. Its interface is minimalistic and elegant, and navigating between the different sub-menus and areas is intuitive.
When accessing the platform on a smartphone, the app's main menu is anchored at the bottom of the screen. The main learning area doubles as the start window, and displays your current level, daily goal, and a button to "Start Another Set". Additional menu options include challenges, statistics, grammar explanations, and account settings.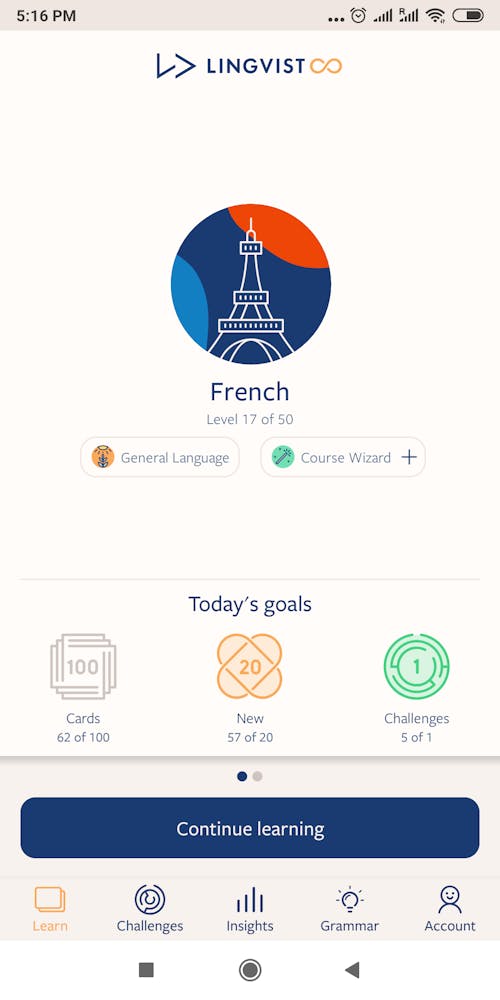 On the desktop, things are pretty much the same, except the platform doesn't take up your entire screen (but rather, a regular browser window). The somewhat more detailed main menu is to the left of the screen and includes access to additional statistics in the upper right-hand corner of the screen.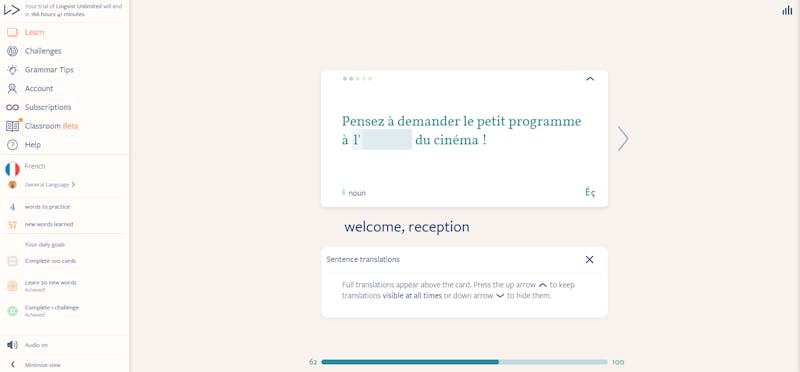 Using Lingvist is a breeze, its features are well-organized, and the design is visually appealing. As such, opening the Lingvist app is actually pleasant and something that we looked forward to doing.
Score: 4.7 / 5
Compared to most other platforms we've reviewed, Lingvist offers relatively little choice. As an English speaker, it's possible to learn Russian, Spanish (Latin American or European), French, German, and Portuguese. Since Lingvist's developers are from Estonia, there's also a mini-course in Estonian, but this is just a small extra.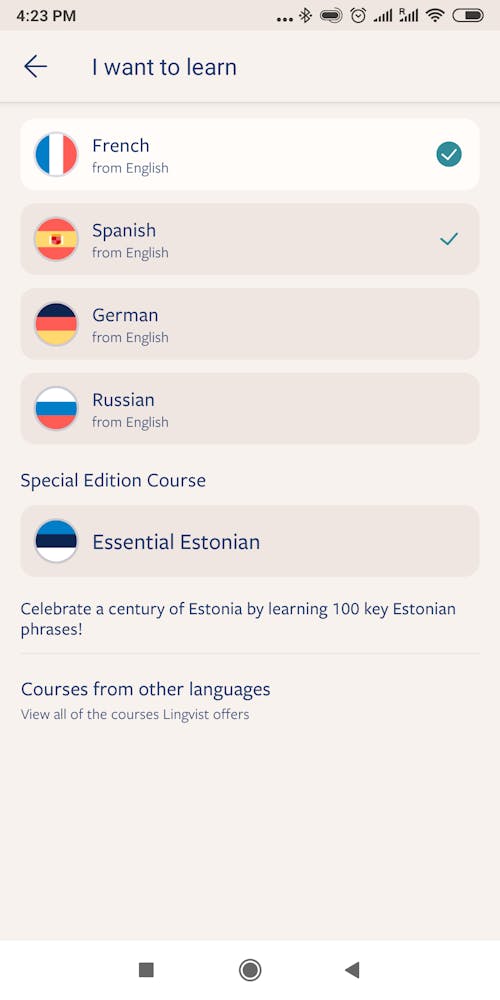 Here, it's possible to ascertain Lingvist's age in relation to that of some of its competitors, however, we don't necessarily see this as a negative, since it doesn't seem to have adversely impacted the quality of the courses offered. Quite on the contrary, it appears that the developers have consciously decided to develop full courses before putting them on the market. Of course, if you're dying to learn Mandarin or Italian, this doesn't really make all that much of a difference, but we still prefer quality over quantity.
| Language of Instruction | Target Language |
| --- | --- |
| | |
| Russian, Spanish (Latin American or European), French, German, and Portuguese | |
Who Is Lingvist Designed For?
Since Lingvist adjusts to meet your abilities and existing knowledge, the platform can be recommended for all types of learners.
It's best that beginners be aware that the program only passively teaches grammar (despite the optional theory area).
Advanced users profit from the nice blend of new and somewhat unfamiliar words, effectively helping to bridge the gap between A2 and B2, specifically in terms of boosting vocabulary.
For anyone with a firm grasp on the language, and wishing to polish their skills, it's likely that Lingvist won't be able to offer all that much. Instead, if already conversationally fluent, we recommend apps like Tandem, since these connect users speaking different languages and wanting to learn one another's mother tongues.
Score: 3 / 5
4.
How Do You Learn in Lingvist?
Lingvist's teaching methodology can be divided into three areas: The main learning is through individual flashcards, with challenges, and grammar explanations also offered.
Flashcards
Lingvist encourages its users to work through 100 flashcards per day. There's only one kind of these, often featuring a sentence or phrase with a blank space where the user must enter the correct answer. After entering the correct word or term, the sentence will be read out loud by the platform.
You'll also receive some information about the word including its part of speech. If learning in the app, by clicking on the arrow at the upper top of the screen, you can see a translation of the entire sentence.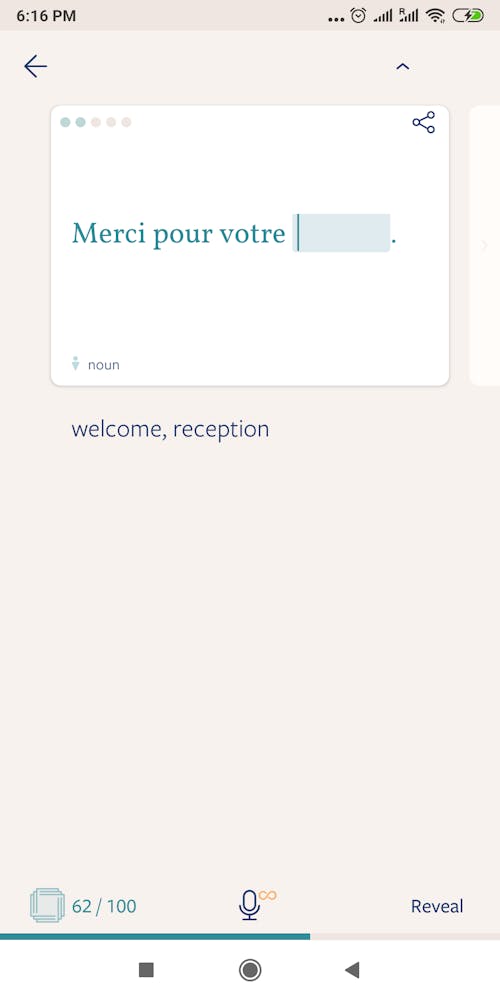 We liked how when learning words or terms in Lingvist, you'll see them in their natural context, making it possible to learn entire phrases rather than single words. Of course, it would be nice if there were greater variety in the type of flashcards. Other spaced repetition programs include pictures on the flashcards, which makes learning also a matter of association rather than just translation alone.
Lingvist includes a number of different vocabulary packages that are grouped into topics or themes. In the French course, this includes "Love in French", "A Weekend in Paris", or "New Technologies". However, these packages are available only to paying customers; free users will have to make do with the general packages.
The difficulty of the flashcards adjusts itself to your language level, something that Lingvist measures from 1 to 50. In the beginning, you can select whether you're a beginner or expert (there aren't any other options for the moment), and you'll have to complete a few flashcards. Based on your answers, the program will assign you a level relating to the course's difficulty.
Regardless of which level you start at, learning with Lingvist is basically the same. You'll spend your time filling out increasingly complex sentences meant to supercharge your vocabulary. If you don't know a word or make a mistake, the program will ask you questions about it more frequently and in new contexts. This feature means that you'll spend more time learning words and phrases that you've had trouble with, than those that you already know well. Should you forget an accent mark, these will be shown in green above the answer, providing a visual association for improving in the future.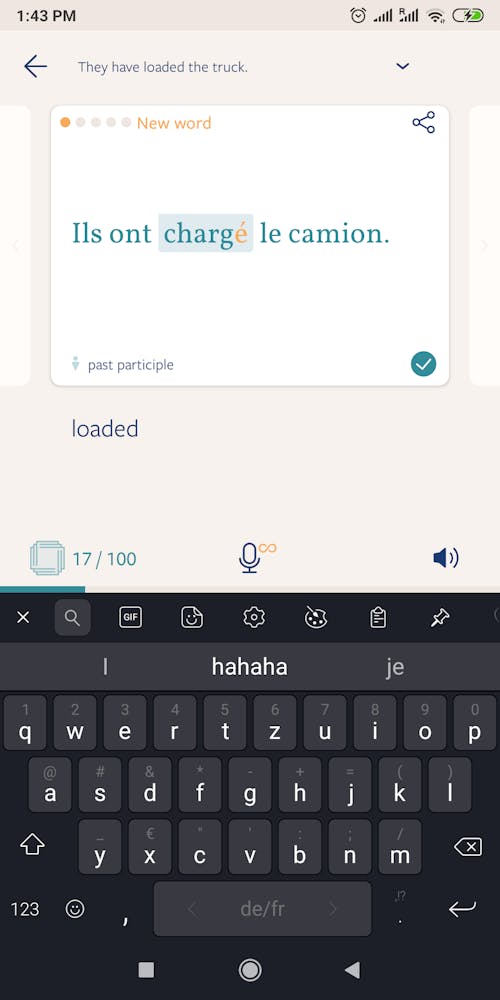 The ability to fill blanks with voice recordings is particularly nifty. Typing on a phone or tablet can become frustrating, especially 100 times per day, and so, the option to record answers saves a lot of frustration, while also allowing users to compare their pronunciation with that of the native speaker. During testing, this feature worked perfectly.
Challenges
Lingvist offers four categories of challenges: Speaking, Listening, Reading, and Grammar. The different exercises increase in difficulty and after completion, are saved in your "Finished" folder, from where you can go over them again if you'd like at any time.
For the conversation challenges, you'll need to record the given answers for a dialogue, which is then accepted or rejected by the platform. During testing, this functioned well, and we really felt like we were practicing the language, rather than mindlessly recording answers. However, Lingvist still suffers from the same problem as (nearly) all language-learning platforms, namely, that learners don't receive feedback from those fluent in the language, and any mistakes that students might make become hardened over time, so long as the program accepts them. For that reason, there really isn't any alternative to working with a tutor or native speaker.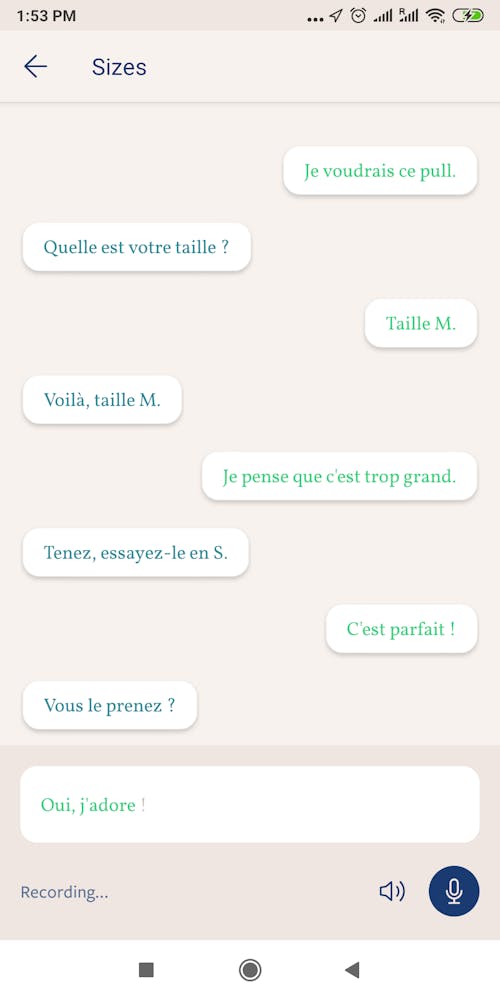 Completing the other challenges is fine on your own. When "listening", the program will read a text aloud, after which you'll have to answer some follow-up questions. For the grammar challenges, you'll be asked to conjugate verbs, decline nouns, or select the correct articles.
After answering a question correctly, Lingvist will show you some additional information explaining the underlying rules or theories at work. Wrong answers are marked with a red x, which only disappears after you've selected the right answer.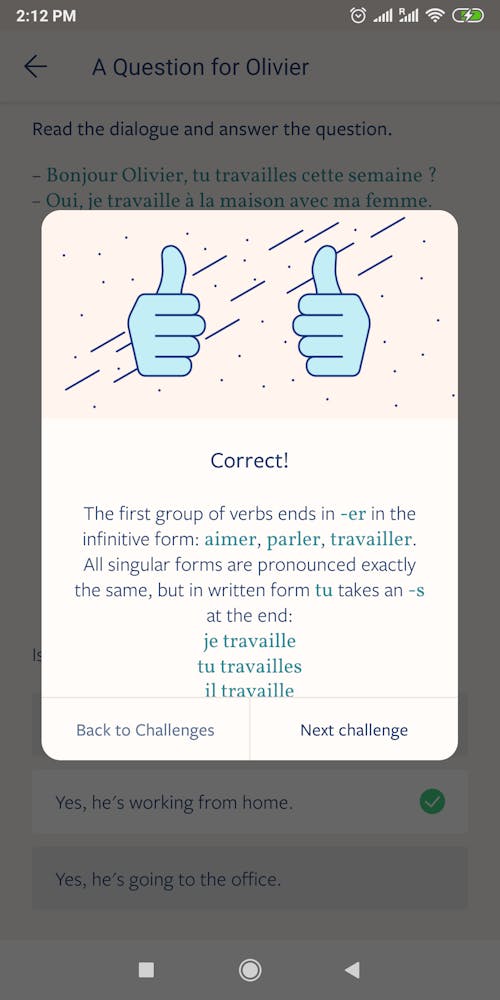 The challenges are a nice touch, however, more would be better. In our opinion, integrating these into the course itself would help learners to truly develop skills in the foreign language they're studying. In this way, the monotony of completing flashcards would be broken up with grammar exercises every now and then.
Grammar Tips
Lingvist's dedicated grammar section is completely free of interactive elements. Here, you'll be instructed in the building blocks of the language, divided into lessons for beginners, intermediate users, and even advanced speakers. Collecting all of these rules in one area is very practical since it makes it easy to find what you're looking for if you run into trouble. The ability to do a text-search through the lessons would be the icing on the cake, but since there aren't all that many lessons to begin with, its absence isn't all that tragic.
Lingvist tries to spare its users from complicated and tedious grammar exercises, and in this way, the rules, which are presented passively while going through flashcards, are likely better internalized than if they were part of full-blown modules.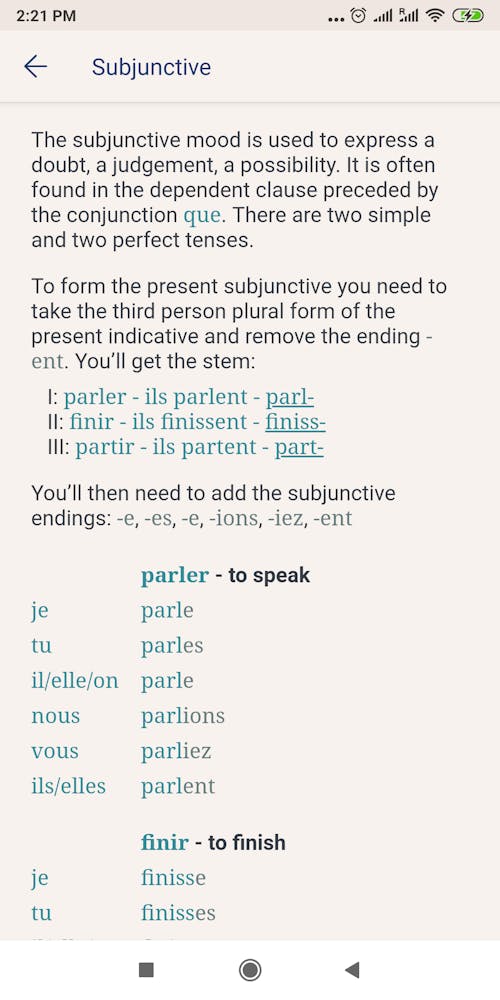 Lingvist's main claim to fame is definitely the well-compiled and serviced vocabulary trainer, which helps users to commit words and phrases to their long-term memory. The challenges are a nice touch, and basically, without technical issues. Some learners might want a bit more variety in terms of content, or more 'flash', but we were very pleased with what was on offer, and found it to be highly effective.
Score: 4.7 / 5
5.
What We Liked About Lingvist
Lingvist doesn't go overboard in gamifying its platform and motivates users in a more quiet, 'mature' way through statistics, progress charts, and estimates. The interface and flashcards are minimalist and perhaps 'simple', but it works. Completing exercises and learning vocabulary in their actual context means that it's committed quicker to your long-term memory, and therefore, able to be used in real-life situations. We love playing games, but if seriously considering learning a language, it's a lot better to remember a word or phrase than to be able to say "I forget the word, but I have 4,000 points on the leaderboard!".
We also found the 'placement test' and the rolling adjustments to user competence to be very effective. Thanks to both, users won't have to spend time re-learning things they already know or mindlessly clicking through exercises just to get to a new topic. You will only be exposed to as much grammar as you'd like, with the challenges and grammar lessons completely optional and not having any real bearing upon your vocabulary training.
For fans of statistics, Lingvist is probably the most interesting platform we've reviewed. You'll be provided with detailed information about your progress, how much time you've spent learning, and the number of words you've learned. Your vocabulary is always tabulated in a percent, showing how many words you can understand (on average) in a given sentence.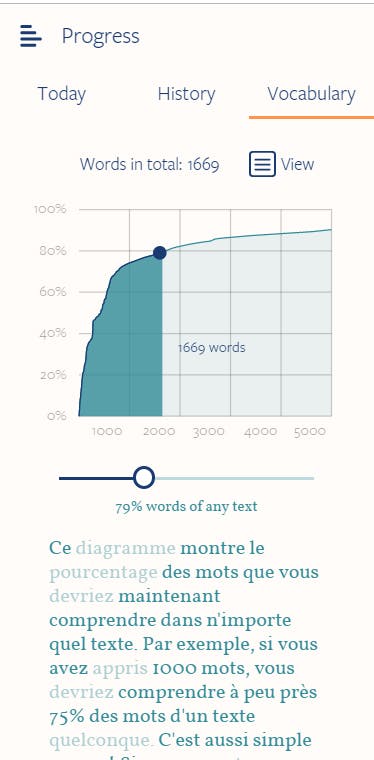 In contrast to its competitors, Lingvist isn't divided into lessons, modules, or anything of the sort, but rather, a never-ending stream of flashcards. As such, the platform is excellent for anyone just looking to work through a few words (or a set of 50) during a commute, lunch break, or even before bed. In other apps, like Duolingo, you're required to put in more effort, to work out exercises, and can't just stop in the middle of a lesson without losing your progress.
6.
What We Didn't Like About Lingvist
Should you thrive on gamification, as in apps like Duolingo or Mondly, then Lingvist is likely to seem a bit dry or even boring. Working through vocabulary is always the same, there aren't flashy animations, and there's no leaderboard. Of course, there are challenges, but these are limited and really more concerned with regularly freshening your knowledge of important concepts than giving you special bonuses or power-ups.
Despite its advantages, there are also some difficulties with the flashcard system, particularly concerning synonyms. Only one answer is ever accepted as right, so your only hope is to attempt to figure it out based on the given length of the answer. It would be nice if other answers were accepted (such as in Duolingo), so that the entire process doesn't become a guessing game.
We can imagine that Lingvist works great for intermediate language learners looking to augment their existing vocabulary and knowledge, but not ready (or unwilling) to start reading books, magazines, or newspapers in the target language. This is because intermediate users are already (roughly) familiar with the grammar of the target language, and simply need to see it more often in use to internalize it. Of course, that means that for more advanced users, the program might seem too simple, while for beginners, it can create a false sense of confidence and ability.
Lastly, the weight of numbers does, regrettably, put Lingvist at a disadvantage. Although it is qualitatively definitely one of the best platforms we reviewed, in terms of quantity, it just can't go head-to-head with Duolingo, Babbel, or others. We can only hope that the introduction of additional languages, Mandarin, Italian, Japanese, Arabic, and so on, are planned.
Lingvist is available in a free version, as well as a paid (unlimited) package. Paying users have access to more vocabulary, as well as specific word lists, special courses, and customer support.
How much you'll have to pay for the Unlimited version of Lingvist depends largely on how long you want to subscribe. If you pay on a monthly basis, you'll need to dig deep into your wallet, however, a yearly subscription costs less than half as much per month. For around $20 more than a yearly subscription, you'll be able to get a lifetime subscription, entitling you to all of Lingvist "for as long as there is a Lingvist." A current list of prices can be found below:
Free
Premium 12 months
Premium Lifetime
Premium 1 month
Set-up Fee
$0.00
$0.00
$174.99
$0.00
Price per Month
$0.00
$6.67
$7.29
$19.99
Contract Period (Months)
0
12
0
1
Languages
Source Languages

Chinese

German

English

French

Japanese

Portuguese

Russian

Spanish

Chinese

German

English

French

Japanese

Portuguese

Russian

Spanish

Chinese

German

English

French

Japanese

Portuguese

Russian

Spanish

Chinese

German

English

French

Japanese

Portuguese

Russian

Spanish

Languages

German

English

French

Russian

German

English

French

Russian

German

English

French

Russian

German

English

French

Russian

Languages included
1
1
1
1
Features
Real Teachers
Speaking Practice
Certificates
Offline Use
Business Plans
As such, Lingvist is not as affordable as the Pro versions of Memrise or Duolingo, but definitely cheaper than full programs like Rosetta Stone or Babbel. Special enterprise or educational rates aren't offered.
Conclusion
Apps und Interface
9.4 / 10
Language Selection
6.0 / 10
Despite the few languages on offer, Lingvist is truly a solid learning platform that rewards regular learners with good results. Its intelligent flashcard system that caters to all levels of users and adjusts to their existing knowledge is one of the best we came across, building up real knowledge in the target language. We particularly liked that all vocabulary is learned in context, helping to immerse oneself in the language and get a real feel for it.
Lingvist Language Learning
effective flashcard system
uses spaced repetition learning
adapts to your language level
8.2

good
Source Languages
Languages
Languages included
Lingvist Free
$0.00
monthly price
Visit Website »
Lingvist's strengths are clearly in its polished, spaced repetition-based flashcard system, sleek interface, and design. Despite its 'maturity', for those who want more structure, or 'well-rounded' language lessons, the platform might be too one-sided, focusing too much on vocabulary-building and writing, than on speaking, pronunciation, and grammar theory. The limited selection of languages offered is also something that's sure not to delight everyone.
As with nearly every language learning platform we've reviewed, we have to give a small disclaimer, noting that these all work best when used as part of a general language-learning strategy, including interactions with native speakers, a coursebook of some sort, tutors, or even a full-blown traditional language course. For pronunciation, although apps can do this and that, they'll likely never be able to compete with the discerning ear of a native speaker. Similarly, as computer-based systems, creativity is definitely not their forte, and this is essential, especially for more advanced learners of a language.
Don't get us wrong, Lingvist does a great job in helping to build up a respectable vocabulary in the target language, but even as its developers advise in an in-app notification "Don't overdo it".
User Reviews
Customer Ratings
57,745 Bewertungen
Visit Website
We analyzed the reviews and ratings from various portals and found 57,745 ratings with an overall rating of 4.3 out of 5 .
FAQs
How many words can I learn with Lingvist?
⊖
Depending on the language you select, Lingvist promises to help you learn 4,900-5,200 words. The free version is limited to the 3,000 most-used words in each language, however.
How does Lingvist stack-up against Duolingo?
⊖
The two platforms are very different. Duolingo offers both more languages, as well as a wider variety of exercises and features. With that said, Lingvist's decks are very extensive, and as a pure vocabulary trainer, you'll likely learn more (in context) with it than Duolingo.
Are some Lingvist courses better than others?
⊖
Since Lingvist only offers a limited number of languages, there aren't too many differences between the quality of its courses, especially compared to other apps. The level and quality of vocabulary you'll learn with Lingvist is, generally speaking, the same from course to course.
Alternatives
individual content per language
vocabulary with spaced repetition
9.0

excellent
Source Languages
Languages
Languages included
Babbel 12 months
$6.95
monthly price
Visit Website »
Try 7 days for free
Duolingo Language Learning
intuitive interface & design
good for building vocabulary
8.6

good
Source Languages
Languages
Languages included
Duolingo Free
$0.00
monthly price
Visit Website »
well structured learning journey
interactions with native speakers
somewhat boring exercises
8.2

good
Source Languages
Languages
Languages included
Busuu Free
$0.00
monthly price
Visit Website »
Try for free

Martin Gschwentner majored in American Studies and Media Studies in Germany, the USA and France and works as a freelance editor in Paris. He is a doctoral student at the Institute for English and American Studies at the University of Paris Diderot, where he is researching the influence of money on US politics. On EXPERTE.com he writes about IT security, data protection and software for the self-employed and small businesses.

Translator & Editor: D Bare
Continue Reading
Other languages
Deutsch