Learning French - Best Online Language Course / App

Our editors test and evaluate all services independently. For links on this page, EXPERTE.com may earn a commission from the provider.
Wilhelm von Humboldt, the German philosopher once remarked that "language is the key to the world" and it's true! Speaking only one language puts you at a significant disadvantage when traveling outside of your home country, forcing you to rely on others either to communicate in your language or for interpreters to transmit your ideas exactly as you intend them. There's good news though, thanks to the digital revolution, learning a language online, or better, accessing additional language tools from the comfort of your home has never been easier. Whether five-minute smartphone sessions on the bus or subway or full-blown courses on a laptop or PC, learning languages on digital platforms is growing more and more popular.
In comparison to traditional language learning methods, apps offer a number of interesting advantages. They're cheaper than full language courses with teachers or private lessons with tutors, and make it possible for users to learn at their own speed, even if just for fun. This is owing to their gamification, or the integration of gaming elements in a non-gaming context. In most digital language courses, you progress by completing 'levels', 'unlocking' new topics, and 'scoring points', which are tallied up into your 'score' or 'ranking' on the leaderboard.
There are additional things that make language apps particularly effective. Spaced repetition systems (SRS) provide the basis for training vocabulary, helping users to add new words and phrases to their lexicon and long-term memory in an easy step-by-step manner.
Learning French With Language Apps
French is one of the most popular languages to learn online, and nearly every platform we at EXPERTE.com reviewed offers it. As such, we used it as a yardstick for tracking how the apps we looked at perform.
Below, we'll show you our three best apps for learning French online!
individual content per language
vocabulary with spaced repetition
9.0

excellent
Source Languages
Languages
Languages included
Babbel 12 months
$6.95
monthly price
Visit Website*
Try 7 days for free
Babbel impressed us because it approaches its users as learners and students, rather than as gamers or players. Since most apps make language acquisition into a never-ending mini-game, which does help motivation, they often drift away from their real goal of imparting their clientele with actual linguistic competence. Babbel takes a different route, bringing textbook methods into the digital domain. The result is an interactive language course with well-thought-out lessons for each language combination.
Babbel adheres to the philosophy that the will to learn a language is the best motivation to do so, and as such, has refrained from over-gamifying its platform. This also means that, in comparison to its competitors, Babbel requires more discipline from its users.
But don't worry, there are lots of benefits to this approach. First of all, as a beginner, you'll achieve results quicker, feeling more comfortable in the language owing to the regular completion of assignments. In contrast to lots of other language platforms, each course is uniquely designed. Since all lessons are prepared by specialists and experts, the courses are also more well-rounded, and impart cultural knowledge as well, preparing students for actually living in France.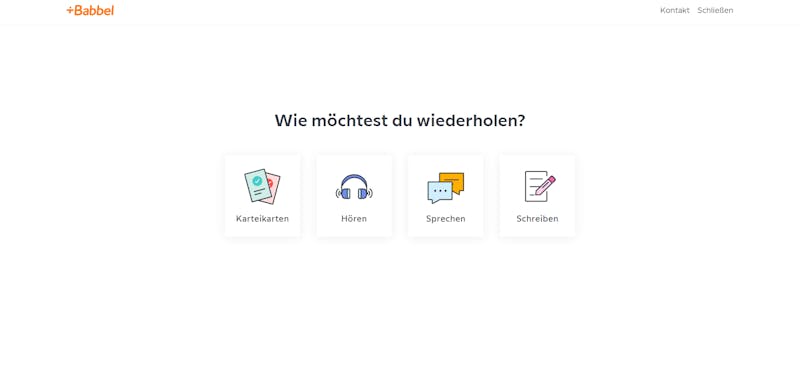 Vocabulary is acquired using SRS. You'll be asked every French word that you learn at regular intervals until the algorithm has determined that it should be in your long-term memory.
Overall, Babbel is an excellent tool for learning French, but, should be supplemented with additional tools and part of, rather than your entire language-learning strategy.
Language Selection
9.4 / 10
No free version of Babbel is offered. To use the service, you'll need to book a subscription. Duolingo, our price-performance winner takes a far lighter toll on your wallet.
2.
Price-Performance Winner: Duolingo
Duolingo Language Learning
intuitive interface & design
good for building vocabulary
8.6

good
Source Languages
Languages
Languages included
Duolingo Free
$0.00
monthly price
Visit Website*
Duolingo is the most well-known language learning app on the planet, with one-in-ten smartphone users having it installed on their phones. And not without reason: In comparison to Babbel, Duolingo is much more entertaining, motivating its users with embedded gaming elements. They don't go overboard either, being nicely incorporated into the platform, with the end goal of helping users develop actual language competence. It feels satisfying to complete modules, and you'll actually learn something as well.
Each module in Duolingo is comprised of five levels and dedicated to a single topic, such as "Family" or "Nature". If you want to move ahead to a new module, you'll need to complete a specific number of previous levels or pass a checkpoint test.
Duolingo motivates users to complete lessons on a daily basis, without overwhelming them thanks to the ability to set daily goals, which relate to how many points you'd like to accrue each day. The mix of game and language course is nicely balanced, and should appeal to learners of all ages, especially beginners.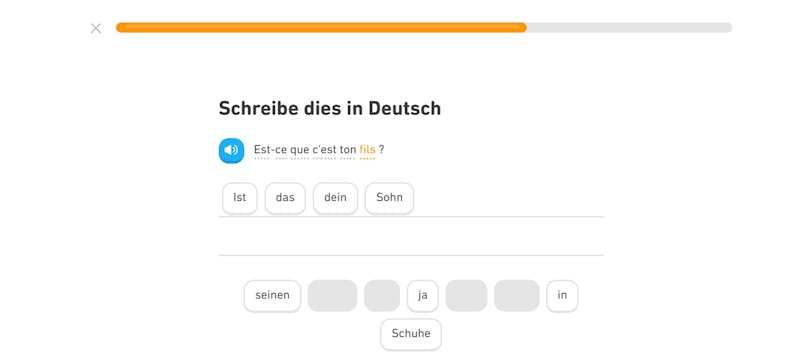 Duolingo does offer podcasts for its most popular language offerings, as well as new lessons and very active moderators and contributors for questions that arise when completing exercises. For less popular languages or those with small learner communities, this differs accordingly.
Duolingo is completely free and financed primarily by ads. Only premium "Duolingo Plus" subscribers can learn without ads (as well as receive a few extras, such as the ability to download courses for use offline).
Language Selection
8.0 / 10
3.
The Most Innovative: Rosetta Stone
Rosetta Stone Language Learning
Source Languages
Languages
Languages included
Rosetta Stone Lifetime
$7.46
monthly price
Visit Website*
30-Day Money Back Guarantee
Rosetta Stone goes a somewhat different way than most of the other language learning apps and platforms we reviewed. The company refers to its approach as "dynamic immersion", owing to its ability to intensively immerse learners into a foreign language. This requires more input and taxes your concentration to a greater extent since you'll have to handle translation tasks and explanations in the target language, which are the stock and trade of all modern platforms. Instead, immersion takes place, and you interact in the target language from the first moment.
This means that you'll (start to) learn new vocabulary by identifying the correct picture and eliminating incorrect answers. Rosetta Stone's monolingual approach definitely pays dividends though: By integrating the program into your French studies, you'll be able to link words to larger concepts within the language, rather than English or your mother tongue. In this way, you'll be quicker on the draw when recalling those words later on.
The immersive tool is embedded in a high-quality user interface that is well-arranged. Rosetta Stone definitely 'feels' like a premium product, because it is!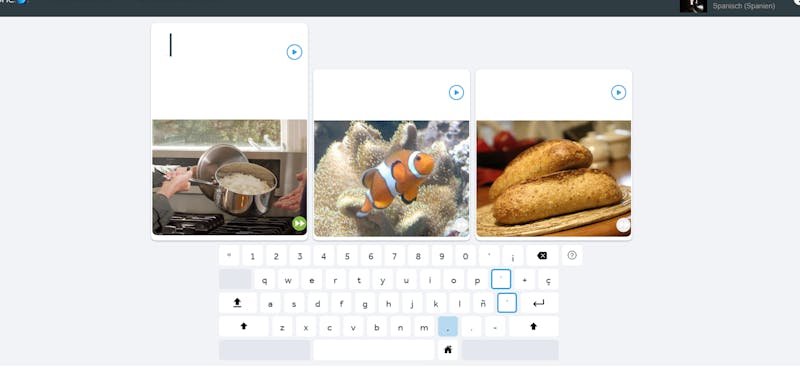 Despite the above, we still weren't completely satisfied with Rosetta Stone. Apart from the excellent vocabulary training which the platform provides, it's difficult to get your bearings in terms of grammar, since explanations for the underlying theory are also in the target language. In our opinion, it wouldn't do that much harm to include grammar explanations in the user's language, and would likely help to increase competence.
After a while, we also found the exercises to be monotonous and repetitive, sapping our motivation. The lack of an SRS-based vocabulary trainer for testing our lexicon in regular intervals was also unfortunate.
Nevertheless, despite its weaknesses, Rosetta Stone's immersion methods are definitely worth taking a look into!
Language Selection
8.6 / 10
Our Top 3 programs show that despite performing extremely well in our evaluation, the 'perfect' language learning app doesn't exist. Each solution has its own shortcomings or issues, and so, depending on your individual goals and learning preferences, you might feel better served by one of the other platforms we reviewed.
For example, Lingvist impressed thanks to its intelligent, spaced retention-based index card system, going far in helping users to enhance their language levels. Memrise motivates users with its interactive learning path, levels, and point system. Our detailed reviews of the most popular language-learning platforms can be found here.
Lingvist Language Learning
effective flashcard system
uses spaced repetition learning
adapts to your language level
8.2

good
Source Languages
Languages
Languages included
Lingvist Free
$0.00
monthly price
Visit Website*
well structured learning journey
interactions with native speakers
somewhat boring exercises
8.2

good
Source Languages
Languages
Languages included
Busuu Free
$0.00
monthly price
Visit Website*
Try for free
Memrise Language Learning
Source Languages
Languages
Languages included
Memrise Free
$0.00
monthly price
Visit Website*
many languages for learning
gamification as a motivation
chatbot and dialog exercises
the same in every language
6.6

satisfactory
Source Languages
Languages
Languages included
Mondly Free
$0.00
monthly price
Visit Website*
Conclusion
If you want to learn français (French) from the comfort of your own maison (home), it's never been easier. Seemingly endless language learning platforms have been created, and nearly each of them offers French courses in one form or another. From app-to-app, the exact methodology differs: Duolingo offers a fun, free, and user-designed pathway to boosting your French competence, whereas Babbel is more like an interactive textbook. Rosetta Stone, a true 'premium' product, will do its best to immerse you in the language from the moment you sign up, a sort of linguistic boot camp, if you will.
Of course, despite all of their interactivity and novelty, language-learning apps can only assist you in your quest to learn French; true acquisition of the language requires active production, particularly verbal, and that can only really be achieved by speaking directly with native speakers or those competent enough in the language to identify and address your own deficiencies or mistakes. With that said, language learning apps make a très bien (very good) addition to your French studies!

Martin Gschwentner majored in American Studies and Media Studies in Germany, the USA and France and works as a freelance editor in Paris. He is a doctoral student at the Institute for English and American Studies at the University of Paris Diderot, where he is researching the influence of money on US politics. On EXPERTE.com he writes about IT security, data protection and software for the self-employed and small businesses.

Translator & Editor: D Bare
Continue Reading
Other languages
Deutsch
Ad disclaimer
* For links marked with an asterisk, EXPERTE.com may earn a commission from the provider. The commission has no influence on our editorial rating.