Language Learning App Review: Duolingo

Around every tenth smartphone user on the planet has the Duolingo ⇱ app installed on their phone. It's fair to say that Duolingo 'gamified' language learning for the mainstream public, and its name is recognized for online language learning in pretty much the same way as Xerox is for copying, or Oreos are for chocolate sandwich cookies. Importantly, it doesn't matter how old or young you are, the platform is accessible and can be used at any speed you wish. In this review, we'll take a look at whether Duolingo really helps to internalize and retain language competence or if it's too much fun and games.

What Is Duolingo?
Duolingo is an American e-learning platform with around 300 million users, making it the most downloaded educational app in the world. Duolingo's popularity is, at least in part, explained by the fact that it is completely free to use. Premium (paying) users do get access to additional content, but free users can complete an entire language course without once reaching for their credit card or wallet. The platform offers 90 different courses in 22 languages.
Review
Language Selection
8.0 / 10
Intuitive and well-designed interface

Offers a wide variety of different languages to choose from

Complete free version; "Duolingo Plus" offers some nice, but not essential, extra features

Good vocabulary-building app
Poor or non-existent explanations for grammar

Not really challenging for advanced speakers, or those looking to perfect their knowledge
Duolingo's 'experience' as a language-learning platform is visible from the first moment you start using it. The user interface is sleek and intuitive, whether you're using it in a web browser, or on an iOS or Android device. You won't need to create an account unless you want to transfer your progress from one medium to another (such as from your phone to your laptop). In addition to registering by email, you can also login using Facebook and Google.
If using the platform in your web browser, the main menu will appear on a bar at the top of your screen. In the "Learning" area, you'll find courses divided into different modules. Each of these is dedicated to a specific theme, such as Family, Counting, or Nature, or a grammatical topic such as Present Simple Tense or Modal Verbs.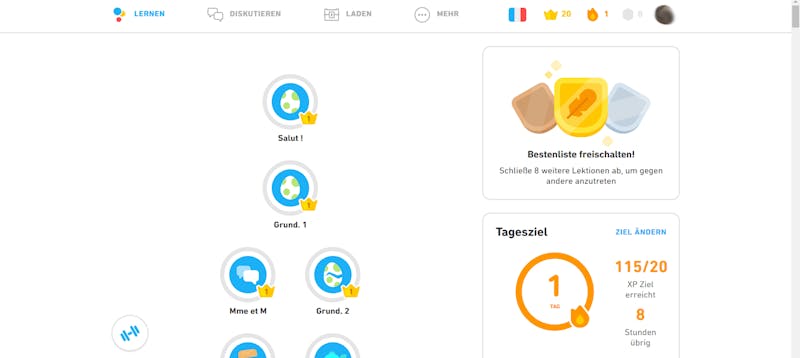 The main menu differs from language to language. For example, if you start learning Spanish as an English speaker, an additional menu item "Stories" will appear next to the Learning area. Here, you'll be able to read short dialogues or texts that train your reading comprehension with simple questions. However, if you're learning Spanish as a German speaker, you won't find the "Stories" area.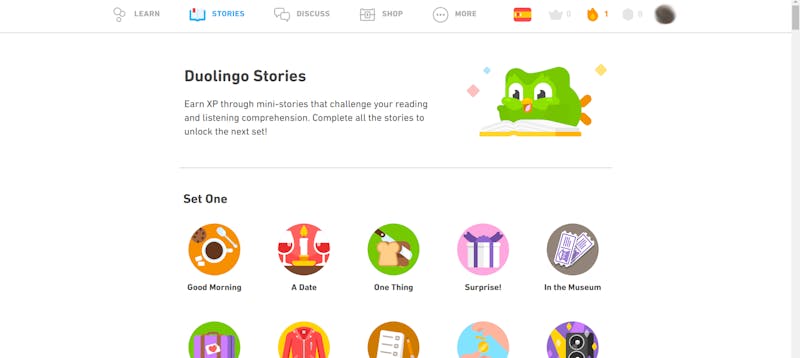 Beyond the 'main' content of the app, the modules and 'tree', there's also a forum and a shop (where you can spend the Duolingo currency, "Lingots" on extras or 'power-ups'). If learning Spanish or French as an English speaker, you can purchase regular podcasts with Lingots. In some, but not all languages, you can also check out your dictionary, and see which words you've learned and when they're due for repetition.
For smartphone users, the interface is somewhat limited, but all-in-all provides the same functionality as the browser version. The exclusion of extras like the podcast, or vocabulary lists from the mobile app isn't clear to us.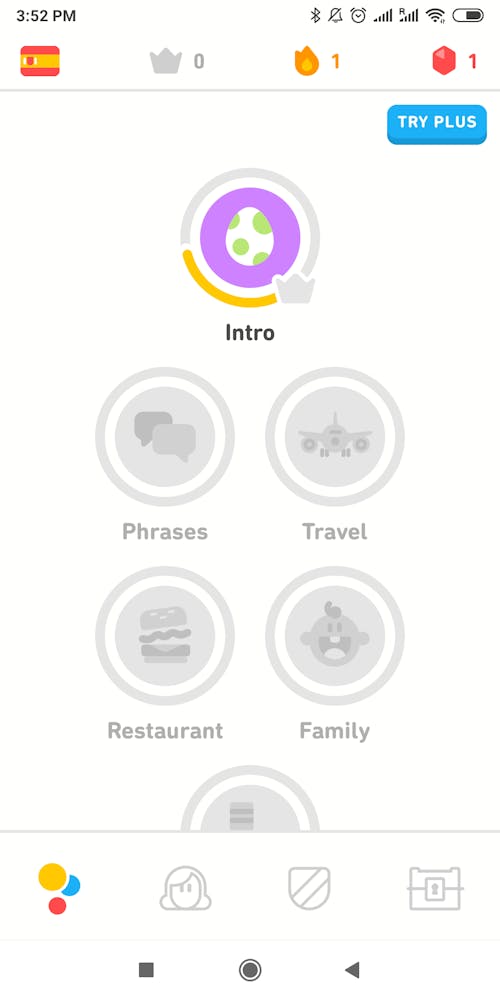 Duolingo's dominant position in the world of language learning apps and platforms is made abundantly clear when using the app for the first time. Even for non-paying users, the app's completeness and well-rounded structure make it feel like a premium product, especially since it's available in well-performing mobile versions too. In terms of design, we don't have anything to complain about, since the platform manages to strike a nice compromise between playfulness and practicality. Free users will have to close the occasional ad banner, and the mobile version lacks some of the features of the browser version, but these are really minor issues.
Score: 4.7 / 5
With most things these days, English speakers are the users most catered to. While German speakers will have to settle for the ability to learn three languages using Duolingo, English speakers can take advantage of 11 times more, namely, 33 different languages. A few of these are fictional languages (Klingon; Star Trek and Valyrian; Game of Thrones) and Esperanto is an artificial language, but still, the roughly 30 languages on offer shouldn't be frowned at. They are:
| Language of Instruction | Target Language |
| --- | --- |
| | Spanish, French, Japanese, German, Italian, Korean, Chinese, Russian, Hindi, Arabic, Portuguese, Turkish, Dutch, Latin, Swedish, Irish, Greek, Polish, Norwegian, Hebrew, Vietnamese, Hawaiian, Danish, Indonesian, *High Valyrian, Scottish Gaelic, Welsh, Romanian, Finnish, Czech, Swahili, Hungarian (beta), Ukrainian, *Klingon (beta), Navajo (beta), Esperanto, Yiddish (hatching). * refers to fictional languages. |
Who Is Duolingo Designed For?
Like most e-learning platforms, Duolingo is particularly geared towards beginners. When starting to learn a language, it's important to build up vocabulary and internalize the basic guidelines and rules of the language. Duolingo manages to achieve both of these things, going far in motivating its users to practice every day. For more advanced learners or those with some background knowledge, the modules can quickly become boring and repetitive. Luckily, there's a feature to 'test out' of modules, and theoretically, even entire 'levels' of a particular course. You'll have to answer 20 questions, and only be able to make 3 mistakes, but, you can try as often as you like.
Score: 4 / 5
4.
How Do You Learn in Duolingo?
Effective learning starts with a clear working space, and Duolingo definitely provides this. Most courses are divided into five or more levels, each of which contains a specific number of modules (anywhere from 5 to 30). Each module, in turn, consists of five components. In order to 'unlock' new modules (and progress down the 'tree'), you'll need to complete at least one component of an open module. Alternatively, you can complete a checkpoint test, which will unlock levels below it. The desire to complete all components of a module (the module then turns gold) and the feeling of finishing off a specific topic goes far in motivating users.
To aid in repetition, modules also 'crack' over time, meaning that you'll need to repeat them again to make them solid gold. This can become frustrating the more advanced you become (for example, if you're near to completing the course and learning reported speech, or another difficult topic, and "Counting", or "Food & Drink" from the beginning of the course cracks), and in some cases, even demotivate users to return to the older topics. The intention is well-meant, but there should be some way to cross a topic off your list indefinitely.
All modules are contained in what is referred to as the 'tree'. Although some choice is possible, the tree is structured for users to complete modules in a certain way. This ensures that words are added to your lexicon and that you progressively augment your grammar knowledge. Should you need to review after a break of a few days (or weeks) or a particularly difficult module, click on the barbell symbol to start a vocab review tailored to your level.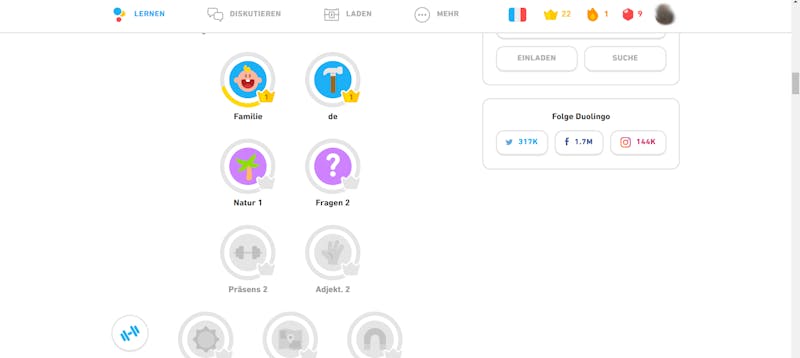 Vocabulary
In most exercises in Duolingo, you'll have to translate text from or into the target language. New words are highlighted when they first appear, helping you to know when you encounter something unknown. Sometimes, you'll have to enter single words or arrange blocks of words to form sentences.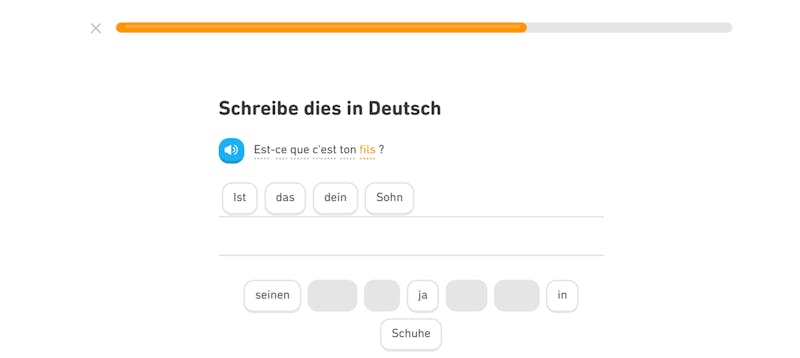 One particularly nice feature is that for these exercises it's possible to alternate between typing the sentence or using the text blocks. When trying to build up fluency, doing the former adds a new level of difficulty and owing to the possibility that multiple answers are correct, can actually allow you to express the sentence in a different manner than the text blocks, with the answer still deemed correct.
Sometimes, questions asking the same thing follow one another. In one case, you might be asked to translate a particular sentence into the target language, and in the next question, be asked to translate the same sentence from the target language into your language of instruction. Similarly, some questions can require specific answers, meaning that contextually correct ones won't be accepted, since they don't follow the desired word order. Thankfully, it's possible to comment on each question within a module, inquiring from admins why the answer you entered was incorrect. In most cases, you'll receive a personal answer within a matter of hours or days explaining the grammar behind it, or, a thank you note for highlighting the error with the comment "Added to the list of correct answers".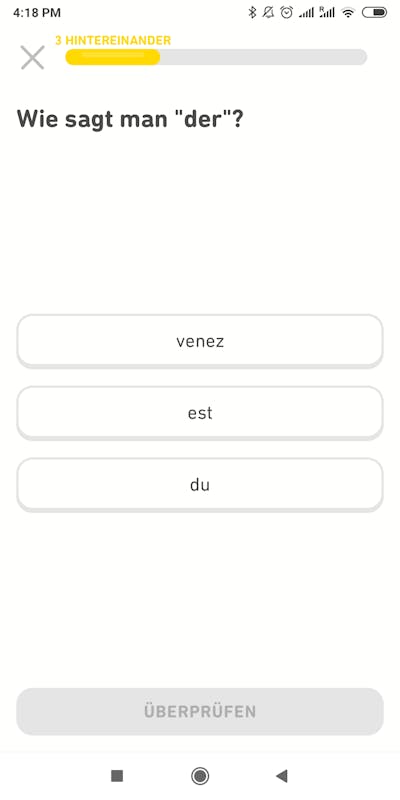 You can also take advantage of the TinyCards ⇱ tool for training your vocabulary skills. This extra app can be used with official Duolingo vocabulary decks, user-created ones, or even your own. We would have preferred a more direct and less gamified approach: Simple, spaced repetition-based vocabulary decks for regularly checking up on words and phrases would be a nice addition to Duolingo.
Reading, Listening, and Speaking
In addition to vocab exercises, the platform also tests users in the other core competencies of language learning as well. Every now and then, you'll be asked to read and record a sentence in the target language, which is then checked by Duolingo. This helps pronunciation, but can't really make up for having a teacher or tandem partner evaluate your progress.
The listening and reading comprehension exercises are better, but not available in all language combinations. The Duolingo podcast is only available for English-Spanish and English-French, so if you're looking to learn German, Russian, or even Japanese, you won't be able to take advantage of this. There is somewhat more coverage for the interactive "stories" feature which asks brief questions about a text you've been given to read in German, French, Portuguese, or Spanish.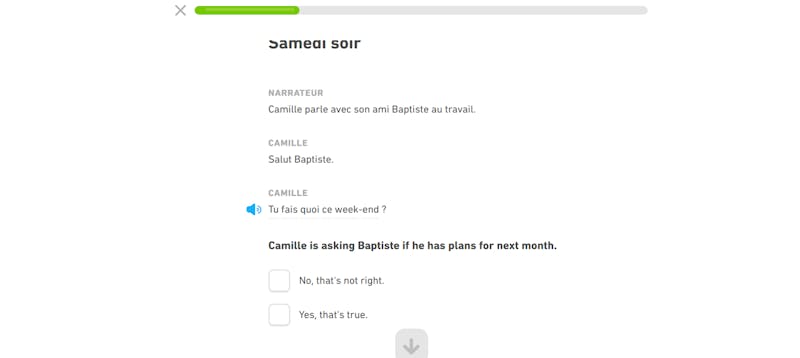 One of the biggest drawbacks of online language-learning platforms is the inability to practice speaking. Even the best bots can't really match human performance or interaction. At some point in time, the sooner the better, it will be necessary to have a conversation with a real person and practice what you've learned. Duolingo at least recognizes the need for this, helping users to organize events to practice speaking with one another locally. These only seem to take place in larger cities (and definitely before COVID-19), but the idea is nice. Even though Duolingo doesn't have the perfect solution, it doesn't claim to either, recognizing its shortcomings and doing its best to help users overcome them, even if that means going outside of the platform.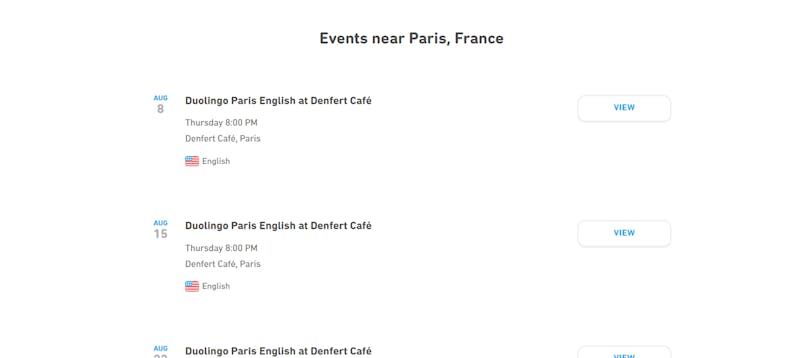 We can let you in on a little spoiler right now: You won't be able to acquire fluency in a language solely through Duolingo or any online language-learning platform for that matter. The exercises have their weaknesses: Sometimes they are too repetitive, or not flexible enough for more advanced users. However, the platform certainly provides a useful tool in learning a foreign language, and at absolutely no cost.
Score: 4.3 / 5
5.
What We Liked About Duolingo
Duolingo offers the perfect blend of structured learning and gamification, at least in our opinion. Even for a 'boring' topic, such as grammar, you'll find yourself motivated to complete it, just to get it over and done with so that you can unlock a more interesting module. For beginners, Duolingo offers an excellent tool for training vocabulary and attaining a basic familiarity with grammatical concepts.
Even if your first language isn't English, supposing that you have a strong enough command of it, you can take advantage of Duolingo's wide selection of languages. The quality and depth of these differ, largely depending on either how widely the language is spoken and/or how many users are working on the team to develop the course. After all, most of the courses in Duolingo were designed by volunteers Some language combinations offer extra features like stories or podcasts, but generally speaking, these are the exception and not the rule.
The platform is very comfortable to use, making it easy to settle into a nice rhythm for learning. Whether your goal is to complete a module per day or just a few components of one, Duolingo will provide you with support. Duolingo looks like a cross between a mobile game and a language course, precisely how it's supposed to!
6.
What We Didn't Like About Duolingo
Should you have a poor command of English, or not want to learn English, Duolingo might not be the best solution for you.
Beyond that, Duolingo has most of the same problems that plague other e-learning apps. It's good for building up a basic knowledge of a language, some simple phrases and terms, and the broad strokes of grammar, however, you won't gain fluency, either practical or real. At least Duolingo is aware of this and does all that it can to expand its features with podcasts and stories, however, this seems to be a long process, and apart from a few popular language combinations, not realized to its maximum potential.
Duolingo is completely free and doesn't have that many features behind paywalls. You'll have to deal with the occasional ad banner, whereas premium "Duolingo Plus" users can take advantage of a few extras such as the ability to download courses or learn ad-free. For this range of features, the price is a bit too high for our tastes, especially since it doesn't add all that much functionality to the free version. You can find a price list here:
Free
Plus
Set-up Fee
$0.00
$0.00
Price per Month
$0.00
$6.99
Contract Period (Months)
0
1
Languages
Source Languages

Arabic

Chinese

German

English

French

Greek

Hindi

Dutch

Indonesian

Italian

Korean

Japanese

Philippine

Polish

Portuguese

Romanian

Russian

Spanish

Thai

Turkish

Czech

Ukrainian

Hungarian

Vietnamese

Arabic

Chinese

German

English

French

Greek

Hindi

Dutch

Indonesian

Italian

Korean

Japanese

Philippine

Polish

Portuguese

Romanian

Russian

Spanish

Thai

Turkish

Czech

Ukrainian

Hungarian

Vietnamese

Languages

Arabic

Chinese

Danish

German

English

Esperanto

French

Greek

Hebrew

Hindi

Dutch

Indonesian

Irish

Italian

Korean

Norwegian

Japanese

Polish

Portuguese

Romanian

Russian

Swedish

Spanish

Swahili

Turkish

Czech

Ukrainian

Hungarian

Vietnamese

Welsh

Arabic

Chinese

Danish

German

English

Esperanto

French

Greek

Hebrew

Hindi

Dutch

Indonesian

Irish

Italian

Korean

Norwegian

Japanese

Polish

Portuguese

Romanian

Russian

Swedish

Spanish

Swahili

Turkish

Czech

Ukrainian

Hungarian

Vietnamese

Welsh

Languages included
unlimited
unlimited
Features
Real Teachers
Speaking Practice
Certificates
Offline Use
Business Plans
Duolingo doesn't offer special business or corporate packages.
Conclusion
E-learning platforms like Duolingo have certain limitations. They won't help their users to become fluent in a new language through fun and games, but rather, serve as one tool in a language-learning toolbox. If using them with this in mind, you won't be disappointed, and might even be surprised when concepts from another medium link up with Duolingo, or vice versa. For training vocabulary or forming basic sentences, Duolingo is a perfect solution that definitely helps to become familiar and comfortable with a foreign language. Compared to its competitors, Duolingo's courses are certainly more user-friendly and direct.
Language Selection
8.0 / 10
Of course, once you move past the basic lessons, things become a bit more complicated, and some of the grammar modules are very tedious to work through. Still, Duolingo does its best to keep things fun and light, as far as it's possible.
Unfortunately, if you aren't comfortable learning in English, the variety of languages on offer is rather limited. Courses also vary in quality and duration, however, this is further proof of the courses being built by active and real users and volunteers, rather than mechanical translations of one another.
Improvements can be made in some areas, and it seems like Duolingo is aware of what it needs to do to move forward. For example, increased focus upon podcasts, listening, and reading exercises will be integrated, and for more languages. As a result, we can only hope that Duolingo will continue to improve its courses and motivate users to continue to learn in new and more interactive ways.
Duolingo Language Learning
intuitive interface & design
good for building vocabulary
8.6

good
Source Languages
Languages
Languages included
Duolingo Free
$0.00
monthly price
Visit Website »
User Reviews
Customer Ratings
16,492,347 Bewertungen
Visit Website
We analyzed the reviews and ratings from various portals and found 16,492,347 ratings with an overall rating of 4.5 out of 5 .
FAQs
Is my Duolingo profile public?
⊖
Yes, according to the privacy policy, your profile and accompanying information (profile picture, name, and location) are visible under your username.
Is it possible to use Duolingo offline?
⊖
To download Duolingo courses and use them offline, you'll need to pay for a "Duolingo Plus" subscription.
Are Duolingo podcasts free?
⊖
Yes, official Duolingo podcasts are free. As of the time of writing, these only exist for Spanish and French.
Alternatives
individual content per language
vocabulary with spaced repetition
9.0

excellent
Source Languages
Languages
Languages included
Babbel 12 months
$6.95
monthly price
Visit Website »
Try 7 days for free
Lingvist Language Learning
effective flashcard system
uses spaced repetition learning
adapts to your language level
8.2

good
Source Languages
Languages
Languages included
Lingvist Free
$0.00
monthly price
Visit Website »
well structured learning journey
interactions with native speakers
somewhat boring exercises
8.2

good
Source Languages
Languages
Languages included
Busuu Free
$0.00
monthly price
Visit Website »
Try for free

Martin Gschwentner majored in American Studies and Media Studies in Germany, the USA and France and works as a freelance editor in Paris. He is a doctoral student at the Institute for English and American Studies at the University of Paris Diderot, where he is researching the influence of money on US politics. On EXPERTE.com he writes about IT security, data protection and software for the self-employed and small businesses.

Translator & Editor: D Bare
Continue Reading
Other languages
Deutsch