Language Learning App Review: Busuu

Are you thinking about investing some of your free time in learning a new language? According to Busuu, all you'll need is a daily investment of 10 minutes. The digital platform offers its users access to thousands of lessons and exercises created by language experts with a neat twist: Native speakers will correct your answers. In this review, we'll take a look at what else the platform is capable of, and let you know if you should Busuu too!

What Is Busuu?
Busuu is an interactive language-learning platform that boasts more than 90 million users around the globe and offers 12 language courses through its web dashboard and Android and iOS apps. For this review, we tested two of its courses: Chinese for beginners and intermediate French.
Review
Apps & Interface
8.6 / 10
Language Selection
8.6 / 10
Learning Process
7.4 / 10
Makes it possible to interact with native speakers

Nice interface and user-friendly apps
Social features under-utilized

Doesn't include enough pronunciation, reading, or listening comprehension exercises
To gain access to Busuu's language courses, you'll need to create an account. Like other platforms, this allows for your progress to be synchronized between apps that you access the course on. After registration, you'll need to answer a few questions about your goals and learning rhythm, allowing for the platform to create an individualized learning plan for you. This feature is only provided to paying customers, however.
To boost motivation, Busuu offers users a look into the future: With 15 minutes of training, 5 days a week, you'll have B2 level fluency in Chinese in 19 months. Mathematically speaking, this means that with slightly more than 100 hours of practice, students should be able to understand most content played in films and TV series. This doesn't match up with the State Department's guidelines for acquiring practical fluency in foreign languages ⇱, which note that an English speaker requires around 2,200 hours of classroom instruction (or 88 weeks) to become competent in Mandarin. Unless Busuu knows something that the State Department doesn't, it seems unlikely that the latter is off by 2,100 hours.
Before starting with most courses, you'll have the possibility to take a placement test and determine your existing knowledge and skills, allowing you to skip lessons beneath your current knowledge or level.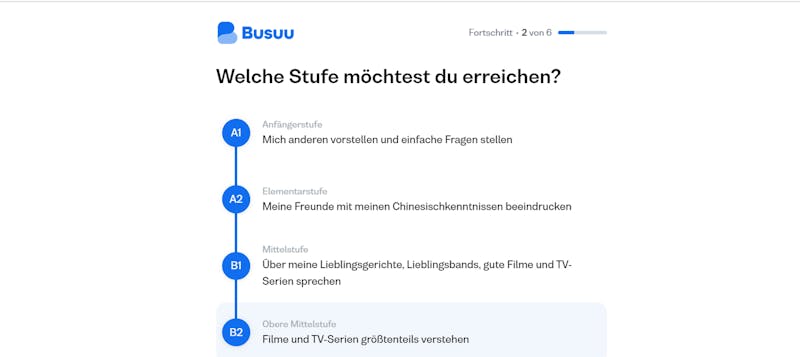 Getting back to Mandarin, our journey towards B2 was clearly divided into lessons with all sorts of difficulty levels. Each lesson has a theme (for example: "Eating and Drinking" or "Numbers and Dates") as well as sub-lessons (such as "Fruits" or "Months"). Each of these is further segmented into different areas including vocabulary exercises, dialogues, quizzes, conversations, and grammar activities. Some modules are only accessible to paying subscribers.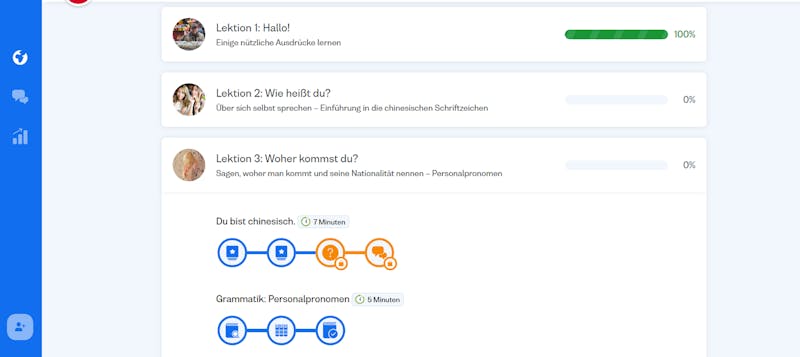 In the main menu to the left, it's possible to jump between the lesson area, community features, and the platform's vocabulary trainer. You'll see notifications and friend requests on the upper menu bar (we'll discuss these features below), as well as a study plan (so long as you're a paying subscriber).
Mobile Apps
It's possible to easily learn on the go with Busuu's mobile apps. These include all of the features and functionality of the browser version, in a smartphone-friendly design. You can switch between lessons and vocabulary through the menu at the bottom of the screen, set your language abilities (for community features), or keep an eye on your progress.
Premium users can download lessons so that they'll be able to access them offline as well.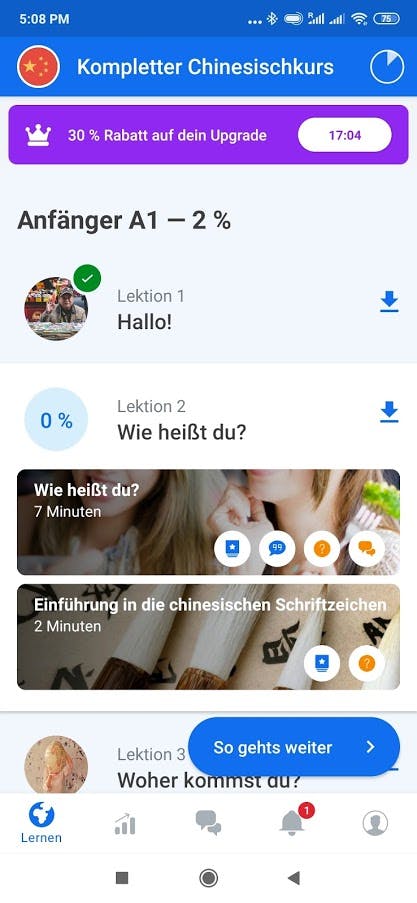 As far as appearances are concerned, Busuu does pretty much everything right. Lessons are nicely structured and not overly gamified. Exercises can become a bit tedious and monotonous, however, the Community area makes up for this. In addition, paywalls are pretty much everywhere to be found, meaning that the free version, despite having a lot of features and functionality, feels more like a demo than an actual platform.
Score: 4.3 / 5
As noted above, Busuu offers users the ability to learn 12 different languages (including English). These are:
| Language of Instruction | Target Language |
| --- | --- |
| | Spanish, French, German, Italian, Portuguese, Chinese, Russian, Japanese, Arabic, Turkish, and Polish |
Who Is Busuu Designed For?
As we've hinted at above, Busuu's courses align with the Common European Framework of Reference for Languages (CEFR), which is a six-level system (A1 to C2, with A1 being an absolute beginner and C2 indicating someone with native speaker-like competence). Busuu only offers the first four levels (A1, A2, B1, and B2) and focuses specifically on beginners, without neglecting more advanced learners. The latter can take full advantage of Community features to enhance their knowledge, however, users above the B2 level will probably get bored with the platform fairly quickly.
In addition to basic language courses, Busuu also offers travel, business, or other special courses.
Score: 4.3 / 5
4.
How Do You Learn in Busuu?
In Busuu's Chinese (Mandarin) course, there are four different learning modules that repeat in every lesson:
Vocabulary: Flashcards for learning new words
Dialogues: Fill-in-the-blank texts using vocabulary you've learned
Quizzes: Questions about the vocabulary you've learned
Conversations: Written/spoken exercises corrected by native speakers
Additionally, there's also a module for repeating vocabulary you've learned, but this only appeared once during our testing. The three grammar modules (Discover, Develop, and Practice) also didn't appear frequently, which seemed strange to us.
We noticed additional modules in other language courses, such as a pronunciation module for French.
Vocabulary
Each lesson starts with a vocabulary unit. You'll hear an example sentence and be shown an English translation of it, as well as a relevant picture. In the Chinese (Mandarin) course, underneath the characters, you'll also see the romanized Pinyin spelling. Translating between the language of instruction and the target language is a constant part of the learning with Busuu, forging a completely different path than other services, like Rosetta Stone, which seeks to immerse students in the target language.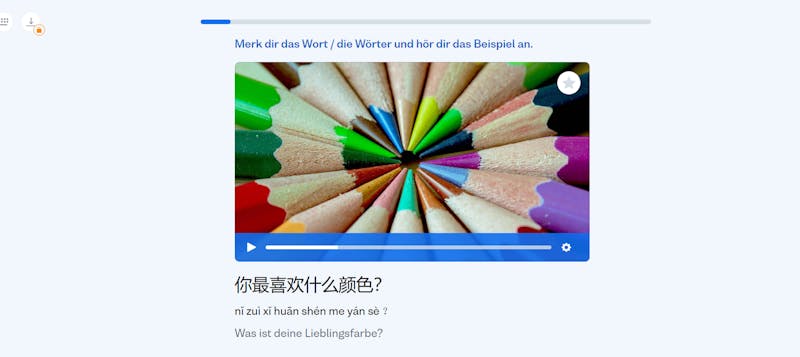 Following your first 'exposure' to the new word or phrase, you'll be asked a variety of different questions that put your knowledge of it to the test. These can take the form of true-or-false or multiple-choice questions, or be fill-in-the-blank types. In between, you'll also be given tips and hints about grammar, vocabulary, or pronunciation. At the beginning of a course, these appear frequently, gradually disappearing as time goes on. For related languages such as German, French, or Spanish, this is not such a big issue, however, for Chinese (Mandarin), or any other non-Indo-European languages on offer, it would have been nice to have these hints close at hand.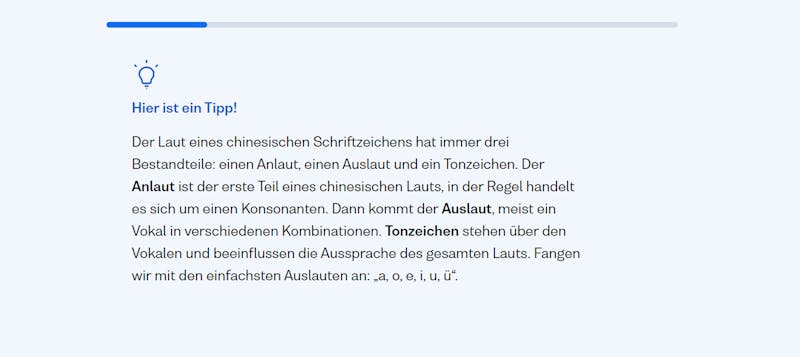 You can practice the vocabulary that you've learned with the vocabulary trainer, which is based around the spaced repetition principle. Concretely speaking, this means that students are prompted regarding vocabulary or content at ever-increasing intervals, helping to anchor this content in their long-term memory. In Busuu, this takes the shape of "weak", "average", and "strong" knowledge of a term or phrase. The vocabulary trainer is only available in the premium version, however.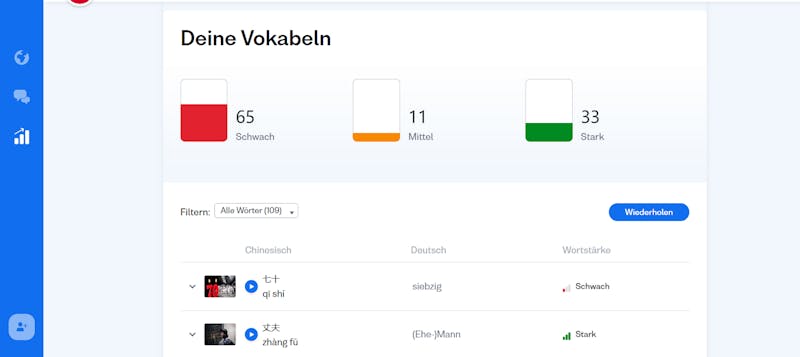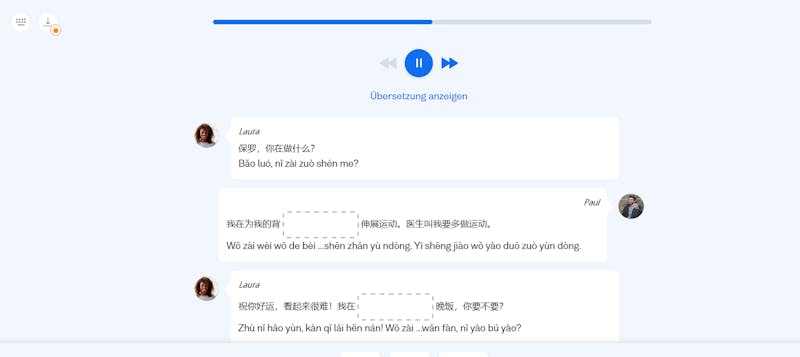 Quiz
Just like in school, quizzes test your knowledge at regular intervals. Specifically, these ask single choice questions about your vocabulary. Once again, this feature is only provided in full to paying subscribers; free users can only try it.
Conversations
Busuu works on students' pronunciation and creativity using its Community feature. Of course, the fact that your answers are evaluated by real native speakers (and not computers or algorithms) is a neat twist. But, don't think that this is one-way traffic; you'll also need to correct exercises from users studying your mother tongue.
This has both advantages and disadvantages. For example, through this method, it's possible to find true tandem partners, who can help you improve your language skills while you do the same for them. At the same time, not every language learner is a good language teacher, and there's no set rule that even someone who corrects your assignments well will have any interest in helping you learn their mother tongue further.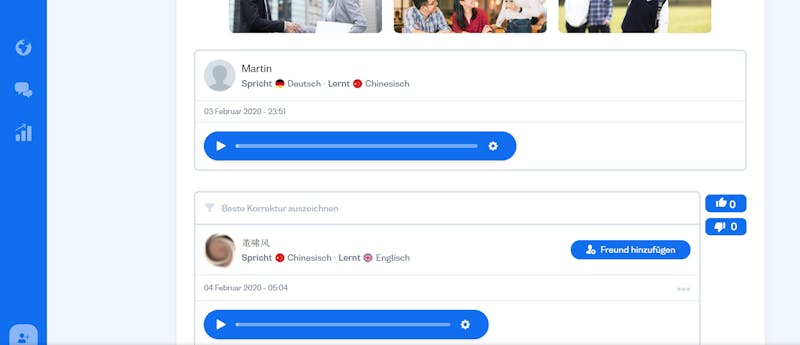 In the best-case scenario, you'll be able to forge something like language friendships, with users who are interested in regular conversations (written or verbal). In the Community area, you can also interact through conversational lessons, which for beginners include photos or videos that you'll discuss with one another.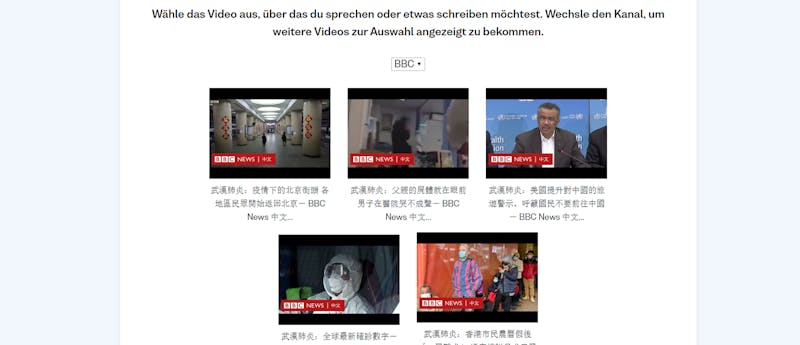 These Community features are a really cool facet of Busuu and definitely 'put it on the map'. Real interactions with native speakers will always be more beneficial than those with chatbots, such as in Mondly and much more affordable than Rosetta Stone's tutors, however, it would be nice if the platform was able to automatically identify pronunciation, as in Duolingo.
This basically sums up our experience with Busuu. The Community area is unique and affords language learners of all levels nearly endless opportunities. As such, it even becomes possible to jettison the rest of the platform (supposing that one has mastered it) and take things to the next level, striking up a tandem partnership with a native speaker.
Of course, this is a review of the entire platform and not just one of its features. As such, it's important to note that there is definitely some room for improvement. For example, apart from dialogues, reading comprehension is rarely tested, and pronunciation and grammar are often graded automatically.
Even the Community area has its flaws: Recordings of other users can and vary significantly in terms of their quality, and "unstructured" communication, like in dialogue apps such as Tandem, isn't possible. In most cases, Busuu is its own worst enemy: Particularly with such a large userbase that interacts with one another, the absence of rankings, points, competitions, or badges is somewhat inexplicable.
Score: 3.7 / 5
5.
What We Liked About Busuu
Busuu is well-structured and its attempts at adhering to the CEFR are commendable, even though this is certainly far from perfect. The platform is visually appealing and doesn't over-gamify learning. Even though gaming elements make learning more interactive, or seem less like, well, learning, Busuu's structure provides, at least in our minds, a fair deal of motivation for students to continue. Individualized lesson plans (a premium feature) and goals are useful tools for helping boost student commitment and participation. Of course, far more than 100 hours of practice are needed for an English speaker to become proficient in Chinese (Mandarin), but a student is far likelier to embark upon the journey with the idea of finishing in 19 months than after 2,200 hours.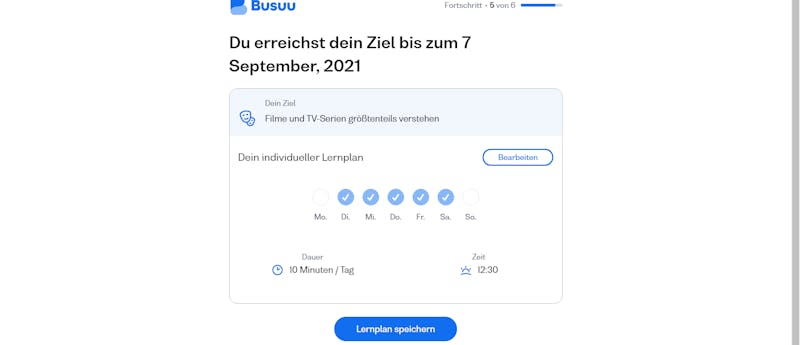 You've probably guessed it by now, but the real highlight of our experience with Busuu was its Community feature. Ready-made exercises will never be enough to endow students with fluency in a foreign language, and neither will hours of time in front of a screen. Linguistic creativity can only be promoted through interactions with native speakers or those fluent in the target language. Busuu's building of a bridge between learners and native speakers is commendable.
The SRS-based vocabulary trainer is also a useful tool for helping students commit words and phrases to their long-term memory, and highlight areas where greater attention is needed.
We also liked the possibility to acquire official completion certificates from McGraw-Hill Education, even though these don't really compare to those issues by governing bodies such as DELF/DALF (for French) or the Goethe Institut (for German).
6.
What We Didn't Like About Busuu
Busuu's exercises and lessons get old pretty fast since there isn't all that much variety. Beyond true-or-false, single, and multiple-choice questions, there isn't much to do, with listening or reading comprehension rarely tested. It would be nice if short questions were added to the end of brief texts or dialogues that users are given to double-check whether they really understood the content or not.
While the Community area does offer a lot of support and additional options, it really can't make up for everything missing in the courses. As nice as the feature is, it's pretty bare-bones. Instead of going head-to-head with Tandem (or apps like it), interactions are kept to a specific formula. Busuu could make a name for itself as an international social media platform for language learners, however, for reasons that are beyond us, doesn't seem to be all too interested in that.
Alongside the free version, which puts a number of modules behind paywalls, Busuu is available in two paid versions, Premium and Premium Plus. Busuu Premium includes access to a single language, but removes all paywalls for it, and provides users with complete access to the Community area, grammar lessons, the vocabulary trainer, and offline mode.
Premium Plus users can access all languages, and will also receive a customized lesson plan and the possibility to generate an official certificate recognizing their language knowledge.
You can find an overview of the rates below:
Free
Premium (12 months)
Premium Plus (12 months)
Set-up Fee
$0.00
$0.00
$0.00
Price per Month
$0.00
$5.95
$6.79
Contract Period (Months)
0
12
12
Languages
Source Languages

Arabic

Chinese

German

English

French

Italian

Japanese

Polish

Portuguese

Russian

Spanish

Turkish

Arabic

Chinese

German

English

French

Italian

Japanese

Polish

Portuguese

Russian

Spanish

Turkish

Arabic

Chinese

German

English

French

Italian

Japanese

Polish

Portuguese

Russian

Spanish

Turkish

Languages

Arabic

Chinese

German

English

French

Italian

Japanese

Polish

Portuguese

Russian

Spanish

Turkish

Arabic

Chinese

German

English

French

Italian

Japanese

Polish

Portuguese

Russian

Spanish

Turkish

Arabic

Chinese

German

English

French

Italian

Japanese

Polish

Portuguese

Russian

Spanish

Turkish

Languages included
1
1
12
Features
Real Teachers
Speaking Practice
Certificates
Offline Use
Business Plans
Conclusion
Apps & Interface
8.6 / 10
Language Selection
8.6 / 10
Learning Process
7.4 / 10
Despite the number of apps and platforms that exist for learning languages online, almost none of them have managed to integrate tandem learning into their offers. That is, except for Busuu, which manages to fill this niche, in large part, successfully.
Busuu's course content is decent, albeit a bit lackluster. One of the platform's highlights is conversation exercises with native speakers, providing users with feedback regarding their pronunciation and verbal production. Apart from this, lessons are well-structured and based on the CEFR, our only complaints in this regard being the monotony of the exercises and the lack of variety.
While unique, the Community area could offer so much more and seems restrained by the existing structure/guidelines since users aren't given a common area for freely communicating, or the ability to compete with one another and go head-to-head. Of course, creating a veritable forum would require moderators, and could quickly turn into a nightmare with spammers flocking to the platform to push their goods or services. But still, there are ways to offer genuine users more freedom in interacting with and learning from one another.
The main advantage of Busuu is that it helps users forge links with one another, allowing native speakers to help each other, making it valuable for beginners and more intermediate or advanced users alike. Although more could definitely be done, the platform is not without its merits and, in our opinion, is certainly worth checking out.
well structured learning journey
interactions with native speakers
somewhat boring exercises
8.2

good
Source Languages
Languages
Languages included
Busuu Free
$0.00
monthly price
Visit Website »
Try for free
User Reviews
Customer Ratings
602,625 Bewertungen
Visit Website
We analyzed the reviews and ratings from various portals and found 602,625 ratings with an overall rating of 4.5 out of 5 .
FAQs
Is Busuu free?
Busuu is a freemium program, or, one that can be used albeit with limitations in the form of paywalls. Free users are limited to one language and the ability to complete only some modules in each lesson.
Is Busuu Premium worth paying for?
Busuu offers two paid subscriptions: Premium and Premium Plus. For anyone learning a language as a hobby, or for fun, the free version will likely cover your needs. However, if you want to make use of the vocabulary trainer, you'll need to crack open your wallet. Since the two paid subscriptions don't differ all that much in terms of their price (around $1 per month) it makes sense to upgrade to the full (Premium Plus) version since you'll also get a personalized lesson plan and access to all languages.
Does Busuu outperform Duolingo?
Is red better than blue? Is chocolate better than ice cream? Like these two questions (which don't have a "right" or "wrong" answer), we can't really say whether Busuu is "better" than Duolingo, since judging this is a matter of personal taste and preference.
With that said, we liked Duolingo's content and manner of presentation more, but found Busuu's Community area to be very nifty. Ultimately, the choice is up to you!
Alternatives
Among the programs and platforms that we tested, Busuu reminded us most of Babbel. If you're looking for a relatively serious, non-gamified language-learning platform, and aren't convinced of Busuu, we're fairly certain that Babbel will satisfy your needs.
individual content per language
vocabulary with spaced repetition
9.0

excellent
Source Languages
Languages
Languages included
Babbel 12 months
$6.95
monthly price
Visit Website »
Try 7 days for free
Duolingo Language Learning
intuitive interface & design
good for building vocabulary
8.6

good
Source Languages
Languages
Languages included
Duolingo Free
$0.00
monthly price
Visit Website »
Lingvist Language Learning
effective flashcard system
uses spaced repetition learning
adapts to your language level
8.2

good
Source Languages
Languages
Languages included
Lingvist Free
$0.00
monthly price
Visit Website »
Rosetta Stone Language Learning
Source Languages
Languages
Languages included
Rosetta Stone Lifetime
$7.46
monthly price
Visit Website »
30-Day Money Back Guarantee
Memrise Language Learning
Source Languages
Languages
Languages included
Memrise Free
$0.00
monthly price
Visit Website »
many languages for learning
gamification as a motivation
chatbot and dialog exercises
the same in every language
6.6

satisfactory
Source Languages
Languages
Languages included
Mondly Free
$0.00
monthly price
Visit Website »

Author (German Version): Martin Gschwentner
Martin Gschwentner majored in American Studies and Media Studies in Germany, the USA and France and works as a freelance editor in Paris. He is a doctoral student at the Institute for English and American Studies at the University of Paris Diderot, where he is researching the influence of money on US politics. On EXPERTE.com he writes about IT security, data protection and software for the self-employed and small businesses.

Translator & Editor: D Bare
Continue Reading
Other languages
Deutsch