Language Learning App Review: Babbel

It's somewhat odd that the Berlin-based Lesson Nine GmbH named its language-learning platform so similarly to two things that have such negative connotations. Pretty much everyone knows the story of the Tower of Babel, which, according to the Bible, resulted in mankind's development of different (unintelligble) languages. Similarly, baby talk is scientifically referred to as "babbling" with the word unscientifically used to indicate meaningless speech originating from anyone (baby or not).
Of course, Babbel is one of the most popular e-learning platforms available on the market today, so perhaps our concerns about its names are undue. In this review, we'll let you know how Babbel stacks up against other language-learning platforms available on the market and whether nomen est omen, or if Babbel sets the record straight.

What Is Babbel?
Babbel is an online language-learning platform, the content of which is created by language scientists and teachers. Babbel's most unique trait is that each course is tailored to the student's language of instruction. This means that if you're learning German as an English speaker, your lessons will be different than those of a Spanish speaker learning German at the same level. In our review below, we've taken a look at this aspect, in particular, to see whether it holds up in reality, or just sounds good on paper.
Review
Language Selection
9.4 / 10
No-frills language courses without too much gamification

Individually-created content for each language combination

Vocabulary acquisition supported by SRS
Uploading audio recordings isn't as well realized as in other platforms

Little content for most languages
Like most e-learning platforms, Babbel is available in both a browser version and as a standalone app for smartphones and tablets. Once you've registered, your progress will be synchronized between platforms. After selecting your language of instruction and target language, you'll be able to start with the first lessons right away, or take a placement test, the latter in case you already have some knowledge of the language.
From there, you can start with your course, or check out Babbel's other functions. In the "Home" area, you'll always be shown the course you're taking, but, you can view different content by clicking on the navigation menu at the top of the screen. By clicking on "More Courses", you can do grammar exercises, or complete lessons about cultural topics while practicing your listening, reading, and writing. In the "Review" area, you can brush up on vocabulary that you've already learned using space repetition.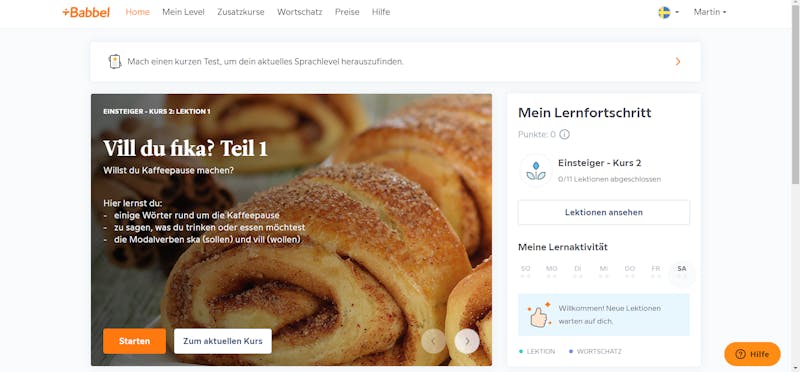 You'll find the same features on the smartphone or tablet version of the platform, albeit, somewhat differently arranged and/or named. For example, in the "Courses" area, you'll be able to complete both regular and additional lessons. By tapping on "Profile", you can set notifications or adjust your microphone or sound settings. There's also a neat option to toggle "strict spelling" on or off. If on, this will correct you when you make spelling mistakes or misplace accent marks. None of the other services we reviewed offer this sort of feature (Duolingo probably comes closest, allowing approximations of spelling, and then showing the correct spelling after you've entered your answer).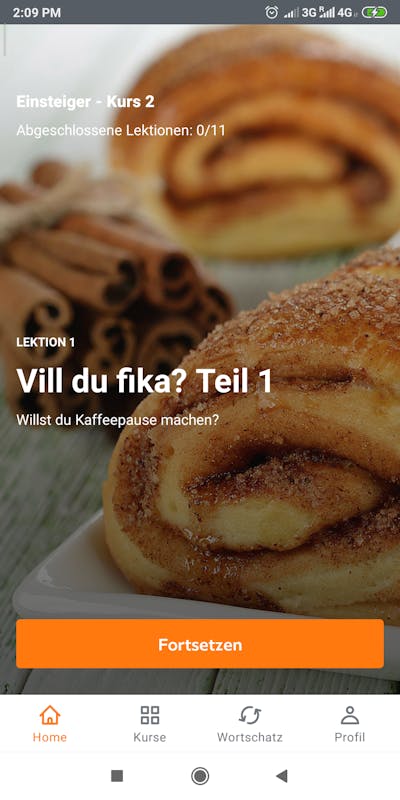 In terms of appearance, Babbel doesn't overly impress or underwhelm. The mobile app's Home area could do with some bells and whistles to entice students into learning since you can only see your current course. Lingvist, for example, does a better job here, showing the current language level as well as the student's daily goals. This sort of gamification serves a clear purpose and is useful; as such Babbel misses out on a good opportunity to spice up its platform a bit.
It's also frustrating that you'll need to tap twice to either close the app or jump to another tab. While this might serve a purpose in preventing inadvertent tab closures while on mobile, it becomes annoying over time.
The browser version performs better. By clicking on "My Progress" on the start page, you'll be shown your activity over the past few days and given a "daily challenge" tailored to your knowledge and progress.
Babbel definitely doesn't cut a shabby figure in terms of its interface, even if it could do with a bit more pizzazz here and there.
Score: 4 / 5
Babbel is available in 14 different languages, including English. That means English speakers can choose from 13 other languages. As mentioned above, these are individual courses, and not simply translations of one another.
| Language of Instruction | Target Language |
| --- | --- |
| | French, German, Italian, Russian, Portuguese, Turkish, Dutch, Swedish, Polish, Norwegian, Indonesian, and Danish |
Who Is Babbel Designed For?
Like most language-learning platforms we've reviewed, Babbel is targeted at beginners. Such users can look forward to more content than advanced learners or those with some background knowledge in the language they're studying. With that said, there is content provided for auto-didactic learners (those who want to teach themselves), especially among the more 'popular' language options. Our impression is that Babbel best serves those learners who want to start with a language from scratch.
Score: 4.7 / 5
4.
How Do You Learn in Babbel?
We had the feeling that Babbel is a bit more 'serious' than its competitors. This is likely because services like Memrise advertise themselves as "the opposite of textbook learning", contrasting with Babbel's interactive coursebook style. This definitely impacts how you learn with the platform, but we think, in a positive way. Generally speaking, Babbel feels less like a game in which users learn on the side, than an actual language course with some elements borrowed from the world of gaming.
As a result, the learning curve is definitely steeper from the get-go. Users expecting to be enticed to learn with flashy animations, rewards, points, and congratulatory sound effects will be disappointed. Instead, Babbel reels you in by challenging your skills and testing the limits of your knowledge with clever linguistic puzzles. We tested this out with a beginner course for Swedish and had to start spelling words and declining verbs from the first moment.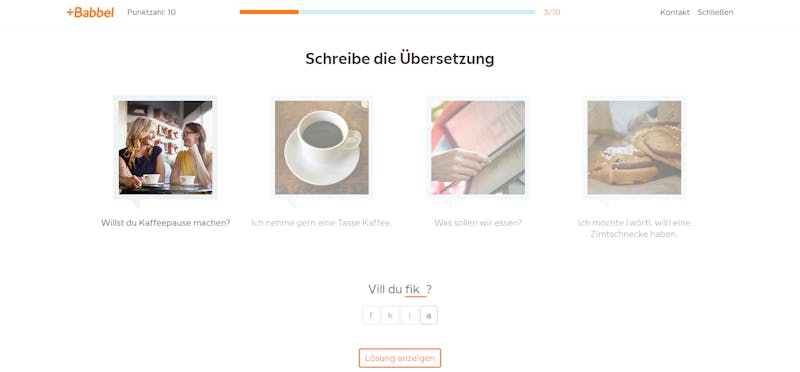 One advantage to this is that you'll come face-to-face with the language as soon as you start using the platform, learning vocabulary in its proper context. Babbel doesn't hold your hand either: In some cases, you'll have to figure out what words mean or how grammar works through deduction or context clues. In the case of the latter, brief grammar tutorials will appear from time-to-time, explaining rules in greater detail.
As a result, Babbel definitely seems most like a regular textbook, particularly more so than other language apps. Grammar isn't pushed off to the margins or ignored because it isn't "fun" enough, and the program will use scientific language to explain how concepts work. In this way, users are provided with a theoretical foundation that they can (and will) build upon as they progress.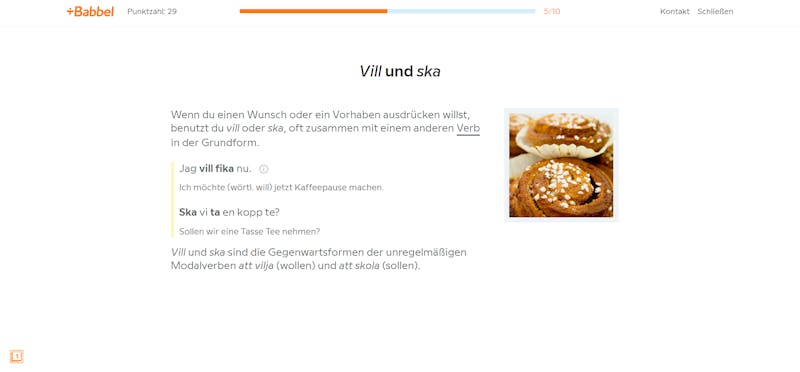 Unfortunately, the assignments and exercises aren't so varied as we would have liked. Despite testing all four of the main competencies (reading, listening, writing, and speaking), beyond multiple-choice questions, or typing out answers, you won't be asked to do much more. For grammar exercises, you'll need to select (or type) the correct form of a verb or arrange a sentence properly.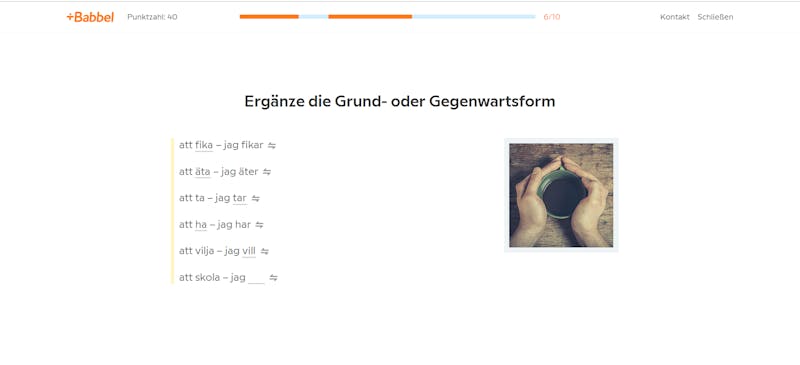 The uniqueness of each language pair is definitely something worth mentioning here. Plenty of other e-learning platforms simply translate their courses question-for-question from one language to another. While this can save time in some areas, plastering over cultural differences could actually disadvantage language learners. Just think, how much sense does it make to ask for 'a coffee' in Italian, considering how many different preparations exist? Although this phrase would be extremely useful in an everyday context in American English, for example, in an Italian, or even European one, it would raise far more questions from the confused waiter or waitress, likely overwhelming the language learner.
To put Babbel to the test, we checked a few different language combinations and were pleasantly surprised that each began with different topics, words, and exercises. As students advance, they'll be asked to listen to dialogues between individuals in the target language and then answer questions to demonstrate their comprehension of what was spoken about. So far as we could tell, this content seems to be designed for each language combination, which we think is a mark of quality.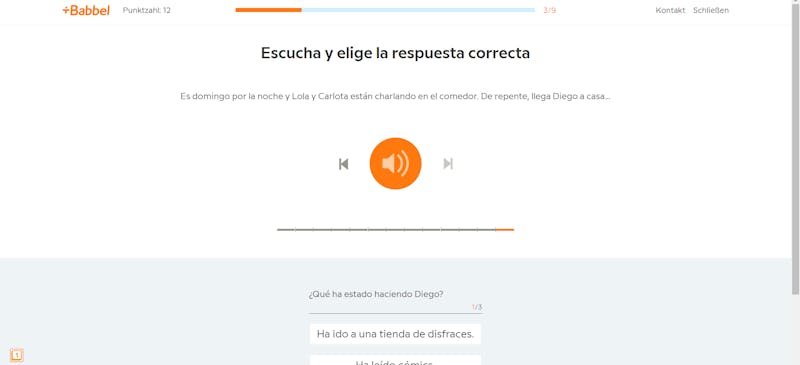 Lessons are well-structured in Babbel and it is possible to start at different levels of a course depending on your existing knowledge. These include Newcomer, Beginner I, Beginner II, Pre-Intermediate, Intermediate, Independent, and Advanced. Since each course is unique, some have far more content than others, and as a result, only the first few levels are available. As an example, whereas Italian and German can be learned by English speakers up to the Independent level (and Spanish and French, the Advanced level), Indonesian and Polish max out at Beginner II, and Russian only consists of Newcomer and Beginner I.
Vocabulary
Alongside the regular and additional lessons, you can also practice and train your vocabulary. Babbel allows users to choose from learning vocabulary with flashcards, or through listening, speaking, and writing exercises. New words that you've learned in a lesson are automatically added to your dictionary, which you can regularly review and repeat.
This takes place according to the spaced repetition principle, with the ultimate goal being the inclusion of such words and phrases in your long-term memory. Over a series of progressively longer intervals, content should find its way from short to long-term memory, until individual words or phrases no longer need to be recalled, but are readily accessible.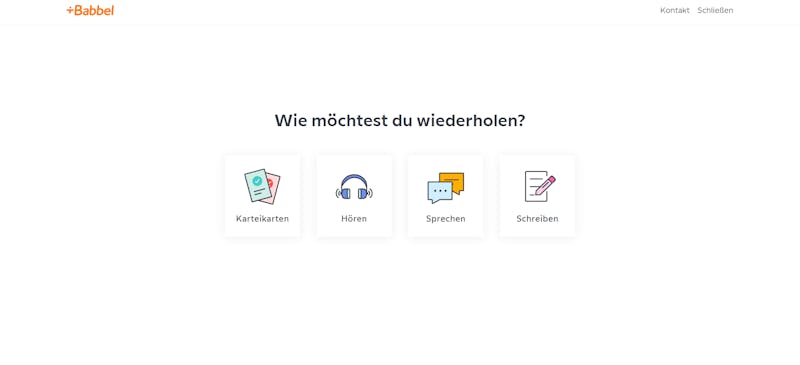 As we've noted above, Babbel refrains from over-gamifying its platform or distracting too much from its primary purpose. The service also didn't make the typical "we make textbooks a thing of the past" promise. Instead, its creators seem to be confident in the need for learning content to be presented digitally, but not to stray too far from being educational.
Each student is different, and even the best teacher knows that no matter how good their approach or experience might be, there will always be some for whom it simply doesn't click. Babbel doesn't try to scoop up every single language learner or make them 'addicted' to using the program, as can be seen by the fairly high learning curve at the outset of any of its courses. However, for each user or student who makes it through this phase, we're positive that the results, i.e. their newly-won language competence, will be more solid than with other platforms. This is because success in Babbel is actually an achievement and not just a marketing gimmick or a ploy to reel users in.
The platform definitely has its shortcomings: For example, we would have liked to see more variety in terms of exercises, and the statistics and achievements areas would profit from some gamification. However, taken together, Babbel is definitely one of the more effective and serious e-learning platforms available on the market today.
Score: 4.7 / 5
5.
What We Liked About Babbel
Babbel takes its students seriously, and we felt as though we were participating in an actual language course, rather than a minigame. So far as we're concerned, the best motivation to learn a language is actually wanting to learn the language, something that Babbel's approach seems to assume and work direct its efforts towards.
The platform also doesn't play around with users, enticing them with games, challenges, points, or rankings, and also doesn't recycle content from course-to-course. This is likely because its creators and developers are language scientists and teachers, giving the service an academic edge over its competitors. The attention to detail, nuance, and well-rounded nature of the courses we tested was impressive and felt authentic. On other platforms, one sometimes has the impression that the course was mass-produced and then checked by a native speaker for accuracy with a few questions rearranged or different colors added. We didn't have this feeling with Babbel.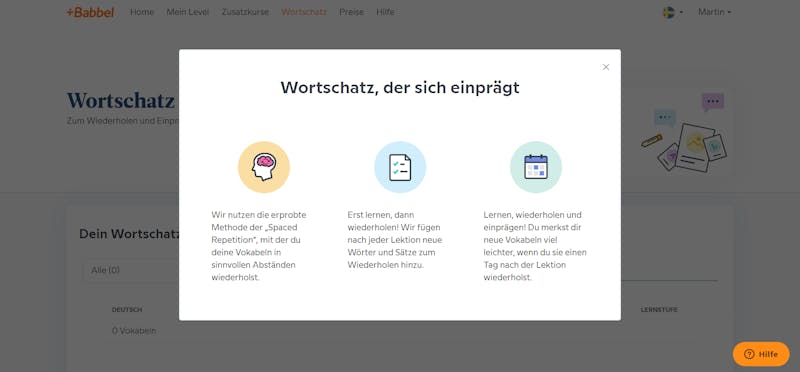 Babbel is extremely well-structured, offering students a nice blend of vocabulary, grammar, and cultural content that has an easy-to-follow logic. With that said, the e-learning platform is certainly not without its shortcomings.
6.
What We Didn't Like About Babbel
Because every language course offered by Babbel is different, the quality and duration are rarely the same. While this is understandable, at least from an economic point of view, when you boil everything down, the 'Big Four' Indo-European languages (French, Spanish, German, and Italian) are the most well-developed, with other, widely-spoken and globally important languages getting the shorter end of the stick. For example, it's hard to justify why Russian (with around 150 million speakers worldwide) is only available up to the Beginner I level, whereas Norwegian and Danish (each with around 6 million speakers worldwide) can be learned up to the Beginner II level, or Swedish (10 million speakers) to the Intermediate level.
Another issue is the lack of variety in terms of exercises, which can (over time) make it somewhat of a chore to use the platform. Of course, the same is true of regular language courses too, especially when grammar exercises are the topic, the only difference being, you'll need to discipline yourself, rather than rely on a teacher to make sure you're not falling behind. While this wasn't a problem for us, we fathom that it could be for certain users.
Beyond just the content of the exercises, it also seems advisable to look into the exercises themselves and consider overhauling them. For example, the speaking exercises were frustrating since it takes the platform relatively long to recognize the user's voice, and even then, rejections to seemingly correct responses are far too common for our liking. Competitors such as Lingvist, which seem to have optimized user recordings and responses, give a glimpse into what Babbel should aspire to.
Finally, Babbel is also a premium service, meaning that users will have to pay if they want to do more than just the handful of free lessons offered to get subscribers in the door. While not necessarily a negative (we believe the service is worth its price), this might turn off users who are looking to learn a language on a budget.
As a paid service, Babbel must be subscribed to, either on a monthly or yearly basis. Like nearly all services, the longer the subscription's length, the lower the monthly price, with a yearly subscription costing 30% less (per month) than a three-month one. A current list of all prices can be found here:
12 months
6 months
3 months
1 month
Set-up Fee
$0.00
$0.00
$0.00
$13.95
Price per Month
$6.95
$8.45
$9.95
$13.95
Contract Period (Months)
12
6
3
1
Languages
Source Languages

German

English

French

Italian

Polish

Portuguese

Swedish

Spanish

German

English

French

Italian

Polish

Portuguese

Swedish

Spanish

German

English

French

Italian

Polish

Portuguese

Swedish

Spanish

German

English

French

Italian

Polish

Portuguese

Swedish

Spanish

Languages

Danish

German

English

French

Dutch

Indonesian

Italian

Norwegian

Polish

Portuguese

Russian

Swedish

Spanish

Turkish

Danish

German

English

French

Dutch

Indonesian

Italian

Norwegian

Polish

Portuguese

Russian

Swedish

Spanish

Turkish

Danish

German

English

French

Dutch

Indonesian

Italian

Norwegian

Polish

Portuguese

Russian

Swedish

Spanish

Turkish

Danish

German

English

French

Dutch

Indonesian

Italian

Norwegian

Polish

Portuguese

Russian

Swedish

Spanish

Turkish

Languages included
1
1
1
1
Features
Real Teachers
Speaking Practice
Certificates
Offline Use
Business Plans
Babbel is more expensive than the premium versions of Duolingo or Memrise, but definitely won't break the bank. Regardless of which payment schedule you agree to, you won't pay more than $10 per month.
Babbel offers three special subscription packages (Basic, Professional, and Intensive) for businesses and organizations, each of which includes different features.
Conclusion
Language Selection
9.4 / 10
Babbel goes its own way, verging off from the path well-tread by other e-learning platforms. Instead of making language learning a game, it has digitized the approaches and methodologies commonly found in classrooms. In our opinion, the result is more of an online language course, and less of a game, with all of the accompanying advantages and disadvantages that this brings.
With Babbel, you'll need to be able to motivate yourself more so than with some of its more 'entertaining' competitors, since, by and large, the platform has not been gamified to that much of an extent. The trade-off for this can be seen in the better-structured and 'professional' lessons, each of which was developed for the language pair, and not simply translated word-for-word from another course.
Similar to traditional, book-based learning, it is possible to become 'bored' with the exercises. Some of these, like those involving recording yourself speaking a sentence or line of text, can become frustrating owing to some technical deficiencies in the platform. And of course, Babbel can't teach anyone a language on its own: Creativity in language production, for example, has never been made so successful digitally as it is in reality since there are (theoretically) hundreds of correct responses to a particular query, and thousands, if not millions of 'nearly correct' responses. For even the best AI, it would be almost impossible to address the latter as well as a live teacher or native speaker could.
However, as part of an overall language-learning strategy, or a component thereof, Babbel is an excellent resource, not least because of its seriousness and refinement.
individual content per language
vocabulary with spaced repetition
9.0

excellent
Source Languages
Languages
Languages included
Babbel 12 months
$6.95
monthly price
Visit Website »
Try 7 days for free
User Reviews
Customer Ratings
1,327,257 Bewertungen
Visit Website
We analyzed the reviews and ratings from various portals and found 1,327,257 ratings with an overall rating of 4.7 out of 5 .
FAQs
No, Babbel is a paid e-learning service. You can test the service and complete a free lesson for each level before purchasing a subscription. However, to really learn, you'll need access to all course content and a subscription.
How many devices can I use Babbel on?
⊖
No limit. Your progress is linked to your account and automatically synchronized between the browser app and your iOS or Android device.
How long does it take to learn a language with Babbel?
⊖
This depends on how much time and effort you are willing and able to invest. According to Babbel, it's possible to learn the basics of a language within around three weeks, supposing that you practice daily.
Generally speaking, learning a language requires several hundred hours of instruction and depends on how familiar your mother tongue is to the language you're learning. According to the US Department of State ⇱, an English speaker requires 24-36 weeks of instruction (600-900 hours) to learn most Indo-European languages (German, French, Italian, Spanish, Danish, Norwegian). Slavic (Russian, Polish, etc.) and some non-Indo European languages typically necessitate 44 weeks (1,100 hours) of lessons, while languages such as Arabic, Chinese, Japanese, or Korean require the most time, 88 weeks (2,200 hours) to become proficient in.
Alternatives
Duolingo Language Learning
intuitive interface & design
good for building vocabulary
8.6

good
Source Languages
Languages
Languages included
Duolingo Free
$0.00
monthly price
Visit Website »
Lingvist Language Learning
effective flashcard system
uses spaced repetition learning
adapts to your language level
8.2

good
Source Languages
Languages
Languages included
Lingvist Free
$0.00
monthly price
Visit Website »
well structured learning journey
interactions with native speakers
somewhat boring exercises
8.2

good
Source Languages
Languages
Languages included
Busuu Free
$0.00
monthly price
Visit Website »
Try for free

Martin Gschwentner majored in American Studies and Media Studies in Germany, the USA and France and works as a freelance editor in Paris. He is a doctoral student at the Institute for English and American Studies at the University of Paris Diderot, where he is researching the influence of money on US politics. On EXPERTE.com he writes about IT security, data protection and software for the self-employed and small businesses.

Translator & Editor: D Bare
Continue Reading
Other languages
Deutsch