Online Language Learning - 7 Apps Reviewed

Charlemagne is reputed to have said, "To speak another language is to possess another soul". Whether or not he really did will probably never be known, however, there's no denying the importance of being multilingual. The ability to communicate with a wider audience isn't only culturally enriching, it can also yield financial benefits as well. As a result of the digital revolution, designers and developers have taken note, innovating how languages are learned, moving lessons out of the classroom and into the virtual realm where they are accessible 24/7/365. In this review series, we've taken a look at the different platforms that are available, and what each offers.
Why Learn a Language Online?
Learning a language is essentially the same as picking up a new skill or craft. No one would question someone taking driving lessons, practicing masonry, or attending culinary school, so think of language acquisition along similar lines. Like the examples listed, learning a new language also requires an investment of resources usually in the form of time, money, and effort.
Although throughout recorded history languages have been learned or acquired in 'classroom' settings, that is, one teacher instructing a group of pupils, this, like many things, has changed with the advent of information technology. First of all, in the traditional model, students only learn what the teacher 'reveals' to them, and at a specific pace, set once again, by the teacher or instructor. Similarly, students need to be physically present at the lesson in order to acquire the knowledge being offered. Missing a lesson can often wreak havoc upon language acquisition, especially at the outset where topics build upon one another. Online language learning platforms nix all of these issues and provide a number of additional advantages to boot.

You won't need to look far to see precisely what those advantages are, as language-learning platforms frequently note them in their advertising campaigns, but, just to be on the safe side, they include:
Learning at your own speed, and how much (or how little) you want;

Paying less than traditional language courses (if at all);

Acquiring the new language through fun and games instead of textbooks and repetition
As can be seen, there are a number of good arguments in favor of Duolingo and others like it, however, not each platform is the same, and that's where we at EXPERTE.com come in.
Online Language Learning Platform Reviews
If you're wondering which online language learning platform is the best, you're in the right place, since we've done all of the heavy lifting for you. Below, you'll find a brief overview of each app we looked at and how we evaluated tit More detailed examinations can be found in the individual reviews for each app.
individual content per language
vocabulary with spaced repetition
9.0

excellent
Source Languages
Languages
Languages included
Babbel 12 months
$6.95
monthly price
Visit Website »
Try 7 days for free
Babbel is a paid online language learning platform from Germany which provides customized lesson plans for each user. The service is less gamified than most of its competitors and uses the digital learning environment to expand upon classic classroom-based approaches, rather than provide a wholly new experience. Users receive well-thought-out and structured courses, however, need to rely on their own motivation in order to achieve their linguistic goals.
Language Selection
9.4 / 10
Duolingo Language Learning
intuitive interface & design
good for building vocabulary
8.6

good
Source Languages
Languages
Languages included
Duolingo Free
$0.00
monthly price
Visit Website »
With more than 300 million users Duolingo is one of the most well-known language-learning platforms available today. Of course, it helps that Duolingo is completely free, however, its playfulness and game-like structure certainly also play a role. Rounding out its attractiveness is the large selection of languages on offer and committed volunteers who respond to forum questions or issues relatively quickly.
Language Selection
8.0 / 10
Lingvist Language Learning
effective flashcard system
uses spaced repetition learning
adapts to your language level
8.2

good
Source Languages
Languages
Languages included
Lingvist Free
$0.00
monthly price
Visit Website »
Do you like flashcards? If so, Lingvist is for you, providing a seemingly endless number of these, displaying words and phrases in the actual context in which they are used. Despite offering grammar tips and other challenges, Lingvist is primarily a vocab trainer that adjusts to the language level of its users, expanding their lexicon thanks to its intelligent algorithms. Lingvist is available for free, however, a few nice features are only accessible to paying subscribers.
Apps und Interface
9.4 / 10
Language Selection
6.0 / 10
Memrise, like Duolingo, also relies on gamification to help its users acquire new languages. This is intended to help reinforce what is learned in the accompanying courses, which are primarily designed around expanding vocabulary. One of Memrise's unique features is that vocab is spoken aloud by native speakers in short videos, providing learners with all of the body language and context they need to understand what they're being shown.
Mondly focuses on encouraging its users to actually produce in their new language by speaking. To support this, the platform has a chatbot that simulates real-life conversations with users. Like Duolingo and Memrise, Mondly is heavily gamified, rewarding users who complete lessons with points and extra content.
Rosetta Stone is the old-timer among the language-learning platforms we reviewed, being around since the 1990s, but that doesn't mean it's stayed the same since then. Rosetta Stone adheres to the principle of dynamic immersion, providing multi-sensory lessons that are meant to lead users deeper into the language without overwhelming them through its sleek apps and refined web interface.
Concepts and Auxiliary Apps
Even though we noticed some general trends, each language-learning platform we looked at goes about things a bit differently. Some of these are allrounders whereas others are less well-known programs that focus on one aspect of language acquisition. The borders are fluid, and often, it isn't possible to group apps into just one of them. With that said, there are a few basic elements common to most language-learning apps and platforms.
Gamification
Teachers and museums have long understood that knowledge transfer doesn't always work best with dry facts and repetition, but rather, through incentivization. Learning can also be entertaining, and numerous ⇱ studies have shown that fun ⇱, such as through games or activities, can and does improve educational outcomes, both for children and adults. For this reason, children experiment in chemistry class, museums have 'hands-on' exhibitions, and teachers award points and prizes for good test scores or classroom behavior.
In terms of e-learning, incentivization takes the form of 'gamification', or the integration of (video) game elements in a context where typically one wouldn't expect to find them. These elements can take on different forms, such as the lesson 'tree' and golden 'Lingot' tokens in Duolingo, or Mondly's lesson 'map'.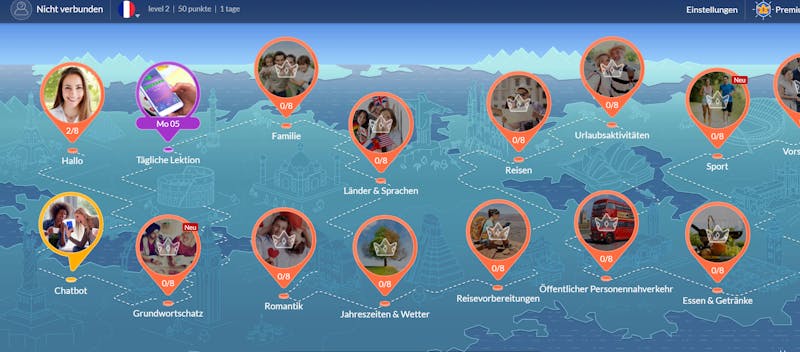 Most language learning apps reward users with points or coins when they learn regularly or complete lessons. In some cases, these coins or points can be exchanged for new content or extras.
Gamification is intended to make learning so fun and enjoyable that users want to do it on a daily or regular basis.
But gamification also has some risks. When leaving a museum, you're likely to remember much more than just the hands-on exhibition. Online language courses need to balance between entertaining users and continually providing them with new knowledge which they will retain, and on a daily basis. Even if the number of points increases, activities can fail to challenge learners, providing them with a false sense of accomplishment that becomes all too apparent when they attempt to practice their newfound language skills in real life.
Gamification also isn't really much of a replacement for good teaching methods, but in the best case, a tool that can help increase motivation and reinforce topics already learned or acquired elsewhere.
Examples for apps with gamified content: Duolingo, Mondly, Memrise
Spaced Repetition
Spaced repetition systems (SRS) are the digital, 21st-century answer to bundles of handwritten flashcards. These help to transfer new vocabulary into long-term memory at regular intervals with the help of algorithms. The idea is, that you'll see a word at precisely the moment it was about to disappear from your short-term memory, i.e. right before you were about to forget it. Accordingly, the space between intervals grows, until eventually, the word (or knowledge) is committed to long-term memory. This system is not exclusive to language learning but can also be adapted to all sorts of knowledge transfer.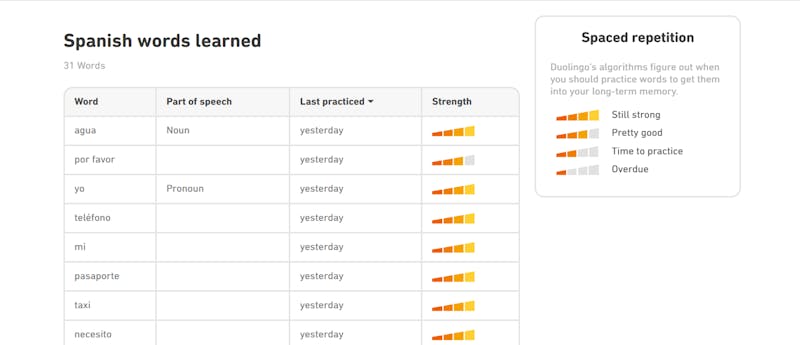 SRS in Duolingo's (user) dictionary.
Plenty of language learning platforms make use of SRS. In Duolingo, for example, an algorithm determines when it's time to refresh specific words. Beyond that, there are also a number of apps and programs that are entirely based around SRS. In some, you'll have to create these digital flashcards yourself, or import user-defined content. Such applications are (generally speaking) less user-friendly and require more initiative on the part of the learner, but work wonders for training vocabulary.
Examples of dedicated SRS learning platforms: Lingvist
Immersion
Immersion is well-known in the world of language learning, so it shouldn't come as much of a surprise that it's made the jump to digital learning too. Of course, immersion is best achieved by living in a country where the language is spoken, hearing, reading, speaking, and potentially, writing it, every day. For most, this isn't possible, so language-learning apps and platforms have found creative ways to provide something akin to this to their students.
Rosetta Stone refers to this as "dynamic immersion", and designs its courses around multisensory language learning. The typical translation tasks, common to most other apps, are skipped altogether. When courses are primarily held in the target language, immersion is enhanced, leading users (in an ideal case) to think in it as well.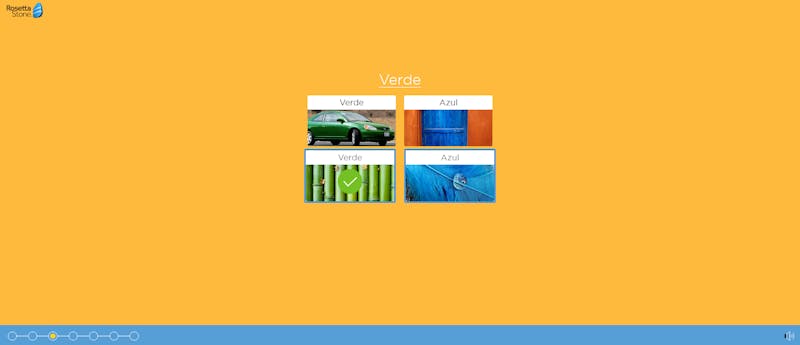 Rosetta Stone's dynamic immersion.
Immersion strengthens all aspects of language learning (speaking, listening, reading, and writing), however, in a digital context it applies to the following:
Speaking/Pronunciation
"Der Junge ist unter dem Flugzeug" is one example of a sentence you'll be confronted with in Rosetta Stone if you opt to learn German. Of course, any German could tell you that the translation of that sentence (The boy is under the airplane) has likely never been uttered in a natural conversation in the history of spoken German. This highlights a common problem for language-learning apps and one which isn't really an issue among classroom teachers since the focus is on functional usage based on knowledge of underlying concepts, rather than inputting correct responses for variations into pre-defined (programmed) questions. As such, creativity and confidence in speaking a language can only truly be gained through regular contact with someone who knows the language, in the best case, a native speaker.
Most e-learning programs have recognized this problem and developed innovative solutions for overcoming it. In Mondly, this takes the form of the afore-mentioned chatbot, which you respond to using a number of set responses and your onboard microphone. In a number of apps, you can compare answers you've supplied with those that are determined to be standard, so as to improve your pronunciation.
Overall, pronunciation and speaking practice are perhaps the two biggest weaknesses amongst all language-learning apps and platforms we reviewed, but, there are some neat ways around this, such as the Community area in Busuu, where it's possible to interact with a tandem partner for the language you're learning while helping them learn your mother tongue.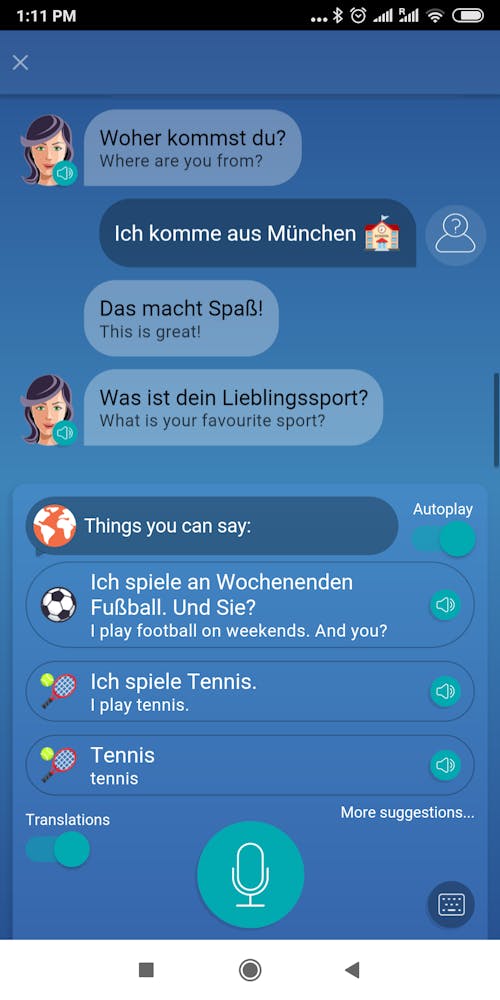 Some programs take this a step further, incorporating tutors, or encouraging their users to meet up in real life. Even the best chatbot isn't a particularly good conversationalist, and for pronunciation, it's hard to gauge oneself, even with recordings of native speakers.
Some dedicated apps that include tutors, teachers, and tandem partners include Tandem, iTalki, and from those we tested, Rosetta Stone.
Listening Comprehension
Speaking is all good and well, but only half of any conversation, and representing roughly 25% of the skills you'll need to become fluent in a foreign language (the others being listening comprehension, reading, and writing). In contrast to speaking (verbal production), online language platforms do a bit better here, since users only have to listen to a portion of text and then indicate that they understood it, by selecting text matching the phrases, or choosing a correct sentence from a list. Duolingo has taken this further, including unique and regularly updated podcasts for most of its language combinations.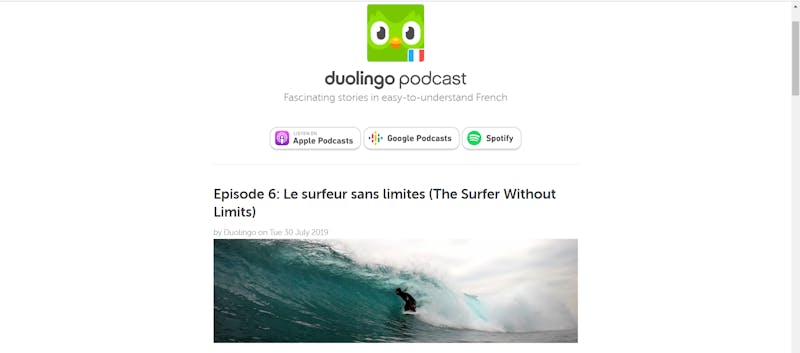 Duolingo's French Podcast (for users learning in English).
However, like verbal production or speaking, listening comprehension can only really be trained through immersion. Everyone remembers their teachers in high school fumbling around with CDs or tapes and playing simulated dialogues before asking "Should I repeat it one more time? Did everyone get the answer?". Language-learning apps have made this sleeker, but it's still too sterile to match a mumbling retiree asking you for the time, or a frustrated police officer quickly giving you directions. Content such as podcasts, which combines both entertainment and learning, is a logical next step for language learning apps and comes closer to 'real-life'. Unfortunately, up to now, most of the popular language-learning apps have not been successful in maximizing their potential.
With that said, there are a number of other resources that supplement e-learning, such as audio courses using the Pimsleur or Michel Thomas methods, YouTube lessons, podcasts, or audiobooks.
Reading Comprehension
Like listening comprehension, reading comprehension is about showing that the student has understood what they've been presented with, but in a non-verbal sense. Here, e-learning platforms perform excellently, although owing to the imperfection of language, correct answers can sometimes be marked incorrect if a certain word order is not adhered to (for example "I'm going to the market tomorrow" might be marked incorrect in place of "Tomorrow, I'm walking to the market"). Reading of longer texts, or more "sense for sense" summaries can often be an issue for online learning platforms and so the focus is frequently on single phrases or sentences.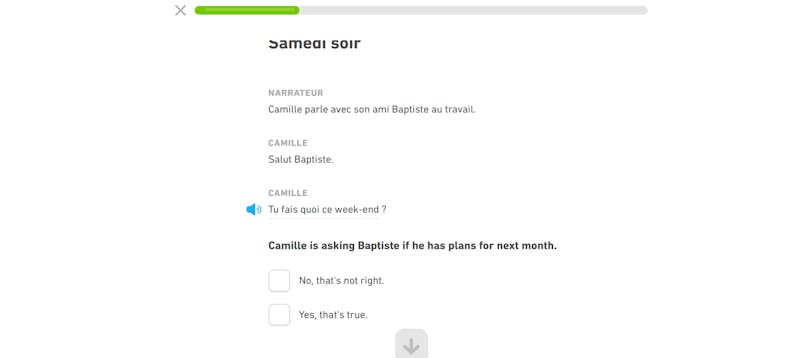 Reading comprehension exercise in Duolingo.
But, once again, this should be seen as an indication of language-learning platforms supporting learners, rather than educating them entirely. For example, some language learning apps offer users access to curated newspaper stories congruent to their level of fluency. More advanced users can skip this, and read regular texts, articles, or even books in the target language based on what they've learned in the app.
Grammar
E-learning platforms often market themselves as an alternative to traditional learning methods. Textbooks in particular are targeted as being boring, stale, or in the best case, non-interactive. The villain? Grammar, of course! This is handled as the kryptonite of gamified apps. And the question can fairly be asked, "How can the structure of a language's grammar be explained in a 'fun' way?"
The answer to this million-dollar question has to date, proven elusive. For that reason, grammar plays a secondary role on most e-learning platforms, and users who want to learn more, often find themselves confronted with the same explanations that could be found in textbooks. Below, you can see how Lingvist tackles grammar: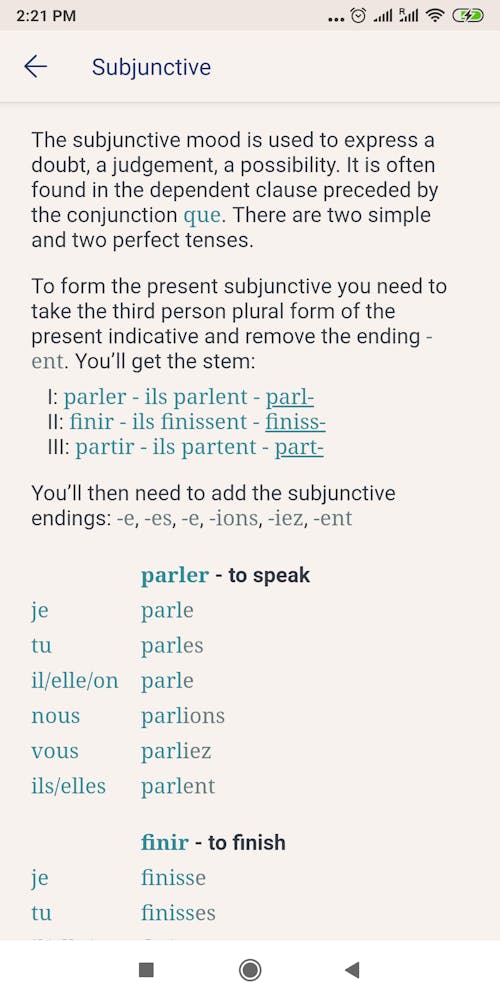 (Optional) grammar exercises in Lingvist.
Perhaps the main reason why language teachers have remained cautious regarding online learning platforms is precisely the latter's inability to innovate a better solution for instructing students in grammar. However, once again, their viability as a supplemental tool, to be used in conjunction with a textbook or exercise book is made readily apparent here.
Languages Offered
From app to app, the languages offered differ. Some offer more than 30, whereas others concentrate on less than 10. Of course, the most variety is for speakers of English, so, if you've made it this far in the article, you're in luck!
In the table below, we've provided a summary of the platforms we tested and the languages they offer:
| Platform | Language of Instruction | Target Language |
| --- | --- | --- |
| | | French, German, Italian, Russian, Portuguese, Turkish, Dutch, Swedish, Polish, Norwegian, Indonesian, Danish |
| | | Spanish, French, Japanese, German, Italian, Korean, Chinese, Russian, Hindi, Arabic, Portuguese, Turkish, Dutch, Latin, Swedish, Irish, Greek, Polish, Norwegian, Hebrew, Vietnamese, Hawaiian, Danish, Indonesian, *High Valyrian, Scottish Gaelic, Welsh, Romanian, Finnish, Czech, Swahili, Hungarian (beta), Ukrainian, *Klingon (beta), Navajo (beta), Esperanto, Yiddish (hatching). * refers to fictional languages. |
| | | English, French, Russian, German, Spanish, Spanish (Latin America), Portuguese |
| | | French, Spanish, Geman, Arabic, Korean, Japanese, Spanish (Mexico), Turkish, Chinese (simplified), Italian, Dutch, Portugese (Portugal), Swedish, Russian, Norwegian, Portuguese (Brazil), Polish, Danish, Icelandic, Japanese (no script), Mongolian, Slovenian, Yoruba |
| | | Afrikaans, Arabic, Bengali, Bulgarian, Catalan, Chinese, Croatian, Czech, Danish, Dutch, Finnish, French, German, Greek, Hebrew, Hindi, Hungarian, Indonesian, Italian, Japanese, Korean, Latin, Latvian, Lithuanian, Norwegian, Persian, Polish, Portuguese (Brazil and Portugal), Romanian, Russian, Slovak, Spanish, Swedish, Tagalog, Thai, Turkish, Ukrainian, Urdu, Vietnamese |
| | | Spanish (Latin America), French, Italian, German, Arabic, Chinese (Mandarin), Dutch, Filipino (Tagalog), Greek, Hebrew, Hindi, Irish, Japanese, Korean, Persian (Farsi), Polish, Portuguese (Brazil), Russian, Spanish (Spain), Swedish, Turkish, Vietnamese |
There are also a number of apps that are designed for learners of a specific language. This is particularly common for languages that don't use the Latin alphabet, such as Chinese, Japanese, or Arabic.
Pricing
In terms of pricing, e-learning platforms use a variety of different models. For example, there are free services such as Duolingo or Memrise that offer relatively complete courses with only a few (unobtrusive) paywalls. Then there are programs like Mondly which offer some content for free, but hold off on providing users with full functionality or access to features. Then, there are paid programs like Babbel or Rosetta Stone which provide only a few trial lessons or days before asking users to pay up to continue.
The price of most services relates directly to the type of subscription. Users who subscribe for 12 or 24 months will pay the least per month, whereas those who pay every month will need to dig a bit deeper in their pockets. On average, providers ask for anywhere from $5 to $20 per month.
Disadvantages of Language Learning Platforms
As different as each of the programs we looked at is, they do have a number of similarities in terms of their weaknesses and shortcomings. For that reason, it's important to start out with the knowledge that online learning platforms are just a part of learning a language, rather than the ultimate solution.
In general, language learning apps are excellent at training vocabulary but have difficulty helping users to incorporate this vocabulary into actual contextual situations. But this shouldn't come as a big surprise, since the only way to actually do this is through 'real' contact with the target language, either in a classroom, traveling to a country where the language is spoken, or meeting up with native speakers. But don't fear, there are special applications that provide this sort of functionality, and serve an auxiliary role to any language learning which you might be engaged in.
Gamification can help, but you shouldn't rely on it too much, since the danger arises that your feeling of success or accomplishment won't match what you have actually learned or acquired. Remember, all of these apps require regular usage, and providing users with a feeling of achievement is one of the best guarantors of that. Making things "too difficult" or challenging can put off users, whereas, in a brick and mortar classroom, teachers increase difficulty depending on the performance of their individual students.
There are also differences in terms of quality from app to app, or even within an app (such as among the languages it offers). For example, in Duolingo, Spanish and German are far more developed and interactive (the former with a regular podcast, for example) than Polish. Similarly, it can often happen that users learn something that might be grammatically correct, but considered old-fashioned or uncommon in everyday language. Again, actual teachers or native speakers will be able to quickly point this out to students or tandem partners.
As can be seen, there are a number of issues with online language courses, whereby these also depend on how high (or low) the user's expectations are. If you go in looking for an all-in-one alternative to a traditional classroom, you might come away disappointed, however, if you're looking to supplement your own auto-didactic approach, these can serve as nice additions to your lesson plan. Basically, learning a language can be fun and enjoyable, but does require hard work and patience to get right. The essentiality of grammar, and its "boringness" or non-incorporation into language-learning platforms is a prime example of this.
Conclusion
It sounds cliche, but it's the truth: Online language courses are as good or bad as you make them. Despite what their advertising materials might promise, online language-learning platforms (alone) aren't going to provide you with fluency in a target language regardless of how many hours you spend with them. In the best case, they supplement or augment other methods of learning you're employing. For those who can teach themselves a language, or enjoy the challenge of it, online language-learning platforms are one component of several that can provide basic proficiency in another language. Of course, even classroom instruction often proves inadequate when immersed in a foreign language, but such is the way of the world.
What language-learning platforms do excel at is training vocabulary and helping users to become exposed to a language it might not be possible for them to do otherwise. Gamification makes this process more enjoyable and can 'trick' users into investing more of their time into the language than they might in other situations.
Some language-learning apps experiment with new content and attempt (with varying degrees of success) to integrate additional languages into their platforms. To date, we haven't found a single service that really provides everything. Of course, there are some that do better than others.
For those who use online language platforms and apps wisely and with the right expectations going in, they can provide a helpful companion along the journey of learning a new language.

Martin Gschwentner majored in American Studies and Media Studies in Germany, the USA and France and works as a freelance editor in Paris. He is a doctoral student at the Institute for English and American Studies at the University of Paris Diderot, where he is researching the influence of money on US politics. On EXPERTE.com he writes about IT security, data protection and software for the self-employed and small businesses.

Translator & Editor: D Bare
Continue Reading
Other languages
Deutsch